Fall Foliage Report

Virginia creeper changing color on Mill Mountain in Roanoke.

Foliage conditions throughout the state are still predominantly green. Slight color changes among some tree species, such as poplars, creeper, sweet gum, dogwood and maple, can be seen in higher elevations and some rural areas. Peak colors are expected in the mountains during mid to late October; the Piedmont and Coastal Plain are expected to peak during late October.
See the full report here.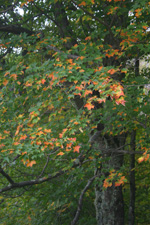 Photo from September 28, 2012. NPS/Bob Kuhns

Shenandoah National Park Foliage Report



SNP will begin posting weekly fall color updates Friday, September 27. There will also be a Fall Color Webcam link so you can see for yourself. Plan a trip to Shenandoah for October! Great views, great weather, great hiking!

Shenandoah tip of the day: If you're coming during October, come mid-week!

See the full report here on Friday.







#FallinVA




"Top o' the mornin'" @davidnakamua Camping in Shenandoah
Help us show off Autumn in the Old Dominion!

Tag your fall images on Instagram, Facebook, Google+ and Twitter with #FallinVA and we will feature images in future fall reports and on www.Virginia.org/Fall