Peak color is fast approaching on the western side of the Commonwealth, which means it's high time you take a scenic drive to enjoy the beauty of these cities and the fall flavors and fun that await.
 
-- ROANOKE & SALEM --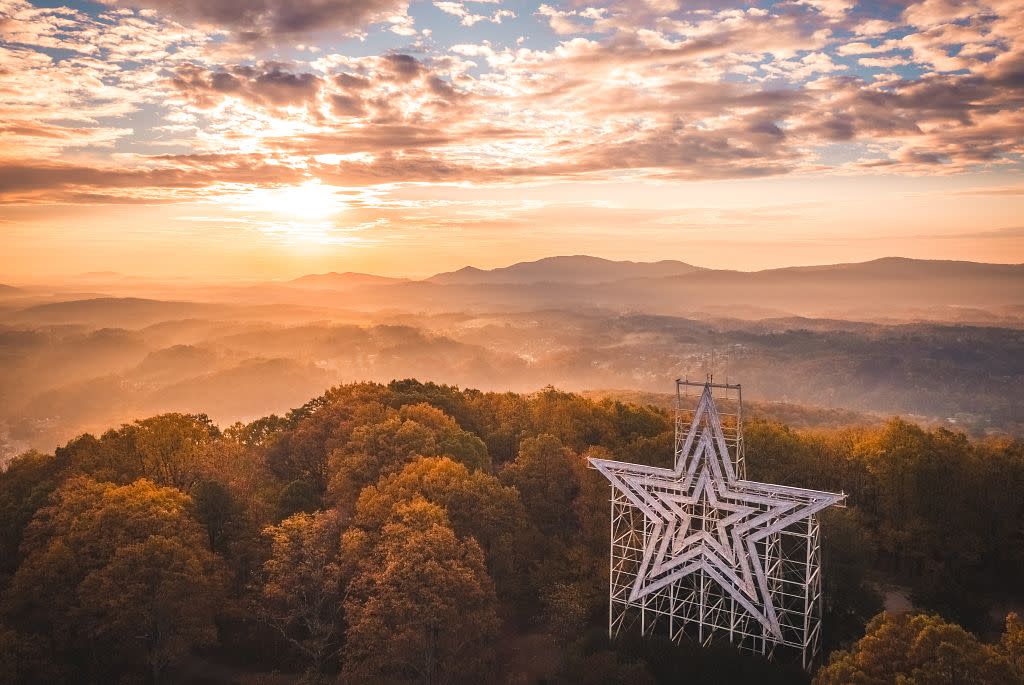 photo credit: Creative Dog Media, IG account: @creativedogmedia
The Star City of the South and it's sweet neighbor of Salem have already ushered in fall with a few rounds of festivals, but more fun awaits as the foliage goes golden from the Star through the Roanoke Valley.
Here's What's Up:
Soaring Ridge Craft Brewers has their two seasonal brews on tap: Pumpkin Porter and Oktoberfest Marzen. You'll want to enjoy a pint after you tackle the Growler Gallop 5K. It's happening October 25 at 4 p.m. Go ahead and wear your best Halloween costume for a chance to win a cool prize.
Parkway Brewing is spicing up the season with a brand new brew, too. "Seeing Colors" is a malty brown ale spiced with cinnamon, ginger, allspice, clove, and nutmeg. Cheers to fall flavors!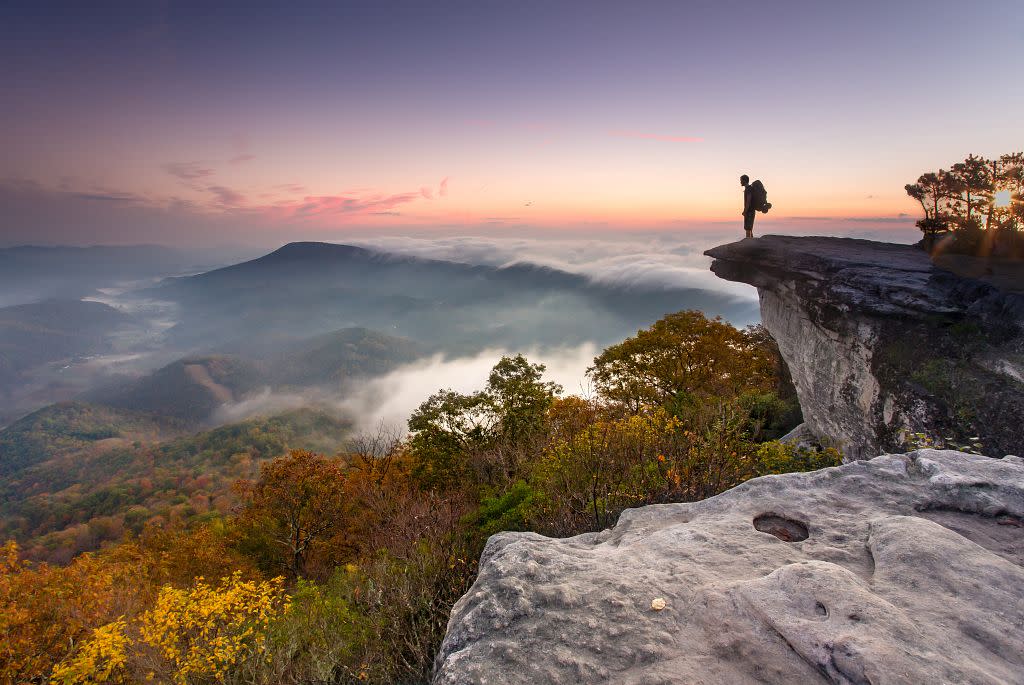 The view from McAfee Knob. photo credit: Katie Yarborough, IG account: @katiey22
Who loves Halloween?! Roanoke Ballet Theatre will deliver an intense depiction of Bram Stoker's Dracula, presenting original choreography by Sandra Meythaler and Norbet Nirewicz. It's ballet with a bite, and it's happening October 24. Buy a Ticket
Calling all zombies! You won't want to miss Thriller Night: A Halloween Tribute to Michael Jackson at Martin's Bar & Grill. It's Halloween night, of course. 10 p.m.
Little Halloweeners will appreciate a gentler celebration, and there are two really fun options for families to enjoy on October 31. The Salem Farmers' Market is hosting Pumpkinfest from 11 a.m. to 2 p.m. It's the perfect place to trick-or-treat with the local merchants, enter a costume contest, take home a carved pumpkin, and plenty more. Afterward, head to Mill Mountain Zoo for Zoo Boo, their annual day of trick-or-treating, costume contests, and special performances. 11 a.m. to 4 p.m.
ALSO SEE: 30 Favorite Fall Towns & Destinations
 
 
-- VIRGINIA BEACH --
Virginia Beach is more than a great summer beach destination, it's a thriving fall destination, too. Reduced room rates make it an affordable, memorable weekend getaway for the whole family.
Here's What You're Missing:
One of the world's largest Naval Air Stations is right next door in Norfolk, and in an effort to salute the troops, Cullipher Farm has a five-acre "We Support Our Troops" corn maze the includes a fighter jet in the pattern. Allow about 45 minutes to complete it and have fun all the while. You might also try Virginia's first and only (to our knowledge) cotton maze, which takes about 20 minutes to complete and is rated "difficult."
If one farm isn't enough, check out Hunt Club Farm, too. Their Fall Harvest Festival occurs daily through November 1 and includes the area's largest pumpkin patch, hay rides, pony rides, and even carnival rides. Those who love a fright must check out Haunted Halloween Festival, a near nightly screamfest featuring a variety of special events and three separate haunted attractions.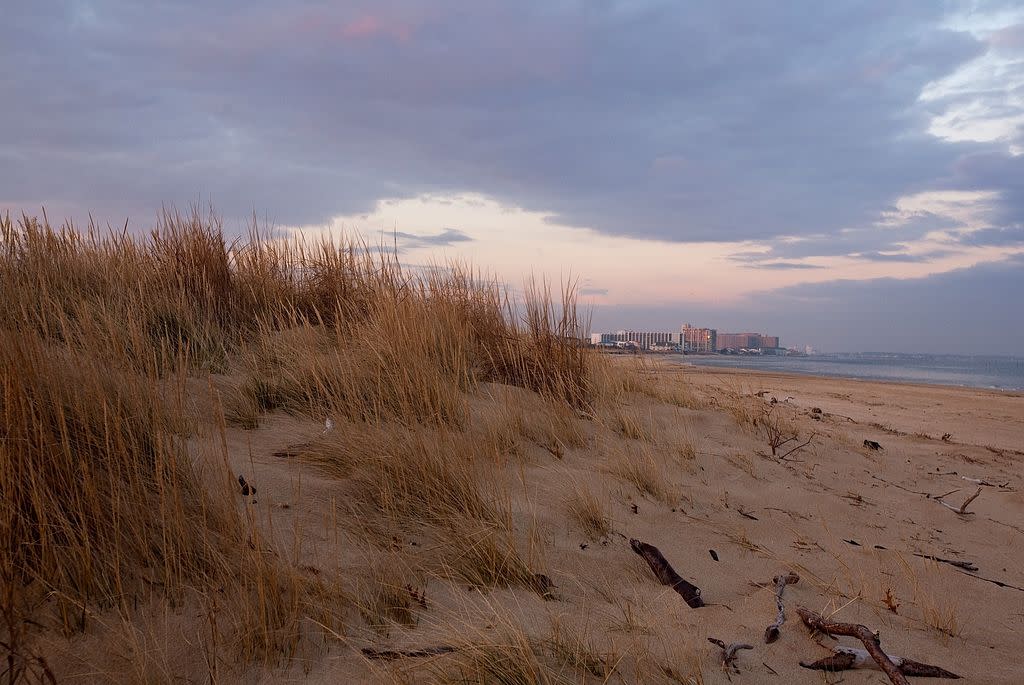 photo credit: Bill Crabtree Jr.

Burn off some energy with a zip through the foliage at the Adventure Park at the Virginia Aquarium. Try your hand at the ropes course; it's not as easy as it may look.
Pitch a tent or rent a cabin at First Landing State Park and hike the trails to encounter wildlife. Enjoy the view from the water when you rent a kayak or canoe. Pods of dolphins are known to frolick in the waterways, and you never know what you'll see in the salt marshes. Fall delivers a completely different experience than summer.
Pleasure House Oysters, Chef's Table Tour
November is Virginia Oyster Month, and a very exclusive Chef's Table dining opportunity awaits at Pleasure House Oysters. Farmer Chris Ludford will give you a boat tour of his oyster farm, complete with waders and fresh-shucked Lynnhaven River oysters from beneath your in-water table.
 
 
-- FREDERICKSBURG --
photo credit: hyperbole
The 40-block historic district of Fredericksburg comes alive under the canopy of beautiful orange and gold foliage. It's the perfect time to take a casual stroll, window shop, and explore an old canal towpath.
Your Key Experiences:
Just across the Rappahannock River from the historic district, a simple but scenic paved trail leads to encounters with bald eagles, herons, and other wildlife. It's the Belmont-Ferry Farm Trail, which also highlights historic points of interest.
If you enjoy spirits this time of year, a different type of trail may draw your attention. The Grapes & Grains Trail leads to four wineries, three breweries, and a distillery. Do designate a driver and enjoy these haunts responsibly.
Speaking of haunts, "America's Most Historic City" is also considered to be one of its most haunted cities. Ride along on a 50-minute Olde Towne Carriage Ghost Tour for a fair share of folklore. Want to stretch your legs instead? A 90-minute candlelight walking tour with Ghosts of Fredericksburg combines the area's Civil War history with mysterious tales of the lurking dead.
Tame it down a bit if you have kids in the mix and try a festival instead. Both Belvedere Plantation Harvest Festival and Breahead Farm Fall Harvest Festival are great October weekend options for families to pick their own pumpkins, mingle with animals, meander through corn mazes, enjoy hay rides, and quite a bit more.
 
 
-- HARRISONBURG --
Whether it's JMU football that brings you to Harrisonburg or perhaps the vibrant culinary and craft beer scene, you'd be remiss to skip this gem tucked between Massanutten and the Allegheny Mountains during the fall season.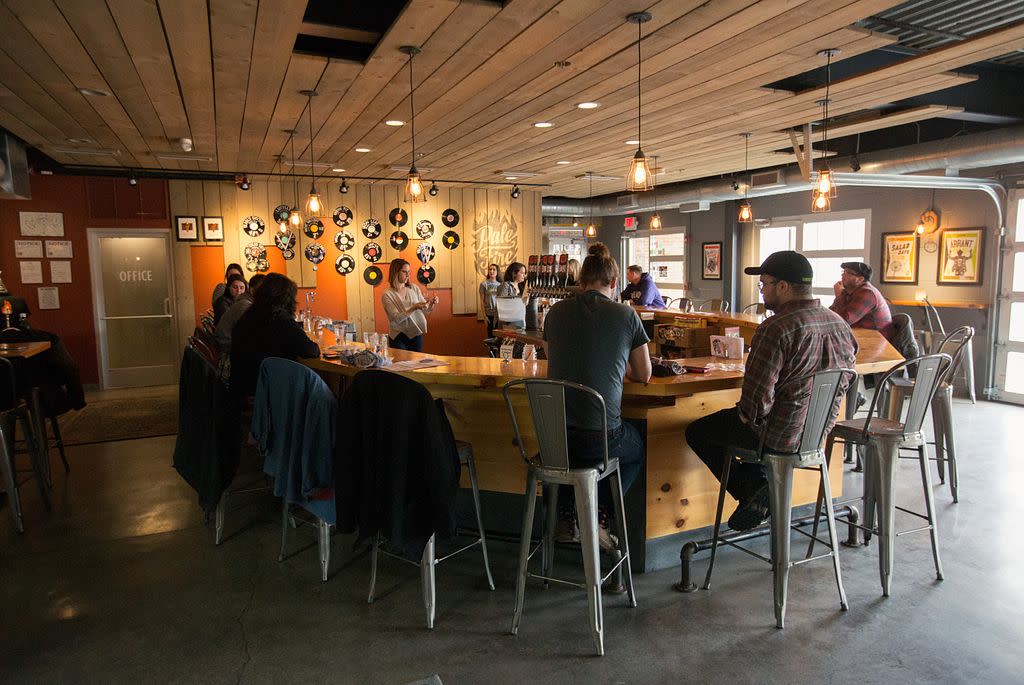 Pale Fire Brewing Co.
Up for Consideration:
Brothers Craft Brewing has released their Fairgrounds Fall Ale, "a careful balance of cinnamon, ginger, nutmeg and allspice" that "imparts a cornucopia of rich festive flavors as satisfying as grandma's pumpkin pie." Meanwhile, at Three Notch'd Brewing's Taproom, you can get a pint of Hansel & Kettle Imperial Oktoberfest or Oats McGoats Oatmeal Stout. At this point, you should just call it a beer tour and head on over to Pale Fire Brewing for a pint of Lucille Oatmeal Stout by the fireplace.
Care for a taste of more than craft beer? The Taste of Downtown is a week-long culinary celebration that's friendly on the wallet, and it's happening November 9-15.
Edith J. Carrier Arboretum and Botanical Gardens. Photo credit:
Bill Crabtree, Jr.
The Edith J. Carrier Arboretum is one stunning autumn destination with an incredible show of colors along more than three miles of woodland trails. Walk it or spring for a carriage ride. They're offered one day only - October 18 - and may sell out (call 540-568-3194 for reservations). The day prior, however, is the annual Children's Harvest Festival, a celebration with crafts, dancers, musicians, and more.
Put on those Halloween costumes early and head to Court Square where Halloween on the Square kicks off at 10 a.m. October 31. It's a day of merchant trick-or-treating, carnival games, face painting, costume contests, and plenty more. Be there ... on the Square.
 
-- CHARLOTTESVILLE --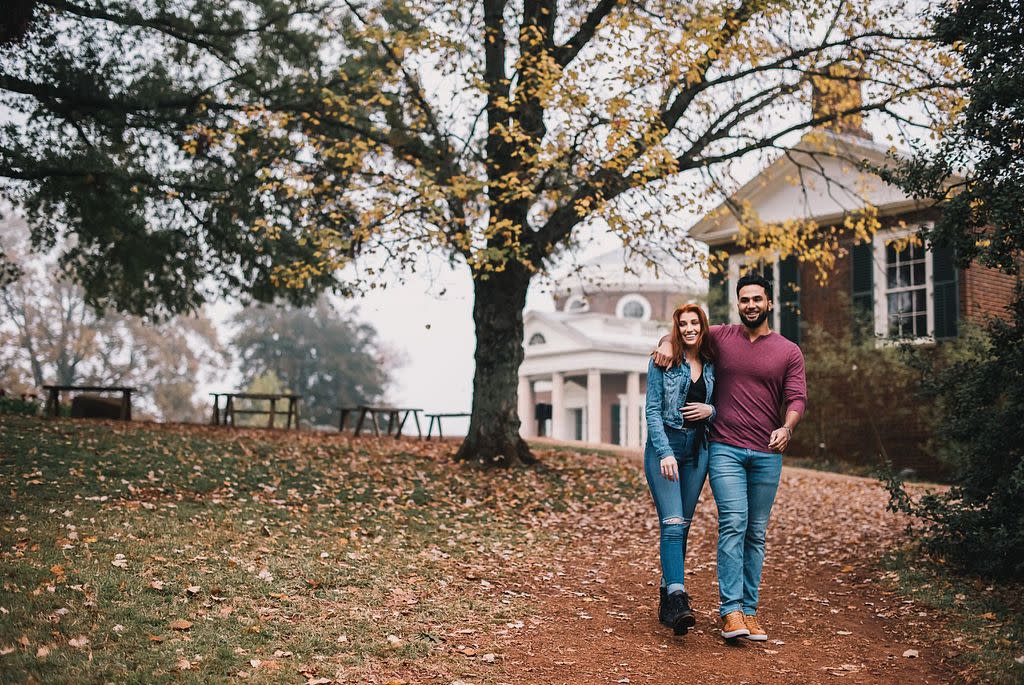 photo courtesy of Monticello
Why Charlottesville in fall? Eight reasons: Thomas Jefferson's Monticello, The Lawn & Rotunda at the University of Virginia, The Monticello Artisan Trail, the Historic Downtown Mall, plenty of Virginia craft beer, Michie Tavern, award-winning wine, and stunning foliage surrounding it all. How convenient.
 
-- ALEXANDRIA --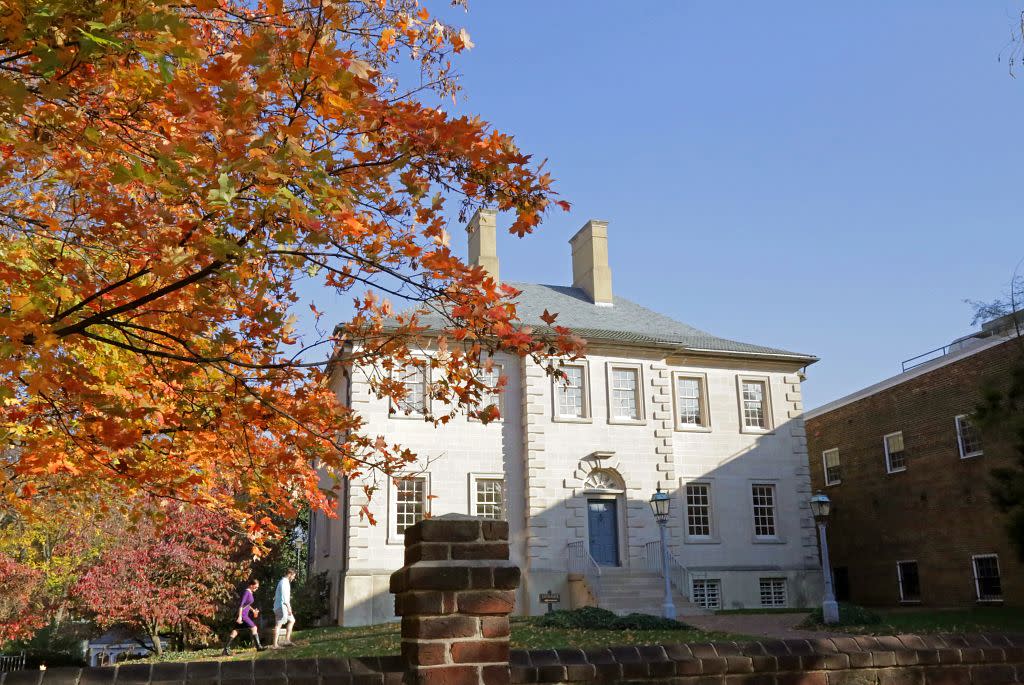 photo credit: Misha Enriquez
It's fall festival season in Alexandria and vibrant Old Town shimmers just a bit brighter when the trees go gold. Visit the bustling Farmers' Market for pumpkins, gourds, apples, and even an apple cider doughnut. Visit closer to Halloween and you'll be treated to Alexandria's Original Ghost & Graveyard Tour and a Halloween parade.
 
-- RICHMOND --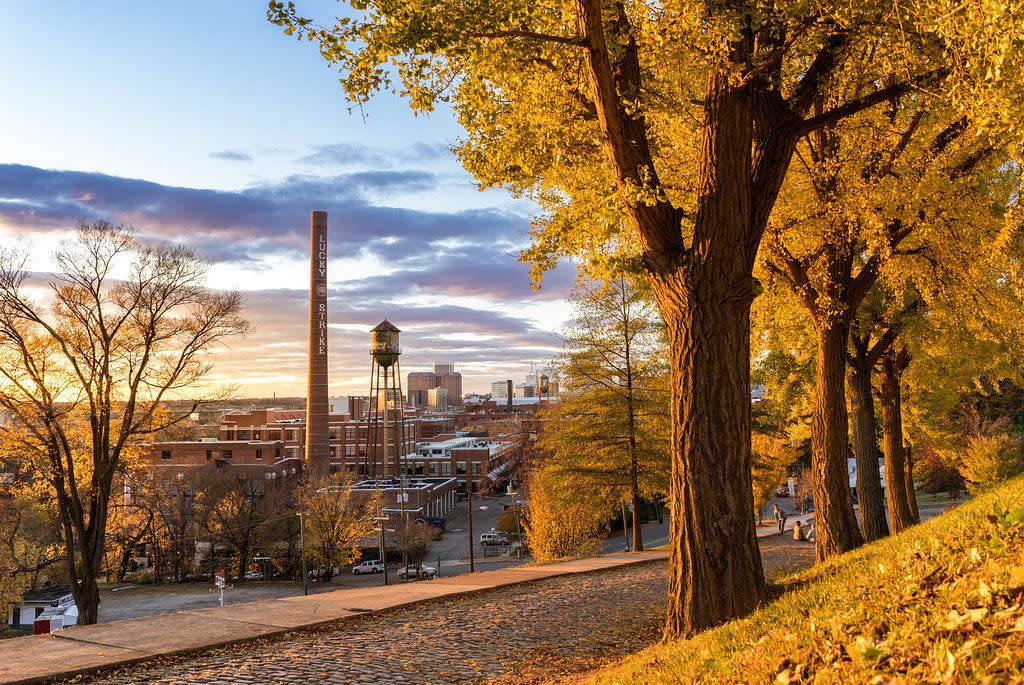 photo credit: Adam Lewis, IG account: @adamtlewis
Food festivals are still happening and there's plenty of seasonal craft beer flowing from Richmond's dozen-or-more breweries. A real treat is Fire, Flour & Fork, a well curated mix of dining, demonstrations, artisans, historians, and a great deal more. It's happening October 28 through November 1.
 
-- BRISTOL --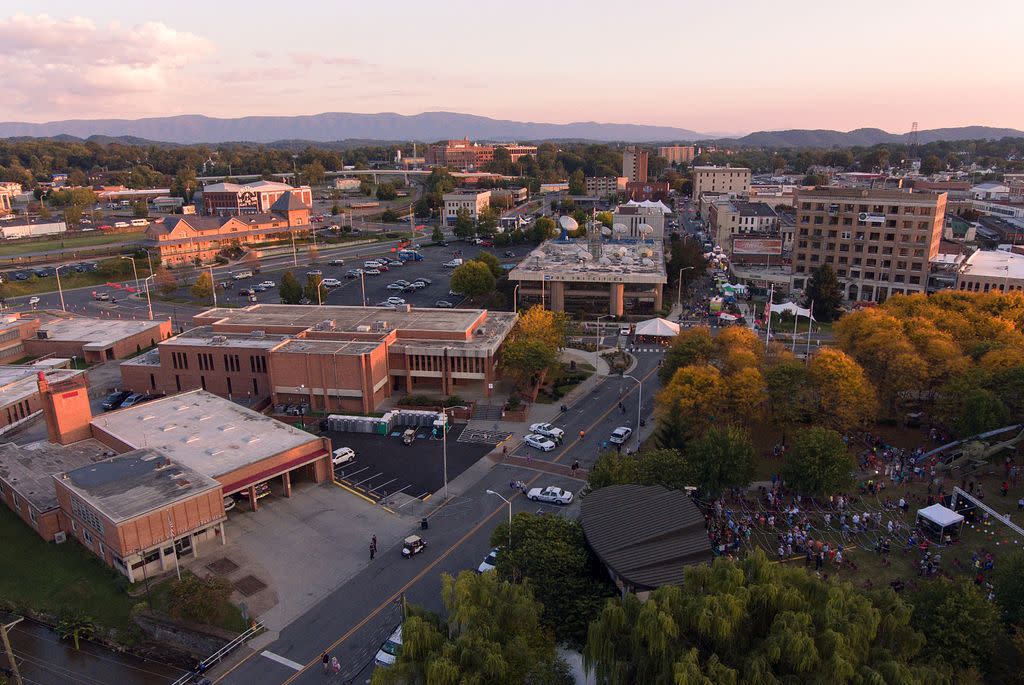 photo credit: Loch and Key
It's all about music in Bristol. And Halloween, as it turns out. From ghost tours and Appalachian ghost stories to "The Bell Witch" Legend and Pumpkin Palooza, there's plenty of treats to go around on October 31.
 
Which Virginia city is your favorite thanks to its fall flavors and activities? Leave a comment to share!