No matter which region you're in, Virginia has an impressive culinary scene, with dozens of notable chefs creating inspired dishes from locally sourced ingredients that bring the best flavors of the Commonwealth together in uniquely delicious ways. To shine a spotlight on the best eats in Virginia, we talked with a few of these chefs, from the award-winning seasoned professionals to the rising stars that have garnered attention in national and even international publications. Follow our "Inside the Kitchen" series as we take a look at all there is to Eat.Drink.LOVE in Virginia! 
Located in the Blue Ridge Mountains at the base of the entrance to Wintergreen Resort, Devils Backbone Brewing Company sits in a region that is steeped in culinary traditions and includes bountiful lands that create amazing fresh ingredients. Chef Dale Ford heads up the kitchen at Devils Backbone Brewing Company, bringing his delicious visions to life and to your plate.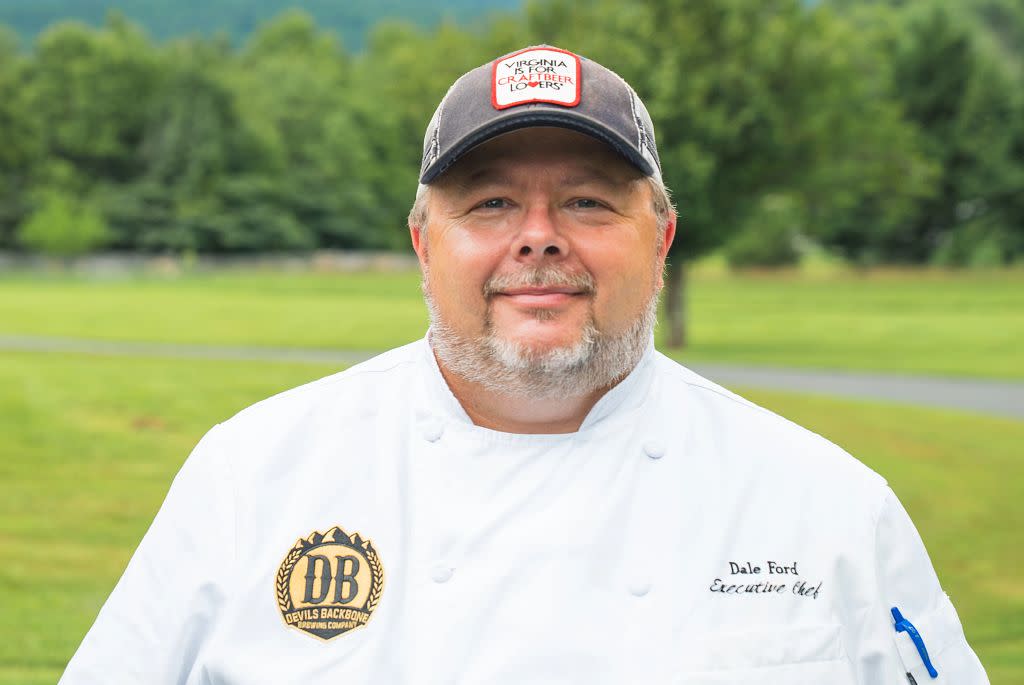 Photo Courtesy of Devil's Backbone Brewing Company
When it comes to background and experience, you might say Chef Ford's kitchen training started at birth – his mother was a professional cook who he eventually cooked alongside in four restaurants. Professional southern cooks and his long-time membership in the American Culinary Federation have continued to broaden his work over the years, and Chef Dale's vision for food is rooted in understanding and supporting local agriculture. At Devils Backbone, you'll find him cooking up ideas on how to utilize what's grown right here a Basecamp in beautiful Nelson County.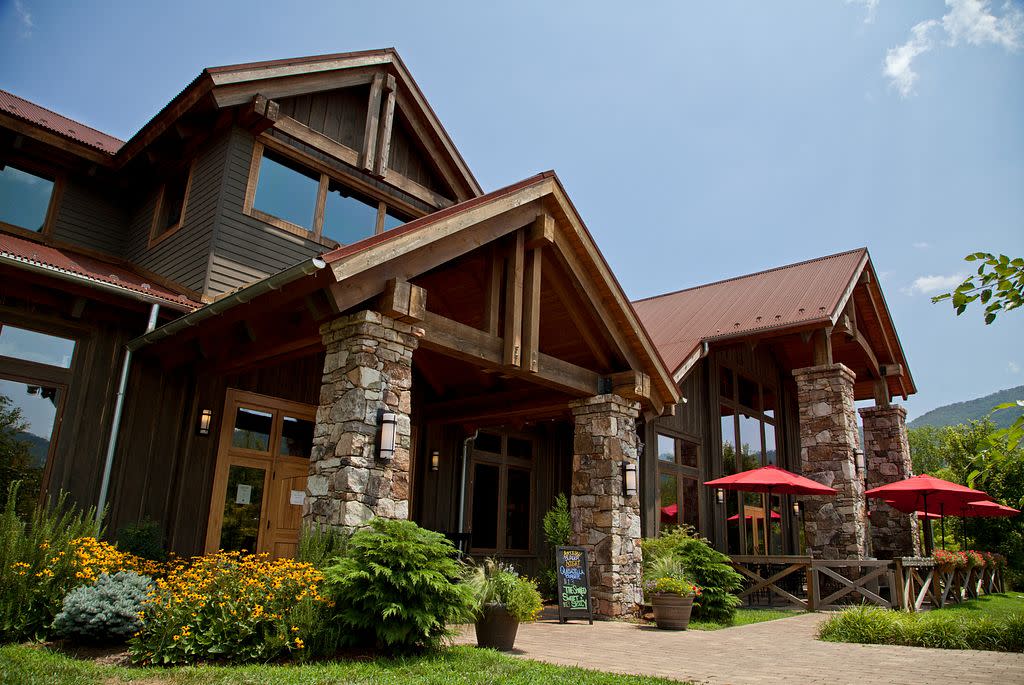 Stop by the Brewpub and take it "Slow by Nature" (a brewery motto) with a full-service dining experience. Cozy up by the fireplace or chill out on the patio with a custom ordered beer flight, oak wood-fired smoked dishes, and other local fare. The brewpub has a full bar with local cider, wines, and spirits including craft cocktails made with Devils Backbone Distilling Co. spirits.
Want to know more about Devils Backbone and Chef Ford? Read on to learn about some of his chef secrets followed by one of Chef Ford's favorite recipes!
Do you have a few go-to producers, farms, or other purveyors you prefer to get your local ingredients from?
Devils backbone has a fantastic relationship with Seven Hills Meat Company in Lynchburg. They are a small beef house that only sources Virginia cattle. From beef brisket, to ground beef hamburger, skirt steak to prime rib, 100% of our beef is grown here in Virginia.
For local ground grains I am very fond of Byrd Mill in Ashland, Virginia; they've been milling grains for over 200 years. 
Another farm that we work closely with is River Oaks Farm. Farmer/Owner Adam Aucoin supplies us with free range organic chickens every week. 
Lastly our very own hoop house gardens in the Meadows is a fantastic source for bountiful harvest every week. This year we grew and harvested cucumbers, tomatoes, bell peppers, eggplant, onions, long beans, nasturtiums, ginger, turmeric, lemon grass, herbs, Fresno peppers, zucchini, squash, pumpkins, and edible flowers, just to name a few.
What are your favorite Virginia fall flavors?
One of my favorite fall flavors is the roasted sweetness of butternut squash and pumpkin.
What is your favorite thing to cook for yourself? 
I enjoy a slow braised beef short rib with truffle white cheddar stone ground grits and crispy Brussel sprouts.
What Virginia wine, craft beer, cider, or cocktail would you pair with that?
With the short ribs I like to pair that with our Vienna Lager.
What is your favorite vacation spot in Virginia?
I enjoy the local hiking trails and this area is a fantastic source of "slow by nature". The place that I find myself drawn to a lot is Crabtree Falls. I find that I vacation where I live. This region of Virginia is amazing. 
Chef Recipe Spotlight: Braised Short Ribs with White Cheddar Byrd Mill Truffle Grits, Crispy Brussels, & Simple Sauce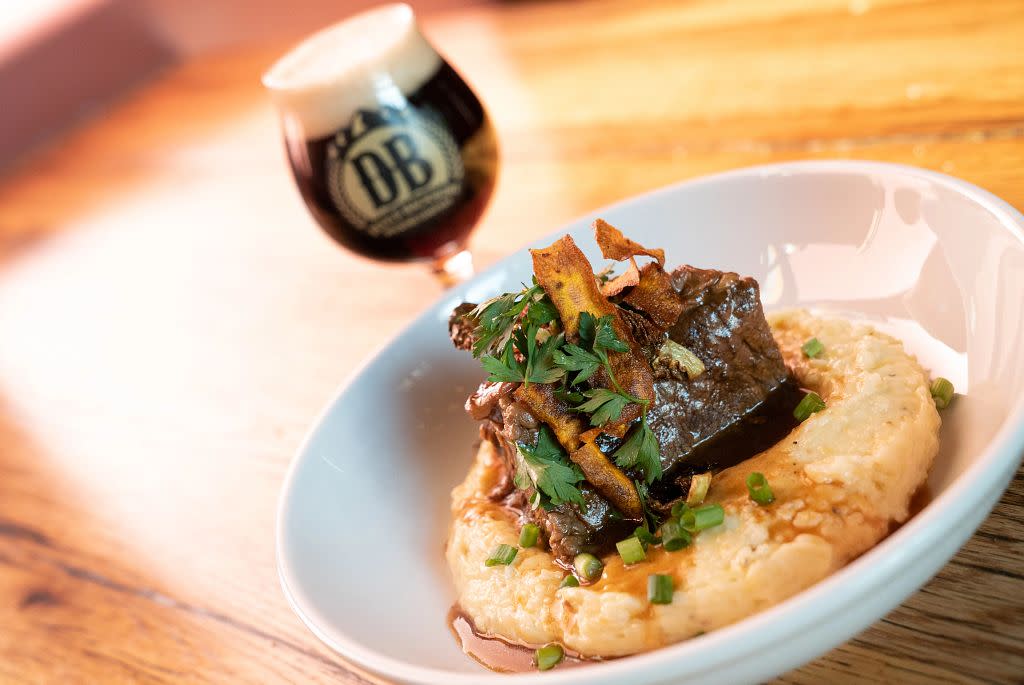 Photo Courtesy of Devil's Backbone Brewing Company
Braised Short Ribs
Ingredients
2 lbs. trimmed boneless chuck flap meat
2 cups onions small diced
1 cup carrots small diced
1 cup celery small diced
¼ cup garlic sliced thinly
½ cup tomato paste
4 sprigs fresh thyme
16 oz. Vienna Lager
 32 oz. beef broth
1 Tbsp. kosher salt and black pepper
2 oz. vegetable oil
Directions
Heat a cast iron Dutch oven pot over medium high heat. Place oil in the pot and season the chuck flap meat with salt and pepper.
Sear the chuck flap in the hot Dutch oven on all sides and remove from the pot when completed. Set seared meat aside for now. 
In the same Dutch oven add the diced onions, celery and carrots over medium high heat and cook vegetables till they start to brown; add tomato paste and stir. Cook 5-6 more minutes. 
Add the thyme and place the seared chuck flap meat back to Dutch oven on top of the browned vegetables. Now pour in the Vienna Lager beer deglazing the pan. Pour in the beef broth. Place the lid on the pot and bring to a soft boil on the stove top. 
Remove the Dutch oven from the stove top and place in a preheated 300 degree oven. Cook for 3 hours at 300 degrees with the lid on.
When finished remove the pot from the oven and allow to rest room temp prior to removing the braised meat from the pot. When it's well rested gently remove the meat from the braising liquid, strain and reserve the liquid for the simple sauce.
 Simple Sauce Directions:
Add 6 ounces braising liquid and ¼ cup of room temperature butter to a pot. 
Whisk together over very low heat. Do not bring the simple sauce to a boil.
 White Cheddar Byrd Mill Truffle Grits
Ingredients
 8 cups milk
2 cups stoneground Byrd Mill white grits
½ cup butter
4 cups Marmac white cheddar cheese, shredded
1 pinch kosher salt & black pepper
 2 Tbsp. white truffle oil
Directions
Heat milk in a thick bottom sauce pot and stir in the grits. Cook grits on low heat for 30-45 minutes, stirring frequently to prevent any sticking.
When grits have fully bloomed and absorbed all the milk fold in the butter, salt and pepper, and truffle oil. 
Finish the grits by adding the Marmac cheese and serve.
Crispy Brussels Sprouts
Ingredients
1 lb. cleaned Brussel sprout leaves
¾ gallon vegetable oil
Directions
For crispy Brussels, heat the oil to 350 degrees in a fry daddy or stove top in a deep pot.
Place the Brussel sprout leaves in oil and fry for 1.5-1.75 minutes to crisp the leaves. 
Remove the crispy hot Brussel sprout leaves from oil and sprinkle with salt. Hold for plating.
To plate the dish, place a 4 ounce scoop of grits in the bottom of your favorite dinner service plate/bowl, place a portion of the braised short rib directly on top of the grits and ladle 2 ounce of the simple sauce over the top. Top it off the crispy brussels and your favorite garnish, and enjoy this fantastic fall theme comfort entrée with a cold Vienna Lager!
Looking for more incredibly tasty recipes from Virginia's top chefs? Stay tuned for more In the Kitchen articles and check out these other articles in the chef series: