While winter means less time outdoors, it doesn't mean that all of Virginia's scenic beauty is gone! Winter brings some incredible sights you won't find at any other time of the year, from uninterrupted views made possible by bare treelines and awe-inspiring frozen waterfalls to coastal cities where the cold air brings clear sunrises each morning and the off-season beaches provide inviting solitude. 
If you need a little inspiration for some of Virginia's truly Instagrammable winter destinations, read on and plan a few weekend road trips to explore the most picture-perfect places in the Commonwealth this winter. 
Crabtree Falls—Montebello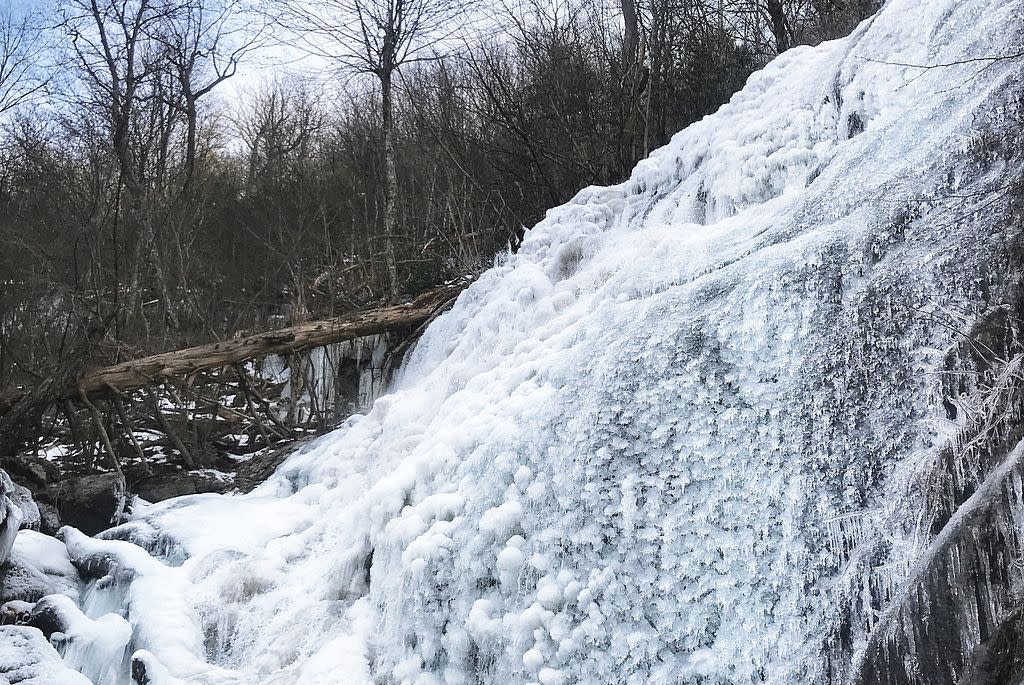 Hikes to Virginia waterfalls take on a magical air during the winter months, as some portions of the cascading waters freeze into sheets of sparkling ice. One such spot is Crabtree Falls, the highest vertical-drop cascading waterfall east of the Mississippi River. Prepare for chilly temps by bundling up for the 3-mile hike, but on the plus side, the cooler weather means less traffic on the trails. 
Beverley Street—Staunton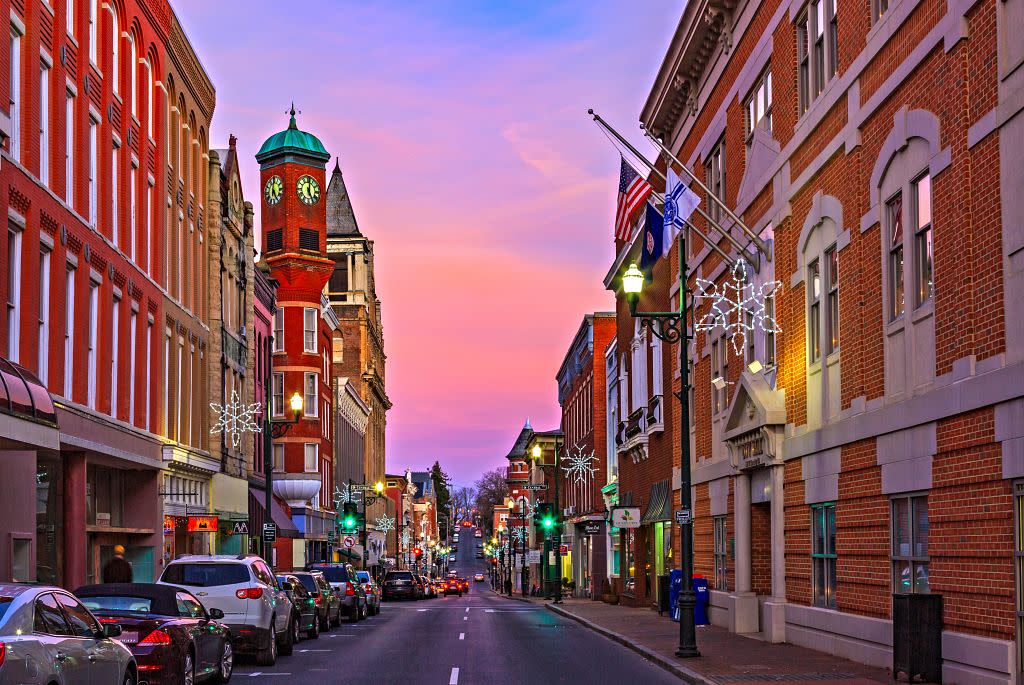 Photo Credit: Warren Faught
Nestled in the Shenandoah Valley and cradled by the Blue Ridge Mountains, Staunton is the perfect base camp location for outdoor lovers throughout the year, but the city's historic streets are another charming draw for those visiting in the winter months. The buildings along Beverley Street offer examples of stunning architectural styles, while quaint local shops and restaurants provide one-of-a-kind shopping and dining opportunities. During the holidays, the city streets are decked out in festive lights and garlands, creating a scene straight out of a classic holiday movie. 
The Roanoke Star—Roanoke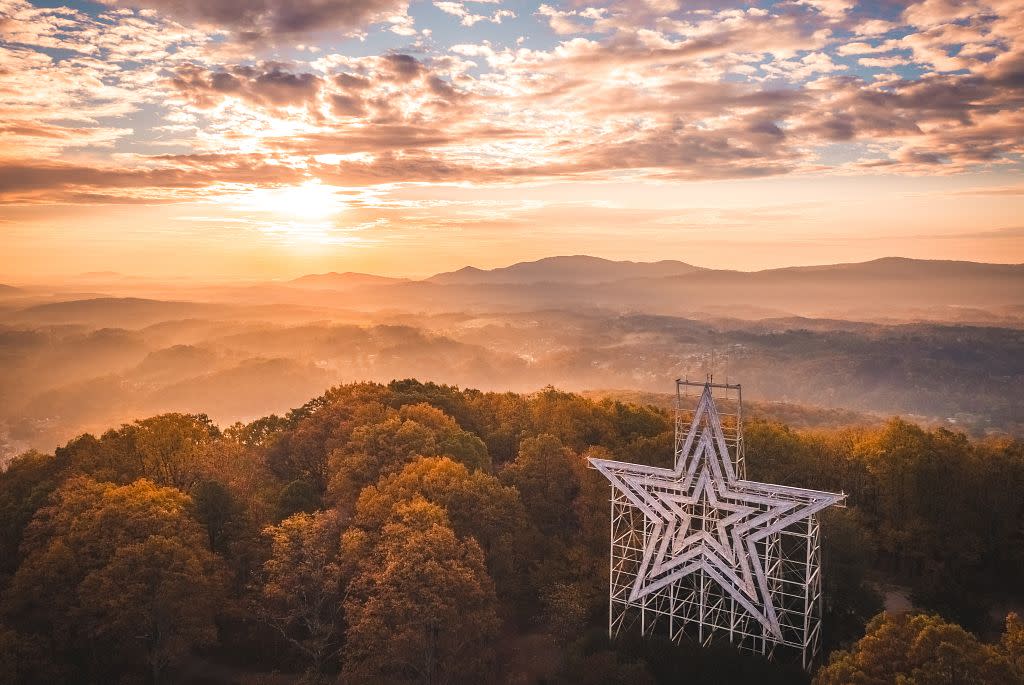 Perched atop Mill Mountain, the view from the Roanoke Star is stunning year-round, but the winter months mean clearer skies and the lack of foliage allows for expansive city views. After taking in the sights from the star, hit the Blue Ridge Parkway for even more epic viewpoints. 
Skyline Drive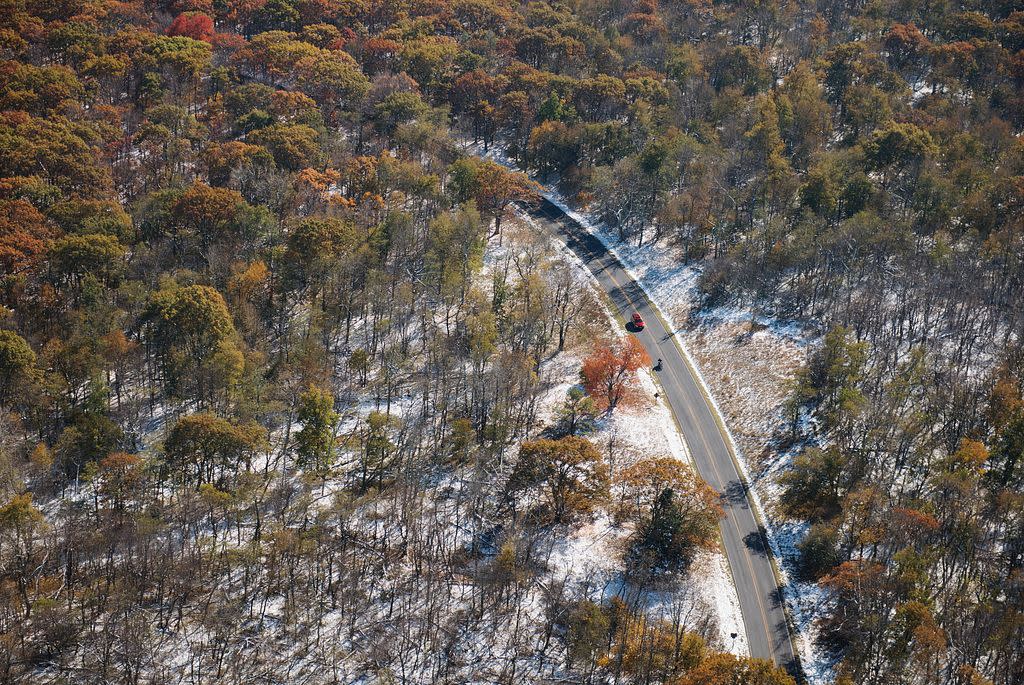 Photo Credit: Cameron Davidson
Skyline Drive is one of the most popular routes in Virginia during spring, summer, and especially fall, but during the winter, this scenic mountain route is much less traveled, giving you the chance to take your time and drive the winding roads at a leisurely pace. Along the way, you'll get clear views seen above the leafless trees and spot frozen springs blanketing the mountain's natural waterways. In the evenings, the clear skies of surrounding Shenandoah National Park are great for stargazing.
Luray Caverns—Luray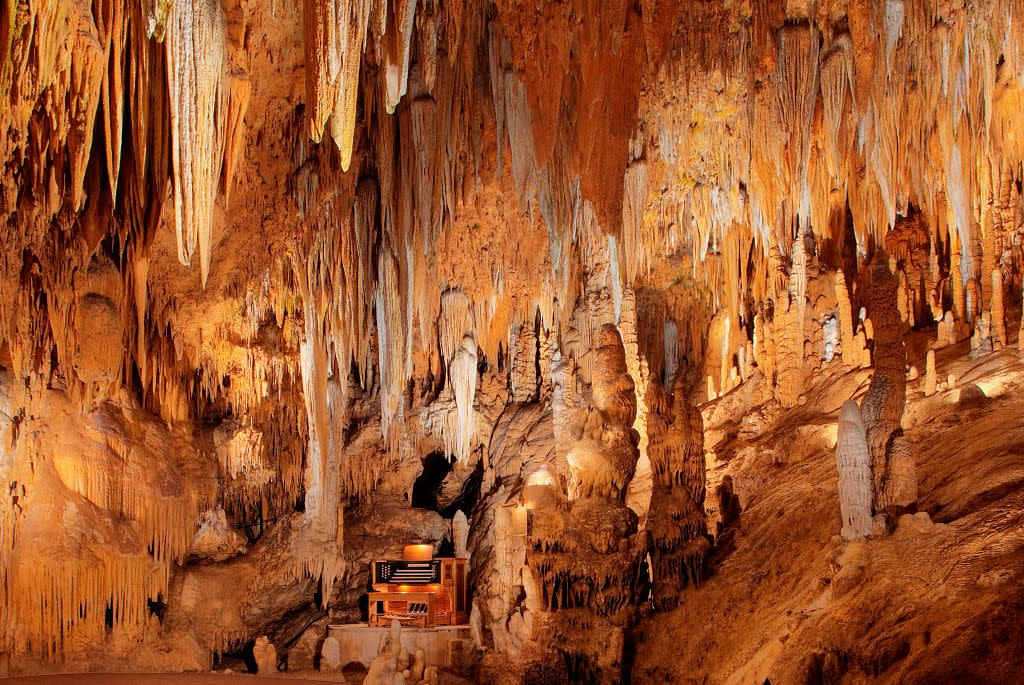 Image Courtesy of Luray Caverns
Eastern America's largest and most popular cavern system, Luray Caverns, maintains a steady temperature of 54 degrees year-round, making it an excellent winter vacation destination. The town of Luray is also known as the "Cabin Capital of Virginia", so whether you're looking for a luxury lodge, a cozy cabin for two, or a rustic retreat, Luray has dozens of cabin rentals suited to your needs. Want to explore some of Virginia's other caverns? There are eight unique cavern systems found throughout the Southwest and Shenandoah regions, providing temperate and awe-inspiring destinations for the winter months. 
Shenandoah Yurt—Stanley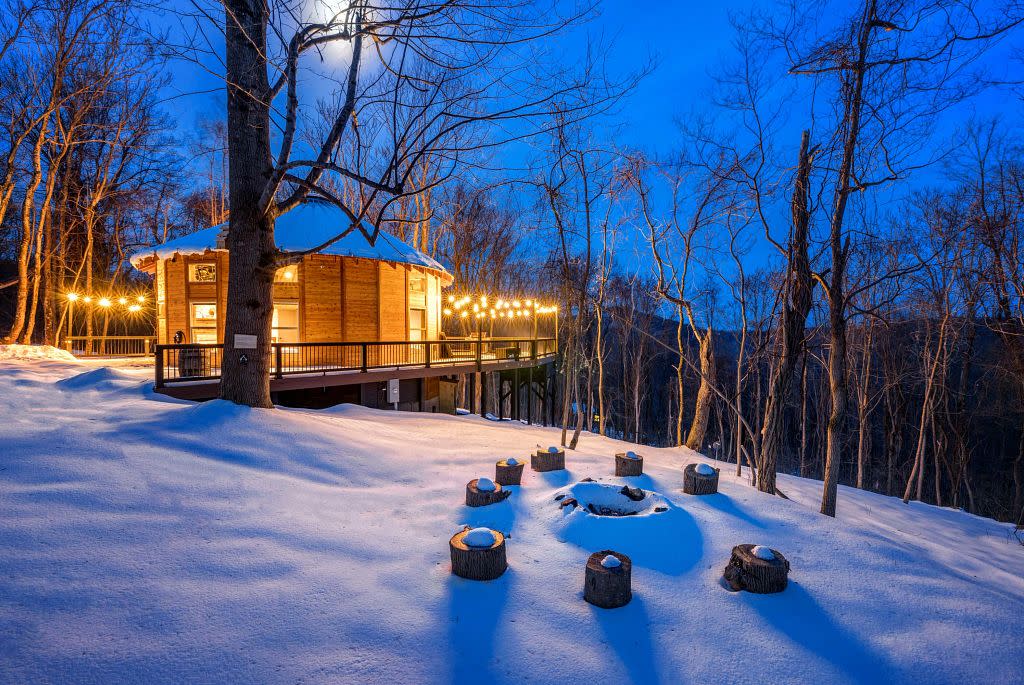 Photo Credit: Oleksandr Mokrohuz, @shenandoahyurt
Book a secluded stay on the edge of Shenandoah National Park at Shenandoah Yurt and enjoy a luxurious, one-of-a-kind glamping experience. Sleeping up to eight people, this incredible two-story yurt is bursting with amenities and fun activities, including a pool table, archery range, corn hole, hot tub, full kitchen with a grill to cook out in warmer months, and bikes available to rent on the property.
Old Town Alexandria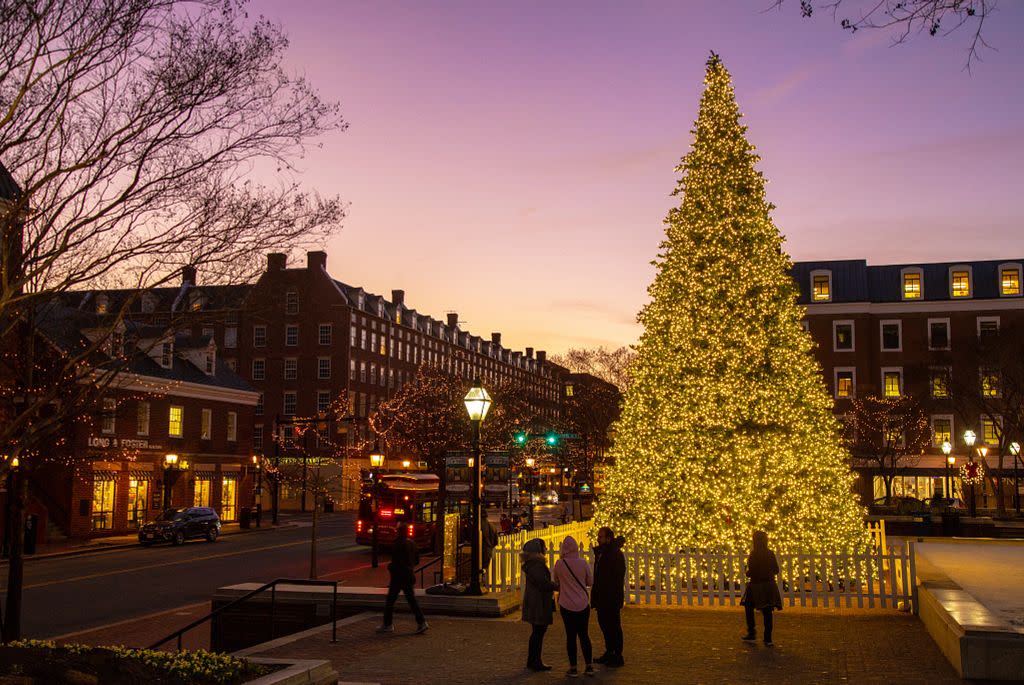 Photo Credit: Misha Enriquez, @visitalexva
Between holiday decorations and plenty of restaurants and cafes to stop for a nice warm cup of cocoa and some delicious seasonal treats, Old Town Alexandria's historic charm shines bright during the winter months. Don't miss a stroll down King Street, lined with over 200 boutique shops and restaurants, following all the way to the outdoor public art exhibits along the Potomac River waterfront. 
The Boardwalk—Virginia Beach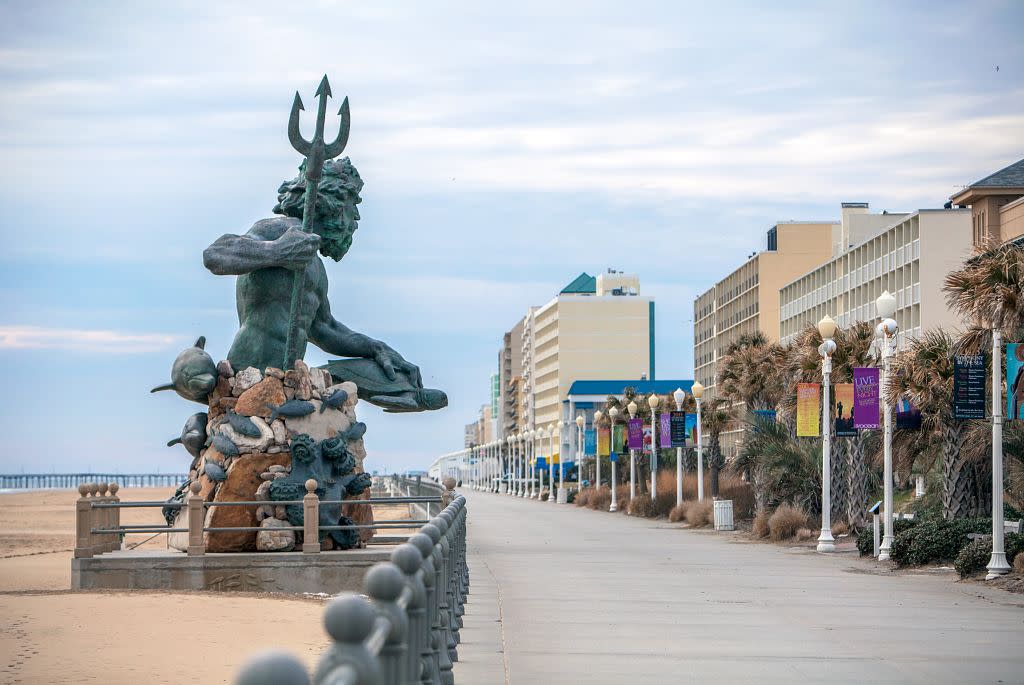 Virginia Beach is one of the top summer destinations in Virginia, filled with critically-acclaimed restaurants, luxury resort accommodations, and of course, beautiful sandy shores. This coastal city has its own appeal during the winter months; visitors can take a leisurely walk along the Boardwalk during off-season and enjoy serene views of the Atlantic Ocean. The Boardwalk is particularly alluring at sunrise, as the skies are more clear and vibrant in the winter months. Spend some time perusing the shops and restaurants in the ViBe District, where you'll spot lots of colorful murals from local artists. Another can't-miss for Virginia Beach in the winter is a whale watching tour with the Virginia Aquarium & Marine Science Center. 
Humpback Bridge—Covington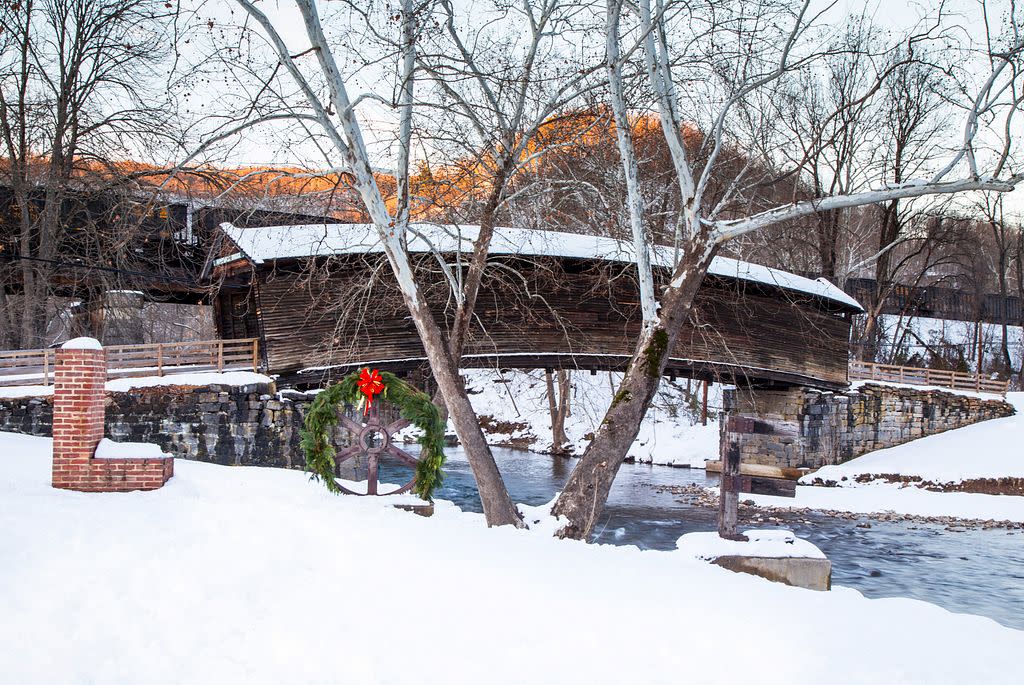 Photo Credit: Darren Seay
The sole remaining covered humpback bridge in the United States, Humpback Bridge has become an iconic Virginia destination, but if you catch it after a fresh snow during the winter, the bridge is absolutely magical. In addition to this unique wooden structure, the Humpback Bridge LOVEwork along the banks of the river make for an excellent photo opportunity, especially when decorated for the holidays. While this is a popular LOVEwork, there are now over 200 LOVEworks around the state, many adorned with festive garland, lights, and seasonal trim. 
Sandy River Outdoor Adventure Resort—Farmville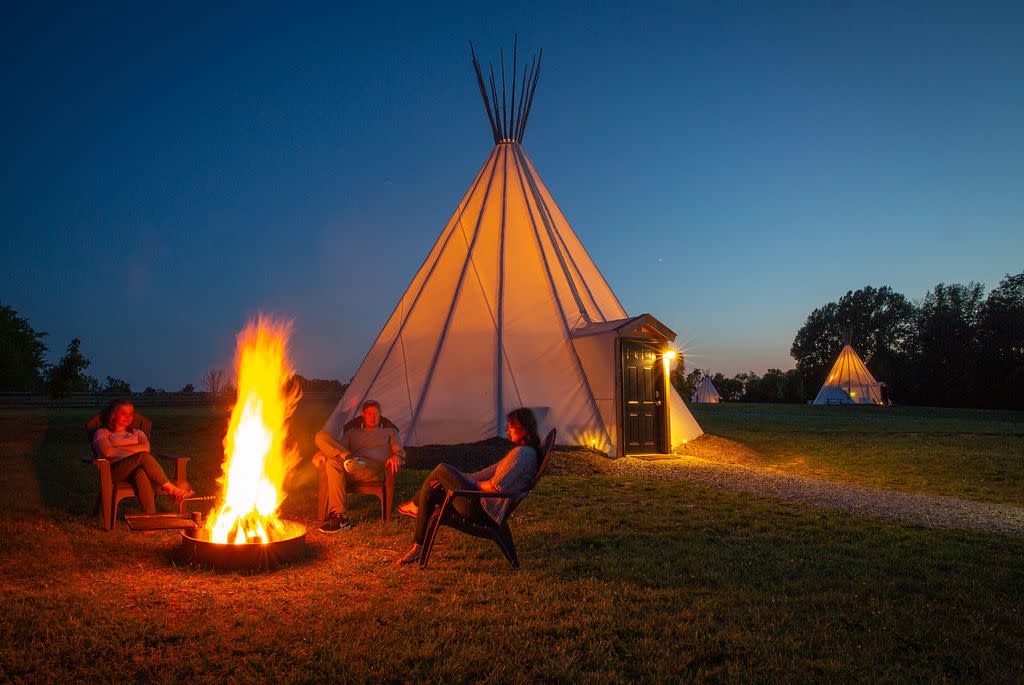 The treetop obstacle course and ziplines at Sandy River Outdoor Adventure Resort have become a well known destination for outdoor adventure seekers in the warmer months, but this rural retreat, located just minutes from downtown Farmville, is also ideal for a winter getaway. Their six luxury glamping tipis are heated and have heated floors, allowing you to stay cozy even through the most frigid nights. In the evenings, sit around the personal fire pits to grill burgers and roast marshmallows, snuggling up under the clear skies filled with bright stars.
Red Truck Bakery—Marshall & Warrenton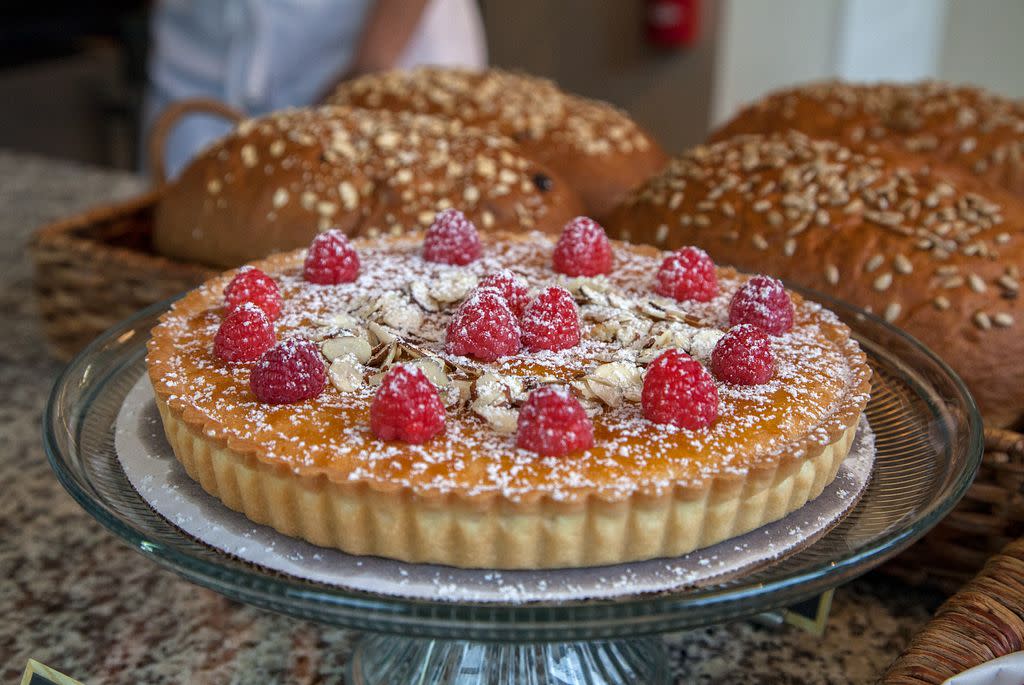 Winter is a time to enjoy all the delicious foods and beverages, and one such place to really take advantage of tasty seasonal treats is Red Truck Bakery, an award-winning bakery with Northern Virginia locations in the charming towns of Marshall & Warrenton. Stop by the bakeries for lunch to sample their hearty soups, breads, and sandwiches, and be sure to bring home plenty of baked goods to savor over the holiday season. While this is a favorite spot for visitors traveling through Northern Virginia, there are dozens of bakeries around the Commonwealth that are beloved by locals. If you need more recommendations, check out a few of our top picks:  
Colonial Williamsburg—Williamsburg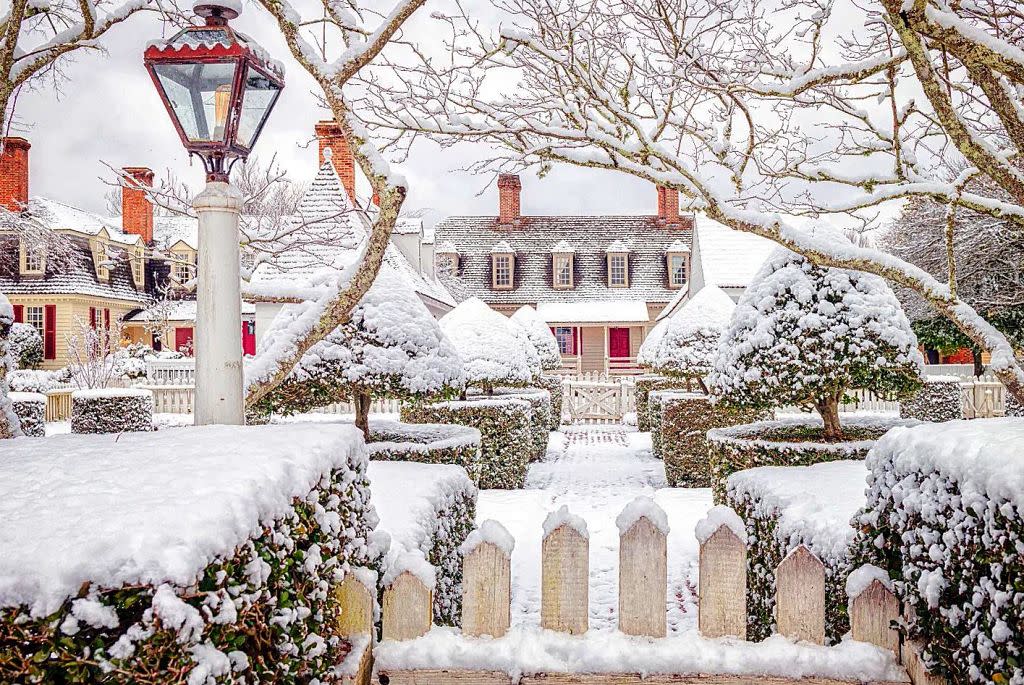 Photo Credit: Wayne Reynolds
Virginia is known for its rich and storied history, and for visitors looking to explore these historic sites, Colonial Williamsburg is a must. Walk through the historic district in the winter to spot colonial-era holiday decor such as fresh garland and wreaths adorned with fruit. You can also partake in seasonal activities, such as sipping a steaming cup of hot cocoa from the colonial taverns to ice skating at the Liberty Ice Pavilion. 
The Omni Homestead Resort—Hot Springs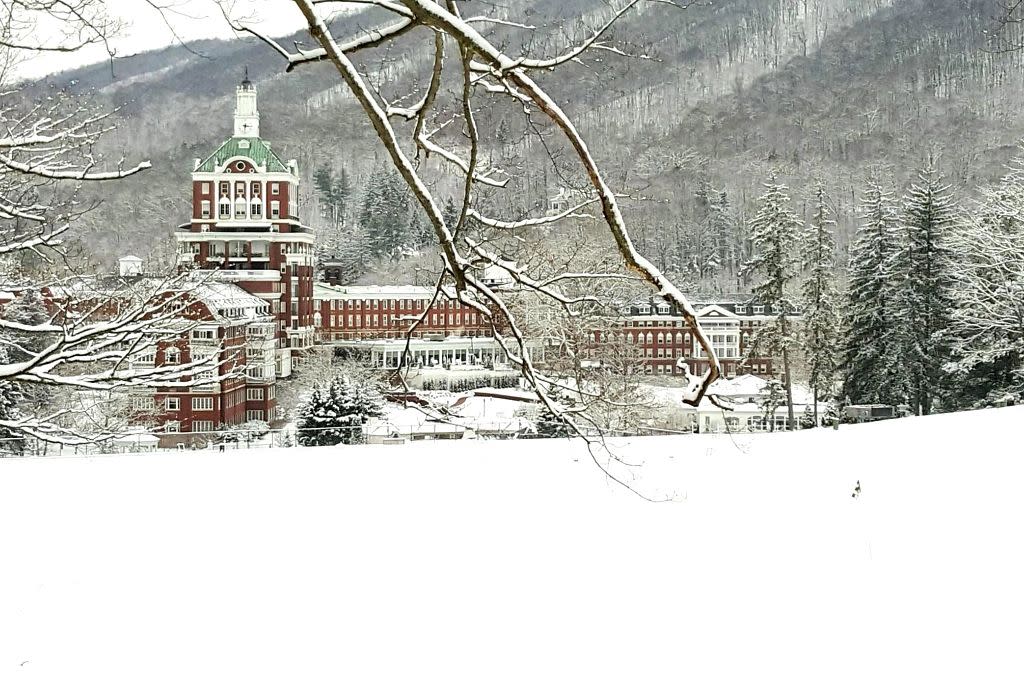 Image Courtesy of The Omni Homestead Resort
If luxury is on your list this winter, book a stay at the Omni Homestead Resort in Hot Springs, where you can spend your getaway skiing, ice skating, and relaxing at their world-class spa. The ski slopes are known for being very family-friendly, so bring along the kids for a winter vacation in the mountains. 
Shadow Mountain Escape—Luray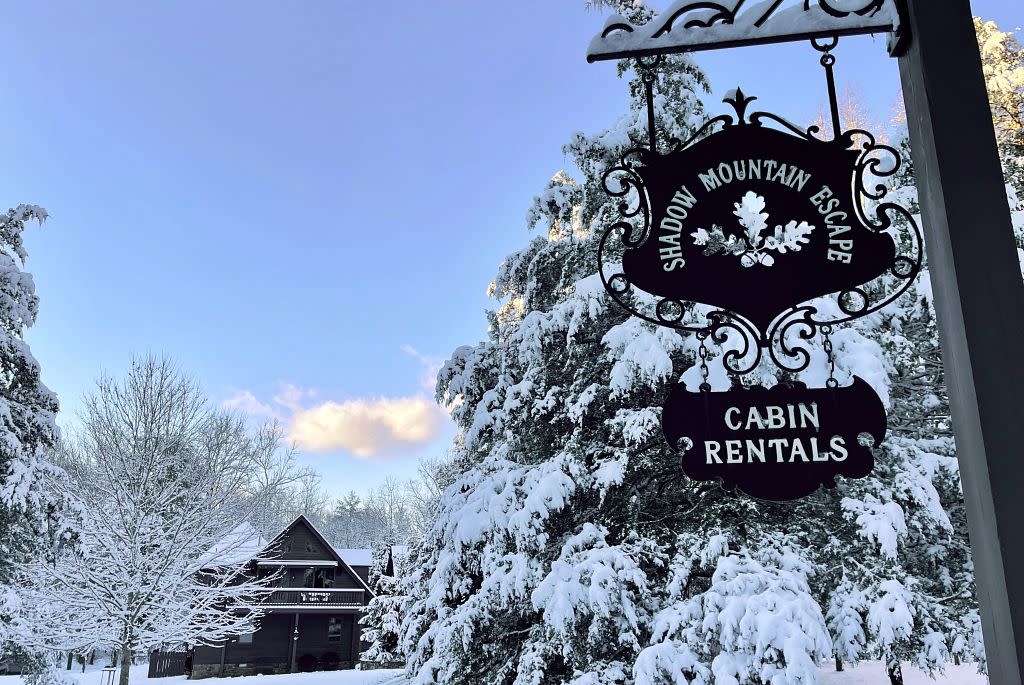 We can't think of a better winter retreat than a stay in a cozy mountain cabin, and the cabins at Shadow Mountain Escape in Luray are a great option for couples looking for a romantic escape. These upscale cabins are located just three miles from the Shenandoah National Park entrance, and there are multiple wineries close by. Spend an afternoon conquering a scenic hike through the mountains, then reward yourself with a wine tasting at a nearby vineyard. Each cabin is outfitted with a wood stove or fireplace, so after a day out in the chilly winter temperatures, you can warm up in front of a roaring fire (hopefully with a bottle of Virginia wine you picked up during your outing!). 
Wintergreen Resort—Wintergreen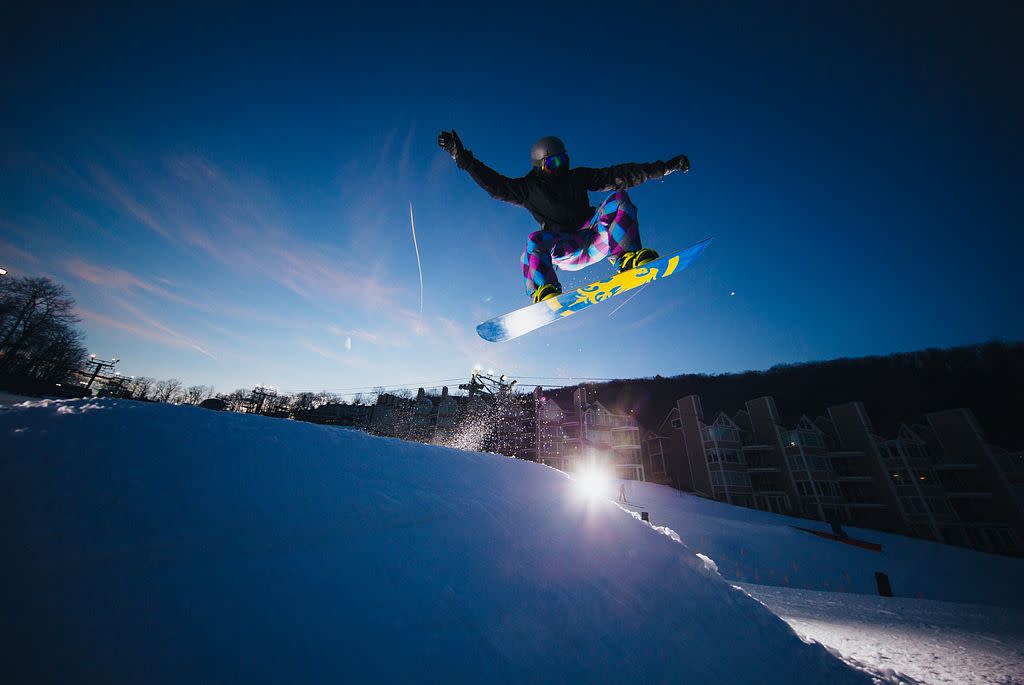 For some snow-filled fun, head to one of Virginia's four winter resorts, like Wintergreen Resort in Nelson County. Fly down the slopes on skis, snowboards, or tubes, where you'll get your fill of adrenaline while also getting prime views of the surrounding mountains under a blanket of pillowy snow. In addition to snow sports, Wintergreen has an indoor pool, a full-service spa, and several on-site dining options, and the accommodations range from double-occupancy rooms to chalets that hold up to 18 people.
These are but a few of Virginia's countless picturesque winter destinations; tell us, where are your favorite places to capture stunning Instagram-worthy winter pics in Virginia?