Virginia's wine industry continues to grow and deliver more award winning wines every year. The stunning landscapes don't hurt either. Take a drive for the latest uncorked vintage. Taste it where it was crafted; learn from the winemakers what you should taste, smell and feel as each sip crosses your lips. You'll also be delighted with special food and wine pairings or casual live music events throughout the warmer months.
If you love wine, grab a friend or two and take to one or more of these scenic drives for Virginia wine. Remember to designate a driver.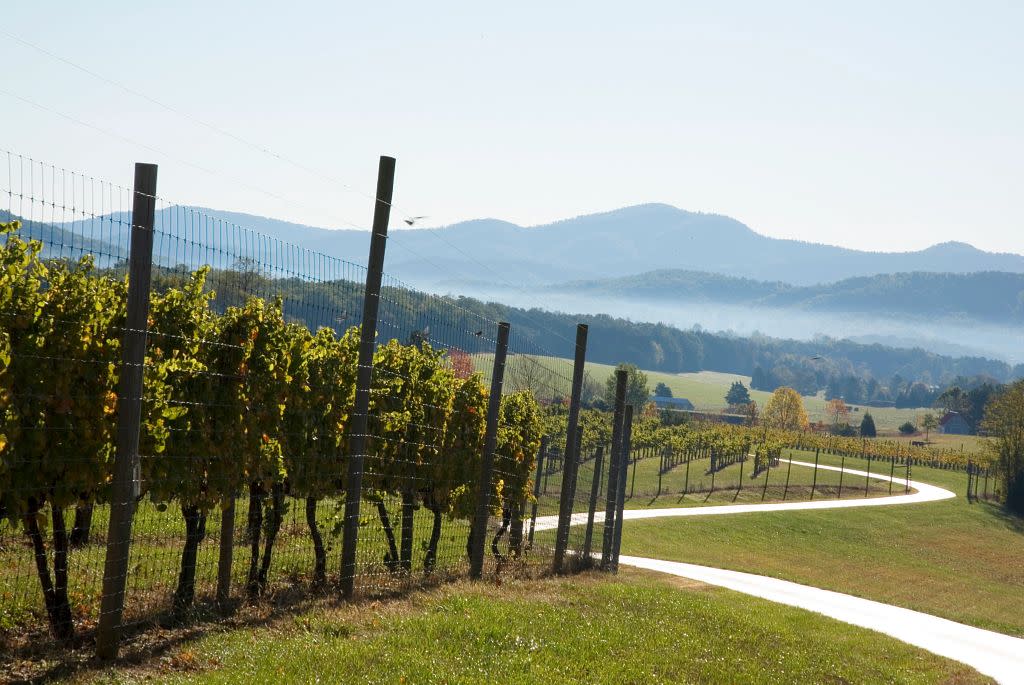 Afton Mountain Vineyards. photo credit: Christopher Hunter Photography
Shenandoah Valley to Blue Ridge Highlands
Wind your way through the Shenandoah Valley and encounter several wine trails at once. The larger trail, The Shenandoah Valley Wine Trail, includes 23 wineries between Berryville and Eagle Rock, a distance of 177 miles. Surely this is a weekend, or perhaps multi-weekend trip to take advantage of each trail, each winery, and every great bite of food along the way.
Farther down the Valley into the Blue Ridge Highlands is the Mountain Road Wine Experience, a meandering trail that highlights the tastes along the Blue Ridge Parkway between Roanoke and Floyd. Five wineries, a meadery and a cidery await.
Northern Virginia to Central Virginia
What better way to think of a gigantic wine trail than in clusters? Branch off on one or two of the Loudoun: DC's Wine Country clusters for a delicious couples weekend away. Each cluster is six to eight wineries strong and includes destination dining hot spots as well. Trail Map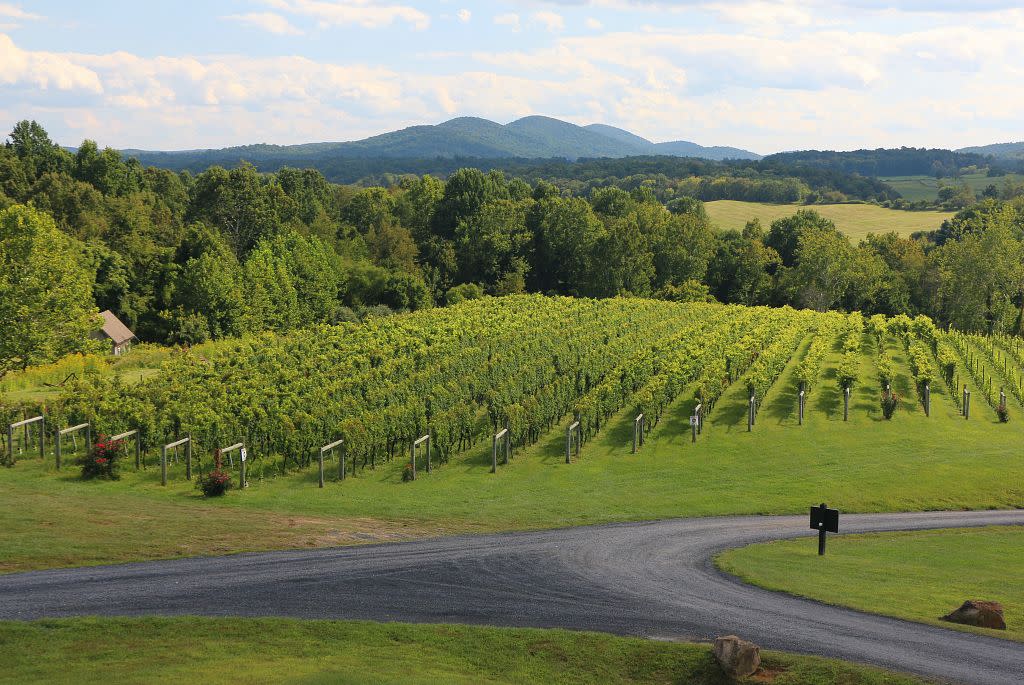 photo credit: Eric Weiss

South of the Loudoun trails is the Fauquier County Wine Trail featuring 26 wineries. This trail spreads from Delaplane off Route 17 to Sumerduck off Route 29. Route 55 is the main east to west corridor of this trail. Trail Map
Picking up in Warrenton, the 211 Scenic Vino Wine Trail follows Route 211 to "Little" Washington and has a total of 28 wineries. Along the way you can choose to stop and sip at a few of the wineries, or continue past Washington to Luray and on up the mountain to pick up Skyline Drive through Shenandoah National Park.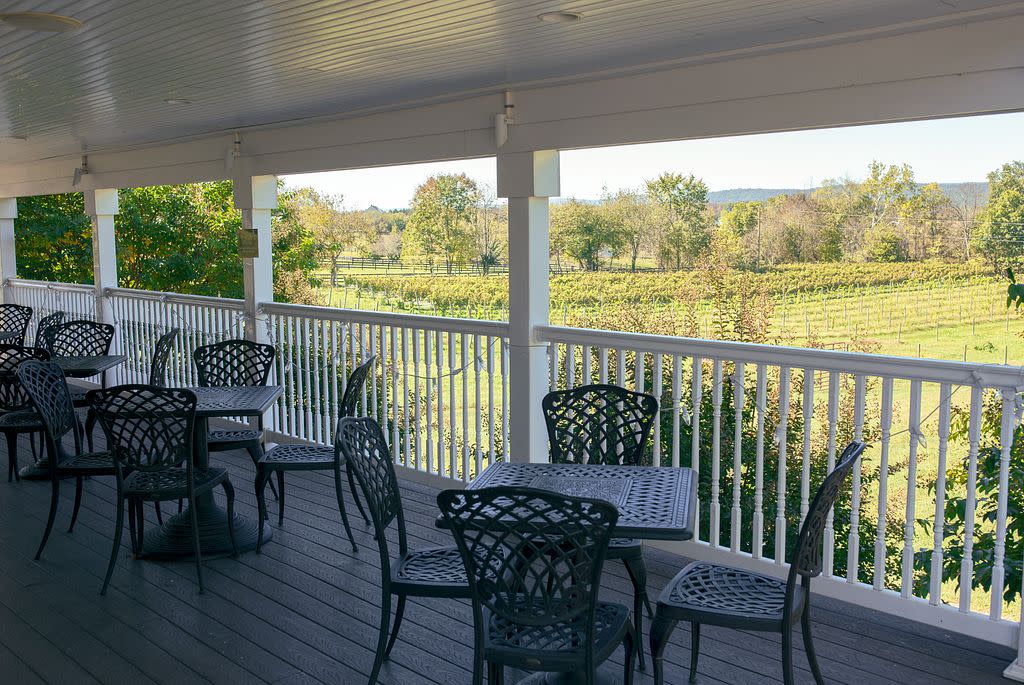 Sunset Hills Vineyard
In the same neck of the woods, check out the Artisanal Wineries of Rappahannock (some of which are also included in the 211 Trail). Route 211 will intersect with Route 522 and it's on this double route that you'll find four wineries between Front Royal and Culpeper. Route 231 towards Charlottesville from Sperryville offers up one more winery to bring the total to five for this trail.
The Blue Ridge Whiskey Wine Loop pretty much encompasses both the 211 and Artisanal Wineries trails as it does, in fact, loop from Front Royal on Route 522 to Warrenton, across Route 211 to Sperryville and continues on Route 34o through Luray to Front Royal again. With eight wineries, three distilleries, and three breweries, on this trail, you might opt to stretch it out over two days. Trail Map
Just south of the three aforementioned trails is the Foothills Scenic Wine Trail, an exclusive club of two wineries off Route 231 in Sperryville and Etlan, respectively. Trail Map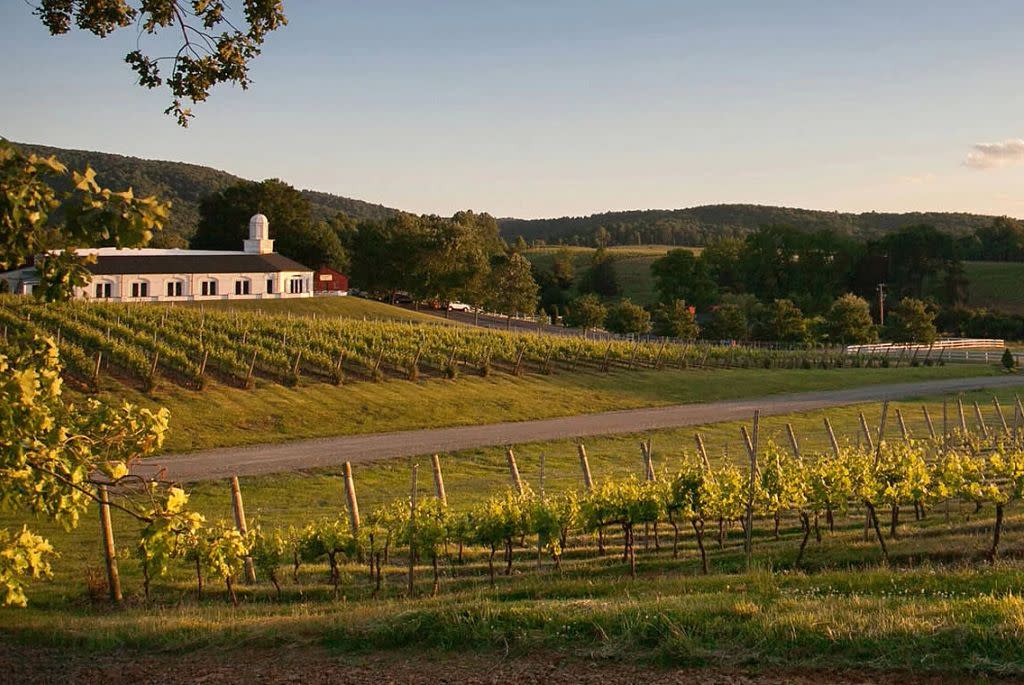 photo credit: Courtesy of Barboursville Vineyards
The Monticello Wine Trail is another large adventure that is broken up into five segments. Centered around the Charlottesville area, this trail of over 30 wineries is meant to incorporate the goodness of Thomas Jefferson's wine quests. Expect to experience history and great food as you branch off for a day or two.
From its most eastern point, the Monticello Wine Trail easily leads into the Heart of Virginia Wine Trail northwest of Richmond. This trail includes five wineries from Louisa to Glen Allen and Gum Spring to Spotsylvania. Trail Map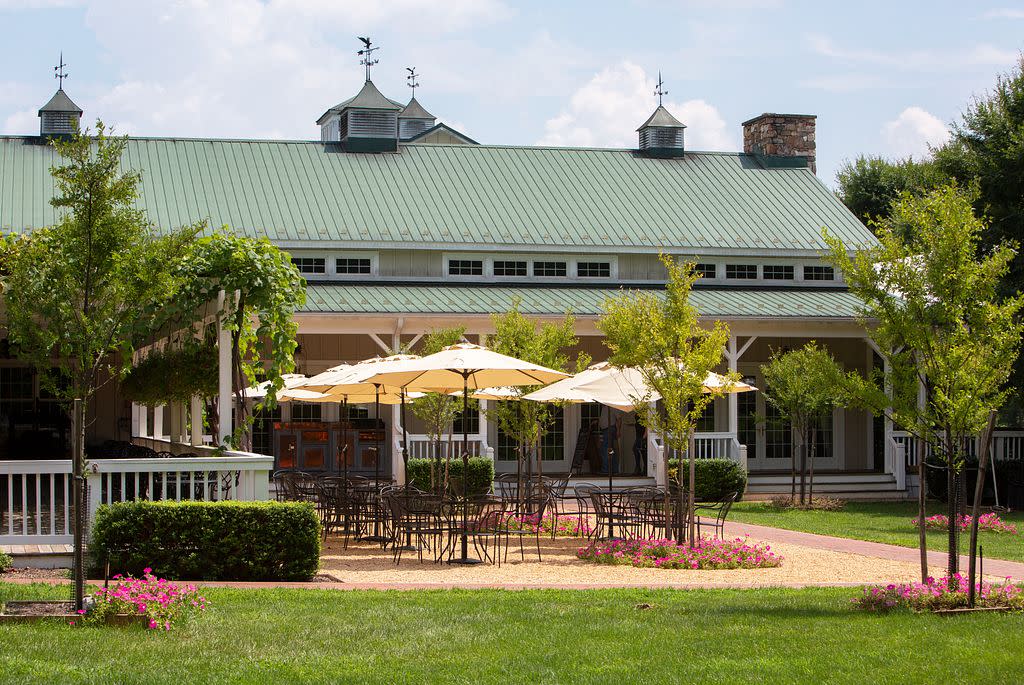 veritas winery
Circling back to the west, and the area lovingly called the "sunrise side" of the Blue Ridge, Nelson County boasts the Nelson 151 Trail. The 151 stands for Route 151, a drive that includes six wineries, four breweries,  three cideries, and a distillery. It's the most diverse of the adult beverage trails in Virginia. Trail Map
Central Virginia to Southern Virginia
Along the Bedford Wine Trail aficionados will experience the tastes of six vineyards and wineries from the Blue Ridge Parkway to Smith Mountain Lake. Trail Map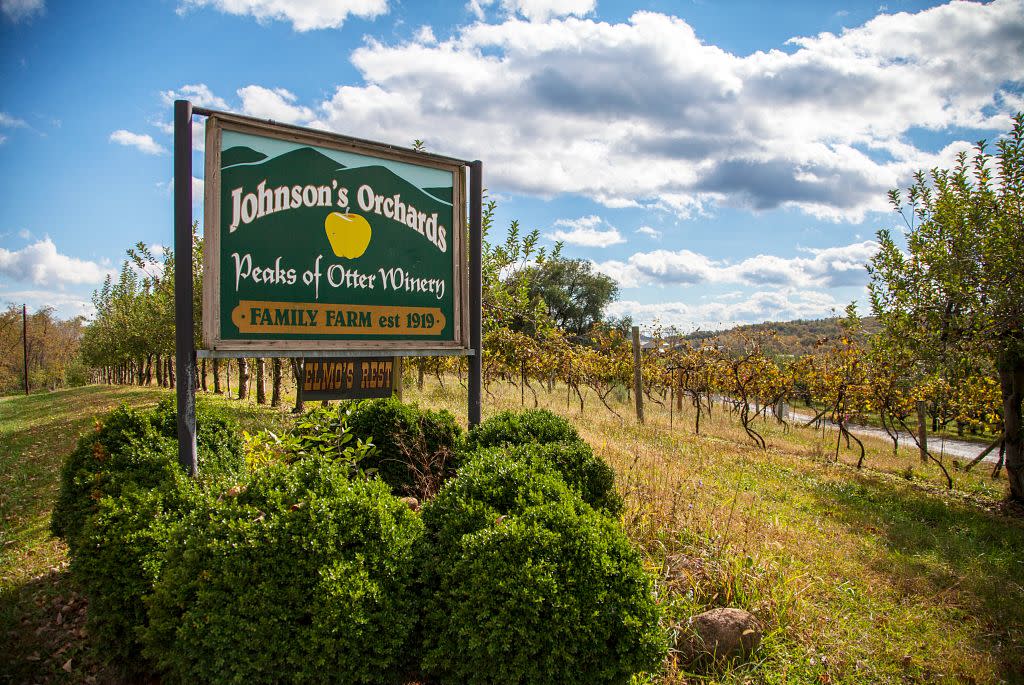 peaks of otter winery
Chesapeake Bay to Coastal Virginia - Eastern Shore
The 9 wineries of the Chesapeake Bay Wine Trail await your arrival. The scenery along the bay will steal your breath and the wines will tickle your taste buds. Check out their trail map and passport.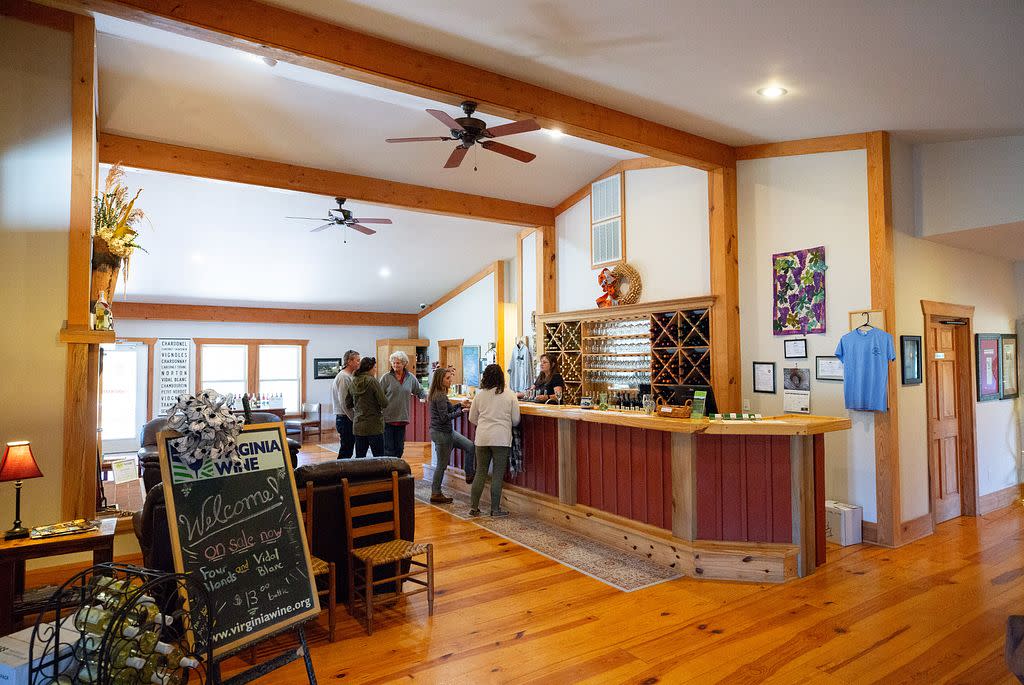 Good Luck Cellars
While these trails are a great start to get you out enjoying the wine where it's made, they do not incorporate every winery in Virginia. See our directory to locate one near you or where you're headed.