An agricultural hub, the Shenandoah Valley is the best place for authentic farm-to-table culinary experiences. From down-home cooking to authentic Italian and Mexican cuisine, there is something for everyone. Family farms, wineries and breweries can be found in every county across the Shenandoah Valley. Self-guided trails such as the Fields of Gold Farm Trail, Shenandoah Beerwerks Trail and Shenandoah Spirits Trail are a great way to explore the valley and experience some its culinary delights.
FOR BREAKFAST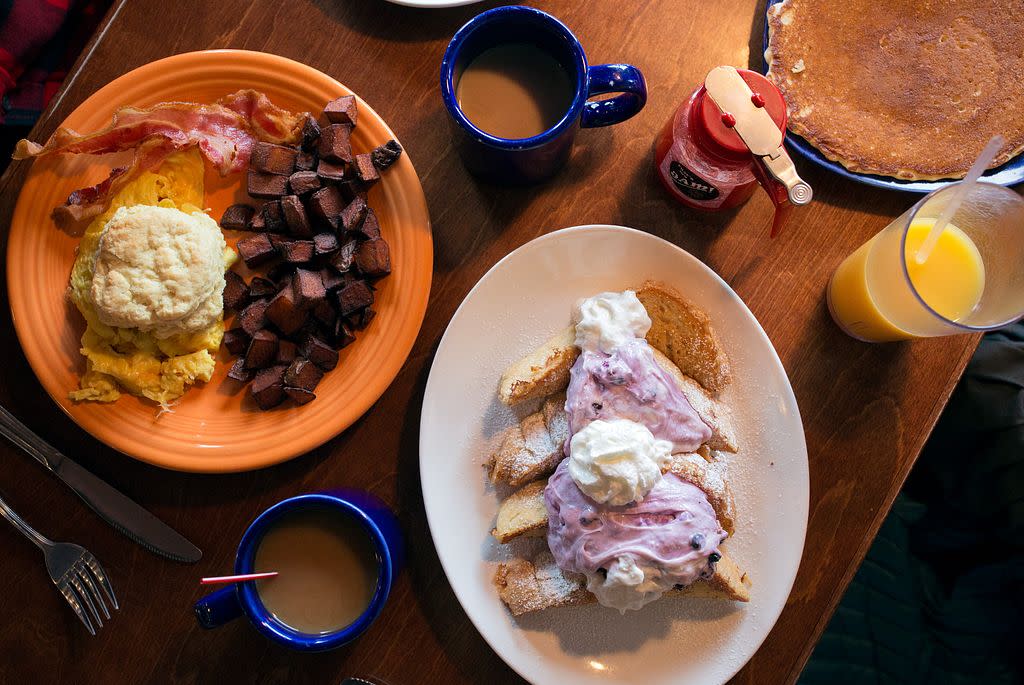 Stella Bella & Lucy's - Breakfast and lunch served in a unique setting with vintage items and artwork for sale. Destination point for the Artisan Trail of Virginia.
Cinnamon Bear Bakery and Deli – Serves sensational salads, scrumptious sandwiches/wraps, and a great soup of the day and sandwich combo. Breakfast is served all day.
L Dee's Pancake House – Family-run restaurant serving breakfast all day. Enjoy homemade biscuits, sausage gravy, omelets, pancakes and more.
Reunion Bakery – French bakery with outstanding pastries – sweet and savory, and delicious coffees. The new Blackburn Inn serves Reunion's pastries to their guests in the morning.
Thunderbird Café – "South meets West". Menu features everything from the Turner Country Ham Plate to Huevos Rancheros for breakfast.
More breakfast places:
FOR BRUNCH
Photo Credit: Steve Shires
Bistro on Main - Offers different menus for brunch, lunch, and dinner as well as daily special soups, quiches, and entrees. The intimate, casual atmosphere and affordable menu has made the Bistro on Main a favorite among locals and tourists alike.
The Restaurant at the Edinburg Mill - Rustic American style cuisine, with local meats and fresh ingredients. Items are house-made daily include vegetarian and vegan options.
Houlihan's Restaurant and Bar - Made-from-scratch meals in a trendy environment. From fresh-baked artisan breads to amazing mini desserts, you'll find a variety of popular dishes at an incredible value.
Table 44 - Scratch-made biscuits and homemade jam, endless omelet bar, and a loaded Bloody Mary that could be breakfast on its own!
More brunch places:
FOR LUNCH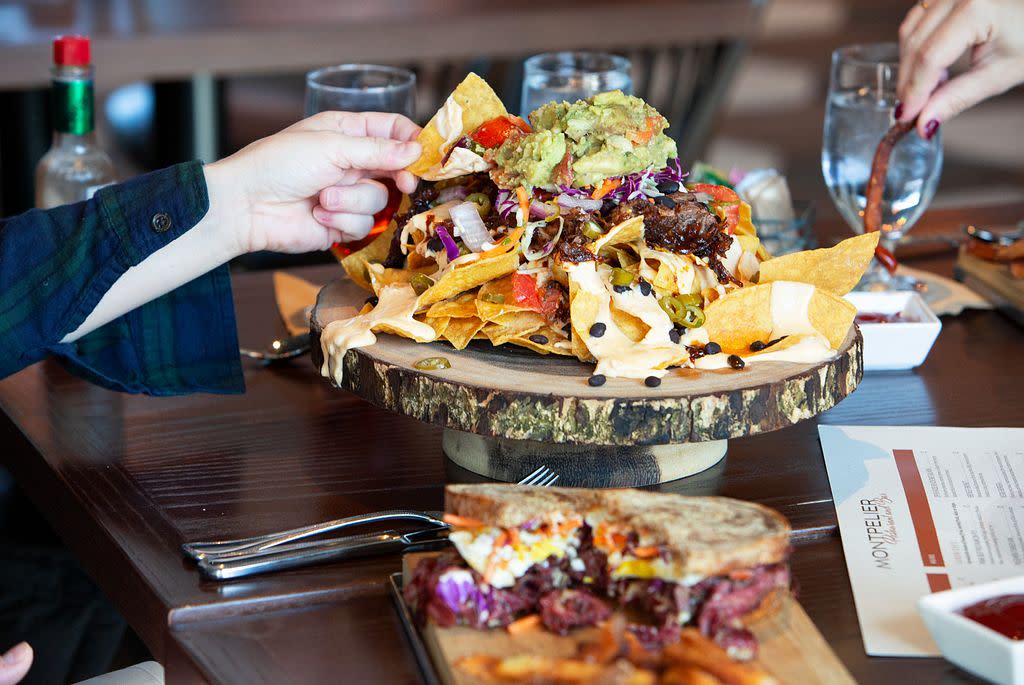 Montpelier Restaurant & Bar at Hotel Madison – Restaurant inside Harrisonburg's Hotel Madison serving signature styles of Southern-inspired cuisine in a rustically elegant atmosphere.
White's Wayside – Home-grown and locally owned. A community favorite since 1929. They live by their mission statement, ""Grown by our neighbors, cooked by our neighbors at a neighborly price".
Chicano Boy Taco - Handmade tacos and enormous mission-style burritos are available at this Mexican-American taqueria.
Gloria's Pupuseria - Pick-up a pupusa from Gloria's Pupuseria. These Salvadorian meat and cheese treats pack serious flavor.
Pure Eats - Offers fresh, house-made doughnuts, premium local burgers, HomeStead Creamery milkshakes, and a variety of local and regional craft beers on tap and in bottles.
Gathering Grounds – Coffee and espresso bar featuring homemade fresh pastries, breakfast items, gourmet sandwiches, soups and salads. Pup-friendly patio complete with complimentary filtered water and puppycino!
More lunch places:
FOR DINNER
Photo Credit: Courtney Cranor
Hops Kitchen - Utilizes Basic City Beer Co.'s beer in much of their BBQ, Asian, German, and American type fare. Video games, hammocks for lounging, two huge big screens for the sports fans, and picnic tables for dining are available.
Jack Brown's Beer and Burger Joint - Rustic old-time Texas-style saloon. Pop in for an American Kobe Beef burger and a beer. Enjoy deep fried Oreos, a lively atmosphere and the local scene.
The Shack - Top-ranked Virginia restaurant serving locally sourced high-quality food. Al a carte menu Wed-Thurs and prix fixe Fri-Sat. Communal seating. Their chef was recently named a James Beard Award finalist.
Hometown Grill of Staunton - Known for their Southern Fried Catfish and Southern Fried Chicken. Home-style and freshly prepared daily. Try one of their hot and ready buffets.
More dinner places:
FOR BARBEQUE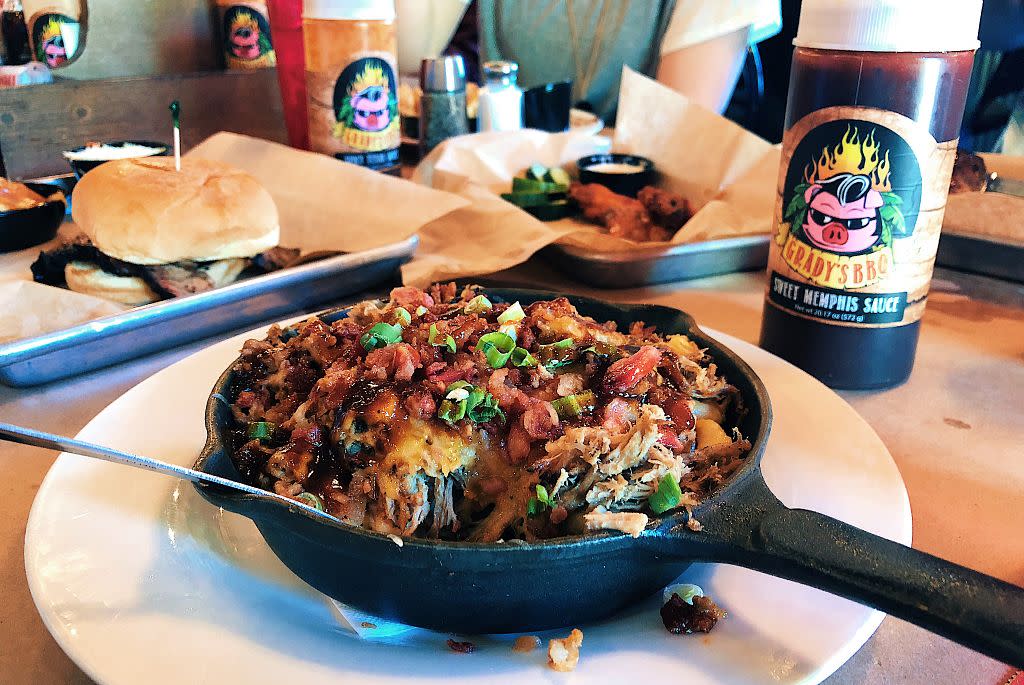 The Apple House - Good food, friendly staff and beautiful surroundings make The Apple House a landmark to visit. Visit for your gift needs as well as to pick up some famous BBQ or Apple Butter Donuts.
Mill Street Grill - Known for their Baby Back Ribs, which are tender, fall off the bone, and glazed with in-house barbecue sauce.
Hanks Bar & Grille – Specializing in authentic hickory smoked barbecue since 1992. They are famous for their Baby Back Ribs, Pork Barbecue and Texas Style Beef Brisket. They also offer fresh seafood and made from scratch bread and desserts.
Fishin' Pig – Fusion of Grady's BBQ and Shorty's Breading Co. Award-winning BBQ rub and famous chicken and seafood breading awakens all senses!
More BBQ Places:
FOR DESSERT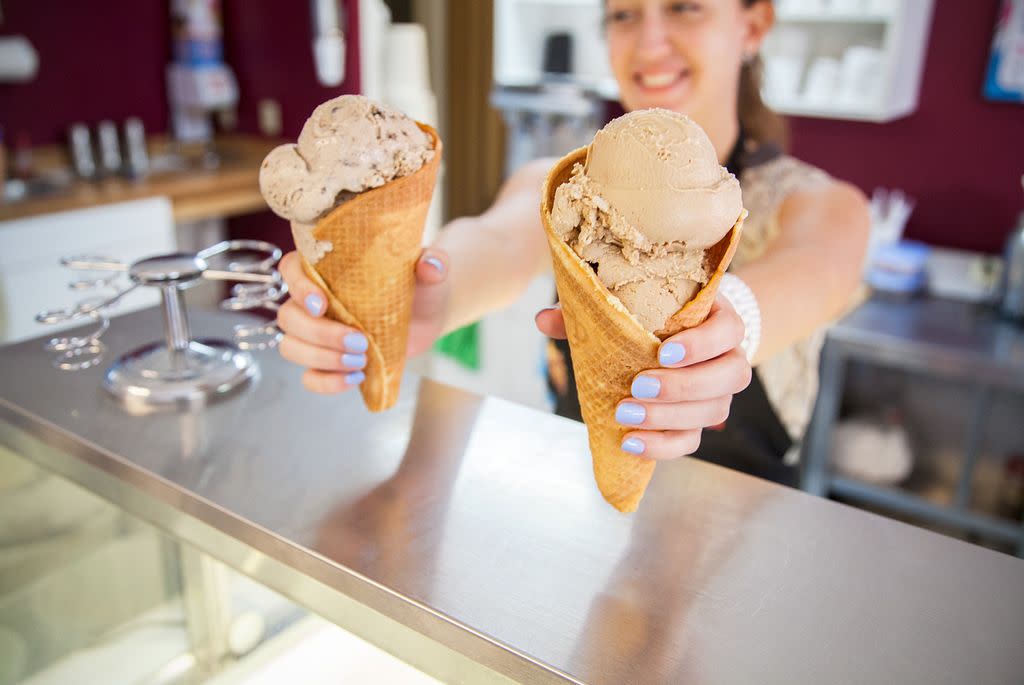 Sweet Things Ice Cream Shoppe - Homemade ice cream in hand-rolled waffle cones. Flavors are made fresh daily. Also available are milk shakes, sundaes, banana splits, cakes, pies and specialty candies.Virginia Living magazine's Best Ice Cream Shop in the Shenandoah Valley in 2014.
Firkin Pie Company - The scratch-made, buttery crust pies are out of this world and come in all shapes, sizes and with a variety of fillings.
Heritage Bakery & Café – Located in the Hardesty-Higgins House Visitors Center of downtown Harrisonburg. Ever-changing daily selection of baked goods, breakfast and lunch items, and more.
Grammie's Ice Cream – Offers 36 flavors of hand-dipped, slow churned ice cream in cones, sundaes, banana splits, and milk shakes. Locations in Dayton and Massanutten.
Smiley's Ice Cream - Ice cream shop and a mobile ice vendor specializing in making premium homemade ice cream, sorbets, and other ice cream novelties. The storefront is located at Mt. Crawford Creamery.
More dessert places:
FOR COCKTAILS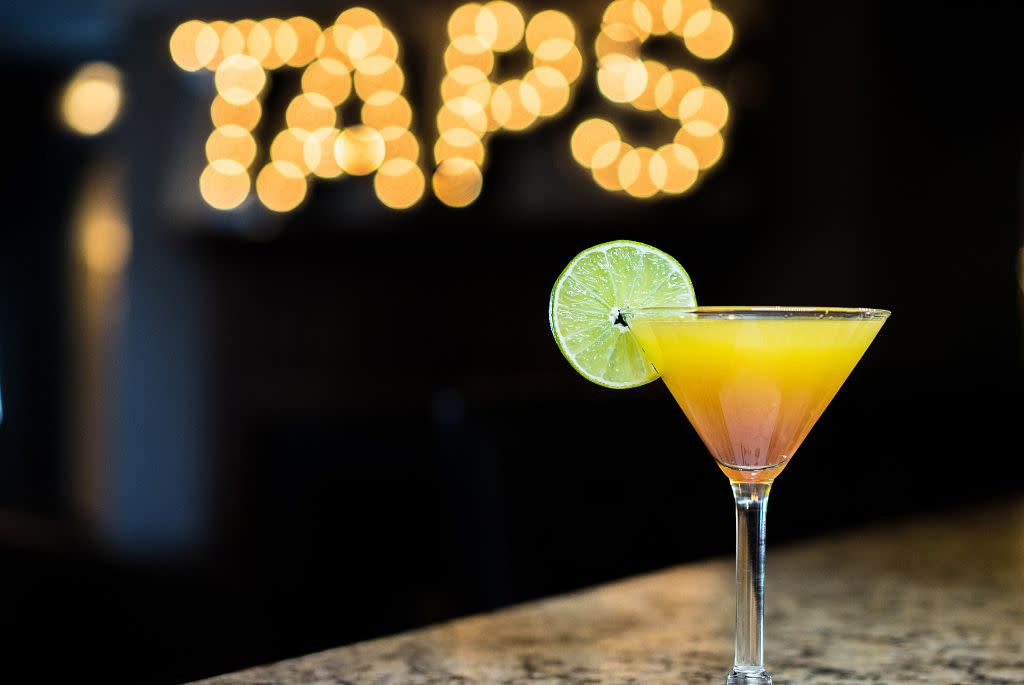 Photo Credit: Steve Shires
TAPS - Serves upscale pub fare featuring craft beer, creative cocktails, salads, sandwiches and snacks made with many ingredients from farms throughout the Shenandoah Valley.
Silk Road - Distinctive flavor, exquisite dish preparation and delicious Asian selections! Sushi, Chinese, Japanese, Thai and Asian fusion pair with a full bar of breathtaking drinks and great wines options.
Zynodoa – Offers specialty cocktails such as the "Unencumbered" consisting of Plymouth gin, St. Germaine, mint, lime and cucumber. A four-course Chef Tasting Menu, with optional wine pairing is also available.
Local Chop and Grill House – Voted 'Best Happy Hour' 2010-2012 and 2014-2016. Features 18 rotating drafts—with a solid selection of Virginia craft brews. Bartenders specialize in creative seasonal cocktails using fresh ingredients and hand-crafted elements.
PaveMint Taphouse – Located in a renovated 1960's gas station which backs up to the bike-walking trail and arboretum along Happy Creek. Provides unique cuisine, signature cocktails, micro brews and fine wines.
Jalapeno Southwest Grill - Authentic Tex-Mex restaurant with top-shelf Tequila bar and specialty margaritas.
FOR LOCAL CRAFT BREWS
Photo Credit: Blue Ridge Bucha
Blue Ridge Bucha – Offers certified organic kombucha made from Blue Ridge Mountain water. It is infused with the finest organic ingredients to create refreshing and unique flavors.
Jack Brown's Single Wide Beer & Burger Joint - Offers over 100 craft beers from around the corners and around the world. Pair with their award-winning burgers.
Basic City Beer Co. - A natural spring pumps a million gallons of artesian water for use in the brewery's beers. Seasonal brews and Blue Ridge Bucha are available.
Seven Arrows Brewing - Provides high quality craft brewed beers along with a seasonal beer. Eventide IPA, Sinistral Wheat, Aurora Pils, and Three Ridges Vienna Lager are always available.
Stable Craft Brewing – Offers 16 farm-fresh beers on tap. Situated on a true working farm, Stable Craft offers entertaining activities from tours of their hop fields to visiting horses.
More Craft Brew Places:
FOR WINE LOVERS
The Bistro at CrossKeys Vineyards - Specializes in exquisite wines, delicious food, and fabulous events with gorgeous views of the surrounding Blue Ridge Mountains.
Yelping Dog Wine - Extensive wine menu changes weekly so you can try and enjoy many different Virginia wines. Free wine tastings from different vineyards are available. Local tip – Gourmet grilled cheese sandwiches are amazing!
Bluestone Vineyards – Family owned and operated vineyard offering locally produced wine from some of the best grapes Virginia has to offer.
Cave Ridge Vineyard – Restaurant opening spring 2018! Currently hosts special food events such as Caribbean night and Wild Game Dinner. Family-owned and operated, located in the foothills - an ideal location for growing the highest quality grapes.
More wine places:
Visit these restaurants in the Shenandoah Valley and find more awesome food experiences around the Commonwealth to eat & drink what you love in Virginia!