New performance recalls Queer history and experiences
BRIEF HISTORY OF OPERA
In Florence, Italy around the year 1600, a group of musicians, writers, and intellectuals gathered together to conduct an experiment: Could they recreate Ancient Greek drama? As it turned out, they did not recreate Greek theater, but instead, they created a brand new form of art called "opera" which combined poetry, music, drama, design, and dance into one, cohesive performance. 
"Opera" literally means "a work," and as it has spread across national, language, and cultural lines, the artform has continued to evolve. Now, opera is performed all over the world by incredible, diverse artists, and a growing number of new works are now performed along with the masterpieces of the past. In fact, opera is in the midst of a renaissance where new works are beginning to rival older ones in quantity and box office sales.
LGBTQ+ OPERA PERFORMERS
Since the beginning of opera, artists of all backgrounds have been involved in the artform. While artists of the past did not use the language we use today to discuss sexuality and gender identity, opera was a rare, artistic space that explored gender conventions. In many cases, works from the 1600s feel modern and relevant because of the nuanced portrayals of sexuality and gender. Additionally, women have always been welcomed on the operatic stage, sometimes even performing male roles onstage (this is called a "pants role"). Gay composers have also always been involved in opera, and today, artists such as Michael Fabiano , Patricia Racette, David Portillo, Jamie Barton, Nicholas Phan, Andrea Mastroni, Adrianne Pieczonka and Anthony Roth Costanzo, are bringing their respective identities into the artform. Non-binary and trans performers are also having their voices heard such as Holden Madagame, Lucia Lucas, Liz Bouk, Breanna Sinclairé and Adrian Angelico.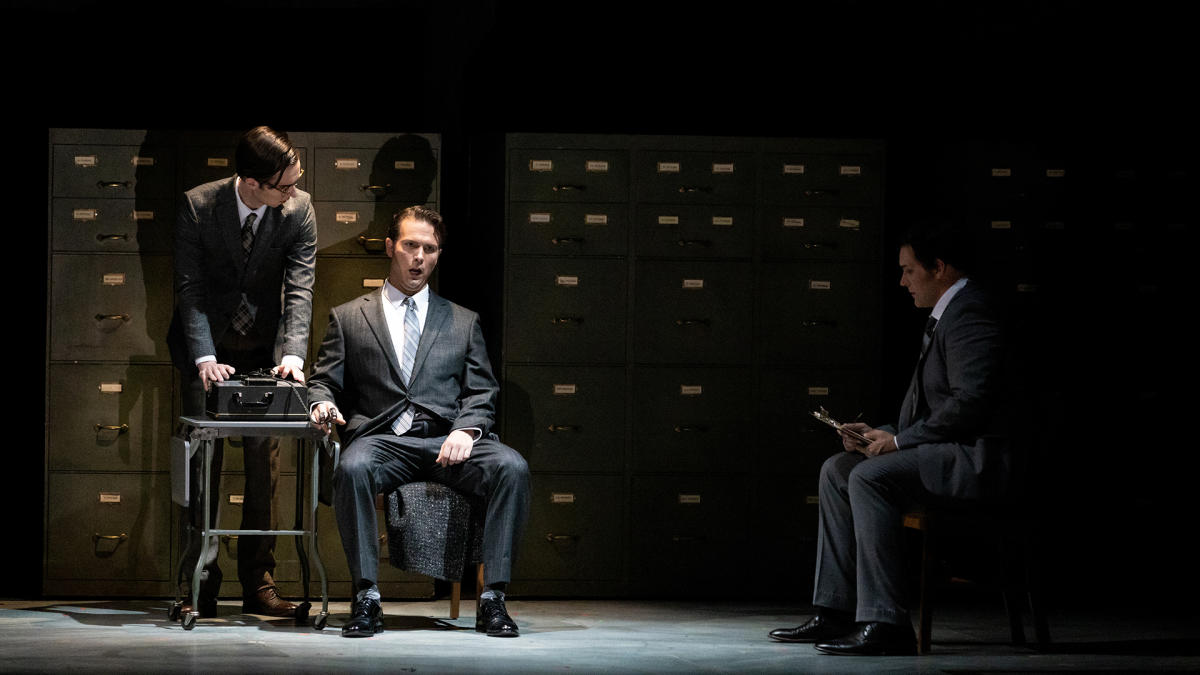 THE VIRGINIA OPERA
All of those people, histories, and stories lead us to an exciting moment as Virginia Opera produces the Commonwealth premiere of Fellow Travelers. First organized in 1974 by a group of Norfolk, Virginia volunteers, the company presented its first productions in 1975, and in the following four decades has become known and respected nationwide. In March 1994, the Virginia General Assembly named the Virginia Opera the Official Opera Company of the Commonwealth of Virginia in recognition of the organization's contribution to the Commonwealth and to the world of opera. Today, the Virginia Opera currently presents four productions a year at three major Virginia venues: Norfolk's Harrison Opera House, Richmond's Dominion Energy Center for the Performing Arts, George Mason University's Center for the Arts in Fairfax.
FELLLOW TRAVELERS
We were fortunate enough to speak with Virginia-born Gregory Spears composer of the current production of Fellow Travelers. And, with conductor Adam Turner and Joshua Borths, Virginia Opera's Resident Scholar & Development Assistant. Based on the 2007 novel Fellow Travelers by writer Thomas Mallon, it follows the story of a 1950's love affair between two men caught in the turbulent moment of Senator Joseph McCarthy's "Lavender Scare" – an overt policy to drive homosexuality out of government service.

Virginia Opera ~ Composer Gregory Spears, Conductor Adam Turner and Resident Scholar Joshua Borths
Where did you each grow up, and how did your early experiences inspire your relationship with music and performance? When did opera take center stage in your work?
Gregory Spears ‒ I grew up in Virginia Beach, and I remember going to the Virginia Opera in Norfolk and falling in love with the form. I was so excited about how music could help tell stories in an emotionally resonant way. It would be some time before I found the right artists (writers, directors, singers) in order to write an opera myself. That happened much later when I moved to New York.
Adam Turner ‒ Originally from Louisville, KY, my earliest experiences in classical music were annually attending the Nutcracker and accompanying my grandmother to symphony concerts and touring Broadway shows. That early exposure definitely planted the seed, but it wasn't until college that I discovered my love of opera and the power of operatic singing. Through accompanying singers at the piano, I discovered a world of expression and color that I've never stopped wanting to explore.
Joshua Borths ‒ While I grew up in Cincinnati, Ohio, I had a similar experience to Adam and Greg. I grew up going to the theater. However, as I talk with audiences across the country, it's inspiring to hear the stories about how audiences begin to fall in love with this crazy art form. For some, they've been attending since high school. For most, they come to opera as adults, connecting to the drama, history, music, and spectacle of live performance. Now is the perfect time to explore opera, and it's never too late to dive right in. In fact, at Virginia Opera, we have pre-show lectures 45 minutes before each performance in order to orient audiences and prepare them for what they will experience.
While members of the Queer community have always been involved in opera from the start, how often do you see operas with LGBTQ+ story content as the main event? Is this a new trend or a lesser known genre gaining momentum? 
Gregory Spears ‒ As you note, opera has always been full of queer sensibility, perhaps most apparent in opera's approach to gender fluidity onstage. But stories that directly address queer life are more rare. However, there are quite a few recent operas that have been successful at bringing queer stories to the stage, so I think we're gaining momentum.
Adam Turner ‒ Absolutely, I think there's definitely momentum for greater representation on the stage. Whether it's in the stories being told or the storytellers themselves, audiences are finding deeper and more meaningful connections to the content being showcased.
Joshua Borths ‒  It's so exciting! One of the trends we are seeing in contemporary opera is an intentional awareness for diversity. Queer stories, stories of the Black experience, immigrant experience and more are selling out opera houses across the country. Now, more than ever, everyone's story is being sung.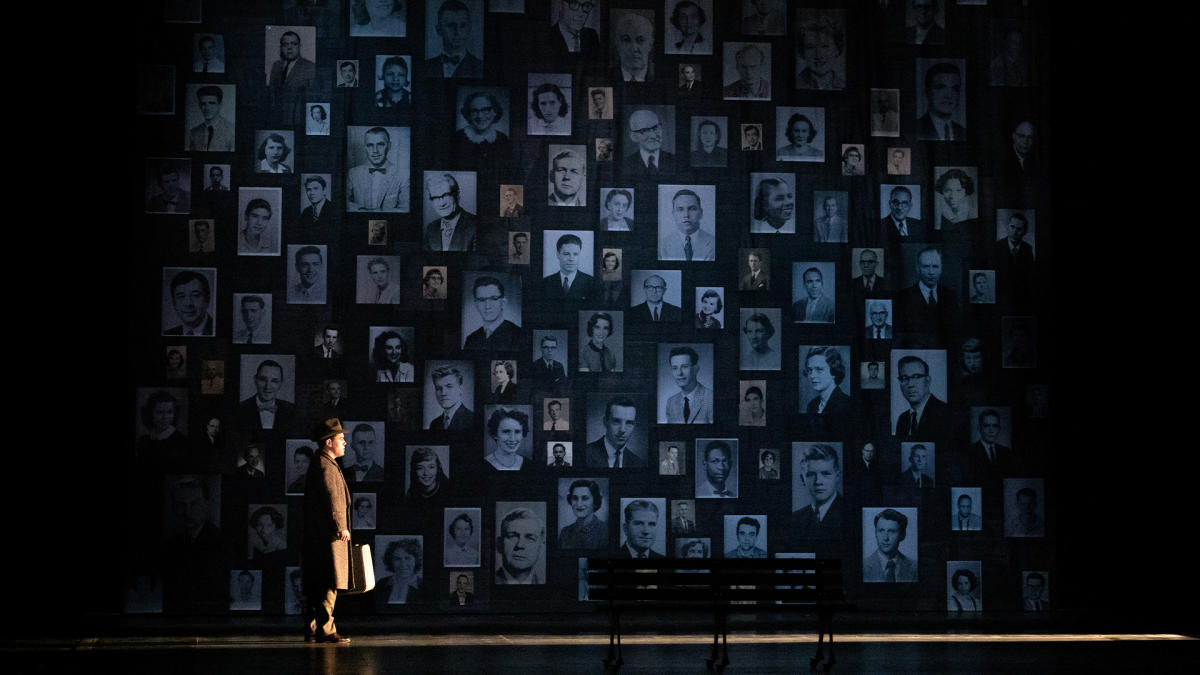 While Greg Pierce's libretto for this opera, or "source book" with script and song lyrics may be constant, you are giving performances in Norfolk, Richmond and Norfolk. Do you keep the same conductor and orchestra when traveling or do you change that up for different locations?
Adam Turner ‒ One of the best parts of my job is that it's truly statewide. As the official opera company of the Commonwealth, all of us at Virginia Opera travel throughout the state, not only providing mainstage performances in Hampton Roads, Richmond, and Fairfax, but also connecting with opera lovers in smaller communities and ensuring this incredible art form has the capacity to enrich everyone's lives. Virginia is such a beautifully diverse state, and I love having the opportunity to meet new people, discover new restaurants, attend performances, and explore all there is to offer.
Joshua Borths ‒ We really strive to make the show consistent across the tour. It's hard to do, and there is a reason why Virginia Opera is one of only a few companies who tour. However, it's worth it to bring these pieces to audiences statewide. Fellow Travelers in particular has been incredibly meaningful. Greg's music is stunningly gorgeous, and each character is carefully delineated. There was a lot of craft and thought that went into this opera, and it shows. The libretto drops you right into the world of McCarthy and "The Lavender" scare, and seeing this story unfold against a forgotten, historical backdrop moves me to tears each time. But, I'm not alone. So many people have been moved by these performances, and we hope as many people as possible will come experience it. With discounted tickets, Pride Nights, and more, the opera house is more accessible than ever before.
After reading more on your company of performers, you've gathered quite a talented group to share the story. Will you share any insights into that process, and any standout scenes or performer collaborations you are most excited about? 
Gregory Spears ‒ Virginia Opera and Adam Turner cast this particular production, so he could elaborate more, but I've seen the two leads perform their respective roles multiple times around the country, so it's been a delight to watch them find new details each time.
Adam Turner ‒ One of the best parts of my job is traveling throughout the country, scouting talent and learning about new works. Attending the 2016 world-premiere performances of Fellow Travelers in Cincinnati, I had the great fortune to hear one of our stars in the role tailor-made for his voice - baritone Joseph Lattanzi, starring as Hawkins Fuller. Joseph has performed this role in multiple productions nationwide, so the depth of experience and commitment he brings to this role is a masterclass in performance. Starring opposite Joseph is tenor Andres Acosta, who's also performed the role of Timothy Laughlin many times elsewhere, though never alongside Joseph. It's like a collision of artistic excellence in the best possible way - dramatic fireworks and impeccable singing, a dynamic duo full of chemistry!
Visitors and Virginians are so lucky to have access to such diverse and high-quality opera productions. It must be meaningful and exciting to part of that.
Gregory Spears ‒ For me personally, it's that it's happening in my home town. The piece has been seen in lots of cities, but it feels different when it's playing in the very theater in which I experienced my first opera. I could never have imagined — back in the 90s — that one day I'd see my own work on the same stage.
Before we end our interview, for your last question — While traveling throughout Virginia, what are a few of each of your favorite places to stay, eat, shop and play?
Adam Turner ‒ Home-base for me is Norfolk, and my absolute favorite restaurant is LeGrand Kitchen, an intimate dining establishment with tasty creations by chef Stephen Marsh. Do not miss it! No visit to Richmond would be complete without a stop at my favorite bookstore, Chop Suey Books, where you just never know what you might find in the used book section. And every time I'm in Fairfax, I love throwing on some running shoes and heading out on the Gerry Connolly Cross County Trail.
Joshua Borths ‒ When at home in Richmond, I love exploring Carytown and the breweries around Scott's Addition. While traveling across the state, I always look for the great coffeeshops of Norfolk –Mea Culpa in particular– and downtown Fairfax. I would also love to shout out Ocean Paradise. I also always seek out local bookstores like Fountain Bookstore, and we love to attend theater at the Signature Theatre in Shirlington / Arlington.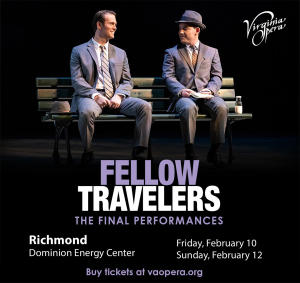 Virginia Opera's performances of Fellow Travelers | Visit their website for ticket
** Meet the Author & VA Opera Scholar ** 
Following the Saturday, Feb. 4 performance, PEN/Faulkner Award finalist Thomas Mallon, author of the 2007 novel Fellow Travelers on which this opera is based, will participate in a post-performance discussion from the stage
Following the Sunday, Feb. 5 matinee, Virginia Opera Resident Scholar Joshua Borths will lead a post-performance discussion with the artists in the Center for the Arts main lobby
 
** Coming in March - La Traviata ** 
Prepare to be swept away by one of opera's most tragic love stories. The tale of the stunning courtesan Violetta and the hopelessly romantic Alfredo is woven with some of the best-known music in the repertoire. La Traviata's high points are matched with tears in the tragic end.