We're excited that it's nearly time for spring break, and that means it's the perfect time to take the family outdoors.
We're jumping for joy that spring is nearly here!
Here are six reasons to visit one or more Virginia State Parks, and take advantage of this time together. 
1 | SPECIAL PROGRAMMING
All 41 Virginia State Parks offer self-guided or ranger-led programming to make it easy to get outdoors and enjoy the beginning of spring. Find a list of programs here.
"When families and friends spend moments together in Virginia State Parks, those moments become lifetime memories that are cherished forever. Spring break is the perfect time to get outdoors to shed those winter blues and enjoy what parks have to offer."  - Craig Seaver, Former State Parks Director
2 | WANDER THE TRAILS
With 600 miles of trails to choose from, spend time in the woods or along the major waterways of Virginia walking for pleasure and/or exercise. Spring is a great time to observe wildlife and plants as nature wakes up after its winter sleep. Did you know you can track your visits to different Virginia State Parks and earn pins as you visit more? The Trail Quest program is web-based. You sign up and as you visit new parks you record your visits. Sign up and start logging parks you have already visited now. You'll be on your way to being a Master Hiker.
3 | TRY GEOCACHING
If you haven't tried your hand at geocaching, we have caches to get you hooked on this family activity. It's a scavenger hunt using GIS coordinates so it will appeal to your tech dependent family members. 
4 | GO FOR A FAMILY PHOTO SHOOT
Bring your smart phone or camera to take pictures. Post to Instagram using #vastateparks to share your spring break experiences. Sometimes the random photos taken in our parks are the best.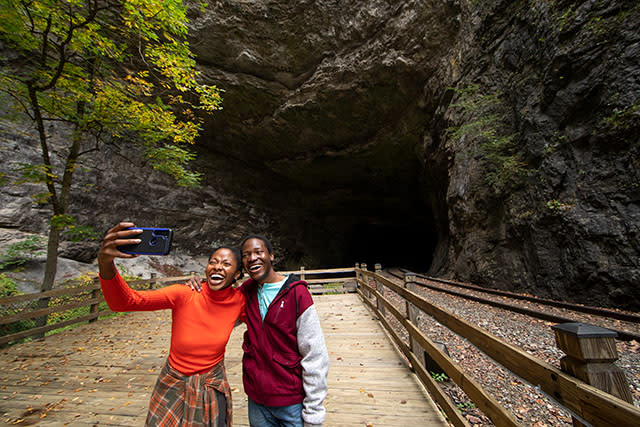 5 | VISIT FOR FREE
Many libraries in Virginia offer nature backpacks to check out. In addition to some handy tools to investigate the natural world, the backpacks include a parking pass for no cost entrance to the park. Most parks offer the backpacks if you forget to check one out before your visit. Find participating libraries here.
6 | STAY A FEW MORE NIGHTS
Most Virginia State Parks offer campsites or cabins that can be reserved to make your visit last longer than a day. Contact our customer service center at 800-933-7275 or book online.
Consider a family camping trip for spring break. Photo by Kenton Steryous.
You can even stay in one park and visit other state parks in the surrounding area. The communities around our Virginia State Parks also feature attractions to visit during your stay. Each park's web page has a section that includes ideas of what to do in the local area.
Written by Nancy Heltman for Virginia State Parks.
Featured image provided by Virginia State Parks