With COVID-19 cases dropping in Virginia, many music festivals will return in 2022, bringing back some of the most anticipated events to the Commonwealth. Please note, some festivals may be requiring proof of vaccination or a negative COVID test to gain entrance. Check with the individual festivals for more information.
FloydFest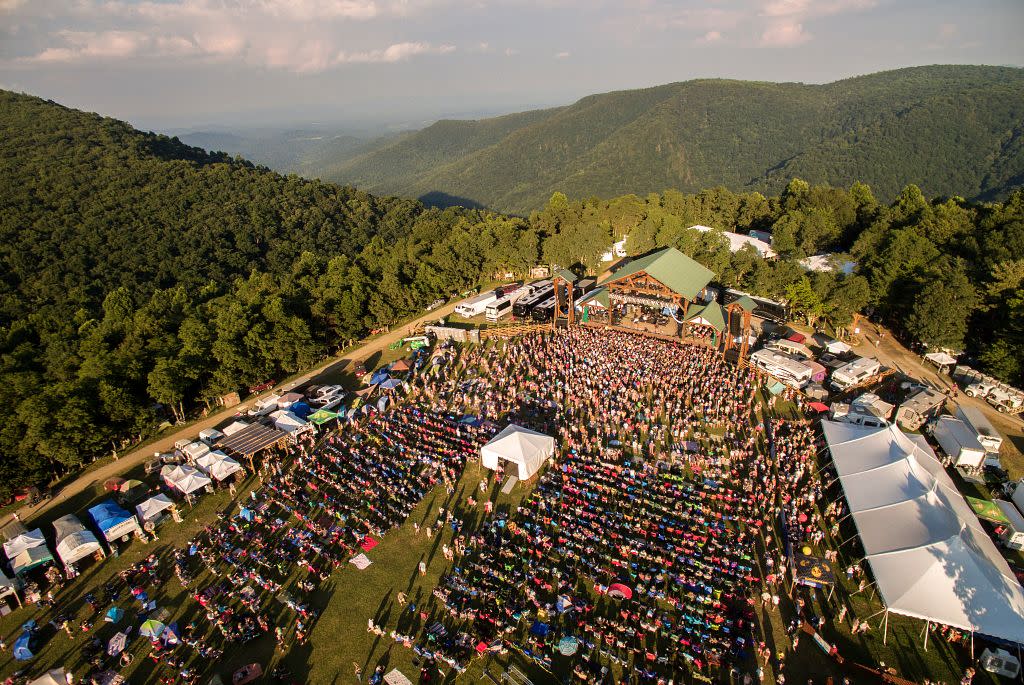 Photo Credit: Morgan Harris
Status: Scheduled for July 27-31, 2022
One of Virginia's biggest and best music festivals, FloydFest is a five-day festival in the mountains of Floyd. Attendees can camp in the trees of the Blue Ridge Mountains during the festival and take in live music with more than 100 artists on eight stages, outdoor adventure, local vendors offering everything from artisan-made goods, workshops, healing arts seminars, and children's activities.
Red Wing Roots Music Festival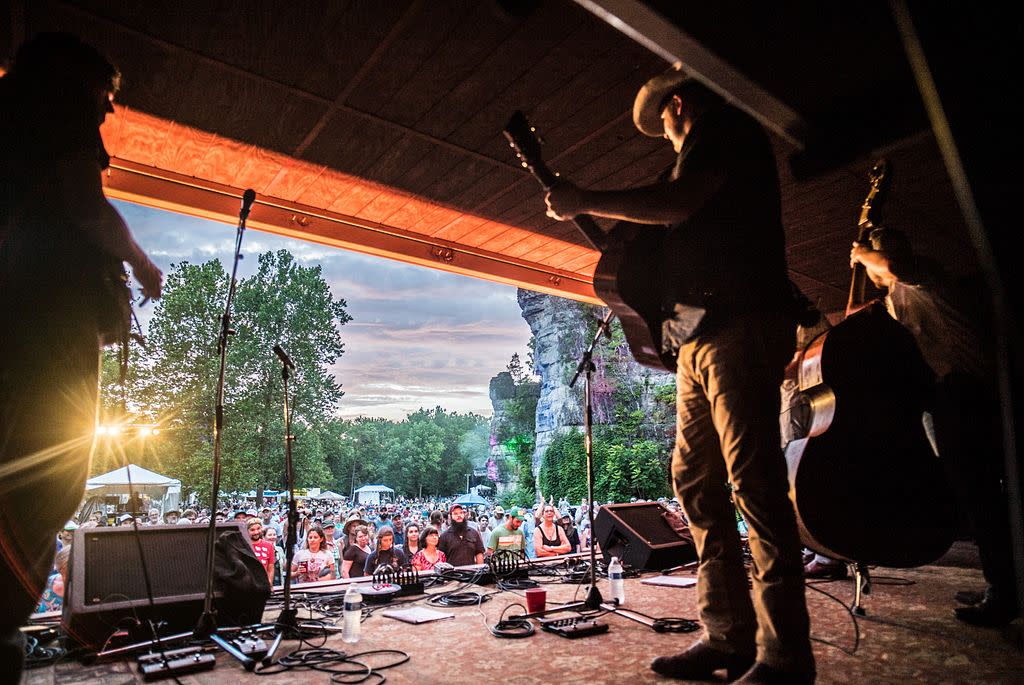 Photo Credit: Jay Sansone
Status: Scheduled for June 24-26, 2022
The Red Wing Roots Music Festival is held over three days at the scenic Natural Chimneys Park in Mt. Solon, is a family-friendly event that blends bluegrass and folk music. Multiple stages allow a wide array of regional and national bands to continuously play various genres during the festival, and there are tons of organized outdoor events as well such as bike rides, hiking, fun runs and interactive kids activities.
Rooster Walk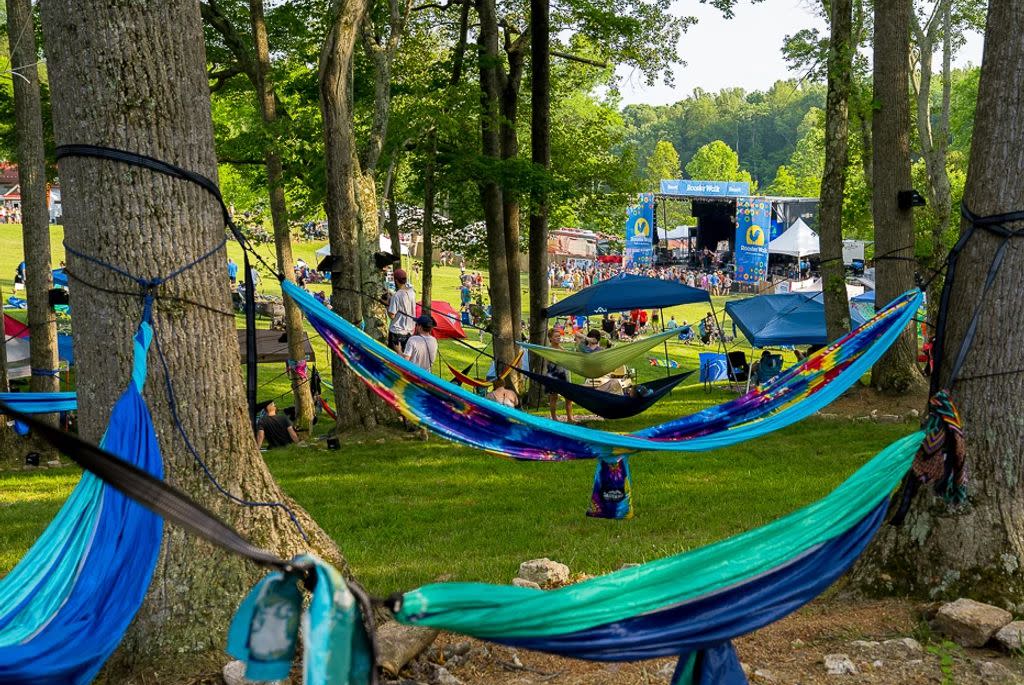 Photo  Credit: Ryan Guite
Status: Scheduled for May 26-29, 2022
The Rooster Walk Music and Arts Festival features musical performances across several different genres, including bluegrass, rock, reggae, jazz, country and Americana - all in a family friendly environment. In addition to music, explore several vendor booths to partake in arts and crafts.
Virginia Arts Festival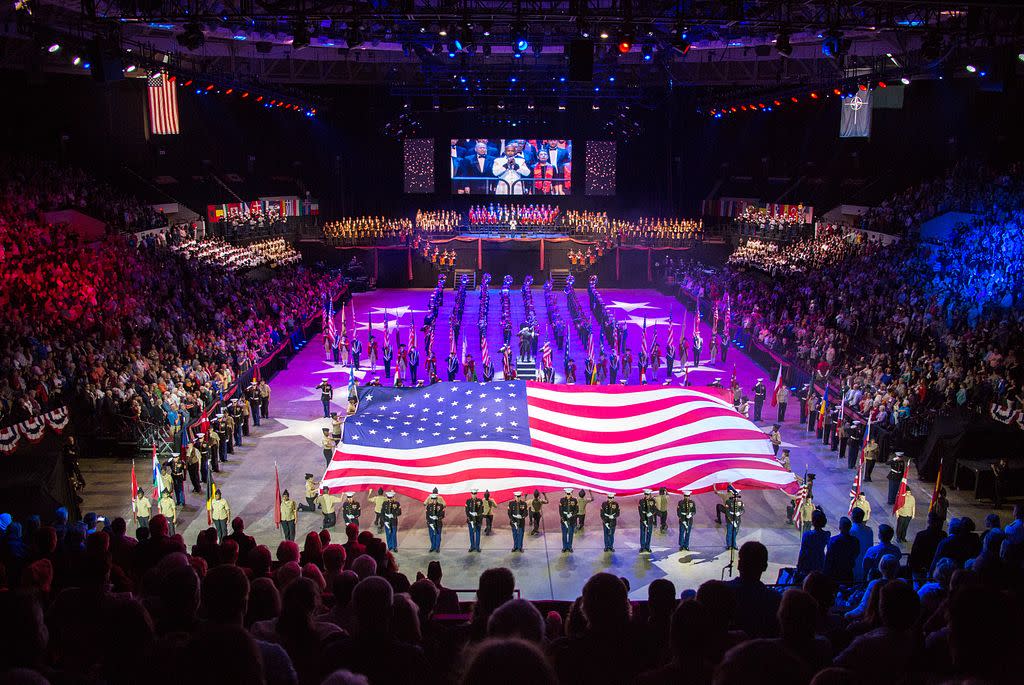 Status: Scheduled for various dates from March 25 through the end of summer 2022
Every year, the Virginia Arts Festival, brings the world's great artists to performance venues throughout the Hampton Roads area. The big event is the Virginia International Tattoo, which pays tribute to the United States Military. Presented in the grand tradition of the world's oldest tattoos, this Tattoo is an all-American show of patriotism and pride – one international sensation.
Patriotic Festival
Status: Scheduled for May 27-29, 2022
On the last weekend of May, Virginia Beach hosts the Patriotic Festival, an annual event that honors our armed forces personnel and their families. The Patriotic Festival is a three-day-long event featuring concerts from country music stars, military expos, and displays.
Shenandoah Valley Music Festival
Status: Scheduled for weekends from April 4-September 4, 2022
Held over summer weekends at the beautiful historic retreat and conference center of Shrine Mont, the Shenandoah Valley Music Festival has brought countless talented musicians to the region, with past artists including LeAnn Rimes, Bruce Hornsby and The Temptations.
Hampton Jazz Festival
Status: 2022 Festival canceled; new dates June 23-25, 2023
The annual Hampton Jazz Festival attracts the nation's top blues, soul, pop and jazz performers. Each June, tens of thousands of loyal fans from all over the nation converge in Hampton to be a part of this three-day celebration.
Friday Cheers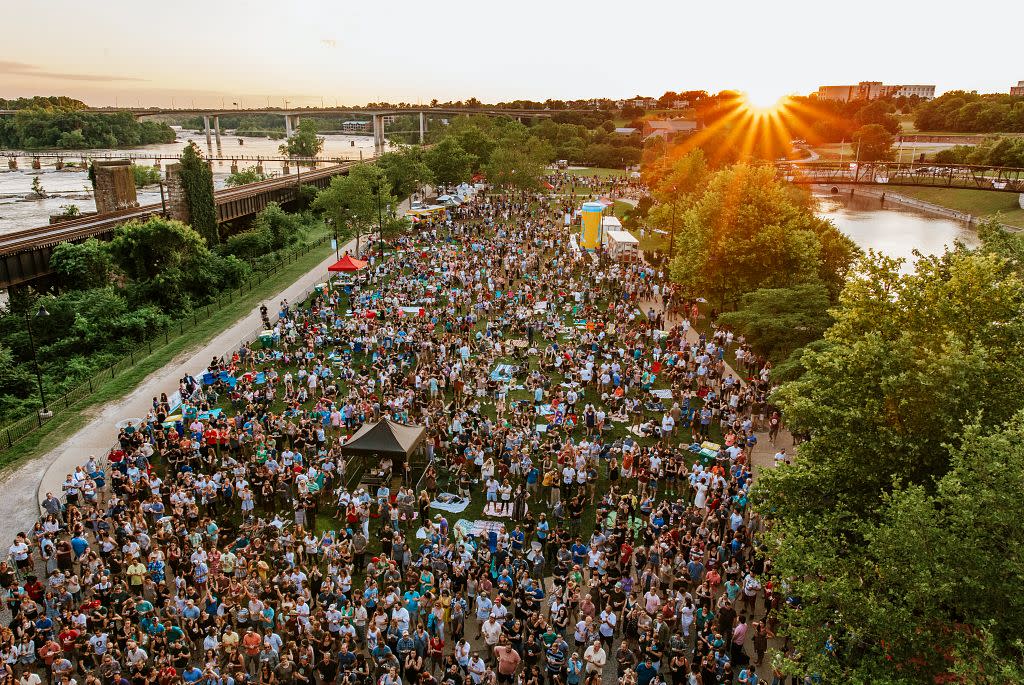 Photo Credit: Joey Wharton, @joey_wharton
Status: 2022 season still planned for Friday evenings from May 6-June 24, 2022
Richmond's summer concert series, Friday Cheers, brings regional favorites along with national acts to Brown's Island every Friday night in in May and June. Attendees can either buy general admission tickets to individual shows or purchase a season pass for $50.
Galax Old Fiddlers' Convention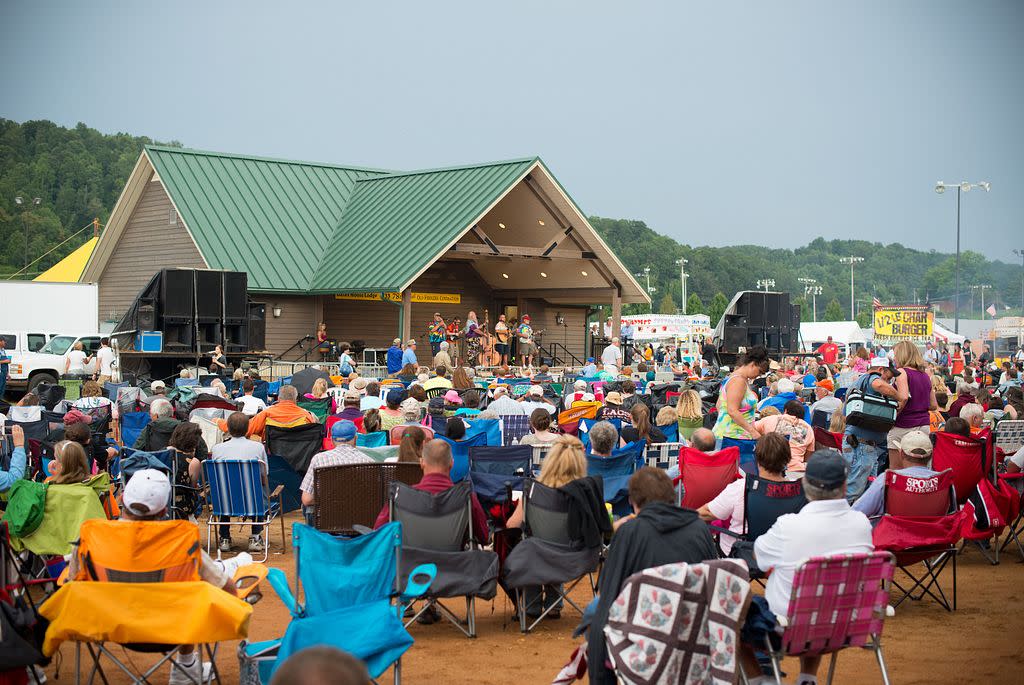 Photo credit: Emily Miller
Status: Scheduled for August 8-13, 2022
The oldest and largest fiddlers' festival in the world, the Galax Old Fiddlers' Convention pays tribute to the region's rich culture and mountain music roots. Since 1935, this festival has brought musicians and bluegrass fans from around the world to discover the sound that defines the Blue Ridge Mountains. After 80+ years, the festival is still one of the most affordable, fun events anywhere on the east coast, providing a family-friendly vacation option for those looking to learn more about Southwest Virginia's extensive musical background.
Richmond Jazz and Music Festival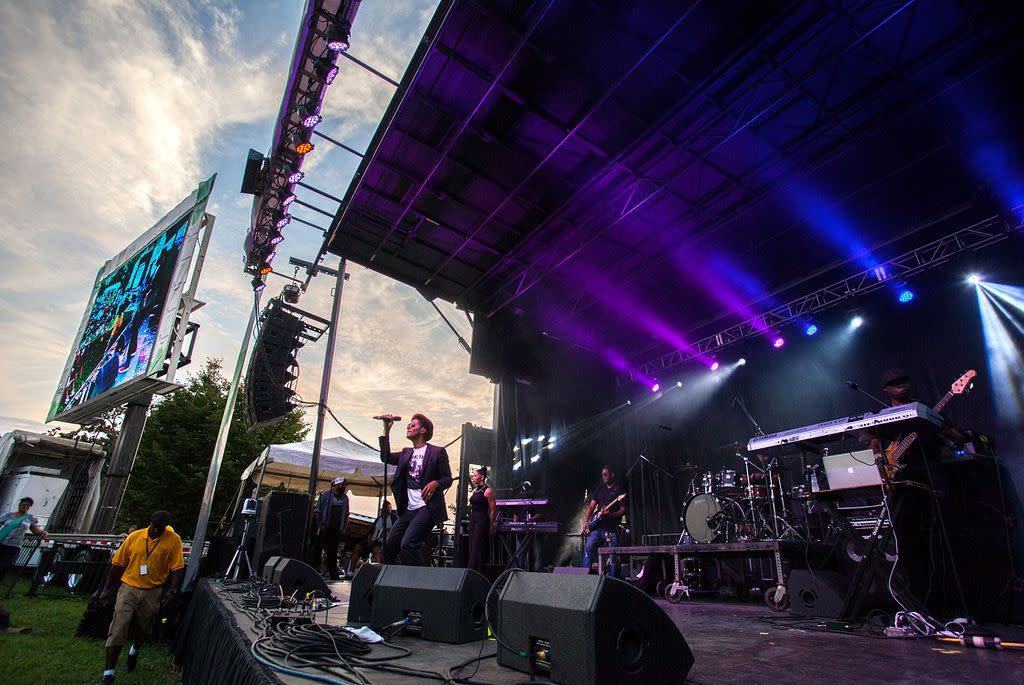 Status: Cancelled for 2022, returning in 2023
Experience the world's best jazz and R&B music set against the beautiful rolling hills of the historic grounds of Maymont at the Richmond Jazz & Music Festival.
Staunton Music Festival
Status: Scheduled for August 12-21, 2022
The Staunton Music Festival brings 60 of the world's most acclaimed musicians to perform in more than 20 concerts in historic venues throughout downtown Staunton. The daily concerts range from eclectic and feature chamber music from the Middle Ages to world premieres, performed by vocalists and instrumentalists from across Europe and the U.S. There are also free pre-concert talks and special offers with numerous downtown restaurants and hotels.
Blue Ridge Music Center Summer Concert Series
Status: The 2022 Summer Concert Season is planned for Saturdays in late May-early September.
The Blue Ridge Music Center in Galax features a state-of-the-art amphitheater on the Blue Ridge Parkway and hosts concerts each weekend June through September.
Dr. Ralph Stanley's Hills of Home Music Festival
Status: Scheduled for May 25-28, 2022
Dr. Ralph Stanley's Hills of Home Music Festival is located in the beautiful mountains of Southwest Virginia at Dr. Ralph Stanley's "home place" in McClure. The three day festival is a great opportunity to see traditional bluegrass bands.
Bristol Rhythm and Roots Reunion
Photo Credit: Cora Wagoner
Status: Scheduled for September 9-11, 2022
A three-day festival along Downtown Bristol's State Street, Bristol Rhythm & Roots Reunion celebrates Bristol's heritage as the Birthplace of Country Music, where some of the most noteworthy and influential musical recordings ever created. Catch more than a hundred bands playing on 19 stages during the festival, filling the streets of Bristol with Americana, country, bluegrass, rock, blues, and several other genres that trace their roots to the Bristol Sessions.
The FESTY
Status: 2022 schedule TBA
The FESTY is an outdoor, socially distanced concert series held at Chisholm Vineyards in Earlysville, less than 10 miles from Downtown Charlottesville.
Appaloosa Festival
Status: 2022 schedule TBA
The Appaloosa Festival is a roots music and outdoors experience set at the Skyline Ranch Resort among the beautiful backdrop of the Blue Ridge Mountains. Hosted by Scythian, Appaloosa features  some of the most critically acclaimed up-and-coming artists from all over the country.
Richmond Folk Festival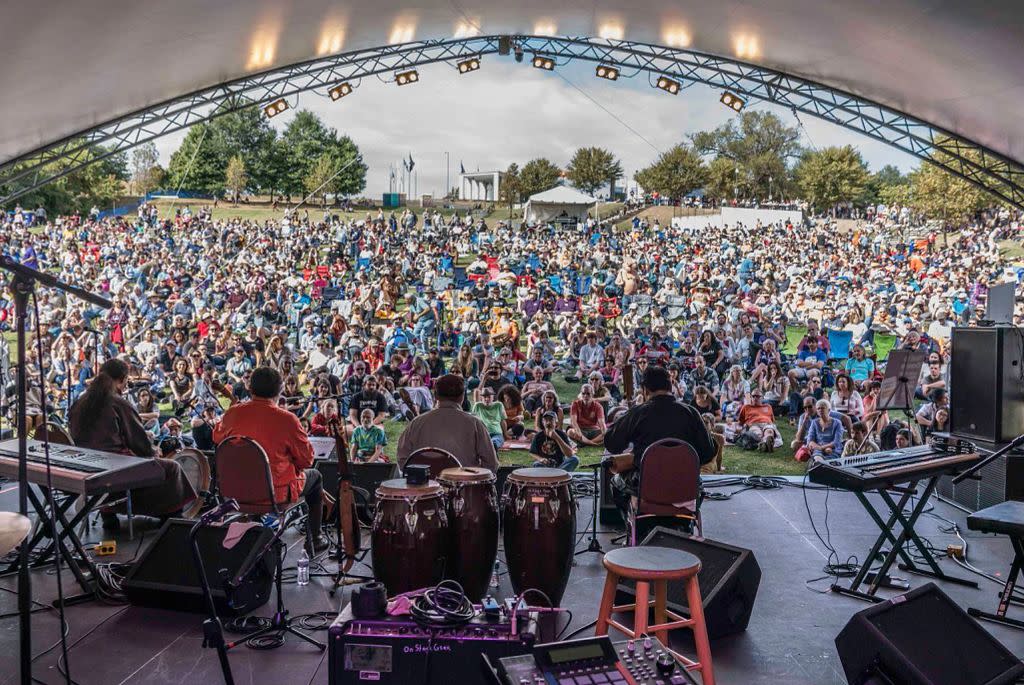 Photo Credit: Dave Parrish, @rvaphotog
Status: October 7-9, 2022
Celebrating the roots, richness and variety of American culture through music, dance, traditional craft and food, the Richmond Folk Festival features more than 30 performing groups on seven live music stages, along with a Virginia Folklife demonstration area, children's activities, a folk arts marketplace, regional and ethnic foods and more. The free three-day festival is one of the largest events in Virginia.