When it comes to winter in Virginia, most people want to hunker down by a warm fireplace and avoid the chilly weather at all costs. But we have an even better idea; head to a Virginia winter sports resort to embrace the cold! These four resorts offer several winter sport options for every skill level, including skiing, snowboarding, and tubing, as well as spas, cozy luxury lodgings, and multiple on-site dining options. Ready to hit the slopes? Use this guide to each destination to help you decide which Virginia winter resort is right for you.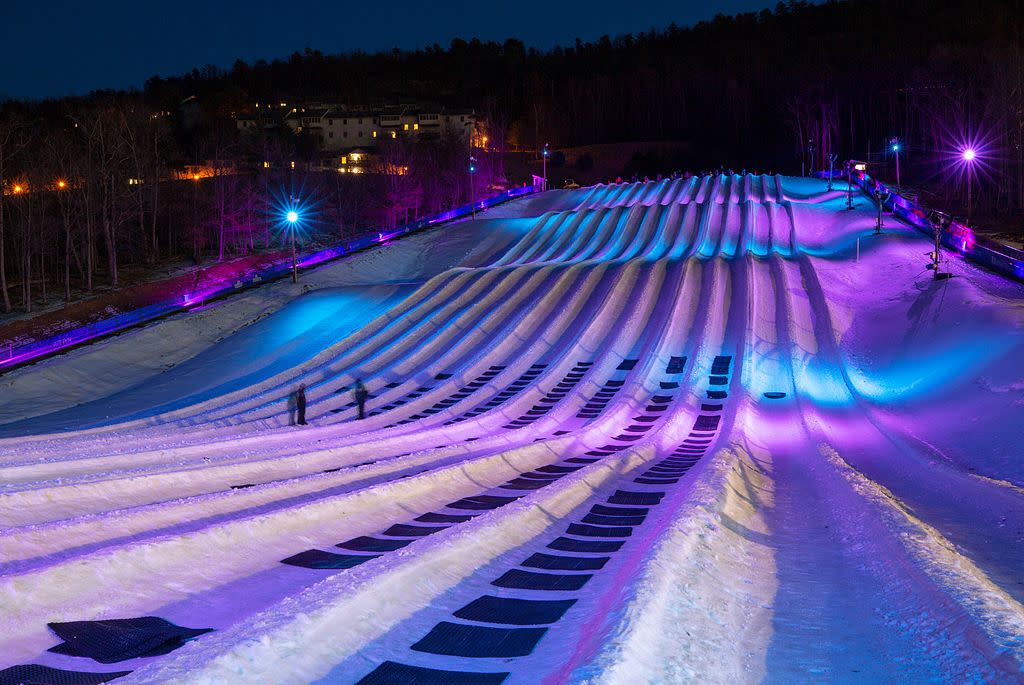 See Current Slope Conditions Massanutten Resort is just west of Shenandoah National Park, about 30 minutes from Harrisonburg, 45 minutes from Staunton, and an hour from Charlottesville. In addition to slopes open for skiing, snowboarding, and tubing, the resort has an indoor water park, a speakeasy-themed escape room, hiking trails on the property, and daily classes and activities like yoga, tie dye, soap making, and basket weaving. The ski and snowboard lessons taught in the Pathway Program cater to beginners and include two one-hour group lessons for ages 7 and up, a lift ticket, and equipment rentals. The Advanced Beginner and Intermediate Clinics are for skiers and snowboarders looking to improve technique and ability during the two-hour clinic. These classes are for ages 7 and up, and include a lift ticket, equipment rentals, and a 90-minute group coaching session. Private lessons are available at Massanutten, with ages 6 and under needing their own instructor separate from adult riders. A new program called Mini Riders is for snowboarders aged 4-6, and includes a lift ticket valid for four hours, equipment rentals and helmets, and supervised instruction. Dining & Lodging: Hotel rooms, condos, and rental homes suited for every group or family size are available at the resort, and there are four restaurants on the resort grounds.
More Things to Do Near the Resort: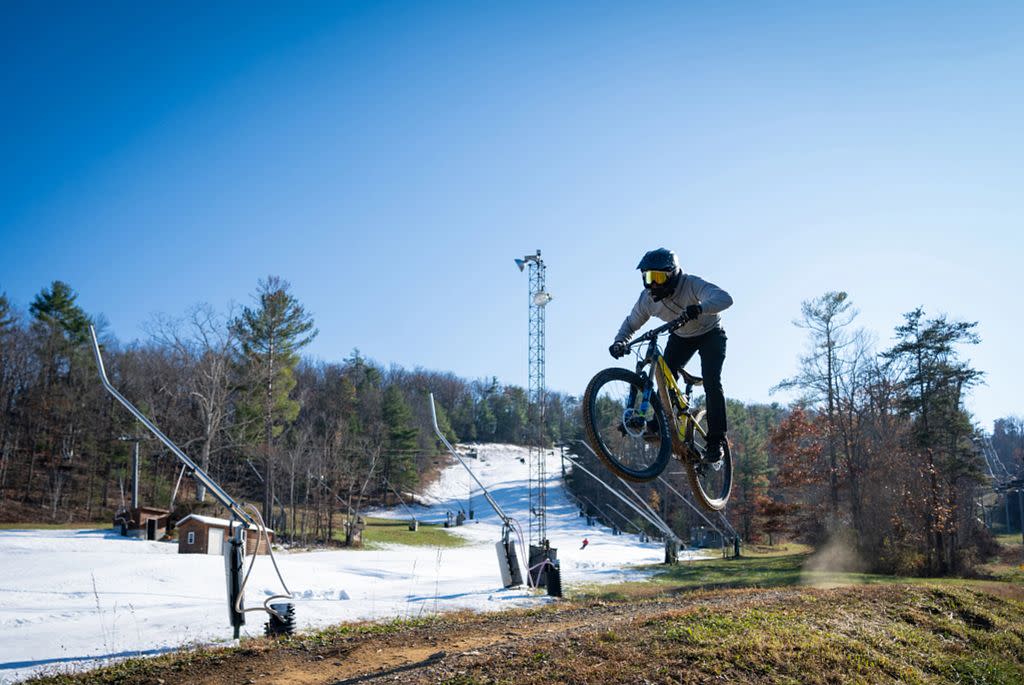 Photo credit: Andrew DeVier-Scott
See Current Slope Conditions Located in the Allegheny Mountains two hours west of Washington, D.C., Bryce Resort is great for both skiers and snowboarders. For first-time skiers ages 4.5-7 and snowboarders ages 6-7, they have a Kinder School, a package which includes rental equipment, a lift ticket, helmet, additional indoor activities, hot chocolate, and snack breaks. Older riders can book lessons at the Snowsports School, ideal for beginners ages 8 and up. These classes include equipment rental, lift pass, and a 75-minute group lesson. Skiers and snowboards of every level ages 3 and up also have the option of private lessons, which are tailored to meet the needs of the individual. Dining & Lodging: Two on-site restaurants are open for guests and visitors of the resort, and while Bryce does not have their own hotel, there are several local lodging options available.
More Things to Do Near the Resort:
See Current Slope Conditions About an hour and a half west of Richmond, 40 minutes southwest from Charlottesville, and 40 minutes southeast of Staunton in the Blue Ridge Mountains, Wintergreen Resort offers ski and snowboard lessons for every skill level. For first-time skiers or snowboards ages 8 and up, the Discover Skiing and Riding class includes a lift ticket, equipment rentals for up to eight hours, and a 75-minute lesson. This package also gives a discount for second and third visits to the resort. Kids younger than 8 can try the Kids Ski Programs, available to children 3 and older. These classes groups children according to age and skill, and includes breaks for lunch, snacks, and hot chocolate. In addition to these beginner's classes, Wintergreen offer group lessons, women's skiing clinics, private lessons, and family lessons that allow you and your kids to stick together on the slopes. For family members not interested in winter sports, the resort has a full spa and salon, indoor tennis courts, and hiking trails around the mountain. Dining & Lodging: There are four on-site restaurants at Wintergreen. Guest rooms, condos, homes, and exclusive properties are available on the resort property to rent.
More Things to Do Near the Resort: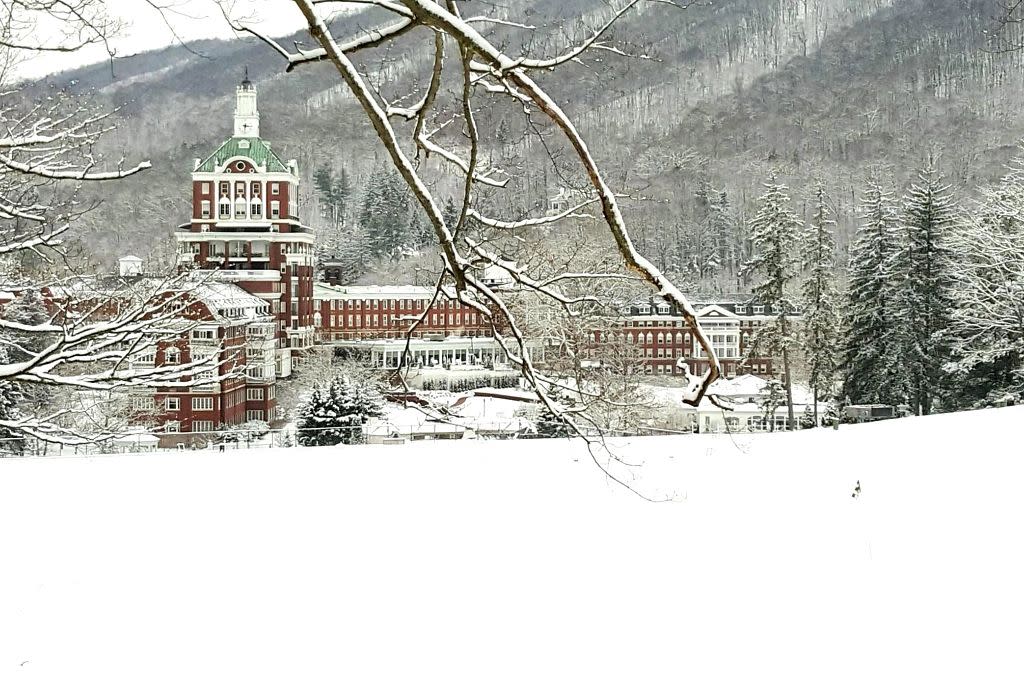 Photo Credit:
 The Omni Homestead Resort
See Current Slope Conditions The Omni Homestead Resort is a winter sports wonderland, complete with tubing, skiing, snowboarding, ice skating, and even mini snowmobiles for kids ages 6-12 to ride around the property. On the slopes, kids ages 5-11 can sign up for the Little Penguins Program, and at the Sepp Kober Ski School, skiers and snowboards ages 4 and up can find specialty clinics suited to their needs. Private and group lessons are available, and advanced reservations are required for both Sepp Kober Ski School and the Little Penguins Program. During the evenings, the family fun continues inside the resort, which features a full spa, on-site movie theater, and a game room with mini bowling, pool tables, shuffleboard, air hockey, and arcade games. Dining & Lodging: The Omni Homestead's luxury hotel rooms and suites feature premium king or double feather beds, and there are seven on-site dining options from casual and takeout to formal.
More Things to Do Near the Resort: