From the Heart Melodies Crooked Road Multi-Regional Tour
Day One: Thursday Night—Pickin' Porch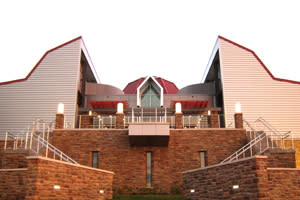 Arrive the charming town of Abingdon. This evening we'll visit the Southwest Virginia Cultural Center & Marketplace, tucked into Virginia's mountains and home to music, crafts, and food of the Crooked Road. Delight in Heartwood's Thursday Night BBQ and Open Jam. Bring your instrument along and join in! Local musicians will entertain us with a Pickin' Porch assortment of authentic, distinctive music from the area.
While at the Southwest Virginia Cultural Center & Marketplace, there will be time to visit the shop where you'll be able to purchase local renditions of gospel and bluegrass CDs and DVDs. You might want to include an exceptional homemade musical instrument in your purchase. Crafts include jewelry, glass, and pottery. Many of the artisans featured at the Southwest Virginia Cultural Center & Marketplace are members of "Round the Mountain" and are masters of their media.
Day Two: Friday
After breakfast this morning we'll venture to Galax, Virginia where a local guide will take us on a walking tour of this enchanting mountain town. Along the way we'll visit the Chestnut Creek School of The Arts, where we'll learn how to flat foot dance and line dance with mountain flair! Enjoy a box lunch at the school.
Continue with a visit to Barr's Fiddle Shop and see handmade and vintage banjos, fiddles, autoharps, and more! Learn where the term "hillbillies" came from.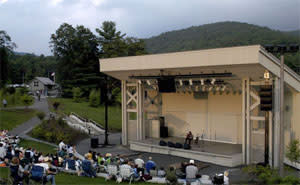 A short distance down the Crooked Road traveling along the magnificent Blue Ridge Parkway, we'll stop at the Blue Ridge Music Center. Enjoy the music of local performers and tour the world-class exhibition that tells the story of how, in earlier days of our Nation, the mixing of European and African musical cultures and ideas in the Appalachian Mountains and Valley of Virginia created new sounds that have profoundly influenced the development of American popular music.
This evening it's down home country cookin' as we enjoy dinner today is scrumptious barbecue at the Galax Smokehouse. They serve Texas-size portions of Memphis-style BBQ in the heart of this lovely town. After dinner it is Blue Ridge Backroads live from the Rex Theatre! Bluegrass and old time bands bring the music of the mountains to us! Late this evening we'll return to the hotel for the night.
Day Three: Saturday
With breakfast in our bellies, we're off to meet our local guide for a tour of Abingdon, Virginia. Today we'll see White's Mill, visit The Country Store, and enjoy an RC Cola and a Moon Pie or Coca Cola and peanuts!
Drive brick lined sidewalks past buildings dating back to the 1700s. Visit the Holston Mountain Arts & Crafts Co-Op where among all of the other delightful things to see and do we'll also enjoy a Baby Cakes Cupcake! Sample a tasting at the Abingdon Olive Oil Company Gallery offering more than 32 varieties.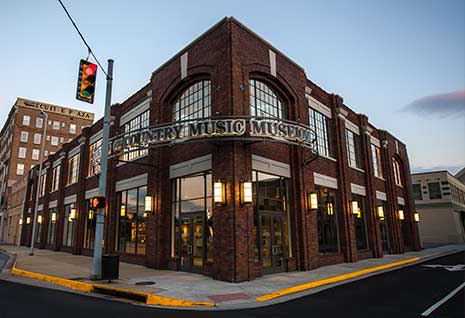 Arriving at Bristol we'll start with a walking tour of the town before enjoying lunch at one of the local favorites while being entertained by a local musician. Tour the Birthplace of Country Music Museum, showcasing the significant role of Bristol in music history, followed by dinner at the Burger Bar, famous eatery… After dinner it's a Carter Family Experience at the Carter Family Fold! Take your seats; it's show time! Every Saturday evening in rural Virginia it's time for toe-tapping old time country and folk music with a big touch of friendly country hospitality.
Day Four: Sunday
After breakfast we check out and depart for Patsy Cline's hometown of Winchester. Lunch will be included in the Historic George Washington Hotel with a Patsy Cline singer. After lunch tour the Patsy Cline Historic House before departing for home. 
Contacts:
Abingdon Convention & Visitors Bureau
Monica Hall
mhall@abingdon-va.gov
Phone: 276-676-2282
www.visitabingdonvirginia.com
Bristol Convention and Visitors Bureau
Phone: 423-989-4850
www.DiscoverBristol.org
Mid Atlantic Receptive Services
mars@takeafuntrip.com
Phone: 800-769-5912
www.takeafuntrip.com