Virginia Welcomes You Home For The Holidays
No matter what the season or the reason for the celebration. And, she is the ultimate hostess, providing hospitality, congeniality and a warm winter welcome. Virginia is the hostess with the most experience too, providing the colonies with their first Thanksgiving on December 4, 1619, at Berkeley Plantation.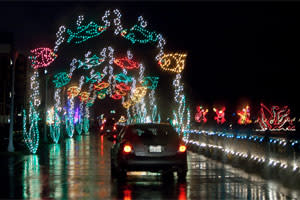 Ever since, the tradition of celebration has expanded to include our increasingly diverse population. Now, what is loosely described as "the holidays" includes Thanksgiving and Christmas, Hanukkah, Al Hijiria and Ashura, Kwanza and New Year's Eve, of course. Even the day after Thanksgiving, named Black Friday by retailers, has gained holiday status with a bounty of bargains at malls, shops and Holidays for all Seasons At The Homestead Resort in Hot Springs, holiday traditions are rich, as families return year after year to celebrate. big box stores across the state.
A "holiday" tour of the commonwealth can focus on shopping, arts and entertainment, cathedrals and churches, black history sites, culinary events and international cuisine, customs and celebrations. Join the motorcade of coaches to Leesburg Corner Premium Outlets, Tysons Corner and Galleria, Potomac Mills Mall and the quaint shops of Occoquan for a shop-'til-you-drop delight. Before heading home, capture the magic of the Festival of Lights at Bull Run Regional Park.
Celebrate 100 miles of Lights from Richmond to Virginia Beach with 2 million twinkling lights along the way. www.100milesoflights.com. See how the holidays were celebrated in Williamsburg with candlelight and festive natural wreaths made of pine, holly, apples and berries. Experience the "Tacky Christmas Lights Tour" in Richmond — tongue-in-cheek and memorable madness — then head toward Tidewater with its boat parades, caroling, dining, music, dance, shopping and educational activities from November through New Year's Day. See the Holiday Planetarium Show or the Coleman's Nativity Scene. Watch the Grand Illumination Parade in Downtown Norfolk and skate at MacArthur on Ice. Drive through the Norfolk Botanical Garden or the Celebration in Lights in Newport News. Experience the Olde Towne Holiday Music Festival in Portsmouth. Enjoy Foods and Feasts of Colonial Virginia at Jamestown Settlement and Yorktown Victory Center.
Alexandria begins the season with its Scottish Walk, a holiday parade with bagpipes, Santa and sweet memories of yesteryear, and concludes with its First Night on New Year's Eve with entertainment for all ages.
Whether you hear a pipe organ playing carols in the magnificent Luray Caverns, wonder at the longevity of the Roanoke Star on Mill Mountain, see Santa arrive by train in Manassas, or join the throng of shoppers getting great gifts in downtown Culpepper, Virginia is all decked out for company.