Journey Through the Shenandoah Valley
Experience the stunning Shenandoah Valley; lively downtown communities rooted in history, artisan culture and rich in memorable authentic experiences. Enjoy the beauty of verdant farmland, hidden caves, lush national forests and charming historic districts and a memorable drive down the world-famous Skyline Drive. Sample cuisine rooted in farm-to-table fare that is surprisingly innovative and inspired. Sample the fruits of the valley on the Shenandoah Spirits Trail and Shenandoah Beerwerks Trail with locally brewed beer, wine, kombucha and cider. This memorable journey will surprise, entertain and delight. (The schedule might change depending on what airports are used and not all stops are guaranteed due to time, weather and other constraints.)
DAY 1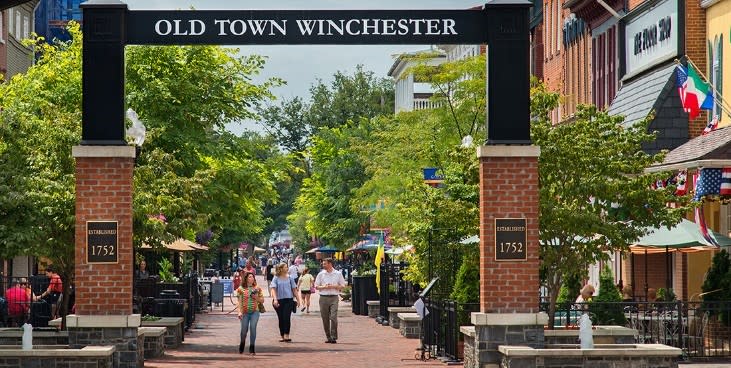 Arrive at Dulles Airport. Drive to Winchester and check in at Hotel.
Enjoy shopping, dinner and a guided tour of Old Town Winchester with a tour of a local microbrewery.
Stroll through Old Town Winchester including a charming pedestrian mall closed to vehicle traffic, with numerous shops and patio dining. Walking tour includes visit to Civil War Museum and George Washington Office Museum and the beautiful Handley Library.
DAY 2
Check out of the Hotel.
Experience breakfast at a local favorite restaurant.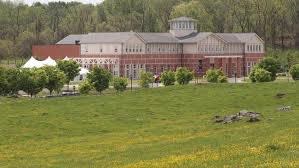 Visit the Museum of the Shenandoah Valley - The Museum of the Shenandoah Valley endeavors to preserve and enrich the cultural life and heritage of the Valley. Located on the largest green space in the city of Winchester, the MSV is a regional cultural center including a museum designed by Michael Graves, seven acres of formal gardens, and the Glen Burnie House dating to the 18th century.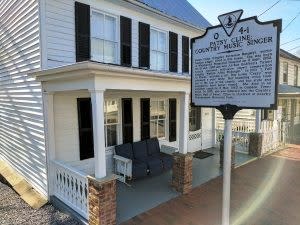 Tour the Patsy Cline Historic House - Located in a working-class neighborhood in the City of Winchester, Virginia, this modest house was the residence of Country music legend, Patsy Cline (Virginia Patterson Hensley), who lived here from the ages of 16 to 21, longer than at any other house associated with her in the Winchester and Nashville areas, and she returned to it intermittently until her singing career began in 1957. Walk where Patsy Cline walked, see where she lived, slept and spent her "prime years" while pursuing her music career.  Experienced guides help tell the story of the gritty young woman who rose to fame, overcoming numerous personal obstacles.

Light lunch at Ridge Runner Farms & Brewing Company - Tucked away in the rolling hills of the Shenandoah Valley, Ridge Runner offers the full farm to fermentation experience. Craft beer, live music, and light fare served on site using locally sourced ingredients.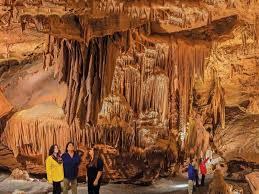 Visit Shenandoah Caverns and American Celebration on Parade - Shenandoah Caverns is a commercial show cave in the Shenandoah Valley of Virginia. Shenandoah Caverns is the only cavern in Virginia that has elevator access. The Shenandoah Caverns has a mile-long guided tour. Seventeen "rooms" of connecting chambers to travel through. American Celebration on Parade at Shenandoah Caverns offers an up-close look at a unique collection of stunning parade floats, props, and stage settings from America's entertainment and political parades.
Fort Valley Ranch - Enjoy a guided horseback ride at Fort Valley Ranch. The horses are gentle and sure-footed that take you through picture perfect settings nestled in the "Valley Within the Valley" created by the surrounding Massanutten Mountains. At Fort Valley Ranch there are miles of marked trails with access to the George Washington National Forest. 

Enjoy a visit to a local winery and dinner - Relax by taking in the beauty of the Shenandoah Valley at one of the areas wineries. Long known as one of the best wine growing areas in the country Shenandoah Valley wineries offer many varietals in a charming atmosphere.

Check into lodging.
DAY 3
Enjoy breakfast at a local favorite restaurant.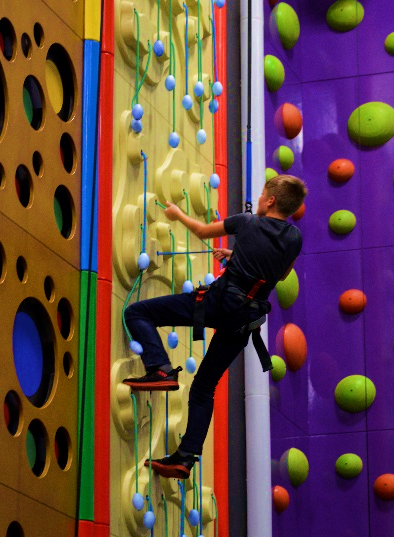 Tour the new Horizons Edge indoor 90,000 square feet sports complex and experience the clip n climb wall. - The Horizons Edge Sports Campus is Virginia's newest destination for sports tournaments and events. This is a state-of-the-art sports facility and event complex is your one-stop destination for sports, events, banquets, meetings, parties, overnight camps, and much more. The field house, which opened January 2020, consists of approximately 90,000 sq. ft. and includes 4-basketball courts, 6-volleyball courts, multipurpose/indoor soccer field, Clip 'n Climb wall and a family entertainment center. Outdoor facilities include a regulation size multipurpose/soccer lighted artificial turf field. 
Tour the Brethren & Mennonite Heritage Center - The Brethren & Mennonite Heritage Center (BMHC) shares and celebrates the historical and spiritual legacies of Brethren and Mennonites in the Shenandoah Valley. Coming from the same communities in Europe and Pennsylvania, Brethren and Mennonites have lived side by side in the Shenandoah Valley for more than two centuries, but they have truly been the "quiet in the land." At the Brethren & Mennonite Heritage Center, the creative labor of these farmers and craftsmen and the unique forms of faith that have been largely invisible are brought into focus for tourists and pilgrims alike. 

Lunch and independent shopping time in Downtown Harrisonburg - Harrisonburg is Virginia's first Culinary District and offers a variety of both locally-owned and nationally-recognized restaurants. These eateries will take you on a culinary trip around the world, providing flavors to satisfy even the most discerning palette. Many of the area's melting pot of restaurants also bring the farm-to-table philosophy to life, creating gourmet dishes from locally-sourced ingredients. Enjoy casual to fine dining, food trucks and patio seating.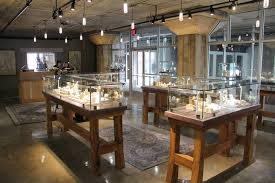 Take a tour of the Hugo Kohl's Museum of American Jewelry Design and Manufacturing - Hugo Kohl's museum allows visitors to enjoy a visual, auditory and sensory experience of jewelry manufacturing. Learn about the industrialization of jewelry making in the 19th century. Watch artisans create beautiful designs in front of your eyes and browse the retails store for that special something.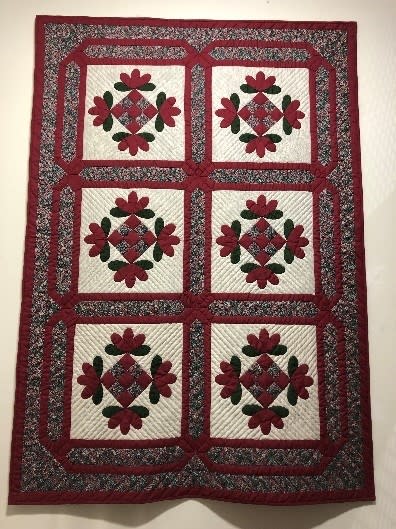 Private tour of the Virginia Quilt Museum - Celebrating and Nurturing Virginia's Quilting Heritage. Founded in 1995, The Virginia Quilt Museum is the Official Quilt Museum of the Commonwealth of Virginia. The Museum promotes a unique blend of Virginia's art and cultural heritage. Charged with a mission of "celebrating and nurturing Virginia's quilting heritage," the Museum offers three floors of rotating, curated gallery space in a historic home. Exhibits feature quilts from the Museum's collection as well as traveling exhibitions. Heirloom quilts, contemporary quilts, and art quilts are also typically featured simultaneously, allowing our visitors the chance to marvel at the extreme variety of styles, techniques, and themes present in quilts.

Visit Harrisonburg's first Cidery in the North End Renaissance area - Visit the North End of Downtown Harrisonburg to experience a new hub of entrepreneurial success housing: a Hard Cider Brewery, Bakery/café, coffee roasters, handcrafted leather shop, and co-working space. Sage Bird Ciderworks uses locally-sourced fruit and flavor to produce small-batch, hand-crafted hard cider that honors tradition and welcomes the future. Magpie diner offers a modern take on the traditional corner dine where neighbors gather for good food and warm hospitality.
Dinner in Harrisonburg/Rockingham County area with possible musical entertainment.
Lodging in Harrisonburg/Rockingham County area.
DAY 4
Check out of lodging and stop for breakfast.
Tour of Massanutten Resort (optional: tubing, zip line, waterpark…) - The Massanutten Resort is situated on 6,000 acres with a Ski and Adventure Park, an Indoor/Outdoor Waterpark, two fantastic golf courses, farm-to-table dining and a day spa. The resort offers four seasons of fun for the whole family. For the winter enthusiast enjoy skiing, snowboarding, ice skating and snow tubing. At the Family Adventure Park you can climb, tube and zip.

Pick up barbecue lunch.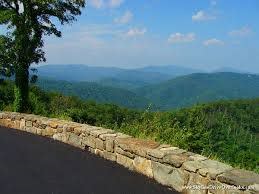 Drive the beautiful Skyline Drive and stop for a picnic. - Skyline Drive is a 105-mile road that runs the entire length of the National Park Service's Shenandoah National Park in the Blue Ridge Mountains of Virginia, generally along the ridge of the mountains. Deer, black bear, wild turkey, and a host of other woodland animals call Shenandoah home and regularly cross Skyline Drive in their daily travels. Numerous scenic overlooks and hikes are accessible along the Skyline Drive. 
Sample local organic kombucha at Blue Ridge Bucha - Blue Ridge Bucha is a Certified Organic kombucha brewery offering tastings, growler fills and glasses of hand crafted kombucha shared sustainably.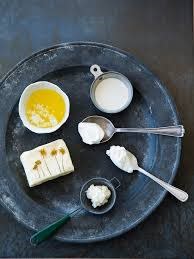 Enjoy a Cheese Class at Ballerino Creamery at JMD Farm Market and Garden Center - Ballerino Creamers is a family creamery making fresh and aged cheeses using local, certified organic milk from Ambler Family Farm. Their Shenandoah Valley artisan cheeses are made with local, grass-fed or pasture-based milk. Styles include mozzarella, camembert, ricotta, farmers cheese. Participate in a cheese class and tour the creamery. 
Wine Tasting at Ox-Eye Tasting Room - Ox-Eye Tasting Room is located in downtown Staunton's historic Wharf district. It was designed by the noted architect T.J. Collins and was built in 1904.

Dinner at lunch at BLU Point Seafood or Zynodoa.
Check in to lodging in Staunton.
DAY 5
Breakfast in Staunton.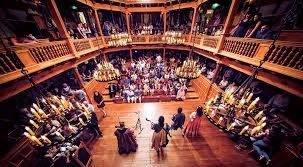 Tour of the American Shakespeare Center - Recovering the joy and accessibility of Elizabethan theatre at the Blackfriars Playhouse – the world's only re-creation of Shakespeare's indoor theatre. The theatre, which began in 1988, has played to nearly 2 million people and produced all of Shakespeare's 38 plays.
Tour Wade's Mill (arrive by 11:15) - The Kennedy-Wade Mill, or Wade's Mill, is a grist mill and national historic district located in Raphine, Virginia and listed on the National Register of Historic Places. Since 1750, the Virginia grist mill has continuously operated. Watch the miller start the waterwheel and shop stone ground grain products.
Lunch and Explore downtown Lexington (on foot or by carriage tour) 
With a population of less than 10,000, Lexington offers small town charm with a big heart. Home of Washington & Lee University. Home of Virginia Military Institute it has been the filming location of several popular movies including Sommersby, Gods and Generals, and a few scenes for War of the Worlds.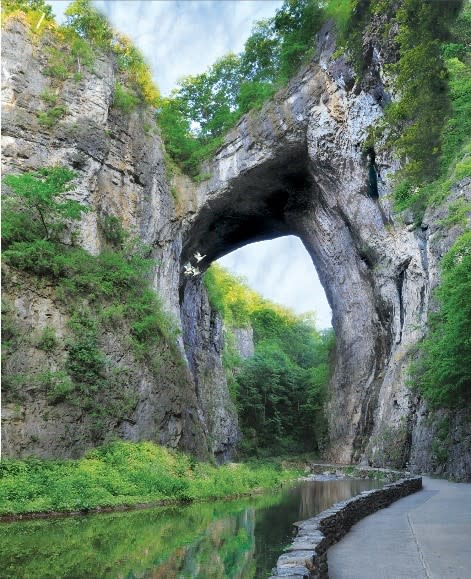 Natural Bridge State Park - Natural Bridge is a geological formation in Rockbridge County, Virginia, comprising a 215-foot-high natural arch with a span of 90 feet. It is situated within a gorge carved from the surrounding mountainous limestone terrain by Cedar Creek, a small tributary of the James River. Enjoy the Monacan Indian Village and hiking the scenic trails.
Dinner in the Lexington Area.
Possible microbrewery visit or movie at Hull's Drive-in. 
        
DAY 6
Enjoy breakfast & then stop for coffee tasting at Lexington Coffee Roasters.
(If time allows before flight out of the Shenandoah Valley Airport SHD? )