Book Your Stay At A Bed & Breakfast
Bed and breakfasts across Virginia offer unforgettable getaways for couples and families looking for unique accommodations, delicious southern cuisine, and warm hospitality. Plan your next visit at one of the many B&B's listed below who are ready to welcome you.
Featured Properties
Historic Rosemont Manor — Berryville
The Historic Rosemont Manor was once a getaway destination for U.S. Presidents, celebrities, and Washington D.C.'s elite. Now, it is an elegant B&B property open to the public. They even offer afternoon tea service for guests with prior reservations.
L'auberge Provencale Bed & Breakfast — White Post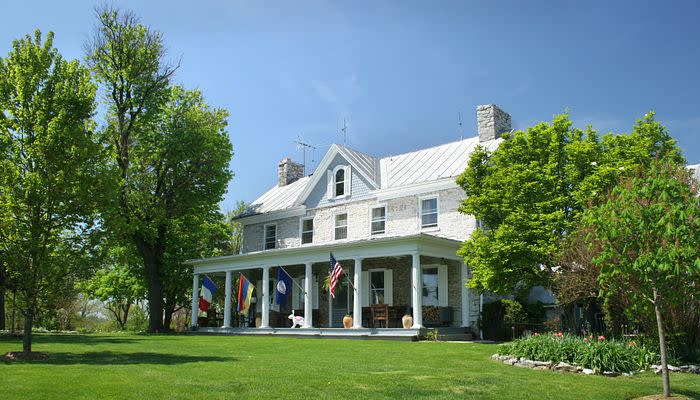 Stay the night at this beautiful destination for an authentic French Country B&B experience. The owners of L'auberge Provencale have blended comfort with luxury to ensure your stay is absolutely impeccable.
The Mimslyn Inn — Luray
Have a distinguished stay when you rest your weary body at The Mimslyn Inn. It's a comfortably elegant property with a spa and classy restaurant on-site. Conveniently located between Luray Caverns and the Shenandoah National Park.
Bed & Breakfasts of the Historic Shenandoah Valley Association
King George Inn Bed & Breakfast — Roanoke
A Colonial Revival home, the King George Inn Bed and Breakfast is only a short walk from the Roanoke Farmers Market, the Taubman Museum, and is also just a quick drive from the Blue Ridge Parkway.
Bedford Landings Bed & Breakfast — Moneta
Located right beside the Smith Mountain Lake Airport, the Bedford Landings Bed and Breakfast even offers private sightseeing flights to visitors. The guest rooms have private baths with either a jetted tub or a gas fireplace, and the home has a hot tub and theatre room. Enjoy your breakfast while looking out onto the scenic Smith Mountain Lake.
Fincastle Gallery Bed & Breakfast — Fincastle
Located in the 19th century home of furniture maker, Jake Cress, the Fincastle Gallery Bed and Breakfast is a one-bedroom accommodation with a private kitchen and entrance. Sit on the back porch and listen to the waterfall, with a well-chilled drink in your hand, or you can walk one block to a restaurant, the Botetourt County Courthouse, or the Fincastle Museum.
Clay Corner Inn — Blacksburg
Located in the heart of downtown, the Clay Corner Inn is the ideal place to stay when visiting Blacksburg. Walk to athletic events, downtown restaurants, national and international performances, movies, bookstores, coffee shops and more. The inn features off-street parking, a private swimming pool, and an 8-mile walking trail which begins one block away.
Trinkle Mansion Bed & Breakfast — Wytheville
Trinkle Mansion Bed & Breakfast is a charming Virginia Green property that's also on the National Register of Historic Places and Virginia Landmarks Register.
Bella La Vitta Inn Bed & Breakfast — Floyd
Bella La Vitta Inn Bed and Breakfast in Floyd offers luxury at an affordable price. Only a mile from the Blue Ridge Parkway, you'll have a chance to relax and enjoy the scenic, natural landscape. Looking for more upbeat opportunities? The Friday Night Music Jamboree at the Floyd Country Store is where it's at!
Blue Ridge Manor Bed & Breakfast — Cana
At Blue Ridge Manor Bed & Breakfast, visitors are surrounded by nature, with rolling hills covered by apple orchards and a backdrop of the Blue Ridge Mountains frame the view. If you are searching for a mountain retreat style B&B, Blue Ridge Manor should top your list.
Carousel House Bed & Breakfast — Big Stone Gap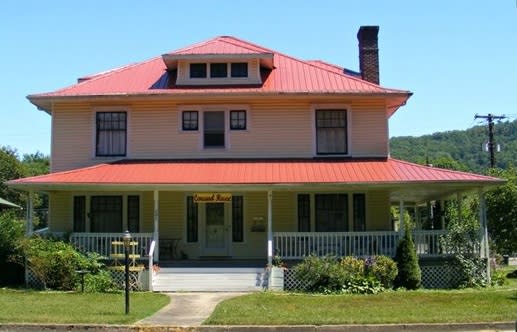 Carousel House Bed & Breakfast is home to the finest hospitality in town. Grab a glass of lemonade or iced tea and relax on the spacious wraparound front porch; relax and read in the front parlor. Explore the history of Big Stone Gap; take in the Trail of the Lonesome Pine outdoor drama.
Estillville Bed & Breakfast — Gate City
In a lovingly restored home with uncompromising attention to detail, Estillville Bed and Breakfast is located in downtown Gate City, within walking distance of shops and restaurants. It is the closest B&B to The Carter Family Fold and to Natural Tunnel State Park.
Braehead Manor Bed & Breakfast — Fredericksburg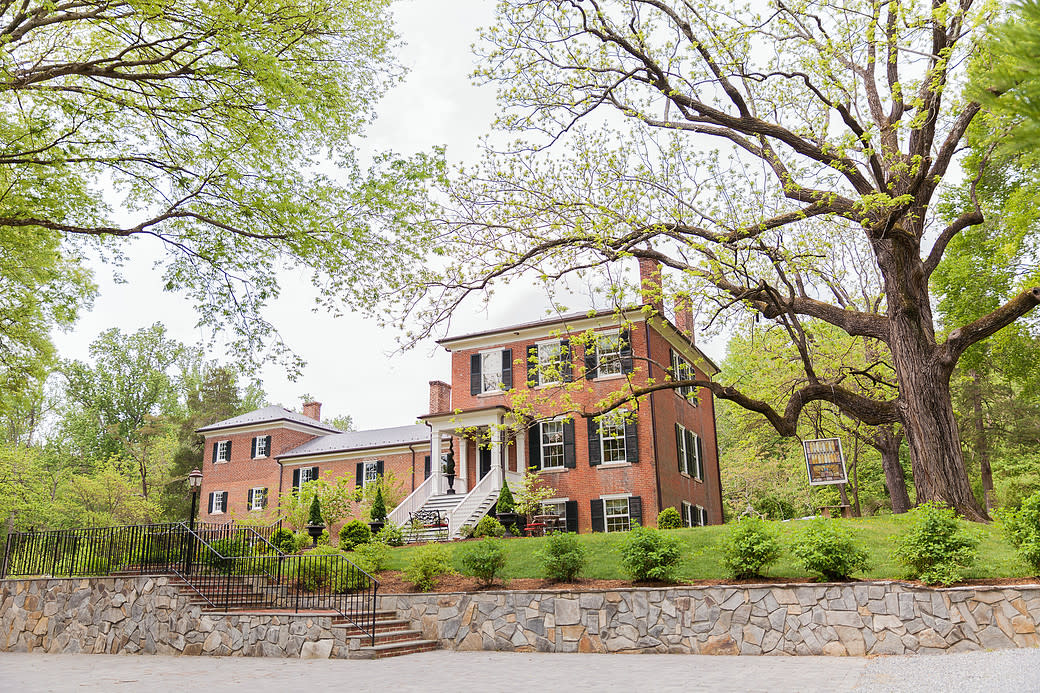 Braehead Manor is famous for being the place that General Robert E. Lee took breakfast before taking his command post at what is now known as Lee's Hill. The bed and breakfast has been skillfully decorated and restored to the original Civil War era charm.
Foster Harris House — Washington
Only minutes from Shenandoah National Park and a few steps from the world-renowned Inn at Little Washington, the Foster Harris House provides refined accommodations in a country atmosphere. And don't expect oatmeal and fruit; breakfast at the Foster Harris House consists of a lavish four-course meal.
Red Fox Inn — Middleburg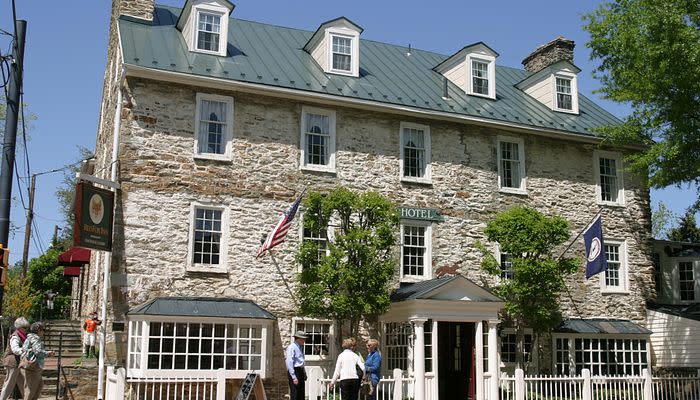 Stay at the Red Fox Inn in Middleburg for a romantic hideaway weekend, a girl's trip, or even a business trip. The Inn is surrounded by land steeped in Revolutionary and Civil War lore, and the grand restored building fits perfectly in the area.
Loudoun County Guild of B&Bs and Inns
The One Bed & Breakfast — Richmond
Named for its convenient location at 1 North Boulevard Avenue, The One Bed & Breakfast is close to many popular Richmond locations, such as Carytown, the Virginia Museum of Fine Arts and several fantastic restaurants only a few blocks away. The beautifully restored home has a patio where you can savor a hot cup of coffee or tea in the mornings while enjoying the scenic Richmond view.
Winterham Plantation Bed & Breakfast — Amelia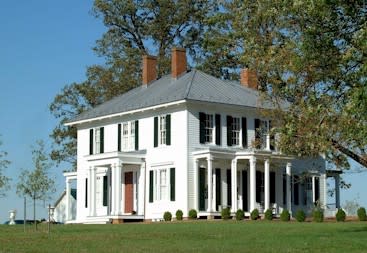 A recently restored Italianate mansion that was built in 1848, the Winterham Plantation Bed and Breakfast in Amelia is a registered Virginia Landmark Property on the National Register of Historic Places. While the home is pre-Civil war, the amenities are all modern day.
3104 Rivermont Avenue Bed & Breakfast — Lynchburg
Stay a night at 3104 Rivermont Avenue Bed and Breakfast and experience a serene and relaxing getaway only blocks away from the shops, restaurants, and bookstores of Lynchburg. The property includes a private patio and garden area out back and a front porch complete with rocking chairs that makes you feel as if you were in a sleepy small town novel.
Guesthouses Bed and Breakfasts Reservations
Oak Grove Plantation — South Boston
An fifth-generation family-owned 1820s estate, Oak Grove Plantation in South Boston serves as a comfortable bed and breakfast with sunny porches and 400 acres of adventure. Soak in the history as you're surrounded by period furnishings and family heirlooms.
CornerStone Farm — Red Oak
A Bed and Breakfast Farm-stay. The heart of what CornerStone Farm is about, is for our guests to enjoy a well deserved get away. Time to relax and renew themselves in a safe, peaceful, natural farm setting away from the crowds; where family memories are created and cherished. We cater to the young and young-at-heart.
Simmons House Bed & Breakfast — Martinsville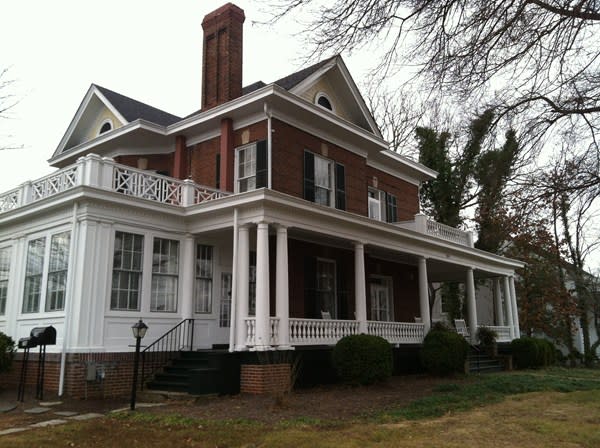 In the historic district of Uptown Martinsville, Simmons House Bed and Breakfast is a short walk from local boutiques, art shops, and uptown restaurants.
Monroe Bay Inn Bed & Breakfast — Colonial Beach
Right on the Maryland/Virginia border in Colonial Beach, the Monroe Bay Inn Bed and Breakfast was originally built in 1905 by the Alexander Graham Bell family. You'll find more than history here, though, as the inn is bordered by the Potomac River, providing a restorative and invigorating environment.
Grandview Bed & Breakfast — Reedville
Reedville's Grandview Bed and Breakfast is a quaint and cozy B&B on the Northern Neck of Virginia. Guests can travel a few miles and reach 9 local wineries and plenty of delicious, fresh oysters that are harvested here from the Upper Bay Western Shore, a popular spot on the Virginia Oyster Trail.
Belle Grove Plantation Bed & Breakfast — King George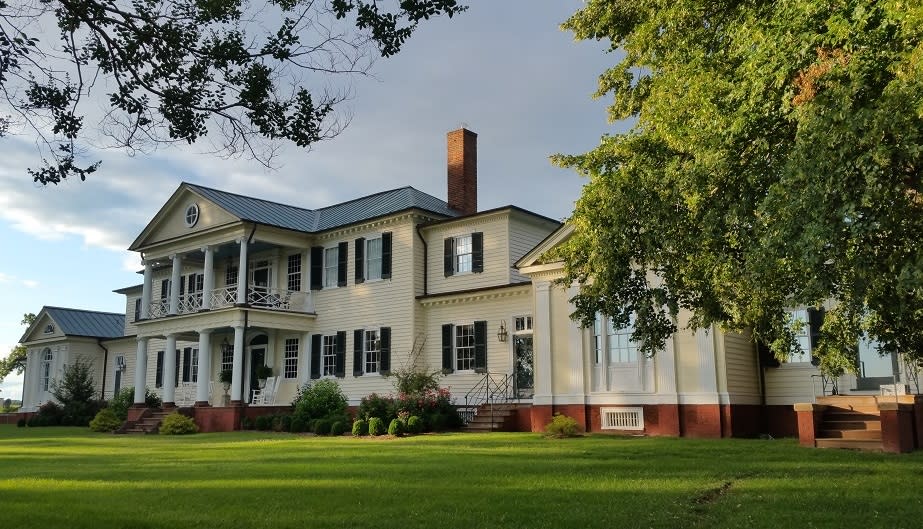 A true piece of American history sits in King George, Belle Grove Plantation Bed and Breakfast is the birthplace of President James Monroe. The Southern plantation, on the banks of the Rappahannock River, has four master suites, each named after former families of the residence. This B&B really emphasizes the breakfast, and sample items off the seasonal menu include Banana-stuffed Crepes with Blueberry Compote and Orange French Toast Served with Green Tea-infused Cantaloupe.
Beach Spa Bed & Breakfast — Virginia Beach
Located only three blocks from the Virginia Beach oceanfront, Beach Spa Bed and Breakfast features eight beautifully appointed rooms with a private bathroom which may include massage, steamer or rainfall shower. A third floor spa tower awakens your senses to a warm ocean sunrise and the outdoor spa pool rejuvenates your spirit. The boardwalk, historical Lifeguard Station Museum, Contemporary Art Center of Virginia, 24th Street Performing Arts stage and many other attractions are within walking distance.
Hornsby House Inn Bed & Breakfast — Yorktown
This renovated bed and breakfast is right in the heart of Yorktown and has functioned as the center of hospitality in the region for three generations. When you stay at Hornsby House, you are just a few steps from historic Main Street and a few more from Yorktown Beach. The inn excels in hospitality and luxury, making each visitor feel right at home (if you normally live in a sumptuous mansion).
A Williamsburg White House Bed & Breakfast — Williamsburg
Winner of the "Best of Williamsburg" Award by the Williamsburg Award Program, A Williamsburg White House Bed and Breakfast is an elegant, century old estate that is only four blocks from Colonial Williamsburg. The inn offers four unique Presidential suites, a wonderful library with hundreds of books, and uniquely decorated sitting rooms. 
Bay View Waterfront Bed & Breakfast — Belle Haven
Salty breezes, pure relaxation, and friendly hosts greet you at the Bay View Waterfront Bed and Breakfast in Belle Haven. Some of the original sections of the home date back to 1800, and with the porch overlooking the Chesapeake Bay, you can enjoy a tranquil, soothing view of Virginia's coastal waters.
Channel Bass Inn Bed & Breakfast — Chincoteague Island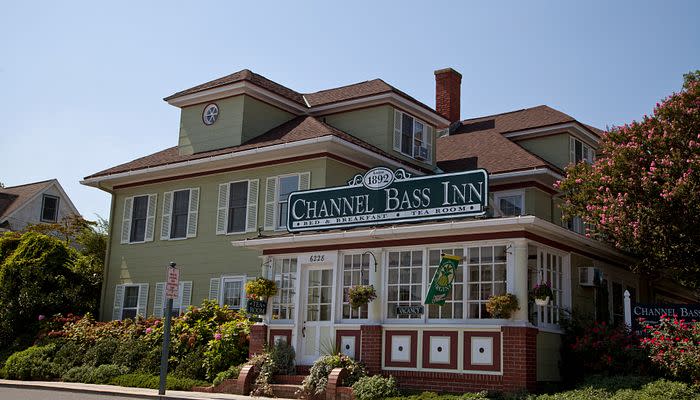 The Channel Bass Inn Bed and Breakfast on Chincoteague Island was built is a grand yet welcoming 6,800 square foot home is surrounded by beautifully landscaped gardens. The B&B welcomes well-behaved pets and afternoon tea is served on most days. When you stay at the Channel Bass Inn Bed and Breakfast, you'll be just minutes away from wild ponies and superior bird watching, but a world away from stress.
1882 Colonial Manor Inn — Onancock
The award winning 1882 Colonial Manor Inn adorns the waterfront village of Onancock (The South's 'Coolest' Small Town). Celebrating over 130 years of gracious hospitality, the Manor reflects country elegance with its relaxed, quiet and welcoming atmosphere with antique filled luxury suites and manicured grounds spanning 2 acres.
Virginia's Eastern Shore Bed and Breakfast Association

Bed & Breakfast Association of Virginia