Richmond
Whether you are passionate about history, arts, gardens, antiques, fine dining, outdoor recreation, theme parks, or NASCAR, there's something for every taste in the Historic Richmond Region. Come find out why so many visitors fall in love with the Historic Richmond Region every day.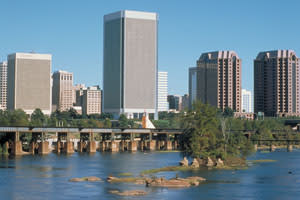 Richmond offers a wide range of cultural attractions. One of the finest museums in the Southeast, the Virginia Museum of Fine Arts, features collections from Europe, the Far East, and America. Special collections include the Faberge Russian Imperial Jewels and the Lewis Collection of Art Nouveau. Other major museums include the Science Museum of Virginia, the Children's Museum, the Edgar Allen Poe Museum, the Valentine Museum and the Museum of the Confederacy. These reflect Virginia's heritage as well as the wonders of the modern age.
Musical entertainment is varied with the Richmond Symphony and the Virginia Opera Association representing just a few of the numerous organizations presenting regular productions to the community. The region also hosts a number of touring Broadway musicals and other guest performances to complement local organizations. The Richmond Ballet and the Concert Ballet of Virginia add to the diversity in the performing arts.
Both public and private recreational facilities are available throughout Richmond. Thousands of acres of parks and recreational facilities are available for both indoor and outdoor enthusiasts. The localities offer year round comprehensive programs of activities and events for all ages. Programs offered include arts and crafts, dance, music, competitive and leisure sports, games, and special events. The region is home to fourteen public and eighteen private golf courses.
The James and Appomattox Rivers provide an excellent opportunity for water sports including swimming, boating, canoeing, water skiing, and fishing. The James River is a major recreational resource for the community. Over 10,700 acres of park land runs along both sides of the river.