Autumn at Skyland
Views From On High: Shenandoah National Park at Skyland
Mountain explorations are especially refreshing in the fall. Take the scenic drive of Shenandoah National Park, but then park the car and become one with the sights, sounds and beauty of the mountains.
Day 1: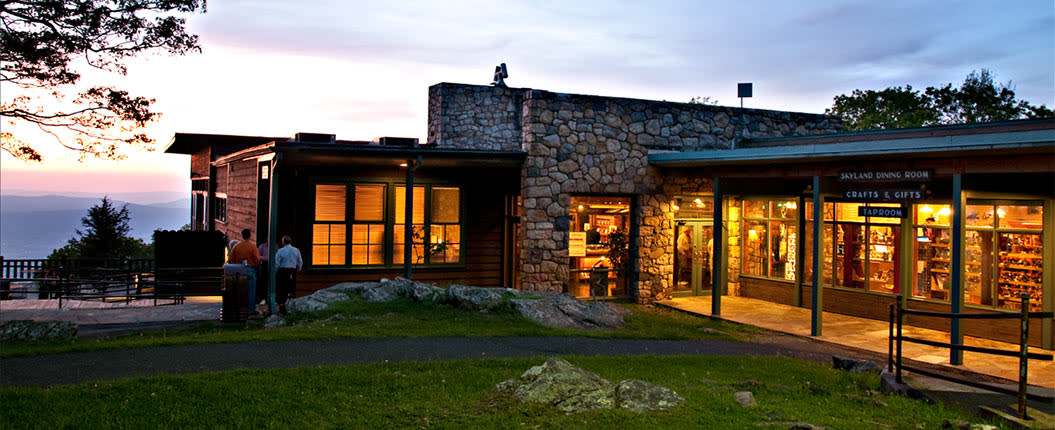 Arrive to Shenandoah National Park by way of Route 211 out of Luray on the west or Sperryville on the east, at the Thornton Gap entrance to Skyline Drive.
You'll find several overlooks down the 10 miles of Skyline Drive toward Skyland Resort - perfect for "beginning of our getaway" shots!
Check in to Skyland, lodging perched pretty high at 3,680 feet. Unwind and enjoy the view from your room before heading to the restaurant for dinner. Try the Rapidan Camp Trout - it's Virginia farm-raised! To save some time tomorrow, go ahead and place your picnic-to-go order at the hostess stand for pick up in the morning.
Day 2: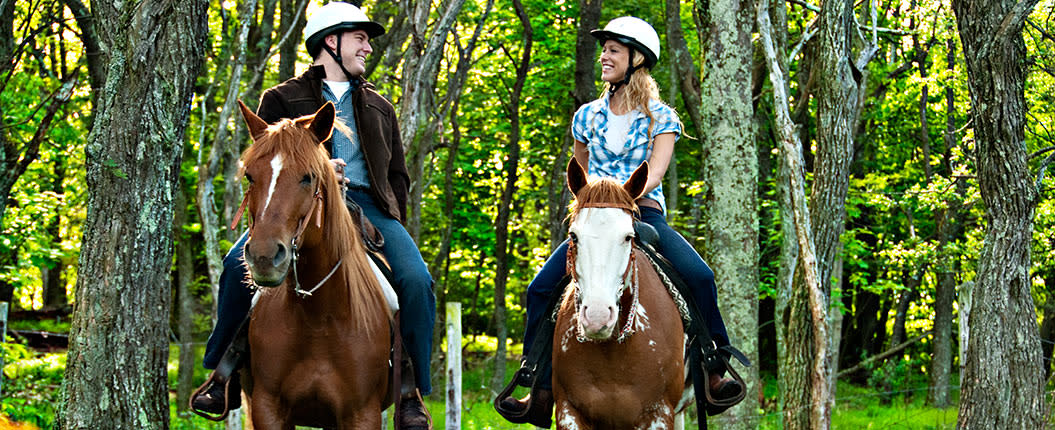 Start your day with a hearty breakfast (try the Healthy Hiker), pick up your picnic lunch, and then head out for Stony Man Trail. You can pick up a guidebook at the trailhead and then hike out .8 mile for an amazing 4,010 foot summit sunrise.
Rather than heading back, continue north on the Appalachian Trail to Little Stony Man (rock outcrop pictured below) and then back south by way of the Passamaquoddy Trail. All said, that's about a 2.5 mile refreshing morning hike!
Find a tree to lean against to enjoy your picnic lunch before saddling up for a one hour guided horseback ride. If this getaway is a family adventure, your little one age five or older (but shorter than 4'10") may enjoy a pony ride in lieu of the horseback ride.
If you're compelled to take another hike rather than turning in early for dinner and unwinding, you can pick up Whiteoak Canyon Trail, switching over onto Limberlost Trail for an easy walk that is ADA accessible. If you're game for some waterfalls, forget about Limberlost and continue down Whiteoak Canyon Trail to a series of six falls - the first is the highest at 86 feet.
For dinner, try the Resort's Taproom, known for it's laid back, family-friendly atmosphere and nightly entertainment.
Day 3: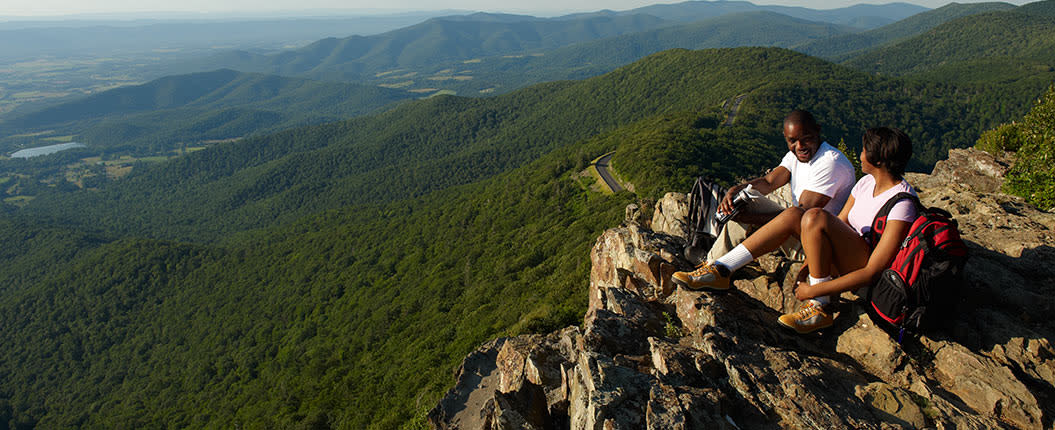 Fill up on a good breakfast again and check out of your room, then head south on Skyline Drive, pulling off to park around MP 45.5. Here you will pick up the Cedar Run Trail for a short walk to see the Cedar Run Falls. It's about two miles down and back.
As you head back north to exit Skyline Drive, be sure to stop at an overlook to snap your "end of our getaway" shot. If you're headed back towards Luray, Uncle Buck's is a local hangout with good home cookin'. If home is toward Sperryville, Thornton River Grille serves up "American food with a worldly flair" and has been described as upscale casual.
Enjoy the ride and cherish the memories!
When mentioning Shenandoah National Park, visitors often get that faraway look in their eye, fondly…
Virginia's Skyline Drive is a National Scenic Byway that runs 105 miles along the crest of the…