Virginia Travel Guide
ORDER YOUR FREE  2022 TRAVEL GUIDE NOW!
2022 Virginia Travel Guide and State Map will ship in February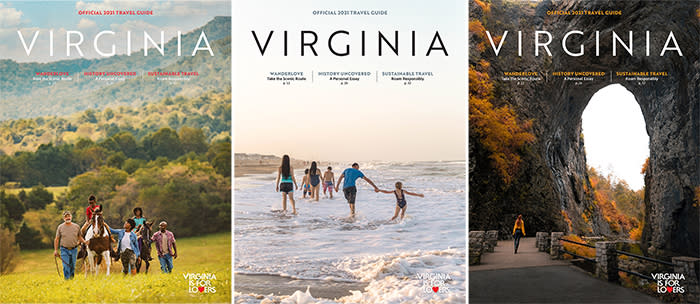 A vacation in Virginia is about doing the things you love with the people you love most – and making memories that will last a lifetime.
The 2022 Virginia Travel Guide features a curated collection of personal recommendations and heartfelt narratives from talented writers, local enthusiasts and passionate travelers. Get the insider's perspective on the best ways to experience Virginia, from lesser-known road trips and dining destinations, to sustainable travel tips and even a personal exploration of Virginia's complex history.
Whether your travel dreams include charming small towns or vibrant cities, mountain adventures or coastal retreats, we hope you're inspired to share what you love on your next Virginia vacation.
As you make plans to travel, please know that COVID-19 continues to have our full attention – and the health and safety of our visitors and communities is our number one priority. Always check with businesses on current hours, and be sure to observe Virginia's COVID-19 safety guidelines when traveling. We look forward to seeing you when you're ready!
PREVIEW THE TRAVEL GUIDE
The 2022 Virginia Travel Guide will be released in February. If you order now your copy will be shipped immediately on publication. Digital preview will be available here at that time as well.