Spa Getaways and Wellness Retreats
From mineral waters and hot springs to Himalayan salt caves and CBD-infused treatments, Virginia offers a wide variety of contemporary healing therapies to cater to your specific wellness needs.
If you're looking for a holistic getaway to enhance your physical, mental, and spiritual well-being, try one of Virginia's wellness retreats where you'll learn techniques for a healthy lifestyle, including mindfulness, meditation, yoga, detox, healthy eating, and fitness.
Mineral Hot Springs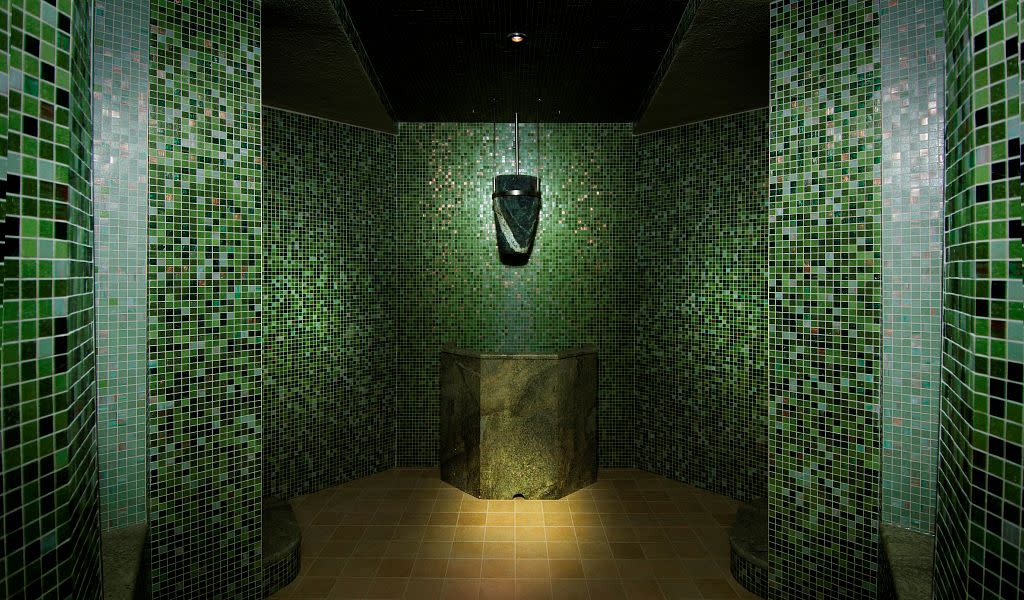 Set in Virginia's Allegheny Mountains, The Omni Homestead Resort Wellness Center offers a comprehensive suite of rejuvenating wellness services, including daily yoga and fitness classes, decadent treatments, all-natural mineral springs, and sparkling pools. The Aqua Thermal Suite features European-style healing aquatic environments that allow the body to experience a contrast of hot and cold temperatures. In the year-round adults-only Serenity Garden, guests can enjoy the geothermal Octagon Pool fed by two hot springs rich in magnesium, potassium, and calcium. Massages include tension zone therapy, cupping, and ayurvedic. Body treatments include exfoliation and mud wraps. View the spa brochure for a full list of treatments.
Complete Mind & Body Treatments at Eupepsia Wellness Resort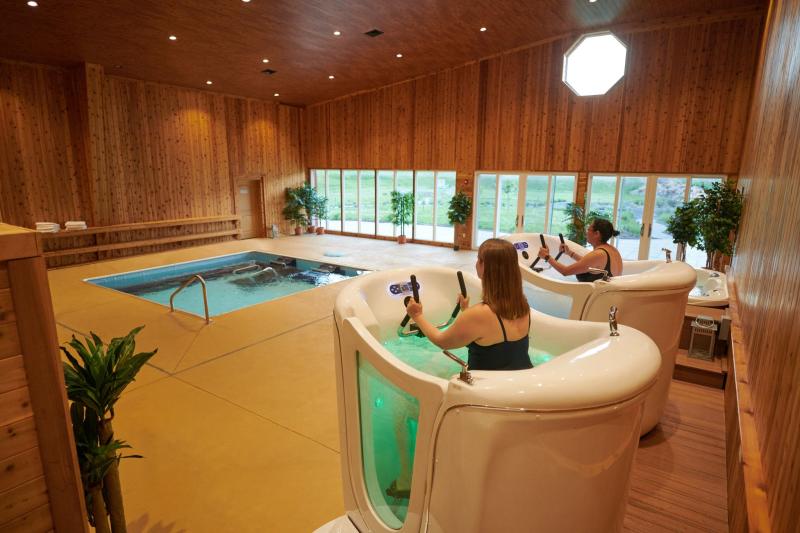 Tucked in the picturesque Blue Ridge Mountains, Eupepsia combines traditional and progressive health and wellness treatments tailored to the needs of your body. Founded on the principles of Ayurveda, the programs at Eupepsia assist in detoxing, destressing, weight loss, and relaxation. Therapies include Halo Salt Therapy, Magneto-therapy, Hot Stone Therapy, Flotation Therapy, and more, and are paired with farm-to-table healthy dining, fitness assessments, and other wellness aspects to reconnect with yourself in mind, body, and spirit.
Ocean-inspired Treatments, Hydrotherapy, Himalayan Salt Room, and Wellness Quartz Table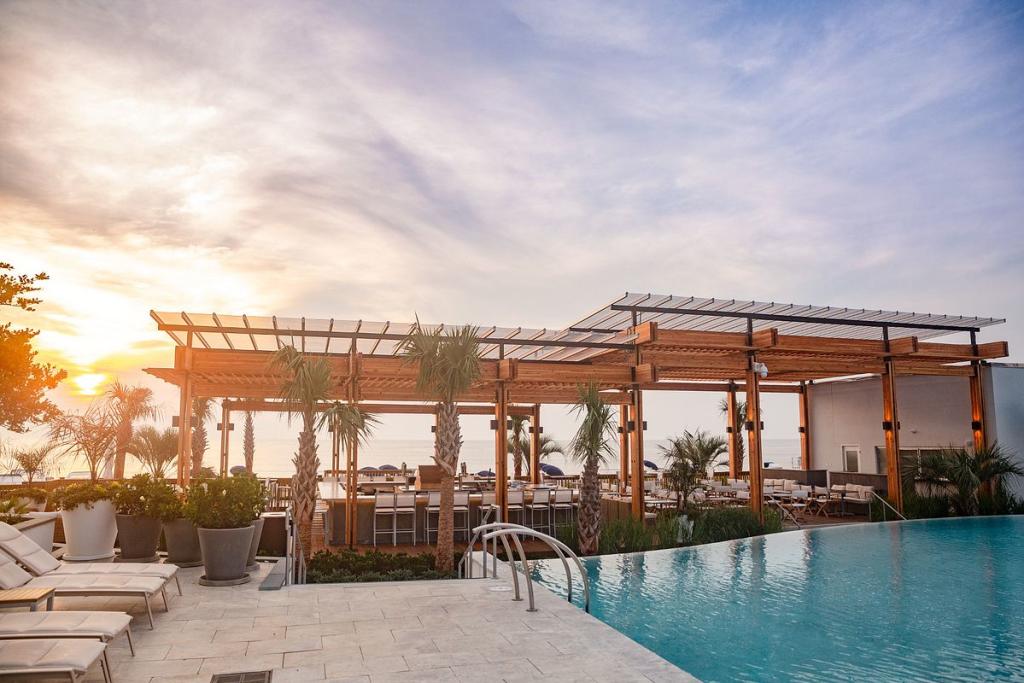 The Cavalier in Virginia Beach offers a wide array of upscale amenities, including a bourbon distillery, three unique restaurants, beautiful saltwater pools, meticulous grounds, and a Beach Club overlooking the ocean, but the Seahill Spa is a resort highlight. The 6, 200 square-foot escape features nine treatment rooms, soaking tubs, a signature Hydrotherapy room, a sauna, and steam rooms. Treatments are marine-inspired, incorporating aquamarine crystals to connect the healing energy of the ocean. Enjoy the benefits of the co-ed Himalayan Salt Room or reserve a couple's suite – we recommend one with a private soaking tub. The Wellness Quartz table offers a unique heated experience designed with alternative healing in mind - quartz crystals are thought to naturally cleanse and rebalance the body's chakras, or energy centers. Check out the spa brochure and rate card to find the treatment for you.
Centuries of Wellness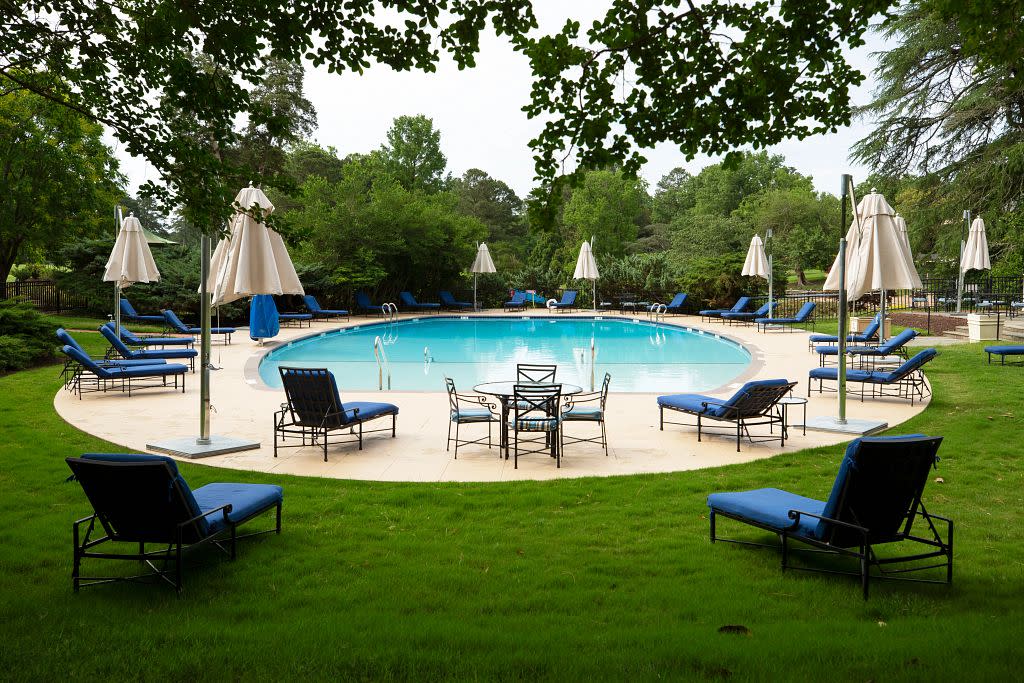 The Spa of Colonial Williamsburg 's exclusive experiences are inspired by relaxation and healing practices from each of the last five centuries. These century-inspired packages include the 17th century detoxifying herbal wrap and hot stone massage, the 18th century Colonial orange-ginger scrub and massage, the 19th century African traditional bath and strengthening massage, the 20th century Williamsburg water therapy experience, and the 21st century advanced age-defense spa experience. View the spa brochure to find out which treatment best suits you.
Equestrian Spa Services and More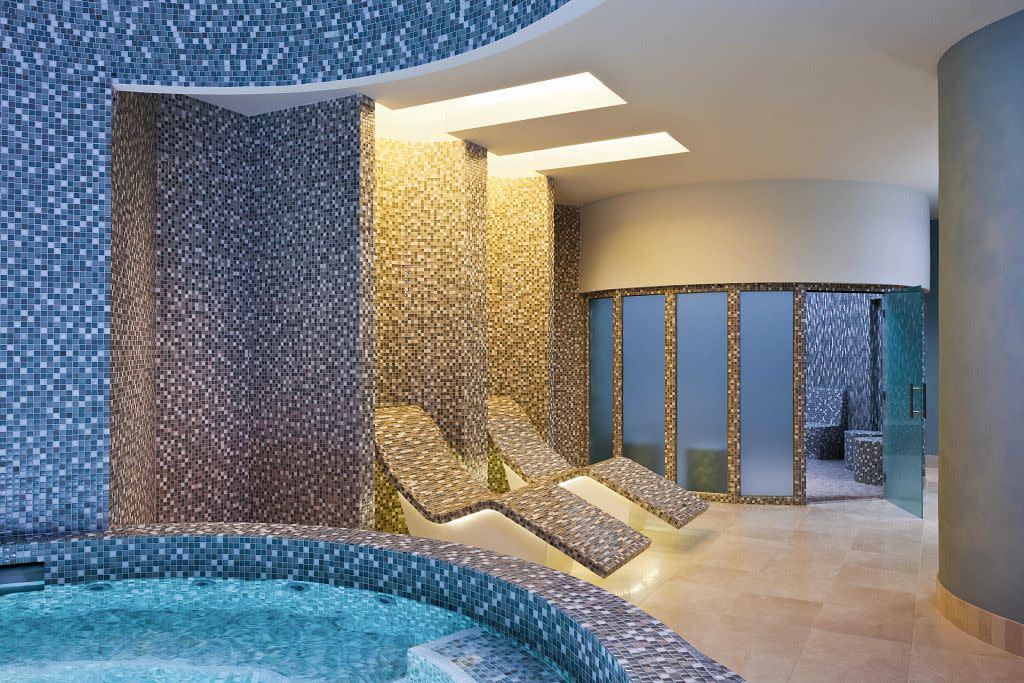 Salamander Resort in Middleburg focuses on equestrian activities and wellness treatments for riders. The spa's nature-inspired ambiance features private stone treatment terraces, aromatic steam rooms, sun-lit relaxation spaces, a secluded spa courtyard with an elegant infinity-edge pool and cabanas, and a remarkable couple's suite with a double-sided fireplace, private garden terrace, grand whirlpool, steam shower, and pedestal tub. Indulge with a restorative facial, rejuvenating signature massage, or hot stone treatment. Riders can try the Riders' Relief Massage that focuses on releasing muscle tension and mobilizing the joints in affected areas.
Treatments Inspired by American Indian Healing Rituals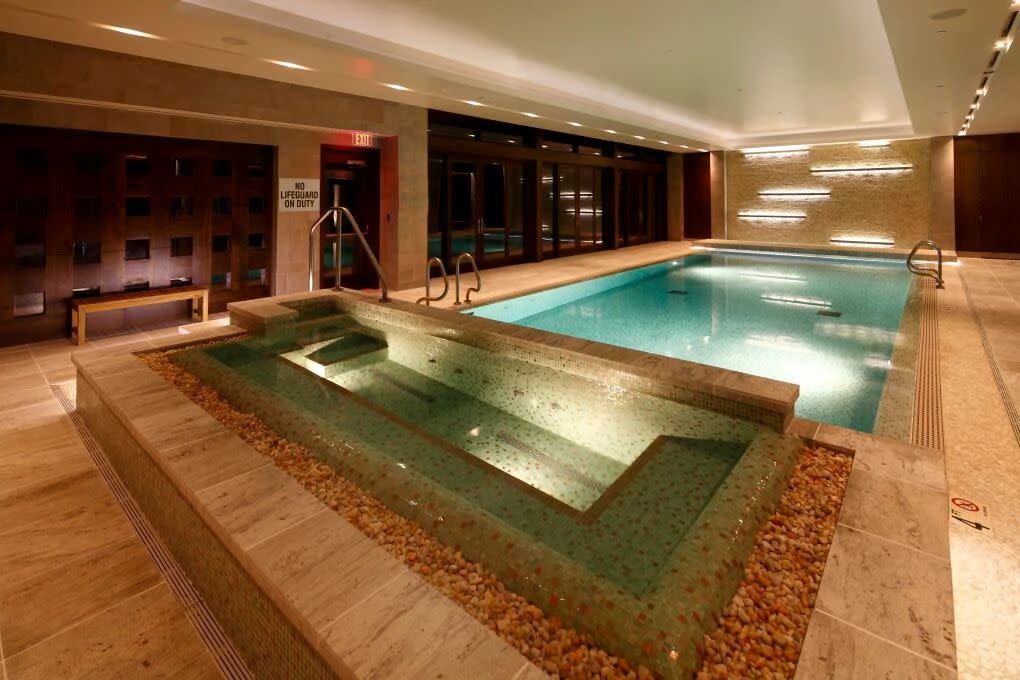 Part of Primland Resort, the Spa at Primland Resort in southwest Virginia sits atop a mountain in Patrick County just off the Blue Ridge Parkway. This spa weaves the wisdom of American Indian healing with the finest modern European spa rituals and provides guests with a complete list of spa and wellness services, including yoga and meditation classes and healing ritual services. The resort also offers a men's spa and therapies for golfers. Take a look at the spa menu for full services and pricing. Private yoga and nature experiences are also available.
Vinotherapy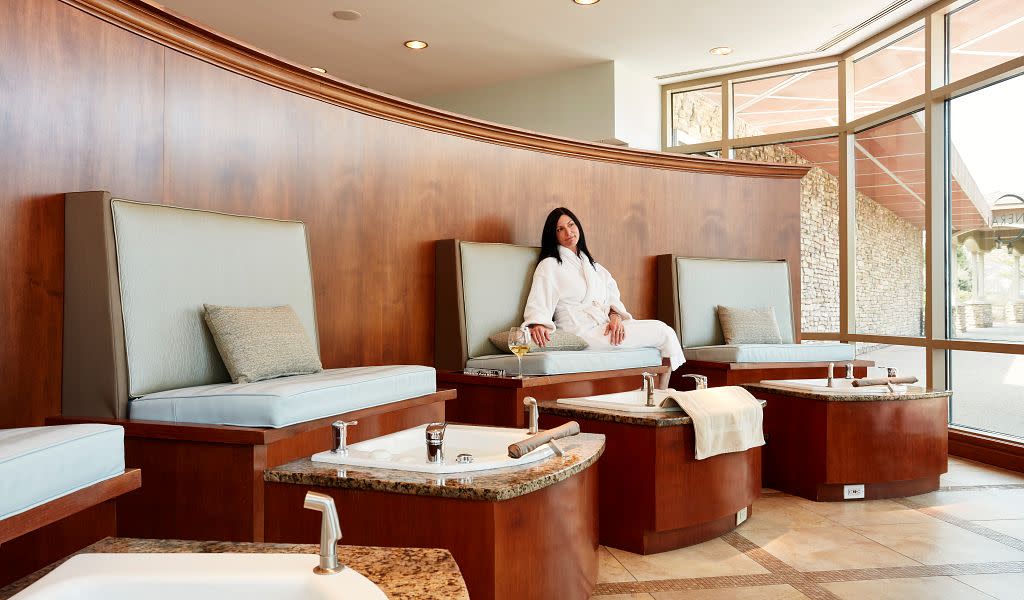 Lansdowne Resort's Spa Minérale is at the gateway of Loudoun Virginia's wine country. Treat yourself to a day or a weekend at Spa Minérale to immerse in the Virginia good life with vinotherapy spa treatments, classic and innovative therapies, and salon treatments. Bring that special someone for a romantic retreat in the Couples' Suite or wind down after a day on the golf course and pair it with a glass of Loudoun County vino. Try the magnesium wellness passage, the botanical sensory massage, or the vinotherapy antioxidant facial. Take a look at their spa menu for full services and pricing.
Hemp Infused CBD Treatments
The Day Spa at The Ritz Carlton Tysons Corner in McLean is in the heart of Virginia's high-end shopping district. The Spa provides a fabulous respite from the day's activities and offers various therapies, including Hemp-infused CBD treatments that are designed to reduce stress, anxiety, muscle tension, pain, and inflammation. Natural ingredients and healing elements found in treatments, paired with skincare technology, help reset, repair, and refresh the mind and body. The spa also offers indoor pool and relaxation facilities with saunas and steam rooms. For a full list of treatment options check out the spa menu.
Craniosacral & CranioSacral Therapy
Nestled in the foothills of the Blue Ridge Mountains within walking distance from the historic Inn at Little Washington you'll find Little Washington Wellness & Spa, which offers a variety of therapeutic massages, reiki healing, and organic and natural skincare treatments. Try the Craniosacral Therapy, a light-touch, whole-body treatment technique that works with the body's craniosacral system to support and nourish the central nervous system - improving overall health and well-being. Another option is the CranioSacral therapy which helps alleviate aches and improves coping mechanisms to allow for better management of stress.
More Spas Worth a Visit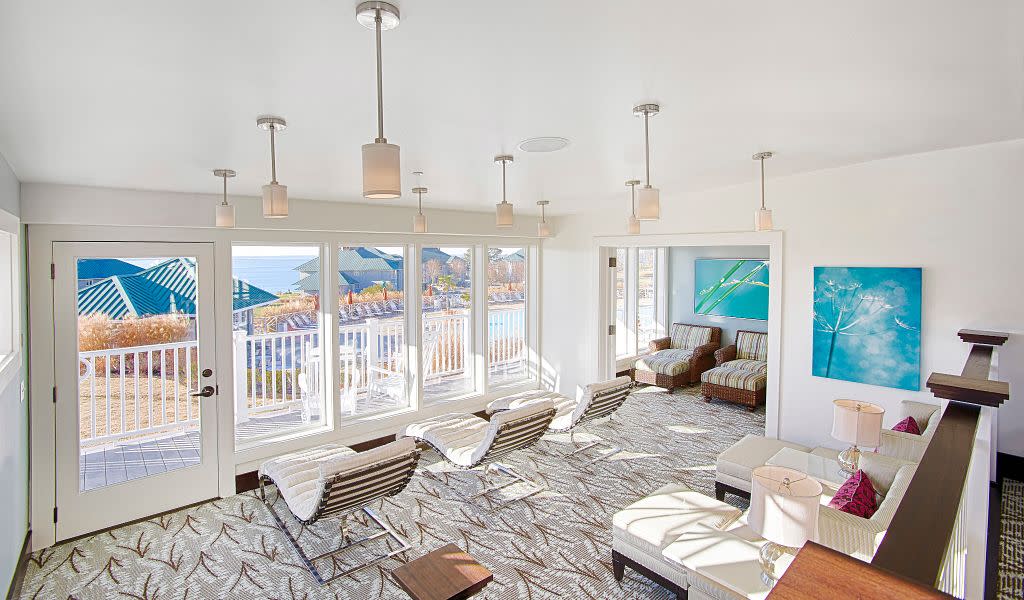 At Kingsmill Resort & Spa in Williamsburg, relaxation begins as soon as you walk in and take in the view of the picturesque James River. Escape into a world of relaxation and invigoration through natural-element treatments inspired by the water, woodlands, and gardens surrounding the resort. Discover a breadth of treatments designed to stimulate and renew your body while keeping your desires and goals in mind. The Spa's signature Hops Massage is a 50-minute experience not to be missed. Wellness and body treatments include a decadent chocolate wrap, rose indulgence body treatment and facial, detoxifying wraps, and more. Take a look at their spa menu for full services and pricing.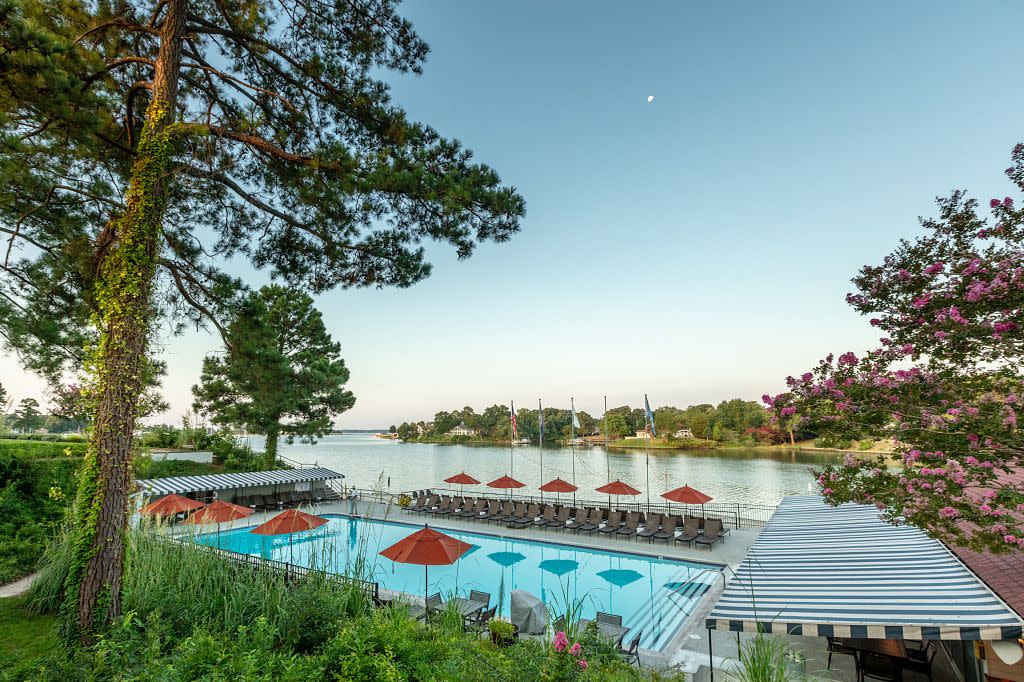 The Tides Inn Spa at The Tides Inn in Irvington is located at the edge of Carter's Creek, just off the beautiful Chesapeake Bay. Try the Himalayan Salt Stone massage that incorporates warm, hand-carved salt stones from the Himalayan Mountains, balances the central nervous system and nourishes depleted cells, leaving the body in a deep sense of relaxation. Stimulation of specific meridians on the body allows for improved sleep and reduced inflammation and gives an immediate sense of improved wellbeing. The Naturopathica® facials provide an effective approach to healthy and luminous skin. Check out the spa menu and pricing list for more information.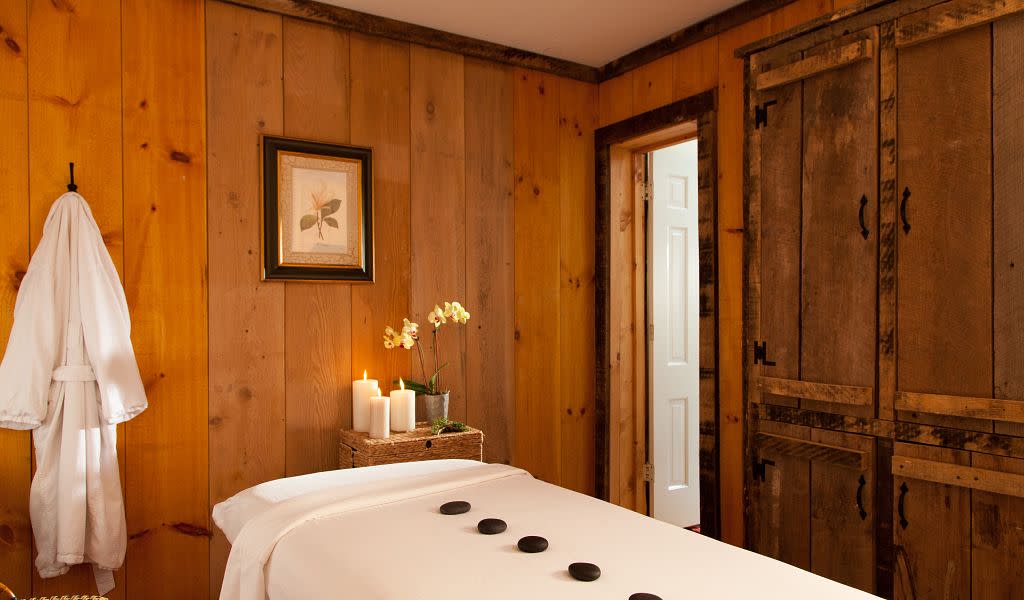 The Spa at Goodstone Inn in Middleburg fits perfectly into its bucolic surroundings. An elegantly renovated farmstead barn sets the stage for a perfect balance of relaxation, massage, and facial treatments to detox, hydrate, and relax. Take a time-out and enjoy the serenity of the rustic treatment rooms when you plan your visit today.
The Martha Hotel & Spa, located in the historic district of Abingdon, offers a beautiful environment where both hotel and local guests can indulge in relaxation, exercise, and spa treatments. The Spa features a full menu of services in private treatment rooms for individuals and couples.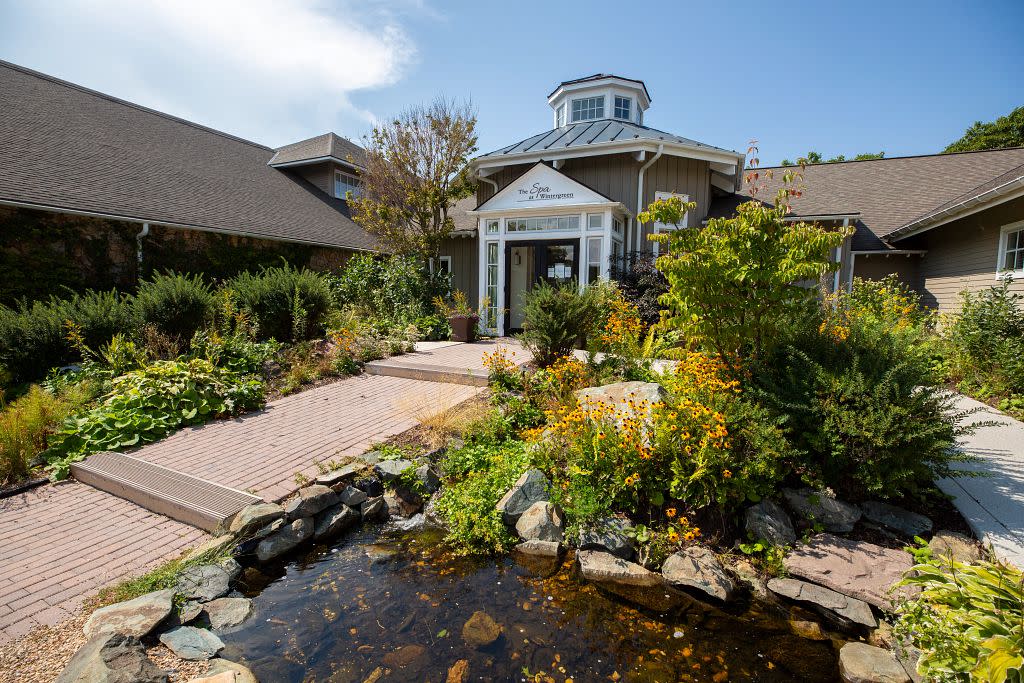 The Spa at Wintergreen is in Nelson County overlooking the Blue Ridge Mountains. Soak in heated hot tubs from the highest point in the resort. Various therapies are offered as well as specialized youth spas and a gentleman's spa. For a full list of services check out the spa menu and pricing card.
The Founder's Inn Spa and Conference Center in Virginia Beach features their Flowering Almond Spa. Enjoy full-day access to the pool and fitness center with every spa treatment. Check out the spa booklet for details and pricing.
Great Wolf Lodge's Elements Aveda Spa/Salon in Williamsburg features a Feng Shui-balanced atmosphere with environmentally friendly products. While your family is playing in the Lodge's gigantic indoor waterpark, you can escape for an hour or two to your own retreat, featuring soft music, aromatherapy, and trickling water. Kids can get in on the fun too with the Scoops Kids Spa.