Fall is just around the corner, and we are already daydreaming about this special season that is absolutely iconic in Virginia, from the crisp air and colorful leaves to the delicious fall flavors coming to restaurant menus. If you're looking for a complete fall experience rather than just a standard vacation, skip the hotels and book one of these eight distinctive rental properties that showcase the very best of fall in Virginia.
SANDY RIVER RETREAT LOG CABINS & TIPIS—RICE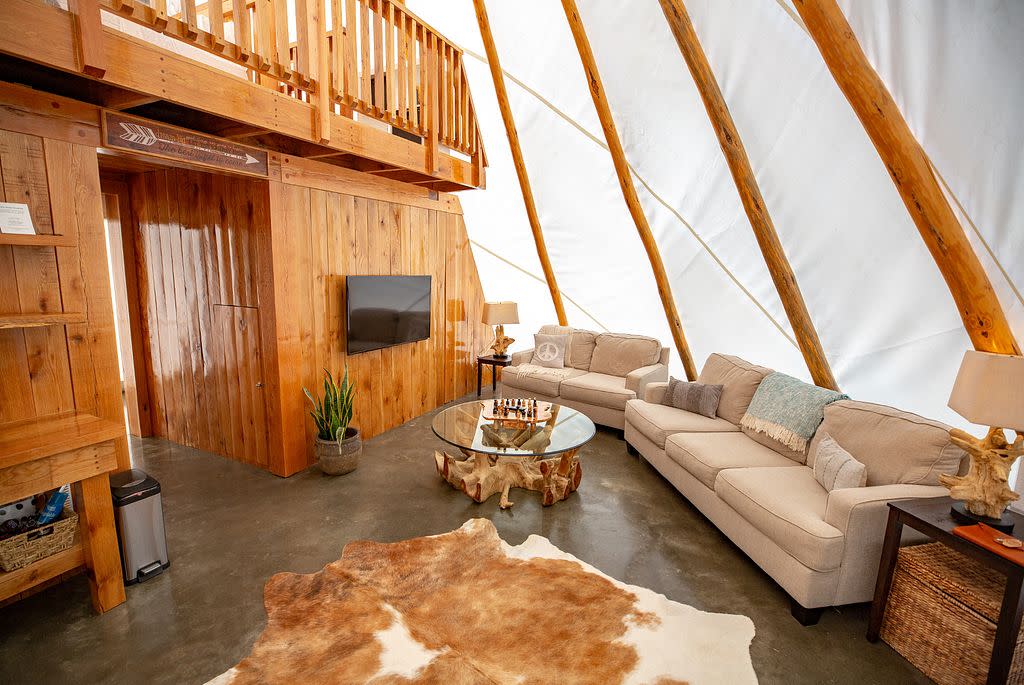 If you're interested in a truly once-in-a-lifetime experience, you need to book a stay at Sandy River Retreat just minutes outside of Downtown Farmville. In addition to the log cabins available for rent, the business just began renting out their luxury tipis. These are by no means basic accommodations; the tipis are massive, with queen and full-sized beds, pullout couches, kitchens, bathrooms, air conditioning, and even heated flooring for those cool mornings. The tipis sleep five to six people, while the pet-friendly cabins sleep up to eight people and have many of the same amenities.
These rentals are located on the same property as the Adventure Park, which features eleven zip lines, obstacle courses, and a team-building section. Additionally, the property also houses a full farm with sheep, chickens, and two friendly miniature donkeys named Mario and Luigi that are always delighted to make new friends. And the activities for guests don't end there; Sandy River offers bike rentals for the High Bridge Trail, canoe and kayak rentals for Sandy River Reservoir, and several family games available for guests to use, including corn hole, croquette, volleyball, and horse shoes.
CAIR PARAVEL FARM'S AIRSTREAM IN THE TREES—STANARDSVILLE
Stay in a vintage 1968 Airstream on a property that abuts Shenandoah National Park at Cair Paravel Farm. Immersed in nature, the camper has an expansive wood deck perched on the edge of the mountains, which will provide you with an unreal view of the autumn colors of the valley below. Nature trails wind through the 58-acre working farm, which contains sheep, picks, ducks, turkey, and more. Get eggs for your morning omelet, veggies to whip up a quick salad, or even meats for a barbecue on the airstream's outdoor gas grill from the farm owners, who either source on-site or work with other local residents to provide you with a truly authentic farm-to-table experience.
BELLE ISLE HOUSE & GUEST HOUSE—LANCASTER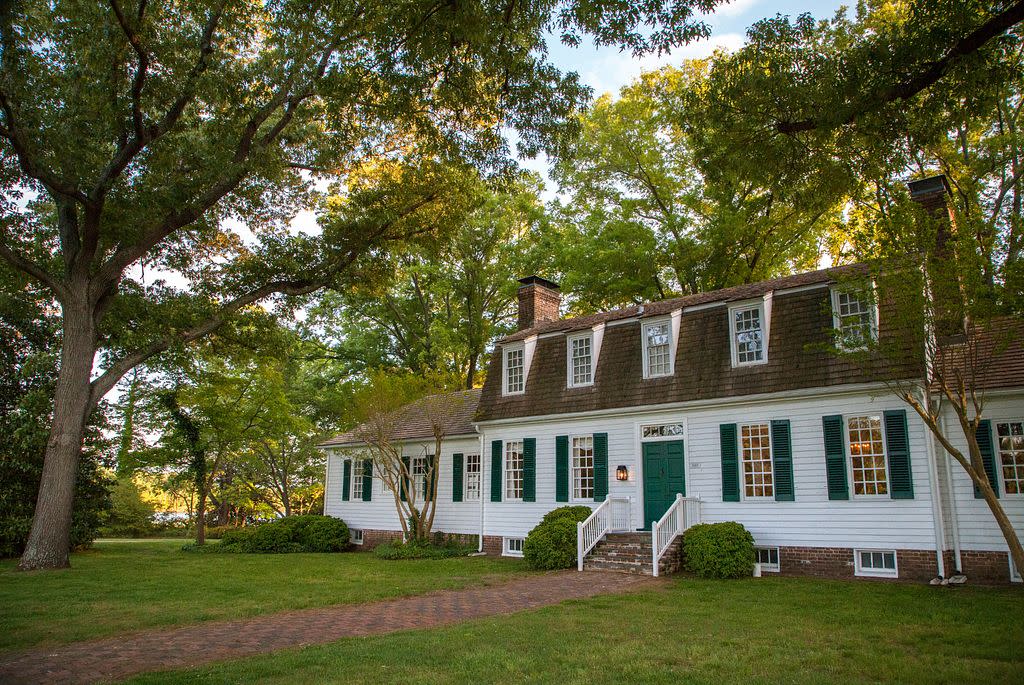 Belle Isle State Park rent out both the Bel Air Mansion and the Guest House, but unlike many park accommodations like campsites and cabin rentals, the lodging options in Belle Isle State Park are not exactly roughing it. The Colonial-style mansion is huge, with three twin beds, queen and full bedrooms, and a small daybed, as well as four bathrooms and a fully-equipped kitchen. Get a gorgeous waterfront view when you book the guest house, located steps away from a cove off the Rappahannock River. And for a unique experience, drive up towards Reedville, where you can catch a ferry to the famously remote Tangier Island, also known as the "Soft Shell Crab Capital of the World".
AFTON MOUNTAIN VINEYARDS GUEST HOUSE—AFTON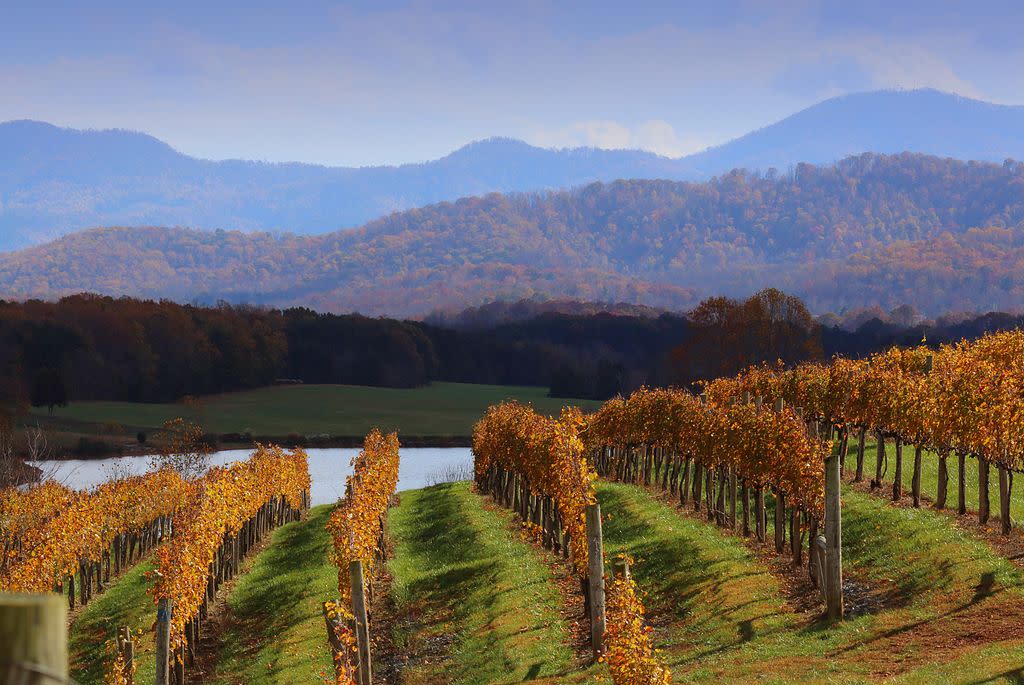 photo credit: Steven Morris
Afton Mountain Vineyards has a saying: "Grapes don't grow in ugly places." You'll find this to be true when you stay at the vineyard's guest house, a two bedroom, two bathroom cottage in the heart of the grapevines. The property is perfect for a romantic getaway, with stunning views enveloping the home on all sides. Spend the morning savoring a cup of coffee on the outdoor patio or the screened porch, where you can watch the sun rise over Afton Mountain. And if you're interested in sampling some of the wine made from the grapes that surround you, the vineyard tasting room is only a few steps from your front door.
IRIS INN BED & BREAKFAST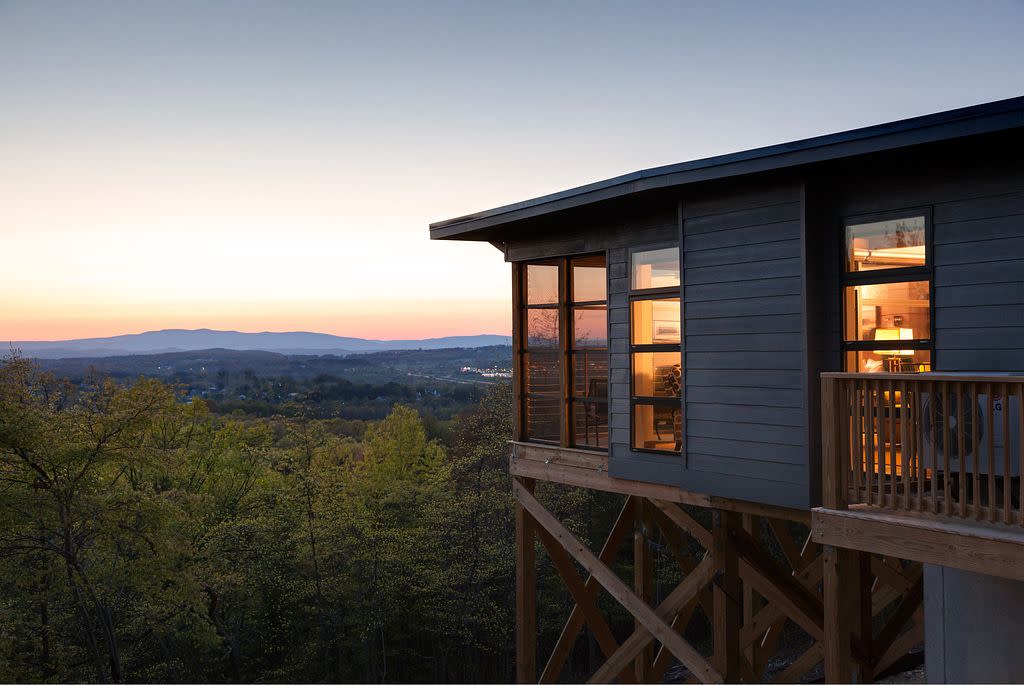 photo credit: Jumping Rocks Photography, @jumpingrocksphoto
A newly renovated 5 star bed and breakfast with luxury cabins and cottages, the Iris Inn overlooks the Shenandoah Valley making for a picturesque fall getaway. The rooms are thoughtfully designed each with epic views and touches of comfort all around. Cottages are perfect for families looking for a home away from home and cabins are the perfect match for couples seeking a romantic stay in the mountains. Within 30 minutes of the Inn, you'll find some of Virginia's best fall hikes as well as amazing wineries!
AYLETT RIVER PARADISE—ST. STEPHEN'S CHURCH
On the edge of the Mattaponi River about 30 miles northeast of Richmond, Aylett River Paradise contains everything you could need for a comfortable family vacation, including television and an array of board games, but you're almost guaranteed to want to spend every minute in the great outdoors instead. The three-bedroom rustic cabin is suited for those looking for a secluded outdoor getaway, with kayaks and golf clubs available for guest use. Hikers can walk the property grounds or head just across the river to Zoar State Forest to explore a series of wooded trails. At night, gather around the fire pit to warm the chilly fall nights with a crackling campfire. The rental is pet-friendly, allowing your four-legged friends to join in the outdoor adventures of your fall getaway.
CRAB SHACK AT GRANDVIEW—MATHEWS
Off-season on the Chesapeake Bay mean less crowds, lower temperatures, and practically no bugs, making it almost preferable to a summer stay. For your coastal fall getaway, head to the Crab Shack at Grandview, a pet-friendly waterfront rental complete with a small miniature golf course, kayaks and cruiser bikes for your use, an outdoor pool that may still be available depending on weather, and a pier with Adirondack chairs.
Catch your own seafood or buy from a local purveyor to cook up fresh catches in the home's renovated kitchen. The rental is so popular, a Grammy-nominated artist even wrote their memoirs here (we can't say whom, but you may be able to convince the owners to tell!). Soak in the view of the Bay from the rental's porch swing, the dock, or on the home's rooftop deck, where sunsets seem so close you could almost touch them.
SOUTHERN GAP OUTDOOR ADVENTURE—GRUNDY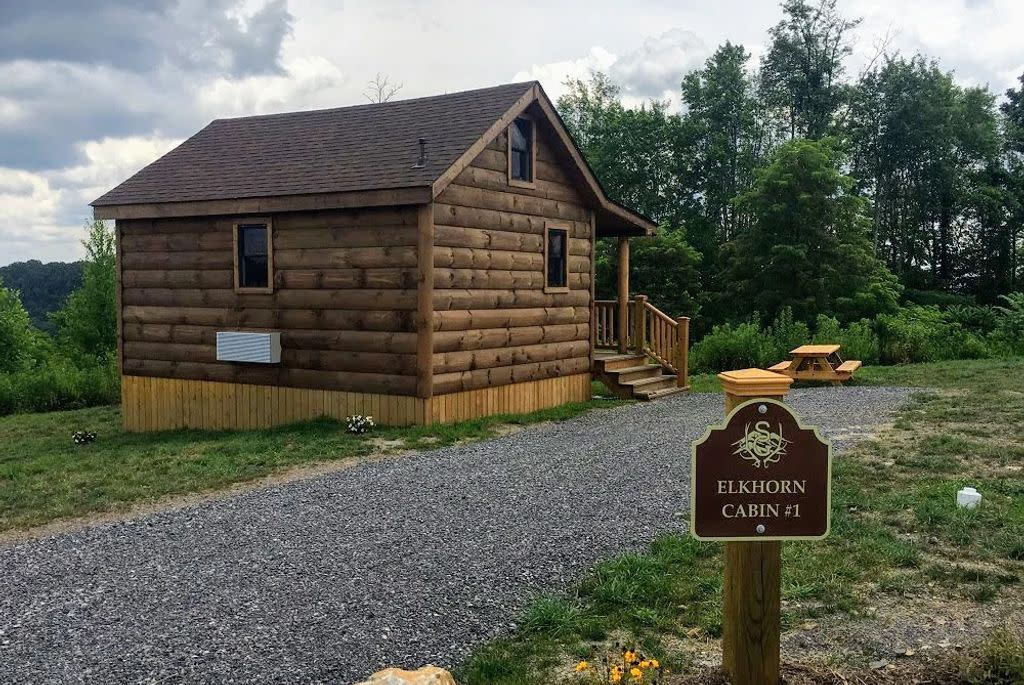 Make the trip out to Southwest Virginia to stay at Southern Gap Outdoor Adventure and discover some of the state's most wildly beautiful scenery. The log cabins are situated in Grundy near the entrance of the Coal Canyon portion of Spearhead Trails, giving you direct access to over 100 miles of ATV and mountain bike trails. Don't have your own ATVs? Southern Gap offers ATV rentals and guided tours of the trail system. And if extreme outdoor sports aren't your thing, book one of the guided elk tours, offered seasonally by Southern Gap. The pet-friendly log cabins sleep seven to ten people, and they also offer RV and tent camping sites.
Cabins at Crabtree Falls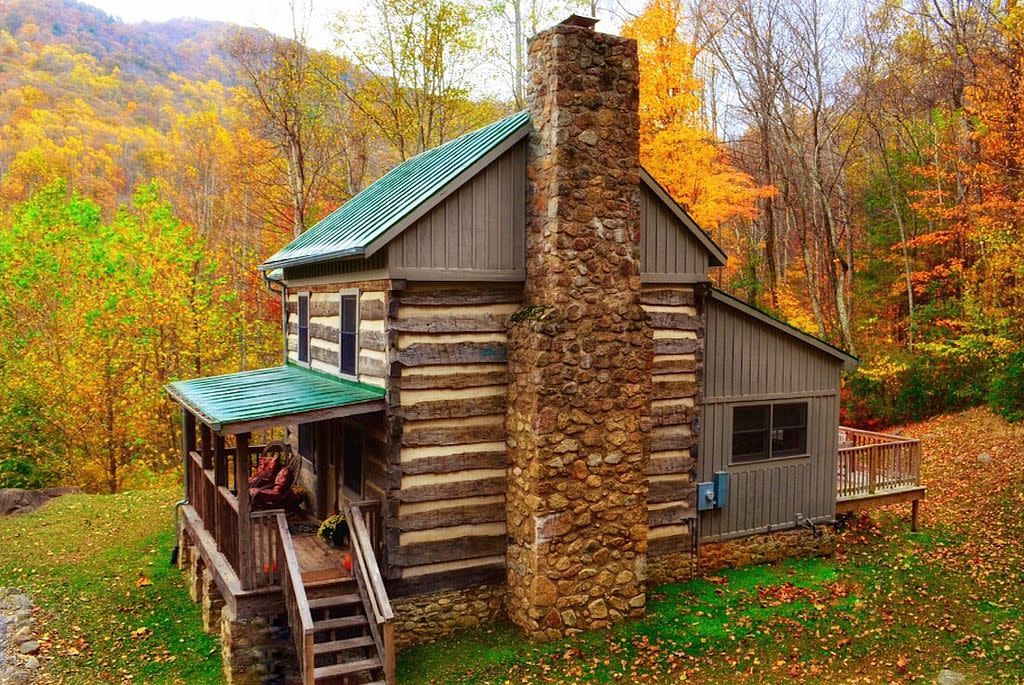 Located in the heart of the Blue Ridge Mountains, only half a mile from Crabtree Falls, The Cabins at Crabtree Falls make for a beautiful fall escape. With five cabins to choose from, you can have options for what works best for you. If on a romantic getaway, Richard's cabin includes a hot tub and a fireplace or if you're a history buff, Annie's Cabin was built by Thomas Jefferson's nephew, Peter Carr, and remains in its original layout from the 1800's. There are so many amazing things to do near the cabins, including plentiful hikes with stunning views, wine tasting, apple picking and even white water rafting!
Chic Mountain Yurt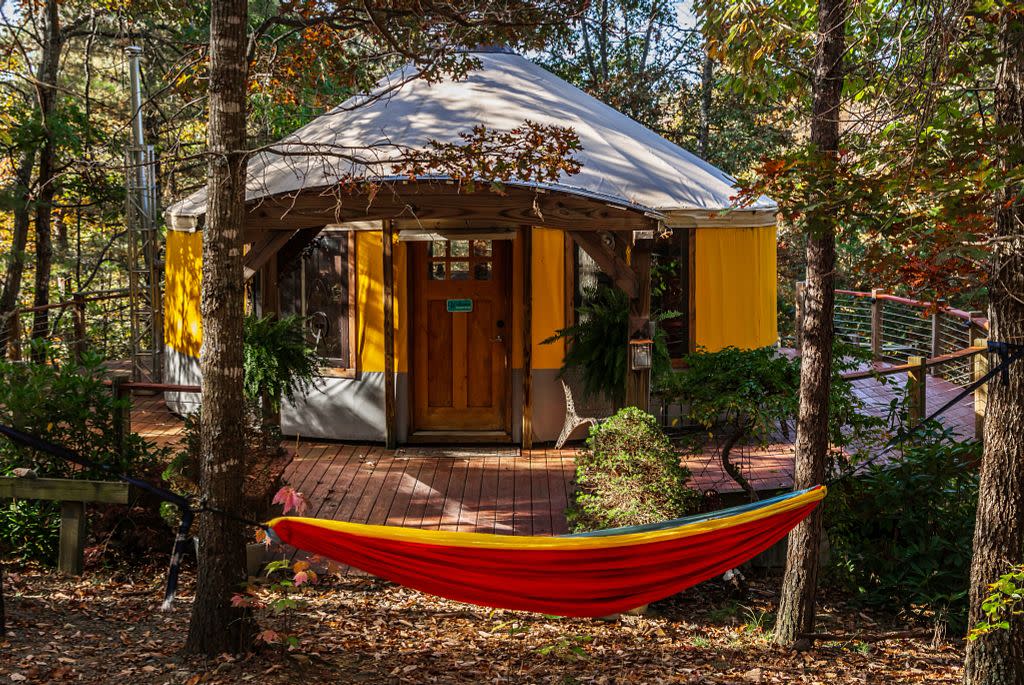 photo credit: Lovicarious, @lovicarious
A beautiful yurt dwelling located just 20 minutes from the charming town of Floyd, Virginia. Situated on 150 acres of private property, this mountain yurt stay is indescribably peaceful. The 24' yurt is modern and updated with a fully functional kitchen, bathroom and steam sauna shower as well as a TV and wifi. The best news? The yurt is pet friendly! So bring your pups and head out to explore 150 acres of trails, streams and natural beauty.