Whether you prefer it neat, on the rocks, or blended into a traditional cocktail like an Old Fashioned or a Mint Julep, Virginia's bourbon and whiskey distilleries have what you need to make a world-class drink. Head to one of these distillery tasting rooms to sample their selections of bourbons and whiskeys, then take home a bottle (or two!) of your favorite artisanal spirits to craft the perfect cocktail in the comfort of your home.
Catoctin Creek Distillery—Purcellville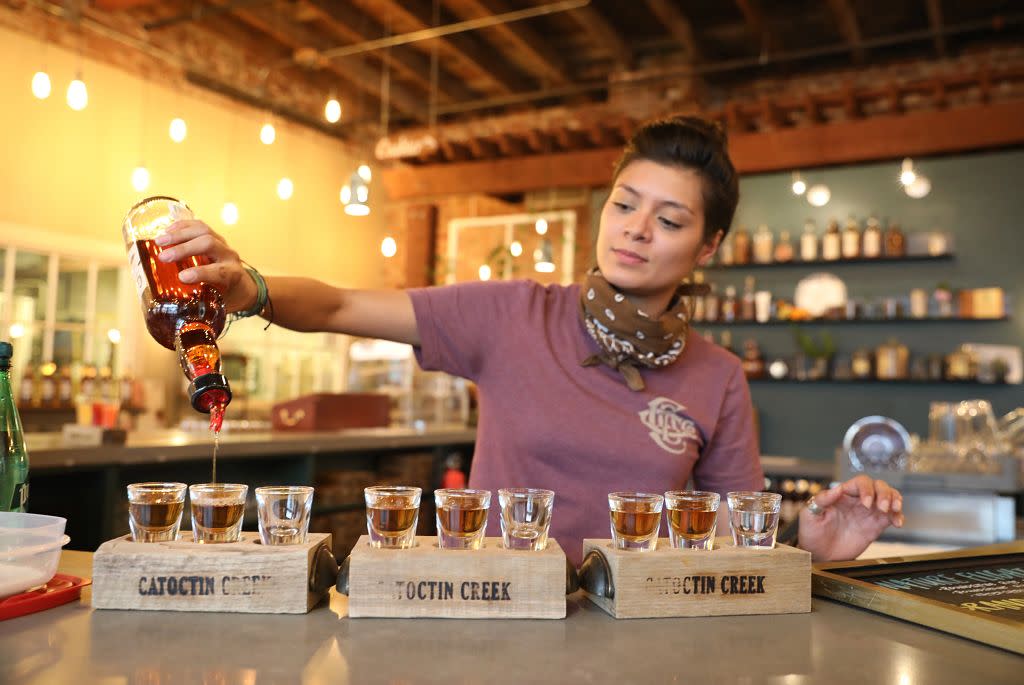 Courtesy of Visit Loudoun, @visitloudoun
The first family-owned distillery in Loudoun County since before Prohibition, Catoctin Creek Distilling Company produces high quality organic spirits and liqueurs. Their flagship product, Roundstone Rye, is made using old-world production methods and has been awarded gold medals at spirits competitions around the world, including the San Francisco World Spirits Competition.
Tarnished Truth Distillery—Virginia Beach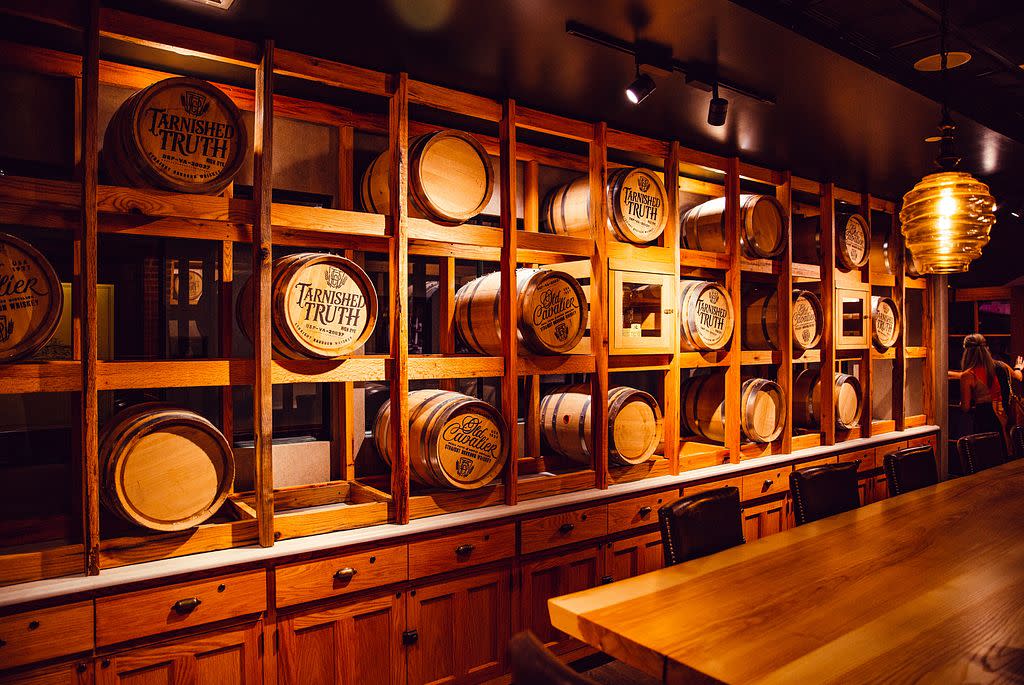 Housed in the lower level of the historic Cavalier Hotel, Tarnished Truth Distilling Company makes a High Rye Straight Bourbon Whiskey (aged 3 years for a warm amber look with notes of oak, honey vanilla, clove, and cinnamon) and an Old Cavalier Straight Bourbon Whiskey (aged 9 years, aroma of sweet baked apples and taste of buttery toffee with hints of black pepper and cinnamon). Take a tour of the distillery, which ends with a tasting in their barrel room, and try their whiskey products in cocktails next door at The Hunt Room, one of the Cavalier Hotel's luxurious bars.
Virginia Distillery Company—Lovingston

Photo Credit: Jessica Bullard
There are several slight differences between "whisky" and "whiskey", but one distinction is that "whisky" is made in Scotland, whereas "whiskey" is distilled in Ireland and America. The Virginia Distillery Company may be the only distillery in the Commonwealth to correctly call their product "whisky", as they marry whiskeys made at their distillery with whisky from Scotland, then age it for at least another 12 months in barrels sourced from local breweries, wineries, and cideries. Their whisky line includes Brewers Batch Virginia-Highland Whisky, Chardonnay Cask Finished Virginia-Highland Whisky, Cider Cask Finished Virginia-Highland Whisky, and Port Cask Finished Virginia-Highland Whisky. You can learn all about the history of distilling in Virginia at the distillery's on-site museum, then sample all of their current whisky products at the tasting room, located about 30 minutes outside of Charlottesville in the Blue Ridge Mountains.
A. Smith Bowman Distillery—Fredericksburg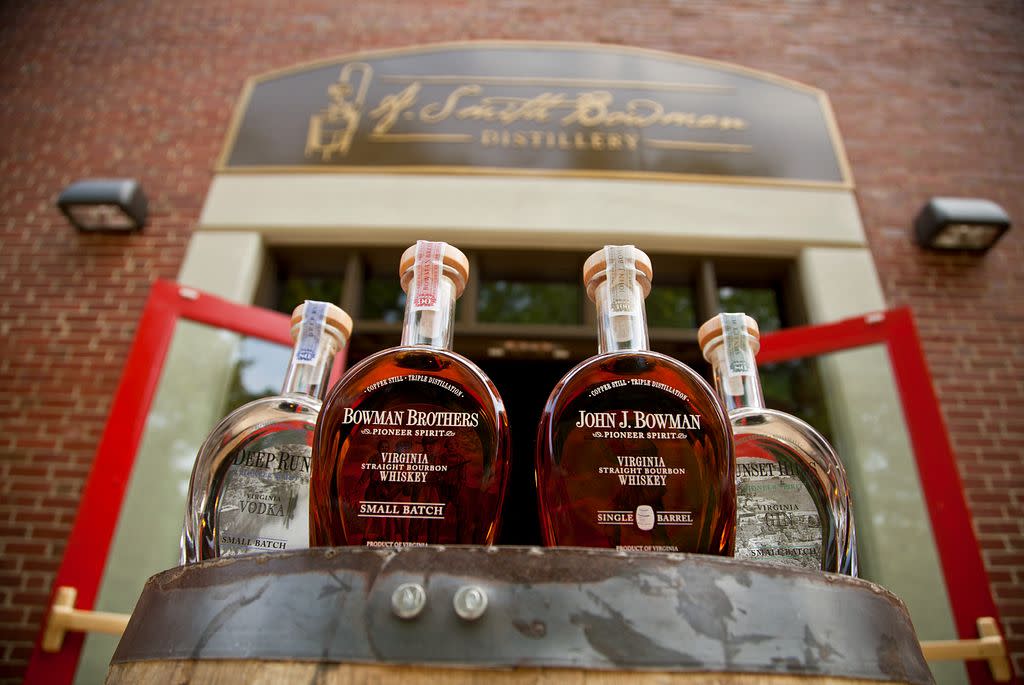 The oldest continuously-running distillery in Virginia, A. Smith Bowman has become known for their internationally acclaimed bourbons, which have won the "World's Best Bourbon" at the World Whiskies Awards for several years. The Fredericksburg-based distillery offers free tours and tastings on the hour during opening hours, walking visitors through the history of the distillery, sharing the meticulous process of creating their signature spirits, and finishing with a tasting of the products discussed during the tour. They offer several Virginia Straight Bourbon Whiskeys named for their historic distilling family, including John J. Bowman, a Single Barrel Straight Bourbon Whiskey, Bowman Brothers, a Small Batch Straight Bourbon Whiskey, and Isaac Bowman, a Port Barrel Finished Straight Bourbon Whiskey.
Belmont Farm Distillery—Culpeper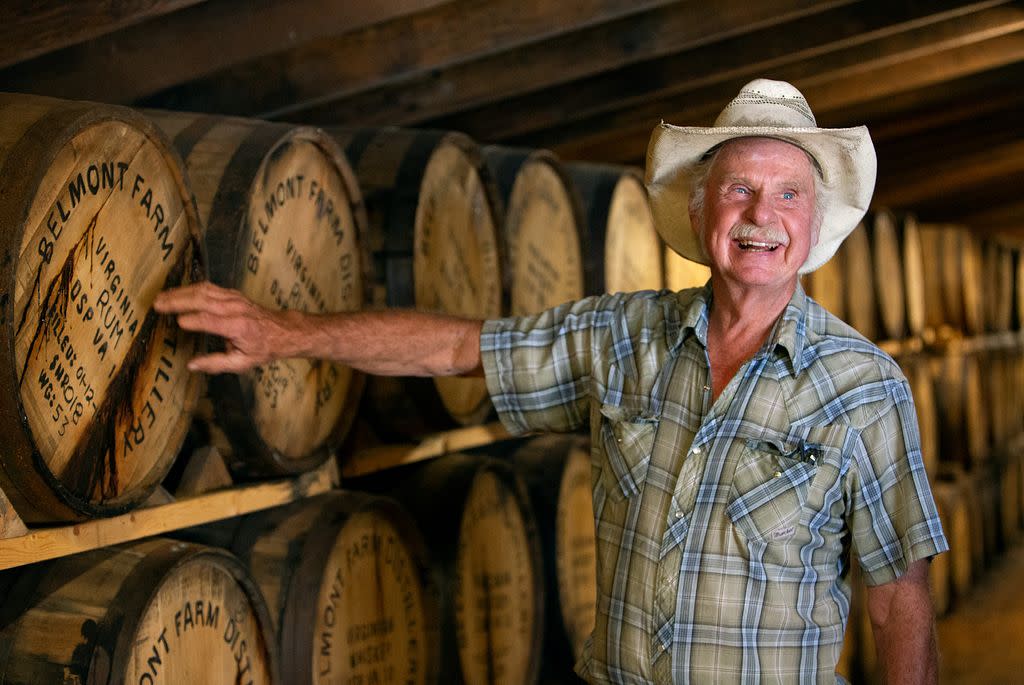 While Belmont Farm Distillery mostly focuses on crafting authentic moonshine, they also produce their signature Kopper Kettle, a 92-Proof Virginia Straight Bourbon Whiskey. Visit the distillery, located on a 189-acre farm about six miles south of Culpeper, to try the whiskey and get a behind-the-scenes look at how they make their whiskey and moonshine products.
Blue Sky Distillery—Smithfield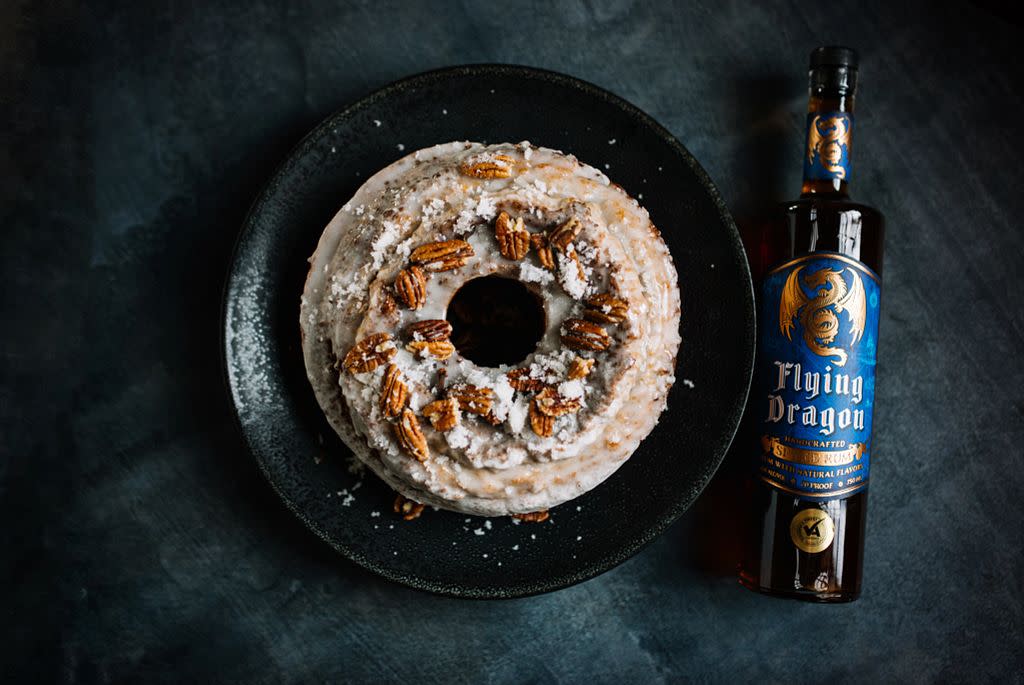 photo credit: Aubrey Griffin
An award-winning micro distillery in the quaint Coastal Virginia town of Smithfield, Blue Sky Distillery produces their 90-Proof Triple Deuce Whiskey Small Batch Reserve from 100% wheat. Tastings and tours of the distillery are free to visitors 21+, and afterwards you can purchase the whiskey and other distilled spirits on-site to enjoy at home.
Cape Charles Distillery- Cape Charles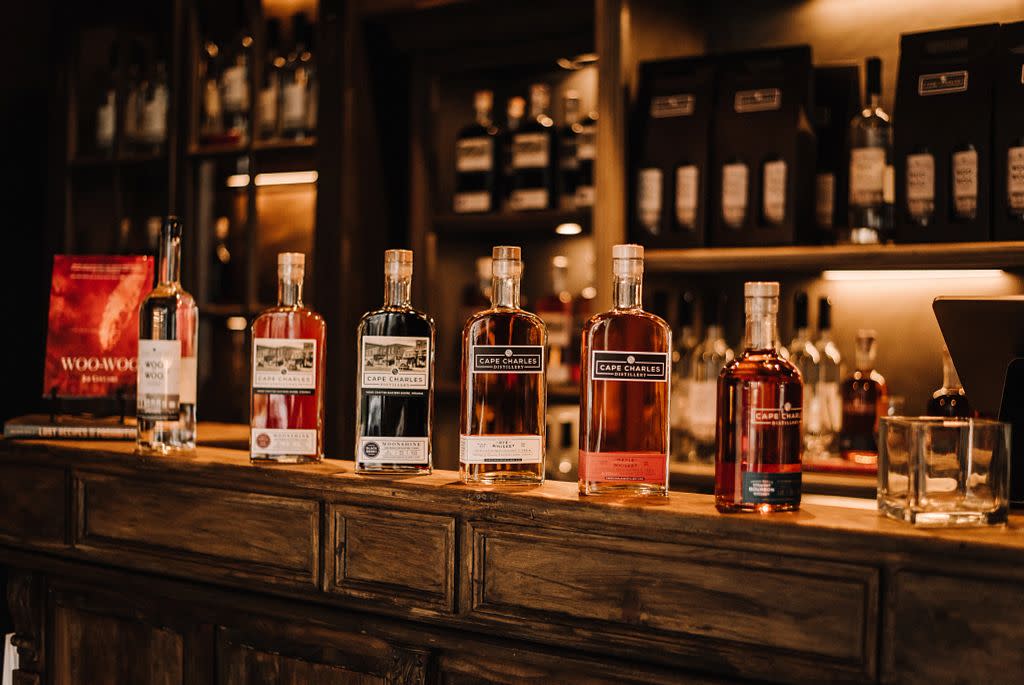 photo credit: rachel Stevens
Inspired by the beautiful mountains and stunning coastline of Virginia, Cape Charles Distillery uses local Virginia ingredients, like fresh water from the Blue Ridge Mountains, in every spirit they make. Voted best distillery in Eastern VA for the past 3 years (2019, 2020, 2021), the distillery has garnered plenty of recognition in a short time since its establishment in 2017. At Cape Charles Distillery, they believe the combination of quality ingredients, expertise and handcrafting results in the unsurpassed quality and unique character that you find in their spirits.
Copper Fox Distillery—Sperryville & Williamsburg

American Single Malt Whiskeys, Single Malts, Ryes, and Bourbon Mash Whiskeys make up the whiskey offerings at Copper Fox Distillery. The small batch whiskeys are crafted from locally grown grains, pot-stilled in small batches, then barreled, aged, and sampled over time to ensure the highest quality. Purchase a barrel kit at the tasting room to further age your own bourbon or whiskey at home, creating a batch of spirits that is truly unique.
Falls Church Distillers—Falls Church
Falls Church Distillers produces several premium spirits, including two bourbon whiskeys, the Church Bourbon Whiskey (aged in medium char American Oak barrels) and the Church Whiskey (a sweeter whiskey made with a mash blend of corn and wheat that is aged 6 months in a bourbon barrel). While the distillery emphasizes quality, their products are affordable and approachable, creating bourbon whiskeys that beginners will love and experienced whiskey drinkers will appreciate.
HillTop Distillery—Maidens
In the small town of Maidens just west of Richmond, HillTop Distillery sits on the banks of the picturesque James River. The distillery is family-owned and -operated, and believes in supporting local business whenever possible, with the corn, rye, and wheat used in producing their spirits grown and milled in Virginia. Current whiskey and bourbon offerings include HillTop Straight Bourbon Whiskey, HillTop Whiskey, HillTop Virginia Single Malt Whiskey, and HillTop Barrel Proof Bourbon.
Ironclad Distillery Company—Newport News
Photo Credit: Aubrey Griffin
Named for the iron ships that made their debut off the coast of Virginia during the Civil War, Ironclad Distillery Company is known for their Small Batch Bourbon, made with Virginia corn, wheat, rye and malted barley and aged for one year in American Oak barrels. The bourbon balances sweetness from the caramelized oak sap of the barrels with a dry spice finish. In addition to their signature Small Batch Bourbon Whiskey, their bourbon lineup includes bourbons finished in secondary barrels like coffee barrels, maple syrup barrels, and honey casks. They round out their offerings with the Straight Bourbon, distilled with corn, wheat, rye, and malted barley, then aged for two years in American Oak barrels. Visit the tasting room to try their products straight or mixed into bourbon cocktail samplers, take a free tour of the distillery, then peruse the distillery shop for bourbon-inspired goods and products.
Springfield Distillery—Halifax
If you're traveling to Southern Virginia, don't miss stopping by Springfield Distillery to taste a few of their Scratch whiskeys, named for their from-scratch origins. While the Scratch Corn Whiskey (made with Virginia-grown corn and malted barley) and Bourbon Whiskey are the standards, they also make an array of flavored whiskeys, ranging from fruit-inspired blackberry, orange, and apple whiskeys, as well as inventive flavors like butterscotch, sweet heat, brown sugar cinnamon, and honey. The rustic tasting room serves straight up pours of the whiskeys or offers small flight tastings, which combine the whiskeys with simple bar ingredients for easy-to-recreate cocktails. Make an overnight trip out of your visit and stay at the distillery's cabins (hand built by the owners!), blending rustic exteriors with all the modern comforts inside the cabins.
The Vanguard Brewpub & Distillery—Hampton
Photo Credit: Aubrey Griffin
Housed within the historic Hampton Armory, The Vanguard Brewpub & Distillery caters to both craft beer lovers and spirits drinkers. Unlike most others, both their Caiseal Single Malt and Caiseal Whitestone Spirit are clear, as they skip the barrel aging process that adds color to the spirits. The clear spirits showcase sweet corn and subtle spice, resulting in a drinkable bourbon whiskey product that mixes easily into cocktails.
Looking for more distilleries crafting bourbons and whiskeys in Virginia? Add these to your checklist!
Not a whiskey or bourbon fan? There are plenty of distilleries in Virginia crafting gin, vodka, moonshine, brandy, and even absinthe!