The chilly days in Virginia can seem to drag on forever when you're ready for spring to arrive, but just because it's cold outside doesn't mean you have to stay home! Many of Virginia's wineries keep you cozy with roaring fireplaces, large snuggly couches, and lots of award-winning wine to stay warm. Visit a few of these ultra-comfy tasting rooms to stave off the winter blues in Virginia.
Merrie Mill Farm & Vineyard—Keswick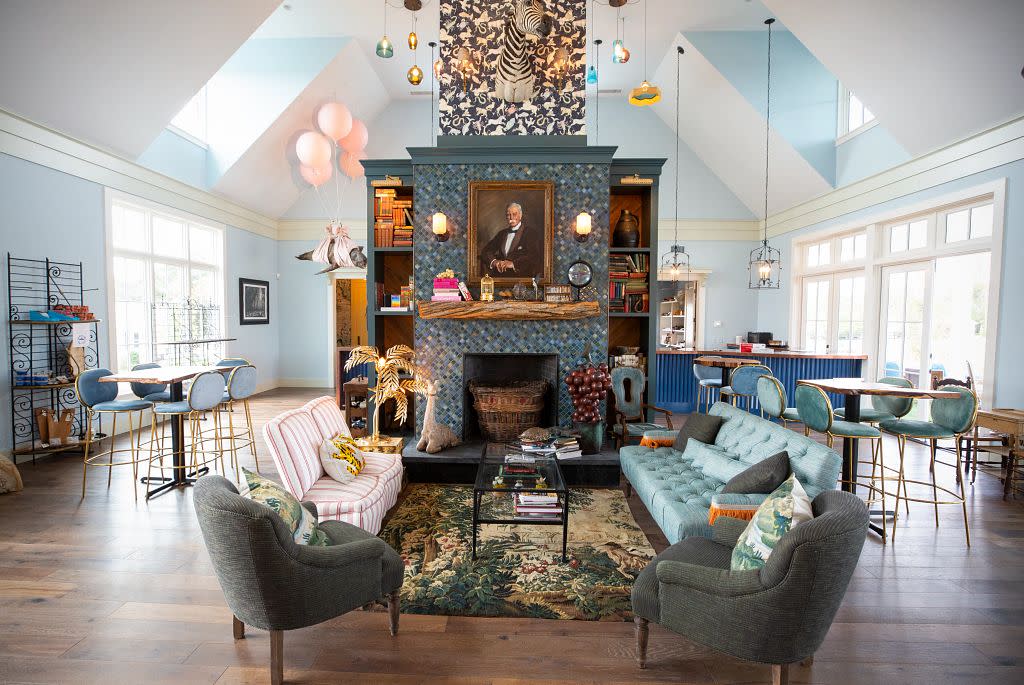 Keswick's newly opened Merrie Mill Farm & Vineyard brings a whimsical element to their colorful tasting room, but the space is also one of the coziest tasting rooms around, with plush couches and chairs surrounding the fireplace, which feels like it belongs in the home of your favorite eccentric (yet obviously well-off) aunt. Practically every inch of this magical winery begs for an Instagram photo, so be sure to dress in your cutest winter wear to snap some pics during your visit.
Veritas Vineyards & Winery—Afton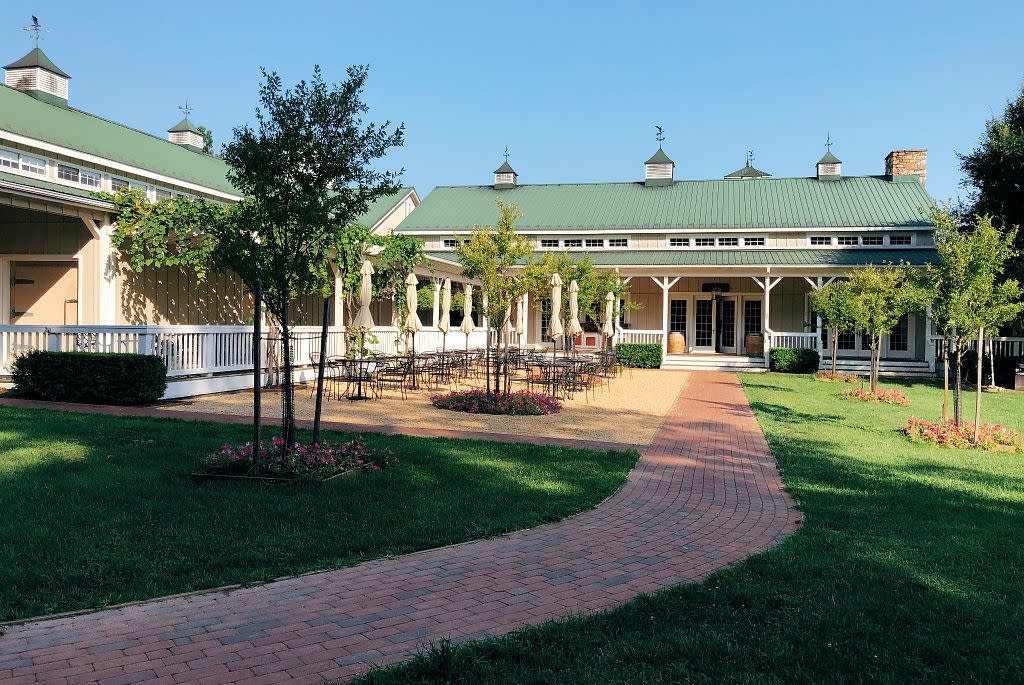 Upon arriving at Veritas Vineyards & Winery, head to the bar for a guided tasting of their incredible wines, then pick out a bottle of your favorite to enjoy with friends. Pair with a cheese plate or sandwich from the winery's on-site kitchen and grab a seat on one of the large leather couches by their wood-burning stone fireplace for a little warmth and relaxation on even the dreariest days. Bonus perk: Veritas has an Instagram-worthy LOVEwork made from corks above their tasting bar. Be sure to snap a pic before you leave!
Early Mountain Vineyards—Madison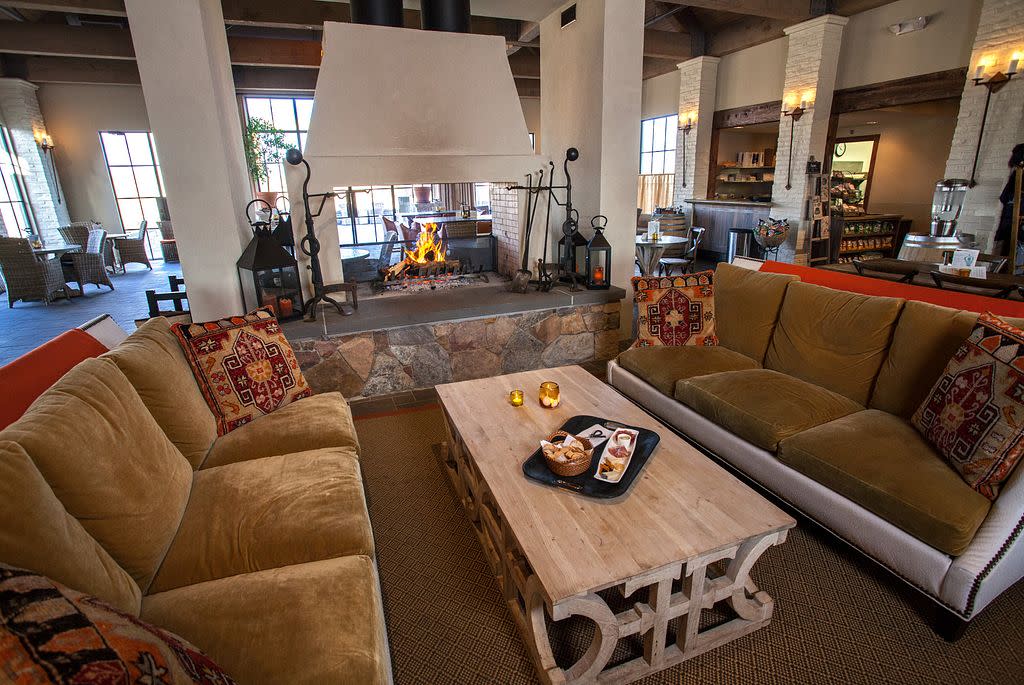 Surrounded by the Blue Ridge Mountains, Early Mountain Vineyards offers views of some of Virginia's most picturesque landscapes, and with a massive fireplace warming the outdoor patio, you can take in the sights no matter how chilly it is. But if you're avoiding inclement weather, the winery also has a second fireplace indoors. Unique metal chandeliers illuminate the white brick of the walls, casting a warm glow throughout the tasting room, and large comfy couches spaced throughout provide room to lounge as you savor a glass of wine.
Everleigh Vineyards—Mineral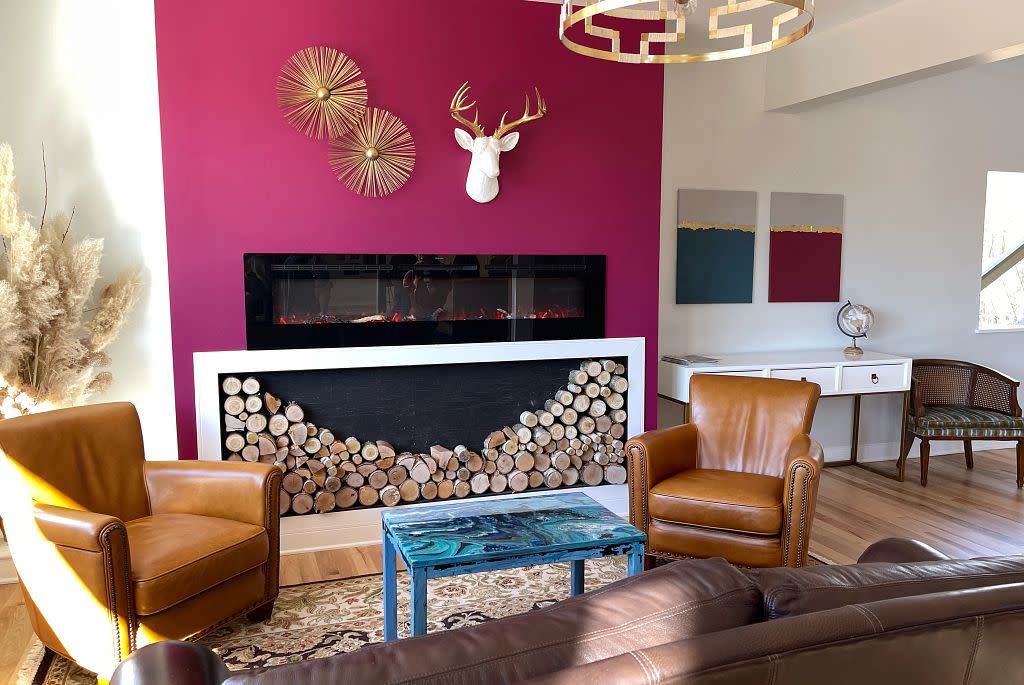 Located off I-64 between Charlottesville and Richmond, Everleigh Vineyards has a modern yet cozy space for their tasting room, with fireplaces on either side of the expansive space. Sample their wines and beers at the tasting room bar, then snag a seat on the overstuffed leather couches to snuggle up with a glass of your favorite vino in front of the fire.
Pollak Vineyards—Greenwood

West of Charlottesville, Pollak Vineyards sits on a 98 acre farm surrounded by the famed Blue Ridge Mountains, with 31 acres of the land used to grow traditional varietals like Merlot, Cabernet Franc, Viognier, and Pinos Gris. The tasting room contains a simple, timeless wood fireplace flanked on either side with large comfy couches. Curl up with a glass of your favorite wine and order a cheese and charcuterie board from the winery's kitchen for an upscale snack to go with your vino.
Good Luck Cellars—Kilmarnock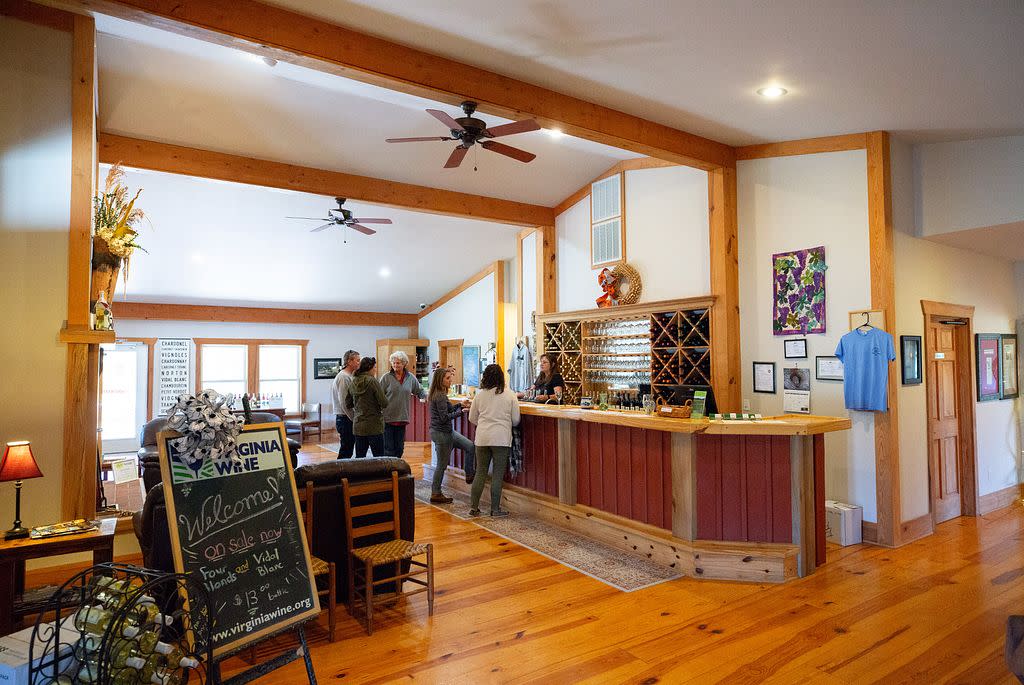 If you're in search of a cozy winery in the Northern Neck peninsula, head to Good Luck Cellars. The winery features a fireplace inside the tasting room, as well as a second on the tasting room's wraparound porch. Take a bottle to go and pick up some local oysters for a perfect Virginia dining experience.
The Winery at Kindred Pointe—Mount Jackson
A repurposed horse stable, the Winery at Kindred Pointe's tasting room features rich wood-paneled walls and large stuffed couches, providing a sense of warmth that is noticeable long before you pull up a seat by the fireplace. Try a glass of their warm mulled wine on a cold winter day, and if you've brought the kids along, ask for one of the winery's s'mores kits to roast marshmallows over the open fire puts right outside the tasting room.
Hamlet Vineyards—Bassett
Although only open for tastings on Sundays from 1-5pm, the tasting room inside the barn at Hamlet Vineyards is a must if you're searching for winery coziness in Southern Virginia. Their award-winning wines are served with delicious lunch pairings in a setting that showcases Southern hospitality at its finest.
Stone Tower Winery—Leesburg

Leesburg's Stone Tower Winery has something for every wine lover. Their Harvest Barn tasting room welcomes families with kids of all ages and well mannered, leashed dogs, with games, a spacious terrace, and a front lawn that allows for picnics in warmer weather. But if you prefer wine tastings away from the kids, their Tower View Tasting Room is 21+, providing an adults-only atmosphere to savor your wine. Inside the Tower View Tasting Room, a large gas fireplace adds endless warmth to guests seated at the leather couches positioned around the fireplace. Don't miss out on a guided tour, where you'll get a behind-the-scenes look at the luxury vineyard.
Old House Vineyards—Culpeper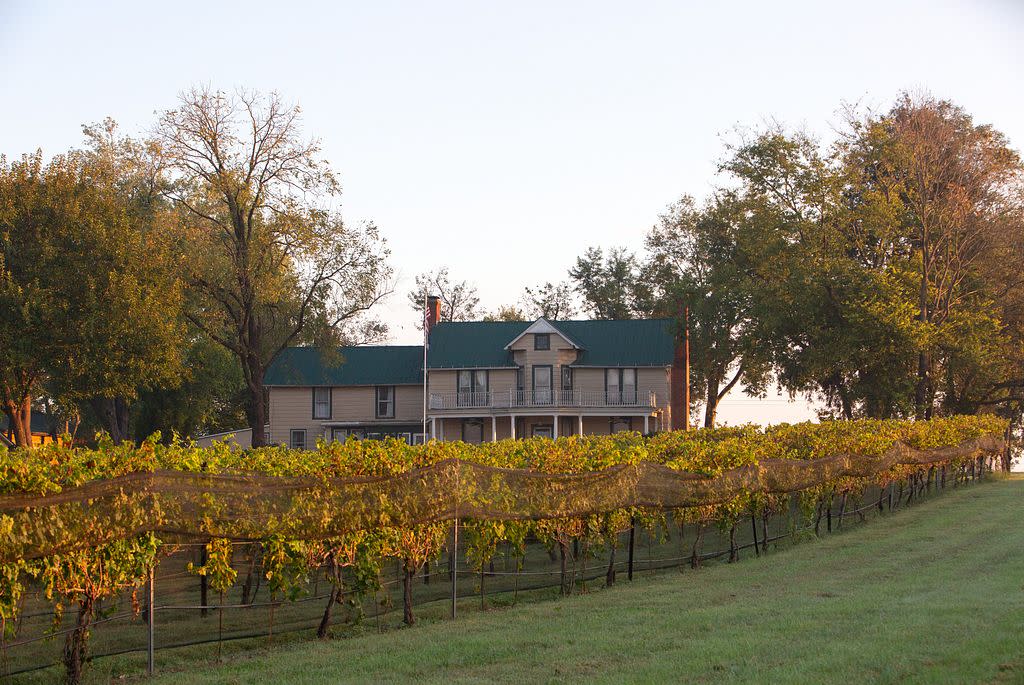 Just outside of historic Culpeper, Old House Vineyards has about 24 acres of vines on their 75-acre farm, with pristine views of the mountains setting a gorgeous backdrop for the winery. While the renovated 19th-century barn is pretty cozy, the patio takes it to another level with a massive stone fireplace.
Barboursville Vineyard—Barboursville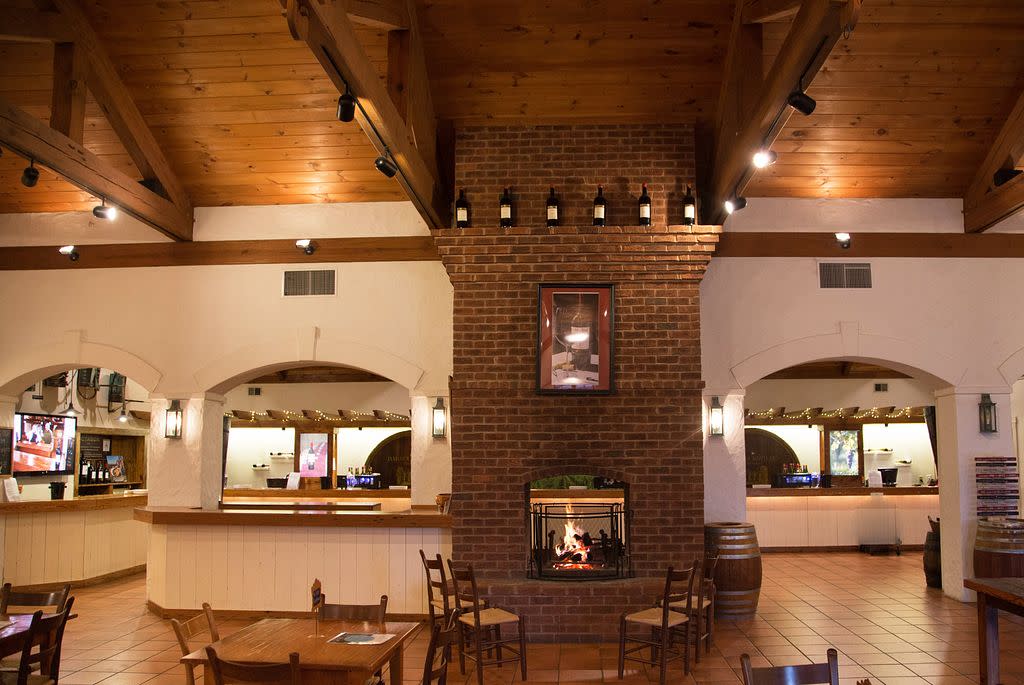 photo credit: Luca Paschina
Barboursville Vineyard, located about 30 minutes outside of Charlottesville, has two tasting rooms with fireplaces; for only $10, you can sample 17 of Barboursville Vineyard's current vintages in the Tuscan Tasting Room, open seven days a week. The second tasting room, Library 1821, only open on weekends, serves their finest selection of vintages paired with small bites for $25. After your tasting, take a tour of the winery to learn about the process behind your vino, then grab a seat by one of their cozy fireplaces to relax and unwind.
Valhalla Vineyards—Roanoke
Built on a 2,000 foot mountain above the Roanoke Valley, Valhalla Vineyards utilizes underground barrel caves underneath the vines to age their wines (you can even tour these caves with a guide!). The large stone tasting room is constructed to reflect the winery's Old World name, with large wooden beams and roughly hewn stones comprising the structure. The tasting room features a roaring fireplace at one end of the hall, and outside on the patio winery guests can warm up beside a second wood fireplace.
Saudé Creek Vineyards—Lanexa

photo credit: Bill Crabtree, Jr.
Saudé Creek Vineyards' stunning tasting room sits at the top of a hill above the Pamunkey River in New Kent. The 3,000 square-foot tasting room was built using 160-year old timbers salvaged from nearby tobacco warehouses, and is surrounded by lush gardens, shady apple orchards, and acres of vineyards planted in the rich Tidewater soil. While the outdoor scenery may be lacking in the cooler months, you'll find plenty of cozy comfort sipping wine around the tasting room's towering stone fireplace, a centerpiece flanked by tufted leather couches and chairs.
The Virginia Tasting Cellar—Farmville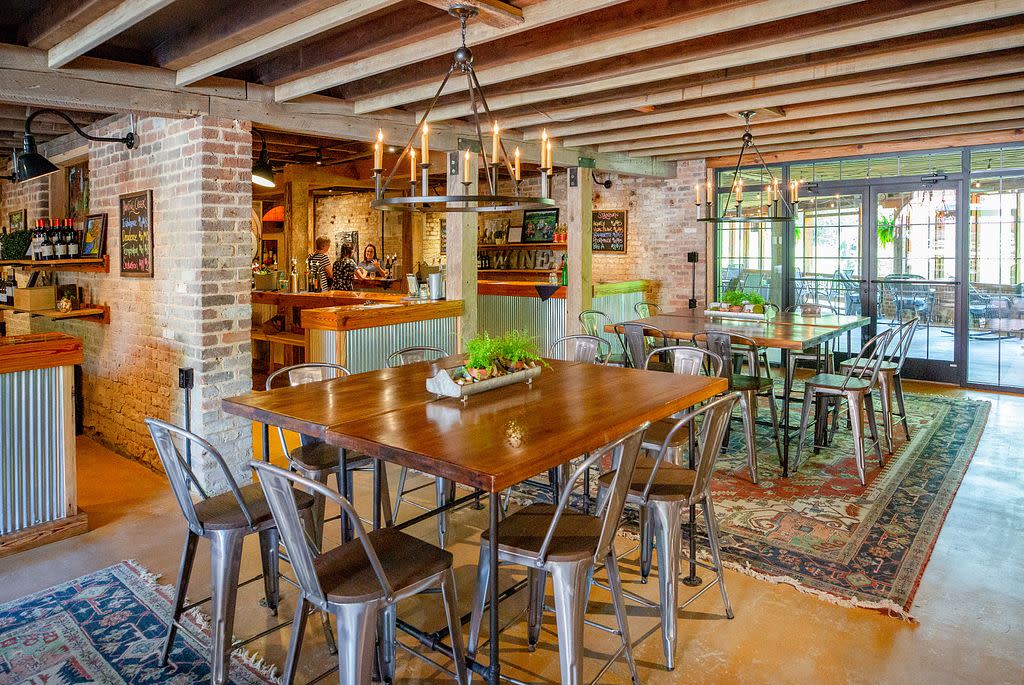 While they don't produce their own wines, The Virginia Tasting Cellar in Farmville serves up a carefully curated rotating selection of Virginia wines. Each of the eight tasting sections highlights a different winery, and they also serve an array of Virginia craft beers and ciders. Guests can order their own custom tasting of any ten wines, beers, or ciders, then cozy up with a glass, bottle, or pint on the covered heated patio, which overlooks the Appomattox River.
Barren Ridge Vineyards- Shenandoah Valley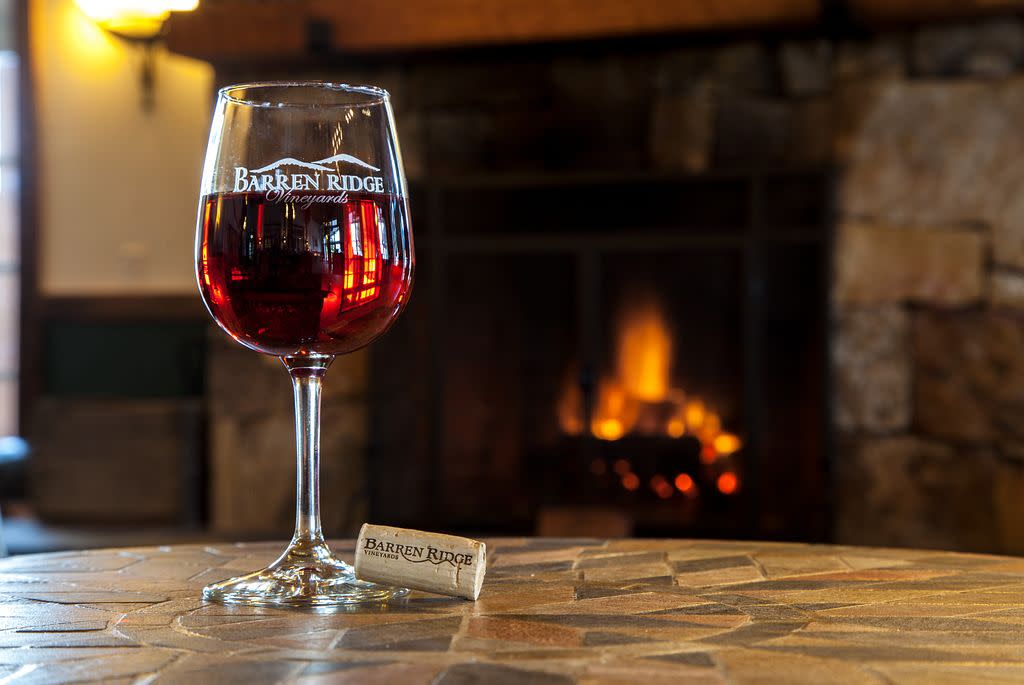 What was once a charming apple orchard has been given new life as Barren Ridge Vineyards. Surrounded by stunning views, step into the winery's ultra cozy tasting room- originally an apple packing barn- complete with a wood burning fireplace and a rustic bar made of repurposed wood from the original building. Grab a seasonal tasting flight or favorite bottle and settle in for a cozy evening.
Pippin Hill Farm & Vineyards- Charlottesville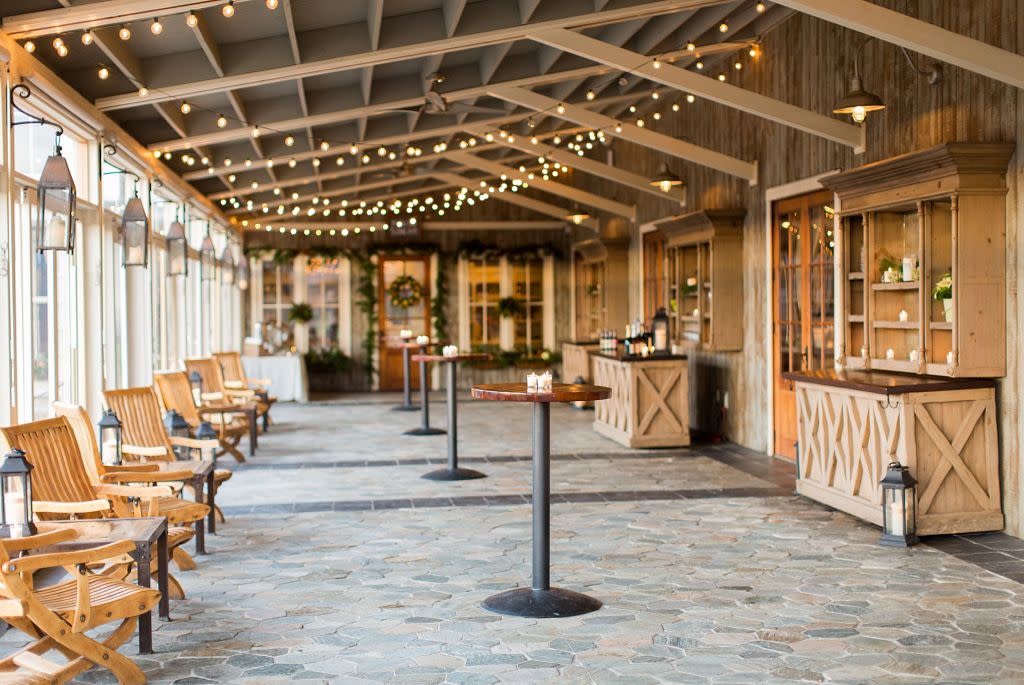 photo credit: Eric Kelley
Everything about Pippin Hill Vineyards is simply stunning. From the perfect view to the chic farmhouse-style buildings, the setting here really draws you in. Inside the farmhouse vibes continue with an added coziness, perfect for wine tasting in those cooler months. The best part? The food at Pippin Hill is exceptional. So come on in and enjoy some of Virginia's top wines with a delicious meal and a cozy room with gorgeous mountain views.
With over 300 wineries throughout Virginia, there is no way we could cover them all! Here are a few more suggestions for the coziest wineries to visit in Virginia, but please share your favorite wine tasting rooms for winter weather with us in the comments below.
Not a wine fan? Visit a cozy cidery instead!