Located on Virginia's southeastern border where the Chesapeake Bay meets the Atlantic Ocean,  Virginia Beach is Virginia's largest coastal city, combining delicious food, outdoor adventures, and plenty of award-winning craft beer, wine, and spirits within its borders.
Spend a long weekend exploring Virginia Beach, where you'll find fun in the sun, exciting nightlife, and world-class cuisine within a few blocks of each other.
TRIP PLANNING OVERVIEW
Stay at: Hilton Virginia Beach Oceanfront, starting at $135 per night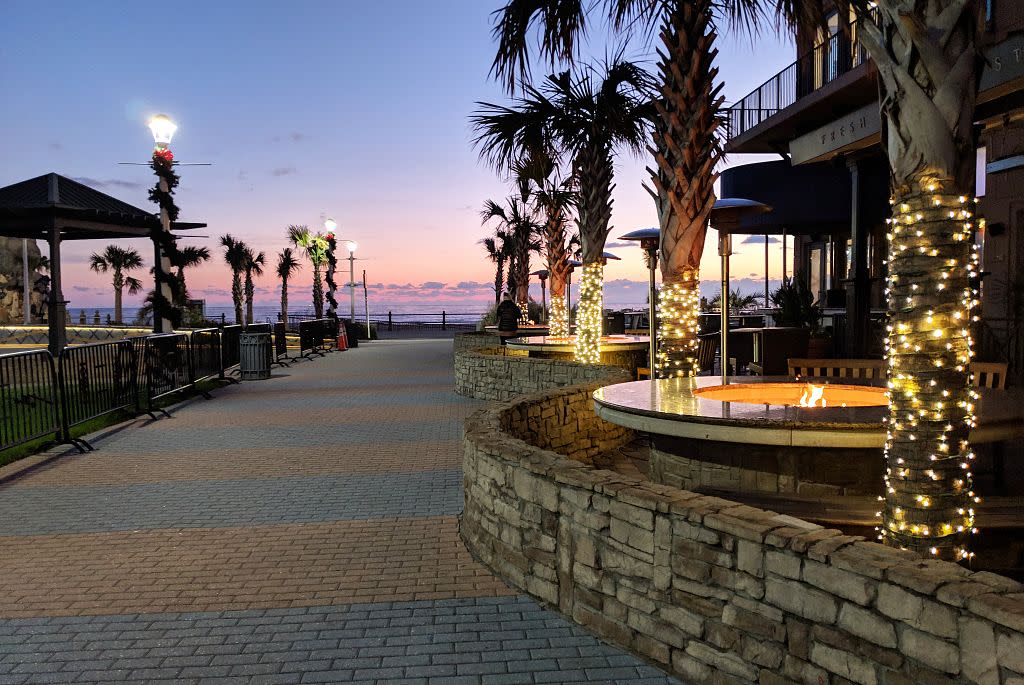 Virginia Beach has many hotels right on the beach, but few are as luxurious as the Hilton Virginia Beach Oceanfront hotel. Located right next to Neptune's Park, the Hilton property is convenient to many of Virginia Beach's best attractions, and prices are incredibly affordable, especially during the off-season. The hotel contains two upscale restaurants, with indoor/outdoor seating options at both; Catch 31, serving fresh seafood, and Salacia, Virginia's only AAA 4-Diamond Steakhouse, with menu selections like Wagyu Kobe Beef and prime filet mignon. If visiting during warmer months, head to the hotel rooftop for a drink at Sky Bar, where you can relax in the rooftop's infinity pool as you look out onto panoramic views of the Atlantic Ocean.
Suggested Prior Reservations: Civil Libation, tours of Tarnished Truth Distilling Company, Becca at the Cavalier, and Adventure Park at Virginia Aquarium
FRIDAY
Begin your Virginia Beach vacation at First Landing State Park, named for the first colonial settlers that stopped on these shores to wander the coastal wilderness before they continued on to the settlement of Jamestown. There are about 20 miles of walking trails (as well as Cape Henry Trail, a bicycle-friendly route) winding through the park, which is pet-friendly throughout the entire year. First Landing borders the Chesapeake Bay and includes over 200 beachfront campsites open seasonally, a handful of fully furnished cabins available year round, and opening in 2019, several brand new yurts on the waterfront. If you're planning a weekend visit during the peak months of summer and looking for lodging options, consider renting a campsite along the park's beach for an unforgettable experience.
Get a daily parking pass at one of the three entrances to First Landing ($5 during the week and $7 during the weekends for in-state residents, $2 more for out-of-state) and head out on the trails. We recommend the Bald Cypress Trail, a 1.5-mile loop through the hauntingly beautiful cypress swamps, and if you want to extend your hike (or cycle along the trails), connect to the Cape Henry Trail, which runs six miles past coastal forests, cypress swamps, and salt marshes.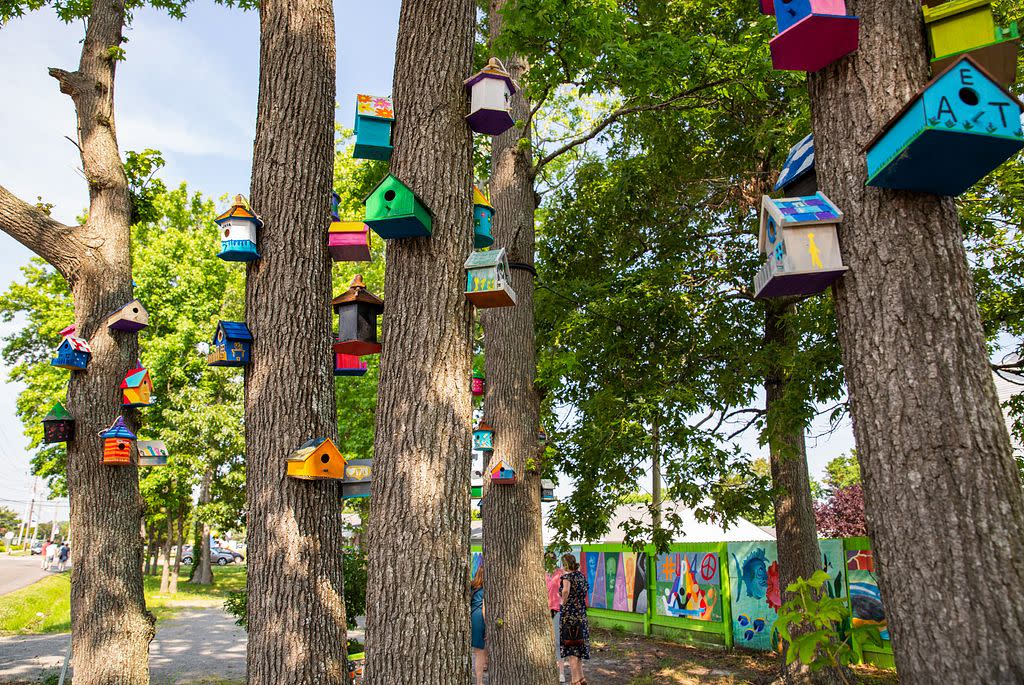 Finish the hike and head over to the ViBe Creative District, Virginia Beach's colorful hub for art and culture. Participating businesses in the area allow local artists to create murals on their building exteriors, and a 300-foot wall off 18th street includes 52 murals (and counting) from numerous artists in the region.
Stroll through the neighborhood to take in the art and stop in to Prosperity Kitchen & Pantry for a quick cup of coffee. The community coffee shop and bakery is owned by the same people that own Commune, your upcoming lunch location. After serving baked goods out of the restaurant for several years, they outgrew the space and decided to move the bakery just across the street. In addition to coffee, you'll find an array of mouthwatering baked treats, from cookies and muffins to freshly made cinnamon rolls dripping with homemade icing. Grab a few of these goodies to go and save them for a treat later in the day.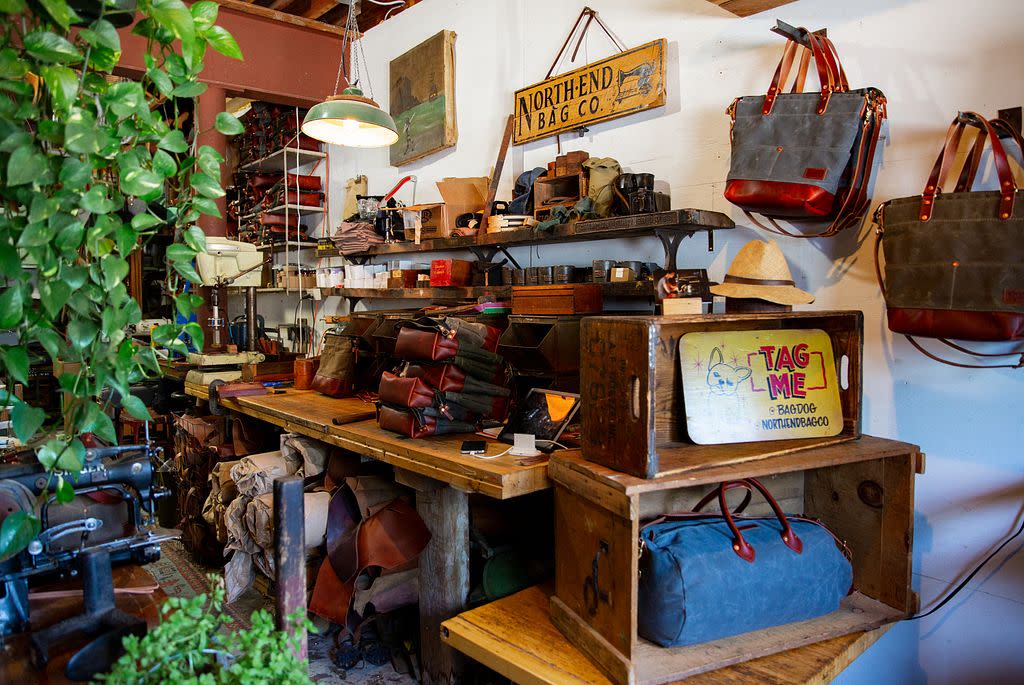 Stop into a few of the shops in the ViBe District, such as North End Bag Company, a small in-house production company that makes leather and canvas bags, purses, and accessories mere feet from where you browse. Be sure to say hello to Otis, the shop's resident French bulldog, who will likely greet you with a slobbery kiss and a few tail wags.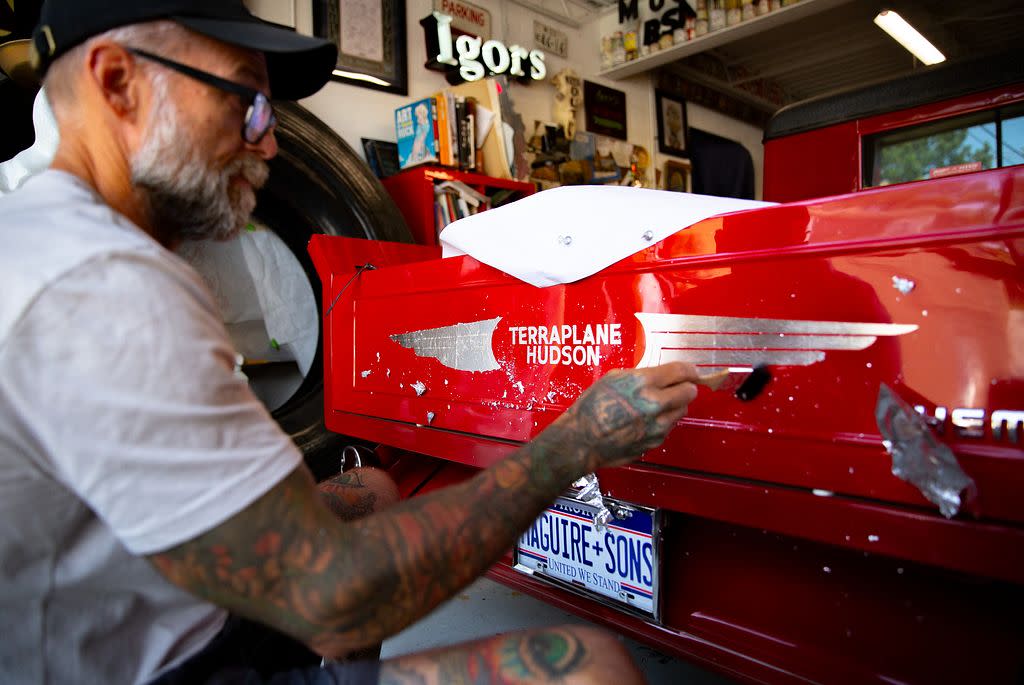 Just next door to North End Bag Company, Igor's Custom is a prime example of the creativity found in the ViBe District. Even if you aren't in the market for purchasing hand painted wares, the shop showcases Igor's enormous talent as an artist, both in the unusual décor (taxidermy wildlife, vintage memorabilia, and various other odds and ends) and in the countless current and past projects that fill the space.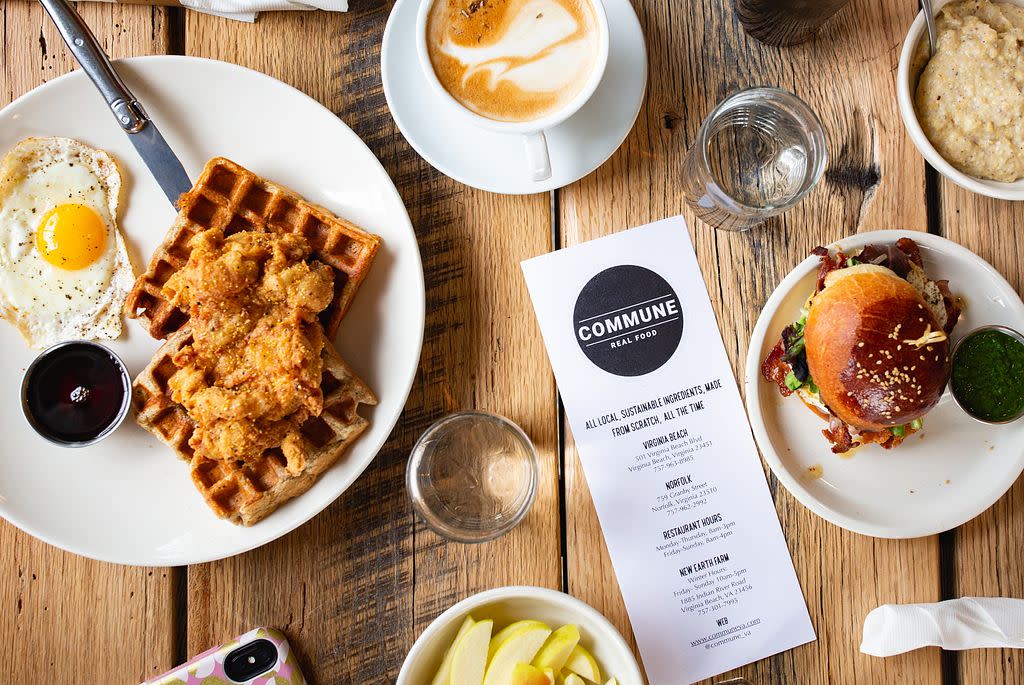 For lunch, walk over to Commune, a favorite local spot known for sourcing seasonal ingredients from local farmers and purveyors. They also pick fresh veggies and herbs from their own garden, taking the term "farm-to-table" one step further than most restaurants. Dishes change on an almost daily basis according to what's available, but you can count on getting hearty fare made with only the best ingredients when dining at Commune.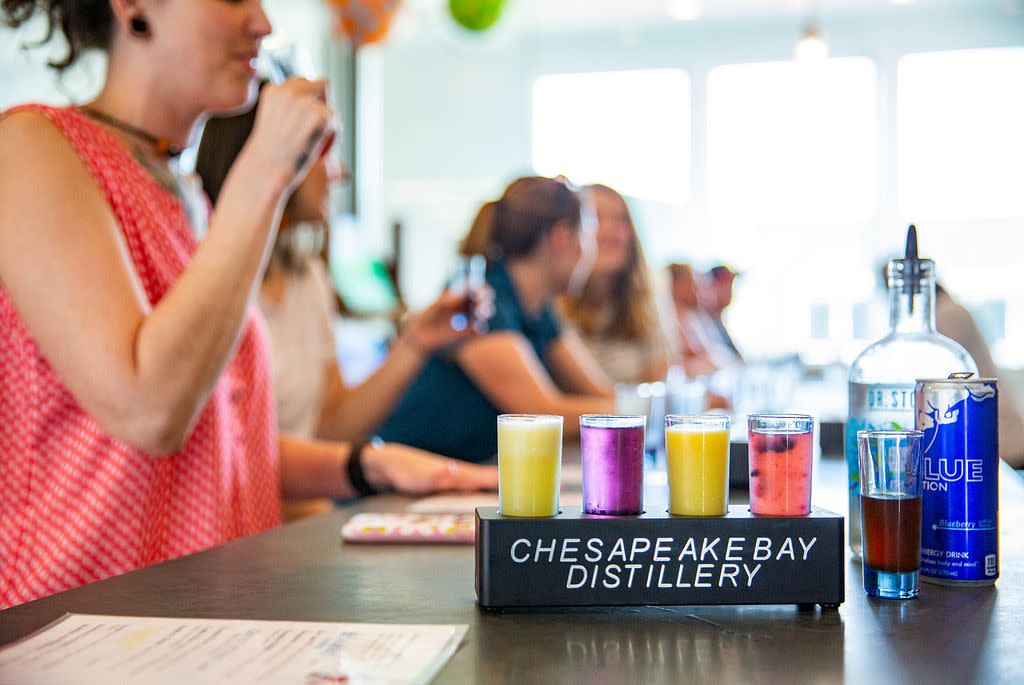 Stroll across Baltic Avenue to Chesapeake Bay Distillery to sample some of Virginia's impressive spirits. For $7, they offer a flight of either straight spirits or a tasting of their house-made cocktails, like the Dirty Banana, Raspberry Zinger, or the Crabby Ghost Bloody Mary. Don't miss out on trying the Dr. Stoner's vodkas, one of their most unique products, made with fresh (and legal) herbs for a refreshing and light vodka, the Lemon Liqueur, made with eight fresh lemons in each bottle, or the Mutiny Island Vodka, the first and currently only vodka in the world made from breadfruit, a starchy superfood originating in the South Pacific and Caribbean. Owner Chris Richeson teamed up with Richmond chef Todd Manley to bring this island vodka to fruition (pun intended), and the duo will soon open a second tasting room on the island of St. Croix, where breadfruit is grown, harvested, and sold to the distillery by local residents.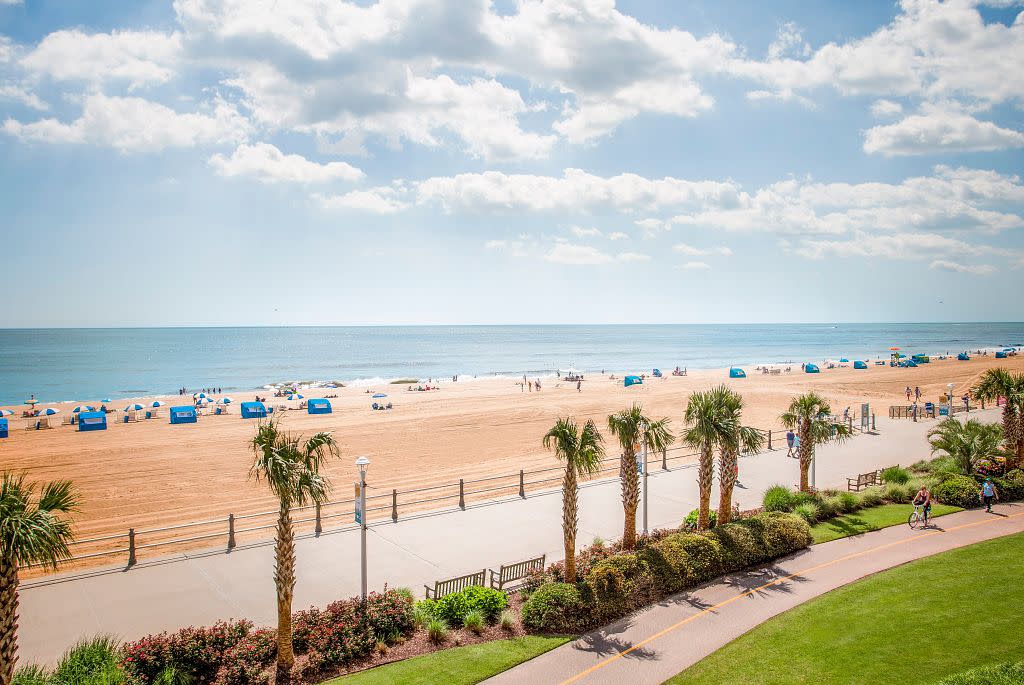 Image Courtesy of Virginia Beach
Drop by the Hilton Oceanfront hotel to check into your room, then enjoy a leisurely walk down Virginia Beach's famous Boardwalk, a three-mile pathway that hugs the beach and allows for walking, biking, or even rollerblading along the expansive paved lane. If you're traveling with a furry companion, the Boardwalk is the perfect place to take them for their walks. During the off season, dogs are allowed on the beach and boardwalk at any time, but in the summer season, pets can only visit these oceanfront destinations during specific hours, so be sure to check before heading out for your walks.
Next, stop by Aloha Snacks for a fresh poke bowl, a Hawaiian dish made with raw, sushi-grade fish and Asian-inspired toppings like soy sauce and seaweed. The restaurant adds their own unique spin on this Pacific Island eat, incorporating ingredients like pickled beets, queso, and fried green tomatoes into their bowls. If raw fish isn't your thing, go for one of their inventive snacks made with Spam; although it may seem strange for a Hawaiian-themed restaurant to serve this old-school canned meat, they somehow transform it into a culinary work of very tasty art.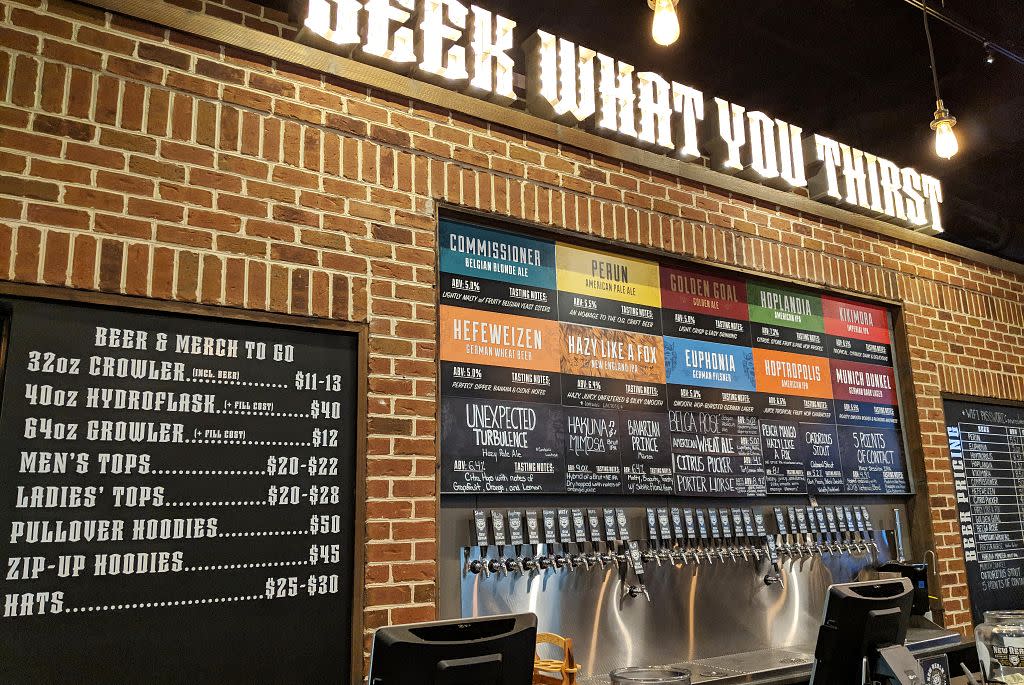 Hit the road and head south several miles to New Realm Brewing Company, a Georgia-based brewery that opened their second location in Virginia Beach in 2018. With a rotating selection of over 20 craft beers on draft, the brewery has a pint for every beer lover, including IPAs, ales, sours, and wheat beers. Enjoy live music, hosted by the brewery every Friday and Saturday evening, and take a tour of the massive facility to discover the secrets behind the beer.
Continue to Civil Libation for dinner, a Southern-fare restaurant that infuses a generous portion of creativity into every cocktail and dish on the menu. Start with one of the curated libations, cleverly illustrated in watercolor on the menu to give you an idea of exactly what you're getting (if you've ever ordered a beautifully described beverage and received your drink served in what looks like a thimble, you'll appreciate this!). For a starter, consider the Flamin' Hot Mac & Cheetos, a creamy macaroni and cheese dish topped with Flamin' Cheetos, and for the main event, dishes like the Wild Salmon, Ribeye Steak, and Spaghetti Squash pasta offer options for every diner, from the carnivore to the vegetarian.
End the night at the Hilton Oceanfront with a nightcap at either Catch 31 or, during the summer, the hotel's stunning rooftop bar.
SATURDAY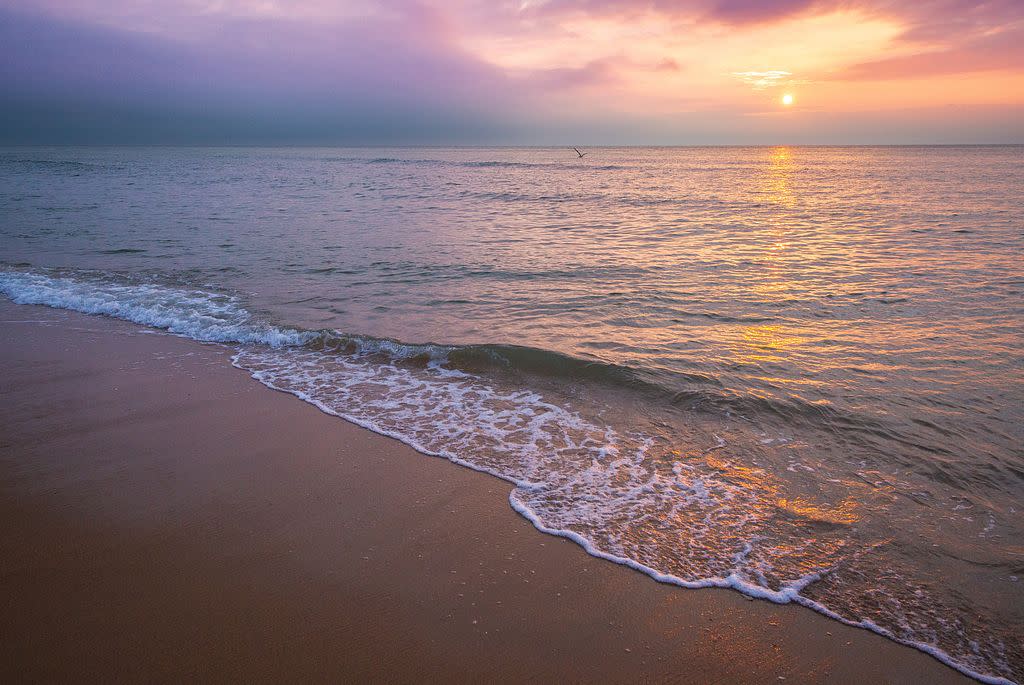 Wake up before sunrise for a walk on the beach. While an early start on a Saturday may tempt you to hit snooze, you won't regret watching the sun peek out over the ocean, and you might even get lucky and spot dolphins leaping through the morning surf.
Have breakfast at Java Surf, a local favorite coffee shop and restaurant in the ViBe Arts District. Don't expect just an average cup of coffee at Java Surf; while they do offer fresh-brewed coffee, their specialty is crafting caffeine masterpieces like the Toasted Marshmallow Latte and the Salted Caramel Latte, as well as ingenious blends like the S'mores Latte and the Peppermint Patty. Pick from their diverse selection of breakfast wraps, bowls, melts, sandwiches, and scrambles…trust us, there aren't any wrong choices at Java Surf. Prior to leaving, take a minute to admire the murals decorating the outside of the restaurant; the one on the back side of the restaurant was the first in the neighborhood, inspiring other artists to lend their creativity to the walls of the ViBe District.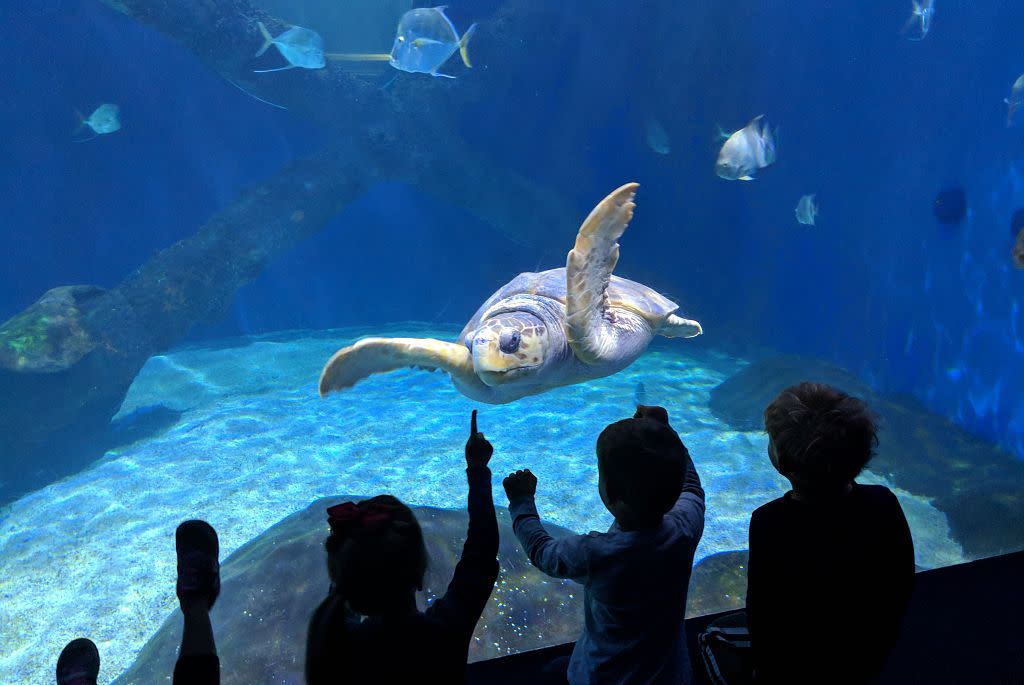 After breakfast, head to the Virginia Aquarium & Marine Science Center, where you'll get the chance to see over 10,000 fish, mammals, and reptiles, many that live in Virginia's waters and some from exotic locations around the world. As you spend a few hours touring the museum, you'll learn about these fascinating animals and the conservation efforts that the museum implements to support Virginia's wildlife. In addition to a massive wildlife center, the museum has a 3D movie theater that plays outdoor documentaries, a children's zone that changes themes every few months, and three on-site dining options for a quick snack or casual lunch. They also offer Virginia's Sea Adventures boat tours, giving you the chance to spot whales, dolphins, harbor seals, and other local wildlife up close.
Get back on the road and travel to The Bee & The Biscuit in Virginia Beach's Pungo community. Housed in a cottage originally built in 1919, this historic eatery sources produce from the surrounding countryside farms, serving breakfast, brunch, and lunch fare throughout the day. If you're feeling the Saturday brunch vibe, we recommend the Papa Joe's Breakfast Tostada, the Stuffed French Toast, or the Bay Crab Benedict, but the lunch menu is equally temping, featuring dishes like the Pungonian Shrimp & Grits, the Pungo Pork Biscuit, and the Fruity Chicken Salad Sandwich. Pair whatever you choose with their seasonal mimosa flight for a relaxing Saturday lunch/brunch experience.
If you're in need of a caffeine fix, visit Sawdust Road a few doors down from the Bee & Biscuit. The charming coffee shop looks more like a rural Virginia residence than a place to grab a cup of Joe, but don't be fooled by the homey exterior; they take intense pride in their coffee, whipping up impressive coffee concoctions that range from simple espresso shots to flavored lattes like the Honey Lavender Latte, made with house-made honey lavender syrup.
Leave Pungo and make your way to Back Bay Brewing Company, another exceptional craft brewery in the Virginia Beach region. Started by a few locals that were passionate about both hunting and craft beer, the brewery's farmhouse-replica interior reflects their origins perfectly, with wooden decoy ducks adorning the walls and a menu filled with locally-inspired beers, from the False Cape Ale to the Atlantic Ave IPA. Order a flight to try out their extensive flight selection, consisting of both seasonal brews and flagship favorites. (Quick side note: If you love the beers at Back Bay, consider making time for a visit to their sister brewery, Farmhouse Brewing Company, located about 25 minutes inland from Virginia Beach).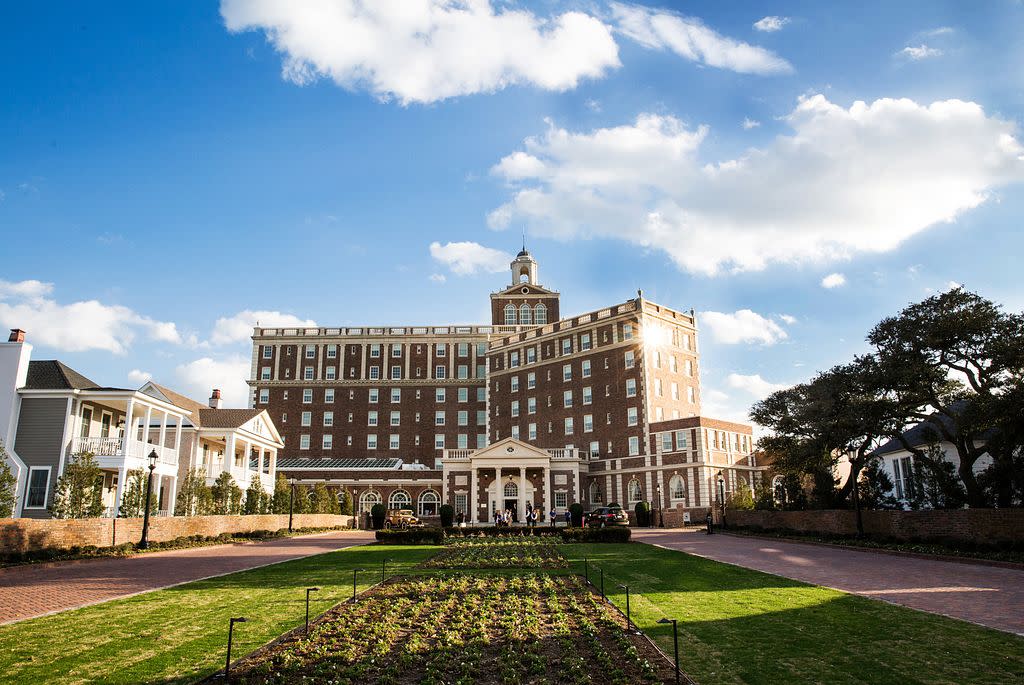 Photo Credit: Ashley Lester
Add a little luxury to your weekend getaway at The Cavalier Hotel, an iconic Virginia property that was recently renovated. One of the biggest changes to the Cavalier is the addition of Tarnished Truth Distilling Company, which took up residence in the lower level, becoming the first and only distillery inside a hotel in the United States. Book a tour to learn all about the distilling process, taste the resulting spirits, and hear the real story behind the distillery's intriguing name. Afterwards, wander next door to the elegantly decorated Hunt Room to sample the spirits in a classic cocktail.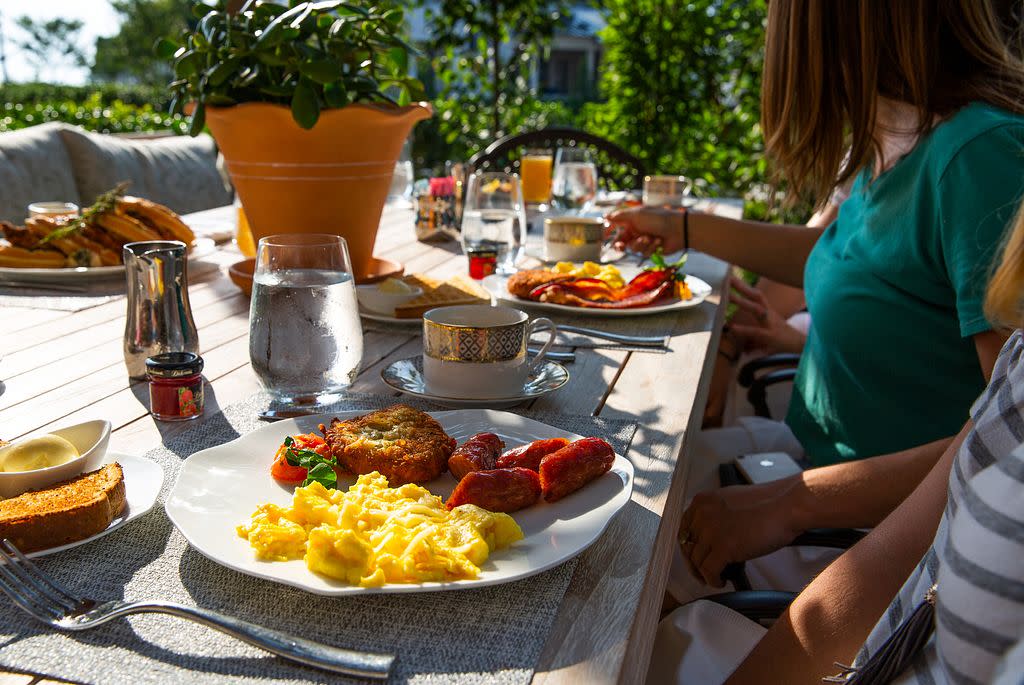 Indulge in a once-in-a-lifetime level meal at Becca, one of the Cavalier's on-site dining options. The restaurant effortlessly balances timeless and modern in their carefully curated menu and striking décor, creating a seamless dining experience. After dinner, walk across the lobby to catch live music performances, hosted in the Raleigh Room of the hotel on Thursday, Friday, and Saturday evenings throughout the year.
SUNDAY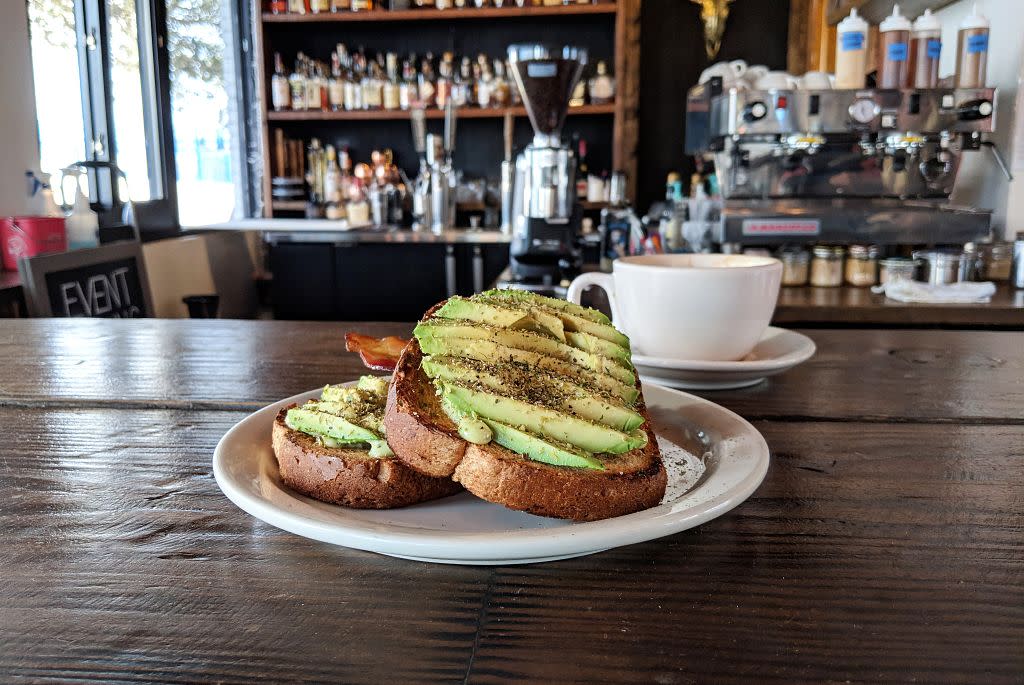 On your last morning in Virginia Beach, pack up, check out of the hotel, and head to American Brew for breakfast. The restaurant and coffee shop is a community staple for the locals in the Chick's Beach area. Start with a specialty coffee like the Matcha Latte or Dirty Chai or go with one of their freshly blended smoothies, then follow up with hearty fare like a Morning Hash, made with a cilantro, jalapeno, and lime quinoa mix, over-easy eggs, cheddar cheese, bacon, avocado, and fresh salsa, or, our favorite, the Avocado Toast, topped with a basil aioli, salt, pepper, and oregano.
Work off your morning meal at The Adventure Park at Virginia Aquarium, an outdoor tree climbing course designed for all skill levels and ages. Maneuver through the treetops along a series of platforms, zip lines, and cabled bridges to get a bird's eye view of coastal Virginia. While it might seem slightly daunting, you don't have to be an expert to work your way through the canopy course; there are fifteen different color-coded trails of increasing difficulty to ensure you stay within your comfort level.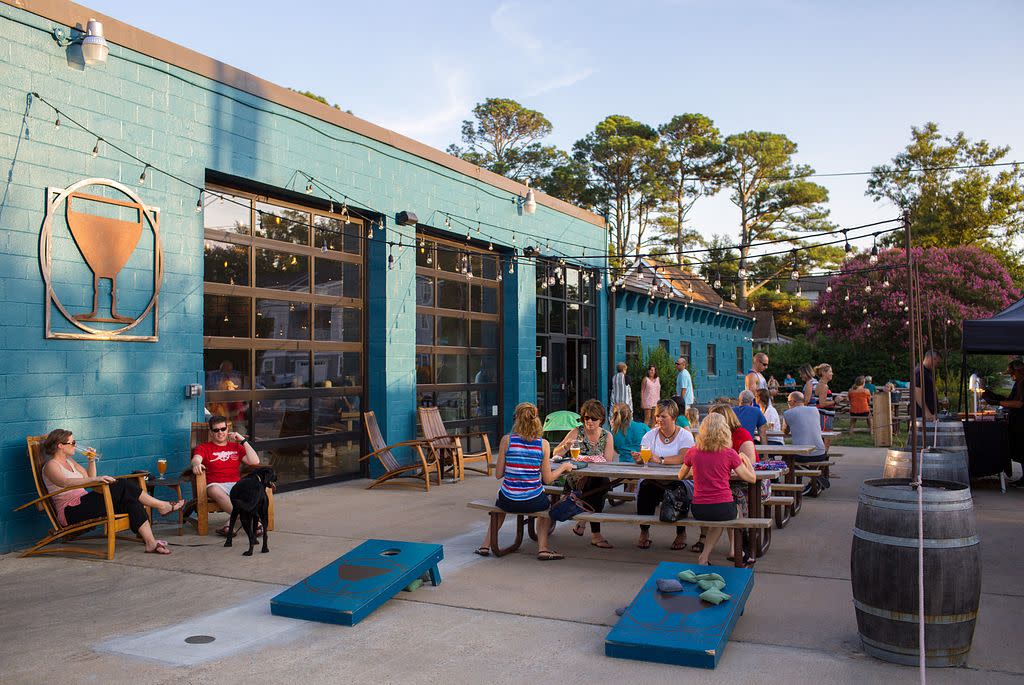 Before leaving the beach and traveling homeward, grab lunch at Commonwealth Brewing Company. The brewery hosts a local food truck every day, rotating between fare like barbecue and southern favorites to German, Asian, and Mexican cuisine. Pair your lunch with one of the brewery's artisanal beers, which lean towards hop forward Belgian Lagers and wild barrel-aged brews. If weather permits, snag a seat outside and enjoy your lunch in the outdoor Biergarten, savoring the final few minutes of your weekend getaway to Virginia Beach.
More Regional Virginia Destination Guides: