A small town located approximately 40 miles west of Charlottesville, Staunton has one of the most beautiful historic districts not only in Virginia but in all of the US—that's because many of Staunton's Victorian-era buildings escaped the ravages of the Civil War mostly intact.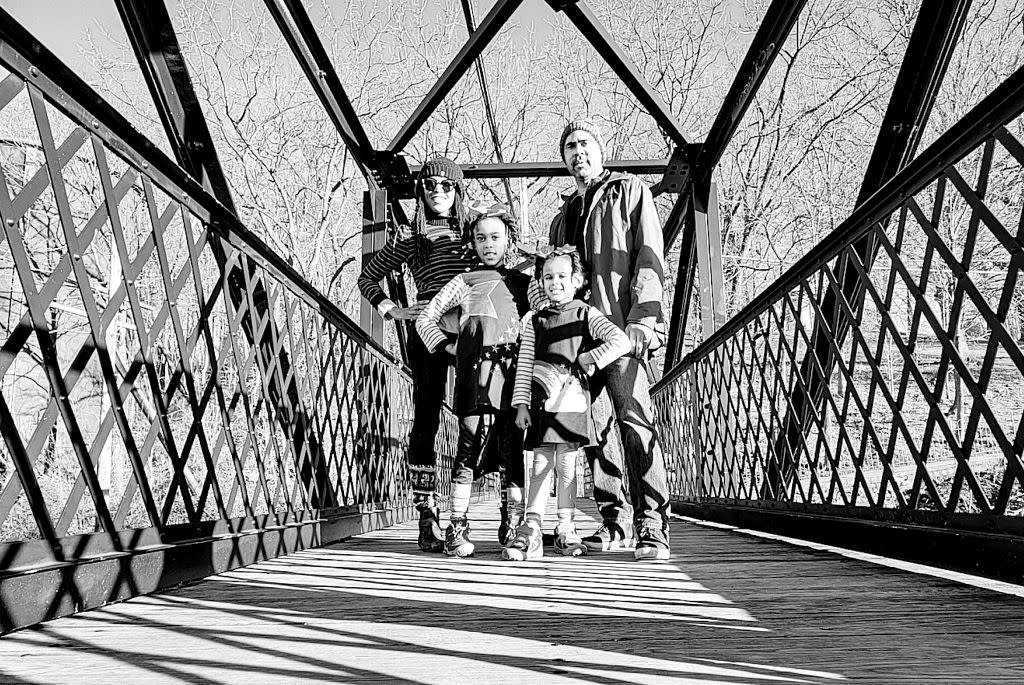 Photo Credit: Taryn White
Along with a thriving arts scene, Staunton offers a variety of amazing things to do, including easy access to outdoor activities in Virginia's Shenandoah Valley.
When visiting this part of the Shenandoah Valley, check out this three-day guide to make the most of your time in Staunton.
Day 1 – Explore the Outdoors North of Town
Carved by the receding sea more than five hundred million years ago, Natural Chimneys Park and Campground gets its name from the seven towering rock formations that resemble huge chimneys.
Hang out on the lawn in the shadow of these great structures and enjoy a picnic lunch from one of our favorites, Sugar and Bean Café. Next, travel to many of the horseback riding stables in the area for a fun-filled riding experience.
Since the Staunton area sits along the Shenandoah Spirits Trail, there are numerous wineries, breweries, cideries, and distilleries in the area, including CrossKeys Vineyards and Winery. Enjoy an alfresco dinner at the vineyard, which has a wonderful selection of fruity flights and delectable wines as well as mouthwatering farm-to-table cuisine. The shrimp and grits dish I ordered was incredible as was the lava cake, and of course, the wines.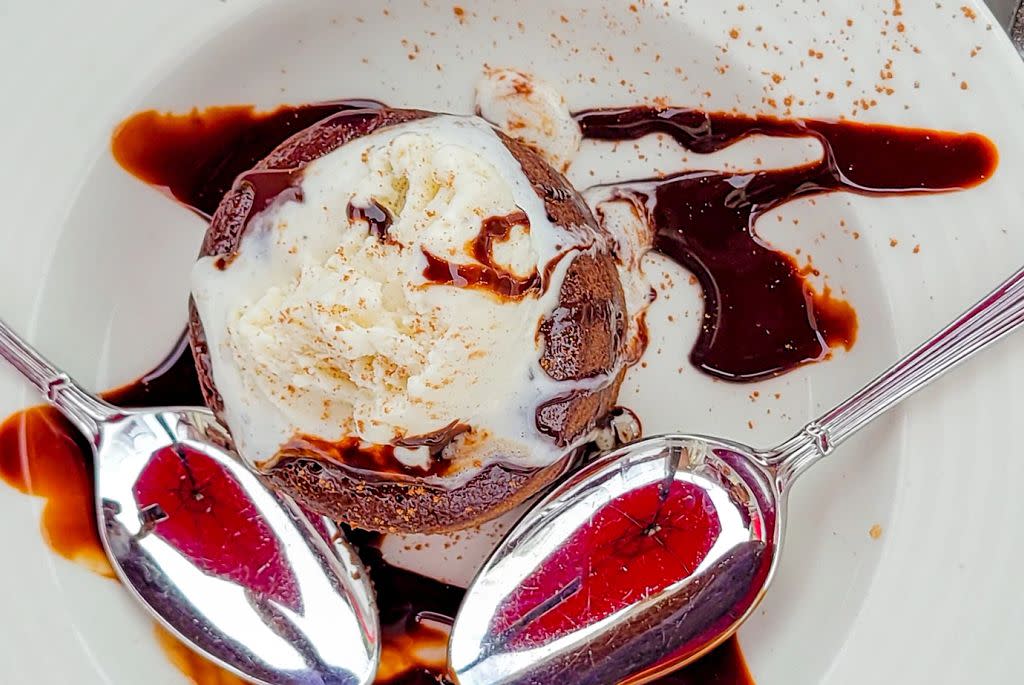 Photo Credit: Taryn White
Day 2 – Walk in Staunton's Historic Districts
Staunton has six contiguous historic districts that are all listed on the National Register of Historic Places: Wharf Historic District, Beverley Historic District, Gospel Hill District, Newtown District, Stuart Addition District, and Villages of Staunton District.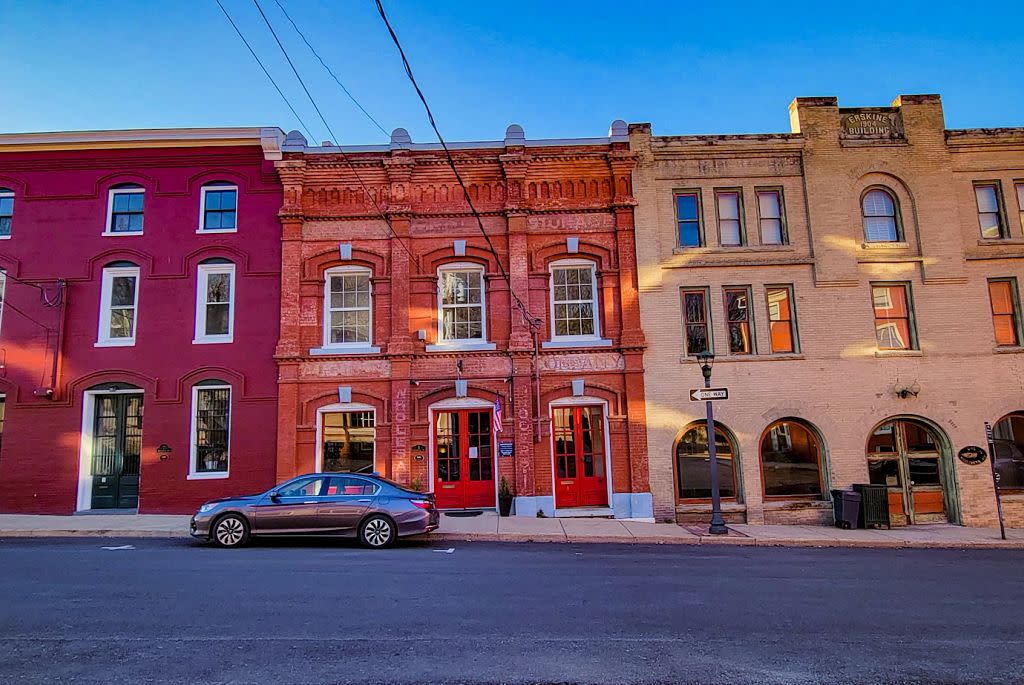 Photo Credit: Taryn White
Start the day with breakfast at Cranberry's Grocery and Eatery, housed in one of Staunton's oldest buildings. Afterwards, stroll around the Beverley Historic District, which has one of the most beautiful "Main Streets" in America. In fact, in 2002, Staunton became the first city in Virginia to receive the Great American Main Street Award, which recognized it as one of the ten most unique small cities in America.
With numerous boutiques selling locally-produced goods, Beverley Street is the best place to shop in town. Visit the Made store for vintage finds and quirky gifts made in the Shenandoah Valley and beyond. And you'll want to grab one of Cocoa Mill Chocolatier's artisan truffles, some of which incorporate Rockbridge wine.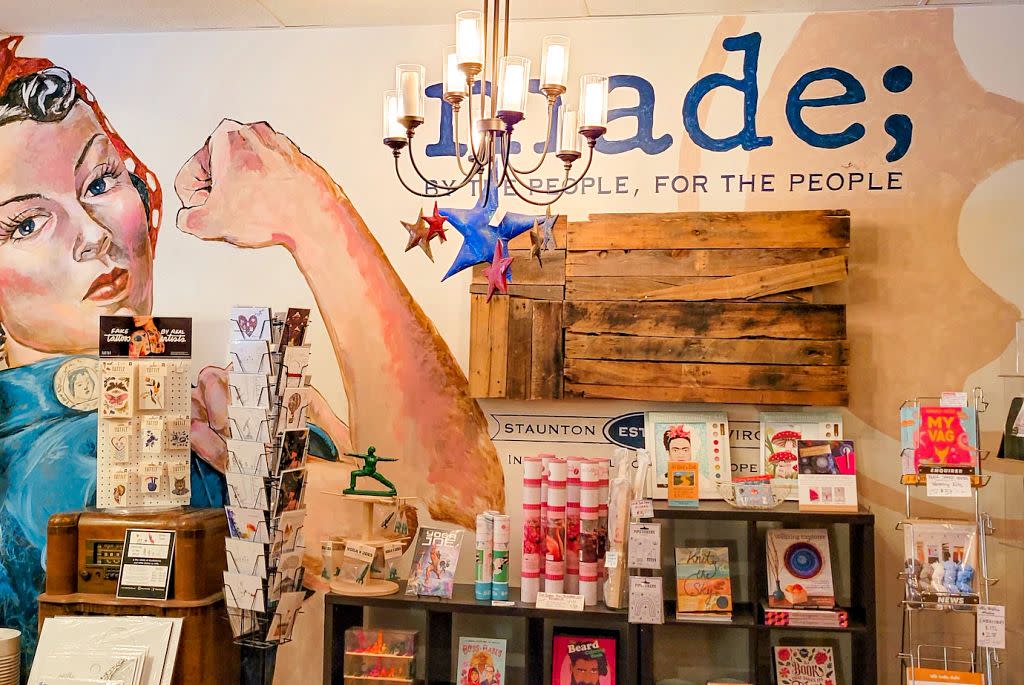 Photo Credit: Taryn White
Don't leave the Beverley Historic District without visiting Staunton's most iconic buildings, including the clock tower, now the Clocktower Restaurant and Bar, the American Shakespeare Center's Blackfriars Playhouse, the Woodrow Wilson Presidential Library, and Trinity Episcopal Church.
Head to the Wharf Historic District and have lunch at Byers Street Grill, a restaurant serving delicious Southern-style American fare.
Walk along cobblestoned streets lined with warehouses and rail depots, from the heyday of the Virginia Central Railroad, that have been transformed into fine restaurants, luxury hotels, and boutique shops.
Not to be missed is the Sears Hill Bridge, originally erected in 1905 to connect downtown with the adjacent Sears Hill neighborhood.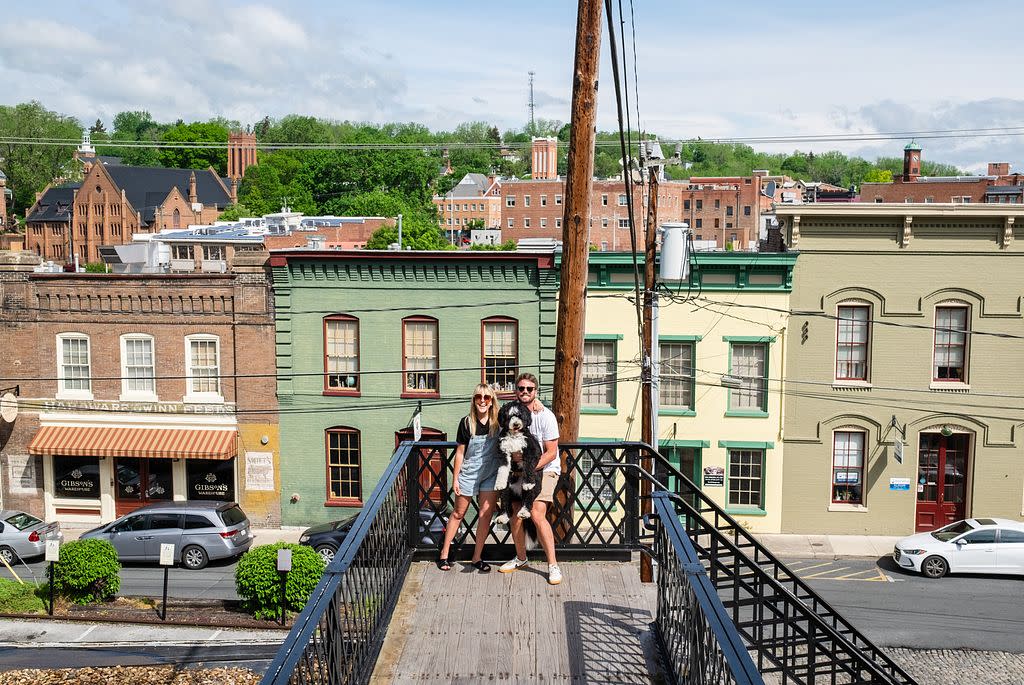 My daughters were thrilled to walk on the Sears Hill Bridge, especially when freight trains passed underneath it!
An adjacent overlook offers impressive panoramic views of the city.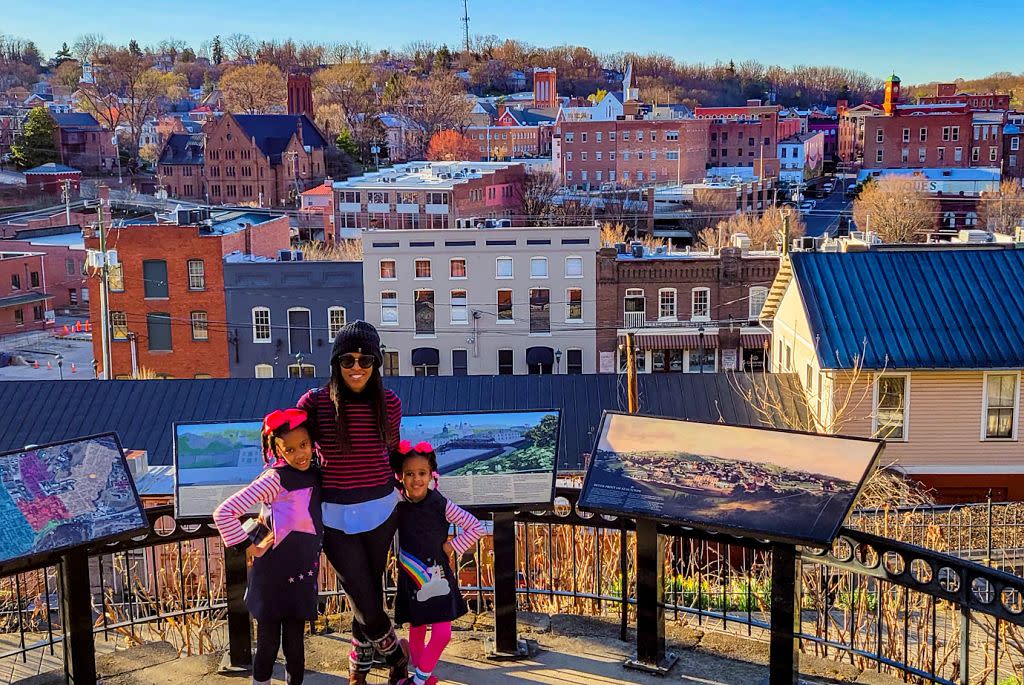 Photo Credit: Taryn White
If time permits, drive through Staunton's other historic districts and admire the beautiful tree-lined streets and architecture, book a vinifera wine tasting at Ox Eye Vineyards Tasting Room located in the heart of downtown Staunton, or observe a live glassblowing demonstration at nearby Sunspots Studios, which sells one-of-a-kind art pieces and artisan jewelry made of hand-blown glass and copper.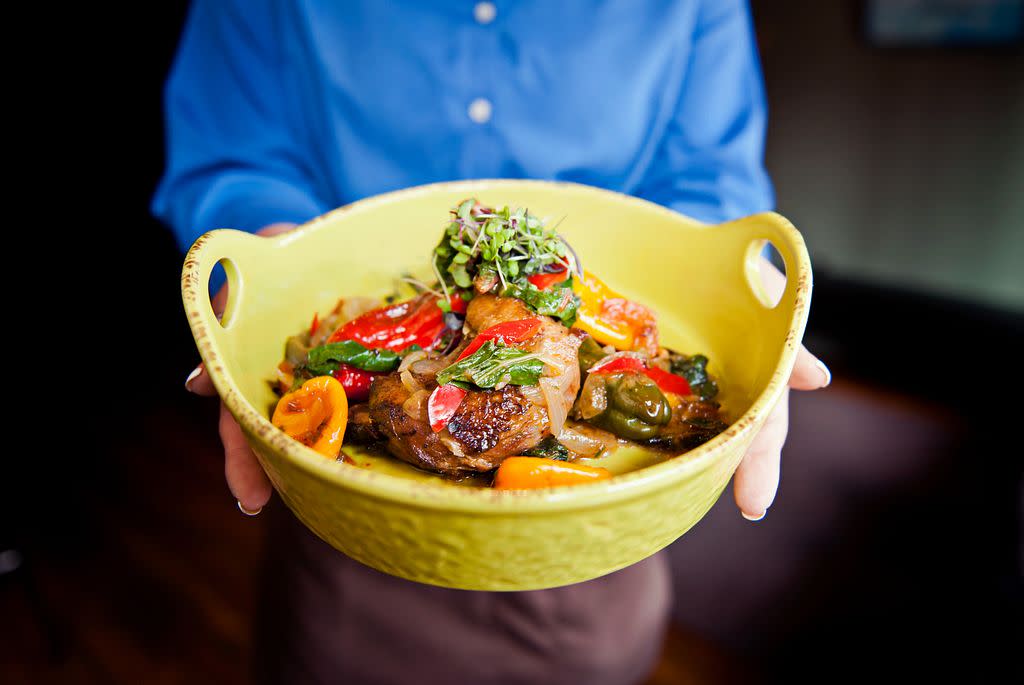 Photo Credit: Beth Furgurson
For dinner, visit Zynodoa or Blu Point Seafood, two sister properties that offer regional seafood specialties from the American South and New England. Outdoor seating is available on weekends during warmer months when the city closes Beverley Street to cars.
Day 3 – Trails, Parks, & History
Begin the day with a drive to Augusta Springs Wetlands Trail for a pleasant walk through hardwood forests and wetlands. The handicap-accessible trail has two large ponds and a variety of wildlife, including beavers, turtles, herons, and nesting wood ducks, which you can hear whistling from the trees.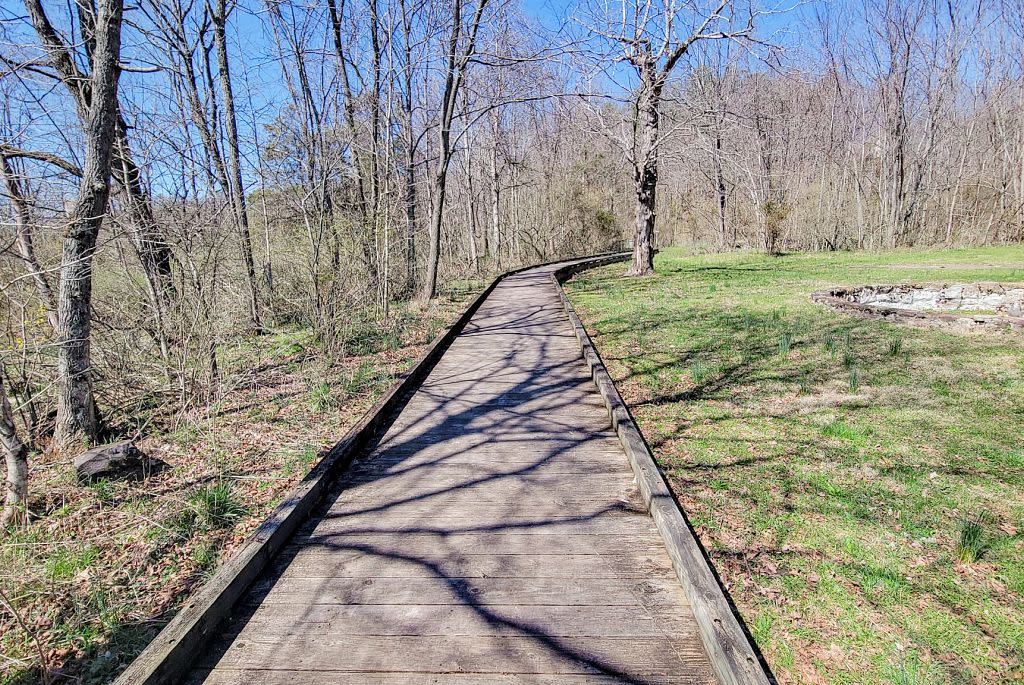 Photo Credit: Taryn White
Have lunch at the premier bakery in Staunton, Paris Cake Company, which serves Sunday brunch, daily breakfast, and lunch in their indoor and outdoor dining areas. Coffee lovers will want to stop by Crucible Coffee to taste surprising blends, such as the Honey Lavender Latte.
After lunch, go on a self-guided walking tour of the Staunton African-American Heritage Trail, which tells the 400-year history of African Americans in the Staunton area.
One important site on the trail is Montgomery Hall Park, created in 1947 as one of only two parks designated specifically for African Americans in Virginia.
Other noteworthy sites include the Booker T. Washington Museum and Library and the Allen African Methodist Episcopal Church (A.M.E.). The Booker T. Washington Museum and Library is located in the building that formerly housed the only high school for African Americans in Staunton. Originally formed in 1865, the Allen Chapel A.M.E. was the first Black church west of the Blue Ridge Mountains.
There are many other historic sites to discover along the thirteen-stop self-guided tour as well as a tour dedicated solely to Montgomery Hall Park.
End the day with a delicious dinner from the Depot Grille or Mill Street Grill, two upscale American-style restaurants housed in a historic, beamed rail depot and an old flour mill, respectively.
Where to Stay in Staunton
The 49-room Blackburn Inn is located within walking distance of Staunton's historic districts and an affordable option at approximately $100 per night.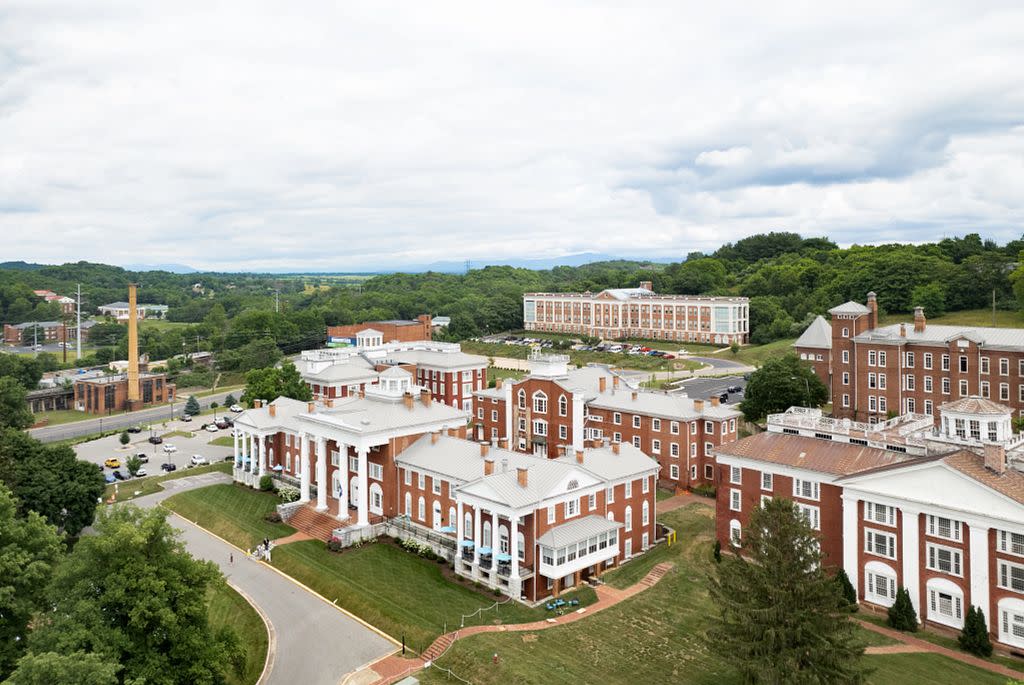 Photo Credit: Chad Williams, @echadwilliams
The hotel was converted from institutional uses and is named after architect Thomas Blackburn, a Thomas Jefferson protégé.
Like other parts of Staunton, the hotel has beautiful architectural features, including the original pine wood floors, classical moldings, and red bricks from the 1820s.
Kids will love wandering the hotel's bright and airy corridors, viewing the local artwork on display, and climbing the spiral staircase to a glass-windowed cupola to access a wrap-around balcony with 360 views of the city.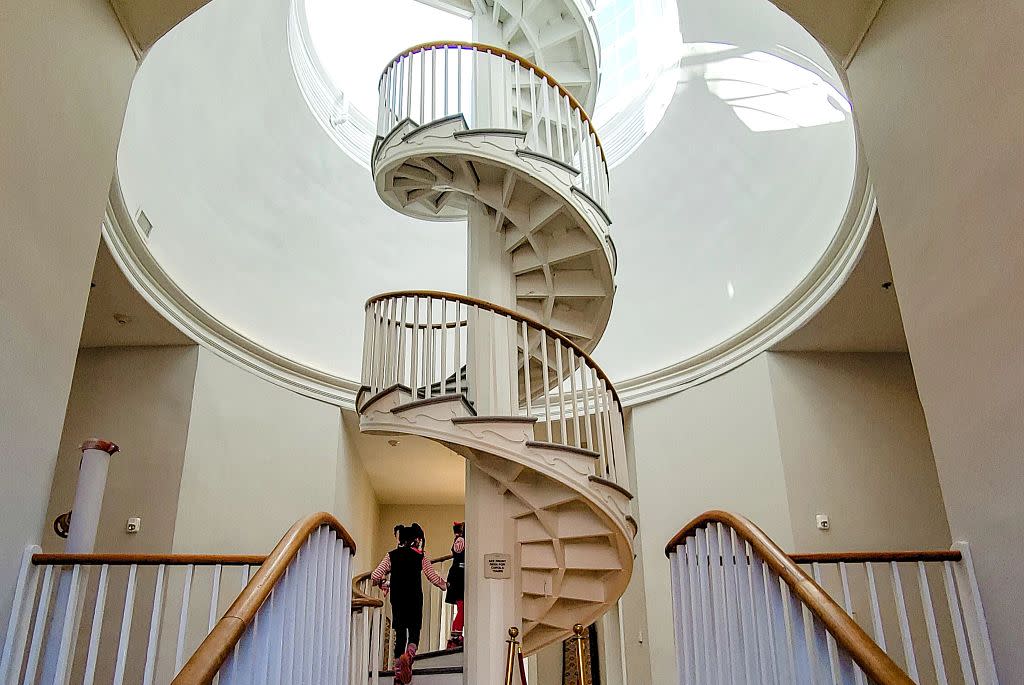 Photo Credit: Taryn White
Have you visited Staunton before? How was your experience?
TARYN WHITE IS A travel writer AND FOUNDER OF THE TRIP WISH LIST. HAVING VISITED ALL 50 US STATES AND MORE THAN 75 COUNTRIES, SHE SEES TRAVEL AS TRANSFORMATIVE AND HAS A PASSION FOR FAMILY, wellness, and THE OUTDOORS. TO SEE MORE OF HER INCREDIBLE JOURNEYS, FOLLOW HER ON INSTAGRAM!