With a host of rivers, streams and creeks coursing through Virginia's rolling picturesque landscape, it comes as no surprise that Virginia is for not only Lovers but also whitewater kayakers. Yes, Virginia is blessed with legendary whitewater destinations such as the Maury River and the upper and lower James River. Additional kayaker havens like the Russell Fork challenge more experienced kayakers while cutting through a 1,600-foot deep gorge. Don't forget the Dan River, pushing through steep-sided Kibler Valley.
Nevertheless, the New River is perhaps Virginia's most well known whitewater destination, so much so that Virginia has developed the 37-mile New River Water Trail, running from McCoy to Glen Lyn, near the West Virginia border.
Are you an aspiring whitewater paddler? Does your significant other like kayaking through thrilling rapids down scenic waterways? Keep reading and learn about the best whitewater kayaking destinations in Virginia. The state presents an exciting array of rivers and experiences for whitewater kayakers of all levels. Those just entering the sport will find waters they can handle and more experienced paddlers will also find waters to challenge their skill level. The listing goes from easier to more difficult whitewater kayaking rivers. Along with each whitewater kayaking destination you will see listed other fun activities nearby.
NEW RIVER WATER TRAIL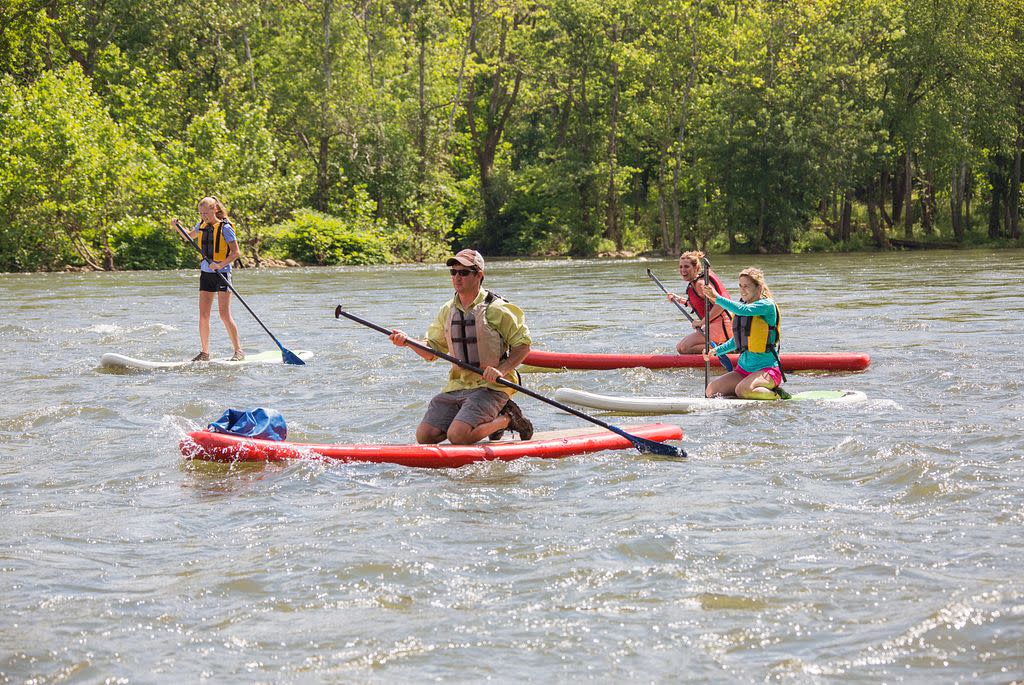 The New River is the starting point for Virginia whitewater kayakers. The 37-mile New River Water Trail cuts a gorgeous valley through the Appalachians, presenting first-rate scenery no matter what portion of the water trail you paddle. The water trail can be broken into several segments to fit your experience level and desired challenge.
Outfitters are located along the New River Trail, including Tangent Outfitters and New River Outdoor Company. They can help you with shuttles, rentals and other paddling needs.
The 6-mile segment from Eggleston Springs to Pembroke is suitable for beginners, with only one strong Class II rapid. However, kayakers will get plenty of practice with lesser Class IIs. Other stretches have riffles and Class I's to keep the action going, though extended pools provides breathers.
Those looking for a longer run will be hard pressed to find a better trip than the 8.5-mile section from Ripplemead to Bluff City. This section passes riverside cliffs and features rapids like Class II Horseshoe Falls, and Class II-plus Clendenin Shoals, where at higher water levels can create high wave trains. Slower sections between rapids allow you to enjoy the montane scenery and regroup.
The 4-mile segment from McCoy to Eggleston Springs starts with a bang at Big Falls, also known as McCoy Falls, a borderline Class III rapid that becomes a solid Class III at higher water levels. Big Falls forms where the New River cuts between Walker Mountain and Sinking Creek Mountain. Whitewater boaters like to surf and play in Big Falls, honing their skills at different water levels. However, Big Falls is easily portaged around by road. The rest of the trip presents Class I-II rapids.
Nearby Additional Activities:
SMITH RIVER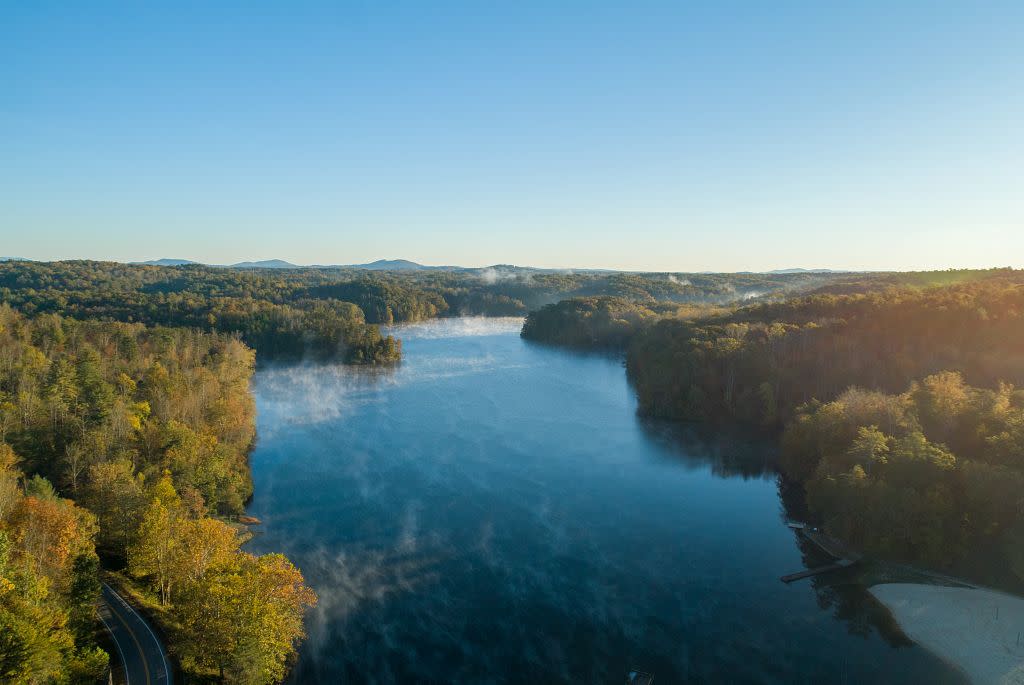 Photo Credit: Chad Williams, @echadwilliams
The Smith River undergoes many incarnations on its easterly journey from Virginia's Blue Ridge to the North Carolina state line. Dammed at Philpott Lake, the river is released for whitewater action. Kayakers can encounter some Class II rapids when the Philpott Dam is discharging water for power generation down to the town of Bassett. Smith River Outfitters operates this stretch of the river.
Nevertheless, the main whitewater action starts at the Sports Complex in Martinsville, then builds into Class II shoals. The highlight of the scenic run comes 2 miles into the 6-mile trip when you reach Eggleston Falls, a boulder garden where the water drops about 5 feet while winding through the big rocks. This can be a Class III at higher water levels, but you can carry around. The takeout is at Mitchell Bridge on Mitchell Road. If you want to shorten your trip use the takeout on Eggleston Falls Road, where Marrowbone Creek enters the Smith. Paddlers can enter the Smith here, then paddle up about a quarter mile for playboating at Eggleston Falls.
Still more paddling possibilities exist in the 45-mile stretch of the Smith in Henry County, which boasts 10 river access points for paddlers to create their own adventures in the mostly Class I waters.
Nearby Additional Activities:
DAN RIVER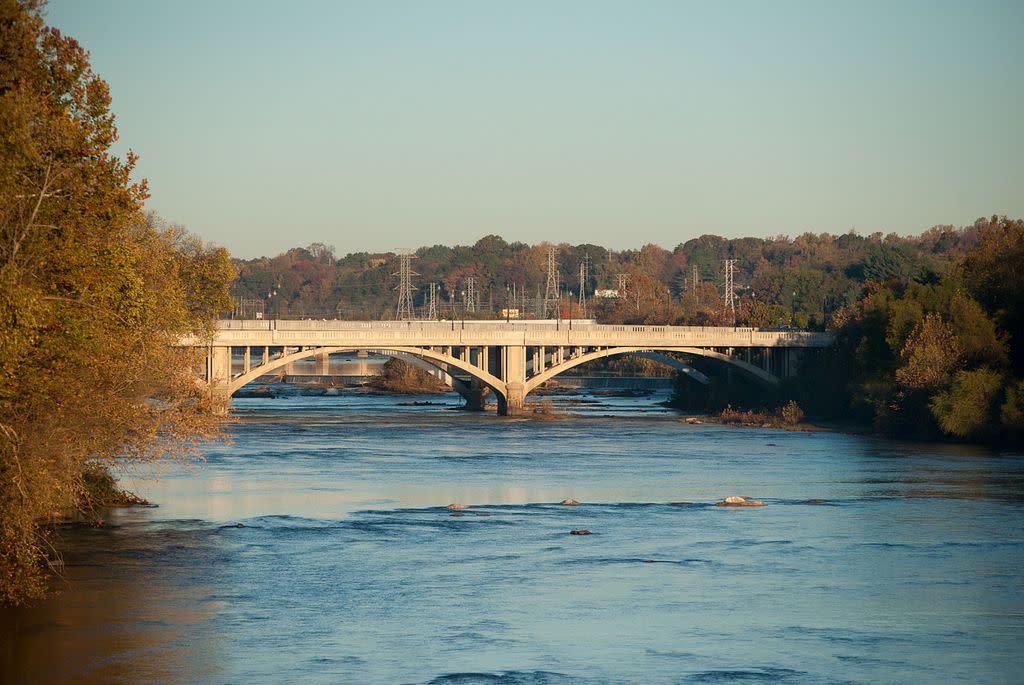 Photo Credit: David Hungate
The Dan River is born on the eastern slopes of Virginia's Blue Ridge and its whitewater paddling section comes way upriver, in Patrick County where it is dammed. And when the Pinnacles Hydro-Electric Complex releases water – usually in summer – the action is on under the eastern brow of the Blue Ridge. Here, the Dan River cuts through the Kibler Valley with Class II rapids and borderline Class III. Kibler Valley Road roughly parallels the Dan River and avails scouting opportunities for the rapids such as Pams Rockgarden, Basketball Falls (so named for whitewater enthusiasts watching from a nearby old basketball court) and Public Enemy.
The Dan then makes an arc into and out of North Carolina, returning to Virginia in Pittsylvania County. The paddling is mostly flatwater from there on out. It dances into North Carolina again before melding its waters into the Roanoke River.
Nearby Additional Activities:
UPPER JAMES RIVER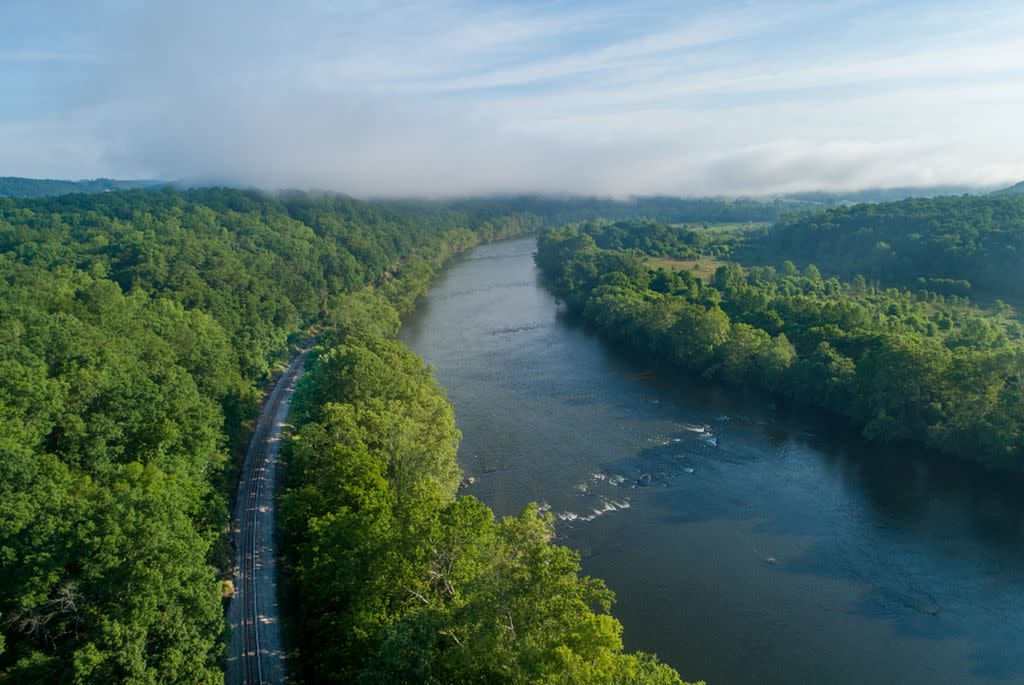 Photo Credit: Chad Williams, @echadwilliams
The James is Virginia's contribution to great rivers of the world. The 348-mile long river's watershed lies entirely within the state of Virginia. Formed at the confluence of the Jackson and Cowpasture River, the James is a paddler's dream river. A 45-mile parcel of the river has been designated the Upper James River Water Trail.
Whitewater kayakers focus primarily on two sections of the James – the upper and lower. The upper James from Iron Gate to Snowden Dam offers over 100 Class I rapids, along with 20 or so Class II rapids – and Balcony Falls, which can be a strong Class II up to Class III at higher white flows. The most exciting run of 5 miles, starts just above the confluence of the James and Maury Rivers, where kayakers tackle "The Confluence" rapid before coming to Balcony Falls, a rite of passage for Virginia whitewater kayakers. Kayakers love to surf and play at Balcony Falls. A flatwater section closes out the run.
The upper James is served by Twin River Outfitters and Wilderness Canoe Company.
Nearby Additional Activities on the Upper James River:
LOWER JAMES RIVER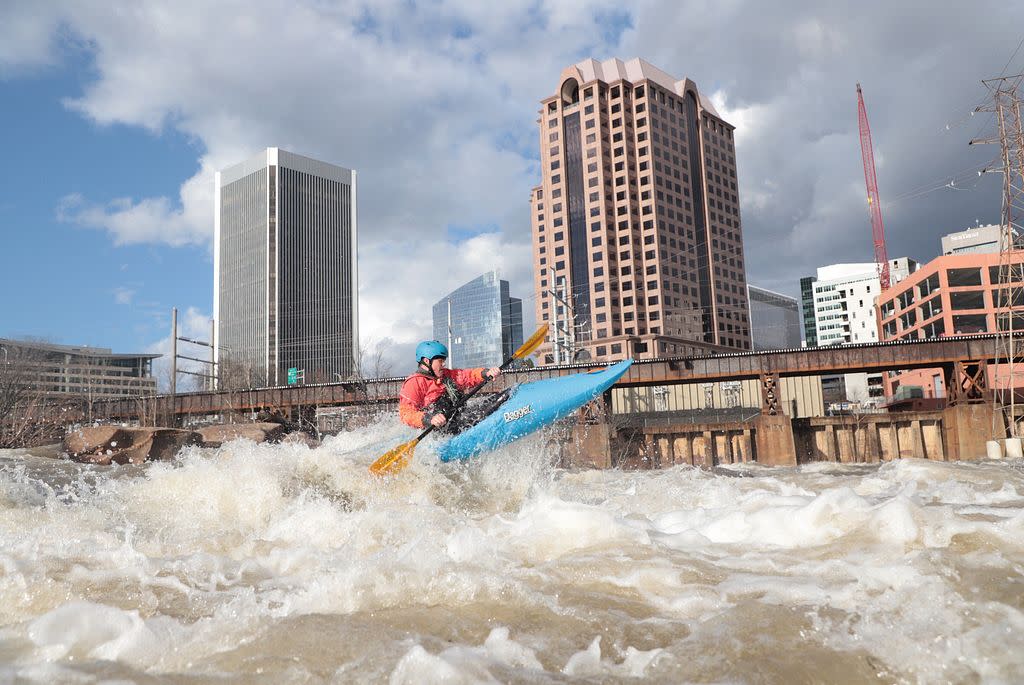 Photo Credit: Patrick Griffin
Just because the James River exits the mountains doesn't mean the whitewater kayaking is over. It is crazy to think about whitewater kayaking right through Virginia's capitol city of Richmond but it's the truth. Here, the James River drops 105 feet over a 7-mile stretch. This falling water was the reason for Richmond's founding – the rapids were as far up ocean going vessels could travel upstream and this falling water could be harnessed for waterpower. Little did Richmond's founders know that this falling water would later be sought out by harried employees seeking post-work whitewater adrenaline rushes without ever leaving their own city.
The most exciting stretch of the James in downtown Richmond is the 2.5-mile portion between Reedy Creek and 14th Street. The Reedy Creek put-in is part of the James River park system. With the Richmond skyline as a backdrop, kayakers challenge rapids by the name of Powerline, Cemetery and Lulu. Playboaters find their spots along the river, surfing rapids for long periods.
Guided kayaking trips on this part of the James are offered by Riverside Outfitters. Kayak rentals and instruction can be had through Kayak Richmond.
Nearby Additional Activities on the Lower James River:
WHITETOP LAUREL CREEK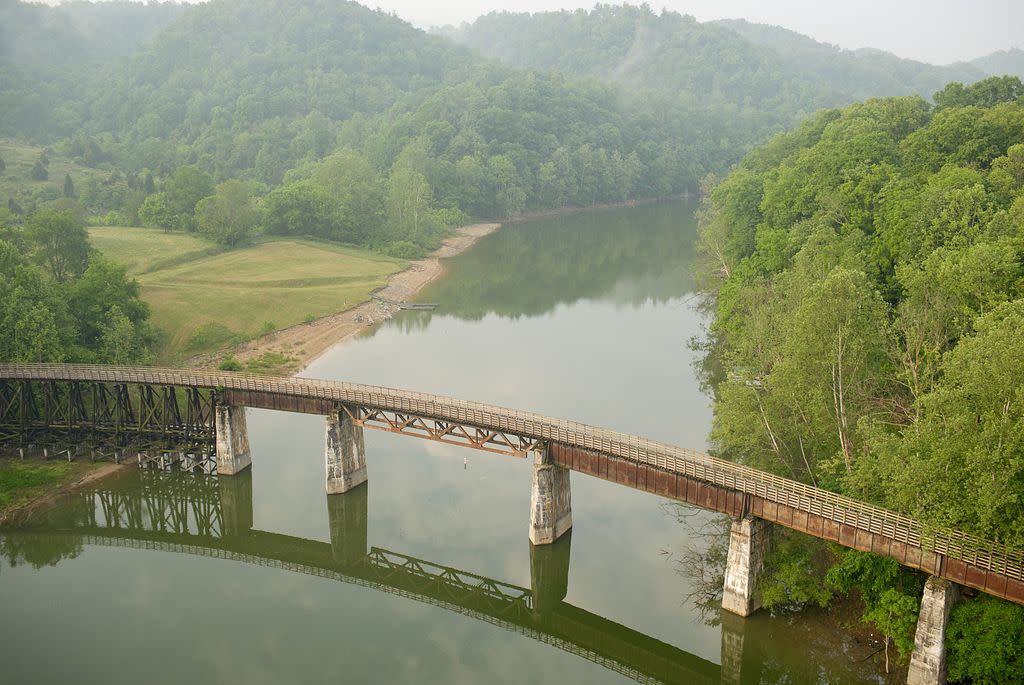 Photo Credit: Cameron Davidson
Damascus is far better known for its hiking trails – namely the Appalachian Trail – and its famed bicycling trail, a.k.a. the Virginia Creeper Trail, than water trails. But yes, Damascus is also a whitewater paddling town. Whitewater kayakers are well represented here.
Whitetop Laurel Creek, draining the Virginia Highlands, is the favored stream. The 12-mile section between Creek Junction and Damascus offers a literal boatload of kayaking fun. Much of the run is paralleled by US 58 and/or the Virginia Creeper Trail, allowing paddlers to create runs of their own chosen length using innumerable put-ins, as well as scout the river before they run it. A bike shuttle is possible using the Virginia Creeper Trail.
A classic creek boating experience, kayakers twist and shout between timeworn boulders, over falls and around islands. The drops come fast and kayakers need to be on their toes and stop where scouting opportunities exist when they are already in the water. Paddlers need to watch closely when Whitetop Laurel Creek flows under trestles of the Creeper Trail.
The nearby South Fork Holston River, into which Whitetop Laurel Creek flows, provides additional whitewater kayaking possibilities. An 8-mile section from Damascus to Alvarado sports Class II rapids, and also has the Virginia Creeper Trail along it, not only availing a bike shuttle but also allowing you to safely scout the river to ensure the whitewater is within your capabilities.
Nearby Additional Activities:
MAURY RIVER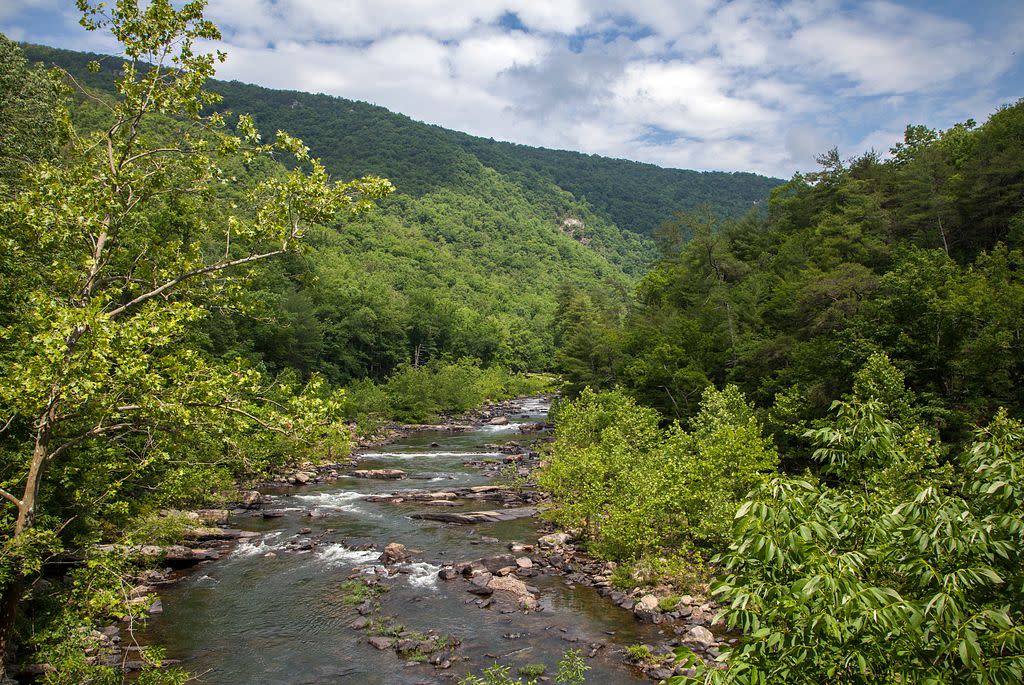 Mention the Maury River and whitewater aficionados get a crazy gleam in their eyes. The Maury presents 37 miles of aquatic excitement from Goshen Pass down to its confluence with the James River. The first 5 miles are the hairiest – and the most popular – but the lower stretch gives up-and-coming paddlers a chance to build their skill set.
The 5-mile trip through Goshen Pass has a lot to offer kayakers. For starters, almost the entire Class III-IV run parallels VA 39, allowing for ample scouting possibilities and put-ins and takeouts of your choosing.
Perfect for intermediate skill paddlers with an abundance of play spots, the traditional run through Goshen Pass starts at the VDGIF parking area off VA 39. You then enter the Devils Kitchen, a thrilling 300 feet of Class IV whitewater. Other segments traverse boulder gardens, with more whitewater than not. The Indian Pool gives paddlers a reprieve before "The Ledges".
From Rockbridge Baths down, the Maury River has many strong Class II rapids as it heads to Lexington. This is considered a good training segment. The section from Lexington to Buena Vista is beginner friendly, mostly Class I with some Class II. However, the Maury's final run between Buena Vista and Glasgow, where it flows into the James, is more challenging.
Nearby Additional Activities on the Maury River:
RUSSELL FORK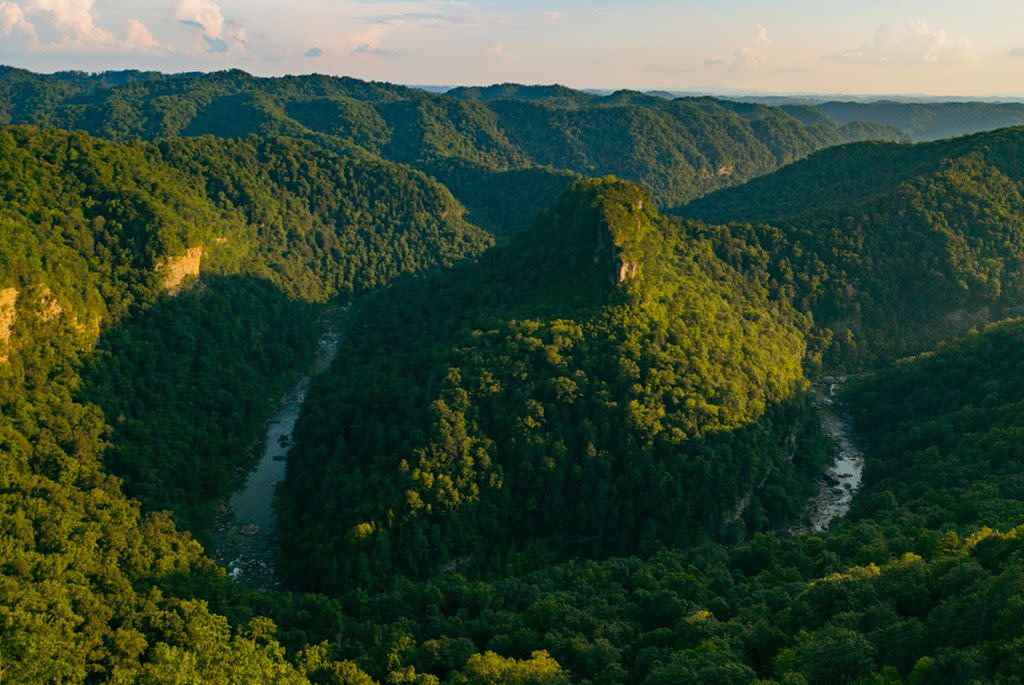 The Russell Fork delivers Virginia's most challenging whitewater, much of it for top-flight whitewater kayakers only. Russell Fork is as well known for its truly spectacular scenery as it cuts a chasm through Pine Mountain, the great breaks for which Breaks Interstate Park is named. The 3 miles from Bartlick Bridge to Garden Hole drop 28 feet per mile, presenting Class II-III water. Garden Hole is the last chance to get out before entering the Russell Fork gorge.
The 4-miles from Garden Hole to Ratliff Hole is the section that makes the Russell Fork the stuff of legend. Here, the river drops markedly under steep sandstone walls, making its way in a giant semicircular loop cutting through Pine Mountain. River gradients reach an astounding 190 feet per mile. Paddlers are taking on Class IV-V rapids named Triple Drop and El Horrendo, among others. This section is full of continuous, complex rapids. The Russell Fork enters Kentucky just before the takeout at Ratliff Hole, where paddlers gather to swap tales of tackling Russell Fork.
Even if you aren't a whitewater kayaker, the Russell Fork will draw you in. For four October weekends, the Army Corps of Engineers draws down Flannagan Reservoir, releasing water into the Russell Fork, and attracting paddlers and non-paddlers alike for hundreds of miles.
Nearby Additional Activities on the Russell Fork: