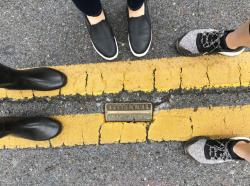 Nestled in Virginia's Appalachian Mountains, Bristol is widely known for NASCAR, outdoor beauty and adventure, and the Birthplace of Country Music. Bristol is also unique in their downtown State Street which is divided by traditional double-yellow lines and also a brass marker noting the convergence of Virginia and Tennessee state lines. When traffic is slow (and it's safe to do so), many visitors take pictures of their feet with "one foot in Virginia, the other in Tennessee."
Bristol has also welcomed new visitor experiences in the past few years, including the downtown boutique Bristol Hotel, the unique Sessions Hotel (themed with country music heritage and a music lawn stage featuring iconic and new musicians) and the brand new Hard Rock Bristol Casino.
In 2022, Bristol VA/TN will also have its first-ever LGBTQ+ Pride event downtown Saturday, August 27. Years in the making, local (and TriPride Secretary) Justin Hall, the TriPride TN/VA team and community partners are excited to finally have their first event. We spoke with Justin about his love of Bristol and how TriPride Bristol VA/TN came to be.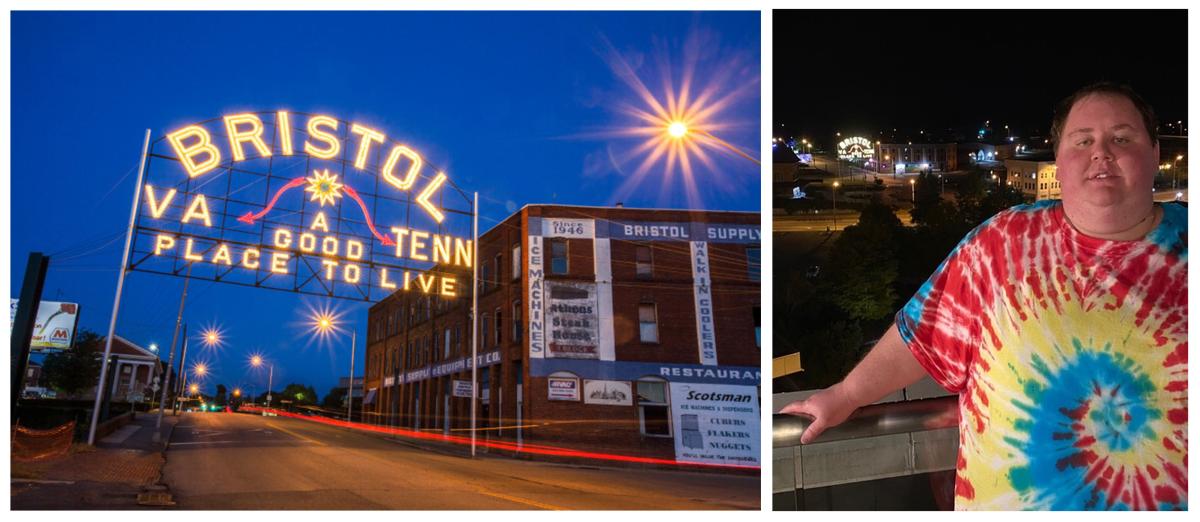 Where did you grow up, and what is it you love about living in Bristol?
I grew up in the City of Bristol, Virginia. My hometown is the type of place where you can stroll down the beautiful and historic downtown and see everyone you know while smelling Southern Churn's cinnamon pecans and delicious fudge, or the lovely fragrances wafting from Cranberry Lane as their owner Karen waves at everyone passing by. Every morning Blackbird Bakery fills the air with the smell of sugar as people start to line up for delicious desserts, where I often get to see old high school friends. In Bristol you can listen to live music any day of the week from every genre while eating great food.  Although, the best thing I see is that Bristol is gradually becoming more progressive, while still keeping the same small-town charm. Bristol is the Birthplace of Country Music," and you can visit the Birthplace of Country Music Museum.

Who exactly is TriPride Bristol VA/TN and what does the organization do?
TriPride Bristol VA/TN is an LGBT+ nonprofit that started in 2017 with the idea of having a pride festival and parade in each of the 3 cities (Johnson City and Kingsport, TN + Bristol, VA/TN) each year. The very first TriPride Parade and Festival was hosted in Johnson City, TN in 2018. The following year in 2019, TriPride hosted our annual festival and parade in Kingsport, TN and in 2020 (the year we don't talk about) was supposed to be Bristol's turn, but due to the pandemic we had to cancel 2 years in a row. Here we are now in 2022 and TriPride is back in full swing!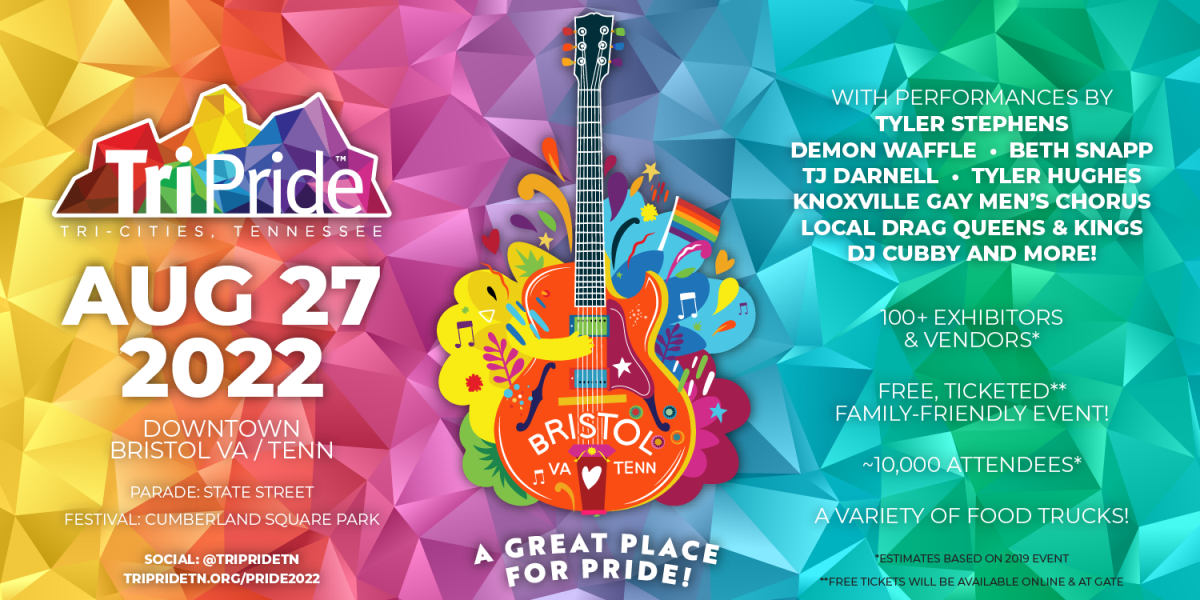 Hosting the weekend's pride events must have been a lot of work, no doubt rewarding. What are some of your favorite experiences during the process?
First, I must thank TriPride for accepting me onto their Board of Directors and giving me the freedom to go out into our community to bring people together for a great cause.
My favorite experience during all of the planning is getting to meet so many different people and hearing their stories. I've heard from parents about their transgender child or their gay/lesbian teenager, and from individuals whose parents kicked them out because of their orientation, yet overcame their struggles and are now thriving. TriPride works very hard to make sure we have a safe and amazing festival. It's not easy work mentally or physically, but in order to create change it must happen. The fact that people in our community walk up and give us big hugs or just a simple "thank you" proves we are doing good work. We have a long way to go, but we are determined.
Bristol having its first-ever pride is amazing, and notable, including being the first Pride event in the nation to occur in two states simultaneously! Will you share what's happening, and where?
The Pride Parade begins at 11:00 am, with the Pride Festival starting immediately after, around 12:00 p.m. The festival will be held in downtown Bristol's Cumberland Square Park. You can check out our full, updated schedule of events on our Facebook and Instagram pages. All is free and open to the public, but we are requiring FREE tickets to enter the festival grounds. We'll be serving local food from some of the area's favorite food trucks, beer, ciders, and much more! Our festival will contain over 140 vendors/exhibitors including health service vendors that will have STI screenings, COVID vaccines, and HIV testing.
We're excited to have performances by Tyler Stephens, Demon Waffle, Beth Snapp, TJ Darnell, Tyler Hughes, DJ Cubby (link?), the Knoxville Gay Men's Chorus, and super-talented local Drag-Queen and Drag-King performers.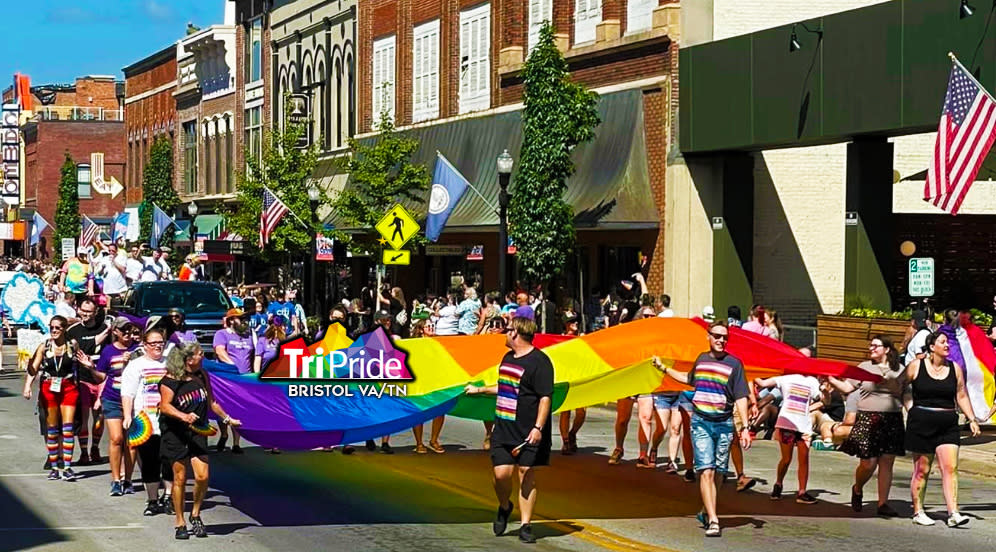 When you are traveling in Virginia, what are a few of your favorite places to stay, eat, shop, and play?
The Commonwealth is one of the most beautiful places in the country. Being from Bristol, I really enjoy Southwest Virginia and would encourage everyone to experience the various attractions in the area.
Photo Credit: Harold Jerrell
Close by is Big Stone Gap, where you can relax at a local bed and breakfast and see the Trail of the Lonesome Pine outdoor play, or head on over to Pennington Gap in Lee County where you can take a stroll through the Appalachian African-American Culture Center. However, when I'm able to get away, I love traveling to places rich in history but also have a great nightlife.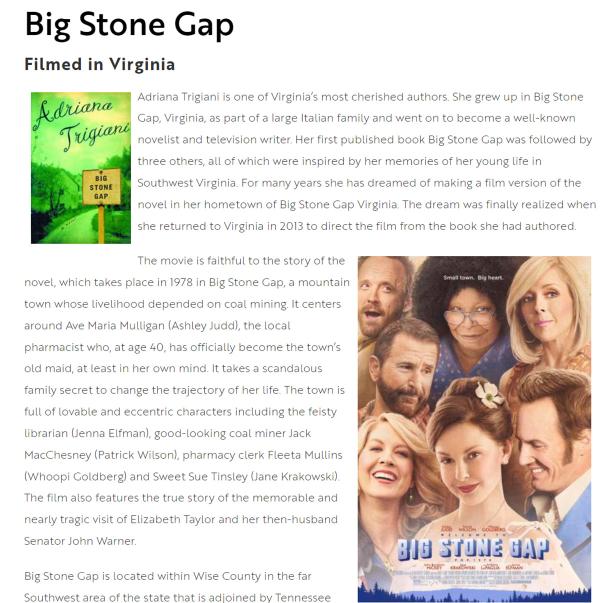 Check out the feature film Big Stone Gap which had its world premiere at the Virginia Film Festival on November 6, 2014. Filmed in Virginia, it was written and directed by Virginia author and film maker Adriana Trigiani.