If you and your partner are the type of couple that enjoys the Great Outdoors, consider a romantic getaway staying at one of these campgrounds. In addition to spending quality time together while you camp, you'll spend time discovering the beauty of Virginia's natural landscape.
Chincoteague Island KOA—Chincoteague
What Makes it Romantic: View from the lighthouse; wild ponies

Assateague Island has some of the most gorgeous undeveloped beaches in the state. While you can't camp on-site, plan your romantic camping getaway to Chincoteague Island KOA to get access to the adjacent beaches of Assateague Island. Located near the entrance of Chincoteague National Wildlife Refuge, the campground gives you access to the park's hiking trails. Take Woodland Trail through the park for a chance to see the famous wild ponies of the Eastern Shore.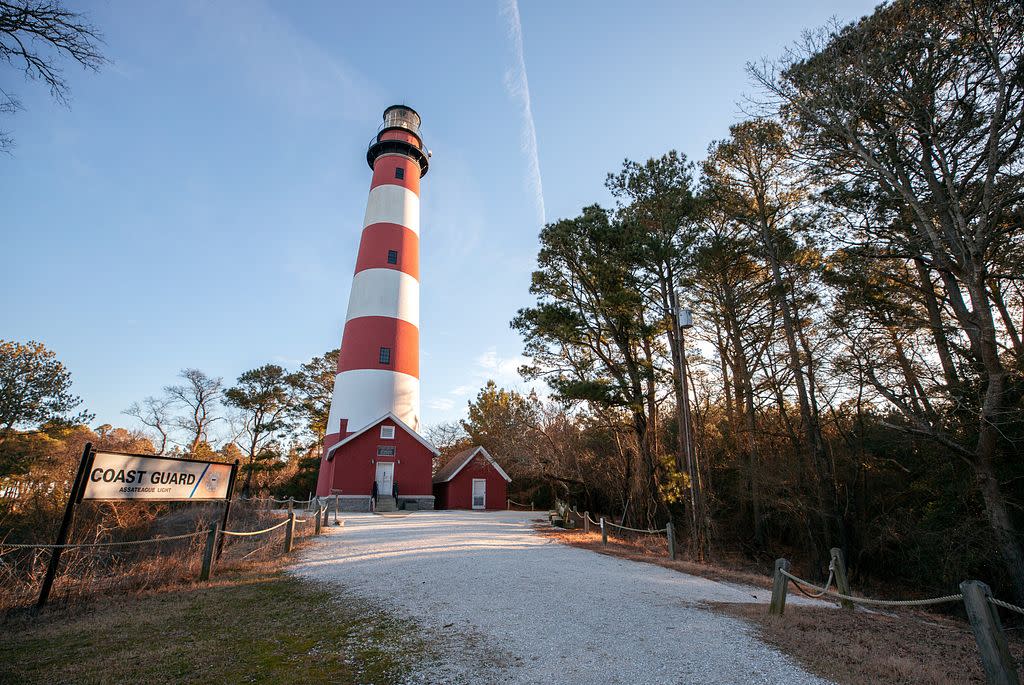 A little over a mile from the campground, the Assateague Lighthouse is the perfect place to take in the surrounding scenery. If you come between 9am and 3pm, you can even climb to the top of the lighthouse to see miles of open sand fronting the Atlantic. Skip the fancy restaurants for dinner and instead try your hand at crabbing, clamming, and oystering while on Assateague Island. The campsite has fire pits where you can prepare your fresh catch!
Campsite Amenities:
Water/electric hookup available
Camp store on-site
Pet-friendly
Bathrooms with showers
Outdoor pool
Laundry Room
Volleyball and shuffleboard courts
Grayson Highlands State Park Campground—Mouth of Wilson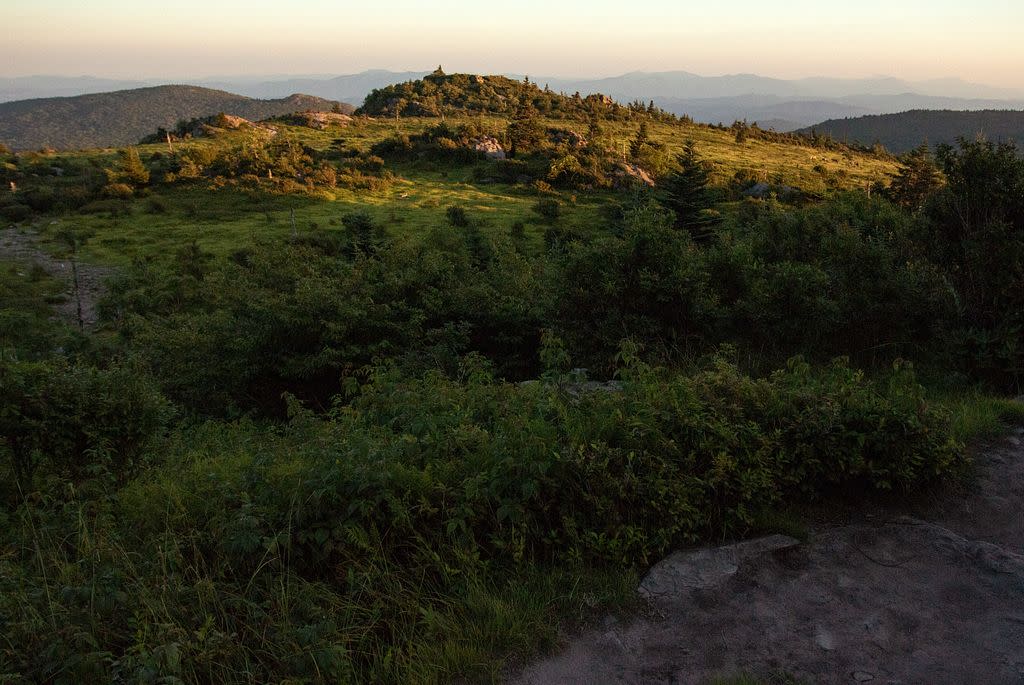 Photo Credit: Trevor Frost, @tbfrost
What Makes it Romantic: Rhododendrons, starry skies, vast meadows

The romantic atmosphere at Grayson Highlands State Park Campground comes from more than just the breathtaking panoramic views. The area connects you to nature in a way that is rare in today's developed world. You may even wake up to a wild ponies on your campsite, wandering around nonchalantly as they nibble on the native grasses. The park is surrounded by miles and miles of trails that lead to a variety of incredible scenery, including waterfalls, the heights of Mount Rogers, and of course, lots of wildflowers. Stables are available for those that want to bring their own horses and take on the trails from the saddle.
Campsite Amenities:
Water/electric hookup available
Horse stables available
Firewood for sale
Pet-friendly
Bathrooms with showers
Access to Appalachian Trail and 67 miles of horse trails
Chippokes State Park Campground—Surry
Photo Credit: Bill Crabtree Jr.
What Makes it Romantic: Romantic mansion and beautiful, peaceful grounds

One of the oldest in the country, Chippokes State Park has been a working farm since 1619. Tour the park's antebellum-style home, Chippokes Mansion, and the outbuildings on the surrounding estate to get a glimpse of the 17th century lifestyle. Stay on the campgrounds of the historic park, located near the banks of the James River, for simple yet comfortable accommodations. The campgrounds have an outdoor pool and trails encircling the park for hiking or horseback riding. Along the trails and throughout the entire park, you'll discover an abundance of Virginia wildlife, such as bald eagles, deer, and river otters. Get a little extra romance during your visit with a walk through the estate's formal gardens.
Campsite Amenities:
Water/electric hookup available
Bathrooms with showers
Outdoor pool
Firewood for sale
Hiking and equestrian trails
Misty Mountain Camp Resort—Greenwood
What Makes it Romantic: Spend the day sipping wine on the Monticello Wine Trail, then bring a bottle of wine back to the campsite and savor a glass by the campfire.

Staying at Misty Mountain Camp Resort at the foot of the Blue Ridge Mountains gives you access to more than 30 breweries and wineries, all within a few miles of the camp along the Monticello Wine Trail. A lovely stream runs through the campgrounds, adding to the enchanting atmosphere of the rolling hills bordering the grounds. For a little extra privacy during your stay, request one of the wooded sites off the main road.
Another romantic option for couples is nearby Carter Mountain Orchard, where you can pick berries during summer months and apples in the fall. They sell a bevy of apple products to take home with you, and their apple cider donuts are an absolute must! Well-behaved, leashed dogs are welcome at the campgrounds and orchard, but if you plan on visiting wineries, breweries, or other local attractions, call ahead to make sure they allow pets.
Campsite Amenities:
Water/electric hookup available
Pet-friendly
Outdoor pool
Stage with frequent live music
Basketball and volleyball courts
Camp store
Game room with pool table
 
North Bend Park & Campgrounds—Boydton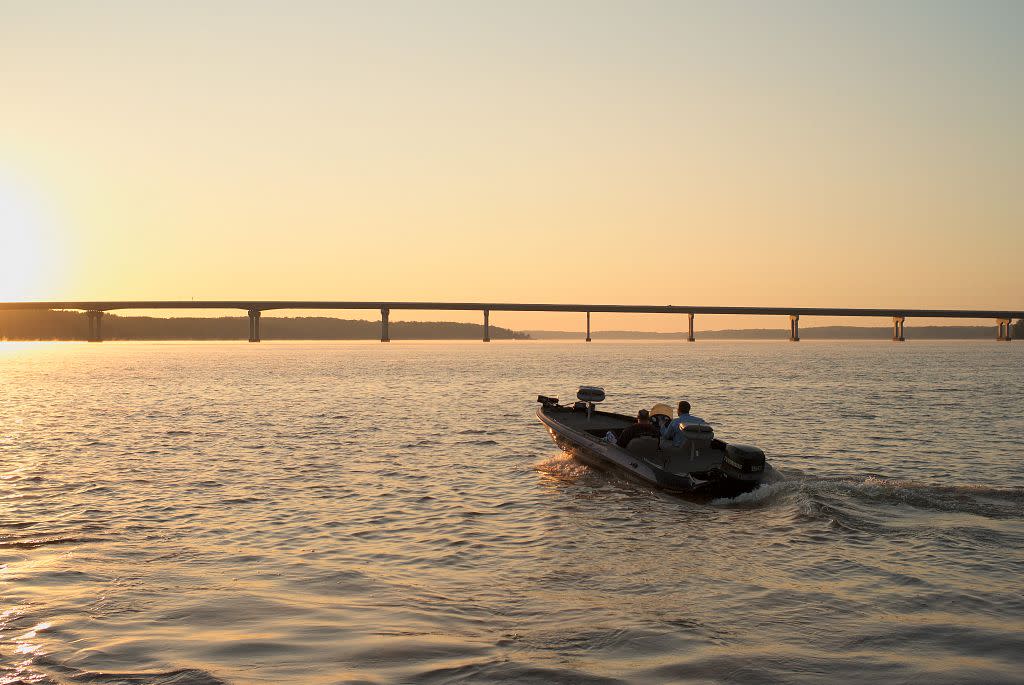 photo credit: Cameron Davidson
What Makes it Romantic: Sunset over the water

Right beside Buggs Island Lake (formally called John H. Kerr Reservoir), North Bend Park & Campground may sit on a 50,000-acre man made lake, but the park's sandy shores will make you and your partner feel as if you discovered a hidden beach. Spend your days fishing, wading in the cool lake waters, or sunbathing along the shores.
If staying active and exploring the park is more your speed, check out the hiking and biking trails that run throughout the park. Although the beaches are off-limits to pets, you can camp and hit the trails with your furry friends. Finish the day watching the epic sunset over the lake waters from a secluded beach spot.
Campsite Amenities:
Water/electric hookup available
Pet-friendly
Bathrooms with showers
Fishing and boat dock
Interpretive trails
 First Landing State Park Campgrounds—Virginia Beach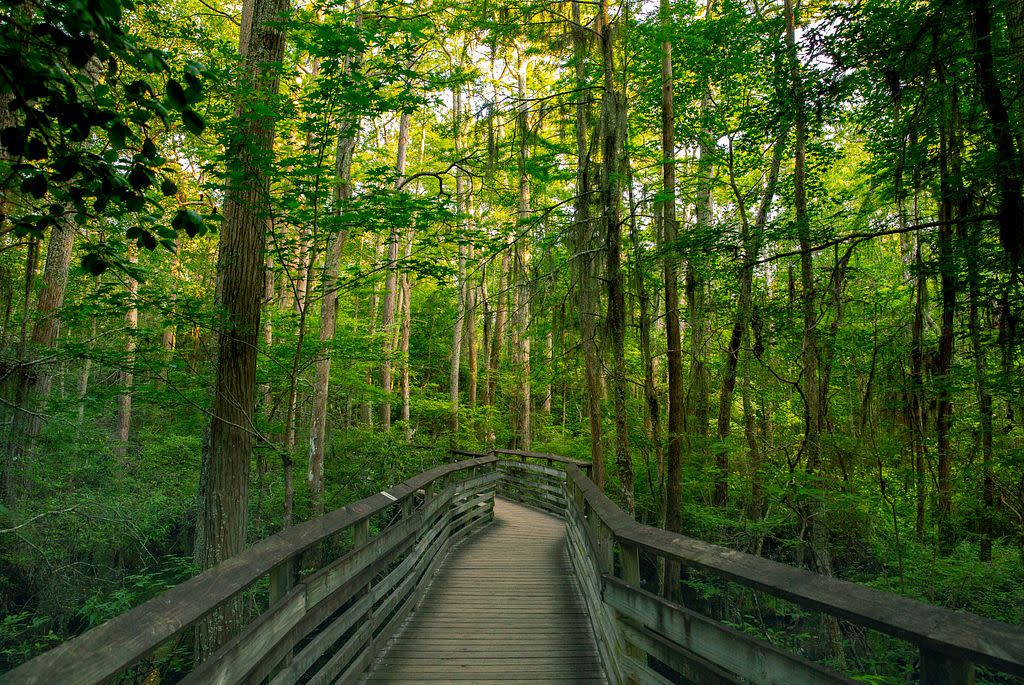 What Makes it Romantic: Privacy with campsites off the main road, beachfront views

Minutes from the hustle and bustle of popular tourist attractions in Virginia Beach, First Landing State Park Campgrounds offers beach side camping with more privacy than you'll find along the nearby shores. Although the park is the most visited in the state, many of the campsites are tucked into small alcoves off the main campground road and are ideal for a romantic evening together. Explore 19 miles of trails on the property, and if you would rather ride than walk, the park has bikes available for guests to rent. Another perk for First Landing State Park? The beaches are dog-friendly year round.
Campsite Amenities:
Water/electric hookup available
Bathrooms with showers
Pet-friendly
Camp store
Laundry
Hiking and biking trails
Bicycle rental
Endless Caverns Campgrounds—New Market
What Makes it Romantic: Gorgeous caverns on the property, as well as a zero entry swimming pool.
"Endless" may be stretching the truth quite a bit, but as the name implies, Endless Caverns Campgrounds has impressive geological caverns on-site. Technically, the caverns span about six miles underground, although only about a mile of the pathways are safe and open to the public. If the weather permits, head over to the zero entry swimming pool, which slopes into the deeper waters like a natural shoreline. Please note that if you bring pets along, they are not allowed in the pool area or caverns, but you can take them on the wooded trails that encircle the park.
Campsite Amenities:
Water/electric hookup available
Pet-friendly
Bathrooms with showers
Outdoor pool
Game room
Volleyball court
Wi-fi available
Laundry
Catch and release pond
Hiking and biking trails
Douthat State Park Campgrounds—Clifton Forge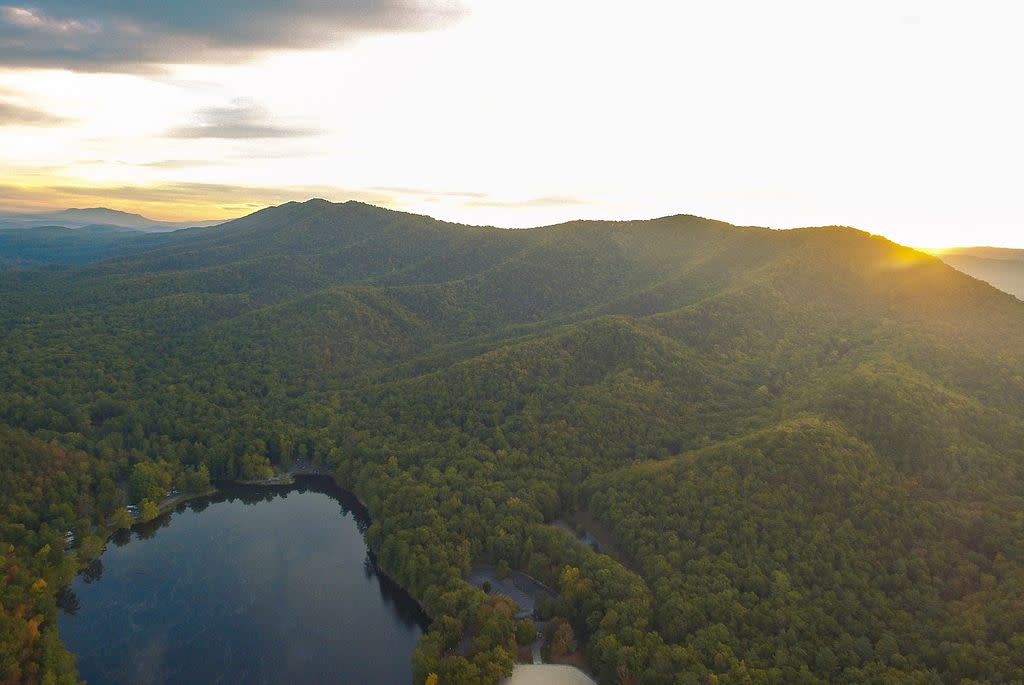 Photo Credit: Big Orange Frame
What Makes it Romantic: Quiet, secluded camping within beautiful George Washington and Jefferson National Forests, plenty of activities for outdoor enthusiasts

Between the surrounding Allegheny Mountains and the park's 50-acre lake, Douthat State Park Campgrounds is absolute paradise for couples that enjoy outdoor activities. Take a swim in the lake or bring your boat for a peaceful fishing adventure. This park is known for being a little more off the beaten path, with little-to-no cell phone service available, but couples looking to spend quality time together appreciate the lack of distractions that a phone often creates. If you are looking for a campground that truly lets you get back to nature while enjoying your partner's company, Douthat State Park is perfect for your next romantic getaway.
Campsite Amenities:
Water/electric hookup available
Pet-friendly
Horse stalls available
Bathrooms with showers
Hiking, horseback riding, and mountain biking trails
 If you want to step up your camping game, rent an RV from a local business, or if you want to try out camping without investing in new equipment, consider renting from one of these outfitters:
 While every couple enjoys a luxury getaway from time to time, camping in Virginia can sometimes provide a more affordable, rustic alternative without losing any of the romance. Take your beloved to one of these affection-inspiring campgrounds for a romantic retreat in nature.