Looking for great food at even greater heights? Combine Virginia's flair for award-winning culinary masterpieces and creative craft cocktails with breathtaking scenery when you check out one of these stunning rooftop restaurants and bars!
Q Rooftop Bar at Quirk Hotel—Richmond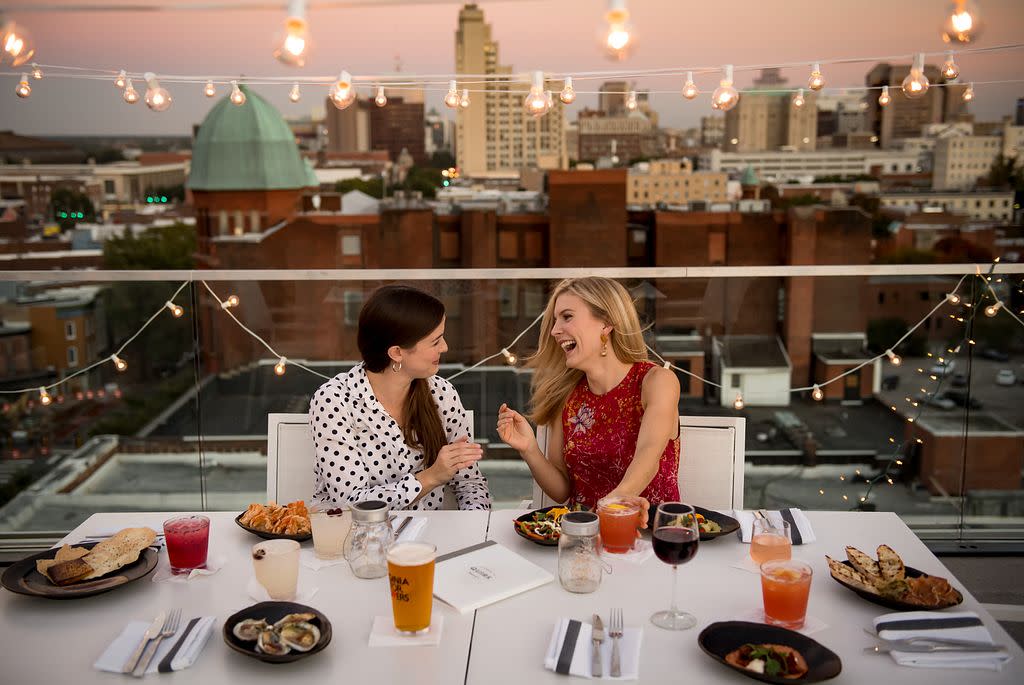 Found on top of the mod-upscale Quirk Hotel, Q Rooftop Bar offers views of Richmond's downtown skyline from its 2,800-square-foot location. Grab a cocktail, a glass of wine, or a craft beer from the ever-changing rooftop bar drink menu as you take in the gorgeous views. Craft beer fans should try the QUIRK beer, made by Hardywood Park Craft Brewery just a few miles from the hotel. For food, the rooftop bar offers what they refer to as "elevated street fare"; this means small snacks and finger foods, so if you're in need of a full meal, book a table at the restaurant in the hotel's stylish lobby, Maple & Pine.
Catbird at Hotel Weyanoke—Farmville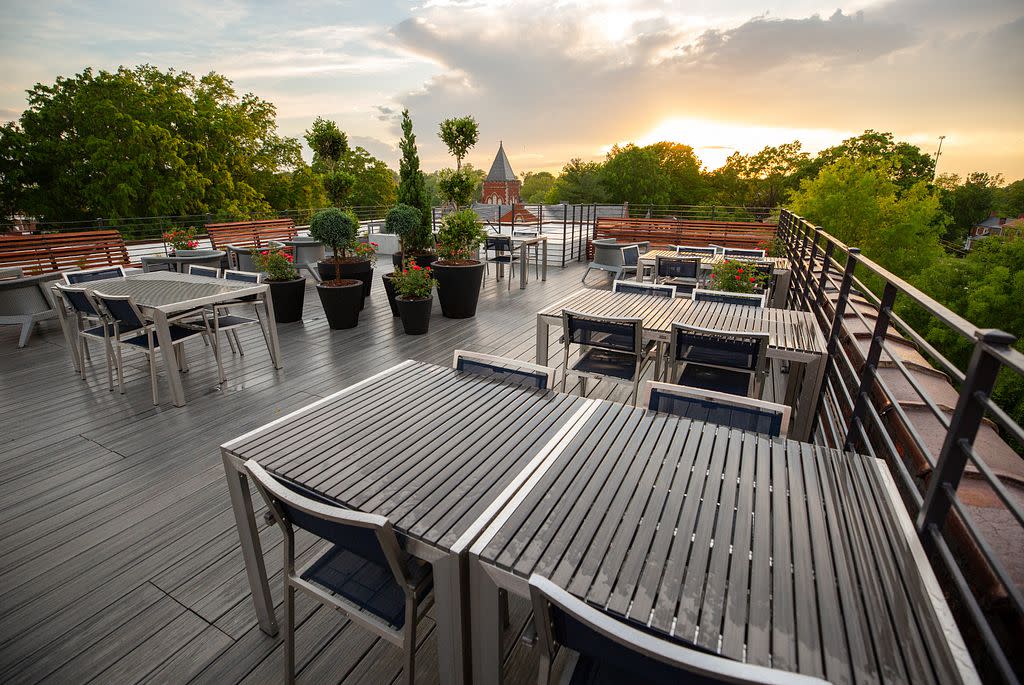 The renovated Hotel Weyanoke is a luxury retreat in the heart of downtown Farmville, a few miles from Hampden Sydney College and across the street from the Longwood University campus. Head up to the Weyanoke's rooftop bar and lounge, Catbird, for seasonal hand-crafted cocktails, craft brews or wines, and panoramic views of Farmville and the surrounding landscape. Pair your beverages with a selection of small plates and tapas served on the rooftop, or visit one of the hotel's several noteworthy restaurants; dine on wood-fired artisan pizzas at the casual eatery Effingham's for lunch or dinner, or enjoy an upscale supper at Taproot Tavern. If you're staying overnight, grab a quick bite for breakfast at Sassafras, a coffee shop serving pastries and other fresh treats made in-house daily.
Kabana Rooftop—Richmond
Perched 20 floors above Richmond's towering financial district, Kabana Rooftop Bar & Lounge is the highest rooftop bar in the capital city. They offer small snack plates as well as a curated list of cocktails, craft beer, and wines for those hot summer days. For a taste of local flavors, we recommend the Sunset Margarita, made with Richmond-based Belle Isle Honey Habanero Moonshine, or the RVA Sour, which combines Reservoir Rye Whiskey, another Richmond spirit, with simple syrup, fresh lemon juice, and red wine.
Bristol Hotel's Lumac Rooftop Bar—Bristol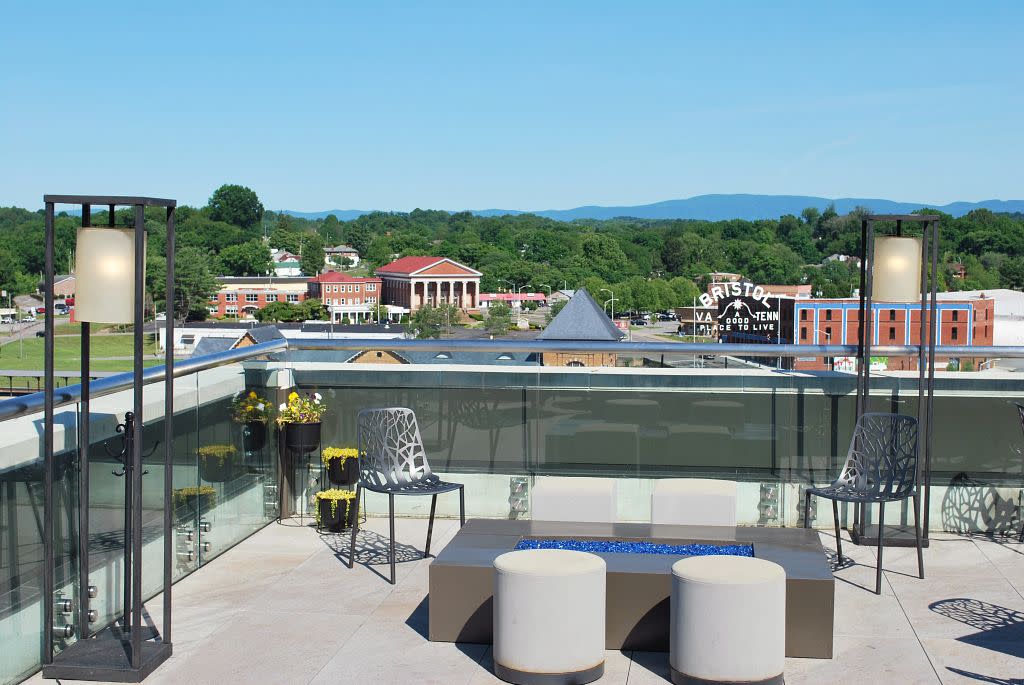 Overlooking the historic downtown area (including the iconic Bristol neon sign) and the picturesque Appalachian Mountains, Bristol Hotel's Lumac Rooftop Bar is a prime spot to get fantastic views, craft drinks, and delicious, locally inspired small bites, burgers, sandwiches, and more. Cocktails like the Tequila-Pom Mule, made with spiced orange syrup, tequila, pomegranate juice, and ginger beer, will provide a refreshing treat while lounging on the stylish patio area.
Sky Bar at the Hilton Virginia Beach Oceanfront—Virginia Beach
You've never seen the Virginia Beach shoreline like this before! On the rooftop of the Hilton Virginia Beach Oceanfront Hotel, Sky Bar is 21 floors up from the sandy beachfront, with magnificent 360-degree views that include Virginia's Eastern Shore, the North Carolina border, downtown Norfolk, and of course, the dazzling Atlantic Ocean. The rooftop bar and club often hosts live DJs for their dance parties, and the cocktail menu blends traditional recipes with coastal ingredients to create inventive and summer-inspired drinks. The hotel features two award-winning restaurants, Catch 31 and Salacia, on the lower levels where you can get dinner during your visit.
The Skyline Grill at the Virginian Hotel—Lynchburg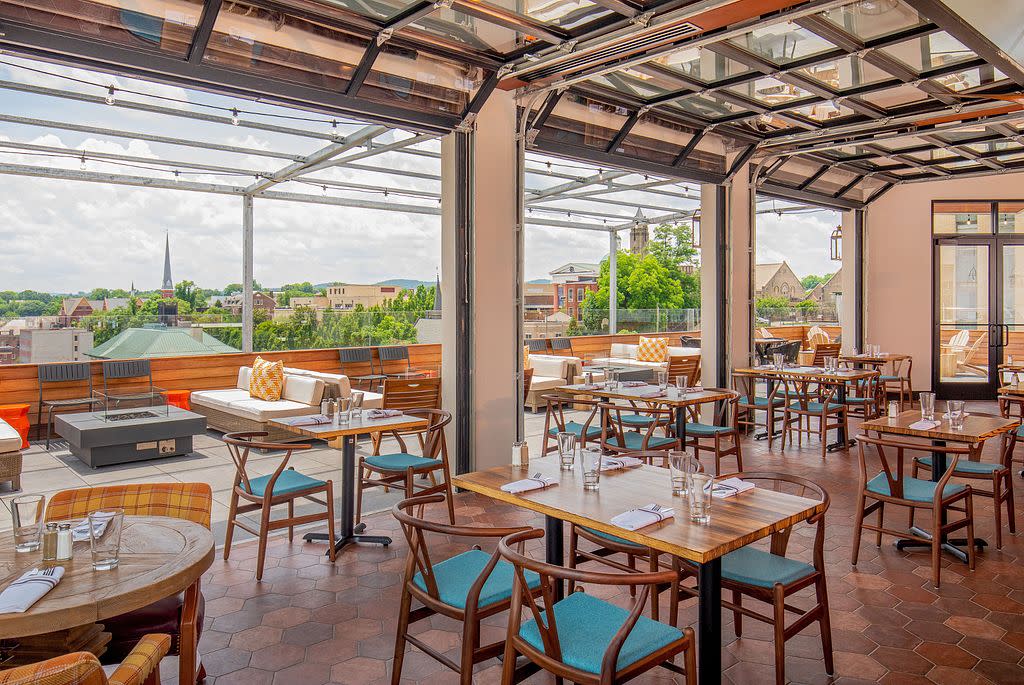 Photo Credit: John Bellenis
Lynchburg's first and currently only rooftop dining destination The Skyline Grill at the Virginian Hotel has both indoor and outdoor dining options in the rooftop restaurant, separated by glass garage doors left open during sunnier days. You can order a charcuterie platter or a few appetizers to share with friends, but if you're in the mood for a hearty meal, they also offer a full entree menu, featuring dishes like pork belly wrapped cod, pan seared hanger steak with a wild mushroom demi-glace, and goat cheese crusted pork medallions topped with a sweet onion sauce, apple butter, and roasted brussel sprouts. Try one of the libations from their seasonally-inspired drink menu, from craft cocktails and draft brews to a wide variety of internationally sourced wines. Snuggle by the fire pits during chillier nights as you take in the surrounding scenery from the perfect vantage point of the rooftop couches.
The Byrd House at the Graduate Richmond—Richmond
On the top level of Richmond's Graduate Hotel, The Byrd House is a brilliant pun on the city's founder, William Byrd II, as well as a play on words for the bar's sky-high perch. In addition to the bar and restaurant, the Byrd House also features a sleek poolside area for sunbathing and swimming. Cocktails, craft beers, and wines, including a refreshing frosé (frozen rosé slushies!) make up the drink list, while the "Byrd Food" consists of chips, dips, and larger fare like burgers and chicken sandwiches.
Grain Rooftop Beer Garden at the Hilton Norfolk Main—Norfolk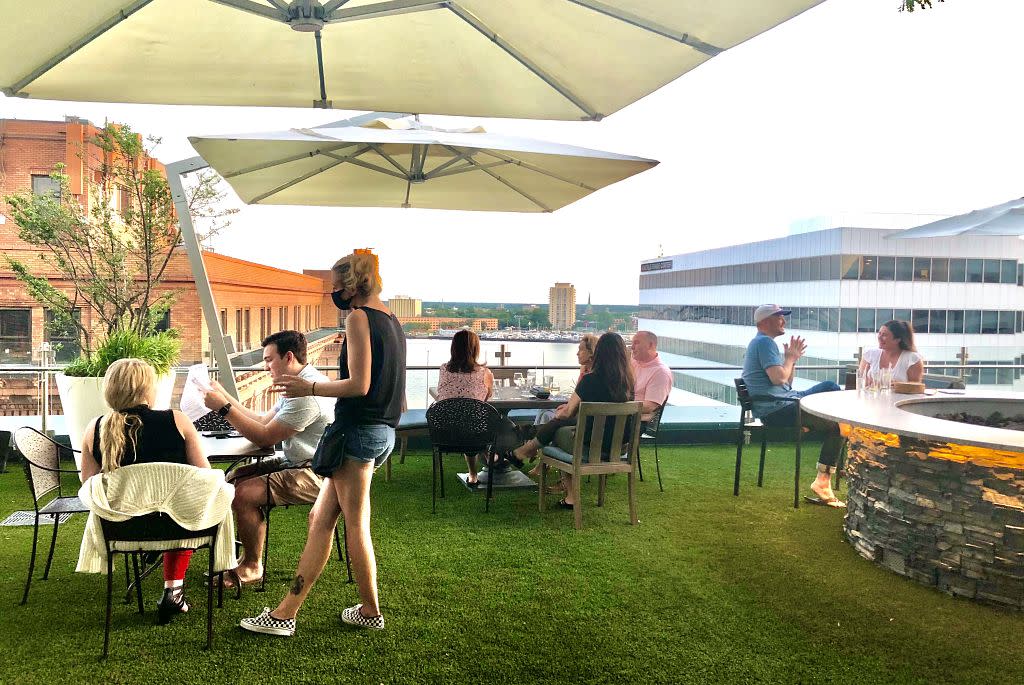 Photo Credit: Nicole Nussbaum
The Grain Rooftop Beer Garden at the Hilton Norfolk Main Hotel has one of the best selections of craft beer in Norfolk, and that is saying something in a city that is known for its impressive collection of craft breweries and brewpubs. Not a craft beer drinker? The drink menu also features a selection of specialty cocktails and wines. The beer garden's terraced patio provides views of the Elizabeth River and downtown Norfolk, and is decorated with landscaped trees, twinkling lights, and a stylish yet cozy gas fire pit. Play a game of pool with friends in the upscale billiards room or sharpen your wits during a round of lawn chess in the patio's backyard "garden" area. Before leaving snap a picture in the restaurant's free photo booth to commemorate a memorable evening.
Arlington Rooftop Bar & Grill—Arlington
If you're in search of epic views near Washington, D.C., visit Arlington Rooftop Bar & Grill, an outdoor bar, restaurant, and lounge that overlooks downtown Arlington. The decor has a distinctly natural vibe, comprised mainly of stone slabs and natural woods that cover the walls, floors, tables, chairs, and even the bar. Strings of lights illuminate the patio area after dark, but try to arrive before dusk to catch a stunning sunset over the city. Snack on appetizers like crab dip and chips, fried calamari, chicken wings, or bacon-wrapped shrimp, then choose from their wide array of sandwiches, salads, or signature entrees if you're still hungry. The cocktail menu is fairly small, consisting of only a few signature drink options, but they have over a dozen beers and ciders on draft and a decent selection of sparkling, white, red, and rosé wines.
The Sessions Hotel Rooftop Bar—Bristol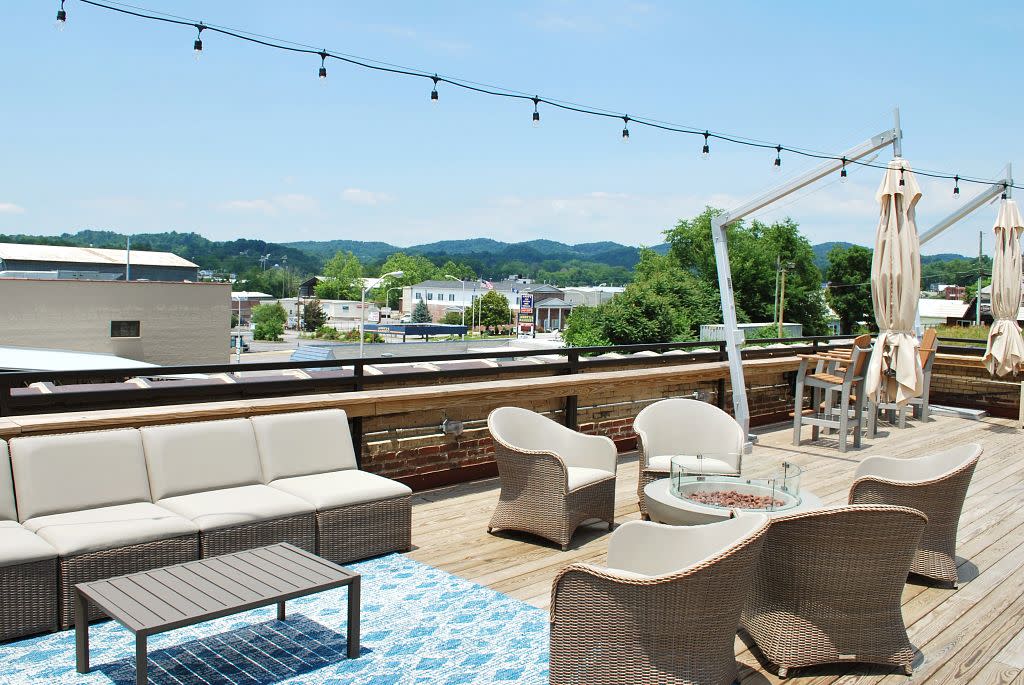 The second rooftop hotel bar in downtown Bristol, The Sessions Hotel Rooftop Bar & Lounge  offers uninterrupted views of the city skyline and the Appalachian Mountains, and during the chillier months, you can cozy up around one of their fire pits while you sip on carefully crafted seasonal cocktails to stay warm.
The Trophy Room at the Graduate Hotel—Charlottesville
Charlottesville's highest rooftop bar, The Trophy Room, is located atop the stylish Graduate Hotel, nine floors above the city's historic Main Street. The vibe is distinctly lighthearted and carefree, inviting you to remember the fun of childhood summer camps while enjoying an array of adult beverages, including a selection of cocktails cleverly contained in pouches that resemble Capri Suns. Food options maintain the casual atmosphere and include easy eats like nachos, cheeseburgers, and crinkle-cut fries.
Other Rooftop Restaurants & Bars Around Virginia: