United States Route 58 is a scenic stretch of road coursing east to west across southern Virginia. One can reach Virginia Beach from Cumberland Gap on the KY/TN/VA border in 10 hours. Not the fastest route for eager beach-bounders, to be sure, but worthy of a being the trip when you stretch it over a couple of days and take in these sites along the way.
Explore these 350+ miles' worth of beautiful Southern Virginia scenery, culture, music and more.
CUMBERLAND GAP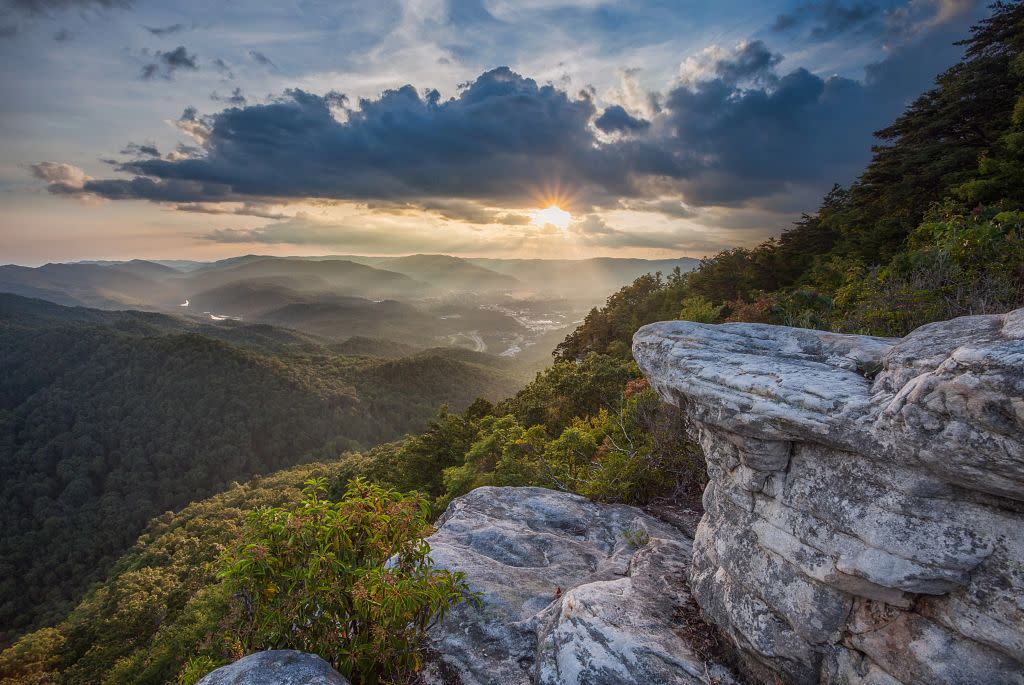 photo credit: Michael Speed, IG account: @photosbyspeed
Immensely beautiful and rich with westward migration history, Cumberland Gap National Historical Park is a great place to begin your adventure. The great pioneer, Daniel Boone, forged his way through the Gap to lead homesteaders to settle the west. There are more than 70 miles of trails to explore, Gap Caverns, and the Hensley Settlement, too, not to mention this place is a nature and landscape photographer's paradise.
It's fitting that this journey begins with Cumberland Gap, perhaps the main point of interest along The Wilderness Road: Virginia's Heritage Migration Route. As it turns out, Route 58 is named Wilderness Road between the Gap and Jonesville, and then Daniel Boone Trail between Jonesville and Duffield.
NATURAL TUNNEL STATE PARK
Photo Credit: Scott K. Brown
Duffield is where you'll find the Natural Tunnel State Park and its centerpiece, the 10-story natural tunnel which remains an active thoroughfare for Norfolk Southern and CSX coal cars. Points of interest here include the tunnel itself, the view of it from a chairlift (especially amazing at Christmas when it's lit!), trails to places like Lover's Leap, and of course, the scenery.
Cabins and camping are available at Natural Tunnel, even cabins big enough for more than a few people. It's a great place to overnight before continuing your road trip.
HOBNOB DRIVE-IN & CARTER FAMILY FOLD
Authenticity. Really, there's nothing but authentic in this part of Virginia. Local hangouts, traditions, lore ... get a bit of it all with lunch and a quick detour.
The HobNob Drive-In in Gate City serves up a quick-order counter lunch that you'd expect from a 1950's diner style establishment (which it is). The burgers are big and juicy; the shakes? Divine. It's the perfect stop before checking out Carter Family Fold - a story of music and a slice of Americana.
If you're a country music fan, you have the Carter Family of Hiltons, VA to thank. A.P., his wife Sara and her cousin Maybelle recorded 300 songs between 1927 and 1942. Their genre was traditional Appalachian, which led the way for their family (June Carter Cash and husband Johnny Cash) and today's country musicians to record music and reach the masses. When you head off the beaten path of 58 into Hiltons and A.P. Carter Highway, the Fold is a quick three miles up the road on your left. A.P.'s general store is a museum, the old homeplace has been reconstructed on site, and the music center hosts bands every weekend. Saturday is the only day you can get inside to visit, so plan accordingly.
BIRTHPLACE OF COUNTRY MUSIC MUSEUM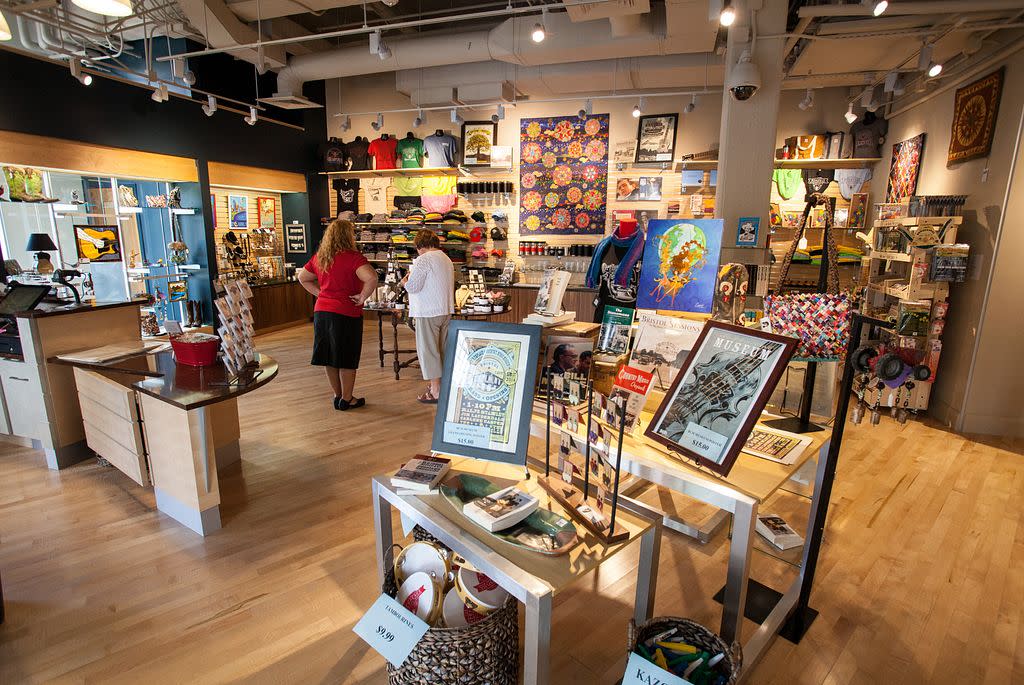 Continue on 58/421 to State Street in Bristol - the one street (and city) that is actually in two states. On the left, you're in Virginia. The right; Tennessee. Your stop here is the Birthplace of Country Music Museum. If you've timed your travels such that you're ready for a bite to eat, might I suggest Burger Bar? It holds history of its own (I mentioned lore before, right?). It's said that Hank Williams enjoyed his last meal at Burger Bar. In fact, "they say" this was the last place he was seen in public.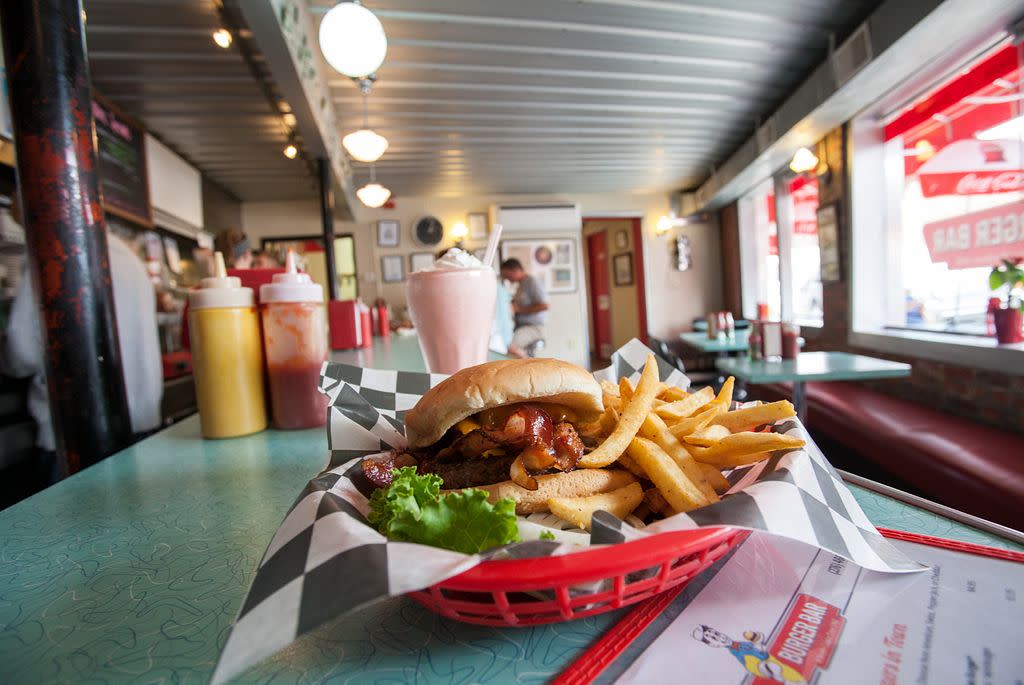 So about the Birthplace of Country Music Museum ... It is dedicated to the 1927 Bristol Sessions. Those sessions in which the aforementioned Carter Family was a big part of, and the sessions that launched the country music industry into the juggernaut we know today. The Museum is an affiliate of the Smithsonian Institution, meaning you're going to have an incredible experience in this new facility.
ABINGDON
To get back on track, take Route 113 north to Route 11 where you can drive on to Abingdon. This is another great place to stretch your legs and see something new and beautiful. See The Barter Theatre (the State Theatre of Virginia), take in the grounds, spa ... rooms? of The Martha Hotel, and enjoy great dining and artisan shopping.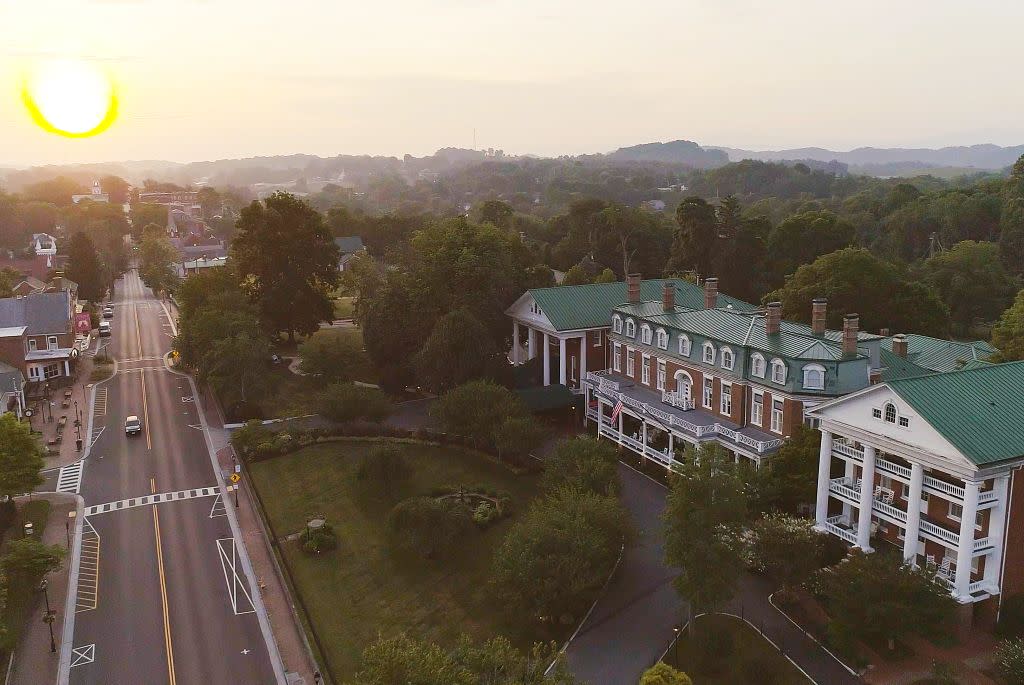 photo credit: Sam Dean IG: @sdeanphotos
VIRGINIA CREEPER TRAIL
The Virginia Creeper Trail has trail heads in Abingdon, Alvarado, Damascus, Creek Junction and Whitetop Station. Damascus is the next stop along your Route 58 adventure. My recommendation (for what it's worth) is to go on to Damascus and connect with a bike service company for bike rental and shuttle to the top -- Whitetop Mountain. From there you can coast down (YES!) to Damascus. It's about 18 miles down (but you're coasting), so supper at Damascus Old Mill Inn and an overnight might be in order, depending on your pace.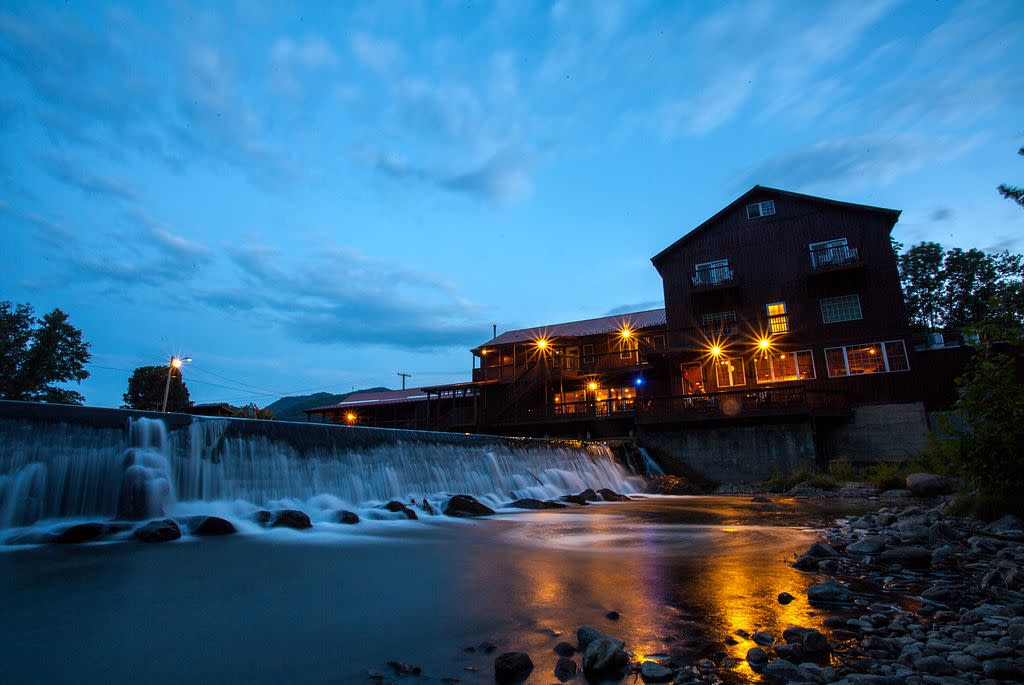 GRAYSON HIGHLANDS STATE PARK
If you're not into cycling or are otherwise into scenic views, Grayson Highlands State Park is your next stop. Waterfalls, overlooks, and Virginia's highest peaks are found here.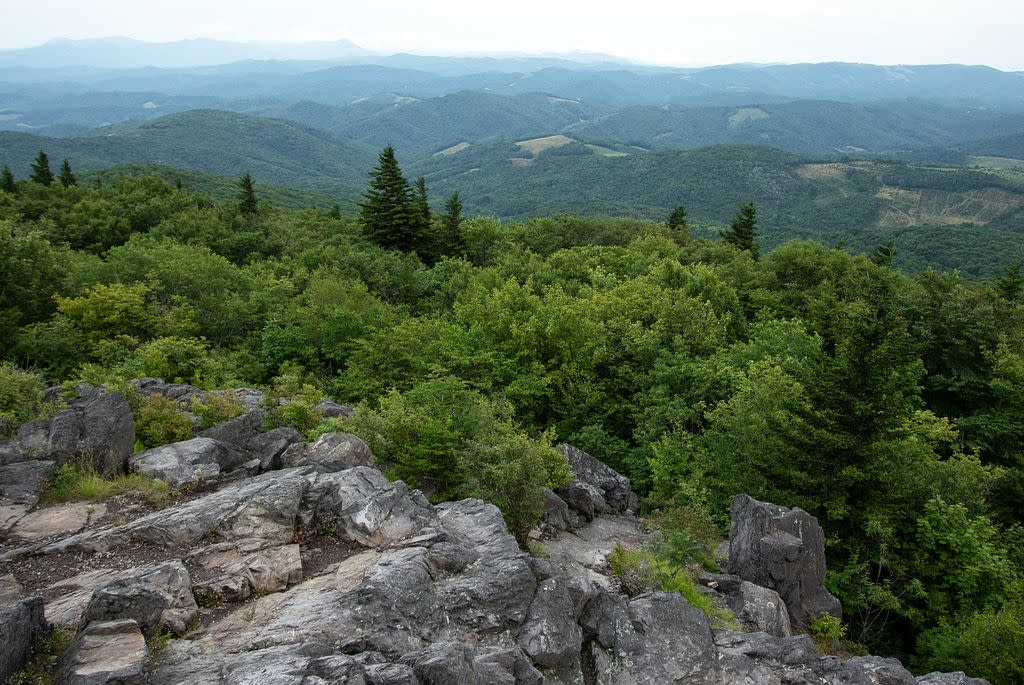 photo credit: Trevor Frost, IG account: @tbfrost
GALAX: MUSIC, MOUNTAINS, RIVER, FUN
If you've never heard of the Galax Old Time Fiddlers' Convention, you're missing out. It's the oldest and largest fiddlers' convention in the world, and it happens annually the second week of August. Can't make it? Plan to pass through on a Friday night so you can enjoy a live airing of Blue Ridge Backroads, a radio show at the Rex Theater. It's a showcase of old time and bluegrass bands that has been airing since 1999. Or, in the summer months, make a beeline south down Route 89 to Blue Ridge Music Center at milepost 213 on the Blue Ridge Parkway. There you'll find an amphitheater hosting musical acts on the weekends, though there are sites, music and more available most any day of the week.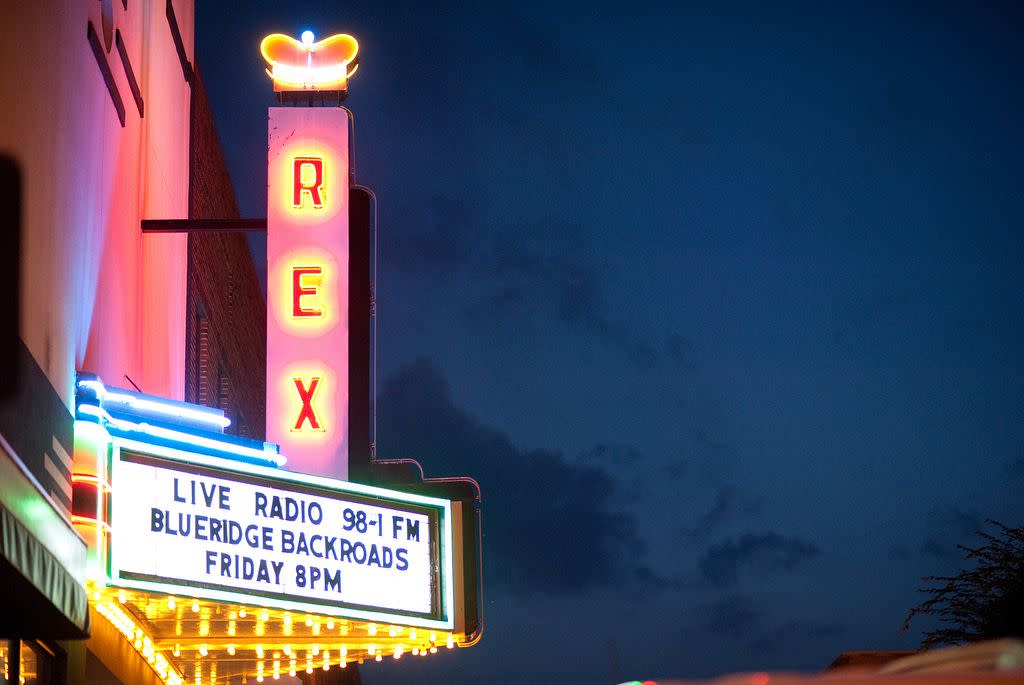 Photo Credit: Emily Miller
Considering the music heritage of the city and region, it's only fitting that a LOVEwork created of string instruments be located in Galax. Find it on Grayson Street, take a photo and tag it #loveva.
Does fishing or floating appeal to you? Contact New River Trips for guided excursions on the New. There's also a great rail trail through New River Trail State Park, perfect for photography, biking, or just taking a stroll.
HILLSVILLE DINER
Virginia's oldest continuously operating streetcar diner is Hillsville Diner in Hillsville. It was built in the 1920's and has been operating in Hillsville since 1946. It's the perfect nostalgic stop for cheap, short order food and an authentic diner experience.
BLUE RIDGE PARKWAY DETOUR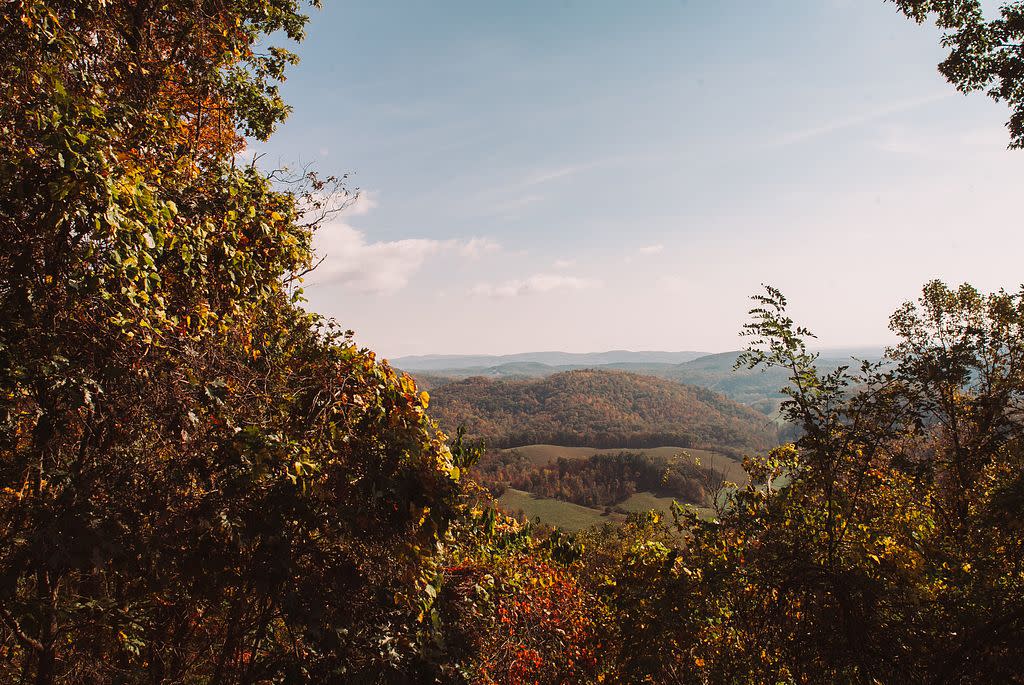 pilot Mountain Lookout. photo credit: Kim Rakes
This detour is worth it! Take Route 52 south of Hillsville to pick up the Blue Ridge Parkway at Fancy Gap.
Milepost 189.9: Orlean Hawks Puckett Cabin - See a preserved log cabin with rail fencing, the home of Orlean Hawks Puckett, a mid-wife who assisted with more than 1,000 deliveries from 1890 to 1939.
Milepost 189: Doe Run Lodging - If you need a place to stay, these chalets, villas and log homes have beautiful views from their perches atop Groundhog Mountain.
Milepost 189.1: Pilot Mountain Scenic Overlook - Check out the Carolina Piedmont below Pilot Mountain.
Milepost 188.8: Groundhog Mountain Overlook - Here you'll find a picnic area with grills and tables, not to mention an observation tour to take in the views.
Exit the Parkway at Meadows of Dan to pick up Route 58
FRESH GOODIES AT POOR FARMER'S, MEADOWS OF DAN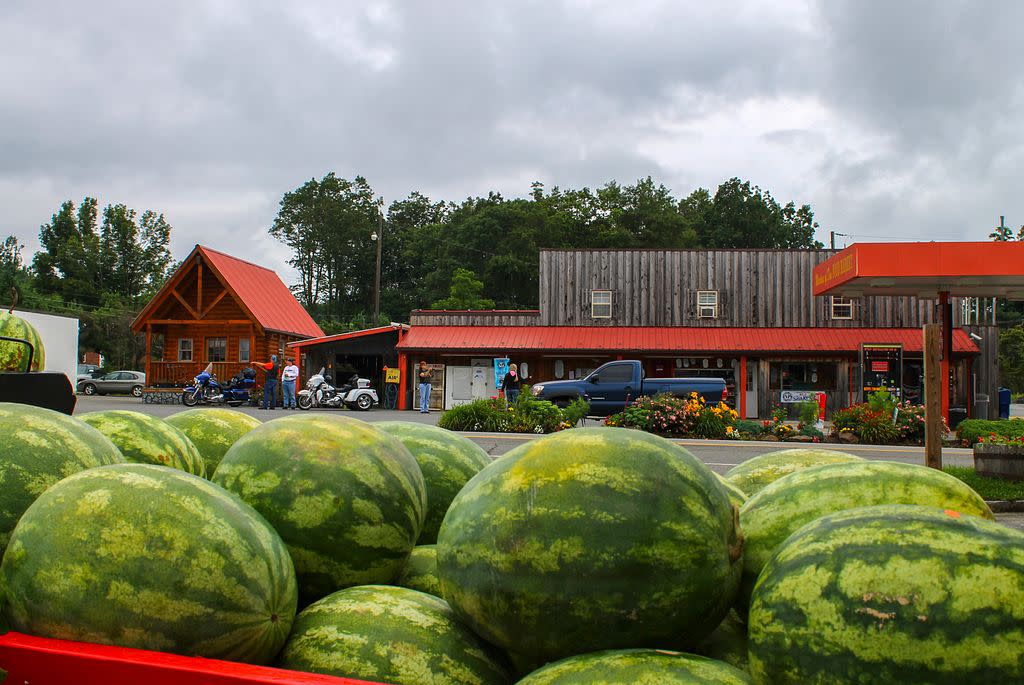 Poor Farmer's. photo credit: Randall Rose
Don't pass by Poor Farmer's, a country store dishing out homemade fudge and pies, fresh produce, hoop cheese, old fashioned candy, and plenty more. Rock a bit on the front porch while you're there.
SPEED IN STUART
No, don't speed in Stuart, but definitely find speedy things in Stuart, like NASCAR Sprint Cup stock cars at the Wood Brothers Racing Museum! The Wood Brothers have been involved with NASCAR from nearly the begining of NASCAR's inception. Their biggest, recent claims to fame were the 2011 Daytona 500 win by driver Trevor Bayne, Glenn Wood's induction into the NASCAR Hall of Fame in 2012, Leonard Wood's induction in 2013, and Wood Brothers Racing's 2014 distinction by Guinness Book of World Records for being the Longest Active NASCAR Team (64 years then, 65 now [Happy Anniversary!]). You can see the iconic number 21 car on the next track scheduled for competition, and of course, at Virginia's tracks: Martinsville Speedway and Richmond Raceway.
If a visit to WBR Museum isn't enough, check out the Virginia Motorsports Museum and Hall of Fame, detailing moonshine's contribution to the birth of NASCAR, and showcasing various cars.
FARM STOPS FROM STUART TO MARTINSVILLE
Take a short detour off of 58 down Route 680 to Stanburn Winery, an 11-acre family vineyard and winery. Try their Traminette, Highfly, or Cabernet Franc, all gold medal winners in the 2014 Mid-Atlantic Southeastern Wine Competition.
Seventeen miles away and continuing on Route 58 is Stonehaus Farms, a petting ranch offering one-hour farm tours featuring Nigerian dwarf milking goats, llamas, donkeys, and more. Take home a bit of the farm with soy and beeswax candles or hard cheeses.
MORE IN MARTINSVILLE-HENRY COUNTY
- Virginia Museum of Natural History -

Pay a visit to Piedmont Arts, a museum displaying beautiful, varying media from international, national and regional artists. Children have a home here, too. The Discovery Room is just for them. It's a mini art studio!
The Virginia Museum of Natural History is also a place to play. This world-class facility is associated with the Smithsonian Institute and has many events and programs offered year round. Their exhibits include ancient life, discoveries found in Virginia, Native American life, and much more. If your visit coincides with one of their "Night at the Museum" sleepovers, you are in luck!
When considering food, there are a few places that should be on your radar:
ALSO SEE: Murals of Virginia
Do you have have a rough and tumble child in your midst? Perhaps he or she would get a kick out of seeing a motorcross race or practice session at Lake Sugar Tree Motorsports Park in Axton.
DANVILLE: SOUTHERN MILLIONAIRES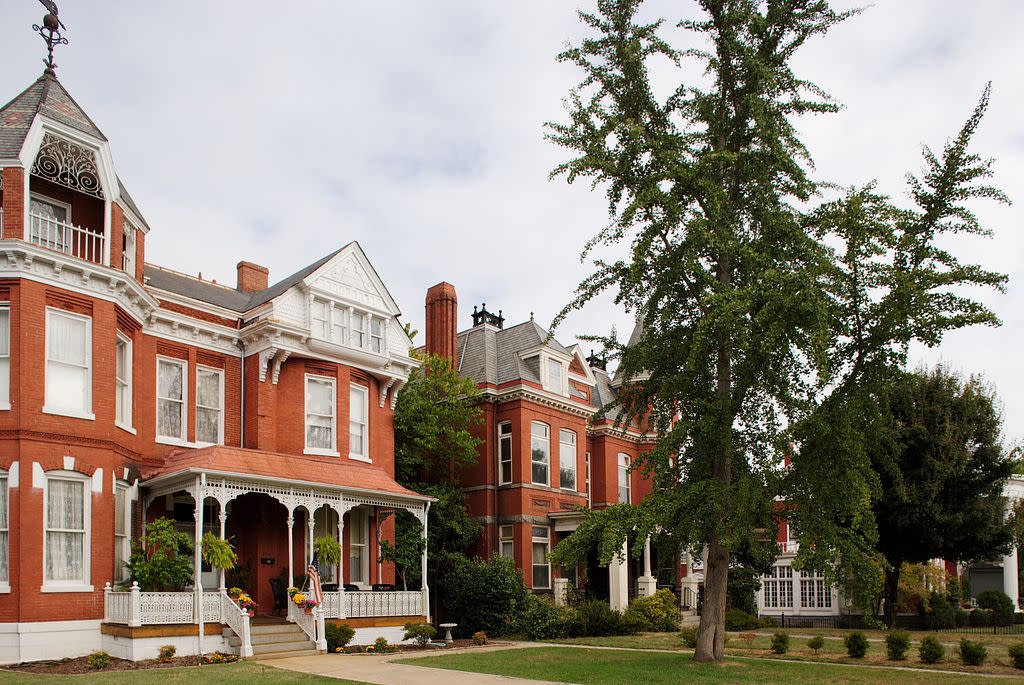 Millionaire's Row. photo credit: Cameron Davidson
No visit to Danville is complete without a drive (or walk) down Millionaires Row (Main Street). This stretch of homes is "one of the preeminent collections of Victorian and Edwardian architecture in the South." Tobacco and textiles were the cash engines of Southern Virginia, and these homes reflect those prosperous times.
Within Millionaires Row is the Danville Museum of Fine Arts and History, which happens to find itself in storied Sutherlin Mansion, the place from which Confederate President Jefferson Davis wrote his final proclamation and met with his cabinet for the last time. It is with this history that Suthernlin Mansion is known as "The Last Capitol of the Confederacy."
The first woman seated in the British House of Commons as a Member of Parliament was born in Danville, Virginia. Nancy Langhorne is better known as Lady Astor, and you might have also unknowingly heard of her sister Irene, the "Gibson Girl." Visit The Langhorne House to see Lady Astor's coronation ensemble worn to the coronations of both King George VI (1936) and Queen Elizabeth II (1952). It's on loan from the Valentine Museum through October 2015.
In the Tobacco Warehouse District of Danville you'll find none other than the Golden Leaf Bistro, an upscale dining option that sources local ingredients to craft seasonal specialties. They're open for brunch, lunch and dinner, and offer a tapas menu and full bar.
Work in a fun stop for the kids at the Danville Science Center. Running off some steam and getting hands-on will do a family good.
After leaving Danville, travel east along Route 58 about 20 miles to get to the Virginia International Raceway in Alton, which is known as "America's Motorsport Resort". The raceway has a full calendar of events, but some of the biggest racing events this year include the Oak Tree Grand Prix, the MotoAmerica Mid-Atlantic Superbike Doubleheader, and Hyperfest, a festival that showcases a variety of car racing contests.
SOUTH BOSTON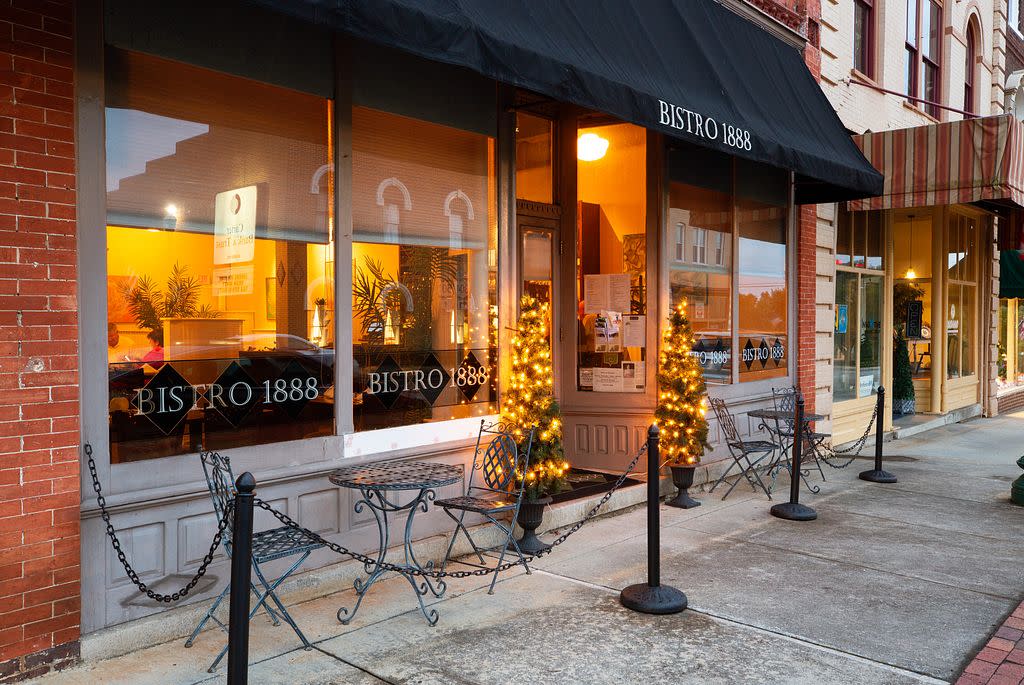 Downtown South Boston
Much like Danville, South Boston has a rich tobacco heritage and a Tobacco Warehouse District. Within the district is The Prizery, an arts and cultural center. The building itself is on the National Register of Historic Places. It is so named because of its tobacco past. Tobacco was "prized" (pressed) for shipping. The leaves were pressed by the layer into barrels and those barrels were shipped for sale via the railroad or the Dan River. A visit to The Prizery today includes an art gallery, a Revolutionary War exhibit called "Crossing of the Dan," and perhaps entertainment in the 250-seat theatre.
If you skipped Danville dining, take a look at BISTRO 1888. You'll also want to take a photo with the LOVEwork at the visitor center. It captures everything that South Boston is known for, including stock car racing. If your timing is right and you have the interest, feel the thunder of roaring engines at South Boston Speedway, a NASCAR-sanctioned "Home Track" that cultivated talent like Ward and Jeff Burton, Elliott and Hermie Sadler, and Denny Hamlin.
Turn in for the night at Berry Hill Resort, a 1728 650-acre historic treasure complete with golf, spa and recreation.
CLARKSVILLE: VIRGINIA'S ONLY LAKEFRONT TOWN
Fishing in Buggs Island Lake
As you head into Clarksville, take Route 58 business to experience downtown. If you're a water sports enthusiast, this is an awesome place to spend some time. Buggs Island Lake / Kerr Reservoir is Virginia's largest lake and boasts the IGFA World Record for a blue catfish catch. Additionally, In-Fisherman named it the number one crappie fishing lake in the United States. Rent a pontoon for the day at Clarksville Marina.
If you're hungry, try Lamplighter Restaurant or Cooper's Landing Inn & Traveler's Tavern.