Paddling in Virginia has never been better – or easier, with the rise of paddling trails, more put-ins and takeouts, and the opening of previously unpaddled waters. In Virginia, you can canoe or kayak the coastal environs of the Eastern Shore, Chesapeake Bay and Virginia Beach. Or you can go inland to freshwater rivers scenically coursing through the Piedmont. And then there's the mountains where boisterous rivers sing through the Appalachian highlands. Outfitters operate throughout the state, helping with kayak and canoe rentals as well as shuttles.
To sweeten the pot, Virginia features paddling towns where the nexus of excellent paddling, exciting places to eat and drink, as well as off the water attractions combine to create ideal vacation getaways for kayakers and canoers like us. Explore towns like Luray and Front Royal, nestled on the banks of the South Fork Shenandoah River, where you can paddle, hike, camp, explore caves, plus discover additional attractions. Food and landward fun add to the Virginia paddling experience.
So read on to find Virginia's best towns for paddlers and create your base camp of fun on and off the water.
LURAY/FRONT ROYAL
Photo Credit: Cameron Davidson
Nearby Waters: South Fork Shenandoah River, North Fork Shenandoah River, Shenandoah River
Nearby Outfitters: Shenandoah River Outfitters, Skyline Canoe, Downriver Canoe, Front Royal Outdoors
Paddling Opportunities
The South Fork Shenandoah River winds for 97 miles through its valley, bordered by Shenandoah National Park to the east and Massanutten Mountain to the west. Characterized by sweeping bends and clear water, the South Fork is primarily Class I waters, with some Class II spots. Several outfitters operate on the river, if you are in need of kayak or canoe rental or a shuttle. The state of Virginia avails 20 public boat ramps along the South Fork, making varied trips easy. Nearby, the smaller North Fork Shenandoah River, across Massanutten Mountain, provides additional paddling possibilities. Six public access points help boaters get on the water. The North Fork does have some dams, and is subject to low water in late summer. The South Fork is bordered in places by the Jefferson National Forest, making overnight trips a possibility.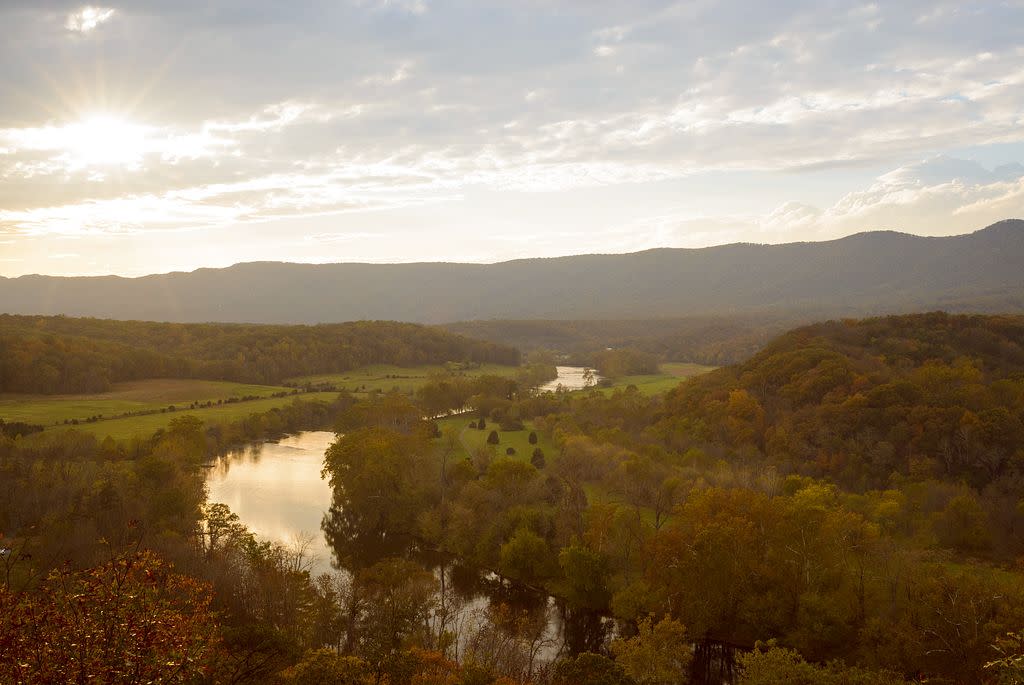 Photo Credit: Tony Hall
The main stem of the Shenandoah River – where the South Fork and North Fork converge -- begins at Riverton, near Front Royal, and presents 40 miles of big river floating before it flows into West Virginia near Berryville. Multiple access points allow day trips of different lengths.
Landward Outdoor Adventures around Front Royal and Luray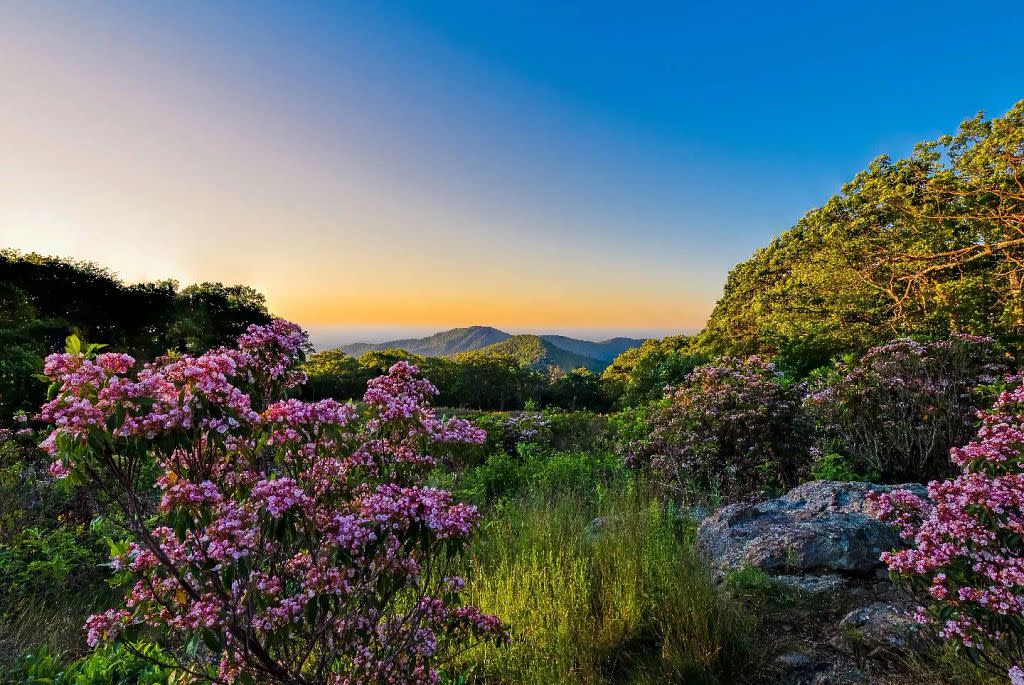 Luray and Front Royal are ideally suited to explore Shenandoah National Park, just a few miles distant. Tour the park on Skyline Drive, head to Big Meadows, visit some of the numerous waterfalls, overlooks and historic sights at Virginia's biggest national park. A few miles distant, the George Washington National Forest presents additional outdoor opportunities. Overnight at Camp Roosevelt, site of the oldest Civilian Conservation Corp camp in the United States. Mountain bike the Massanutten Mountain Trail, a 71-mile loop path. Tackle the 40-mile network of Peters Mill and Taskers Run OHV trails.
Other Nearby Adventures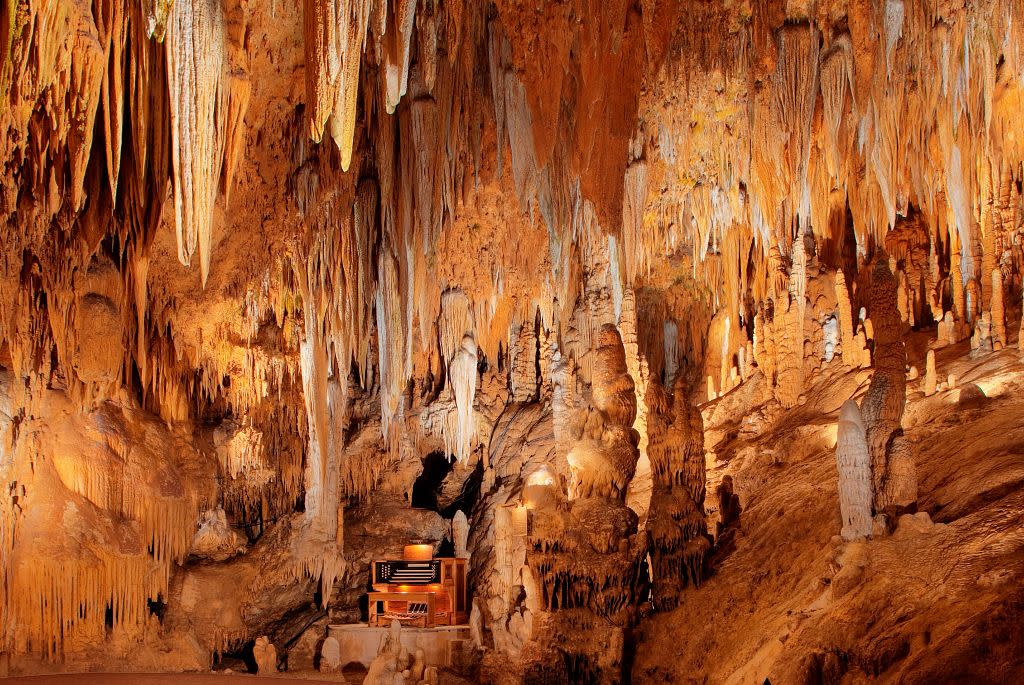 Image Courtesy of Luray Caverns
Luray Caverns is a perennial family favorite. This underground – and aboveground – attraction continues to expand. Add adventures in a garden maze, ropes course and museums to the already rewarding cave tour.
You may be surprised how much fun Luray Rescue Zoo can be. This child-friendly destination offers educational shows during weekends. It's a good value for the number of animals you'll see.
BUCHANAN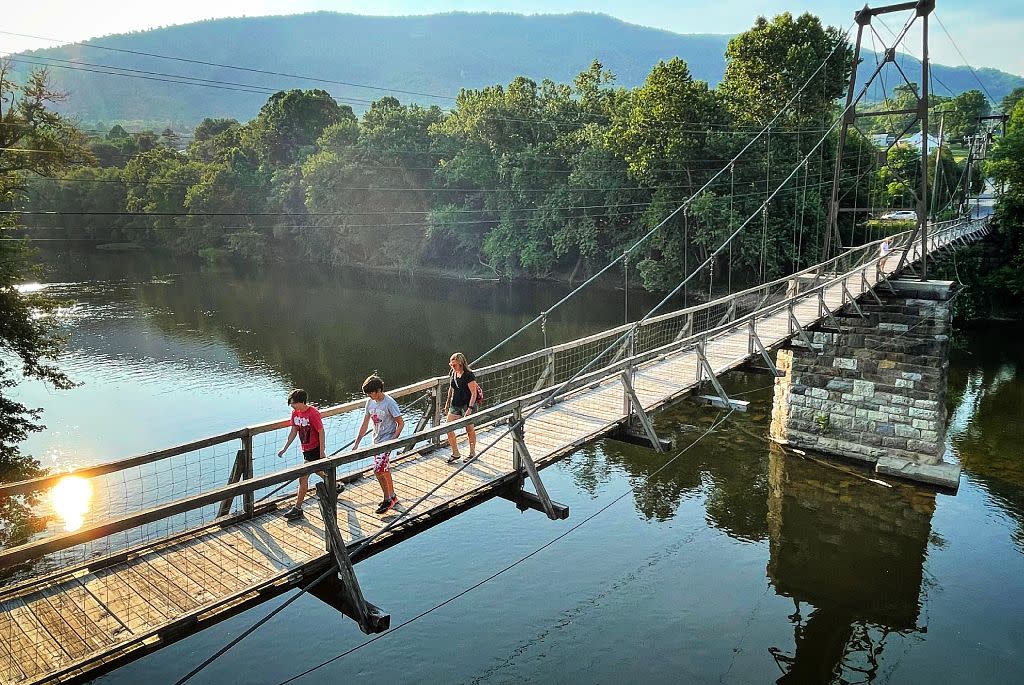 Nearby Waters: Upper James River, Maury River, Jackson River, Cowpasture River, Lake Moomaw, Douthat Lake
Nearby Outfitters: Twin River Outfitters, Wilderness Canoe Company
Paddling Opportunities
The upper James River is the linchpin paddling destination for the greater Buchanan area. Here, the Upper James River Water Trail covers the uppermost 64 miles of the James River and 10 miles of the Maury River. Access points are plentiful. The upper James winds through the Appalachians between the towns of Clifton Forge and Alpine. Though in mountainous terrain, the vast majority of rapids on the river are Class I-II, making it doable by most paddlers. However, there are a few Class III segments.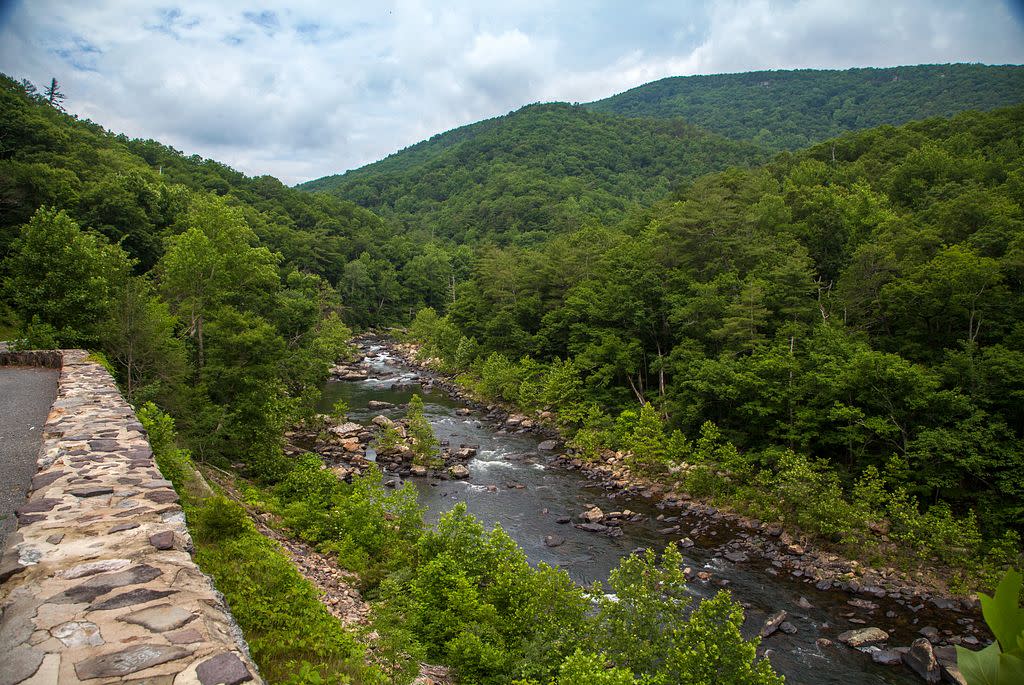 Photo Credit: Matt Maier
The Maury presents 37 miles of aquatic excitement from Goshen Pass down to its confluence with the James River. The first 5 miles are the hairiest – and the most popular – but the lower stretch gives up-and-coming paddlers a chance to build their skill set. From Rockbridge Baths down, the Maury River has many strong Class II rapids as it heads to Lexington, a good training segment. The section from Lexington to Buena Vista is beginner friendly, mostly Class I with some Class II. However, the Maury's final run between Buena Vista and Glasgow, where it flows into the James, is more challenging.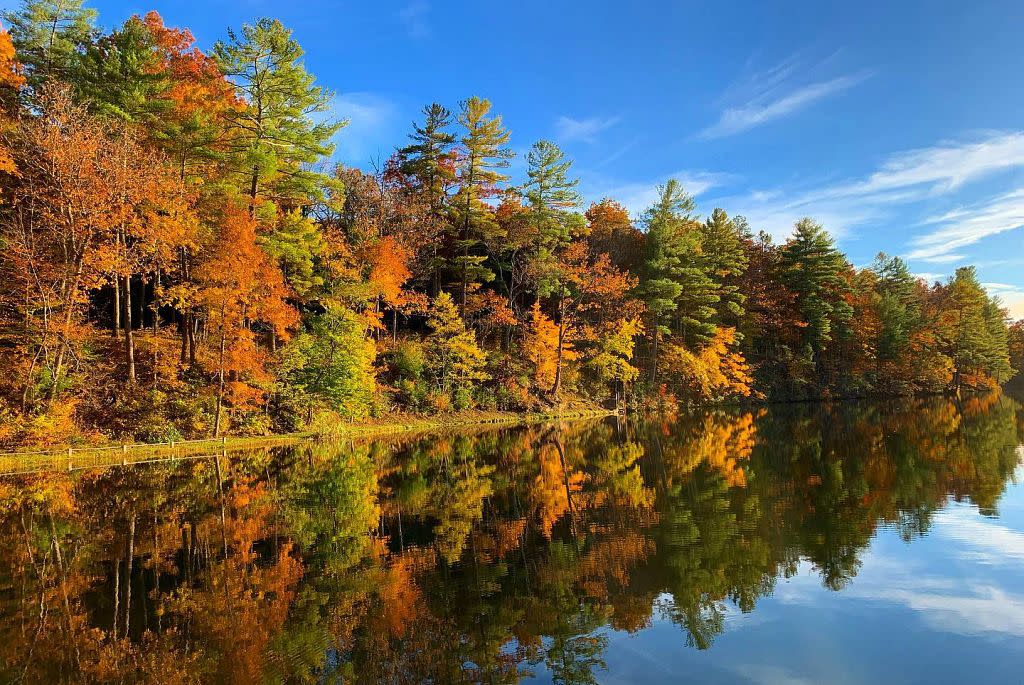 The Jackson and Cowpasture Rivers merge to form the James. These two waterways, along with Lake Moomaw, where the Jackson is dammed and Douthat Lake, of Douthat State Park fame, together form the Alleghany Highlands Blueway, all within easy striking distance of Buchanan. Lake Moomaw and Douthat Lake provide flatwater paddling opportunities, while the Jackson and Cowpasture are highland waterways with 40 more miles of paddler-friendly.
Landward Outdoor Adventures around Buchanan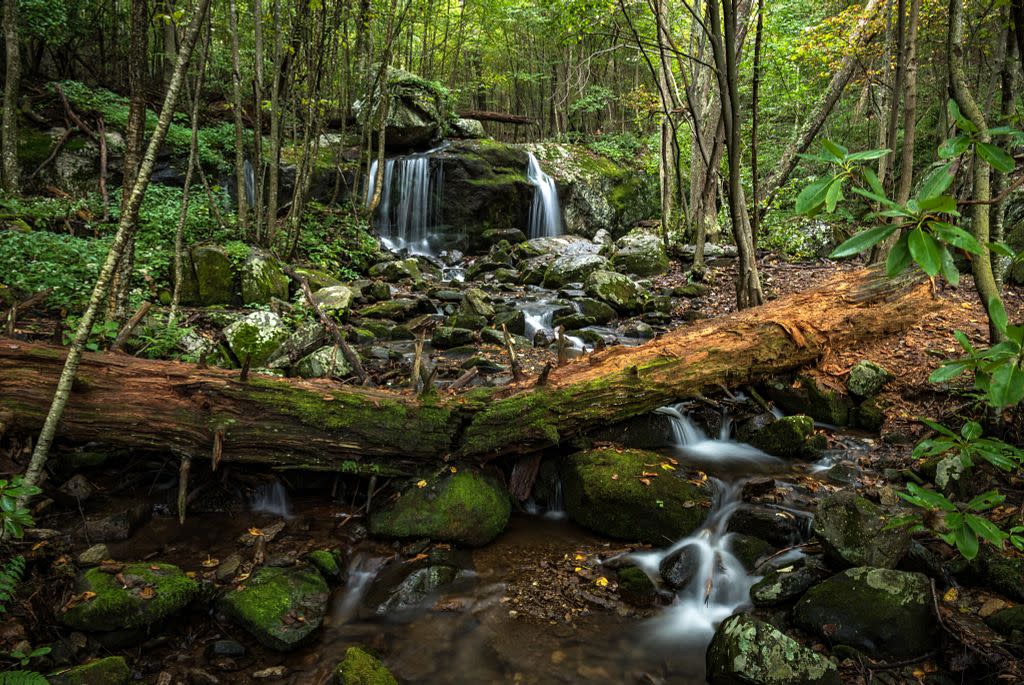 Take a trip to Douthat State Park, one of Virginia's 6 original state parks. Hikers, mountain bikers and equestrians can enjoy the trails that lead along the park lake, to waterfalls and overlooks. Rent a boat and explore the lake. In the nearby Jefferson National Forest, you can hike the Appalachian Trail, or hike to Apple Orchard Falls and the cataracts along Cornelius Creek. Explore Thunder Ridge Wilderness or the James River Face Wilderness. Camp at Cave Mountain Lake. Take a spin along the Blue Ridge Parkway.
Other Nearby Adventures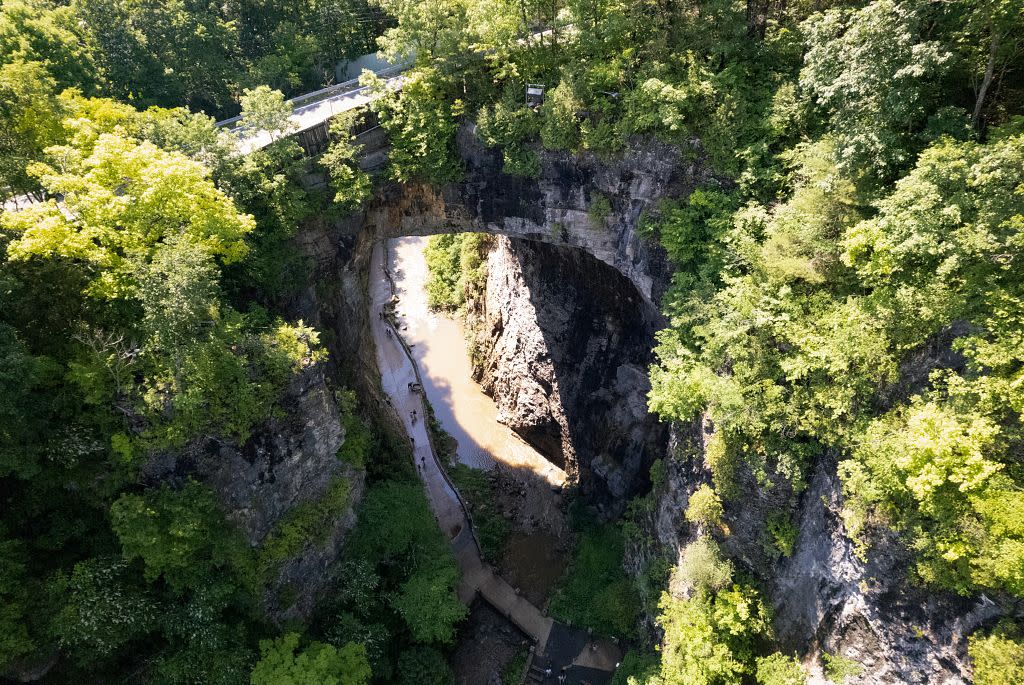 Photo Credit: Chad Williams, @echadwilliams
Natural Bridge State Park- Visit the giant arch at this legendary Virginia outdoor destination, as well as the Monacan Village and Lace Falls. Come visit a full scale replica of the famed English rock masterpiece Stonehenge, cleverly named Foamhenge. Want to check out a throwback tourist attraction, head to Dinosaur Kingdom, where replica dinosaurs take on Union soldiers. Check it out! Drive to downtown Lexington and see history up front and in person -- Robert E. Lee Chapel & Museum, the Jackson Memorial Hall and the George Marshall Museum, all part of the Lexington Historic District.
CHINCOTEAGUE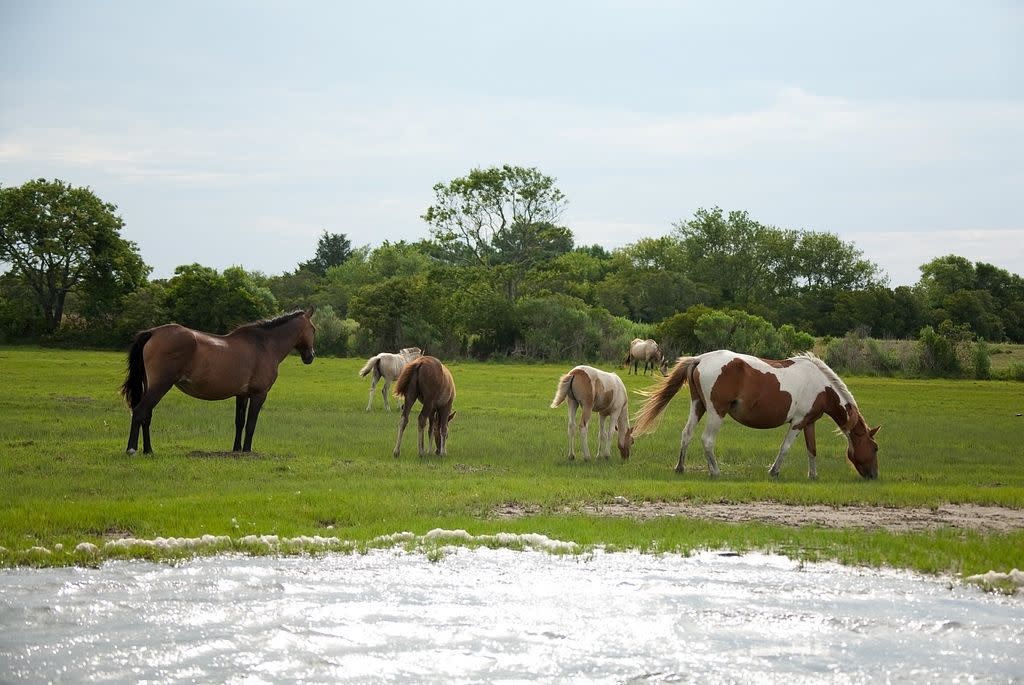 Photo Credit: Bill Crabtree Jr.
Nearby Waters: Chincoteague Bay, Assateague Bay, Atlantic Ocean, connecting tidal creeks and rivers
Nearby Outfitters: Assateague Tours, Southeast Expeditions, Chincoteague Island Outfitters
Paddling Opportunities
Chincoteague is located at the northern end of the 100-mile Virginia Seaside Water Trail, traversing the Atlantic side of the Eastern Shore. The paddling trail is broken into a series of adventures that can be paddled one day at a time. The trail winds its way through some of Virginia's most stunning seaside scenery – coastal marshes, wildlife refuges and beaches.
Multiple launch sites offer beginner, intermediate and advanced routes. If you haven't paddled in saltwater before it is a good idea to go on a guided kayak tour for starters, then strike out on your own. Still other paddling places beckon. Guided tours are available at Chincoteague during the warm season. A popular local paddle leaves Chincoteague and heads out to Assateague Island where the wild ponies roam. There are seven launch sites within the immediate Chincoteague area, allowing you to tailor your paddling trip to the latest tidal and wind conditions.
Landward Outdoor Adventures around Chincoteague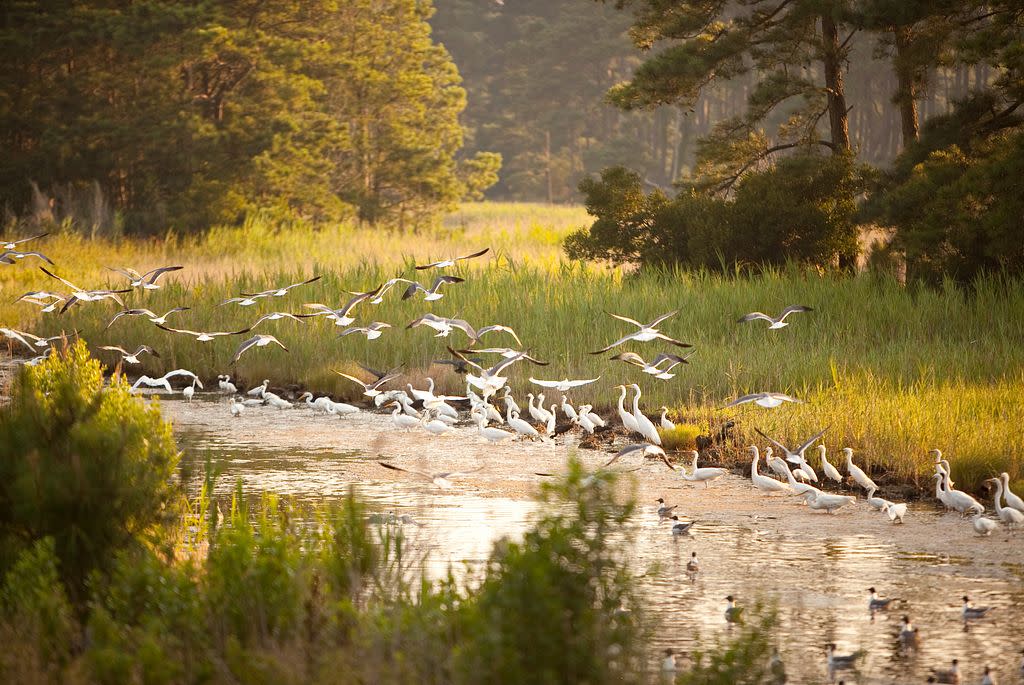 Photo Credit: Bill Crabtree Jr.
Visit Assateague Island National Seashore. Go out to the lighthouse and climb it for a view. Visit the historic preserved coast guard station or just walk the beach. Experience Chincoteague National Wildlife Refuge, one of the most visited refuges in the entire country, much of it due to the wild ponies here and the refuge's access to Assateague Island National Seashore. The 14,000-acre preserve is important for migratory birds but also for nesting and shorebirds such as the piping plover. The Swan Cove Trail leads a half-mile to the beach where shorebirds will be found. Pedal your bicycle on the gated Service Road in search of wild ponies. Use the Marsh Trail to view waterfowl in late fall or head to the observation platform on the other side of the Snow Goose Pool.
Other Nearby Adventures
Want to see the local waters and land the easy way? Consider going on a local boat tour – you might even scout some cool paddling waters. Afterwards, have a waterside meal at The Village Restaurant & Lounge. Yet another way to get on the water is to join a fishing charter from Captain Bob's Marina. Or you can rent fishing gear or crabbing and clamming equipment then strike out on your own.
RICHMOND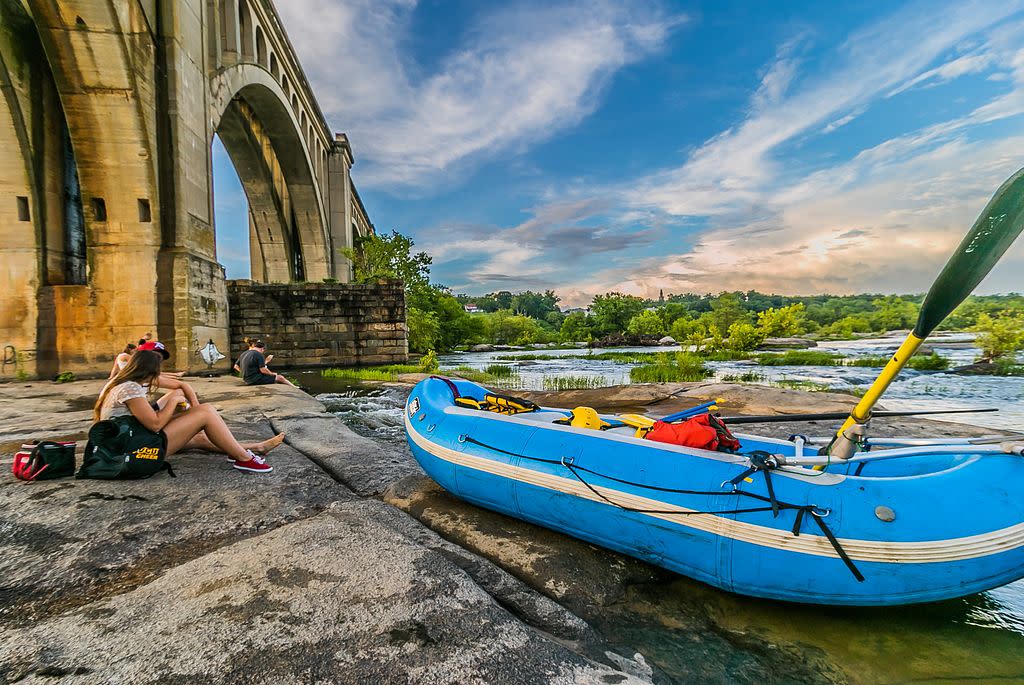 Photo Credit: Mick Anders
Nearby Waters: James River, Mattaponi River, Pamunkey River, Appomattox River, Swift Creek Lake, Lake Chesdin
Nearby Outfitters: Riverside Outfitters, RVA Paddlesports
Paddling Opportunities
Located at the fall line, Richmond is ideally located to enjoy multiple aspects of the James River that flows through the town. Under the gaze of skyscrapers whitewater boaters can tackle 7 miles of exciting rapids, mostly I-II with some Class III thrown in. Upstream, paddlers can float sections of the Middle James River Blueway, which stretches from Lynchburg to Richmond. The James here is big, often shallow with riffles and shoals as well as deep pools with plentiful put-ins and takeouts for day and overnight trips. Below Richmond, paddlers can enjoy the Lower James River Blueway. Here, the tidal James presents friendly, lazy waters, allowing you to concentrate on the scenery at hand rather than on rapids ahead.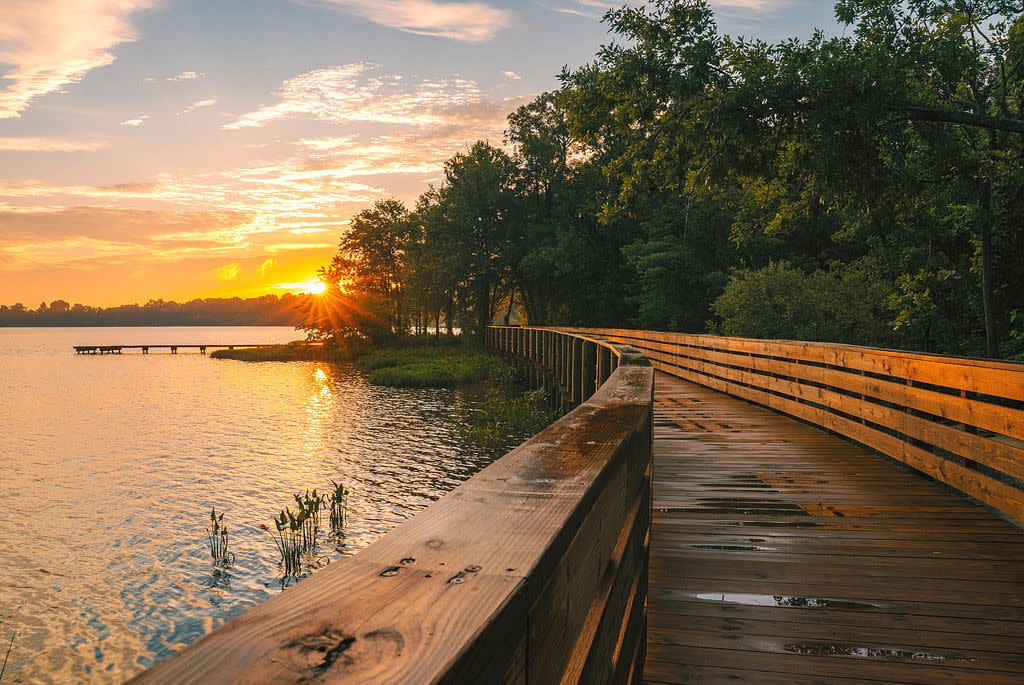 Photo Credit: Daniel Jones
Other nearby rivers include the Pamunkey, Mattaponi, and Appomattox. The Mattaponi starts out as a tree-lined stream then evolves into a tidal waterway. The Pamunkey follows the same pattern. The Appomattox mirrors the James River, with an upper section, a rapids section through the fall line at Petersburg, then a tidal segment.
Swift Creek Lake, inside the bounds of Pocahontas State Park, presents a flatwater paddling destination in a natural setting. Enjoy the narrow park reservoir where canoes and kayaks can be rented. Lake Chesdin – a dammed portion of the Appomattox River – is also a stillwater paddling place. Swift Creek Reservoir is yet another impoundment that can be explored by kayakers and canoers.
Landward Outdoor Adventures around Richmond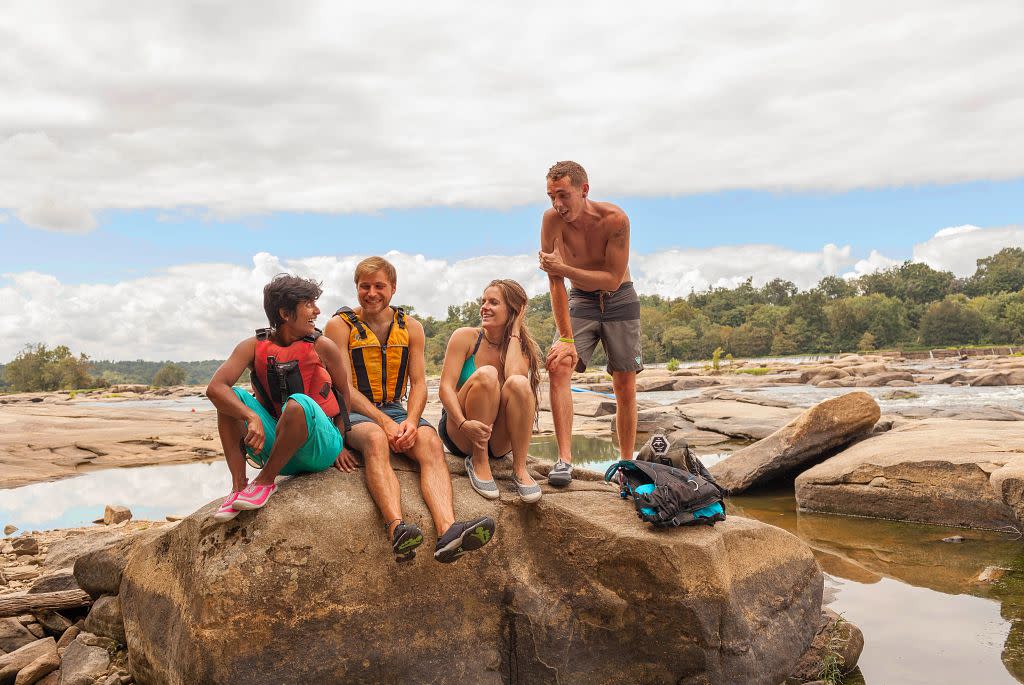 Photo Credit: Tyler Darden Photography, @tyler.darden
Hike to Belle Isle, an historic island in the middle of the James River, accessible by trail, where you can scout the rapids of the James by foot. An additional network of hiking trails course through the greater downtown including the famed Riverwalk. Camp, mountain bike and hike at Pocahontas State Park.
Other Nearby Adventures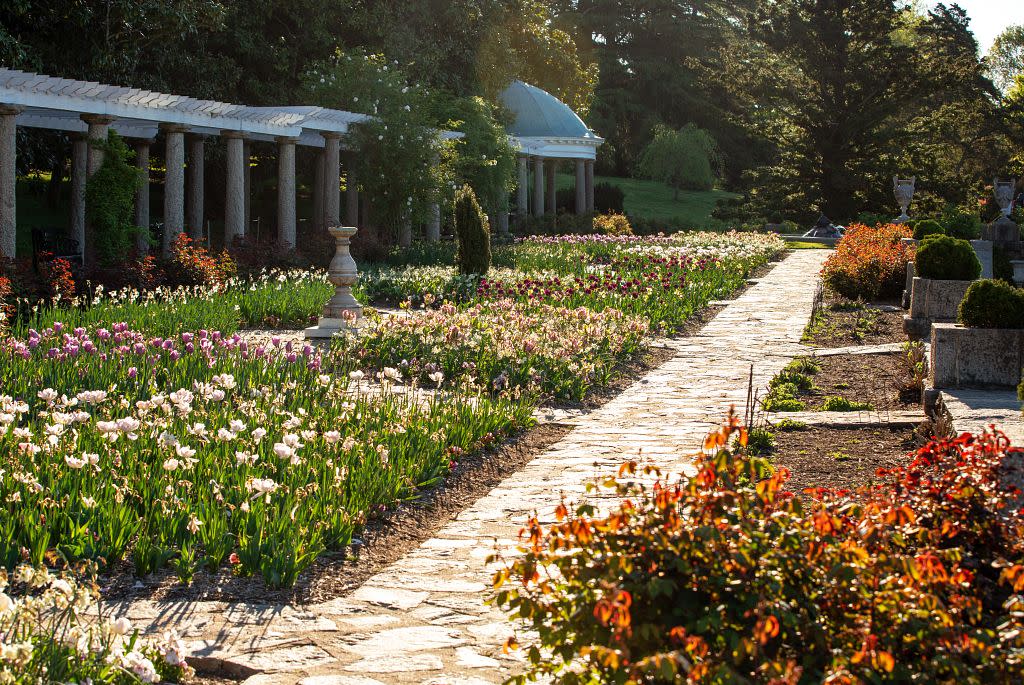 Edgar Allen Poe Museum-Learn more about the famed American poet and author of The Raven. Houses the largest collection of Poe memorabilia in the world. A great rainy day alternative is the Byrd  Theatre, where you can take in a second run movie at a 1928 theater. Hear the mighty Wurlitzer organ at the beginning of certain shows. Explore an estate from the Gilded Age combined with natural and human history at Maymont. Visit the gardens, see the nature center and living farm, among other highlights spread over 100 acres.
RADFORD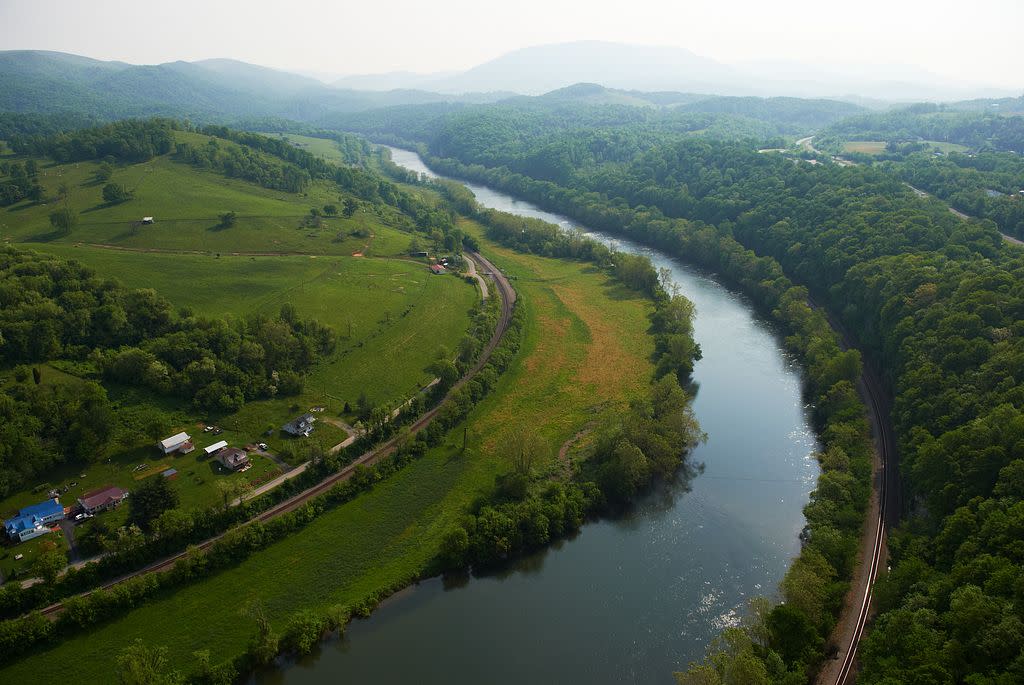 Photo Credit: Cameron Davidson
Nearby Waters: New River, Claytor Lake
Nearby Outfitters: New River Outdoor Company, Tangent Outfitters, New River's Edge Outfitters, Canoe the New, Claytor Lake Water Sports, Mountain 2 Island Paddleboard Company
Paddling Opportunities
The New River is Virginia's big river paddling destination. Radford is ideally located to enjoy the Virginia portion of this brawling Appalachian powerhouse of a waterway. Some of the rapids are big, too; solid Class II with a couple of Class III, but paddlers can usually work around them, or line their boat through. It is important to confer with local outfitters to figure out the exact segment of this part of the New River that works for you.
The 37-mile New River Water Trail cuts a gorgeous valley through the mountains of Giles County, downstream of Radford, presenting first-rate scenery no matter what portion of the water trail you paddle. Over 10 accesses and launches on the New are found from Radford to the West Virginia state line.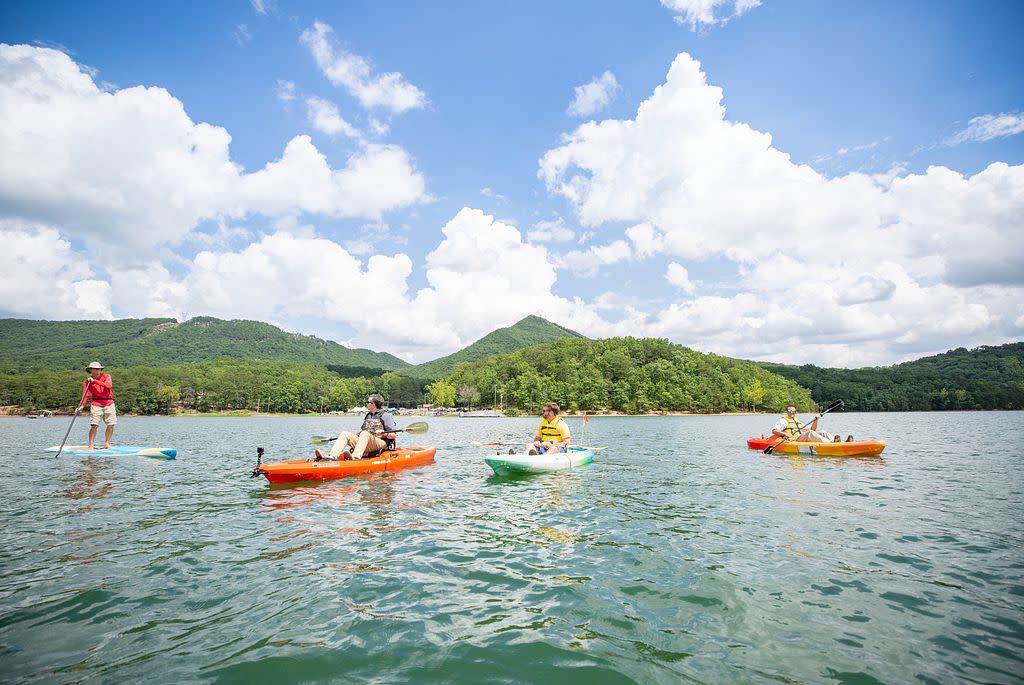 Radford itself is situated just a few miles below Claytor Lake, an impoundment of the New River that presents flatwater paddling opportunities. Claytor Lake State Park makes a fine jumping off point to paddle the reservoir. You can rent a kayak or canoe at Claytor Lake Water Sports, just outside the park.
Still more river paddling opportunities can be had upstream of Claytor Lake. That includes a whopping 70 miles of the New River from the town of Independence to Claytor Lake, mostly Class I-II, but some Class III at places like Foster Falls. Consult local outfitters when tackling specific segments.
Landward Outdoor Adventures around Radford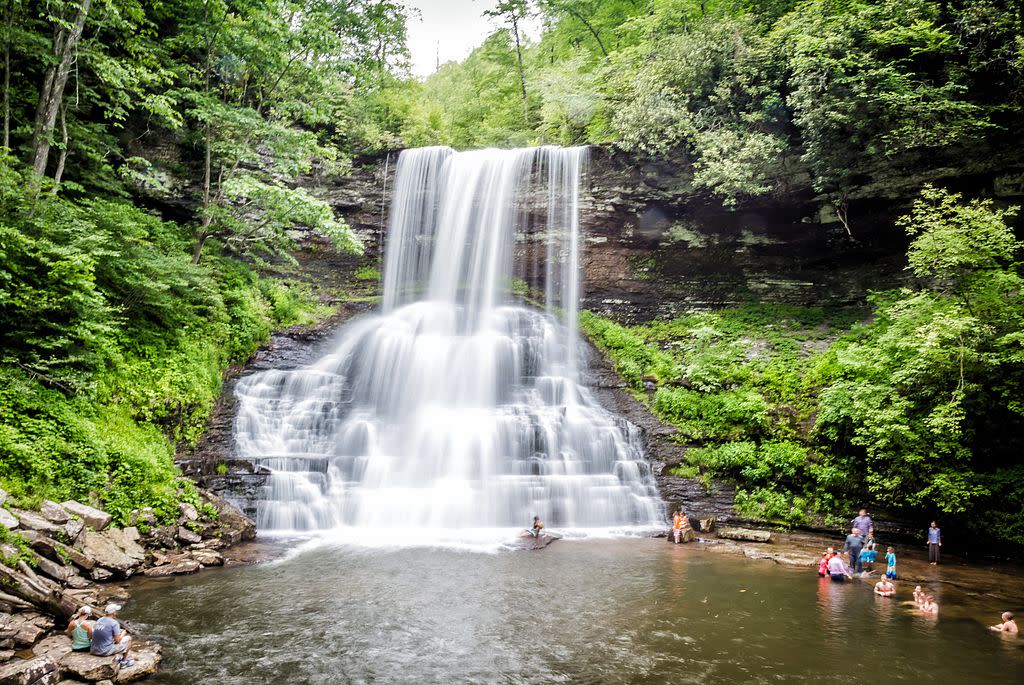 Photo Credit: Divergent Travelers
Hike, bike, and camp at Claytor Lake State Park. Bicycle the 57-mile New River Trail, access is in nearby Pulaski, among other places. Mountain bike the Pandapas Pond trails. Hike to Cascades Waterfall near Pembroke. Hike past waterfalls on Mill Creek en route to view-rich Sentinel Point at Narrows. Trek the Appalachian Trail up to viewpoints at the Angels Rest near Pearisburg.
Other Nearby Adventures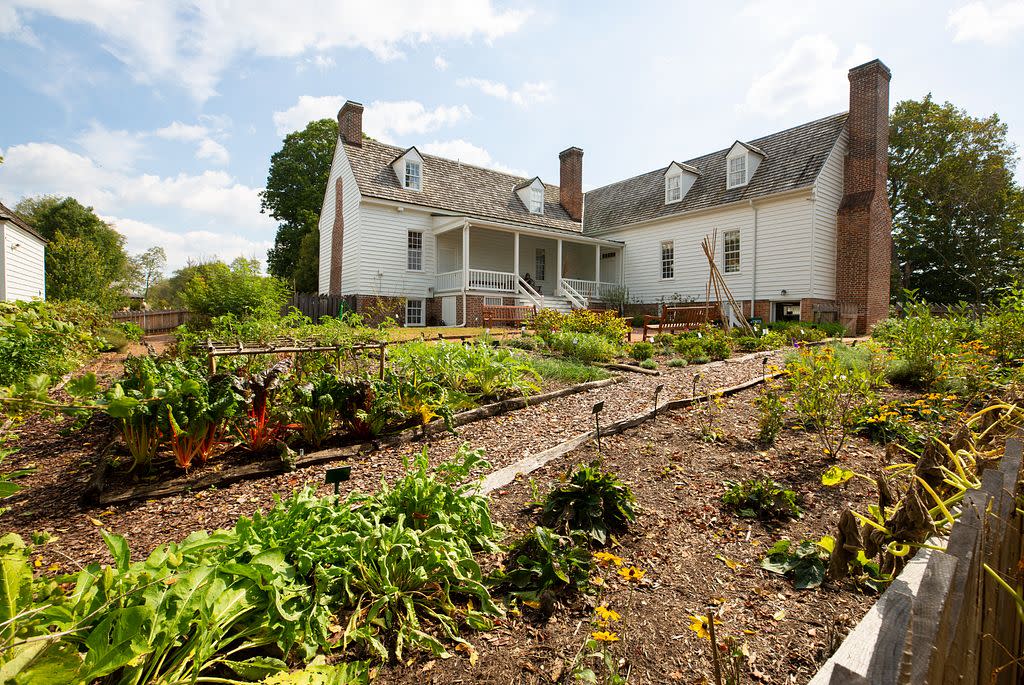 Glencoe Museum, a gorgeous period structure, houses furnishings from the past combined with artwork from today. The museum is fairly small but presents a lot to see. Located adjacent to the Virginia Tech Campus in nearby Blacksburg Smithfield Plantation was built in 1774. Tour the plantation, the house and travel back to the exciting time of the American Revolution. On the National Register of Historic Places.
VIRGINIA BEACH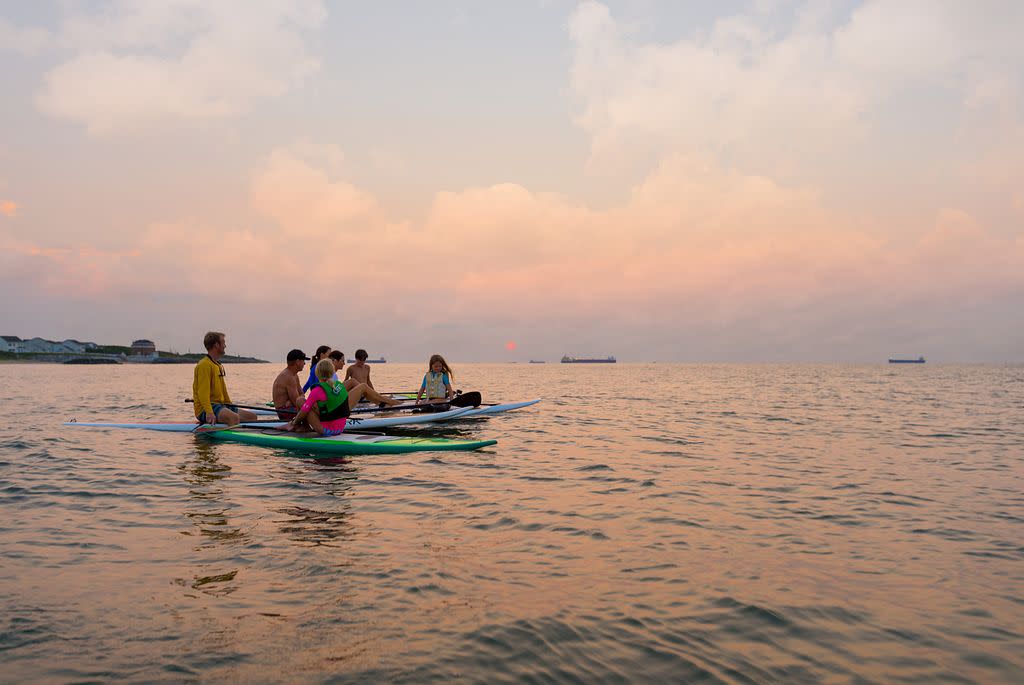 Nearby Waters: Back Bay, Atlantic Ocean, Lynnhaven River, Stumpy Lake, Lake Drummond, Northwest River, North Landing River, Broad Bay, West Neck Creek
Nearby Outfitters: Kayak Nature Tours, Ocean Eagle Kayak Adventures, Ocean Rentals Limited, Happy Winds Kiteboarding & Watersports
Paddling Opportunities
When you are situated at the mouth of Chesapeake Bay, next to the Atlantic Ocean and riddled with countless tidal creeks feeding larger bays, your paddling potential is limited only by time. Boat ramps and canoe throw-ins are situated throughout this watery paradise. Some of the favorite destinations are Back Bay, where you can explore a national wildlife refuge and farther still to the backwaters of False Cape State Park. Stumpy Lake is a good freshwater inland paddle place. West Neck Creek is another paddling destination favored by those in the know. Good for wildlife. Paddle a canal to reach cypress-lined Lake Drummond, one of only two natural lakes in Virginia, and a part of the Great Dismal Swamp National Wildlife Refuge.
If the paddling possibilities around Virginia Beach seem overwhelming, consider joining a kayak tour and let the experts do the route finding. Numerous companies lead trips in the area. They'll help you get your feet wet, literally, in the Virginia Beach paddling scene.
Landward Outdoor Adventures around Virginia Beach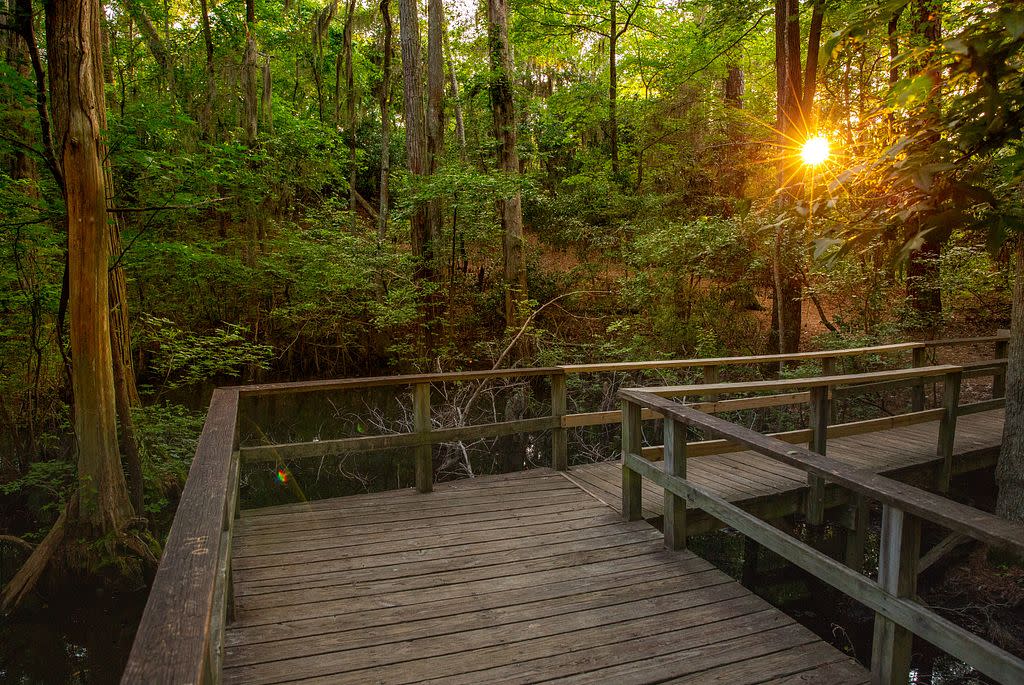 Visit two of Virginia's most beloved state parks -- First Landing and False Cape, both located on the water and paddling places in their own right. False Cape offers primitive camping, while camping at First Landing is a little more refined. Bicycle through Back Bay Refuge, False Cape State Park or First Landing State Park, or the stretch along the famed Virginia Beach Boardwalk.
Other Nearby Adventures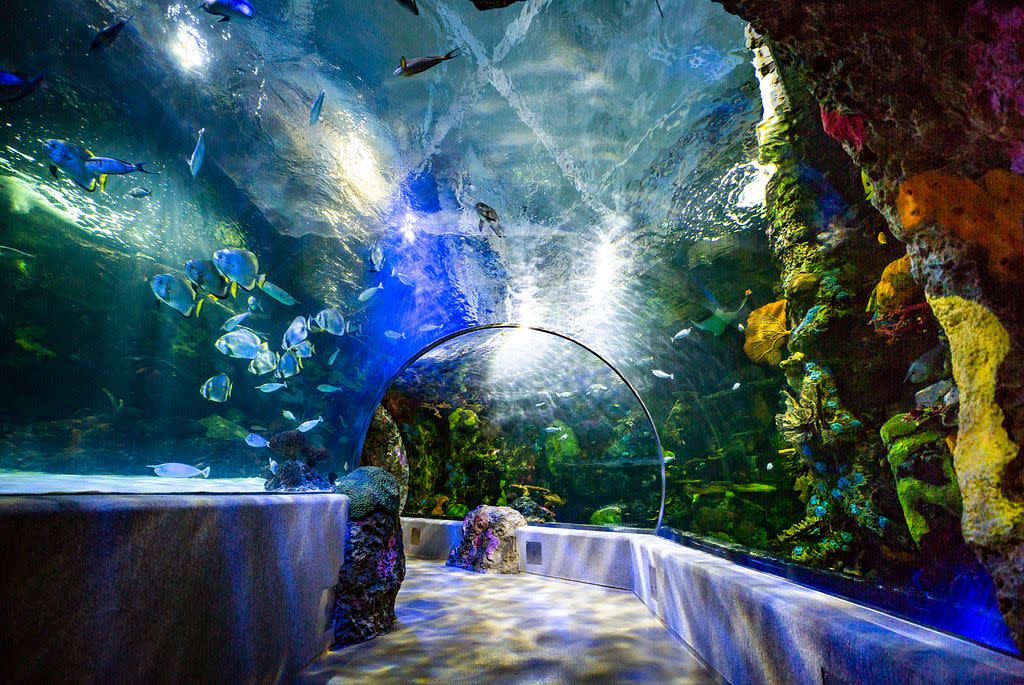 Visit the Children's Museum of Virginia, the oldest children's museum in Virginia. Not a staid place – very interactive for kids. A place where children can learn something but have so much fun they won't realize they are getting educated. Good rainy day activity. Not only does the Virginia Aquarium & Marine Science Center have 800,000 gallons of underwater wildlife exhibits, the place also features an adventure park with zip lines, boat trips and a big theater. A lot to do and see.