Wanderlove is about doing what you love with the people you love.  Experience the unspoiled views and hidden gems in our mountain community of Highland County.  Plan your next road trip at www.highlandcounty.org.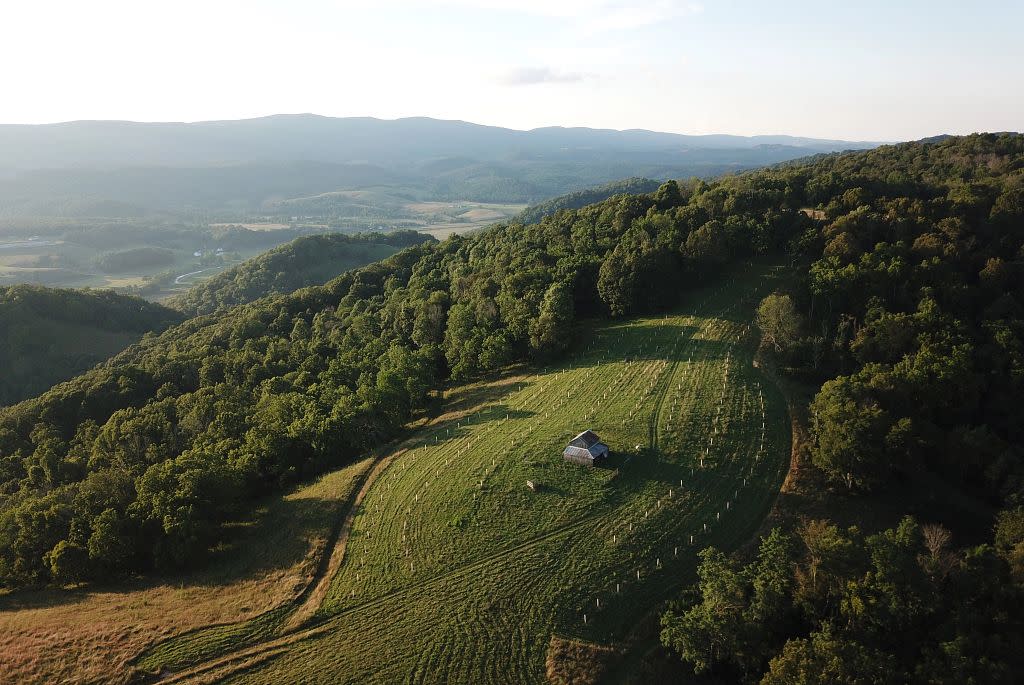 Photo credit: Benjamin Cunningham
Highland County is one of the least populated counties east of the Mississippi River and is ideal for those seeking solitude and a refreshing sense of freedom.  Known for its breathtaking beauty and rural charm, Highland is characterized by stunning forests, dark night skies, pristine waterways, small towns and open farmland.  Our high elevations are key to the success of the local maple syrup industry.  Highland County is home to the headwaters of the James and Potomac Rivers and has an overall abundance of clean mountain spring water.
Check out the following sweet spots as you plan your itinerary to Highland County.
Sweet Spot #1:  Climb the Sounding Knob Fire Tower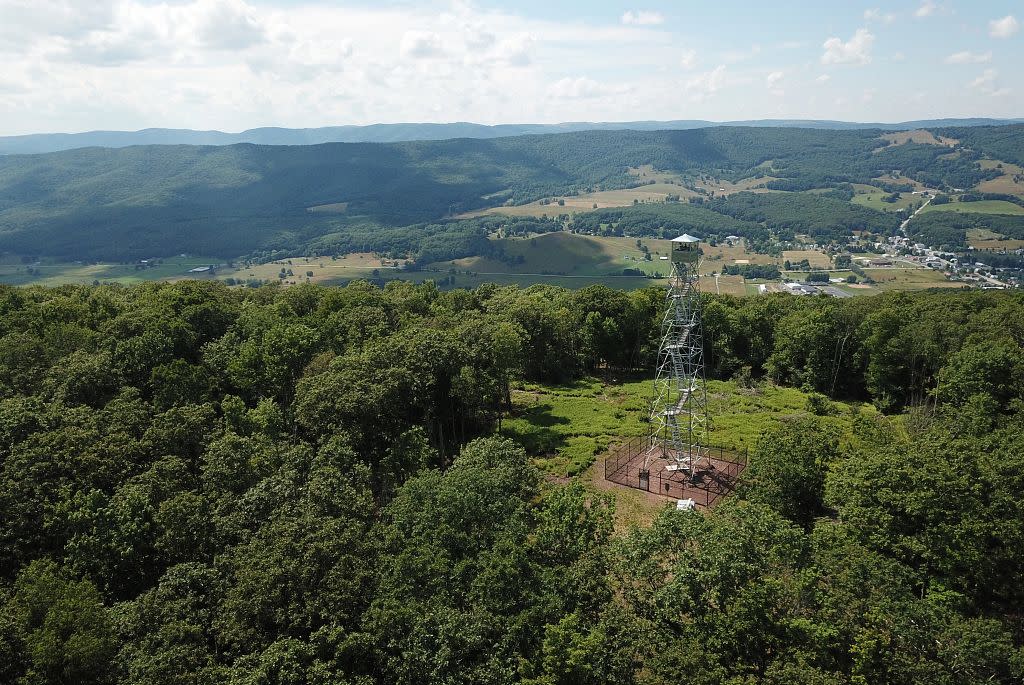 photo credit: Blue Ridge GeoGraphics
It's easy to elevate your travel experience in Highland, but now you can get even higher.  Over 100 steps up the Sounding Knob Fire Tower will give you a lasting memory - and maybe even some wobbly legs!  How many mountain ranges can you see?  The tower was constructed in 1934 by the Civilian Conservation Corps, and then it was disassembled and removed from its original location on Sounding Knob in 2002.  In 2017, it was restored by the generosity of Skip Jones and Steve Good.  It now overlooks Monterey on top of Jack Mountain.  It is located up a gravel drive on Sounding Knob Road just 1.3 miles south of its intersection with Rt. 250. 
Enjoy one of the best views in Virginia now through November 1, 2020 from sunrise to sunset every day.  The practice of social distancing is required, and please be sure to exit right when leaving Sounding Knob Road and entering Rt. 250.  Vehicles with very low clearance may have difficulty with water breaks on Sounding Knob Road, but most vehicles have no issues.
Sweet Spot #2:  Taste Pure Deliciousness on the New Virginia Maple Syrup Trail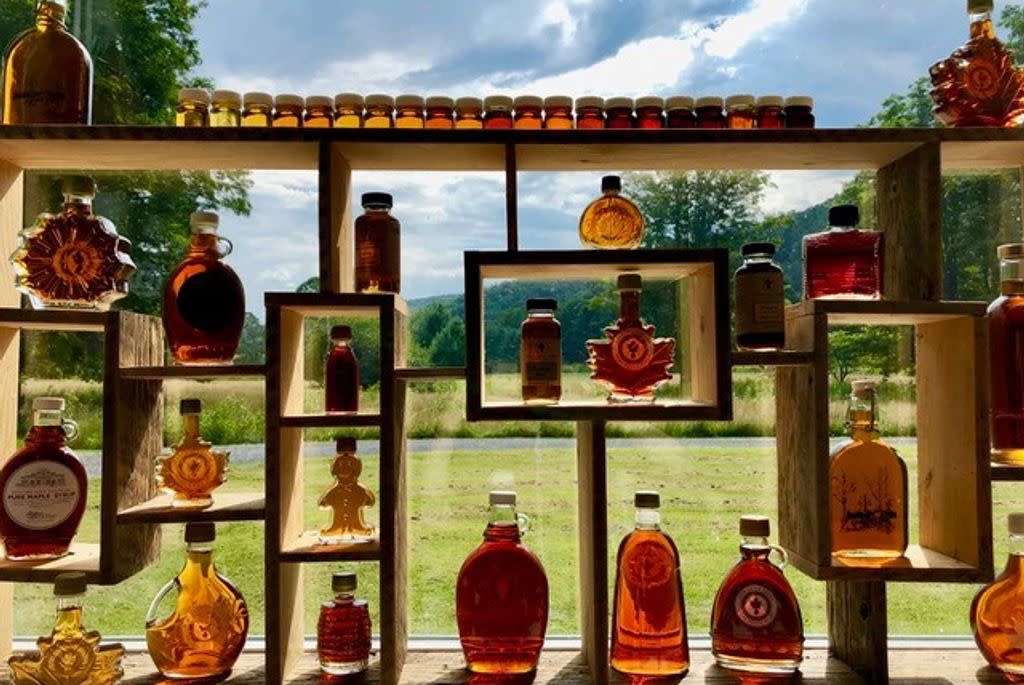 photo credit: Valerie Lowry
Highland County is well known for its maple syrup industry, being one of the most southern places in the U.S. that the sweet "liquid gold" can consistently be produced.  Maple syrup producers and their sugar camps dot the landscape, each with their own stories, history and techniques.  Because of the freezing and thawing cycle in late winter and early spring, the county hosts an annual Maple Festival during the second and third weekends in March. 
Outside of that March timeframe throughout the year, eight Highland County sugar camps plan to be open by appointment for you to explore for a tour, local syrup sample and fun.  Get insights on farm life, take a hike at some areas, and learn how many producers are even expanding to other tree syrups like hickory, walnut and birch.  Pick up an official passport, get yours stamped after each sugar camp visit, and if you complete all eight, you'll even get a free gift! 
Set to begin in September of 2020, learn where your syrup comes from and experience this unique agritourism adventure!  Get full details on the brand new Virginia Maple Syrup page, and call ahead to each syrup producer for details and COVID-19 protocol.
Sweet Spot #3:  Find All the Beautiful Shapes and Colors on the Barn Quilt Trail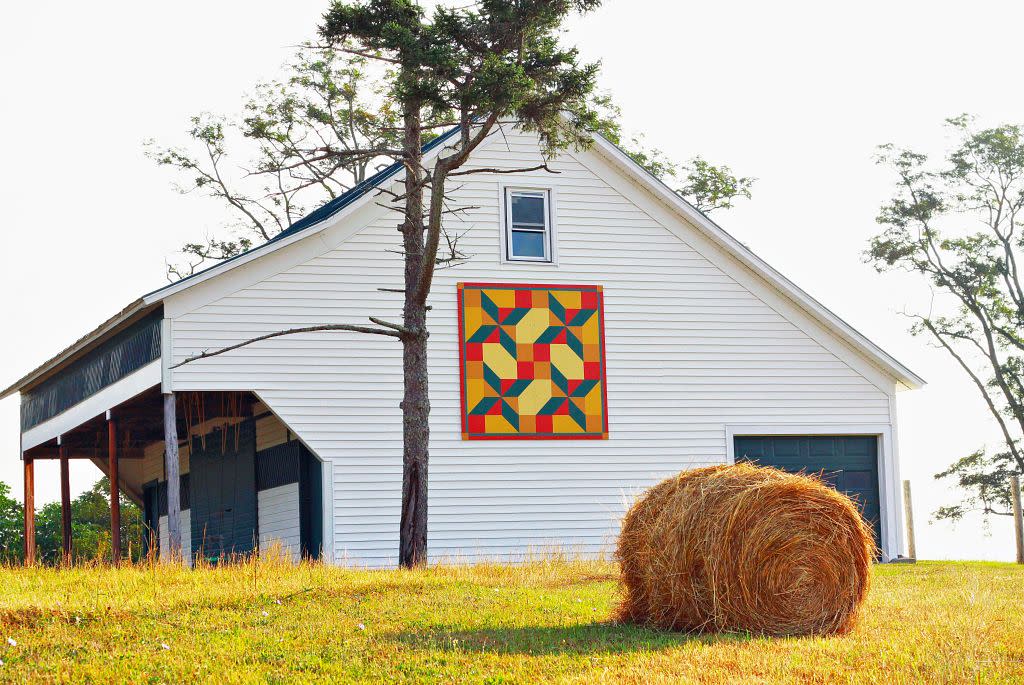 photo credit: David Cockerham
What are those painted wooden quilt blocks adorned on barns and houses in Highland County?  They are barn quilts!  Beginning in 2011, Highland County was the first county in Virginia to have its very own Barn Quilt Trail.  Starting in mid-September, pick up a copy of the newly revised Barn Quilt Trail brochure or view the online version to locate over 50 unique barn quilts on a leisurely country ride.  With interesting names like "Five Reds," "Colaw Apple," or "Jacob's Ladder," each barn quilt tells a story, usually with significant special meaning about the owner, nature, family, business or design. 
When you follow the Highland County Barn Quilt Trail, you'll wind your way through our back roads with a purpose.  Enjoy the beauty of our hills and hollows, fields and forests and the stories of the people who are part of this community.  Can you spot them all?
Sweet Spot #4:  Take a Hike on Unspoiled, Sparsely-Populated Trails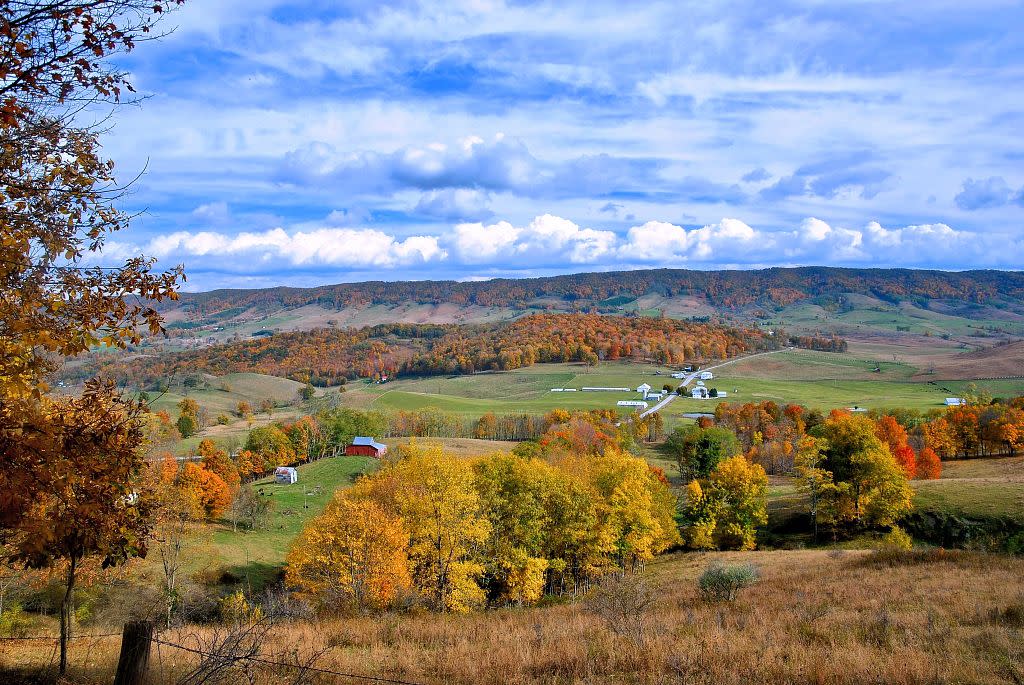 photo credit: Doug Puffenbarger
Get off the road and lace up your boots for some hiking in the clean mountain air.  Four trails are featured in Highland County's section of Virginia's Western Highlands Trail Guide.  The Shenandoah Mountain Trail is an easy 6-mile hike that's also part of the Great Eastern Trail.  It awaits you at the top of Shenandoah Mountain on Rt. 250 along the border of Highland and Augusta Counties. 
Traveling west, you can hike the 2.6-mile McDowell Battlefield Trail that leads to the top of Sitlington Hill and the core of the McDowell Battlefield, with interpretive information from Civil War Trails along the steady incline.  In the remote Laurel Fork area of northern Highland County lies the Locust Spring Run and Buck Run Trail with 6 miles of moderate to difficult features.  The Paddy Knob Trail straddles Virginia and West Virginia to the foundation stones of an old lookout tower, offering easy to moderate hiking of .5 to 7 miles.
Sweet Spot #5:  Relax with Fishing Along the Cool, Clean Streams and Ponds
Fishing is a great way to get away!  Highland County offers three rivers for public fishing: the Bullpasture, the Potomac and Laurel Fork.  Favorites like rainbow, brown and brook trout swim the pure mountain streams.  Discover more information on places to go and regulations with Fish Virginia First or the Department of Wildlife Resources. If you need a guide, check out Bull Mountain Guide Service. 
If you want a fun experience with children to introduce them to fishing, visit Hiner Town Trout Fishing, roughly one mile north of Monterey off of Potomac River Road (Rt. 220) at 222 Hiner's Lane, where you can fish in a small pond from 9 am to 7 pm Monday through Saturday or by reservation on Sunday at 540-679-6194 (if you call before Saturday).  Children even receive a prize if they catch a golden trout!  You keep what you catch at $5 a pound (cash or check), but there are no licenses required or pole/bait restrictions.  Being outside, family units must remain six feet apart. 
Finally, if you are just in the mood to taste some fish without hooking "the big one", get your fresh or frozen trout at the Virginia Trout Company at 5480 Potomac River Road, Monday through Wednesday from 8 am to noon.
Sweet Spot #6:  Discover the History of an Area That Looks Much the Same as It Did Over 100 Years Ago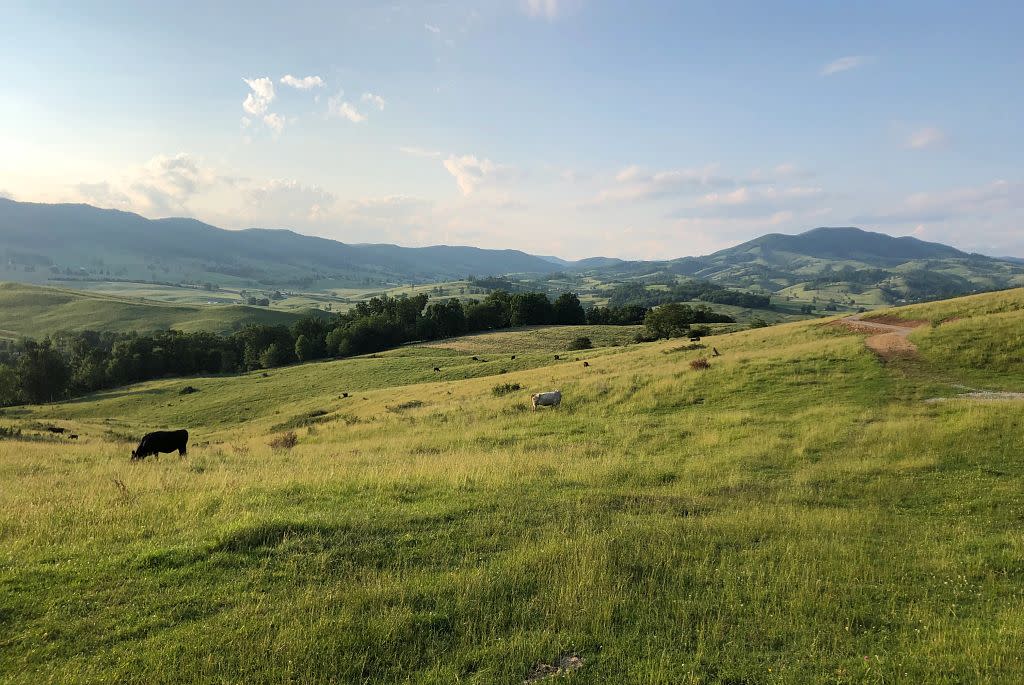 photo courtesy of Highland County Chamber of Commerce
The Highland Historical Society runs a beautiful museum known as The Mansion House that served as a hospital during the Battle of McDowell in May of 1862.  Located at 161 Mansion House Road in McDowell, you can learn more about the significance of the Battle of McDowell during the Civil War with the Shenandoah Valley Battlefields Orientation Center, get acquainted with local ancestors and the formation of the county, and catch a glimpse of the 1921 classic silent movie filmed in Highland County, Tol'able David. 
The Mansion House accepts free-will donations for entry and is open Thursday through Saturday from 11 am to 4 pm through the end of October.  More info can be found at www.highlandcountyhistory.com.  You can even catch a virtual view of their two newest exhibits, Early Handmade Furniture in Highland County and a Preview of the Jones/McCoy House Museum Collection II, at their website!  More information on the Civil War history and trails in the area can be found at www.civilwartrails.org and www.shenandoahatwar.org. 
Rt. 250 and Rt. 220 are the two main roads to be traveled in Highland, intersecting at the county seat of Monterey in the center of the county.  If you're visiting from Shenandoah Valley in places like Staunton, you'll arrive along Rt. 250 and continue northwest over several mountains, arriving first in the town of McDowell and then onward for fifteen more minutes to Monterey. 
If you continue along Rt. 250, you'll end up with more mountain vista views and find yourself in Pocahontas County, West Virginia.  If you're visiting from the southwest from locations like Roanoke, you'll take Rt. 220 to Monterey, and if you continue onward you'll eventually come to Pendleton County, West Virginia.  A detour along the back country roads anywhere in the county will lead you to new experiences and views.  For a map to help plan your trip, check out the Highland County Motorcycle Guide brochure or view VDOT's Highland County Map.
Feeling the itch to discover more?  That's your Wanderlove calling, and we have you covered!  Find out more about the businesses and organizations of Highland County, including places to stay, eat and unwind at www.highlandcounty.org, or learn more about other destinations at www.Virginia.org/WanderLove.  Happy travels!