Whether you're feeling overwhelmed with work, looking for a little extra pampering, or planning a relaxing girl's getaway, Virginia's wellness retreats are the perfect place for a reinvigorating, stress-free vacation. Unwind at a few of these 18 wellness retreats, natural spas, and health-centric festivals to keep yourself feeling calm and collected throughout the year.
Salamander Spa—Middleburg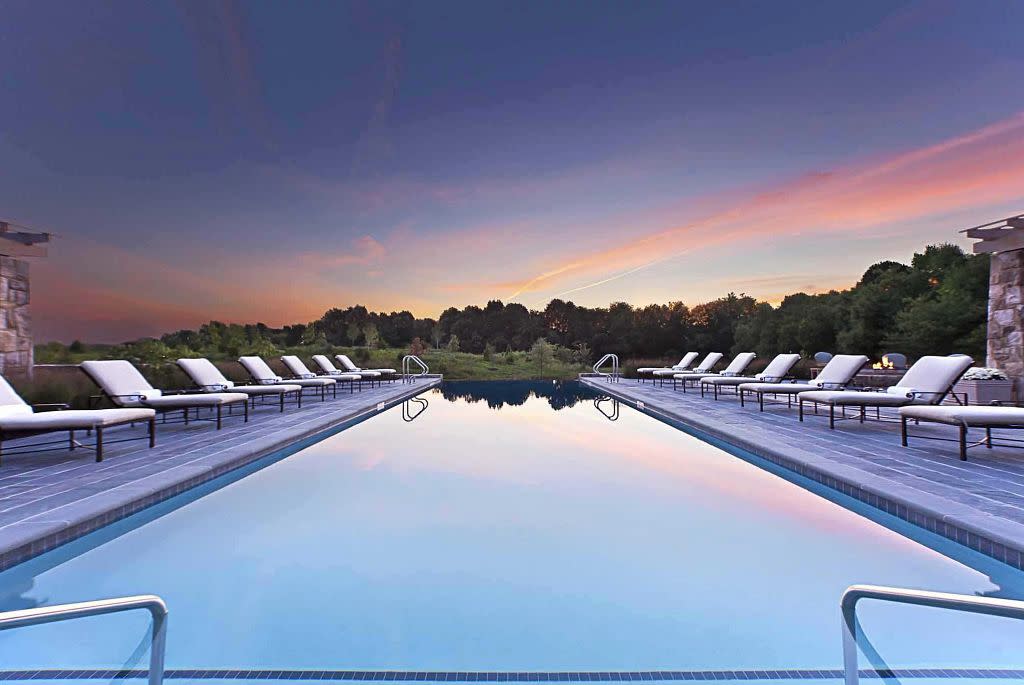 Image Courtesy of Salamander Resort
A luxury hotel in the charming small town of Middleburg, Salamander Resort & Spa offers the Winter Wellness Experience, a package with a $200 wellness credit in addition to the resort's exclusive activities, classes, and fitness facilities. The spa takes a holistic approach to wellness, integrating specialized treatments and targeted therapies into their spa menu. They also have seasonal treatments; to get over your winter blues, book the Winter Warming package, an 80-minute essential oil package that restores both body and mind with a detoxifying facial mask, hot stone massage, and scalp treatment.
Book Wellness Treatments at the Salamander Spa
Primland Resort's Auberge Spa—Meadows of Dan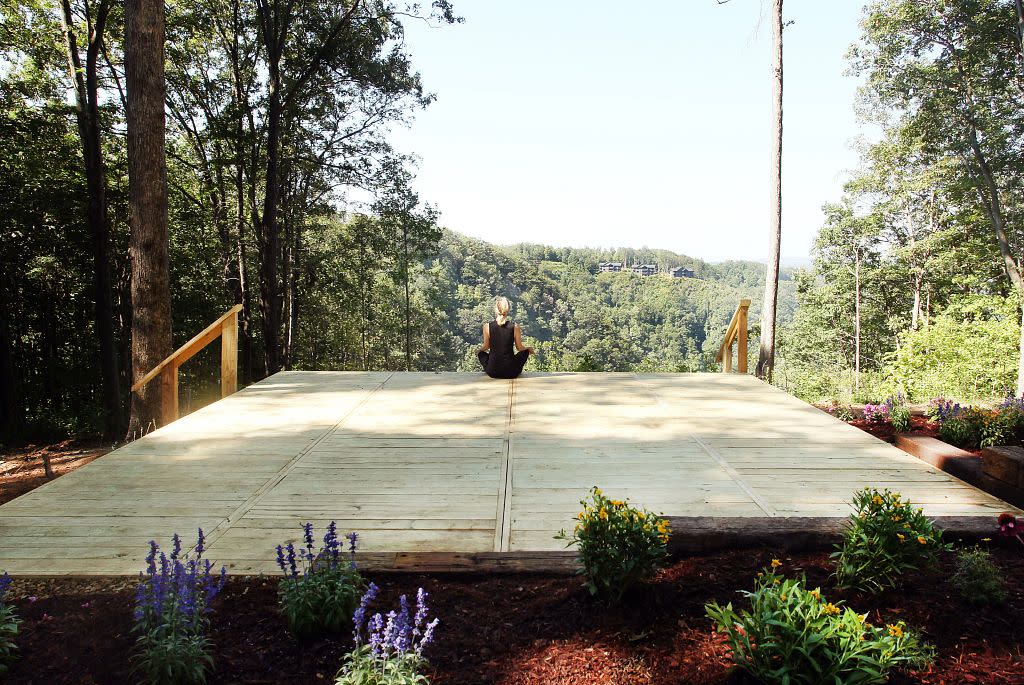 Image Courtesy of Primland Resort
Located just off the Blue Ridge Parkway on 12,000 pristine acres, Primland Resort's close connection to nature nurtures your mind, body, and soul, with spa treatments incorporating natural elements like wildflowers, seasonal herbs, and honey. In addition to the pampering provided at Auberge Spa, the resort offers guided yoga classes (indoor during the winter or overlooking the stunning Blue Ridge Mountains when weather allows) that will have you feeling relaxed and recharged.
Book Spa & Wellness Treatments at Primland's Auberge Spa
The Williamsburg Salt Spa—Williamsburg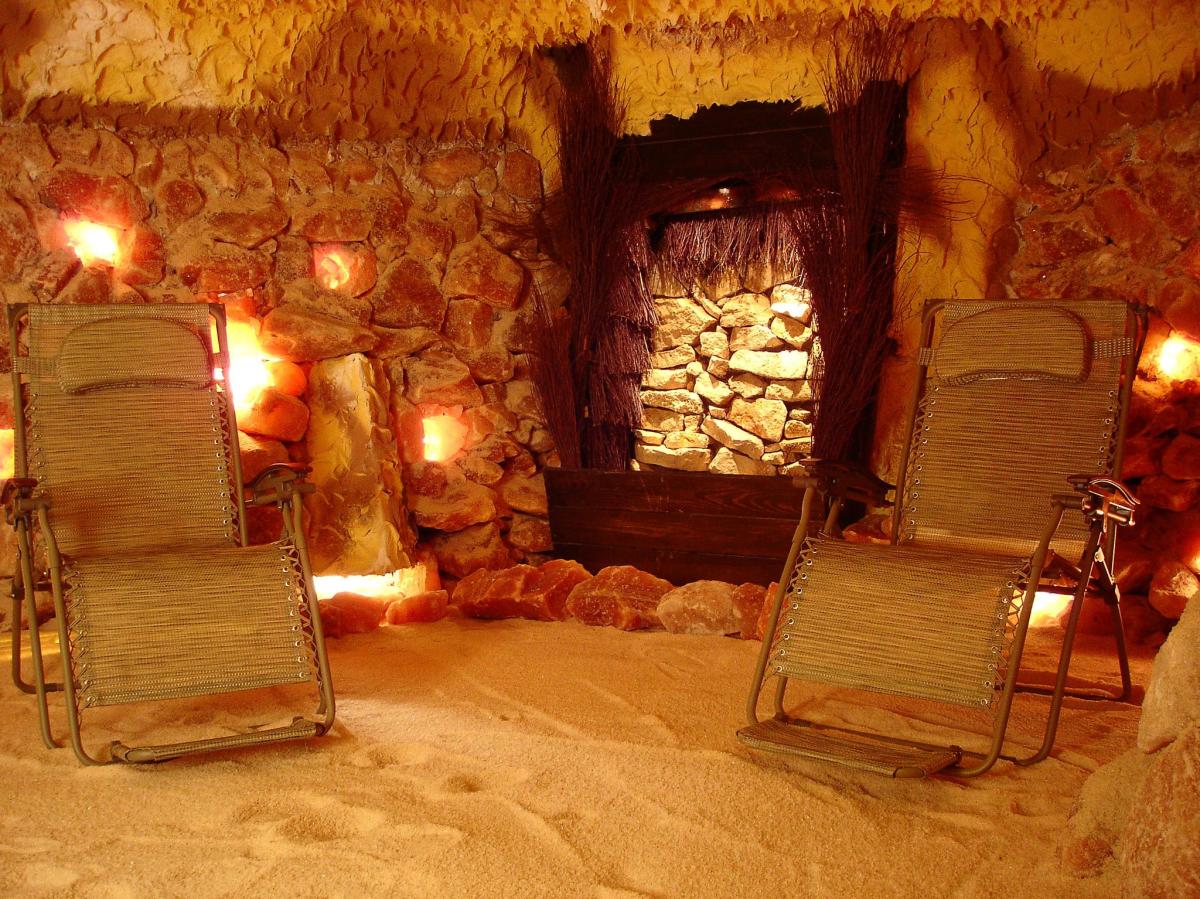 Photo Credit: Agnieszka Grygala
As the first salt spa on the East Coast, the Williamsburg Salt Spa has introduced an entirely new wellness treatment to Virginians. Built using 15 tons of therapeutic Polish and Himalayan salts, the salt cave improves your health and overall mood as you breathe in the mineral-rich air. Specifically, these salt caves help with sinus issues that arise due to allergies or during the dreaded cold and flu season. During your visit, you'll spend 45 minutes relaxing in comfortable reclining chairs as soothing sounds echo off the salt walls. In addition to the restorative salt cave, The Williamsburg Salt Spa offers saltwater flotation tanks for a peaceful floating experience, an infrared sauna, and three different types of massage, including their signature Hot Salt Rock massage.
Book Wellness Services at The Williamsburg Salt Spa
Anahata Education Center—Floyd
Anahata Education Center tailors their retreats to suit the needs of each guest, blending massage, Reiki, relationship counseling, heart alignment sessions, personal guidance, and other treatments to create a comprehensive wellness plan. Guests can bring and prepare their own meals or choose to have staff at the education center prepare health-conscious dishes that cater to personal preferences, including organic vegan, raw juice blends, and even precise dietary requests like omni meals.
Book Services at Anahata Education Center
The Salt Foot Sanctuary—Roanoke
The Salt Foot Sanctuary, located in the historic Hotel Roanoke, emphasizes the use of ancient minerals and herbs in their sumptuous foot soaks. Rest your weary feet in their locally made copper tubs, filled with essential oils, salts, and dried herbs that moisturize and detoxify skin, and enjoy a tasty beverage during the 45-minute pampering treatments. Book a targeted body massage during your foot treatment for even more relaxation, or reserve a full body or couples massage, which are provided in the privacy of your hotel room. The sanctuary plans to expand after opening, adding yoga and meditation classes to the existing wellness treatments.
Book a Treatment at the Salt Foot Sanctuary
The Retreat at Veritas—Afton
Photo Credit: Chad Williams, @echadwilliams
Stay at the The Retreat at Veritas for a four day or weeklong wellness immersion experience that teaches healthy living practices. The program leans heavily on wellness practices like yoga and hiking, but there are a variety of other healthy activities like horseback riding, cooking classes, and rejuvenating spa services. The Retreat at Veritas believes that while the typical health and wellness treatments can help restore guests to a more tranquil state, the ultimate spiritual reset includes food, wine, and laid-back social interactions with staff and other guests.
Book a Wellness Package at The Retreat at Veritas
Yogaville—Buckingham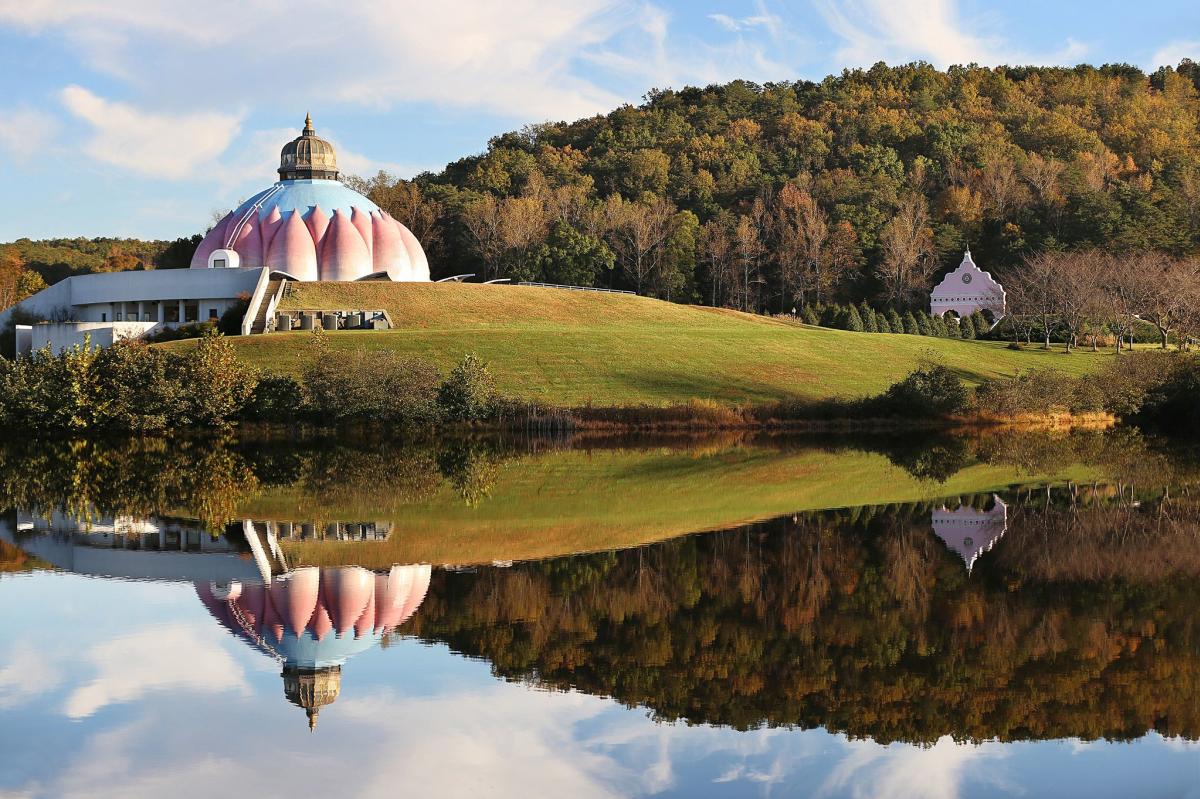 Photo Credit: Bill Geoghegan
Set against the backdrop of the gorgeous Blue Ridge Mountains, Yogaville is a unique community focused on fostering spiritual, physical, emotional, and mental health. The retreat has a mix of residential programs that allow you to immerse yourself into a yoga-centric lifestyle and personal retreats that range from three to ten days. Learn about the curative practices of yoga in the serene landscapes of the retreat, from the lush green lawns to the wooded hiking trails that encourage contemplative reflection.
Find Out More About Yogaville Retreats
Floyd Yoga Jam—Floyd
Photo Credit: Morgan Harris
A four day annual festival in the Blue Ridge Mountains, the Floyd Yoga Jam is part music festival and part yoga retreat, occurring this year from August 31, September 3, 2023. Surrounded by the rolling mountain landscape, the festival encourages art, community, and getting back to nature. Dozens of wellness-related artisans, food vendors, and healers attend, providing a restorative natural environment for attendees.
Eupepsia Wellness Center—Bland
Photo Credit: Mahmoud Hassan
Located in the heart of the Appalachian Mountains on the edge of the Jefferson National Forest, the Eupepsia Wellness Center provides essential health and wellness treatments in a luxurious setting. The retreat sits on a secluded 256-acre farm and contains shaded woodlands, rolling hills, and serene pastures. Book your stay in one of the 26 spacious rooms and then work with the staff on a personalized wellness treatments designed with your needs in mind. These unique plans are designed around whatever hurdles you are facing in your life, using wellness themes like rejuvenation, de-stressing, detox, weight loss, fitness, and simple relaxation. Their upscale facilities include a Himalayan Salt Chalet, Slimming Hydro Bikes, and a Sense Deprivation Flotation Room. The center prepares all meals on the premises, serving vegan and vegetarian farm-to-table dishes that contribute to your health-focused journey. Packages range from a weekend "taster" experience to a week or two-week retreat for weight loss and other wellness goals.
Book a Wellness Retreat at Eupepsia
Earthwalk Retreat—Fredericksburg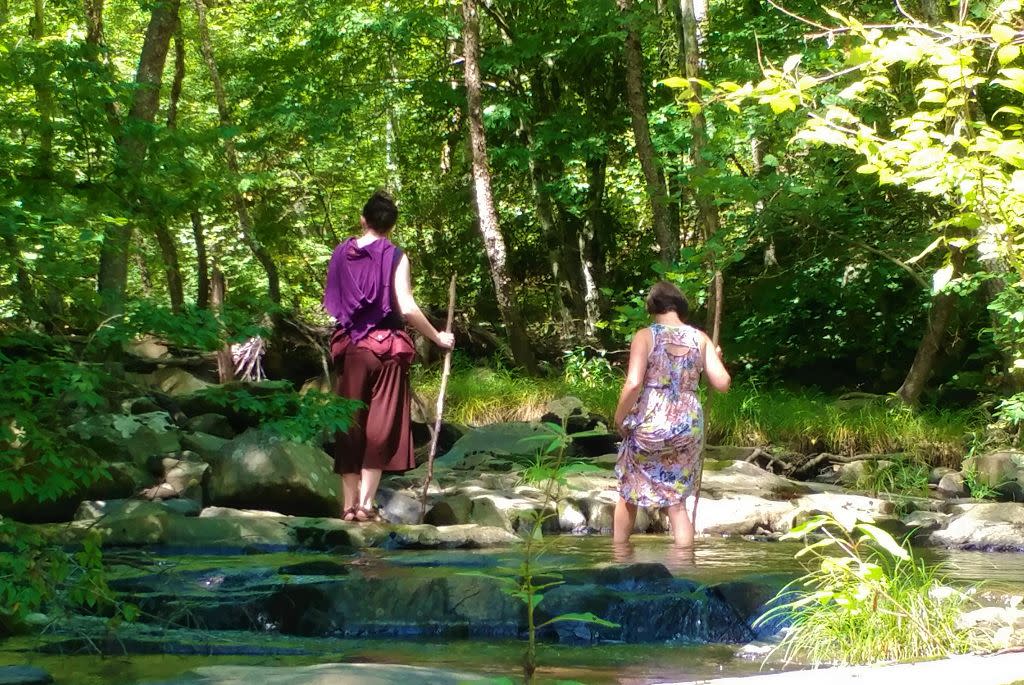 Photo Credit: Darlene Rollins
Earthwalk Retreat, a spiritual retreat that sits along a remote portion of the Rappahannock River, provides personalized wellness workshops and classes in a holistic natural sanctuary. With a focus on connecting visitors to nature, the retreat has a range of outdoor therapy attractions, including a meditation path, a classical garden labyrinth, a sweat lodge, and an outdoor hot tub, and offers various meditation and yoga classes.
Get More Information About Nature Retreats at Earthwalk Retreat 
The Inn at Vaucluse Spring—Stephens City
Guests experience a combination of mindfulness and wellness treatments when they book a mindfulness program at The Inn at Vaucluse, a package aimed at teaching visitors to pay attention to what's happening in the moment. The practice reduces stress, alieves tension, and resets your mental focus, allowing you to tap into your inner wisdom and strength for a more balanced life. Prior to opening this beautiful Virginia retreat, the owner of The Inn at Vaucluse was a practicing physician, specializing in mindfulness treatments. She uses this background to lead wellness-focused classes like the Introduction to Mindfulness, Mindful Mornings, Mindfulness for Couples, and Mindfulness Mini Retreats, but can also customized a program suited to your exact needs and areas of focus.
More Wellness Retreats throughout Virginia:
Fort Lewis Lodge & Farm
Photo Credit: Jumping Rocks Photography, @jumpingrocksphoto