Catch brilliant fireworks displays, pay tribute to America's history at special exhibits, and enjoy many of the time-honored traditions of Independence Day at these Fourth 4th of July celebrations, held throughout the Commonwealth this year.
CENTRAL VIRGINIA
Fireworks at The Diamond, Richmond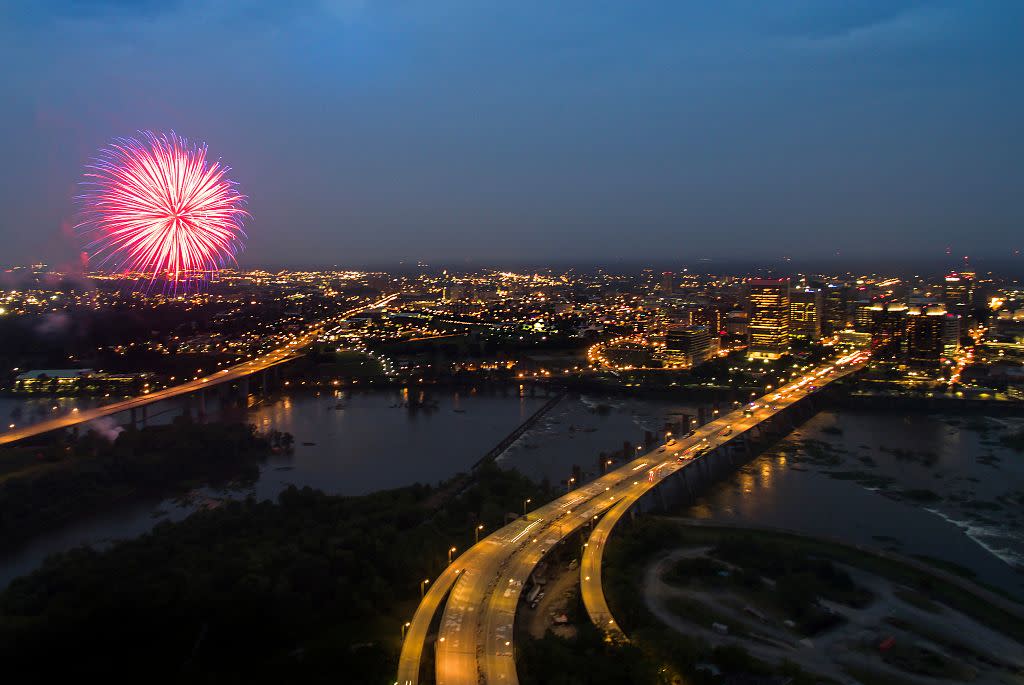 Date: July 4, 2022
An annual Richmond tradition, the 4th of July Flying  Squirrels baseball game concludes with a brilliant fireworks display over The Diamond.
Chesterfield Fireworks Show, Chesterfield
Date: July 4, 2022
The Chesterfield Fireworks Show will be held at the Chesterfield County Fairgrounds and is a free event open to all ages. Gates open at 5pm and fireworks will begin at dusk. Bring a chair or picnic blanket to set up and enjoy the music. No alcohol, illegal weapons, personal fireworks, glass bottles or pets (except for service animals) are allowed on county property. Parking is limited, and all traffic must enter parking areas from the Krause Road entrance. 
Independence Day Fireworks in Downtown Lynchburg
Date: July 1, 2022
Downtown Lynchburg's Independence Day Fireworks will be viewable from many private and public locations in downtown Lynchburg, but the Riverfront Park is one of the best public areas to set out a picnic blanket and catch the fireworks. Pack your own food and drinks or grab takeout from one of the restaurants in the downtown area. Fireworks will begin just after dark, or approximately 9:15pm on Friday, July 1st. 
Independence Day Celebration at Thomas Jefferson's Poplar Forest, Forest
Date: July 4, 2022
Held at Thomas Jefferson's Poplar Forest estate outside of Lynchburg on the Fourth of July, the Independence Day Celebration will commemorate the signing of the Declaration of Independence with colonial-style entertainment, demonstrations by colonial artisans, archaeological displays, old-fashioned games for the whole family, pony rides for the kids, and an official reading of the Declaration of Independence. The festival goes from 10am-4pm on Sunday, July 4th, and grounds admission is $8 per adult for ages 18+ and $5 for youths between the ages of 6-17, while children 5 and under are free. Guided tours of Jefferson's octagonal villa will be available for an additional fee on a first-come, first-serve basis that day. 
4th of July Celebration, Culpeper
Date: July 4, 2022
Culpeper's Fourth of July Celebrations includes a Freedom 5K race, live music performances in the afternoon, children's kayaking excursions, a wide array of food, drink, and arts and crafts vendors, and a Patriotic Presentation held at Yowell Meadow Park. The evening concludes with a fireworks show at Rock Water Park, but due to safety concerns, visitors should watch the fireworks from Yowell Meadow Park or in another location in downtown Culpeper, as Rock Water Park will be closed off to the public during the fireworks. 
Celebrate Us! Fireworks 2022 at Carter Mountain, Charlottesville
Date: July 4, 2022
Carter Mountain's 4th of July Celebrate Us! fireworks spectacular begins at 9pm on July 4th (rain date of July 5th). Get tickets to view the fireworks from Carter Mountain Orchard, or take in the show from your favorite outdoor location in sight of Charlottesville's Carter Mountain. The event is not only a chance to enjoy live fireworks, but also a chance to contribute to a good cause. Every year, the event donates proceeds to a charity organization; the 2022 proceeds will help the Ronald McDonald House of Charlottesville provide a home away from home to the children and families of the UVA Children's Hospital, as it has for the past 40 years. 
Other Notable Central Virginia 4th of July Events:
NORTHERN VIRGINIA
An American Celebration, Mount Vernon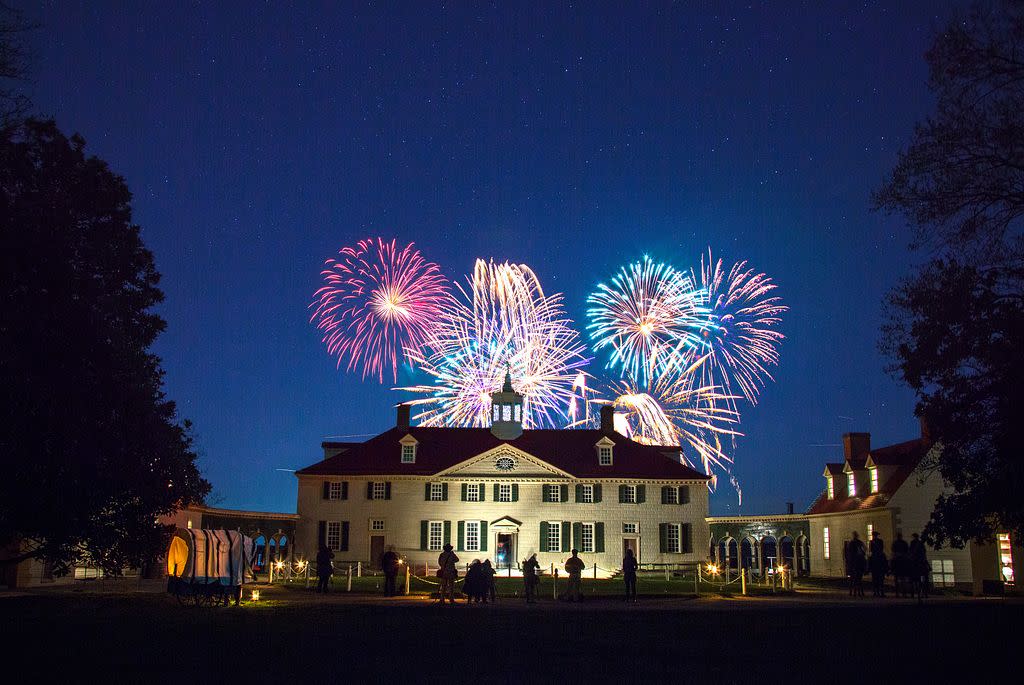 Date: July 4, 2022
Experience a truly patriotic Fourth of July at George Washington's Mount Vernon estate during An American Celebration, an event that includes an 18th-century hot air balloon, music performances from the Revolutionary era, made-for-daytime fireworks over the Potomac River, Revolutionary army military drills, naturalization ceremonies for new American citizens, and meet-and-greets with President Washington himself. This July 4th extravaganza runs from 9:30am-5:00pm, and is included with the price of admission into the Mount Vernon estate.
Independence Day Parade and Fireworks Show, Fairfax 
Date: July 4, 2022
Now in its 56th year, the Fairfax Independence Day Parade & Fireworks Show begins at 10am on Saturday, July 3rd in Old Town Fairfax and will be held rain or shine. Among the highlights of the event are nine high school marching bands, themed floats and balloons, and entertaining clowns. The fireworks festivities start at 6:30pm on Monday, July 4th at the Fairfax High School stadium with live music, followed by fireworks around 9:30pm.
Independence Day Celebration at Ida Lee Park, Leesburg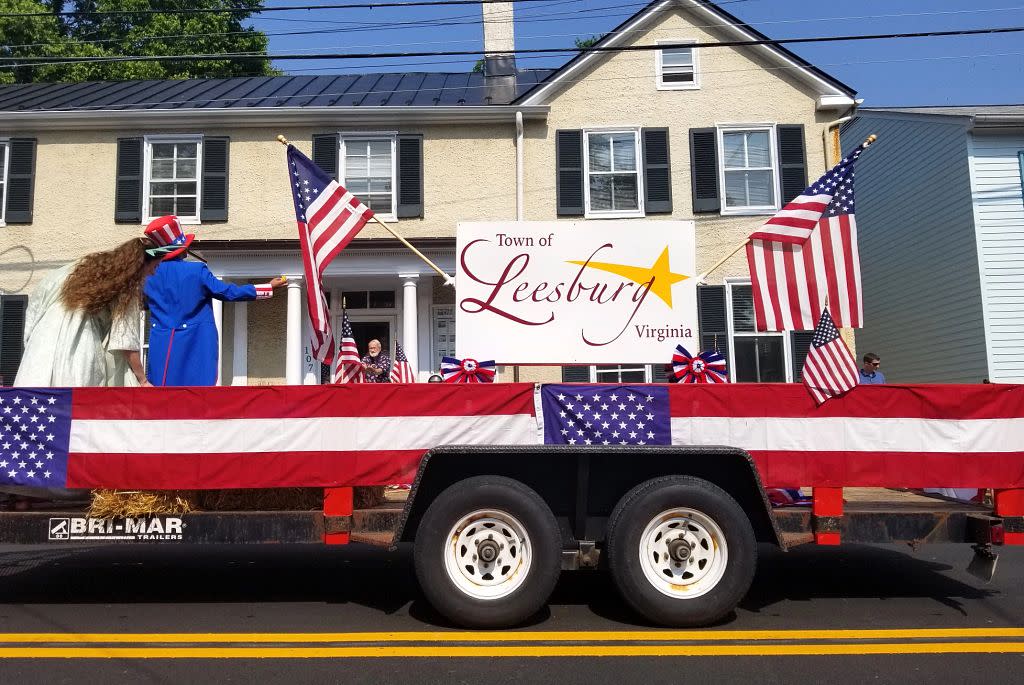 Date: July 4, 2022
Leesburg's Independence Day Celebration begins with a parade at 10am down King Street through the historic downtown area and concluding at Fairfax Street. King Street will be closed to through-traffic from about 9:30am-11:30am. In the evening, parking for Ida Lee Park will open around 5:30pm and gates to the park event space will open at 6pm. Enjoy live music performances while dining on treats from a selection of food vendors, including funnel cakes, ice cream, hot dogs, and more. One of the region's largest fireworks displays will light up the sky beginning at 9:30 p.m. and will be choreographed to music. Pets, alcohol, glass containers, and personal fireworks are not permitted at the park. 
Purcellville Independence Day Parade, Purcellville
Date: July 4, 2022
Kick off Purcellville's 4th of July celebration at the annual Hometown Independence Day Parade on Saturday from 12-1:30pm. The parade starts at Blue Ridge Middle School on East A Street and concludes at Emerick Elementary.  Show your patriotic pride and join your friends and neighbors in celebrating America's birthday during Purceville's Independence Day Parade! 
Fourth of July Fireworks Show at Franklin Park, Purcellville
Date: July 4, 2022
The Fourth of July Fireworks Show at Franklin Park begins at 9:15pm, but the festivities kick off earlier in the day at 5pm with outdoor activities, games, giant inflatables for the kids, a scavenger hunt, a DJ for music, and food trucks offering an array of delicious foods. 
July 4th at Bluemont Vineyard, Bluemont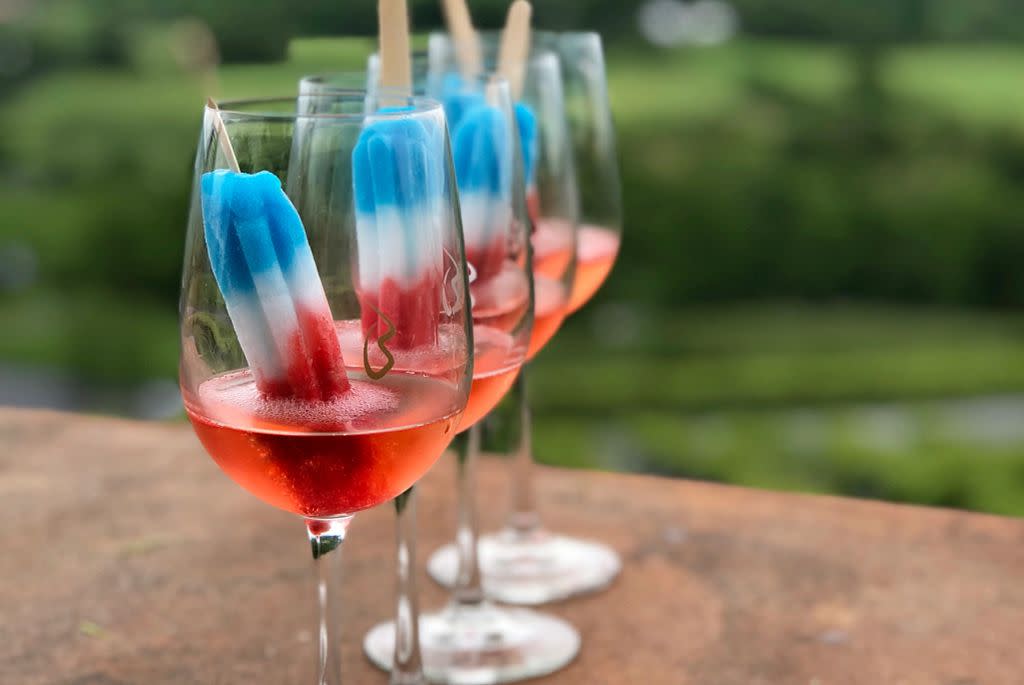 Date: July 4, 2022
Bluemont Vineyards is hosting a July 4th celebration this year, with stunning views of the Loudoun Valley at twilight and fireworks in the background from nearby locations like Great Meadow in Middleburg and Franklin Park in Purcellville. Additionally, the tasting room is open from 10am-10pm on the 4th, serving wines by the bottle, seasonal sangria, wine slushies, and seasonal bomb pop sparklers. Reservations to the Tasting Room are required; all reservations after 4:00pm are available for $15.00 per guest and include a souvenir glass.
Fourth of July at Dirt Farm Brewing, Bluemont
Date: July 4, 2022
Savor farm fresh beer with locally roasted pork or grilled veggie plates cooked up by Chef Justin Garrison at Dirt Farm Brewing's Fourth of July dinner event. Tickets are $26 for adults and $12 for children (dinner not included in children's tickets), and timed slots are available for 6pm and 7pm. There will be hot dogs, chips, and watermelon slices sold a la carte from Smos Snows, as well as a variety of snacks served in the brewery tasting room. Tickets must be purchased in advance and the brewery will close to unticketed guests at 5pm on July 4th. 
Other Notable Northern Virginia 4th of July Events:
COASTAL VIRGINIA
Independence Day in Yorktown, Yorktown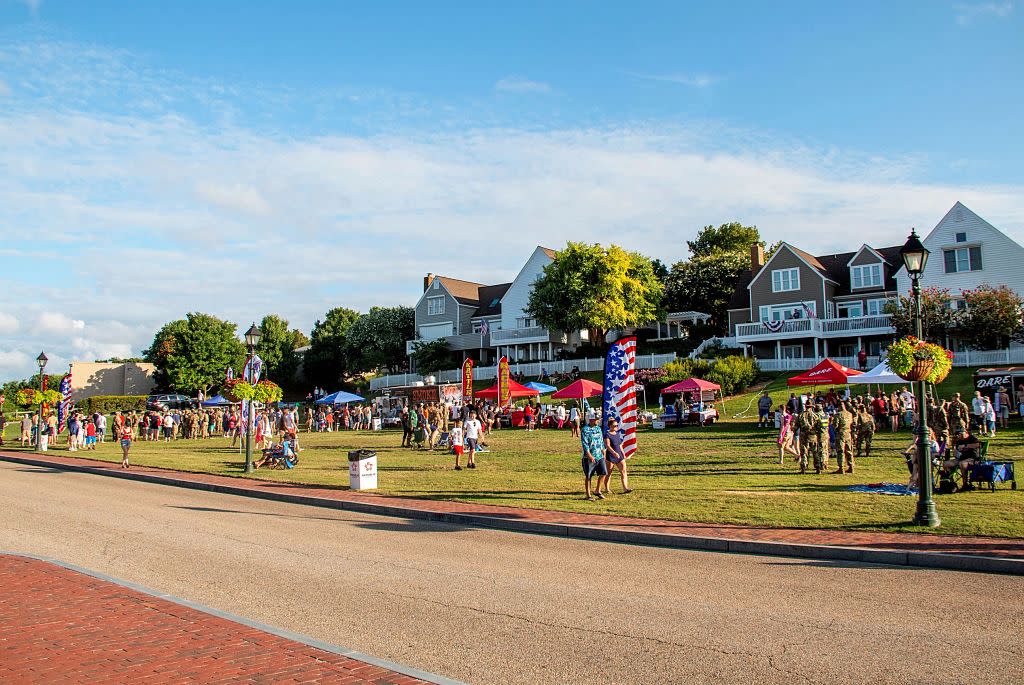 Photo Credit: York County Tourism
Date: July 4, 2022
The Yorktown July 4th celebration begins at 8am with an 8K run (there are both live and virtual options), followed by a patriotic parade along Yorktown's Water and Main Streets. Spend the day lounging on the beach, jamming to live music, perusing local shops and boutiques, and exploring Yorktown's historic museums. Grab a bite to eat at one of Yorktown's many celebrated restaurants or pick up something to-go at one of the vendors located in the Patriotic Food Pavilion, which will be open from 4pm until the fireworks conclude. This year's food vendors include local favorites like Carrot Tree Kitchens, Chef Joseph, SMOKE BBQ, Boyd's Tasty Dogs, Pop's Kettle Corn, and Coastal Thirst. In the evening, the 4th of July festivities continue with a bell-ringing ceremony, patriotic concert, and an incredible fireworks display over the York River. 
Colonial Williamsburg 4th of July Fireworks, Williamsburg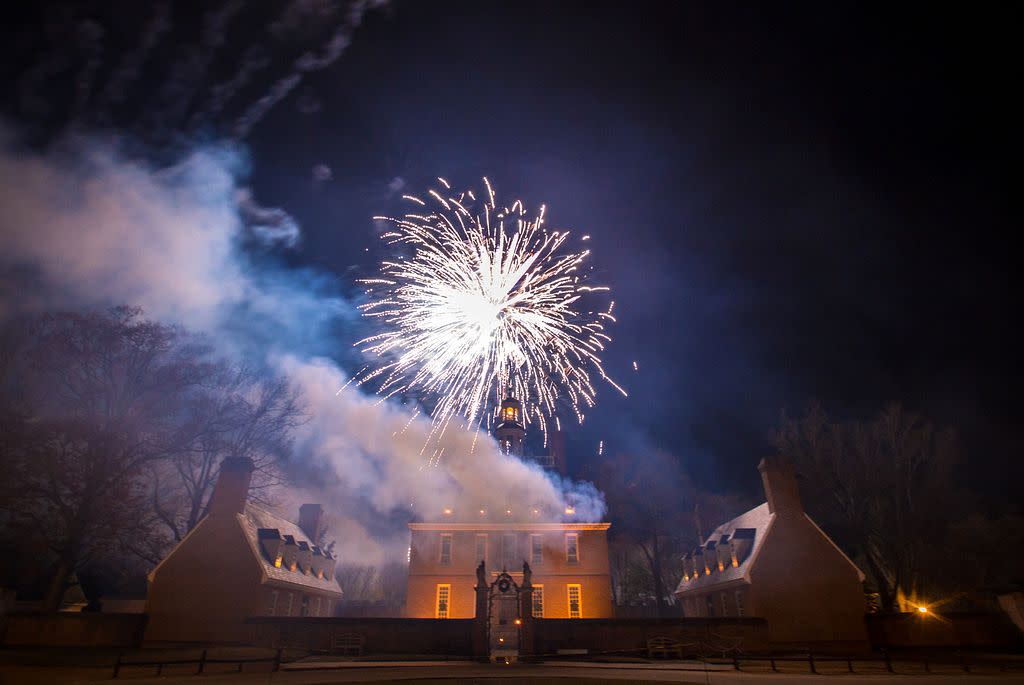 Date: July 4, 2022
Virginia has many historic destinations, but few tie into the celebration of the Fourth of July as perfectly as Colonial Williamsburg. This year, their July 4th event will include readings of the Declaration of Independence, a salute to the original 13 states by the Virginia Military Garrison, a Community Salute to America by the United States Air Force Heritage of America Band, and "Created Equal", a museum theatre experience that explores the African American perspective on the Declaration of Independence. And of course, the festivities conclude with a dazzling fireworks display over Colonial Williamsburg. 
Fourth Of July Great American Picnic & Fireworks, Norfolk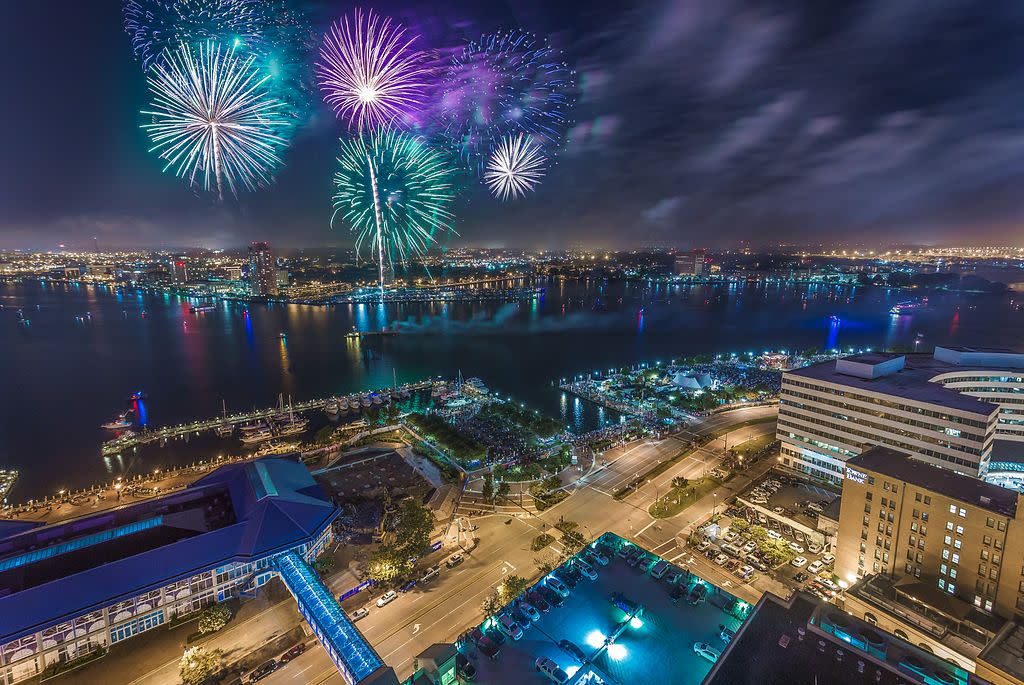 Photo Credit: Scott Camp
Date: July 4, 2022, 5:00-10:00 PM
The 39th annual Fourth of July Great American Picnic & Fireworks in Norfolk is a free event held at Town Point Park. Guests can bring their own picnic blankets and lawn chairs and purchase traditional American fare from vendors like hot dogs, hamburgers, barbecue, fresh seafood, buttered corn on the cob, and juicy watermelon slices while listening to live music performances throughout the evening. The fireworks show over the Elizabeth River begins at 9:30pm. Parking is available within close proximity at several City of Norfolk public parking garages.
Shore Thing Independence Day Celebration and Fireworks Display, Norfolk
Date: July 2, 2022
Another fantastic (and free!) 4th of July event in the Norfolk area, the Shore Thing Independence Day Celebration & Fireworks Display begins at 6pm on Friday, July 1st with live music, children's activities, and food and beverages available from local vendors, followed by a fireworks show at 9:30pm. Bring your own lawn chairs and picnic blankets to set up in the park. Free parking is available at Ocean View Beach Park as well as several other surrounding areas. 
Busch Gardens Summer Nights, Williamsburg
Date: June 17-August 14, 2022
The Busch Gardens Summer Nights event runs every night from June 17th-August 14th and includes an impressive fireworks show each evening, and block parties. Additionally, they have DJs playing music throughout the park and illuminated coasters to keep the adrenaline going from day to night.
Urbanna Boat Parade & Fireworks, Urbanna 
Date: July 1, 2022
Attend the Urbanna Boat Parade & Fireworks this Independence Day for music, food, and beverages at the Urbanna Town Marina and fireworks over Urbanna Creek beginning around 9pm, which can be viewed from the docks or from your boat. Before the fireworks, spend the day exploring the charming streets of downtown Urbanna, where you can shop boutiques and galleries and dine at restaurants like Something Different, a local staple, then watch the festive Boat Parade competition, which starts at 6pm on Urbanna Creek. 
Independence Day at Stratford Hall, Stratford
Date: July 2-4, 2022
Make it a family affair and celebrate the Fourth of July at Stratford Hall, the home of the only two brothers who signed the Declaration of Independence. Two Fish Bistro & Tackle will provide food and drink from 11am - 2pm, complete with live music from Colonial Fare. A $4 Grounds pass will admit you to explore the historic grounds, nature trail, and Potomac River Beachfront. Guest House self-guided audio tour tickets can be purchased for $12; free admission for children under 5.
Celebrate Freedom, Chesapeake City
Date: July 3, 2022
Celebrate Freedom and America's birthday with some moving, stirring patriotic sounds. The U.S. Fleet Forces Band will take the stage at 7pm, followed by fireworks by Pyrotecnico to illuminate the sky after sunset. The Chesapeake Public Art Committee will be on hand spreading awareness about and taking donations for the Chesapeake 9/11 Memorial, along with the Fine Arts Commission's fundraising arm, ART's ALIVE.
Cape Charles 4th of July 2022 Celebration, Cape Charles
Date: July 4, 2022
Celebrate Independence Day with a parade, live music throughout the day at the Pavilion and LOVE sign, and fireworks at night. Follow along the parade from Bay Avenue to Mason Avenue at 10am, followed by craft and artisan vendors until 5pm along Bay Avenue. Food vendors will be serving from 10am until dark, with fireworks to follow after sunset.
Other Notable Coastal Virginia 4th of July Events:
SOUTHERN VIRGINIA
SoBo Brew Fest 5K & Block Party, South Boston
Date: July 4, 2022
The annual SoBo Brew Fest will feature Halifax County's newest brewery on the scene: Factory Street Brewing Company. The day will also feature a 5k run/walk, live music by 6th N Main, and a BBQ food truck. End the night with a spectacular fireworks display in Downtown South Boston. Tickets are $15 for the block party and include one pint of beer. Registration for the 5k is $15 and includes admission to the block party and one pint of beer. 
Independence Day Celebration at Patrick Henry's Red Hill, Brookneal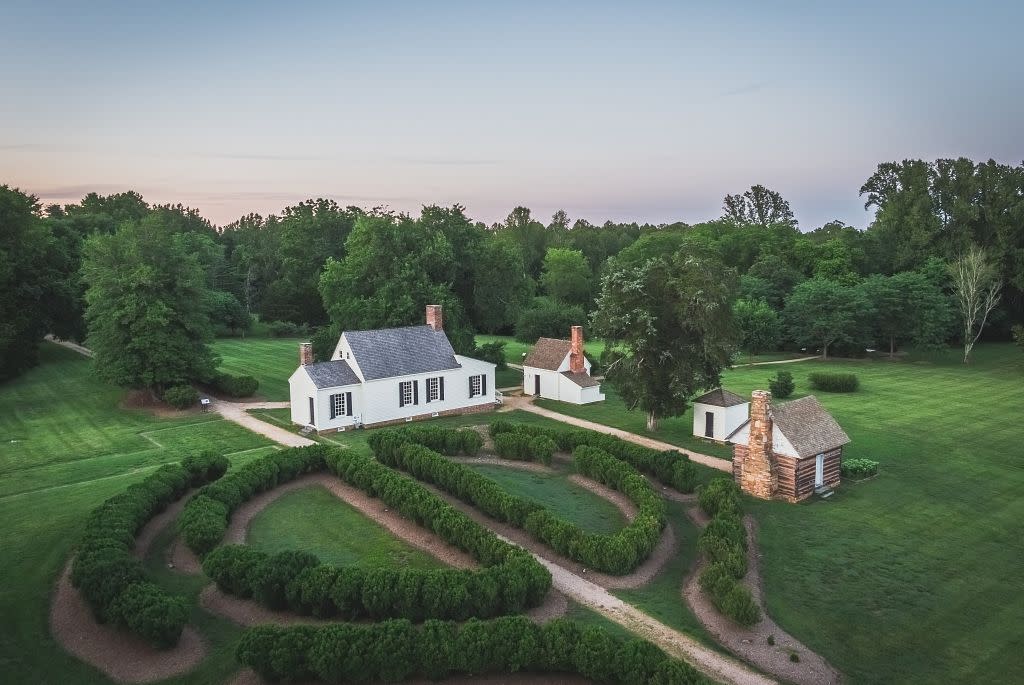 Date: July 3, 2022
Take in the Fourth of July festivities at the home of the man who famously said "Give me liberty, or give me death!" The Independence Day Celebration at Patrick Henry's Red Hill will feature local food vendors, live music, and a re-enactment of the famous speech by Patrick Henry's fifth-great-grandson. Fireworks will take place around 9:15pm. An additional VIP event will take place where visitors can enjoy cake and ice cream, and watch the fireworks from premier seating. The cost of the VIP event is $10 per person. General admission and VIP tickets are available in advance online or at the gate.
Lake Gaston 4th of July Parade,
Date: July 3, 2022
Enjoy the largest patriotic event on Lake Gaston! Join in the family fun, decorated boats, candy for the kids, treats for the pets, a refreshing drive through a light spray from a fire hose and the finale gathering of God Bless America. The parade starts at Mile Marker 17, proceeds past Americamps towards 903 bridge, back to main lake, west toward Anchor Cove, then cross lake to Timbuctu East to Norcarva. Then toward Six Pound Creek, past Ponderosa and Alma Linch and back to main lake. 
SOUTHWEST VIRGINIA
Big Stone Gap's Independence Day Extravaganza, Big Stone Gap
Date: June 30-July 4, 2022
Join the town of Big Stone Gap for this week-long celebration leading up to the 4th of July! The locations vary by event, but most take place at or near The Visitor Center. The Town of Big Stone Gap is painted red, white, and blue as the celebration for our country's independence is honored. Live music performances by area bands, food vendors from all over SW Virginia, games, inflatables, races, contests, and more! An event for all ages leading up to the 4th of July parade and a huge outdoor concert at Bullitt Park. The celebration concludes at dusk with one of the greatest fireworks displays around!
Abingdon's Independence Day Fireworks, Abingdon
Date: July 4, 2022
Abingdon Independence Day Fireworks will be held on Monday, July 4, 2022, at 9:45 pm. The fireworks will be set off from Latture Field in downtown Abingdon. Come check out one of the area's best fireworks displays. 
July 4th Celebration Cruise In, Wytheville
Date: July 4, 2022
Make plans now to join us in Downtown Wytheville for the July 4rd Celebration Cruise In! Activities include: Patriotic Kids Parade, Touch a Truck event, artist, maker, and craft vendors, 6+ bands at multiple venues, fireworks, and much more!
This will be a community family oriented celebration as we transition "not back to normal, but forward to better". 
SHENANDOAH VALLEY
Wintergreen Resort July 4th Jubilee Celebration
Date: July 4, 2022
Free. There's no better place to see fireworks than on top of a mountain. Join Wintergreen Resort as they celebrate July 4th with a fantastic fireworks display. Fireworks will take place from 9:30PM to 10:30PM.
Sunset Spectacular, Waynesboro
Date: July 9, 2022
A special fireworks display will be shot off from the top of Sunset Park. This should provide for a spectacular view from just about anywhere in Waynesboro. There will also be a 5k and 10k race that morning. 
Happy Birthday America, Staunton
Date: July 4, 2022
For over 50 years, Staunton's Gypsy Hill Park has hosted Happy Birthday America, but last year's live experience was cancelled due to COVID-19. The event has returned in 2022! Beginning at 7pm on the 4th, the two-hour celebration will feature an acoustic concert by Wilson Fairchild and end with a live fireworks show.
4th of July Downtown Get Down, Luray
Date: July 4, 2022, 5-9pm
This patriotic event will include food trucks, live musical performances, games, downtown shopping and dining specials, and a "Duck Race".  The event will conclude with fireworks launched from the fairgrounds around 9:15pm.
Strasburg July 4th Celebration, Strasburg
Date: July 4th, 6:30-11pm
Everyone is welcome at the Strasburg Town Park on Monday, July 4th, in celebration of our independence and our community. The event is free for all! This year all festivities will be located at the entrance of the park, and include live music, face painting, inflatables for the kids, a pool party ($1 admission fee), and fireworks. 
Massanutten Summer Jam, McGaheysville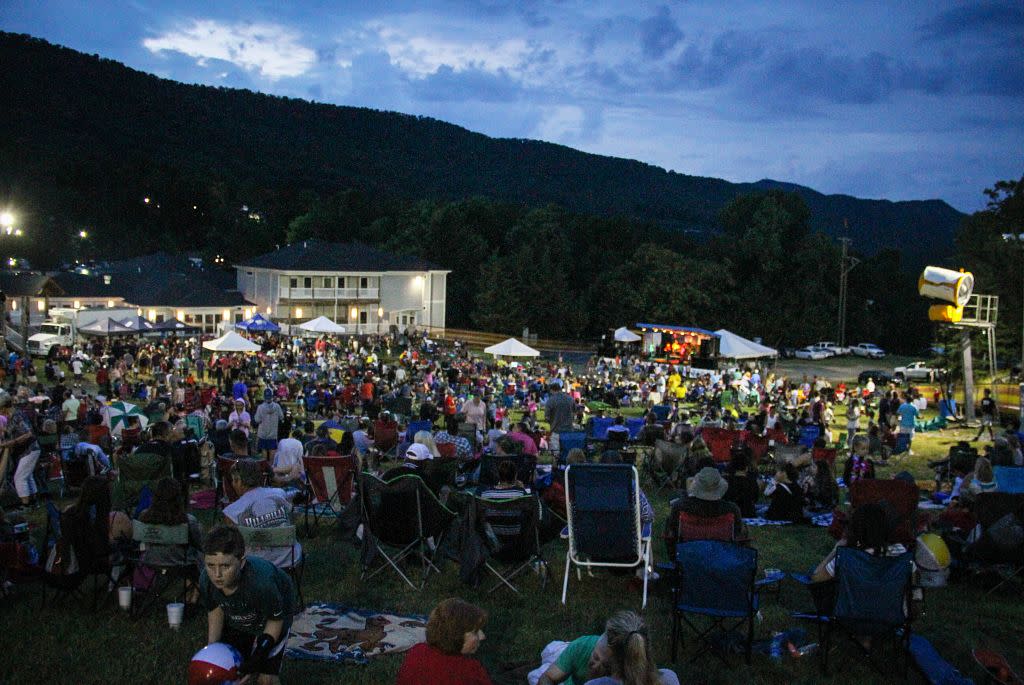 Photo Credit: Joshua Gooden
Date: July 3, 2022
This year's Summer Jam Festival will feature live music, kids' activities, beer & wine, food trucks, and fireworks at 10 pm! All proceeds benefit the Rockingham/Harrisonburg SPCA. Food Vendors include Jack Brown's, K's Grill, Big Fat Daddy's, Bayou Kitchen, and  more. Activities include Henna tattoos, face painting, arts & crafts, Giant Jenga, Connect 4 and more. Beer Garden brought to you by Molson Coors & Blue Ridge Beverage, and beer tickets are $5 each.
VIRGINIA MOUNTAINS
Town of Buchanan Independence Day Parade & Fireworks, Buchanan
Date: July 4, 2022
The Independence Day Parade will begin at 5pm. Visitors are invited to bring lawn chairs and sit along Main Street for viewing. Shop, stroll and dine along Main Street before cheering fire trucks, floats, marching units, and more as they make their way. Following the Parade, make your way down to the Town of Buchanan's Riverfront Park to enjoy games, rides, live music and great food – all part of the Buchanan Community Carnival. Fireworks begin at 10pm. 
Town of Vinton Fireworks, Vinton
Date: July 4, 2022
Enjoy patriotic fireworks at the Vinton War Memorial. And don't forget to snap a selfie in front of the Vinton War Memorial LOVEworks on the lawn! Admission is free. Fireworks timing to be announced.
July 4th Fireworks at the Salem Fair, Salem
Date: July 4, 2022
Gates to the Salem Fair will open at noon. Enjoy live music shows at 6:30pm and 8:30pm, followed by fireworks around 9:30pm. Admission is free. 
4th of July Lake Party, Gills Creek
Date: July 1, 2022
Make a splash this Fourth with a free boat-in concert on the water from 4pm - 7pm. Float your boat and enjoy music by Five Shades of Gray. Land-goers are also welcome--bring a chair, sit on the dock, drop a line, take a swim, enjoy and be safe. Gills Creek will be No Wake from G1 to G5 from 4pm-7pm.
Four on the Fourth, Roanoke
Date: July 4, 2022
Start your day off with a patriotic four mile run around Downtown Roanoke. Proceeds from the race benefit Boys & Girls Clubs of SWVA. Strollers welcome, but please keep your furry friends at home for this race. There is also a Kids Fun Run option!
Rotary Club of Rocky Mount's Independence Festival, Franklin County
Date: July 1, 2022
Join the Rotary Club of Rocky Mount for this Independence Festival from 5pm-10pm. Because there will be limited food vendors, participants are allowed to bring coolers and food to the event
Fireworks begin at dusk. There will be a 50/50 raffle, along with $50 tickets for a chance to win cash prizes (from $500 to $2,500). Raffle tickets will be sold at the event with proceeds going toward Franklin County Parks and Recreation's Land of Lights display.