From bike lanes to trail rides, these seven Virginia cities and towns make it easy for cyclists to ride for pleasure or with purpose.
Alexandria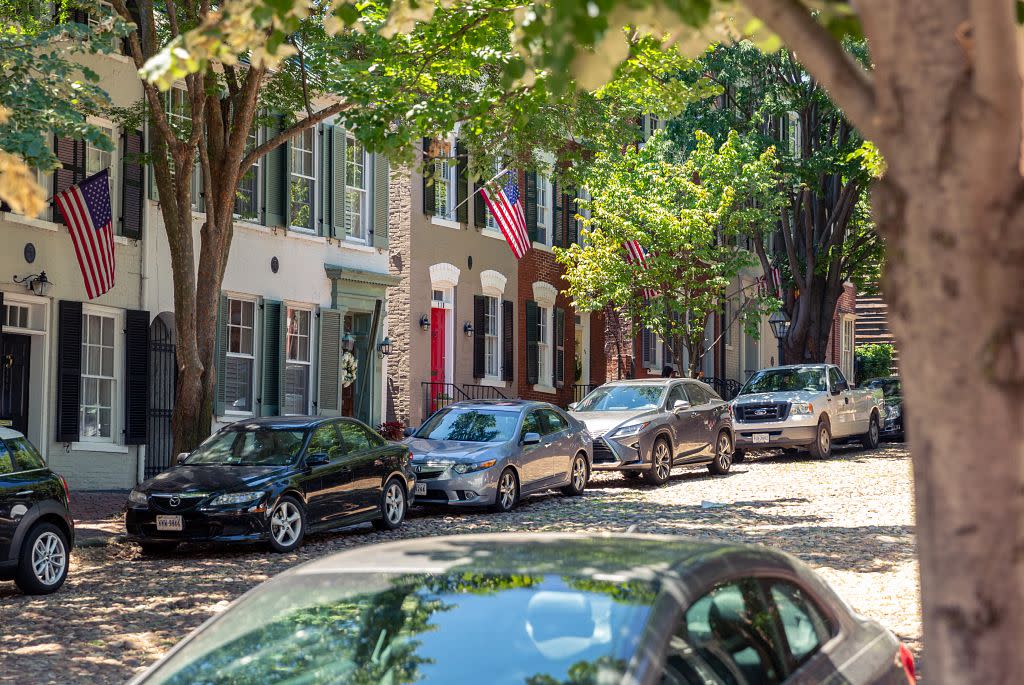 Bike and Roll, Alexandria
The City of Alexandria was recognized in 2013 for its bike friendliness, both from the League of American Bicyclists as a Silver Level Bicycle Friendly Community and by Virginia Living Magazine as one of "10 Favorite Cycling Destinations."
Bike lanes (either dedicated or shared) are available on Cameron, Prince and Pendleton Streets in Old Town as well as Commonwealth Avenue, Mt Vernon Avenue and Braddock Road in Del Ray, and designated bike lanes on King Street. Bike racks have been installed along sidewalks near many local businesses and other locations for biker convenience, like along King Street in Old Town and Mount Vernon Avenue in Del Ray.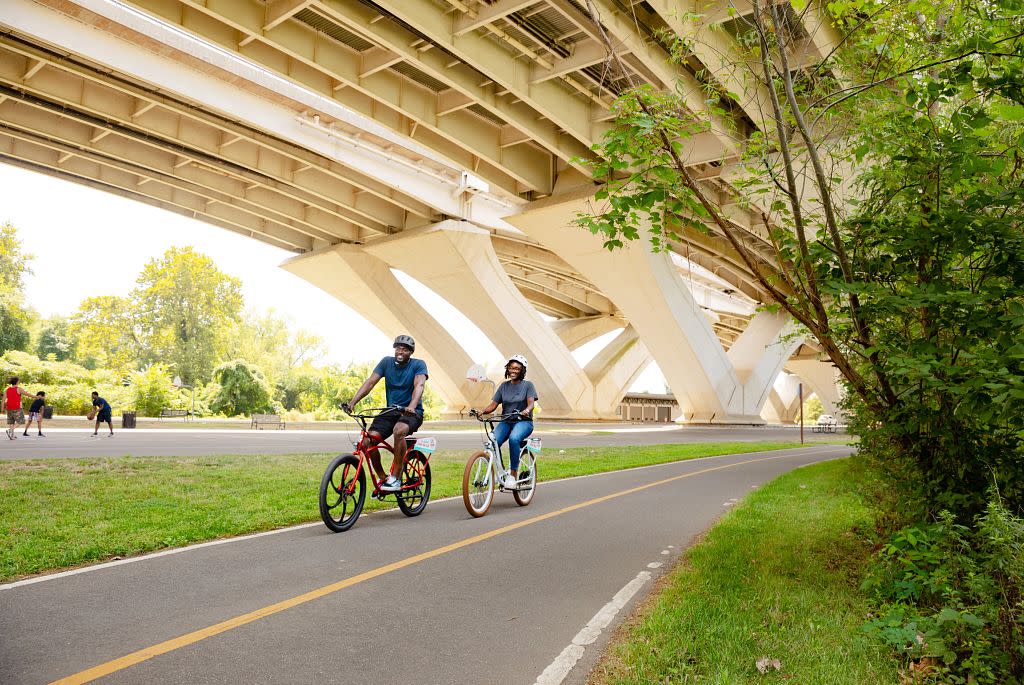 Mount Vernon Bike Trail, Arlington. Photo Credit: Dayo Kosoko for @visitalexva
Alexandria also hosts the Mount Vernon Trail. This 18 mile path takes you from Rosslyn (just across the bridge from Washington, DC) to George Washington's historic Mount Vernon. As you ride alongside the stunning Potomac River, you'll pass views of the national monuments, parks, Old Town Alexandria and George Washington's waterfront estate. 
Arlington
Arlington maintains 50 miles of off-street, multi-use trails for bicycling, walking and jogging. Portions of these trails pass through beautiful natural areas of Arlington's park system and connect to regional bike trails.  In addition to these off-street trails, Arlington has 36 miles of marked, on-street bicycle routes and 78 miles of recommended on-street routes.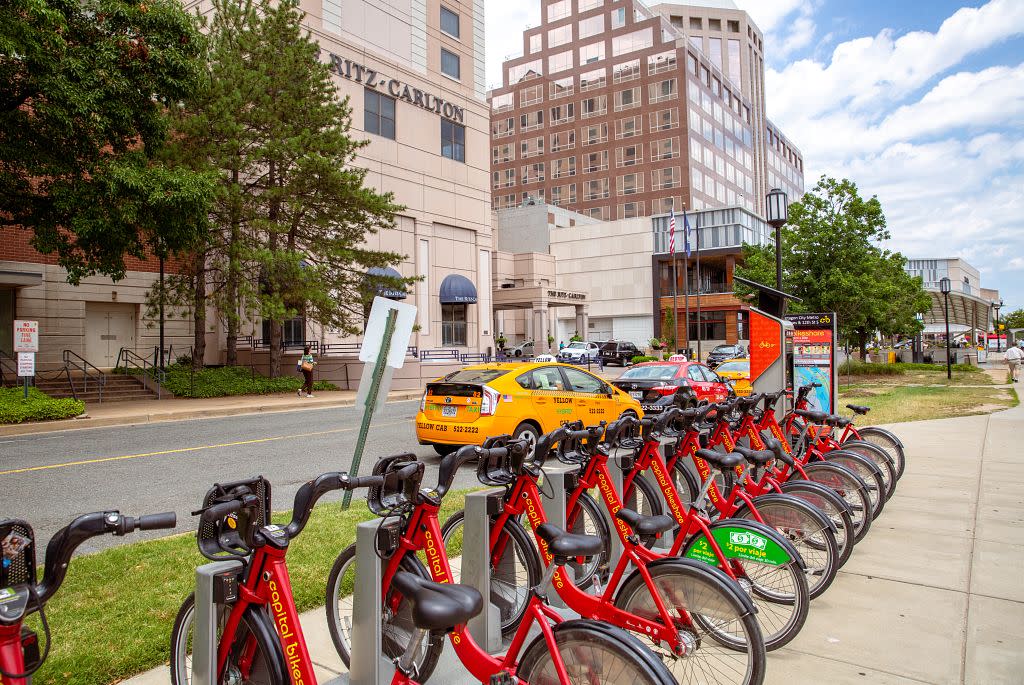 Excellent dining districts can be found in Ballston, Clarendon, Crystal City and Shirlington – all of which are easily accessed by some of the off-road bike trails and the Capital Bikeshare Program (more on that in a moment!).  Additionally, attractions like Arlington Cemetery, the Air Force Memorial and the Iwo Jima Memorial are all also easily bike-accessible. For more information on how easy it is to bike around Arlington, visit www.bikearlington.com.
Arlington and Alexandria also participates in the Capital Bikeshare Program which puts more than 2,500 bicycles at your fingertips. Choose a bike from more than 300 stations across Washington, D.C., Arlington and Alexandria, VA and Montgomery County, MD and return it to any station near your destination. For more information, visit www.capitalbikeshare.com.
Harrisonburg
Harrisonburg is the Shenandoah Valley's premiere biking destination.  The city was recognized as a bronze level ride center by the International Mountain Bicycling Association and a bronze level Bicycle Friendly Community.  Shared Lane Markings (otherwise known as "Sharrows") are prevalent in the downtown area and show cyclists the best place to ride on the road.
The city also offers a wide variety of cycling parks and trails which range from novice to expert experience levels.
Richmond
Carytown Bicycle Co., Richmond.
Photo Credit: Tony Hall
Among other accolades, Richmond has been recognized on a BuzzFeed list of "10 Cities You Should Explore on Two Wheels."
The Connect RVA project, a plan to build 20+ miles of new family-friendly bikeways, makes Richmond one of the most bike-friendly cities in the Commonwealth.  The project encompasses both shared and dedicated bike lanes through the heart of downtown and safer trails off the beaten path.
Additionally, the city is connected to Williamsburg through the Virginia Capital Trail, a 52-mile paved trail that runs alongside Route 5.
Abingdon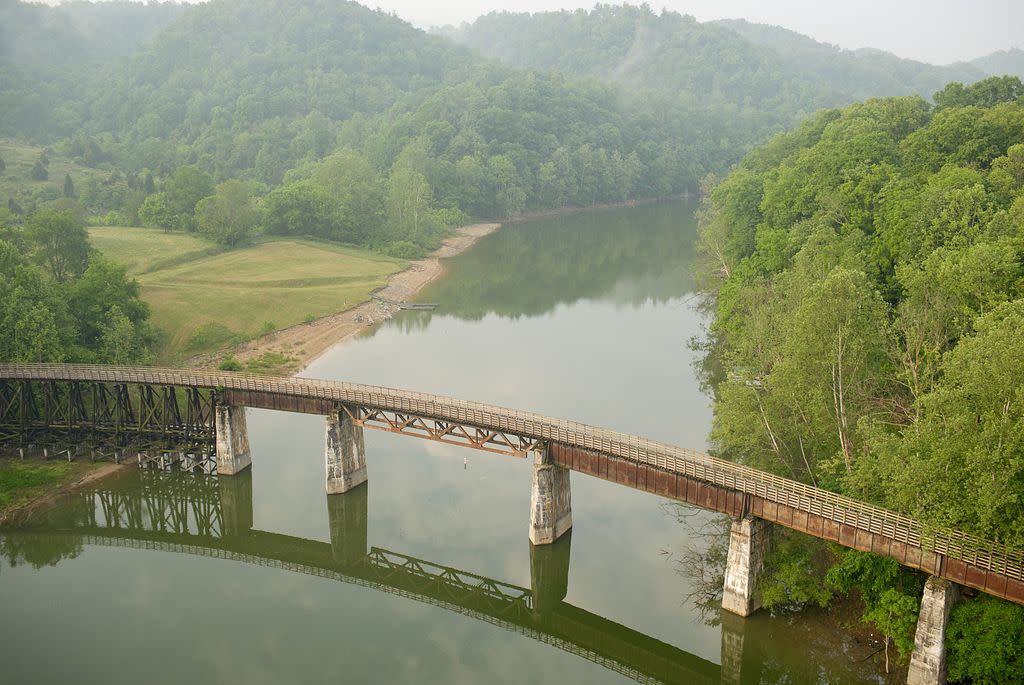 Virginia Creeper Trail in Abingdon. Photo Credit: Cameron Davidson
Abingdon is home to the Virginia Creeper Trail, a crushed gravel shared-use trail (bike, hike, equine) connecting Abingdon, VA, with the Virginia-North Carolina border 1.1 mile east of Whitetop Station, VA.  The trail has been named the 2014 Hall of Fame Inductee for the Rail to Trails Conversancy, which recognizes trails with a high scenic value, high use, trail and trailside amenities and historical significance among other categories.
A Virginia Creeper Trail extension provides access for people to ride directly into Abingdon after riding the trail. It brings cyclists right into the downtown area at the Abingdon Farmers Market. Lots of restaurants in the downtown area have bicycle racks for riders' convenience.
Abingdon has also created the Urban Path System, a public system connecting streets and pedestrian sidewalks or trail linkages to residential and public areas within the Town of Abingdon. Neighborhood streets include landscaping and traffic calming features to effectively manage traffic and encourage attractive and safe pedestrian-friendly environments.
Virginia Beach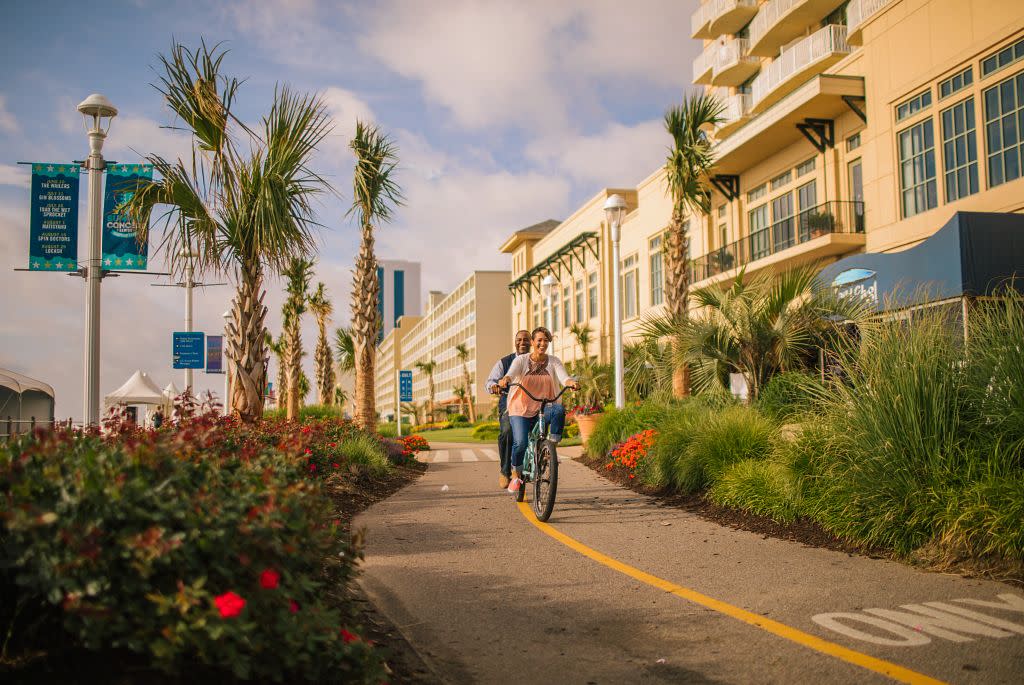 Virginia Beach Boardwalk. Photo Credit: Sam Dean, @sdeanphotos
A coastal Virginia city offering the perfect combination of quiet, natural shoreline rides and on-road bike accessibility, Virginia Beach currently has over 100 miles of trails including asphalt paths, nature trails and on-road bike routes.
Bike trails near the coast are available at Virginia Beach state parks such as Back Bay National Wildlife Refuge, First Landing State Park, and False Cape State Park, which has been untouched by humans and is only accessible on foot, by boat, or by bike.
In addition to its rides through nature, the city also offers a Bikeways and Trails Map indicating bike accessibility throughout the cities major roads.  The Virginia Beach Boardwalk also offers a way for bikers to view the beauty of the Virginia coastline, while also shopping and dining right on the waterfront.
Roanoke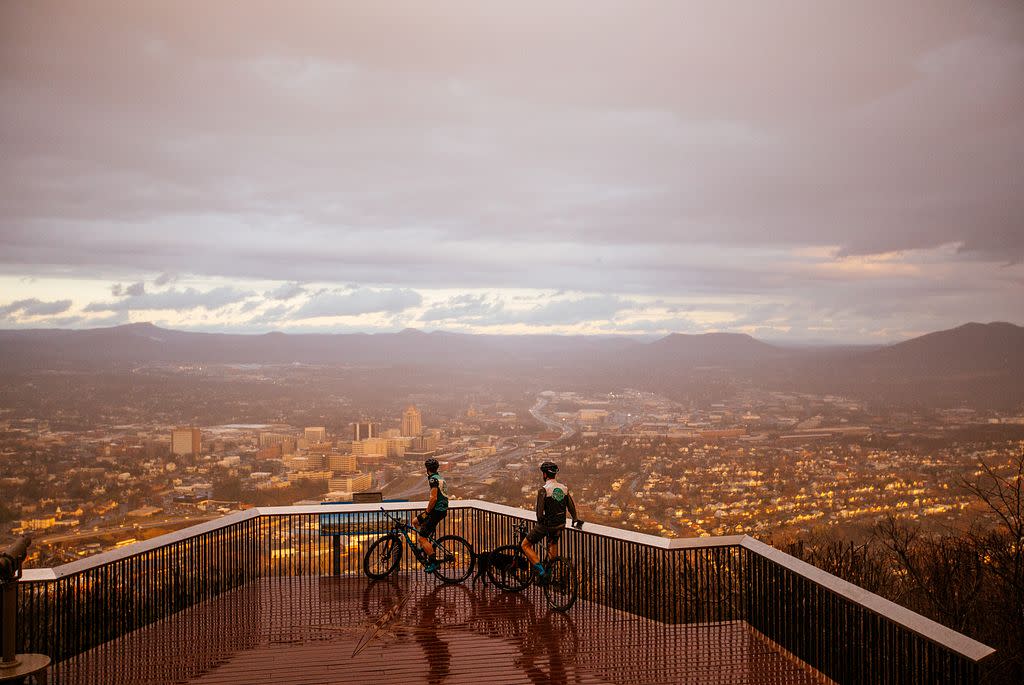 Roanoke Valley Greenways. Photo Credit: Sam Dean, @sdeanphotos
Roanoke offers a variety of bike-centric events throughout the year, with many taking place during National Bike Month. The mountain city was recently bestowed the honor of being the first and only IMBA Silver Level Designation on the East Coast, recognizing Virginia's Blue Ridge region as one of the best mountain biking areas around.
Grandin Village is one of Roanoke's most bike-accessible attractions and brings an old-school charm to its over 80 shops and restaurants. An Art by Bike route was also developed around the city, offering over 20 stops for riders to access and enjoy the city's art on two wheels.
Do you love to bike in any other Virginia cities or towns? Leave us a comment and let us know!