Each year, Earth Day is celebrated with tree plantings, environmentally-friendly events, and activities in the Great Outdoors. But did you know that Earth Day actually began in Virginia at Airlie, an idyllic retreat in Northern Virginia? 
An Outdoor Paradise Imagined
Airlie was originally dreamed up by Harry Connelly Groome, a wealthy gentleman from Philadelphia who purchased the land in 1899 and began constructing his "Airlie House", which was named for a castle in Scotland. A three-story grand Georgian Revival structure, the stunning home was surrounded by formal gardens and pastures with purebred livestock.
Unfortunately, a catastrophic fire consumed Airlie House in 1924, but Groome persevered with his dreams of a country estate, rebuilding the home as a two-story manor house which stands virtually unchanged to this day. The gardens have also been maintained during the previous century, with the boxwood-edged formal gardens nearly identical to the plans and plotting done almost 100 years ago.
Airlie & Civil Rights in America
In 1956, Dr. Murdock Head purchased Airlie House and renamed it Airlie Center, repurposing the 300-acre estate into an eco-centric conference center that would officially open in 1961. Only a year after the opening, LIFE Magazine would hail Airlie Center as an "Island of Thought", recognizing the retreat's extensive facilities and its ability to attract progressive educators, public health officials, environmental researchers, and social progress organizers. 
The field of social progress was especially noteworthy when it came to Airlie; numerous local and national civil rights activists, including Dr. Martin Luther King, Jr., would gather at Airlie over the 1960's to work towards equality and battle the outdated laws of segregation. In 1988, Airlie hosted over 150 gay and lesbian leaders that came together for The War Conference to advance the rights of all humanity. During the same time, the Airlie Productions film company was established and would go on to produce over 250 documentaries urging positive change throughout the world.
The Founding of Earth Day
While Earth Day was not formally suggested until 1969, Airlie Center had been leading the way in eco-friendly, sustainable practices since it was founded in 1961. The conference retreat practiced recycling and compost programs long before these actions were popular or widespread. But visitors to the center took note of the environmental practices happening at Airlie and began considering how these ideas could be widely adopted to create a better planet. 
In 1969, Senator Gaylord Nelson presented his idea for an official Earth Day to a group of medical and law students gathering at Airlie, and by 1970, April 22 was designated as Earth Day, with over 20 million people participating. This singular event would even contribute to widespread government reforms, with the U.S. government creating the Environmental Protection Agency by the end of 1970. 
Sustainable Practices at Airlie Today
Airlie has continued to strive for ecological excellence, utilizing fuel-efficient vehicles and energy-saving light bulbs throughout the property, practicing responsible land conservation, and protecting the natural habitats of the wildlife native to the region.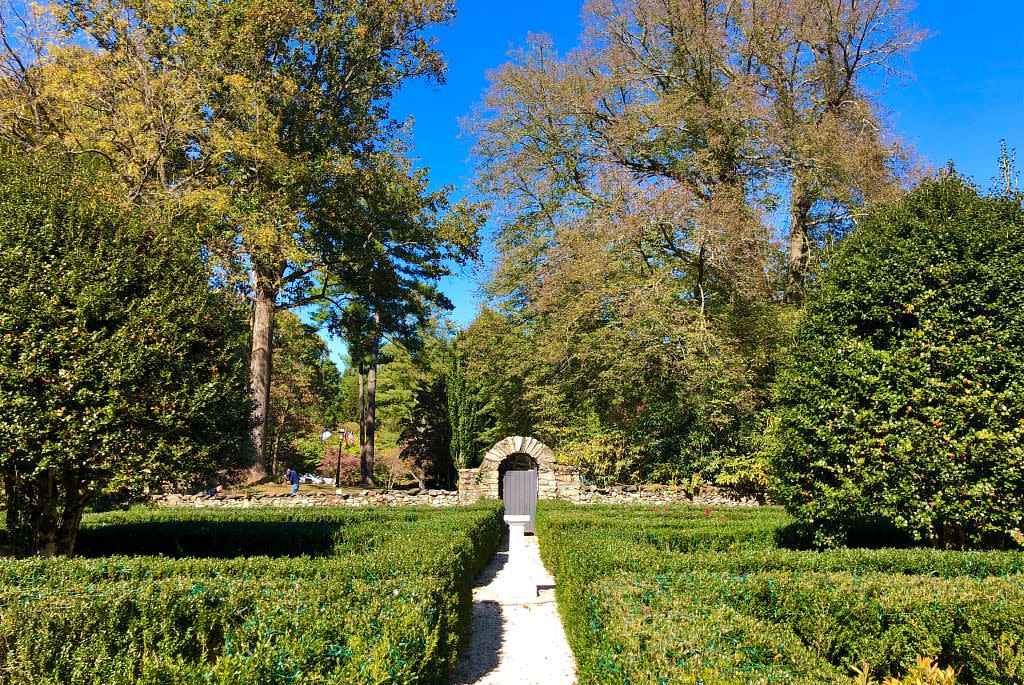 The country estate also features a 20-acre farm that allows the center to grow over 20,000 pounds of produce each year, which is used in the kitchen to craft hyperlocal cuisine for visitors and also donated to local food banks. They raise Berkshire pigs and Angus cattle on 75 acres, producing 12,000 pounds of beef and pork to be used in the kitchens, with the remaining meats available for purchase. 
Airlie's state-of-the-art conference facilities blend seamlessly with the surrounding environment, welcoming visitors to relax and enjoy the stunning scenery and pristine views. The estate offers a unique mix of historic charm, impeccable hospitality, luxurious accommodations, and ecologically-responsible practices.
Airlie Today: Celebrating Over 50 Years of Earth Day
In 2020, Earth Day officially turned 50 years old, celebrating an incredible milestone in both Virginia history and eco-friendly practices. With the foundation of the world's largest environmental movement, Airlie and the Commonwealth of Virginia put itself on the map as an ecologically-responsible destination. Today, Airlie acts as a picturesque meeting space, a stunning wedding venue, and a quiet retreat destination for visitors looking for a nature-filled getaway in Northern Virginia, and Earth Day has grown into an incredible annual event with over 1 billion people participating in over 190 countries.
Want to know more about Virginia's lesser-known history? Check out our article about Virginia Beach & the Historic Cavalier Hotel, and stay tuned for more But Did You Know… history articles to learn about some of Virginia's most amazing untold stories!