Virginia is the sixth-largest producer of apples in the nation, growing a large selection of apples for both processing and fresh consumption. This industry includes apple producers that offer their products both domestically and abroad, as well as several pick-your-own farms and farmer's markets. Additionally, outstanding apple harvest festivities are celebrated in Virginia every fall. Fresh apples are always delicious in the fall, but you can also pick up locally-made apple products during the season, such as apple butter, applesauce, and cider. The hard cider industry in Virginia is also expanding, with over 20 manufacturers currently selling their products at the cideries as well as through grocery stores and online stores.
Virginia's apple season lasts from August to the beginning of November, with mid-September to mid-October being the optimal time to select the tastiest fruit. We are fortunate to have many orchards in the Charlottesville area that offer lots of fun extras, like homemade apple pies and hayrides. It's always a good idea to check an orchard's social media pages or give them a call to be sure they are still selling apples and have space available. You might want to come back later in the season, too, since many orchards feature pumpkin patches.
Apple Orchards Near Charlottesville to Visit
Carter Mountain Orchard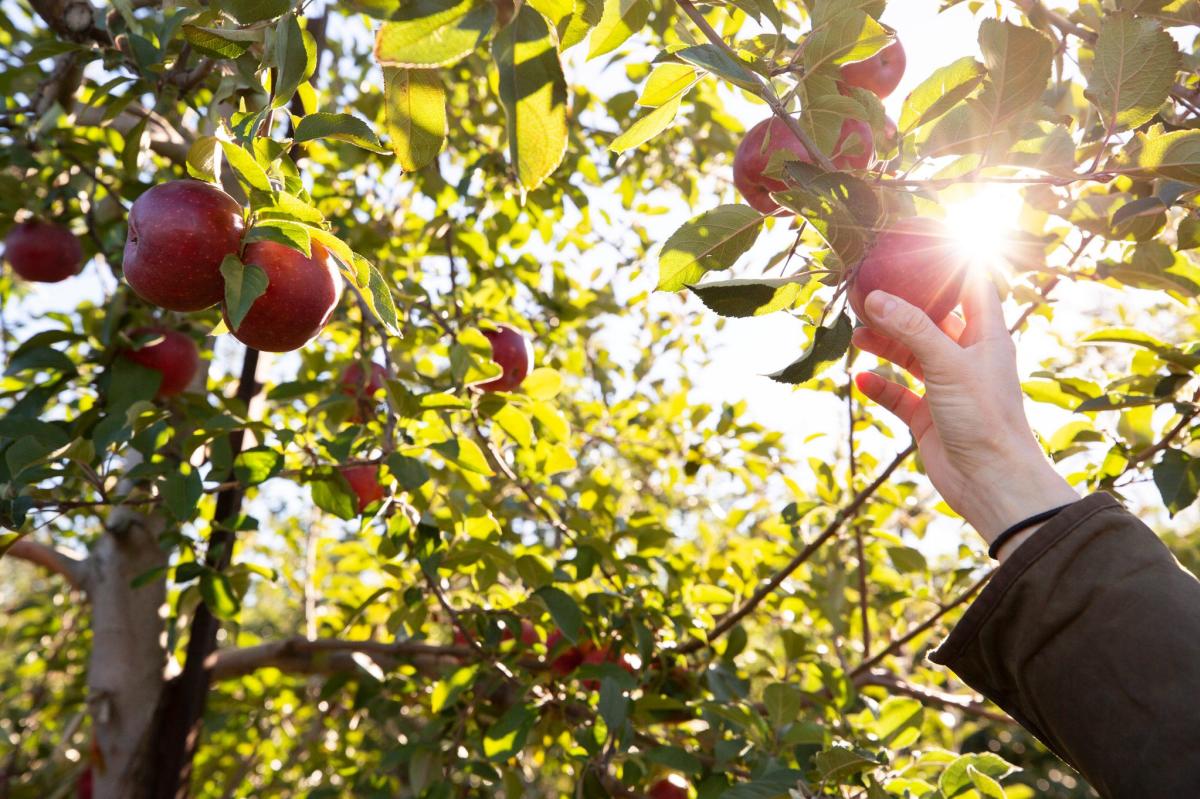 In the fall, look for apples, hayrides, and pumpkins at Carter Mountain Orchard. Year-round, savor baked products, jams, and the Carter Mountain famous hot apple cider donuts—a delectable regional tradition. Since the panoramic views of Charlottesville and the Blue Ridge Mountains are nothing short of amazing, this is also an excellent site to bring visitors looking to experience the beauty of the region, and Carter Mountain is convenient to famed sites like Monticello and Jefferson Vineyards, too. Weekends feature live music and for the 21+ crowd, you can sample Carter Mountain wine and Bold Rock hard ciders. Food trucks are often on-site at Carter Mountain during the fall.
Tips for Visiting: Check their website and social media accounts for upcoming food truck schedules and special events. Advance tickets are required for busy weekends.
Chiles Peach Orchard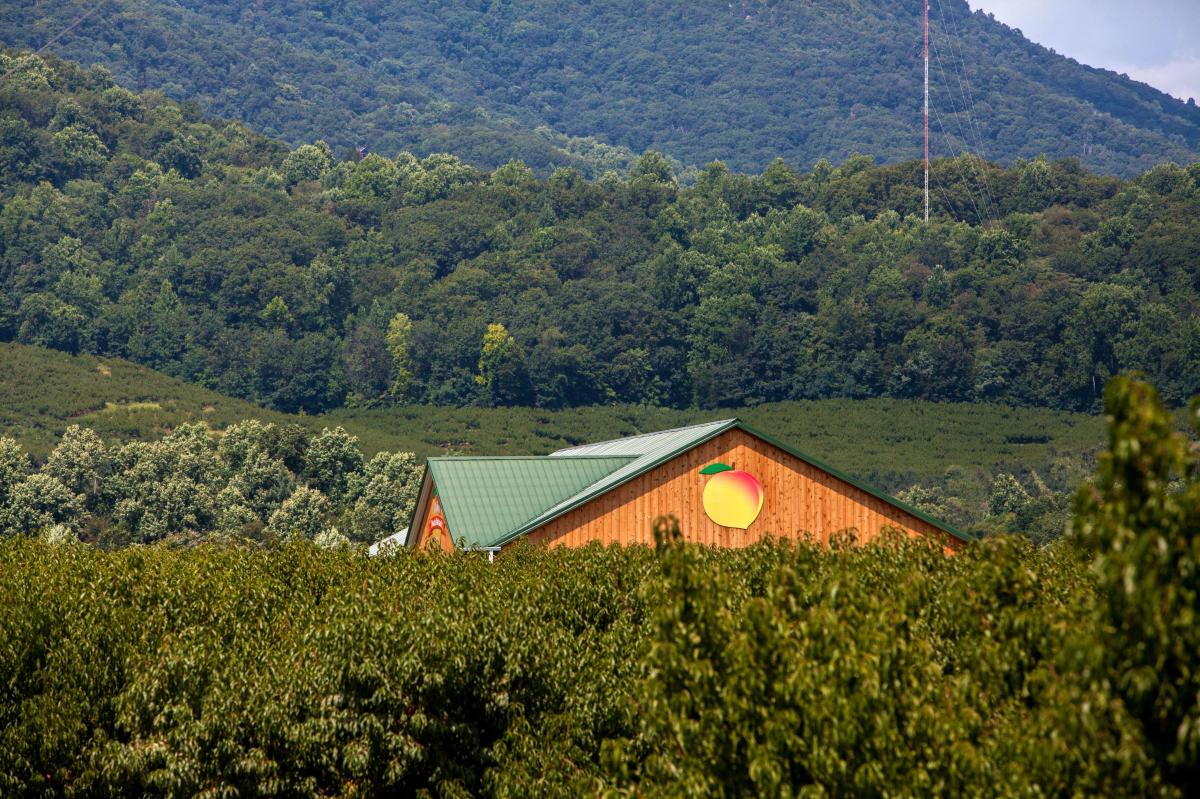 Despite being famous for its peaches, Chiles Peach Orchard in Crozet also sells apples, berries, vegetables, pumpkins, and other fruits and vegetables. The Chiles Family founded this property as a small vegetable stand several generations ago, and now they own Chiswell Farm & Winery, Carter Mountain Orchard, and Spring Valley Orchard, too. The regular apple-picking season at Chiles runs from mid-August through November, and their website provides helpful information on what is available each day. Visit their large farm market and bakery for some sweets or savory sauces created with fresh ingredients produced in the orchard after you've chosen all the apples you can carry. You can enjoy their famous peach soft-serve ice cream and pies as well as wines and ciders.
Tips for Visiting: Reservations for peak weekends.

Henley's Orchard
Henley's Orchard grows more than 25 different apple types using a low-spray technique just north of Crozet's center, including the Albemarle Pippin, which is a favorite in the area. Henley's Orchard, which Joseph Henley Sr. founded in 1932, is now a family business. Summer's peaches and strawberries give way to fall's apple and pumpkin harvesting for your enjoyment, and the farm will host their first annual corn maze in 2023. At Henley's, hayrides are another entertaining activity.
Tips for Visiting: Each fall, keep an eye out for a festival with hayrides, live music, fresh cider, and a kid's play area, planned for September 16th, 23rd, and 30th in 2023.
The Market at Grelen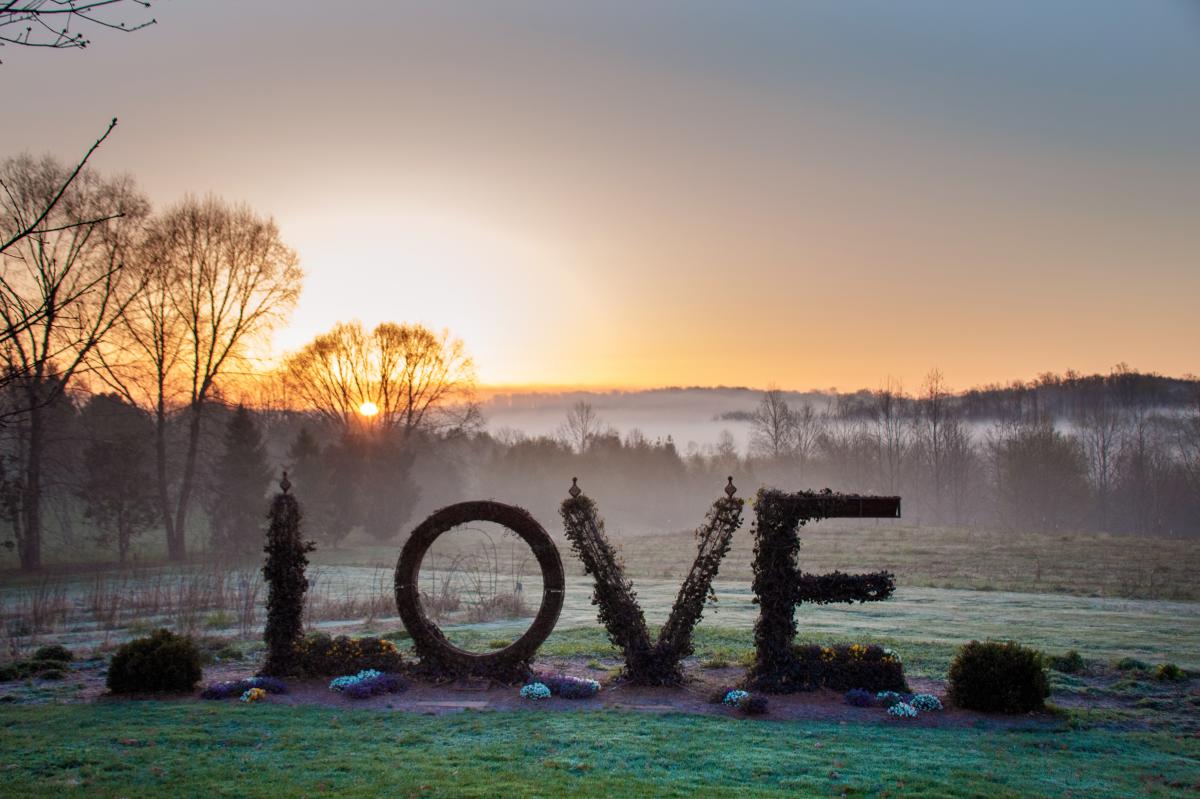 The expansive 1,000-acre grounds of the Market at Grelen feature pick-your-own apples in the fall along with a café, a garden supply store, and a ton of classes that cover a wide range of planting methods. There are also beautiful trails where you may sit down and enjoy a pre-ordered lunch from the café or a Grelen picnic basket and of course, local wines.
Tips for Visiting: Don't miss the chance to take a photo in front of the stunning LOVEwork at the Market at Grelen.
Dickie Brothers Orchard
Since King George granted their land grant, this Nelson County orchard has been owned and run by the same family for more than 268 years! Many families add a trip to hike the spectacular Crabtree Falls while they are in the area to visit Dickie Brothers Orchard, which is home to numerous apple types and is close to the picturesque George Washington National Forest and Wintergreen Resort.
Tips for Visiting: If you're traveling down Route 151, stop into their Farm Market, located in Afton, Virginia.
Seamans' Orchard
The only weekend of the year that Seamans' Orchard in Roseland offers pick-your-own apples is September 18 and 19. They are sold by the half-bushel and bushel. Like Dickie Brothers Orchard, Seamans' Orchard is close to the Blue Ridge Parkway and Crabtree Falls, an easy-to-moderate hike for families, adding even more fun to a weekend excursion. In October, the farm opens as a pick-your-own pumpkin patch.
Tips for Visiting: Guests are welcome to have a picnic while on the grounds, so pick up a to-go lunch on the way and eat lunch surrounded by the Blue Ridge Mountains.
Silver Creek Orchards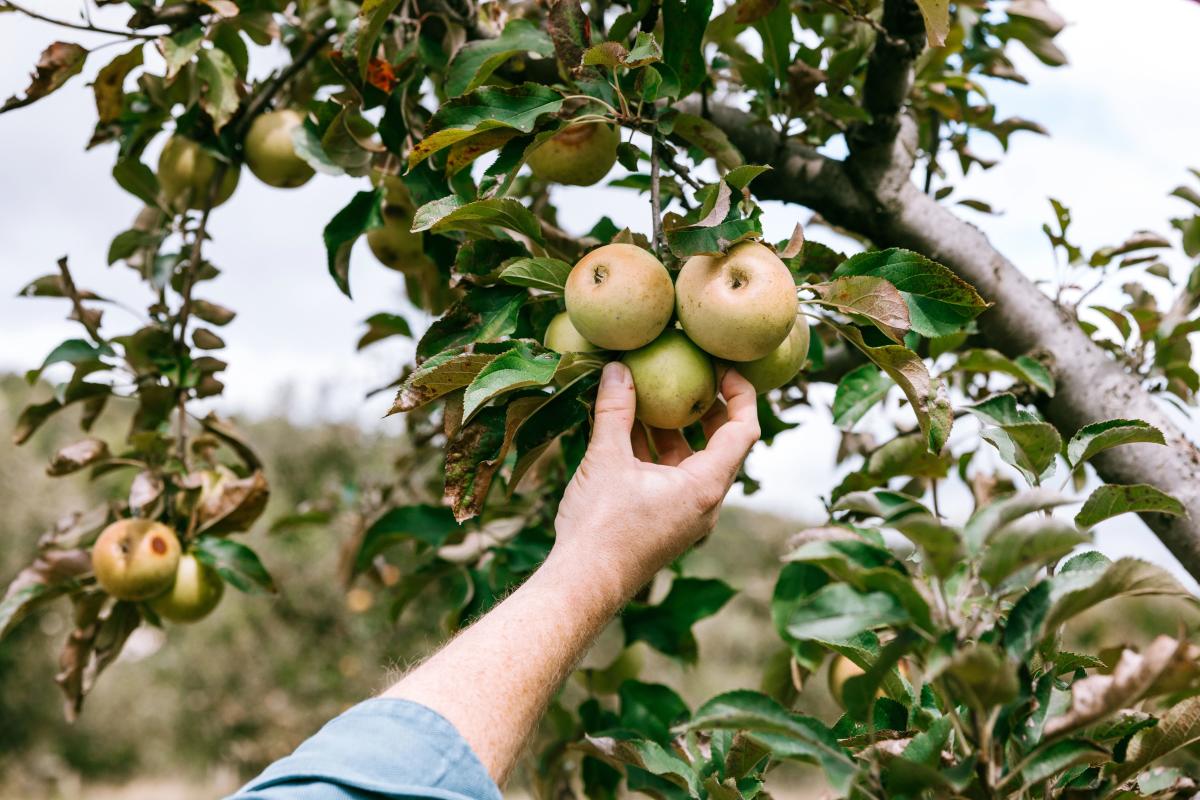 Although the farm stand (packing shed) is open every day in September, Silver Creek Orchards only offers pick-your-own fruit on two Saturdays (September 11th and October 9th in 2023) rain or shine. Plan to pick up a basketful and then browse the local treats in the packing shed. Weekend closures and sporadic weekday hours are the norm for retail establishments.
Tips for Visiting: Throughout the season, Silver Creek Orchards conducts Apple Butter Makin' Festivals with Seamans' Orchard; call for dates and details.
 
Celebrate Fall with Fun Apple Harvest Festivals
In addition to pick-your-own apple orchards near Charlottesville, there are also several family-friendly apple harvest festivals to celebrate this fresh fruit! Add a few of these festivals to your fall calendar to enjoy all of the delicious, seasonal apple treats.
Castle Hill Cider Fall Market & Music Series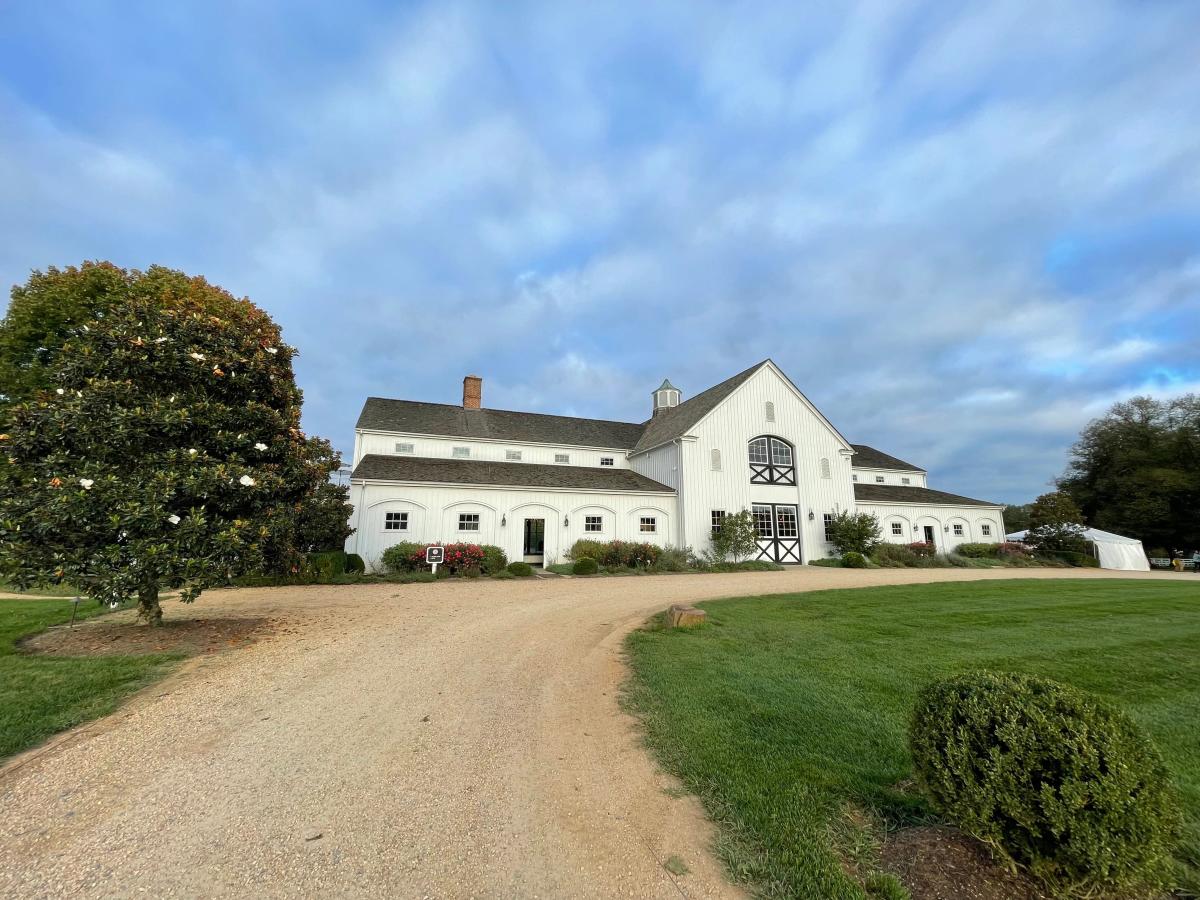 This beautiful Keswick property is a wonderful place to spend a fun day outdoors. Every Sunday in September and October, head to Castle Hill for the Fall Market. Taste an array of Castle Hill Ciders, listen to live music, and shop local artisan vendors. Start the day with yoga (pre-registration required), then head into the tasting room to peruse vendor goods from 11am-4pm, with live music from 1-4pm.
 
Graves Mountain Apple Festival
The first three weekends of October are when the much-loved Graves Mountain Apple Festival takes place in the countryside close to Syria, Virginia. The timing of this annual event coincides with the peak of the apple harvest, ensuring a steady supply of the finest and freshest apples. The festival's menu is a treasure trove of apple-themed treats, such as delicious apple cider doughnuts and caramel apples. For visitors of all ages, the Graves Mountain Apple Festival also provides a variety of activities. Take a stroll around the extensive craft booths, enjoy traditional bluegrass music, and let the kids enjoy some fun hayrides through the picturesque countryside or face painting. Advance tickets are recommended.
Harvest Festival at Bold Rock Hard Cider

The Bold Rock Hard Cider tasting room is always a fun stop for cider lovers. It is complete with indoor and outdoor seating, food, live music and trails for hikers and bikers too. For the Harvest Festival September 16, 2023, Bold Rock adds lots more activities – more music, more food and even rides, craft vendors, pumpkin carving, costume contest and inflatables in the Meadow. In honor of your favorite fruit enjoy apple-themed games, drink specials and more. For a grown-ups only outing, try out one of these Cideries in the Charlottesville Area.
Shenandoah Valley Apple Harvest Festival
Get tickets to the Shenandoah Valley Apple Harvest Festival on Saturday, September 16th from 10am-5pm, which include free inflatables, live music, an apple pie eating contest, apple pie judging contest, artisans and vendors, a canine challenge course, samples of apple treats, and a classic car and hot rod show! New this year is ax throwing, a corn hole tournament, free pony rides and a petting zoo, a free kiddie train, and an apple pie eating contest for the kids! In the Tap & Cork zone, sample alcoholic beverages and enjoy live music (must be 21 and over). Feeling competitive? Join in for the apple pie baking contest or go even simpler and eat to win. The popular apple pie eating contest is expanding and now there is a junior contest, too. When you are done with pie, there are lots of concessions with everything from crab cakes and turkey legs to ice cream and apple dumplings.

Tips for A Great Day Trip
Ready to head out to a local orchard for apple picking? Here are tips to help you have a great visit!
• Call ahead for conditions, supplies and prices.
• Pack a picnic and a blanket.
• Bring bug spray and sunscreen.
• Dress in layers and wear comfortable shoes.
• Carry canvas shopping bags, which won't rip when full of heavy fruit.
• Have cash on hand, since not all orchards will take credit or debit cards.

Apple Recipe Ideas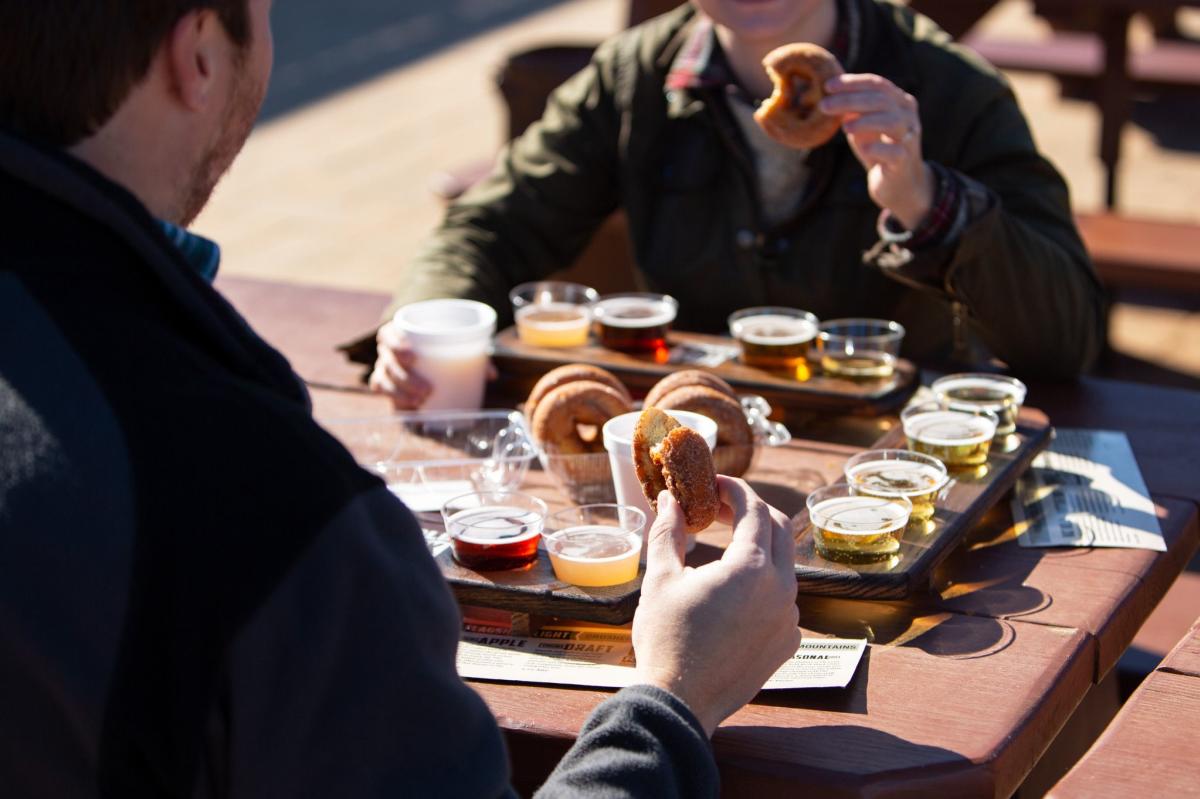 Looking for a recipe to make with your freshly picked local apples? Try this Apple Fritter Donut Recipe or these Apple Cider Donuts. Taste the season with this French classic Spiced Apple Galette.
Jennifer Bryerton is Co-Founder and Editor-in-Chief of Virginia Wine & Country Life as well as CharlottesvilleFamily, created with the Ivy Life & Style Media. She is an avid gardener, home cook and wine-taster. She enjoys learning about Virginia viticulture and sharing the story of our local farm-to-table makers.