Pick-Your-Own Farms
Pick-Your-Own farm experiences can be found all across the state. From herb and flower gardens to berry farms and apple orchards, Virginia has many family-run businesses welcoming visitors to pick-your-own produce all year long.
Flowers are often available in the spring such as tulips and daffodils, while herbs like lavender are harvested it the late spring and early summer. Apple orchards and pumpkin patches are of course popular for picking in early fall. Find your next pick-your-own adventure from the list of Virginia farms below!
WINTER (December - February)
Starting at the end of November, many families search for the perfect Christmas tree. Support local tree farms by purchasing your Christmas tree directly from a nearby grower. In addition to selling Christmas trees, many of these farms host holiday events and activities, such as wreath-making workshops, gift shops featuring local makers, and hot chocolate to warm up the family while you browse the tree selections.
Where to Get Christmas Trees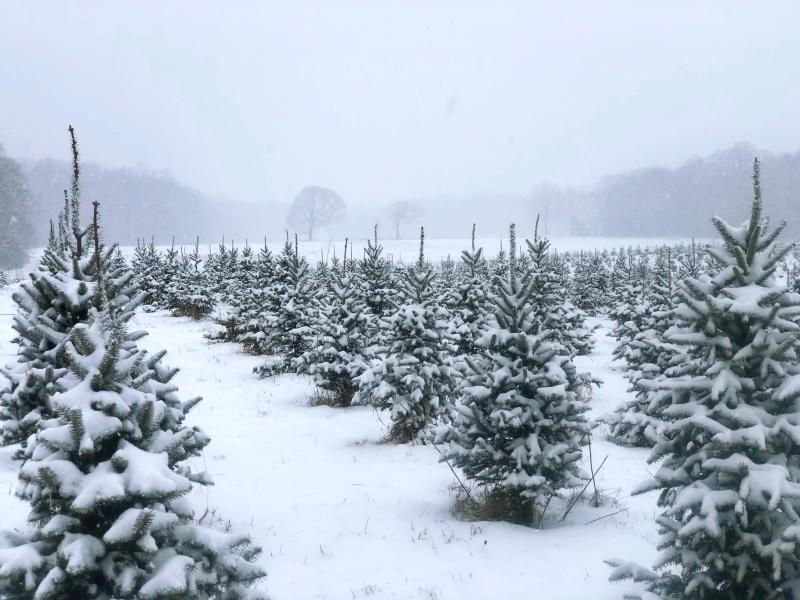 Claybrook Farm–Located in Central Virginia in the rural town of Mineral, Claybrook Farm is a family-owned and -operated farm that has been growing Christmas trees since 1984, with popular varieties including Canaan Firs, Concolor Firs, Blue Spruce, and Nordmann Firs.
Middleburg Christmas Tree Farm–The oldest and largest Christmas tree farm in Loudoun County, Middleburg Christmas Tree Farm carries Norway Spruce trees and Concolor Fir trees. You'll find trees up to 16 feet tall at this Northern Virginia tree farm!
Greene Meadows Farm–Since 1974, Green Meadows Farm has been supplying the Stanardsville area with high-quality Christmas trees, carrying varieties like White Pine, White Spruce, and Canaan Fir. While visiting the farm, stop into their holiday shop to browse unique decorations, ornaments, and gifts. Bring the kids and spend some time in the petting zoo, where kids can feed and interact with lambs and sheep.
There are dozens of tree farms throughout Virginia; find one near you to support local tree farms during the holiday season.
SPRING (March - May)
While you may catch some early blooming daffodils here and there, cherry blossoms are the first flowers to really hit their peak, and some early spring wildflowers follow right behind. You-pick flower farms offer tulips, daffodils, viburnums, lilacs, and even hellebores in the first few months of spring, typically beginning in late March and lasting until late April or early May. 
Where to Pick Spring Flowers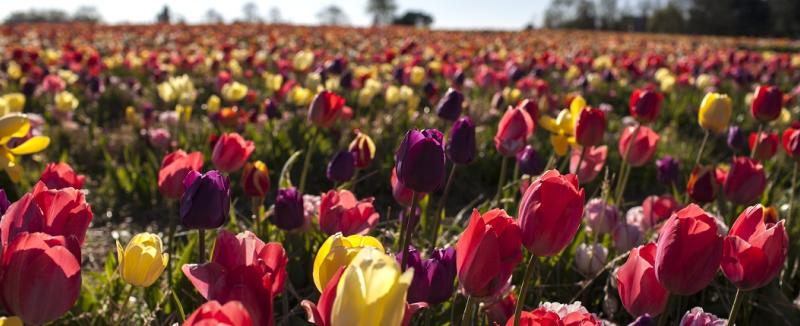 Burnside Farms–Each spring, Nokesville's Burnside Farms plants over two million daffodils and tulips and welcomes visitors to come pick their own flowers during the annual Festival of Spring. You'll discover more than 150 varieties of tulips and 30+ varieties of daffodils. 
Fields of Flowers–This Loudoun pick-your-own flower farm opens in mid-spring with peonies, irises, amsonia, and more. 
Where to Pick Strawberries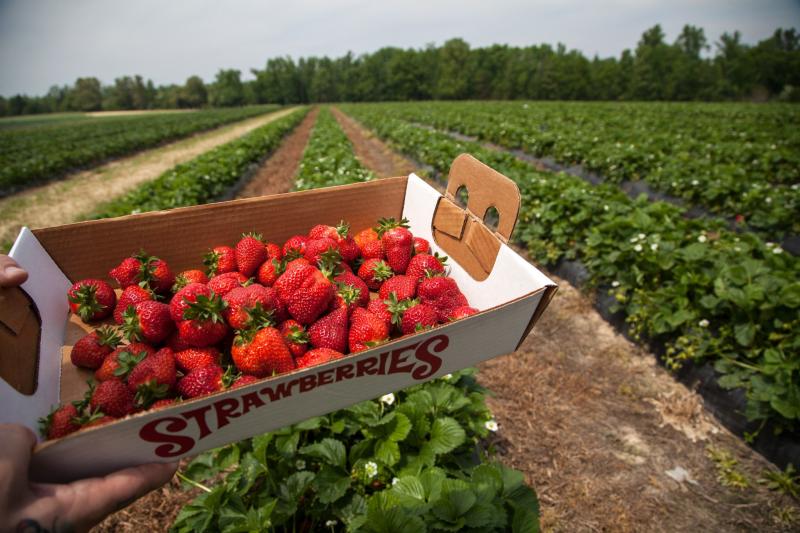 After the first spring flowers begin to fade, expect late-spring flowers and strawberries to replace them at Virginia's you-pick farms. Strawberries are in season from May-June, and during this time, you can also find flowers like peonies, roses, snapdragons, and foxglove. 
A few tips for strawberry picking–Strawberry season is a short but popular season; visit you-pick farms on a weekday for a less busy experience. Some farms require reservations due to limited availability, and bad weather can cause unexpected closures; check your local farm's website before visiting. Pack a cooler for the strawberries to keep them fresh on the way home. Finally, don't bring your four-legged friends to strawberry farms until you've double-checked the farm's rules–many allow leashed pets at the farm, but not in the fields.
Mount Olympus Berry Farm–Beginning in May, Mount Olympus Berry Farm offers pick-your-own strawberries. The farm also has pick-your-own blueberries and blackberries in June-July and pumpkins from the end of September through October. 
Goose Hill Farm–Located in Southern Virginia off the historic Route 58, Goose Hill Farm has you-pick strawberries in early spring, as well as blueberries in the summer and pumpkins in the fall. Additionally, visitors can shop the farm store to get organic eggs, honey, flowers, corn, and more. 
Yoder's Farm–At Yoder's Farm, located just south of Lynchburg, you can pick strawberries starting around late April/early May. Tomatoes begin to ripen in the spring and are available throughout the summer, when the sweet corn also hits peak ripeness. In the fall, visit Yoder's to pick pumpkins and wander the corn maze. 
SUMMER (June - August)
With the arrival of summer in Virginia, the you-pick farms offer an abundance of fresh fruits and flowers for visitors to enjoy. Blueberries, blackberries, peaches, and flowers like zinnias and dahlias are all in season during the summer. 
Where to Pick Peaches
Peaches, as well as nectarines, plums, and apricots, typically reach their peak ripeness in Virginia in late July and into August. If you end up picking more than you can eat fresh, consider canning and freezing your stone fruit to keep it on hand throughout the year!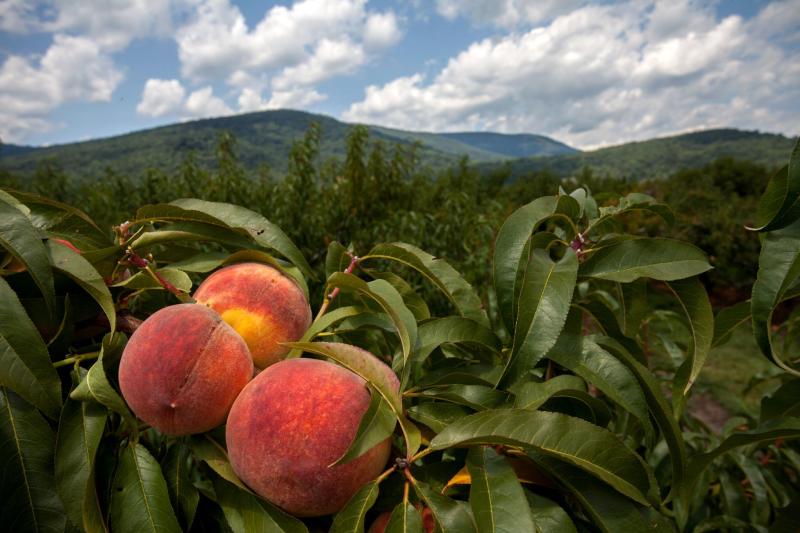 ​Chiles Peach Orchard–Close to downtown Crozet and surrounded by the picturesque Blue Ridge Mountains, Chiles Peach Orchard opens seasonally in late March/early April each year for their first crop of the season: strawberries. Peaches are expected to ripen for picking from June to September. In the fall, head to Chiles to get your pumpkins. The farm market carries baked goods, wine, ice cream, and more.  
Marker-Miller Orchards–This Winchester farm has practically every fruit available to pick throughout the year. In July, expect to pick peaches, raspberries, blackberries, and tomatoes, while August features all these as well as the beginning of apple season. Once fall arrives, the farm has a dozen varieties of apples and a pick-your-own pumpkin patch that the whole family will love. 
Where to Pick Blueberries
Blueberries reach their peak picking season in June, but certain varieties will be thriving throughout the summer months, so call the farms ahead of your visit to guarantee the most delicious, ripe berries.
Mackintosh Fruit Farm–Bring your family to pick blueberries at Mackintosh Fruit Farm in the rural Northern Virginia town of Berryville. In addition to blueberries, the farm also has you-pick apples, strawberries, raspberries, blackberries, peaches, and more. The farm store sells eggs, honey, baked goods, preserves, cider, and other local products. Kids can spend time on the farm's playground and enjoy lunch at the picnic area.  
Swift Creek Berry Farm & Greenhouse–You-pick farms in Moseley, about 20 minutes outside of Richmond. Pick blueberries, then shop the farm stand for local honey, fresh vegetables, herbs, hanging baskets, and a variety of annual flowers. Homemade blueberry pies and cakes are also available for purchase. 
Where to Pick Summer Flowers
Summer flowers include dahlias, zinnias, and daisies, but the most popular you-pick flowers in Virginia towards the end of the summer are sunflowers.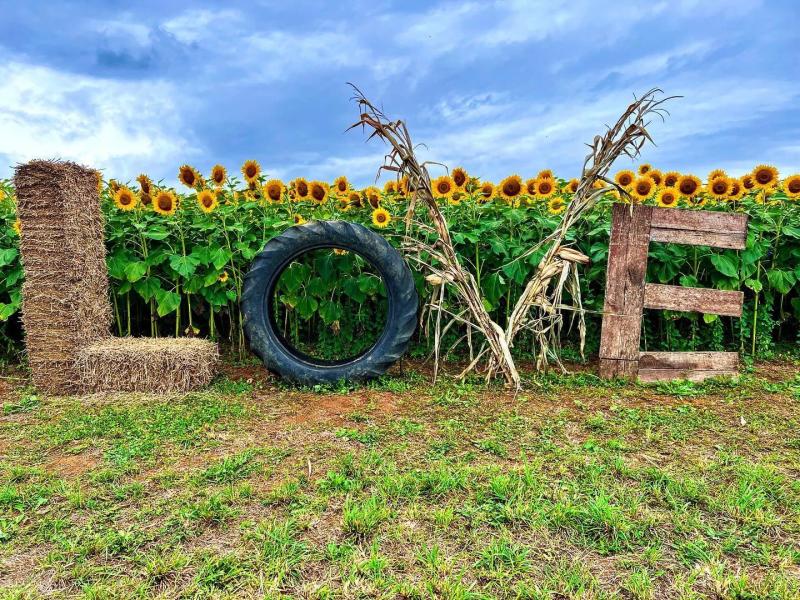 Beaver Dam Farm–In late summer or early fall, Buchanan's Beaver Dam Farm hosts their annual Sunflower Festival, with 20 acres of black oil sunflowers open to visitors to walk through. The festival includes hayrides, artisan craft vendors, a farm animal petting area for the kids, and local food and drinks.
Liberty Mills Farm–Liberty Mills Farm, adjacent to James Madison's Montpelier, is known for the largest corn maze in the country, but they also have over 1,000 acres for visitors to explore, with you-pick summer flowers including sunflowers, zinnias, gladiolus, echinacea, cosmos, lisianthus, dahlias, lavender, snapdragons, and much more.
Goldpetal Farms– Located on the outskirts of Virginia Beach, Goldpetal Farms is known as the coastal destinations for sunflower picking in the summer. 
Where to Pick Blackberries
Blackberry season runs from June to August for the best harvesting, with some late varietals available in September. Contact your local you-pick farm for details on this season's blackberry harvest. 
Agriberry Farms–Hanover's Agriberry Farms is a short drive north of Richmond and offers you-pick blackberries starting in June each year. The farm is one of the largest in the region, growing blueberries, cherries, raspberries, apples, pears, plums, peaches, and more. Contact the farm to find out what's currently available. 
Mount Pleasant Farms–This Chesapeake farm has blackberries available from mid June to early August, but you can pick strawberries in the spring, peaches and nectarines in the summer, and pumpkins in the fall. 
FALL (September - November)
Fall in Virginia brings pumpkins, apples, and fall flower varieties like chrysanthemums and marigolds. The changing leaves add an especially magical backdrop to the orchards and farms in the autumn; be sure to bring along a camera to take some stunning family photos during your visit! 
Where to Pick Pumpkins
Nothing says fall in Virginia like the opening of pumpkin patches! There are tons of pumpkin patches throughout Virginia, and while choosing the perfect pumpkin is the main event, many pumpkin farms offer additional family-friendly activities, from corn mazes and hayrides to face painting and petting zoos.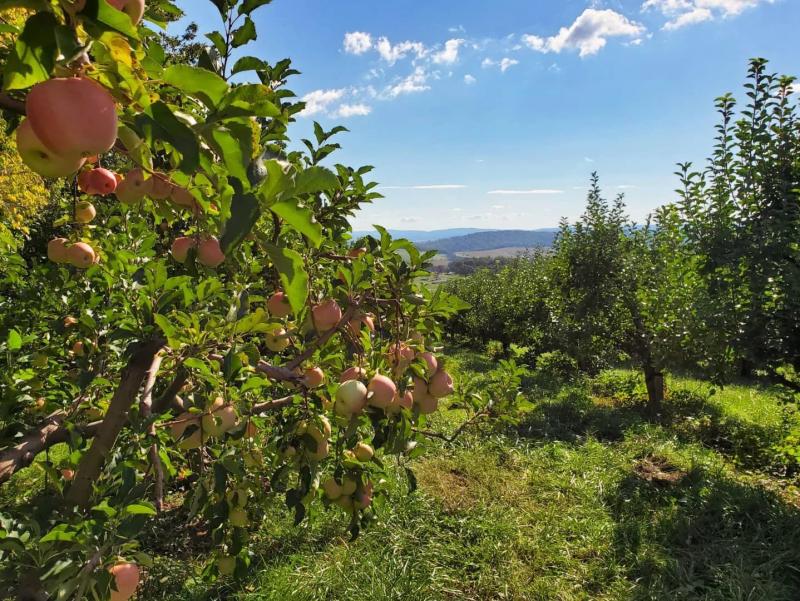 Hollins Farms–Next to Sky Meadows State Park in Fauquier County, Hollins Farms grows all types of pick-your-own produce throughout the year. The pumpkin patch is open from September to October, when you can also pick apples, fall greens, and even dig-your-own peanuts and potatoes! Visit Hollins Farms in May and June for strawberries and spring vegetables, come in June and July for raspberries, blackberries, blueberries, cherries, and summer vegetables, or pick peaches, plums, pears, cut flowers, and other summer produce in late July to August. 
Parrish View Farms–Head to Southern Virginia's Parrish View Farms in the fall to pick pumpkins, explore the five-acre corn maze, take a hayride around the farm, and take part in some old-fashioned barnyard fun. Don't miss snapping a family photo in front of their pumpkin LOVEwork! 
Where to Pick Apples
As the sixth largest producer of apples in the United States, Virginia is a popular destination for apple picking. In addition to picking, Virginia's apple season is also a great time for sampling hard cider and taking the whole family to an apple festival for a memorable fall experience.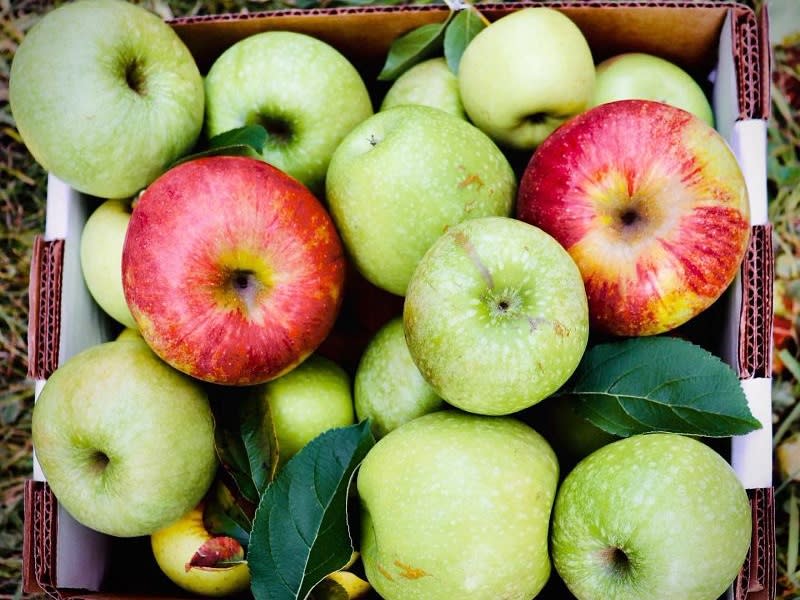 Carter Mountain Orchard–Charlottesville's most popular apple picking destination is Carter Mountain Orchard. The mountaintop farm is just minutes from Monticello and provides gorgeous  views of the valley below. Visit during the week for a more leisurely paced picking experience, and after picking your share of apples, stop into the gift shop to peruse artisan goods, then head to the cafe for hard cider, wine, apple donuts, and other freshly baked treats. From mid-June to September, visit Carter Mountain to pick-your-own peaches. 
Rinker Orchards–Since 1972, Rinker Orchards has been serving Winchester and the greater D.C. area as a pick-your-own apple farm. The orchard grows many different popular apple varieties, such as Golden Delicious, Ida Red, Granny Smith, and Gala. Taste the famous Rinker's Apple Cider during your visit, which is produced and bottled on-site. 
Showalter's Orchard–Showalter's Orchard is a family-owned and operated orchard, cidery, farm, and venue in the Shenandoah Valley. They have been growing and crafting apple products for more than 50 year. A wide selection of apple varieties are available to pick from late July to early November, and visitors can also pick peaches during August.