Scotts Run Waterfall
Nearest Town: McLean
Hike Distance: Less than 2 miles to falls and back
GPS Coordinates: 38.9588, -77.20503
Scotts Run and other streams in this nearly 400-acre park descend from hills down to the Potomac River, creating conditions whereupon rocky cascades can be found. You will be pleasantly surprised at the falling waters and the preserved nature around them. Make sure and view the ruins of the Burling Cabin, not far from where rocky Scotts Run forms the major cascade of the park, near where it flows into the Potomac. Also, note that the massive Potomac River is doing a little falling of its own. You can see the Potomac from the Stubblefield Falls Overlook, where the Potomac crashes amid islands and boulders. Additional spur trails go down to other river vantages.
Great Falls National Park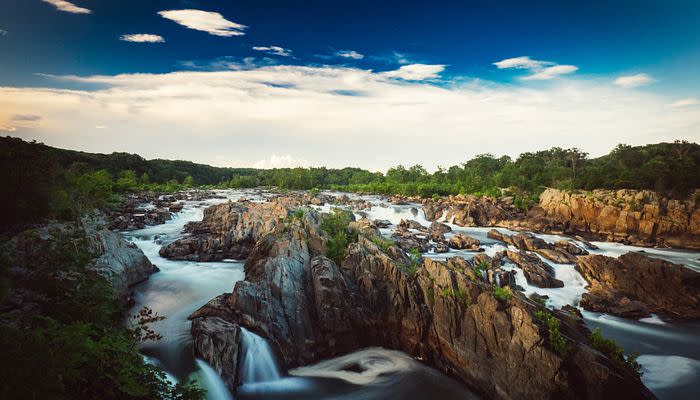 Nearest Town: Great Falls
Hike Distance: Less than .5 mile to falls and back
GPS Coordinates: 38.9941, -77.25431
Have you ever seen the epic falls of the Potomac at Great Falls National Park? The crashing whitewater wonder is truly a natural highlight of Virginia as the entire Potomac River crashes over ragged rock. The area's history is nearly as impressive. George Washington himself commissioned a system of canals and locks to allow barge traffic to navigate around this extensive whitewater froth crashing through Mather Gorge. After visiting the remarkable falls, check out the locks, canals, and even the ghost town of Matildaville, built for the men and families tending a lock and canal system built more than two centuries distant.
Overall Run Falls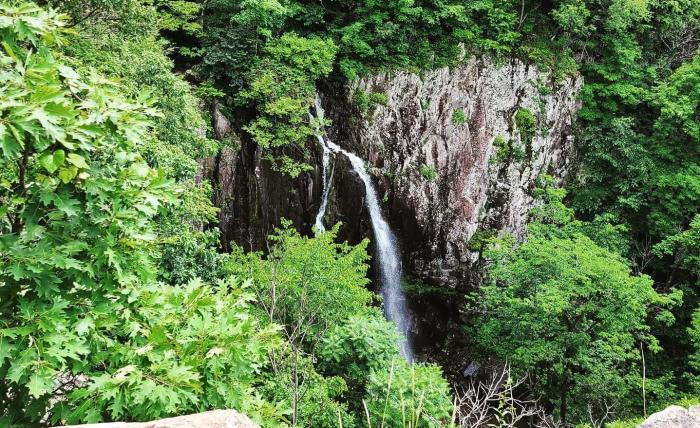 Nearest Town: Front Royal
The Hike to the Falls: 6.8-miles total there and back
Difficulty: Moderate-difficult
Trailhead GPS Coordinates: 38.76278, -78.27973
Overall Run Falls is Shenandoah National Park's highest falls. The cataract is complemented with a grand vista – and a warm-up fall along the way. The first three miles aren't near any water then your reach the first cataract, Twin Falls. A side trail leads left to Twin Falls and a rock outcrop where you can view it. Overall Run is split by a large boulder, forcing the water to divide, resulting in two channels dropping 29 feet.
A quarter mile farther you are at a wide open cliff and extensive view. See Overall Run Falls tumble 93 feet over a huge rock face into the canyon below with Page Valley and Massanutten Mountain as a backdrop framed by the distant Alleghenies. The waterfall and panorama combine to make a stellar Virginia destination.
Photo Credit: Tim Lumley
Hazel Falls
Nearest Town: Luray
The Hike to the Falls: 5.4-miles total there and back
Difficulty: Moderate
Trailhead GPS Coordinates: 38.6382, -78.31381
This waterfall is located in Shenandoah National Park's "Hazel Country," a heavily settled area in pre-park days. The route traverses hill and hollow for the Hazel River, where a rock indentation forms a natural shelter beside Hazel Falls, all located within a deep stone amphitheater. The first 2.4-miles to Hazel Falls is an easy stroll on old settler roads, but the last 0.3-mile trek to the falls and cave is on a steep footpath. Reach the rock shelter on your right just before the waterfall. The rock indentation lies on your right at the base of a huge, granite bluff -- quite a sturdy roof. The cave is about 10 feet deep, 25 feet wide, and 7 feet high. Nearby Hazel Falls slices about 25 feet down a slender chute into a punchbowl, and forms the centerpiece of this picturesque mountain montage.
Whiteoak Canyon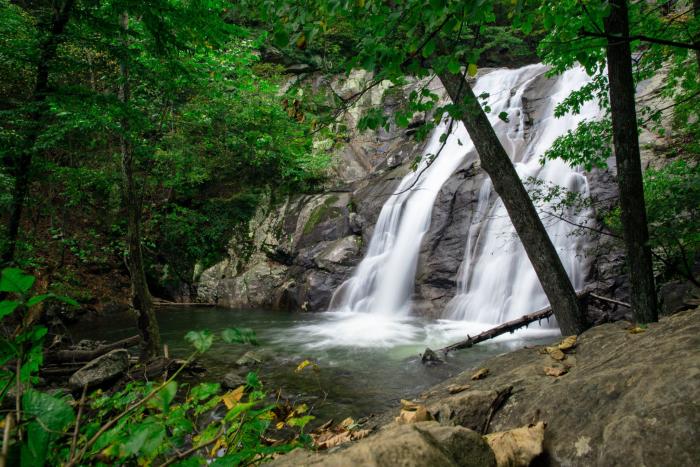 Nearest Town: Madison
The Hike to the Falls: 5.4-miles total there and back
Difficulty: Moderate-difficult
Trailhead GPS Coordinates: 38.53933, -78.34916
There are so many waterfalls in Shenandoah National Park's Whiteoak Canyon that it's hard to keep track of them all. Six sequentially numbered falls along the Whiteoak Canyon Trail tumble through the gorge of Whiteoak Run with lesser cataracts between. Whether or not you correctly identify and number the falls, you will be rewarded not only with myriad falling waters but also canyon views and everywhere-you-look beauty.
At times the trail meanders well away from the stream, sometimes traversing open rock where steps have been chiseled into bare stone. Begin a pattern of coming to a falls, then switchbacking away and uphill to the base of another falls. At 2.7 miles come to a rock observation point atop Whiteoak Falls (no. 1), the second highest falls in Shenandoah National Park at 86 feet. On your return trip try to count the cataracts. After all, Whiteoak Run has more cascades per mile than any other stream in Shenandoah National Park, and that is saying a lot.
Photo Credit: National Park Service/Neil Lewis
Dark Hollow Falls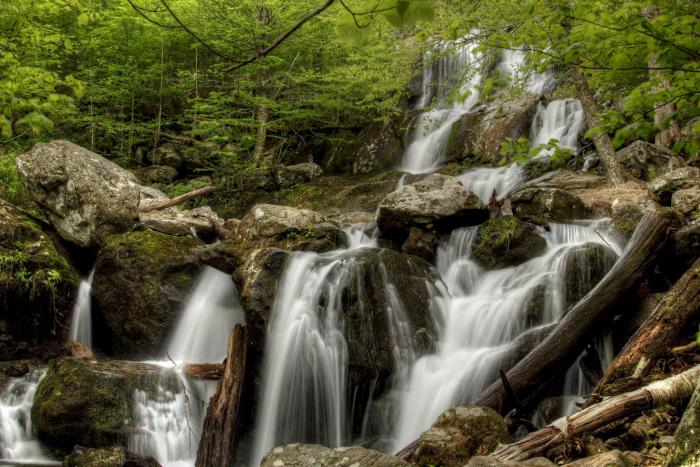 Nearest Town: Luray
The Hike to the Falls: 1.8-miles total there and back
Difficulty: Easy
Trailhead GPS Coordinates: 38.51964, -78.43088
Dark Hollow Falls begins near Shenandoah National Park's Big Meadows Area, with amenities such as a lodge, campground, camp store, visitor center and picnic area, adding to the possibilities after you hike to Dark Hollow Falls. A popular path, the Dark Hollow Falls Trail leaves Skyline Drive then comes alongside Hogcamp Branch as it puts on a scenic display while stair-stepping down toward the Rose River, falling and crashing in every type of fall, slide, cataract and cascade, one tumbler after another, to gather in surprisingly deep pools, only to fall yet again. This is truly national park-level scenery. However, you will know upon arriving at Dark Hollow Falls. It makes a wide drop then gathers to somersault down three more tiers, a total descent of 70 feet. Continue down trail a bit to see another waterfall near the intersection with Rose River Fire Road.
South River Falls
Nearest Town: Elkton
The Hike to the Falls: 4.2-miles total there and back
Difficulty: Moderate
Trailhead GPS Coordinates: 38.38105, -78.51684
You can admire 83-foot South River Falls from multiple angles. This Shenandoah National Park highlight along the lush South River shaded by yellow birch trees and rich with wildflowers. From an outcrop only a mile from the trailhead you can gaze upon South River Falls as it spills over a rock face then splits into two chutes charging downward. For a different perspective, continue down the trail to the base of the falls. Looking up, you can clearly see the narrow chute splitting in two before resuming a calmer path toward the sea. This second view adds impressive perspective to the cataract. While here, utilize the South River Picnic Area, where the waterfall hike begins.
Doyles River Falls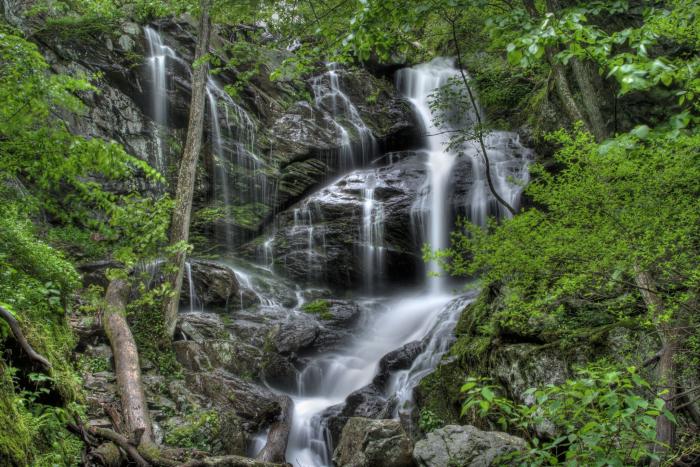 Nearest Town: Elkton
The Hike to the Falls: 3.0-miles total there and back
Difficulty: Moderate
Trailhead GPS Coordinates: 38.25415, -78.68291
Visit a pair of captivating cataracts on this Shenandoah National Park adventure. The footpath descends along lively Doyles River. Upper Doyles Falls can be first viewed via a side trail leading to the dark pool at the base of the three-tiered 30-foot waterfall. The cataract spills into a bouldery glen at the point where a tributary feeds the river.
The canyon tightens. Doyles River continues making frenzied drops. Unnamed cascades accompany you downstream until a sharp switchback leads to the base of Lower Doyles Falls. At 63 feet, Lower Doyles Falls is the steeper and more spectacular of the two. It dives over a rock lip then spills in ribbons, strands and crashing channels over multiple tiers to finally land in a pool before charging on. The cataract will display different faces depending on flows.
White Rock Falls
Nearest Town: Massies Mill
The Hike to the Falls: 1.8-miles total there and back
Difficulty: Easy
Trailhead GPS Coordinates: 37.90799, -79.05166
White Rock Falls, off the Blue Ridge Parkway, is a small-volume waterfall that spills 30 feet into a rocky gorge. The walls of the narrow canyon embrace you on three sides, old growth trees tower above. Although the creek is small, the pool at the base of the falls is big enough to enjoy a swim.
To reach the falls, begin descending a tributary of White Rock Creek in classic hickory oak woods. Bridge a creek then reach an overlook at .5 mile. Gaze down into the Tye River Valley. Switchback to reach the spur to White Rock Falls at .9 mile. Shortly view the 30-foot slender spiller frothing into a rock-walled amphitheater complete with a dunking pool. The white rock referred to in the creek and waterfall names is the quartz so prevalent hereabouts.
Mine Bank Cascades
Nearest Town: Steeles Tavern
The Hike to the Falls: 2.8 miles there and back
Difficulty: Easy
Trailhead GPS Coordinates: 37.91113, -79.08974
Mine Bank Creek Cascades is a little known slide type waterfall best seen during winter and spring, times of higher water flow. Solitude is all but guaranteed in this parcel of the Saint Marys Wilderness. Leave the Mine Bank Creek trailhead and soon pass the Bald Mountain Trail intersection. The singletrack Mine Bank Creek Trail dips into its lush namesake valley, thick with rhododendron, where waterfalls, cascades and cataracts are a constant companion, lorded over by massive boulders and rock ramparts. At .9 mile, the trail crosses Mine Bank Creek twice in succession, the last one just above an 18-foot tiered fall. Cut through the heart of the gorge, passing Mine Bank Cascade, a long 60-foot slide, at 1.4 miles. More waterfalls can be found elsewhere in the Saint Mary's Wilderness, including famed St. Marys Waterfall.
Saint Mary's Waterfall
Nearest Town: Steeles Tavern
The Hike to the Falls: 1.8-miles total there and back
Difficulty: Easy
Trailhead GPS Coordinates: 37.92516, -79.13758
Saint Mary's Waterfall -- a 25-foot spiller -- makes an initial curtain drop then splashes and flows over an angled skirt-like rock to end in a pool. The cataract lies within George Washington National Forest, in the 10,000-acre Saint Mary's Wilderness. Saint Marys River and its tributaries contain a large population of native trout and the wild land makes good bear habitat.
The route to the falls traces a partly washed out track along the Saint Marys River. But the well-trod route is never in doubt. Views of lesser shoals and rapids keep you intrigued all the way to Saint Marys Waterfall.
Crabtree Falls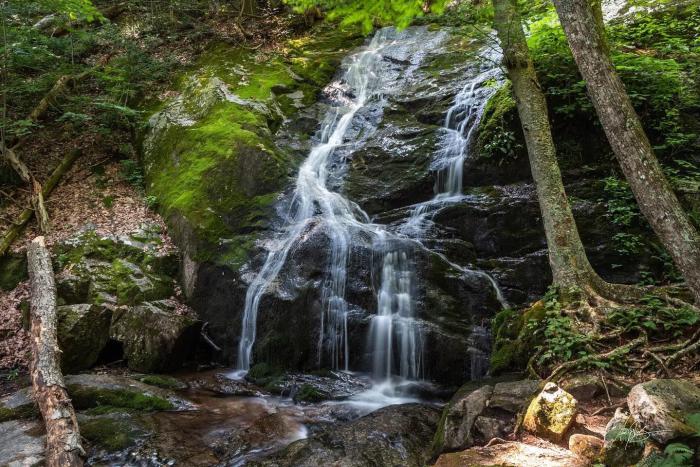 Nearest Town: Montebello
The Hike to the Falls: 5.4-miles total there and back
Difficulty: Moderate
Trailhead GPS Coordinates: 37.85104, -79.07992
Crabtree Falls might be the highest waterfall east of the Mississippi, depending on how you measure a waterfall, but there is no doubt that Crabtree Falls is the highest waterfall in Virginia. Crabtree Falls can be broken down into five major waterfalls as well as additional smaller ones along Crabtree Creek as it drops 1,200 feet over a half-mile. One section makes a vertical drop of 500 feet. Interestingly, Crabtree Falls is connected to the old television show The Waltons. The falls were not exposed on the small screen, but the name was mentioned several times during the life of the program.
Crabtree Falls Trail parallels the Tye River a short distance before turning up Crabtree Creek. Then, the path follows Crabtree Creek along the series of spillers to Crabtree Meadows. Along the way wooden stairs, gravel paths, railed overlooks, and a spectacular bridge over the Tye River enhance the hike.
Statons Falls
Nearest Town: Montebello
The Hike to the Falls: No hike required
Difficulty: Easy
Trailhead GPS Coordinates: 37.76874, -79.24697
You can drive to Statons Falls. The multi-stage 140-foot pourover is located within the Pedlar Ranger District of George Washington National Forest. You may have heard Statons Falls also called Statons Creek Falls, Lace Falls or Deadmans Falls. Statons Falls is composed of several cataracts and cascades that together fashion an exciting froth of white. Note the zig-zag pattern in the falls.
Statons Falls first drop of 15 feet spills across the road from the parking area. An 80-foot plunge follows immediately as the creek continues to crash through the gorge. Statons Creek flows into the Pedlar River about a mile below the falls.
Photo Credit: Mike Y (Flickr)
Lace Falls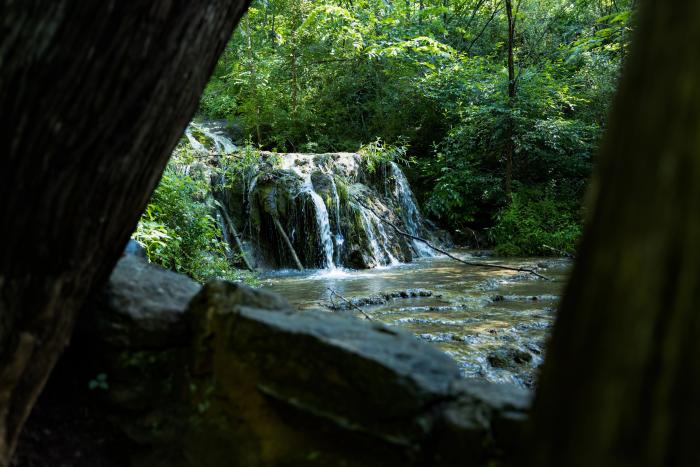 Nearest Town: Natural Bridge
The Hike to the Falls: 2 mile there and back
Difficulty: Easy
Trailhead GPS Coordinates: 37.62843, -79.54374
Lace Falls is located at Natural Bridge State Park, one of Virginia's most renowned places. The incredible limestone span standing 215 feet high and 90 feet across upstages this 50-foot waterfall yet if you are going to see Lace Falls you might as well view Natural Bridge. Hike alongside Cascade Creek with its tumbling waters and small cascades before turning into the steep ravine formed by Cedar Creek to see Natural Bridge. Ahead, the trail ends at a circular observation area where you can admire Lace Falls flowing over layers of slick rock.
Photo Credit: John Brian McCarthy
Apple Orchard Falls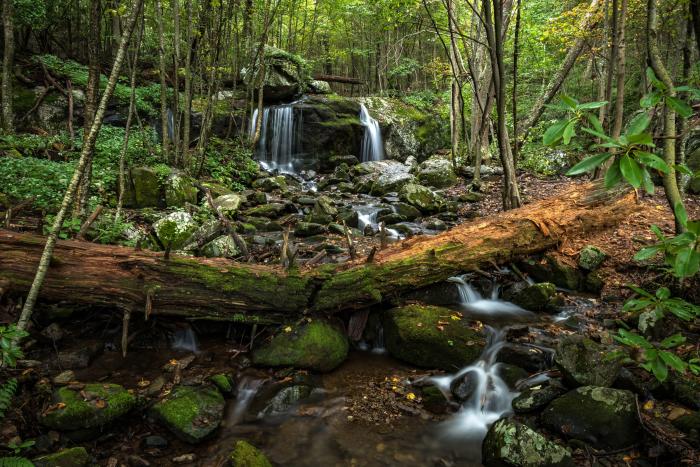 Nearest Town: Sedalia
The Hike to the Falls: 2.6-miles total there and back
Difficulty: Moderate
Trailhead GPS Coordinates: 37.50781, -79.52412
You may not want to leave your starting point on the Blue Ridge Parkway. Sunset Fields Overlook provides a western vista from atop lofty Apple Orchard Mountain, so named for the rounded off weathered oaks that grow atop it, resembling ranks of apple trees. Nevertheless, Apple Orchard Falls is calling, tumbling in its wide-ranging fashions, a menagerie of cascades in one location.
The Apple Orchard Falls Trail travels along a fast-gathering, unnamed tributary of North Creek, making small cascades. Pass through a boulder garden and beyond to a surprising number of wooden stairs, opening to an overlook of the James River Valley before coming to a bridge crossing the base of Apple Orchard Falls. The span makes for an ideal viewing platform. Look up – from here you can see the cataract spill over an open ledge then slide down an angled chute. From there the foam encounters a huge mid-cataract boulder, where water disperses into multiple spills, then filters into a rock jumble as it passes underneath the bridge. There is a little bit of everything in this waterfall.
Stony Run Falls and Blue Suck Falls
Nearest Town: Clifton Forge
The Hike to the Falls: 8.8-mile loop to see both falls
Difficulty: Difficult
Trailhead GPS Coordinates: 37.9018, -79.80463
Stony Run Falls and Blue Suck Falls are located in Douthat State Park, established in 1936 as one of the first six state parks in Virginia. Note: The loop trail crosses Stony Run and Blue Suck Run several times—with no bridges—so wear appropriate shoes. Many trails intersect the loop trail; watch the colored blazes carefully. Maps are available online and at the park office.
Both Stony Run Falls and Blue Suck Falls are located on runs of the same names. They originate on Middle Mountain, the highest peak in the park. Stony Run and Blue Suck Run flow into Wilson Creek below Douthat Lake. The narrow waterfalls both drop about 50 feet, but Blue Suck Falls has three distinct cascades. Try to visit these creeks after a good rain (usually spring and early summer). There are practically no falls if these runs are dry.
Falling Spring Falls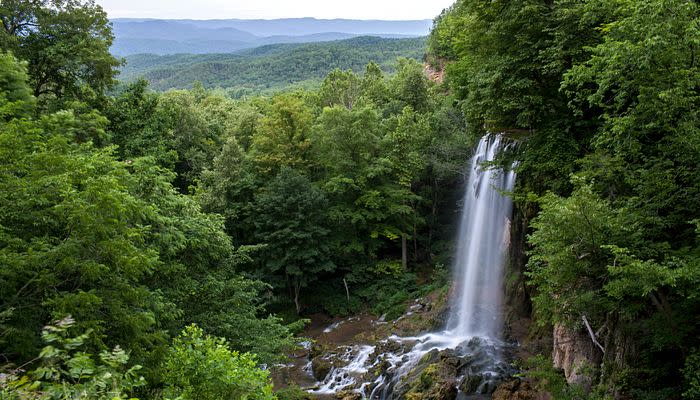 Nearest Town: Covington
The Hike to the Falls: No hike required
Difficulty: Easy
Trailhead GPS Coordinates: 37.86762, -79.94783
These days there is no hike required to view Falling Spring Falls. As described by Thomas Jefferson "It falls over a rock about 200 feet into the valley below, and while not as wide as Niagara, it is again half as high." A trip to Falling Spring Falls is hard to resist after such an extraordinary endorsement from the famous Virginian.
It is a short walk from the developed roadside pull-off. The view is excellent. The creek dives off the bluff—literally leaping forth. The first free fall is about 70 feet, then the creek cascades for another 100 feet or so. From the overlook, you can watch the creek disappear into the valley of Falling Spring.
Please note, venturing from the overlook to explore the Falls is dangerous and illegal. The area beyond the fence is posted as no trespassing and violators are subject to fine.
Roaring Run Falls
Nearest Town: Eagle Rock
The Hike to the Falls: 2.0-miles total there-and-back
Difficulty: Easy
Trailhead GPS Coordinates: 37.70663, -79.89326
After seeing the multiplicity of noisy cataracts along this hike you will agree that Roaring Run is aptly named. This tributary of Craig Creek cuts through the Rich Patch Mountains then dives through a gorge where it truly does roar – and create falls aplenty -- before emptying its waters into Craig Creek.
Also, visit what once was an iron forge that the Jefferson National Forest turned into a recreation area. From the parking area, lesser falls are already putting on a show as you climb past them. A 35-foot slide cascade dropping in four stages provides a warm-up. Wooden stairs and stone steps aid your climb in this jagged spot. Pass another cataract with a huge swimming hole. Reach Roaring Run Falls at 1.0 mile. Here, the falls drops 35 feet over a vegetated rock face. Wide stone slabs border the cataract. Boulders lie in repose. It is truly a beauty spot. Make sure and visit the still intact ore-processing furnace.
Waterfalls of Falls Ridge Preserve
Nearest Town: Ironto
The Hike to the Falls: .8-mile total there and back
Difficulty: Easy
Trailhead GPS Coordinates: 37.19321, -80.32147
The waterfalls of Falls Ridge Preserve result from the formation of one of the world's largest deposits of exposed calcium carbonate. Here, minerals and lime dissolve as the stream of Falls Hollow flows downward, creating calcium deposits. Over time these calcium carbonate deposits, commonly known as travertine, have built up, steepening the stream's gradient, creating the 80 or so foot series of stair-step waterfalls. Not only is the water flow attractive in its own right but the travertine deposits over which it pours seem strange and otherworldly.
At the main falls of the preserve the stream spills 30 feet over a tan travertine ledge into a shallow rock dotted pool, collects, then pushes downstream in small rapids. Depending on the flow, the water will be falling over different parts of the ledge at different rates. Upon closer inspection, you see the odd look and texture of the rock over which the falls spills. The falls is undoubtedly the most unusual cascades in the Old Dominion. More small but fascinating waterfalls lie just upstream.
Cascade Falls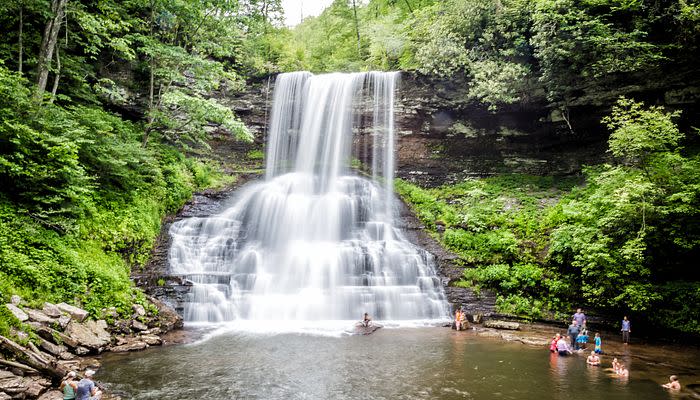 Nearest Town: Pembroke
The Hike to the Falls: 4-mile loop
Difficulty: Easy-moderate
Trailhead GPS Coordinates: 37.35359, -80.59942
Cascade Falls creates quite a setting. Here, the 60-foot cataract pours over a stone cliff into a huge pool, framed in rock walls. Rock houses are overhung by ledges. Multiple viewing platforms avail different cataract vantages. A dead end trail cruises near the top of the falls. In summer, visitors can relax around the fall's base and hang out on nearby rock slabs. Cascade Falls at high water produces an impressive roar, and a spray and raw power that will amaze. (Please note that swimming is no longer allowed at the Cascades per the US Forest Service).
A network of interconnected trails leads up to Cascade Falls. The trails range from a narrow and undulating to a well-graded wide track that makes for the easiest route. No matter which way you go it is 2 miles by foot to the waterfall. Relish boulder gardens and cliffs and cataracts and an everywhere-you-look beauty that cannot be denied. Bring lunch and enjoy the fine picnic area at the trailhead.
Dismal Falls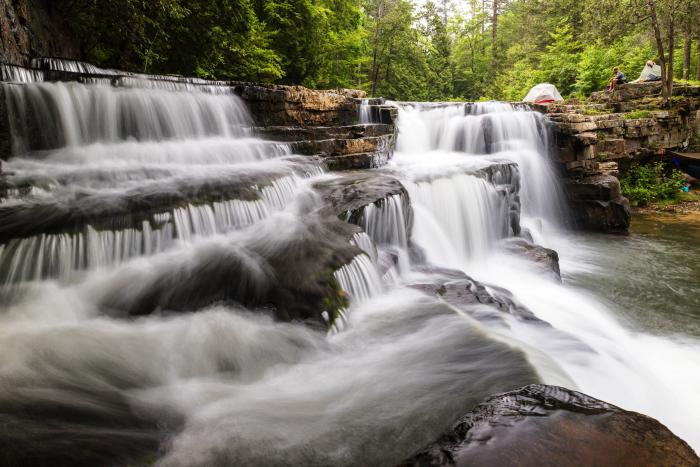 Nearest Town: Bland
The Hike to the Falls: .2-mile total there and back
Difficulty: Easy
Trailhead GPS Coordinates: 37.18845, -80.90035
The Falls of Dismal may not be the highest, or the most voluminous or the widest waterfall in Virginia, but it certainly has the most intriguing name and is on the top ten all time Appalachian waterfall names list. And with a name like that who wouldn't want to see the Falls of Dismal? And with a short .1 mile path to the falls just about everyone can see the Dismal Falls.
The name of the falls comes from its mother stream, Dismal Creek. For such a beautiful Virginia mountain brook, it is hard to imagine the origin of the name. The Falls of Dismal are more broad than tall, extending about 50 feet in width. The drop is about 10 feet into a plunge pool bordered by wide stone terraces that make for ideal viewing or repose spots. The falls left side drops in stair step cascades while the middle and right hand side make a curtain-type descent. A small, primitive campground, Walnut Flats, is located just a short distance up the Jefferson National Forest access road.
Chestnut Creek Falls
Nearest Town: Galax
The Hike to the Falls: 1.8-mile total there and back
Difficulty: Easy
Trailhead GPS Coordinates: 36.6951, -80.91653
The New River Trail, a railroad grade-turned-trail, leads you to this wide cascade. New River Trail State Park is Virginia's longest park, extending over 57 miles along a former railroad bed. The rail trail is the primary attraction, as it courses along a cinder bed and over trestles that span Chestnut Creek and the New River.
To see these nifty falls, pick up the New River Trail at Chestnut Yard. Head south up the valley of Chestnut Creek. A wilderness feel envelops the trail. Elevation change is minimal. Come to a trestle and Chestnut Creek Falls at .8 mile. The wide, 8-foot high, falls drop over a rock base at a bend in the creek. A ledge rises on the far side of the falls, which makes an alluring pool. There is a little covered shelter here.
Jones Hollow Falls
Nearest Town: Fort Blackmore
The Hike to the Falls: 2.2 miles each way
Difficulty: Moderate
Trailhead GPS Coordinates: 36.8172, -82.62287
This hike is more known for taking outdoor enthusiasts to the Devil's Bathtub and other aquatic features along Devil's Fork. However, Jones Hollow Falls is a fine waterfall located on a tributary of Devil's Fork, thus you can see the falls and the Devil's Bathtub on one trip.
The hike to Jones Hollow Falls require several fords of Devil's Fork, therefore is mostly done in summer but Jones Hollow Falls is more robust during late winter and spring. Beyond the Devil's Bathtub, 2.2 miles from the parking area, Jones Hollow Falls comes into view. It is actually a feeder stream, a tributary coming in from the far side of Devil's Fork. Jones Hollow Falls dives 45 feet in a white frenzy, crashing in a circular but smallish pool. The cataract is tough to reach due the sharp slope, but it is easy to view.
Comers Creek Falls
Nearest Town: Speedwell
The Hike to the Falls: 1.2-mile total there and back
Difficulty: Easy
Trailhead GPS Coordinates: 36.71142, -81.47482
This path at worth-a-visit Mount Rogers National Recreation Area traces Comers Creek -- dropping steeply in small cascades and falls -- into a rhododendron-choked gorge, then intersects the Appalachian Trail at .4 mile. To access the actual Comers Creek Falls turn right on the Appalachian Trail and continue another .2 mile to view the cataract dropping about 15 feet in a stair step fashion. Add a stroll along the AT in either direction for additional walking pleasure.
Photo Credit: Polly Hutchinson (Flickr)
Little Stony Falls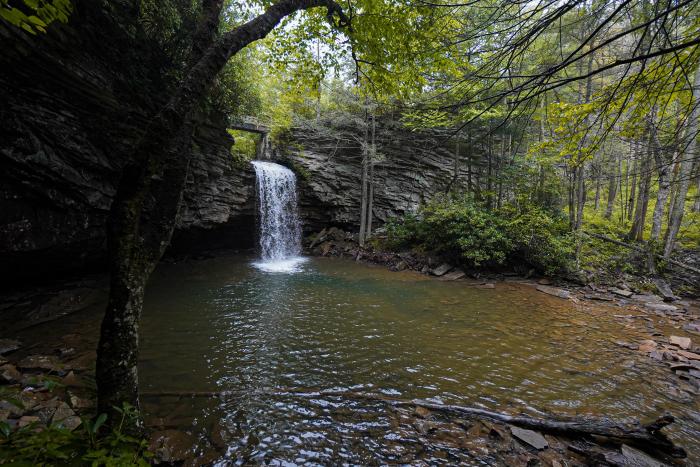 Nearest Town: Dungannon
The Hike to the Falls: 2.4 miles or .2 miles each way
Difficulty: Moderate or easy
Trailhead GPS Coordinates: 36.86943, -82.46353
The most rewarding route is to start at Hanging Rock Recreation Area near Dungannon. Take the Little Stony Creek National Recreation Trail up a gorgeous valley with waterslides, cascades, and pools in a deep gorge with stone bluffs, rock overhangs and boulder fields. Wooden footbridges keep your feet dry enroute to two significant waterfalls, each dropping over stone precipices. Your return trip will yield more everywhere-you-look creekside finery. You can also walk from the upper trailhead down to the falls.
Upon reaching Middle Stony Falls a viewing platform allows for a straight-on look at this curtain-type white cataract. It spills about 20 feet in a fairly even line over a vertical rock face. Mist drifts over a dark pool. Other waterfall vantages can be gained through exploring the immediate falls area.
It isn't long before reaching Upper Falls. You will see it on the left just before reaching a footbridge over Little Stony Creek. A spur trail leads to the base of the pourover. Here, the watercourse splits as it drops, with most of the fall fanning out to your right about 15 feet, with the left side of the fall more of a narrow white drop. Both channels fill a plunge pool, which briefly slows before racing downstream to Middle Falls.