Cozy Cabin Rentals
Virginia's Blue Ridge and Appalachian mountains offer endless outdoor adventures, scenic beauty, and cozy cabin rentals to accommodate your next family vacation or couples getaway. Plan your stay at one of many romantic retreats, unique and luxury stays, or rustic log cabins for an experience you'll want to return to year after year. 
Romantic Retreats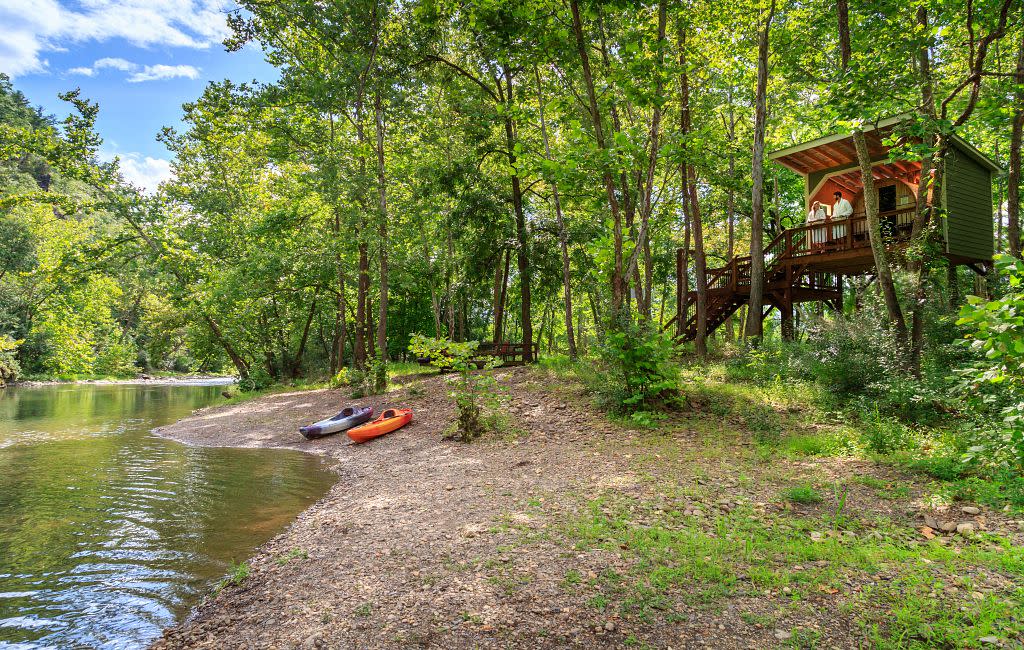 Fort Lewis Lodge and Farm — Milboro
Tucked in an unspoiled valley, Fort Lewis Lodge & Farm is an intimate country hideaway set on a 3,365-acre estate in the mountains of Virginia. Offering 22 unique accommodations, including four hand-hew log cabins, you can expect a getaway filled with elegance and adventure. Breakfast and dinner are included at the historic Lewis Gristmill, and activities at your leisure include hiking, biking, fly-fishing, canoeing or relaxing in the pristine swimming hole during the day.
Inn at Vaucluse Spring — Steven's City
Set amidst 100 scenic acres in the rolling orchard country of the Northern Shenandoah Valley, the Inn at Vaucluse Spring is a true gem. The collection of six guest houses make for the perfect romantic getaway. Choose from the elegant 200 year old Manor House, the charm of an 1850's log home, or for the ultimate in peace and privacy, stay in one of the three one-bedroom guest cottages that feature water or meadow views.

By the Side of the Road Getaway Lodging — Harrisonburg
By the Side of the Road is a unique 9-acre "Oasis in the City" of Harrisonburg, offering romantic cozy cottages perfect for couples. You'll find modern amenities in a quaint and relaxing setting as well as an oversized, heated whirlpool tub and gas log fireplace.
Hot Tub Heaven — Front Royal
Hot Tub Heaven has 9 cabins that are open year round. They are close to the Appalachian Trail, Deer Lake and dozens of wineries in the area. Each cabin has a hot tub for your end of the day enjoyment.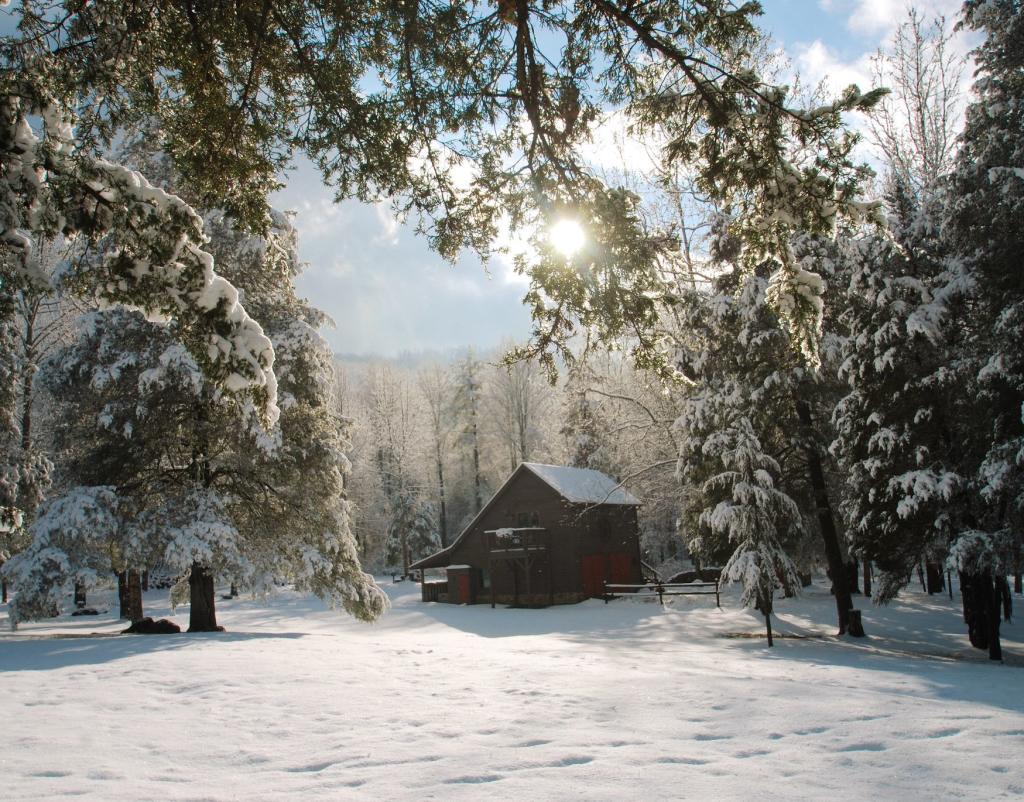 Shadow Mountain Escape — Luray
Located less than 3 miles from the Shenandoah National Park entrance, Shadow Mountain Escape has authentic timber frame cabins perfect for a couples romantic retreat.
The Cabin on Back Creek — Monterey
The Cabin on Back Creek is a rustic, cozy cabin on a working maple syrup farm, and visitors are invited to watch the purveyors create pure maple syrup on-site. The home sits beside a creek and features a patio with a grill, a hot tub, and even a hammock on the property so you can enjoy your time in the outdoors to the fullest.
Terrapin Cabin — Bedford County
Located in the beautiful Jefferson National Forest on the Blue Ridge Parkway Mile Post 69 in Bedford County, VA, Terrapin Cabin has a wrap around porch, large deck, and terraced gardens. Just five minutes from the James River, you'll find beautiful views of Terrapin Mountain and endless outdoor adventures.
Luxury and Unique Stays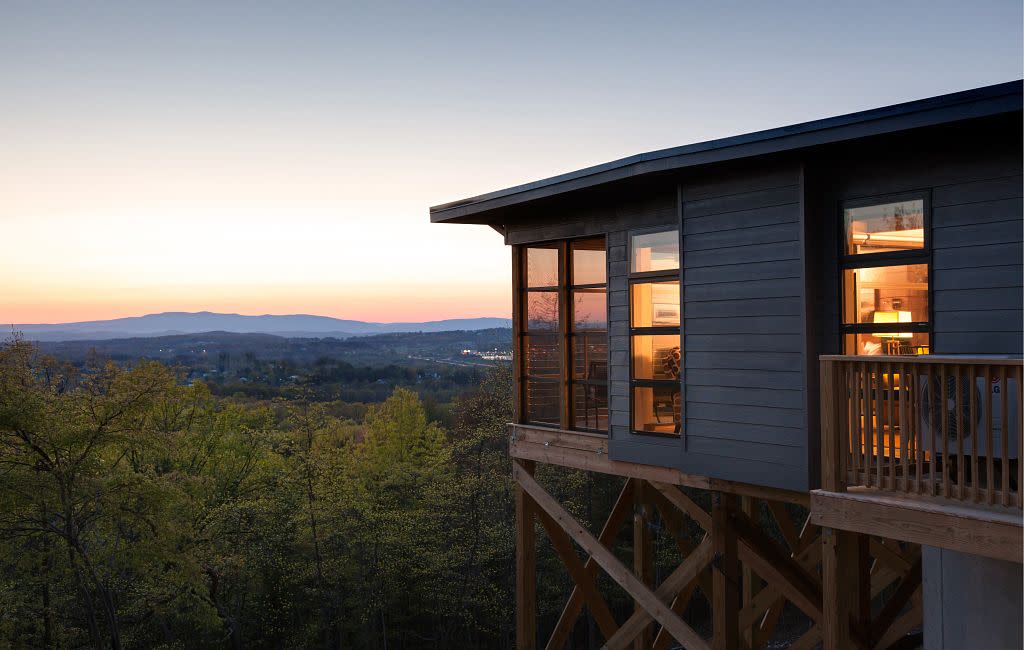 Iris Inn Cabins — Waynesboro
Iris Inn Bed & Breakfast is nestled on 11 wooded acres and just three miles from scenic Skyline Drive and the Blue Ridge Parkway. Treat yourself to an unforgettable stay in one of the luxury cabin treehouses built into the side of the mountain overlooking the Shenandoah Valley. Each treehouse features beautiful floor-to-ceiling windows, a private hot-tub, and high-end appliances. 
Cabin on the Creek — Covington
If a trip to the Allegheny Mountains is on your travel checklist, stay the Cabin on the Creek in Covington. This waterfront property features a custom-built, two-bedroom and one-bathroom luxury cabin that sleeps up to four guests. This mountain rental is especially charming in the fall; enjoy views of the changing foliage from the observation deck (complete with Adirondack chairs), back porch, or relaxing hot tub. Wood beams and a stone fireplace finish the living room, where you can relax in front of a roaring fire during the winter months.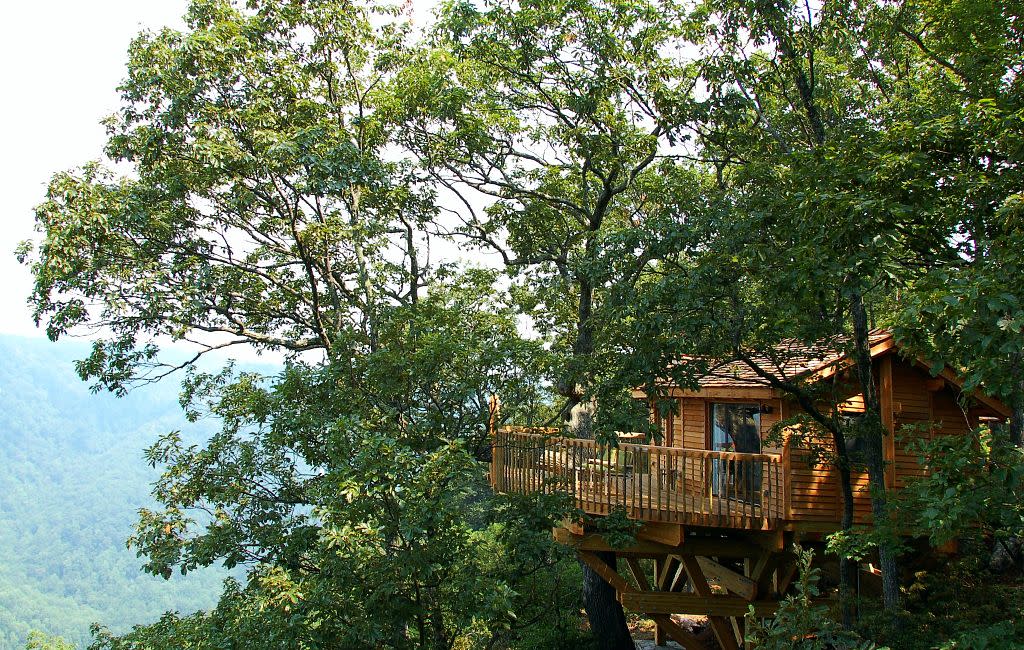 Primland Treehouse Cabins — Meadows of Dan
Primland is a luxury mountain resort unlike any other, offering dozens of cabin rentals and lodge accommodations – though you'll want to add a stay in one of three treehouses to your bucket list. The cantilevered cabins just inches from the sky and adorned with luxury linens and amenities are a childhood dream delivered.
Rugby Creek Cabins — Mouth of Wilson
Perched high in the Appalachian Mountains of Southwest Virginia, Rugby Creek Cabins offer unique rentals just three miles from Grayson Highlands State Park. The custom built Forest Ridge cabin is tucked away in the woods on top of a scenic ridge and includes a scenic hot tub where you can stargaze in the evenings. Discover six more unique stays and glamping options at Rugby Creek.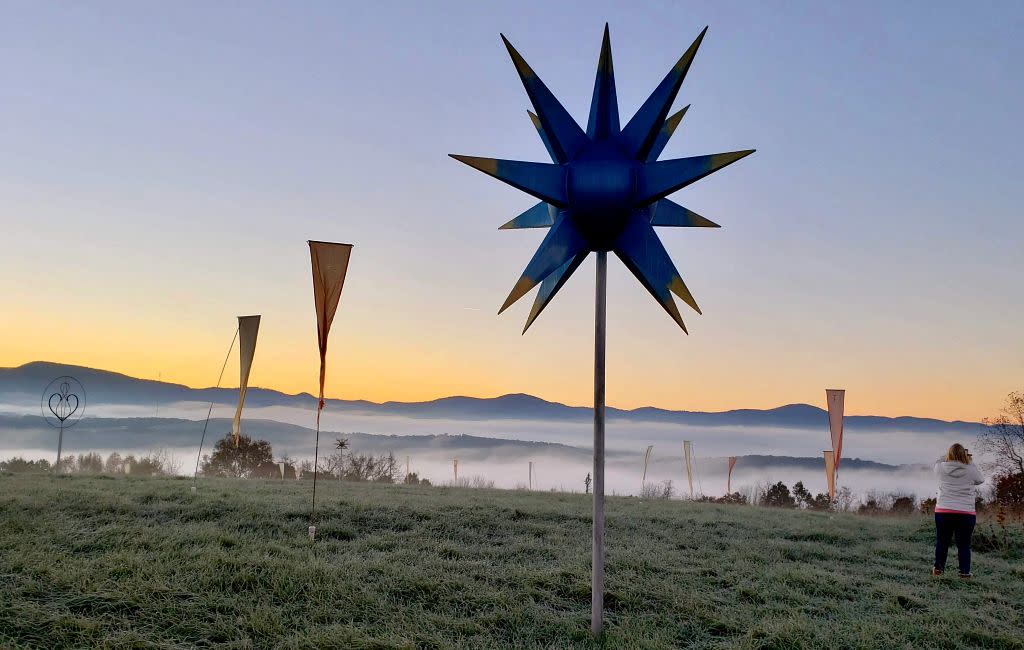 South River Highlands Country Retreat — Lexington
Experience some of the best views in Rockbridge County with a stay at South River Retreat, just 12 minutes from downtown Lexington. The private 250 acre farm offers five authentic log cabins, a lodge in a former dairy barn, and retreat services for groups. Relax and recharge at this tranquil mountain retreat.
1926 C&O Caboose — Natural Bridge
For those train fans that want a getaway out in the woods, the 1926 C&O Caboose is a dream come true. This fully renovated caboose is surrounded by a spacious patio with a gas grill and fire pit. The converted rental is only two miles from Natural Bridge and a short drive from historic Lexington.
Lily Ridge Cabin — Whitetop
A luxury cabin sitting on 50 acres in Whitetop, Lily Ridge Cabin is just down the road from the Virginia Creeper Trail, the New River, and Grayson Highlands State Park. The house is quiet and has three porches with gorgeous views from each.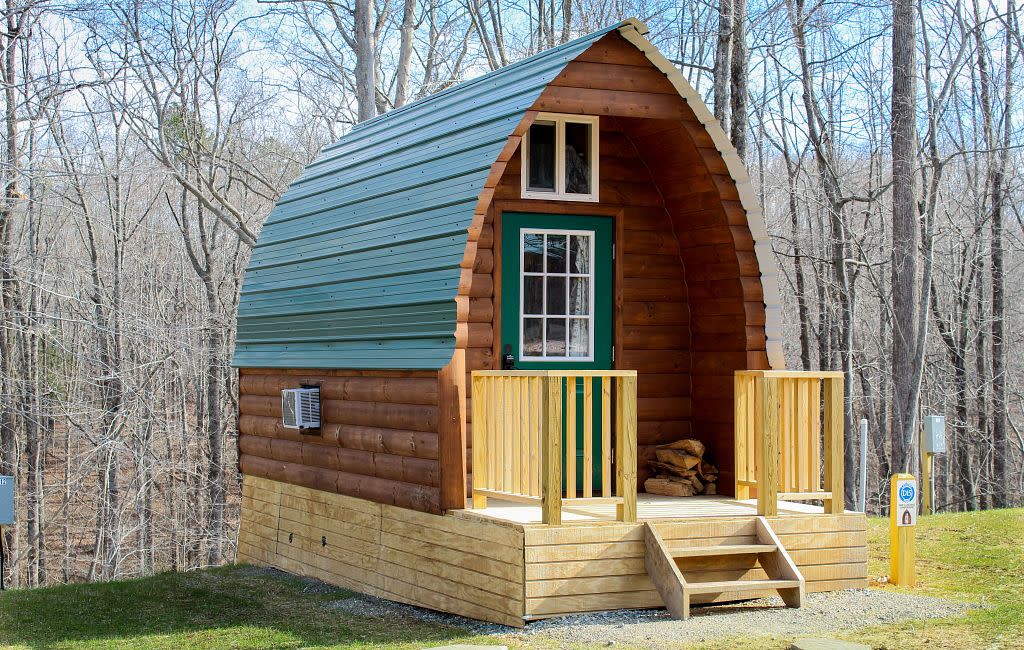 Explore Park Campgrounds — Roanoke
Explore Park in Roanoke is your destination for family fun and adventure. Offering an array of accommodations and campsites, book a stay in a unique pod cabin (pictured here), yurt, or canvas tent. RV sites and primitive campsites are also available.
Shenandoah River Getaways — Shenandoah
Shenandoah River Getaways offers five luxury cabins and vacation homes in the Shenandoah Valley. Four of the homes are located directly on Shenandoah River offering direct access to the river's activities and scenic beauty. Nearby attractions include Luray Caverns, Grand Caverns, Massanutten Ski Resort, Shenandoah National Park Entrances, as well as many golf courses and wineries.
Rustic Log Cabins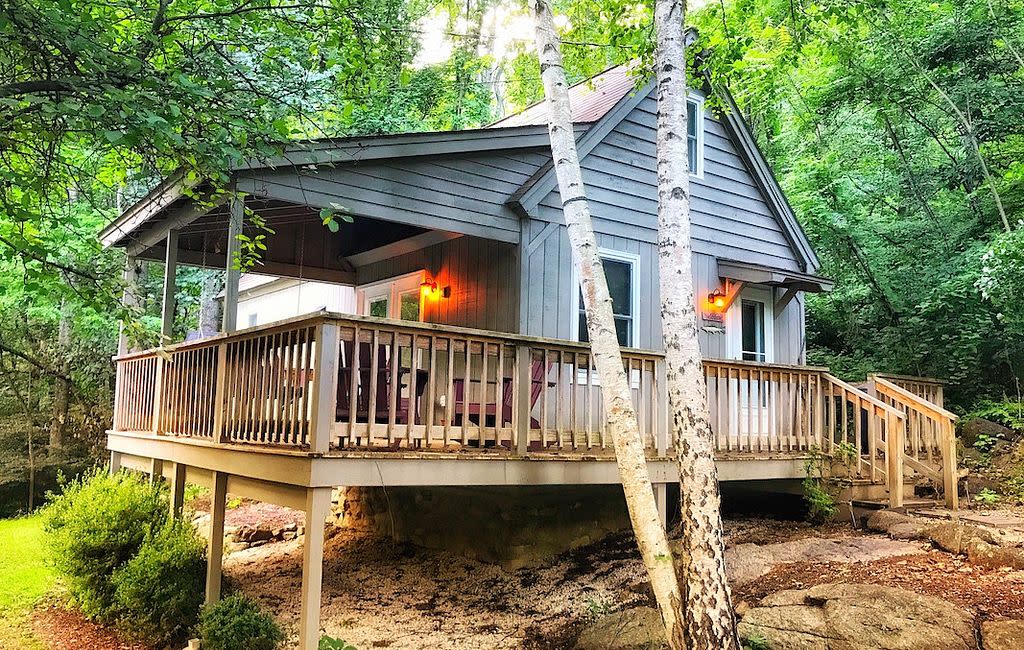 Cabins at Crabtree Falls — Nelson County
Unplug and reconnect with friends and family during a stay at one of five rustic Cabins at Crabtree Falls. Just a half mile from the falls, the cabins are tucked away in the heart of Nelson County in the Blue Ridge Mountains.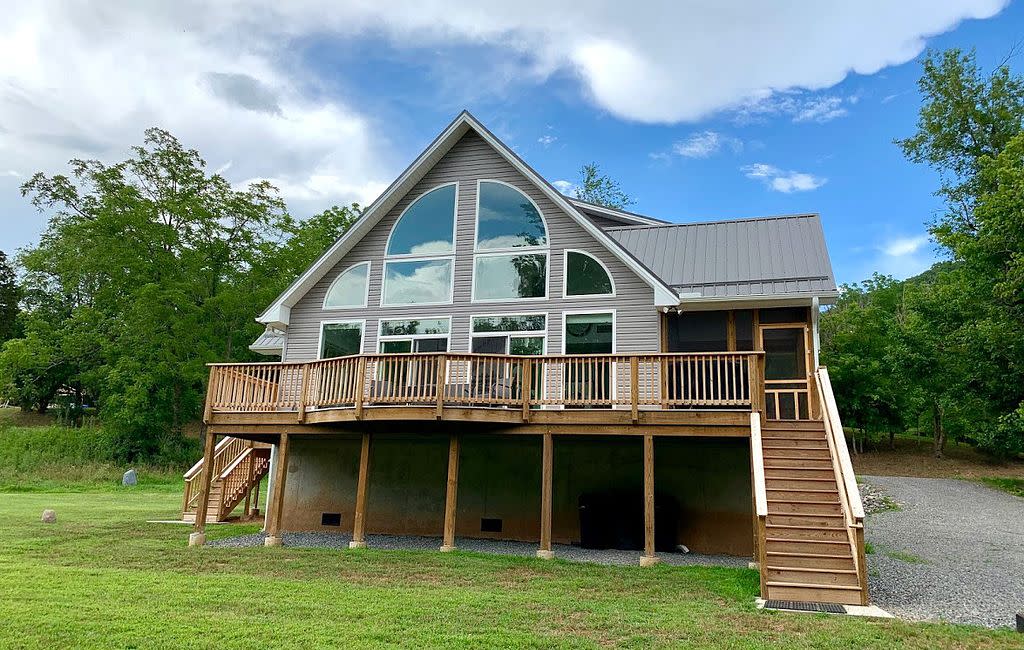 New River Retreat — Draper
New River Retreat offers 34 different cabins and vacation homes for rent along the New River, Claytor Lake, New River Rail-to-Trail, and in the Blue Ridge Mountains. Perfect for a family vacation, each rental is located with access to loads of outdoor adventures from floating down the new river, boating and paddling on Claytor Lake, biking along the New River Trail, or hiking throughout the Blue Ridge Mountains.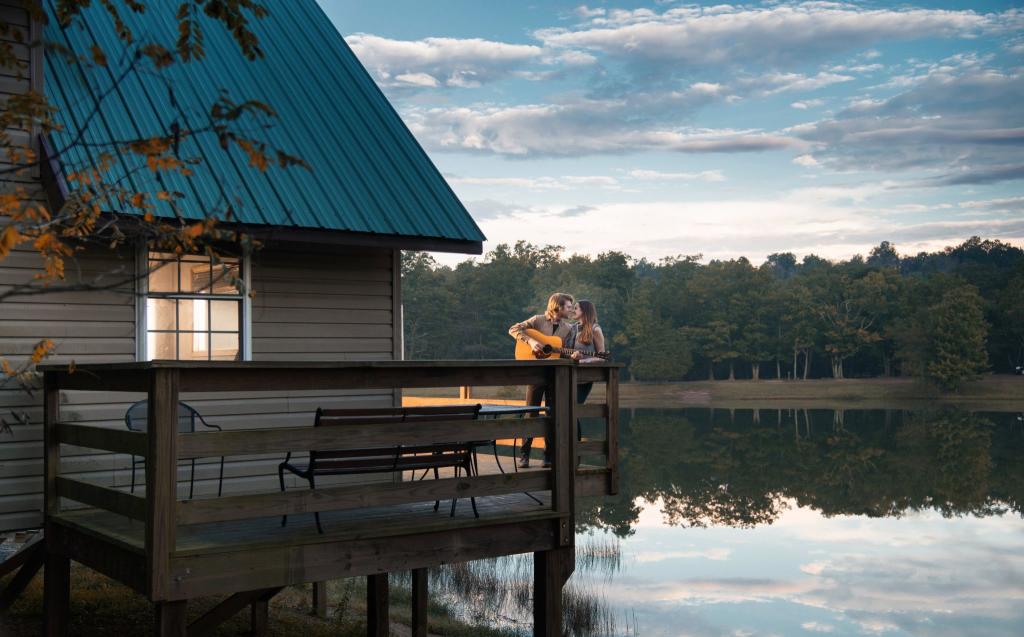 The Cove Campground — Winchester
The Cove Campground is a privately owned 3,000 acre farm just 12 miles west of Winchester near the West Virginia state line. Much of the land has been developed to provide outdoor recreation to the public including three spring fed lakes, two cabins, hundreds of campsites, fire rings, picnic tables, boat rentals, and a bait and tackle shop.
Rustic Cabins at Springfield Distillery — Halifax
Experience the southern charm of Halifax county with a stay at one of two cozy cabins on the historic property of Springfield Distillery. Dating back to 1842, the rustic cabins offer the perfect getaway for rest and relaxation. Walk over to the distillery to taste local spirits and be sure to check the calendar for special upcoming events.

State Park Cabins and Yurts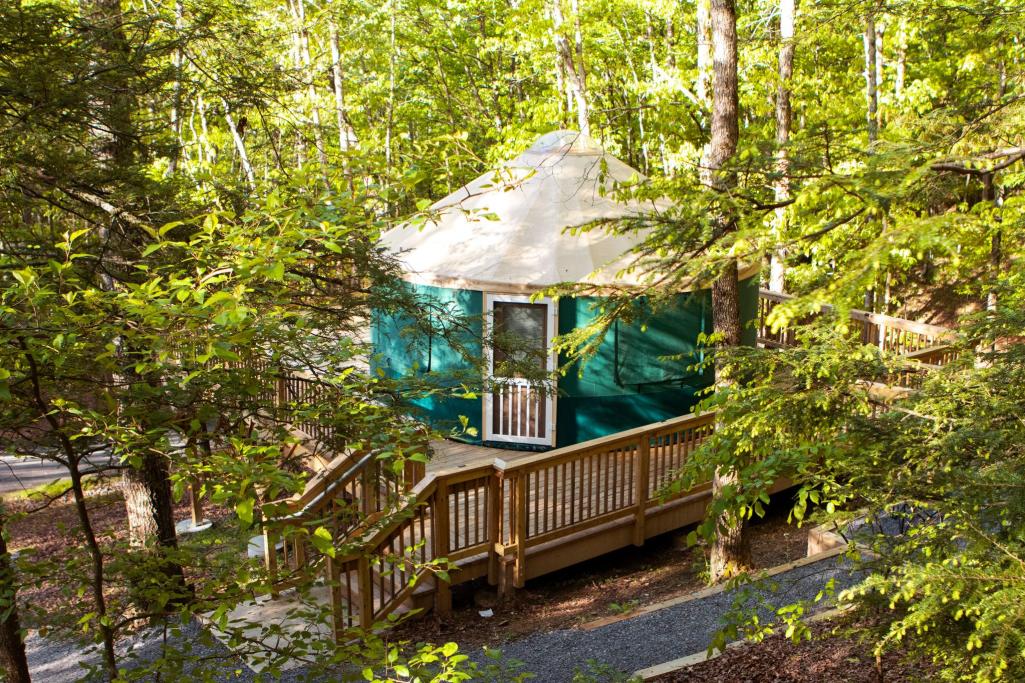 Virginia's state parks offer endless outdoor recreation and rustic accommodations for your next family adventure. Twenty-nine of our 41 state parks offer overnight lodging including cabins and yurts while even more offer campsites and bathhouses for overnight stays. Be sure to plan a few weeks in advance, as cabins and yurts tend to get booked up first.
Blue Ridge Real Estate Cabin Rentals — New River Valley
Blue Ridge Real Estate offers 14 cabin rentals close to the Blue Ridge Parkway and near the towns of Blacksburg and Floyd. All the cabins offer rustic beauty with modern conveniences and six are pet-friendly.
The Real McCoy Cabins — Pocahontas
The Real McCoy Cabins is cabin resort and campground serving the Original Pocahontas ATV Trail (Spearhead Trails) located in Pocahontas, Virginia, as well as the Hatfield McCoy Trails. Each cabin sleeps 4-6 people.
Shenandoah Woods Cabin Rentals — Luray
Shenandoah Woods offers 21 vacation homes and rustic cabin rentals across a 200 acre estate in the Shenandoah Valley. The romantic log cabins are perfect for couples, families, reunions, and weddings with exceptional views of the valley.