Rivers
Virginia's vast system of rivers, salty tidal bays and quiet inlets and streams provide modern paddlesport enthusiasts opportunities to leave the world behind, have an adventure of their own and explore nature on its terms.
Whitewater
Virginia has plenty of whitewater rivers throughout its western mountain regions, such as the Clinch, Shenandoah and New Rivers, which afford river-running activities for paddlers of all levels of experience - from the novice to the expert.
Lying at the base of Virginia's mountains are piedmont rivers that meander through remote woodlands, many with small islands and intermediate levels of whitewater where they cross the fall line.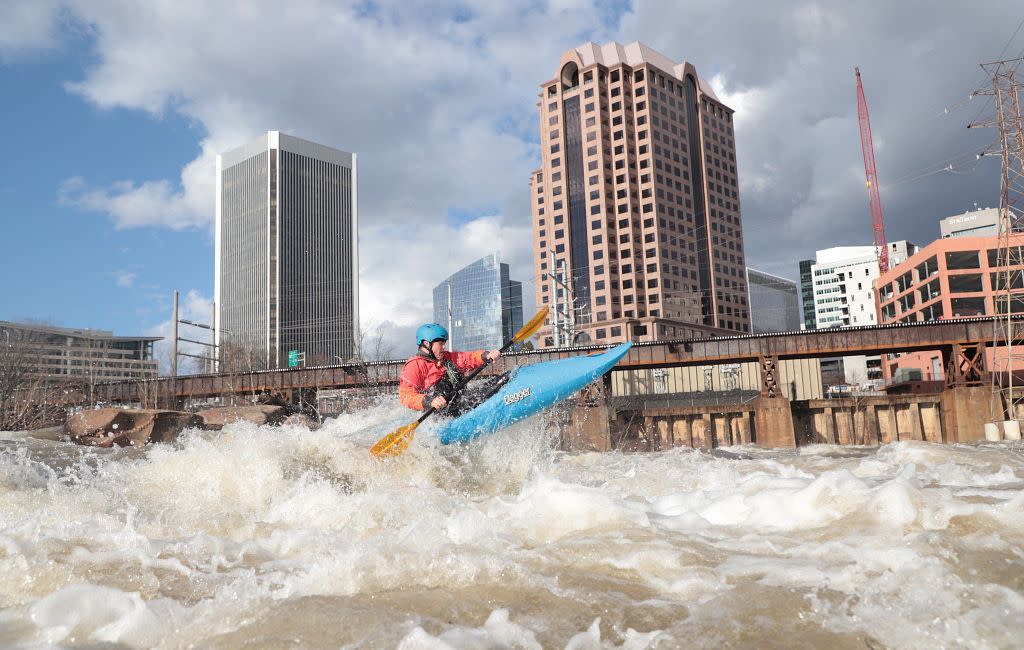 Whitewater in Downtown Richmond
The James River is different from most piedmont rivers because it flows through the heart of Richmond's urban district over a 7-mile shelf of granite, dropping more than 100 feet over the fall line where it changes to tidal waters.
Meandering Rivers and Intermediate Whitewater
The New River in the southwest region of Virginia flows through gorgeous mountain scenery surrounded by tall rock cliffs and deep gorges and moves northward from North Carolina to West Virginia, eventually spilling into the Mississippi. Floating the New is truly a step back in time, as it is the second oldest river in the world.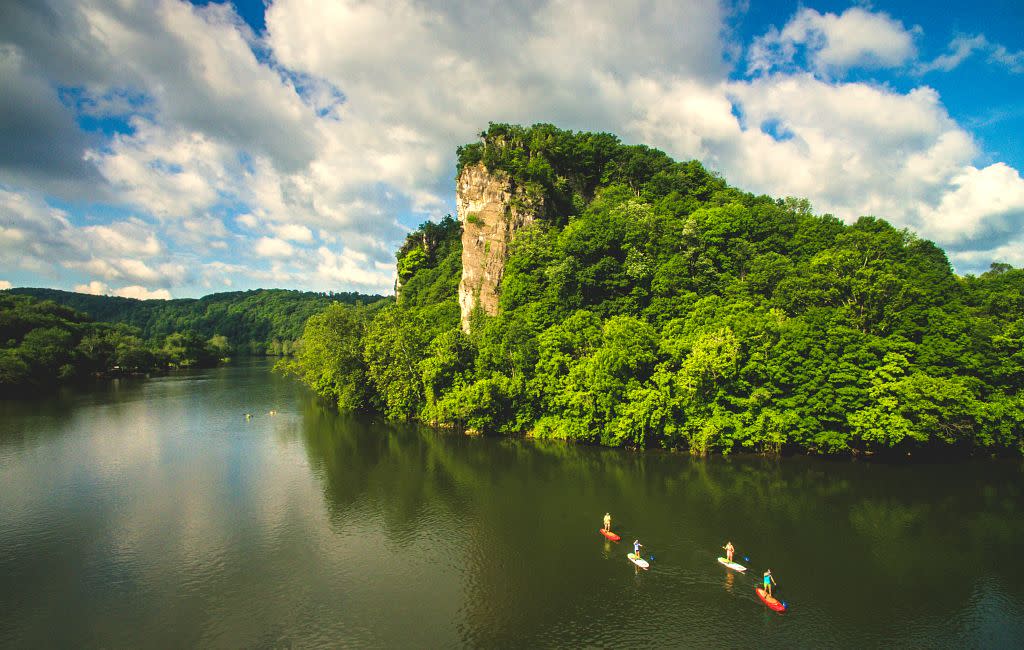 Paddleboarding on the New River
Some of the New River is fast whitewater, but shallow, mild rapids that require relatively easy paddling for novices, large groups and families.
New River Trail State Park parallels the river from Pulaski to Galax and offers paddlers an opportunity to enjoy dry land for a while - ideal for hiking, bicycling and camping.
Fishing is excellent, and the New River teems with almost every variety of freshwater game fish found in Virginia, such as rock bass, striped bass, yellow perch, bluegill and flathead catfish.
The Rappahannock, Nottoway and James Rivers provide beautiful landscapes that appear much as they did when Caucasian settlers first arrived in Virginia. Most piedmont rivers are floatable year-round and offer excellent fishing and opportunities to witness nature in its finest glory.
The Historic James River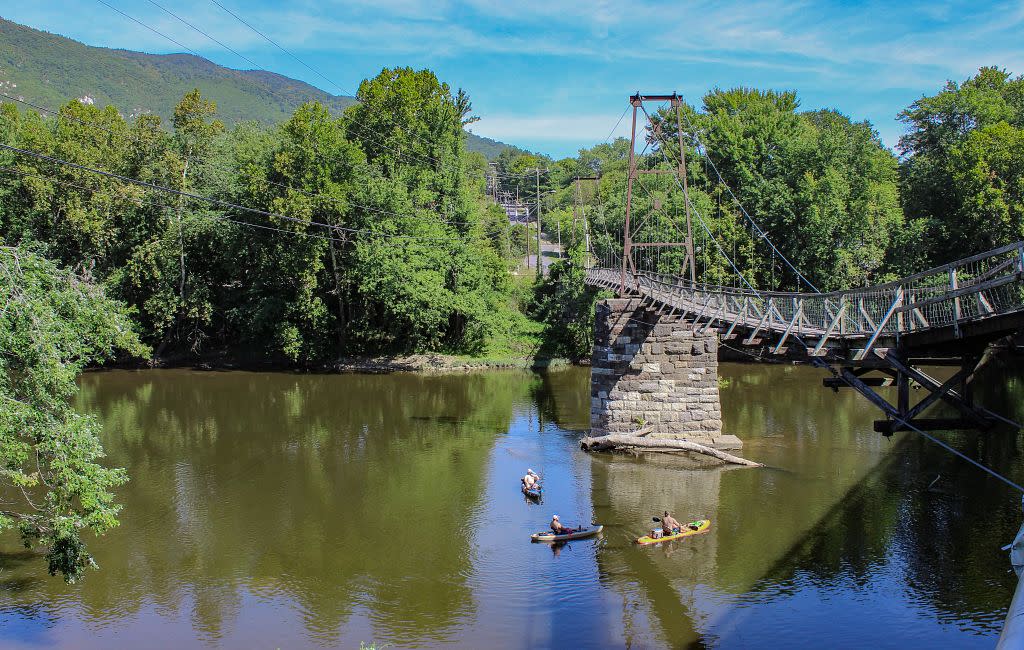 Buchanan Swinging Bridge over the James River
Moving gently in some areas and over whitewater rapids in others, the James is the longest, most historic river in Virginia, flowing beneath Civil War train trestles and modern-day bridges with panoramic cityscapes and breathtaking natural beauty as backdrops.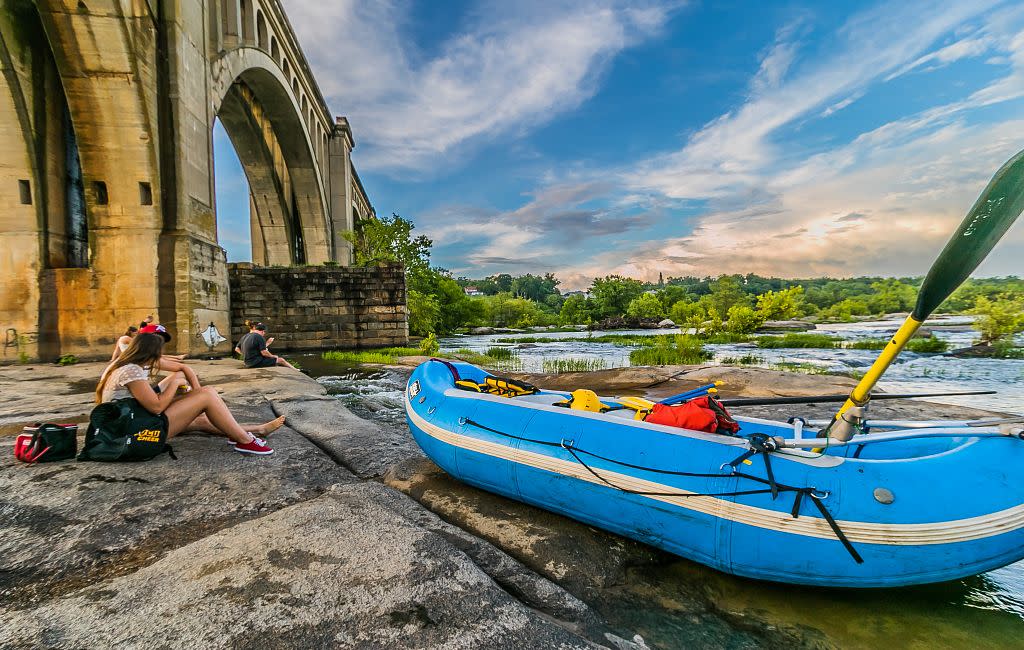 Whitewater Rafting on The James River
The river is studded with islands and huge rocks that allow paddlers time to picnic, soak up the sunshine and fresh air or doze to the sounds of the river flowing by. Water levels are normally sufficient for year-round canoeing and suitable for paddlers of all levels of experience.
If you venture to the Upper James River, you'll find more leisurely waters - those good for tubing, casual canoeing, and water play. The Upper James River Water Trail winds beautifully through the scenic Allegheny and Blue Ridge Mountains.
Leisure River Trip
East of the piedmont region lies Virginia's flat coastal plains where rivers are perfect for explorers seeking a more intimate, leisurely river experience.
Coastal rivers, tributaries and creeks such as the Blackwater, Northwest and North Landing traverse historical sites and remote marshes, swamps and wilderness flanked with cypress trees and dense forests.
These smaller rivers and streams also provide habitats for a wide variety of fish and wildlife where paddlers can get a bird's eye view of mother nature.
American Indian Rivers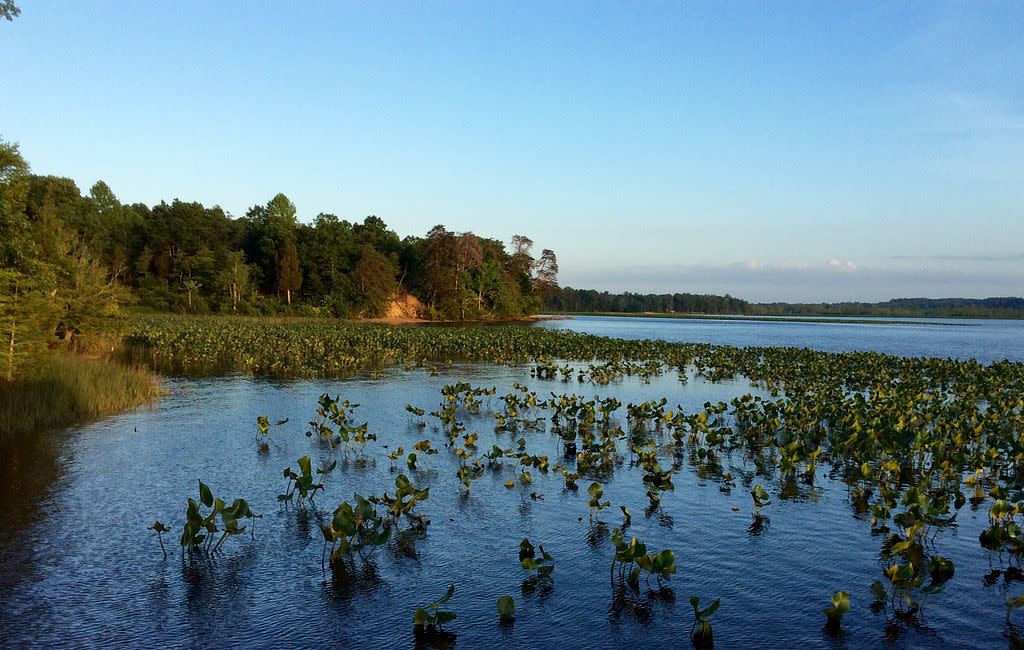 Mattaponi River
Other coastal rivers have retained their original Indian names, such as the Mattaponi, Pamunkey and Chickahominy. The word "canoe" is also derived from an Indian word "kenu," a boat that has been around for thousands of years. Except for a few minor modifications, the canoe's basic engineering retains much of its original design and is still ideal for traveling Virginia's calm, tranquil, coastal rivers.
The Mattaponi River, near the Mattaponi Indian tribe ancestral grounds, is a flat stream below the fall line. The Mattaponi meanders toward the Chesapeake Bay through beautiful wilderness, and is floatable year-round.
Tidal Creeks and Estuaries
Farther east on Virginia's coastline, the tidal creeks and estuaries near the Chesapeake Bay are becoming increasingly popular with sea kayakers.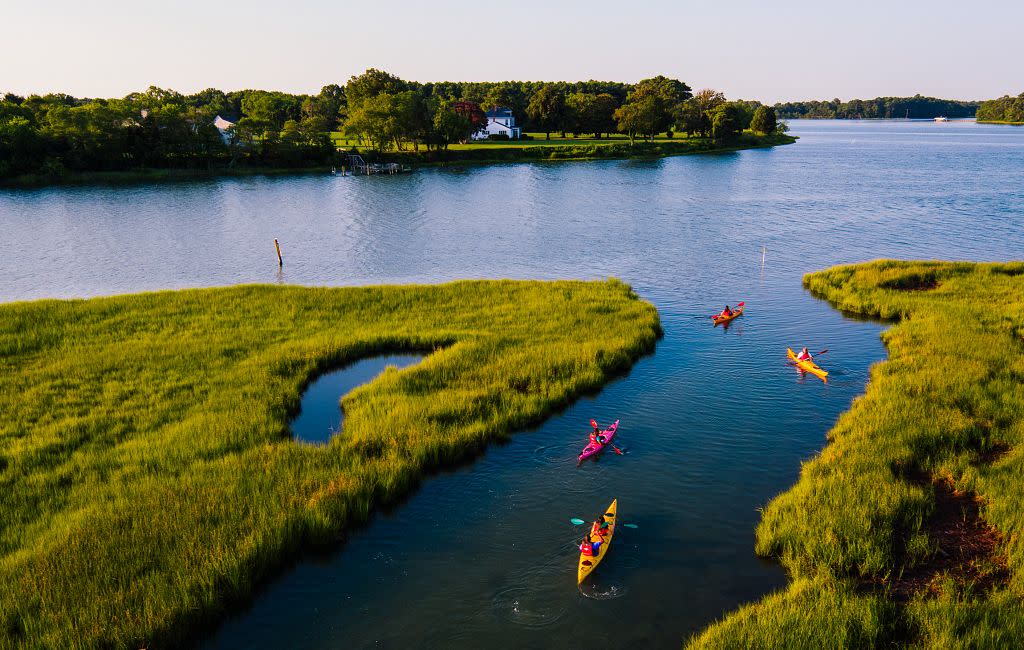 Paddle Your Glass Off Kayak Tour near the Chesapeake Bay
With the development of the Virginia Seaside Water Trail, paddlers can navigate through 37 routes - 100 miles of waterways!
This diverse paddling environment allows peeks at bald eagles, egrets, herons and osprey as well as historical river mansions and even an old mill that was once believed to have ground corn for George Washington's soldiers.
Outfitters
Outfitters and canoe liveries are located along the shores of many of Virginia's rivers and make river running easy, safe, enjoyable and convenient. Most outfitters offer classes, guides, river gauge information and equipment; and some even lead overnight combination canoeing and hiking trips. Find an outdoor guide and make your vacation dreams come true.