John Adams
Filmed in Virginia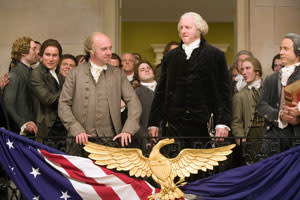 Starring Paul Giamatti and Laura Linney, executive produced by Playtone's Tom Hanks and Gary Goetzman, and directed by Emmy®-winner Tom Hooper, JOHN ADAMS, is a seven-part epic miniseries event that explores American history through the eyes of one of its greatest founding fathers, John Adams (Giamatti), a fiercely independent spirit whose unwavering vision steered America through a tumultuous period. Based on David McCullough's Pulitzer Prize-winning biography, the miniseries is produced for HBO Films by Playtone.
JOHN ADAMS taps into the uncertainty and intensity surrounding the birth of the American republic and its first 50 years. With the fervent support of his wife Abigail (Linney), and through a lifelong political rivalry and friendship with Thomas Jefferson (Stephen Dillane), Adams rose to be the leader of the American independence movement, the nation's first ambassador to Holland and England, the first American Vice President, the second American President, and father of the sixth American President.
Colonial Williamsburg Setting For HBO's John Adams Miniseries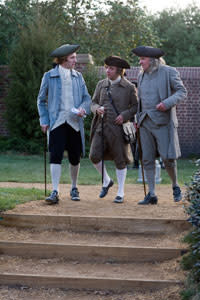 Scenes for HBO's seven-episode miniseries JOHN ADAMS were filmed February through May 2007 in Colonial Williamsburg's Historic Area. One of four shooting locations, Colonial Williamsburg's Historic Area offered a setting painstakingly faithful to the 18th century. As the world's largest living history museum, the entire colonial town stays in character 24 hours a day — shop keepers, townsfolk, children at play, farm families, marching militia, tavern folks — encouraging you to immerse yourself in the lifestyle of the 18th century and have plenty of fun doing it.
Also used for filming was the Wren Chapel in The Sir Christopher Wren Building at the College of William and Mary. It is the oldest academic building in continuous use in the United States. It was constructed between 1695 and 1699, before Williamsburg was founded, when the capital of the colony of Virginia was still located at Jamestown. Classes are still held in the Wren Building, which also is home to several faculty offices. Today the chapel continues to be used for student worship services of various denominations, as well as for music recitals, solemn induction ceremonies, and alumni weddings.The design of the chapel is similar to that of many collegiate chapels in Great Britain.
Visit The Historic Triangle
Jamestown Settlement
Yorktown Victory Center
Visit the 18th century city of Colonial Williamsburg and you'll discover why this was the…
Virginia's Historic Triangle is full of living history and fun for the whole family. Located in…