Winter Sports
Virginia's ski resorts have powdered their slopes and tuned their chairlifts for a wonderful winter season of downhill skiing, snowboarding, cross-country skiing, tubing, snowshoeing, snowmobiling and ice skating.
The only thing missing is you.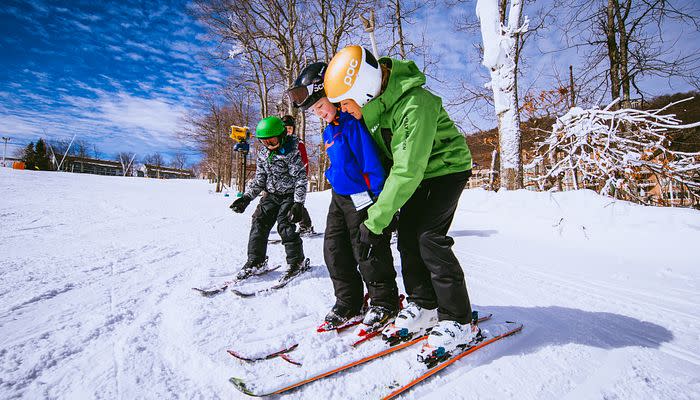 Select slopes are now open! Check the Slope Report
Downhill Skiing and Snowboarding
24 ski slopes and trails divvied up between expert, advanced, intermediate and beginner.
Five ski lifts, including two high-speed six-passenger chairlifts.
14 slopes are lit for night skiing.
Take on the Terrain Park (top-ranked by Blue Ridge Outdoors Magazine)
Sharpen one's slope skills under the guidance of certified professional instructors
Take the kids for snow-time activities at Ridgely's Fun Park
Learn to ski or snowboard at the Wintergreen Snowsports School
Tubing and Skating
The Plunge is a 900-foot eight-laner where speeds of 25-40 mph can be reached.
The Slide is for smaller children, ages 2-6.
Enjoy ice skating at the Shamokin Ice outdoor rink
~ Read more about Wintergreen Resort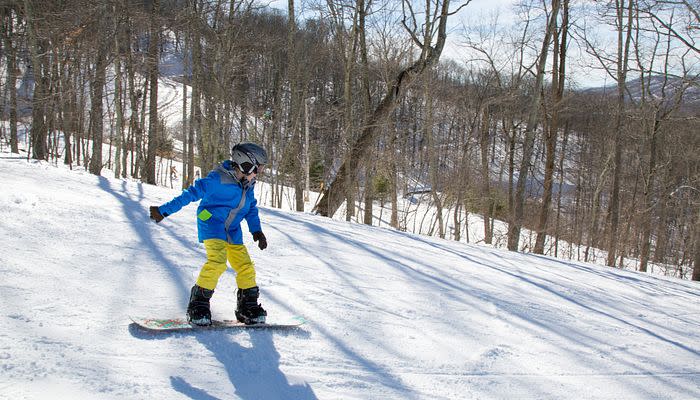 The Omni Homestead's Winter Sports will open December 21st. Check the Slope Report
Downhill Skiing and Snowboarding
Nine trails with a variety of challenges for every level of skier.
Sepp Kober Ski School offers skiing and snowboarding private and group instruction.
Mini Snowmobiles
Little ones are welcome to take a whirl around on snowmobiles made just for them.
Helmets provided
Children only (6-12)
120 lbs. max limit
10 minutes | $20
Ice Skating Rink
Slip on a pair of skates and glide across the ice, surrounded by holiday lights and music.
Penguin Slides Tubing Park
Tubing will reopen for the season in January, weather permitting.
 Our tubing park features well-groomed lanes and the Penguin Express, our new tubing area conveyor.
Sessions are 1 hour each
Reservations are required
Must be five years old and 48" or taller to tube
~ Read more about The Omni Homestead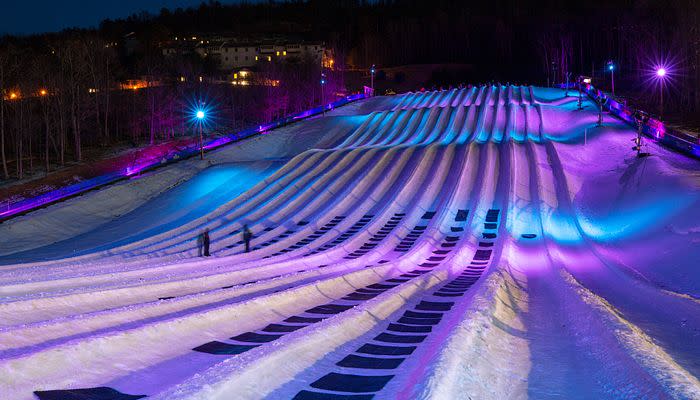 Slopes are open! Check the conditions 
Downhill Skiing and Snowboarding
14 ski slopes and trails.
Snowboarding on the regular slopes or in the Terrain Park.
Night skiing available.
The Massanutten Ski School offers skiing and snowboarding programs for all ages and abilities.
The Massanutten Adaptive Ski School offers instruction in downhill skiing, cross-country skiing, snowboarding and snowshoeing for those athletes with special needs.
Snow Tubing Park
12 lanes available.
Children must be 36 inches tall to participate.
Children between 37-44 inches must ride with an adult in a double tube.
Ice Skating Rink
90-Minute Sessions; Rentals Available
Private, group and parent/child lessons  
~ Read more about Massanutten Resort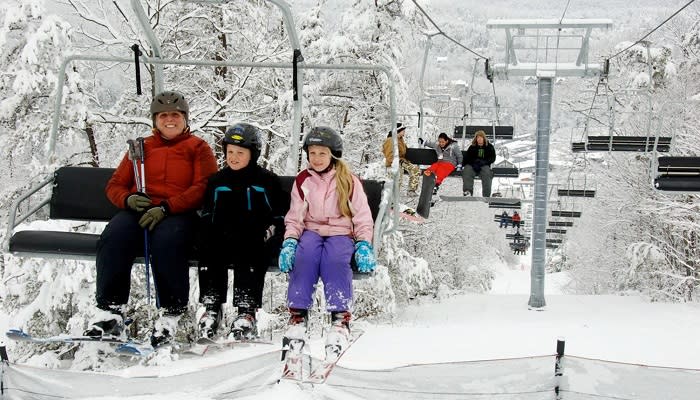 Select slopes are open! Check the slope report  
Downhill Skiing and Snowboarding
Eight slopes and trails for beginners, intermediates and advanced skiers.
Two chair lifts and three tows.
Night skiing available.
The Horst Locher Ski and Snowboard School offers programs for every level of skiing and snowboarding for ages 8 and older.
SKIwee Program for children ages 4 1/2 to 8.
Mini Rider Program snowboard instruction is for children 6-8.
Ski and snowboard equipment rentals.
Ridge Runner's Tubing Park
Three snow lanes
Tow lift with a handle takes tubers up the mountain.
Ski Racing
Coaches and instructors offer ski racing programs.
~ Read more about Bryce Resort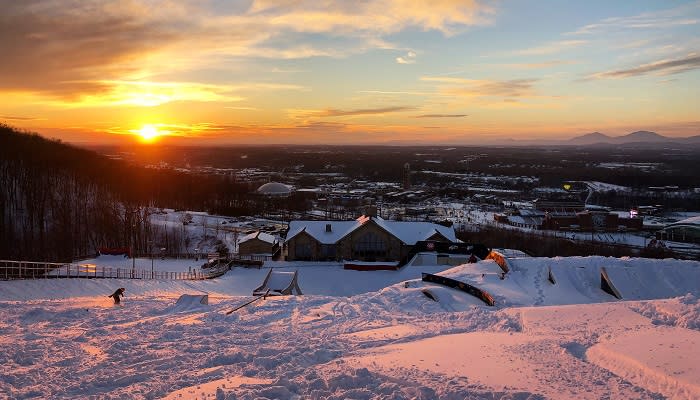 In addition to the expansive mountain resorts in Virginia, Lynchburg boasts their brand new Snowflex Center on Liberty Mountain. It's the only year 'round synthetic ski slope in the United States, giving winter sports enthusiasts great winter fun even in the non-winter months! This is a great new place to ski, snowboard, and tube.
ADDITIONAL PLACES FOR TUBING, ICE SKATING AND SKIING INCLUDE: