Mountain Biking in Virginia
Virginia has it all when it comes to mountain biking: coastal trails that welcome beginners, expert-level mountain trails, black diamond single tracks, kid-friendly trails, and accessible trails for hand cycling. Whether this is your first ride or you're looking for a trail that will challenge your skills, you'll find a mountain biking destination suited to you.
In addition to variety, Virginia has become known for their award-winning mountain biking trails, becoming one of just four states to have three IMBA-designated Ride Centers. Roanoke Ride Center has received a Silver Level Status, the only destination on the East Coast to achieve this ranking, and Richmond and Harrisonburg have both been recognized as Bronze Level mountain biking destinations.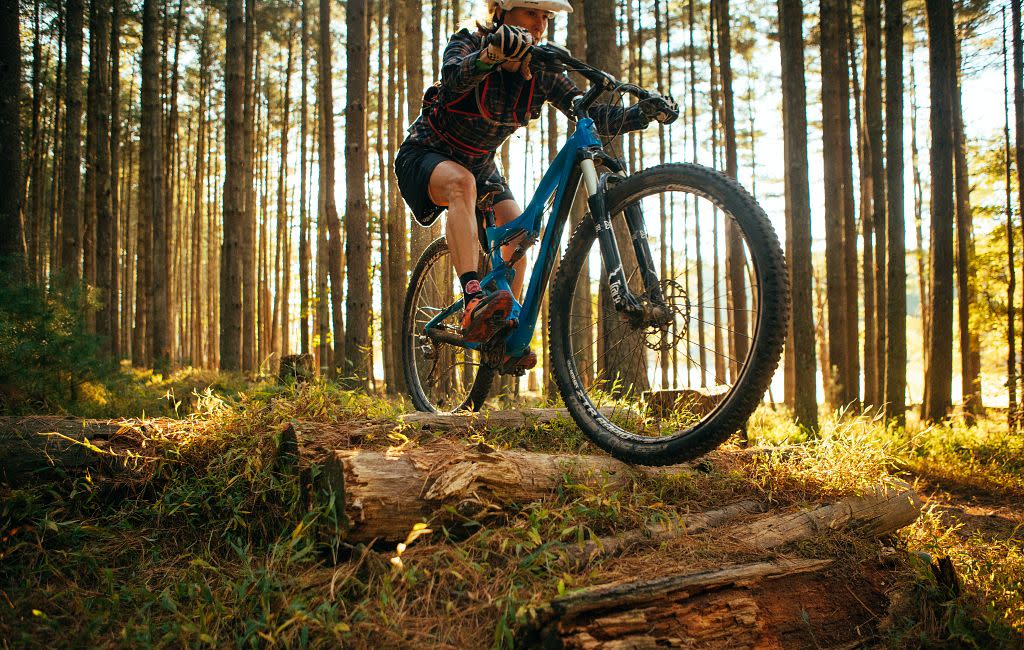 Mountain Biking at Carvins Cove
The Roanoke Ride Center contains several single track trail systems, including 46 miles in Carvin's Cove, 10 miles on Roanoke's Mill Mountain, and 34 miles in Jefferson National Forest's North Mountain.
The Richmond Regional Ride Center is made up of several parks around the capital, including Pocahontas State Park and James River Park. In the past few years, the Richmond Regional Ride Center has grown to include over 70 miles of mountain biking trails, including a beginner-level single track, a flow trail, and a purpose-built hand-cycle line.
Harrisonburg Ride Center has something for every mountain bike rider: Rocktail Trails at Hillendale Park has sections for beginners as well as areas for experienced riders looking to hone technical skills. The Massanutten Western Slope Trail System runs 15 miles through Massanutten Resort and contains intense mountain trails. There are over 100 miles of backcountry trails within George Washington National Forest, challenging riders with rocky, remote terrain.
Roanoke — Roanoke Mountain Adventures offers Guided Trips or Rentals and Shuttles for Mountain Biking, Kayaking, Cycling, Paddleboarding and other outdoor activities.
Lyndhurst — Sherando Lake Loop in Augusta County's Sherando Lake Recreation Area, part of George Washington and Jefferson National Forests is the place to go for almost 20 miles of single track trails and dirt/paved roads.
At one point, as bikers ascend from Sherando Lake through Big Levels toward Bald Mountain Overlook, the trail challenges bikers with more than 1,000 feet of vertical climbing. Included in this Best of the Best for mountain bikers is a length of the Blue Ridge Parkway, the nation's longest national park. This stretch serves as a break for bikers — paved road and overlooks for views of the Shenandoah Valley below.
Massanutten — Massanutten's Mountain Bike Park offers an exciting experience for veteran riders while also featuring a beginner-friendly introduction to downhill mountain biking. The park features a lower lift that will provide access to Beginner and Intermediate trails for newcomers while also offering advanced jump and singletrack trails accessible from an upper lift that are sure to thrill any enthusiast.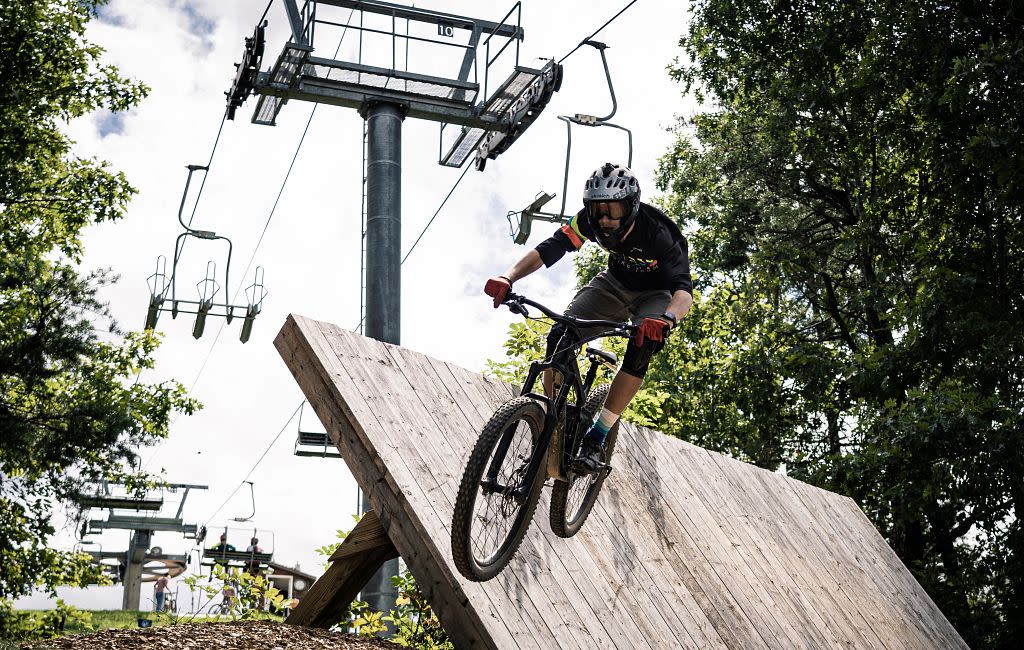 Bryce Resort Bike Park
Basye — Bryce Resort has a brand new summertime experience for adrenaline junkies. The Bryce Mountain Bike Park features six lift-accessed trails ranging from beginner to learner to advanced difficulty terrain. Some are more than two miles long.
Luray — What better way to see nature than a bike trip along Skyline Drive in Shenandoah National Park, all paved.
Big Stone Gap — Not exactly mountain biking, but biking in the mountains, The Heart of Appalachia Bike Route and Scenic Drive begins from Burke's Garden in Tazewell County to the Guest River Gorge in Wise County -128 miles of breathtaking scenery!
Norton — Norton's Flag Rock Area Trails system currently has nine miles of single-track mountain biking trails. Trails travel through rhododendron-choked forested tunnels, past giant sandstone boulders and clifflines, and through beautiful hardwood forests as they wind through Flag Rock Recreation Area.
Breaks — Breaks Interstate Park - the "Grand Canyon of the South" - has 13 trails along the largest gorge east of the Mississippi.
Wise — Guest River Gorge Trail in Jefferson National Forest is a Rails to Trails project that follows an old railroad right of way paralleling the Guest River.
Ewing — Cumberland Gap National Park has 50 miles of trails over 20,000 acres of wilderness.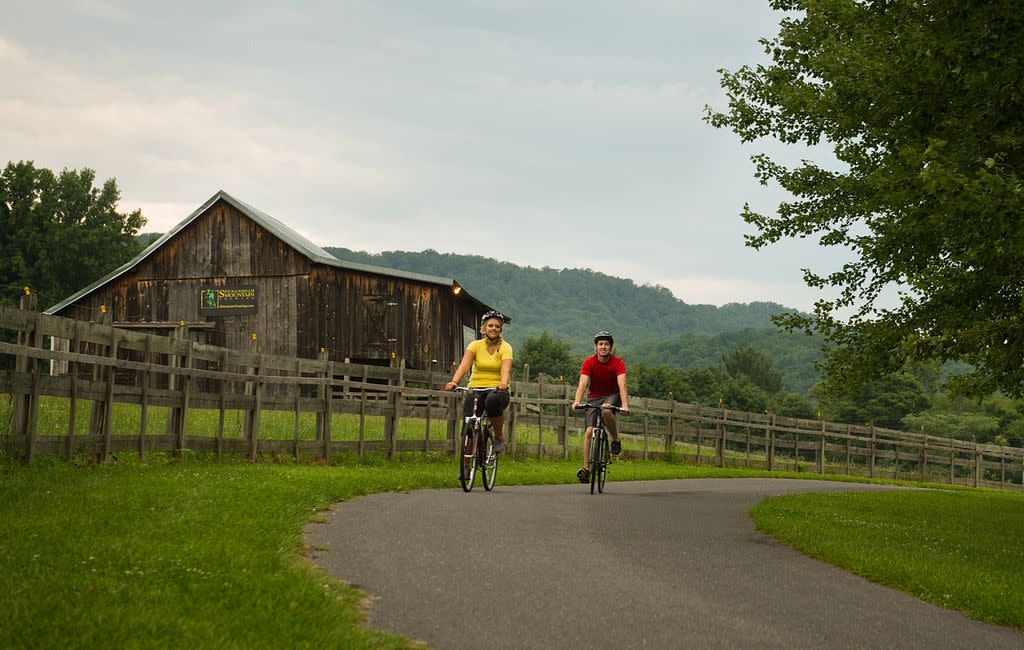 Shenandoah Mountain Touring
Harrisonburg — Shenandoah Mountain Touring specializes in bike tours in the George Washington National Forest surrounding Harrisonburg.
Saint Paul — Sugar Hill Loop Trail is an excellent biking challenge for five miles.
Ewing — Wilderness Road Trail in Wilderness Road State Park is a 10-mile biking, hiking and equestrian trail. Bikers give way to hikers, and it's to their advantage to give way to horses.
Damascus — A tour of Virginia's mountain biking scene in this part of the state includes the Mount Rogers Loop in the Mount Rogers National Recreation Area near Damascus. It is a 115,000-acre wilderness region with more than 400 miles of trails, some of them exceedingly difficult and some climbing to Mount Rogers at 5,729 feet.
The loop system has 8 miles of trails, winding over creeks, through valley meadows and across some of southwest Virginia's most impressive mountain peaks.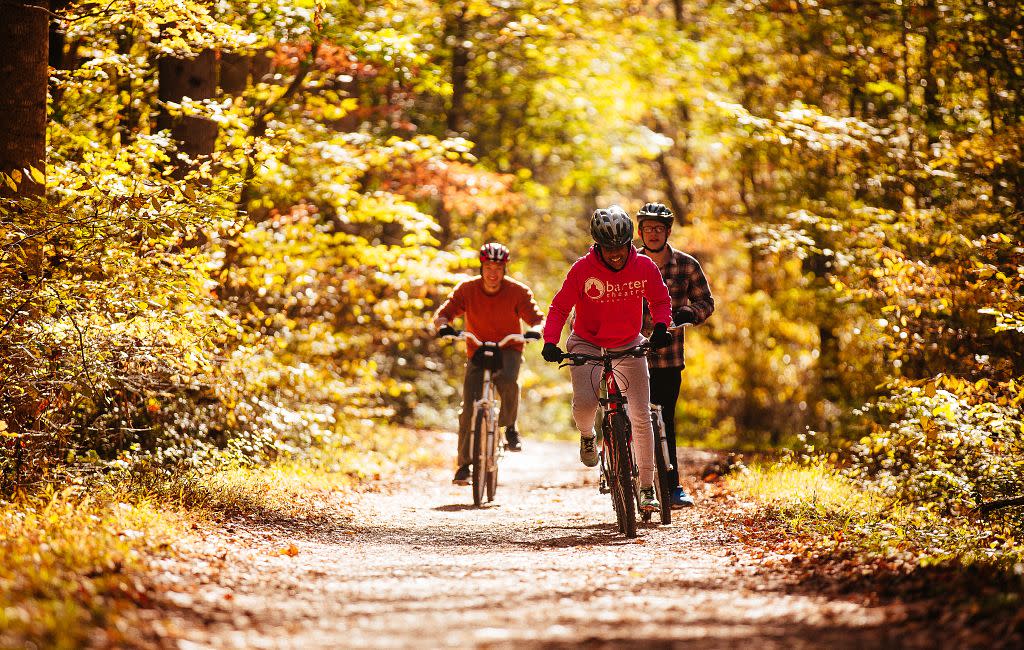 Virginia Creeper Trail
Abingdon — The 35-mile Virginia Creeper Trail distinguishes itself for its beauty and contrasts with the more difficult loops. It was once a railroad bed and part of the national "Rails to Trails" program. The trail begins in Abingdon and meanders over more than 100 trestles and bridges, providing scenic views of gorges and mountain streams.
Outfitters Along the Virginia Creeper Trail:
Blacksburg — Catawba Road in Blacksburg passes through pastoral landscapes and is part of the great TransAmerica Bikeway.
Abingdon — Overmountain Victory National Historic Trail stretches 330 miles. The trail commemorates and preserves the route of march of patriot militia who fought and defeated a force of 1,000 British soldiers at the Battle of Kings Mountain in South Carolina.
Pembroke — Cyclists can enjoy Dirty Dancing-famed Mountain Lake Lodge from the seat of a bike. Twenty miles of trails offer diversity for beginners to advanced two-wheeled explorers.
Wintergreen — Wintergreen Resort has its own mountain bike park with a 3,000-foot drop, 12.5 mile trail!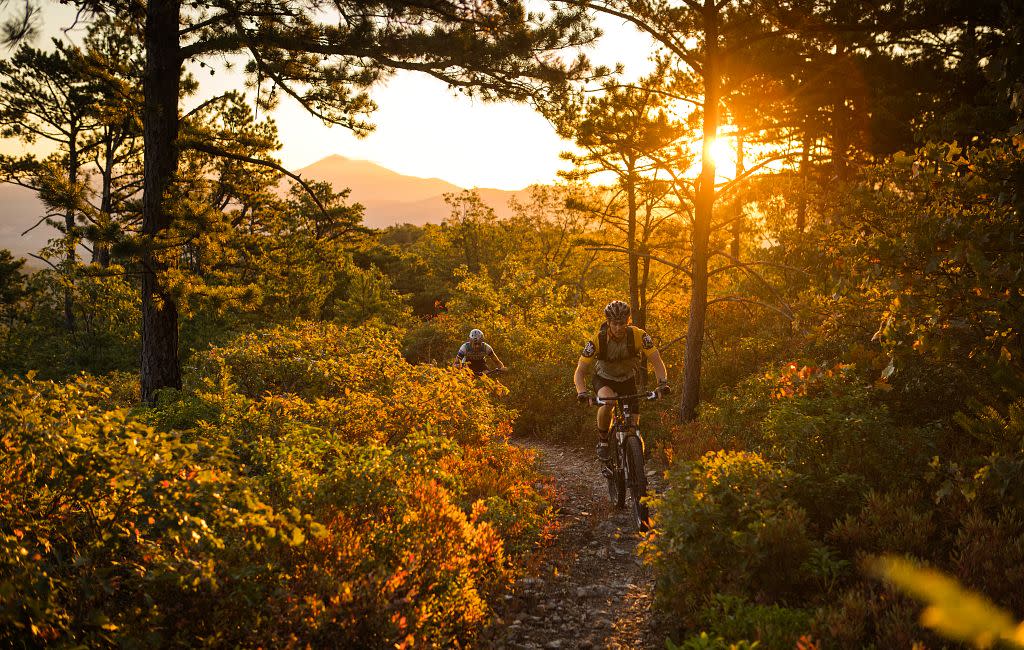 Dody Ridge Mountain Bike Trail
Bedford — Falling Creek Park is the first of four regional parks in Bedford County. The 10 mile trail network is designed for hiking, mountain biking and trail running. Don't miss Dody Ridge Mountain Bike Trail, an advanced, 12-mile single track loop.
Lynchburg — Liberty Mountain Trail System. More than 65 Miles of single and double ttrack trails and logging roads.
Richmond — Pocahontas State Park Trails - 52 miles of signed multi-use trails. Several single-track mountain bike trails ranging from easy to expert.
Fairfax Station — Fountainhead Regional Park boasts one of the most challenging mountain bike trails in the Northern Virginia region, which features a stacked loop system, with a beginner level loop that newer and younger riders can stay on, or riders can continue on the connecting intermediate loop, and then on to an advanced loop.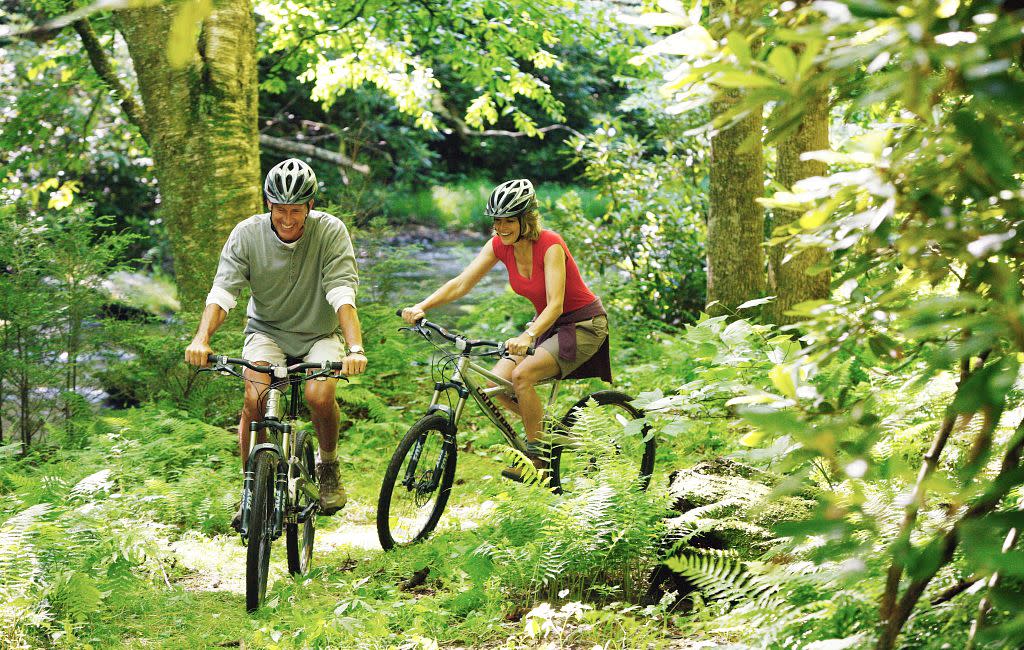 Mountain Biking at Primland Resort
Meadows of Dan — Primland Resort offers mountain biking on a beautiful 14,000-acre estate nestled in the heart of the Blue Ridge Mountains.
Danville — Anglers Ridge Mountain Bike System — With over 35 miles of wooded, natural-surface, single track trails the award-winning Anglers Ridge Trail System ranks as one of the best in the state.
Ridgeway — Mountain Laurel Trails, located in beautiful Horsepasture, Virginia, provides patrons a true mountain biking trail system. Situated on 100 acres, the trails currently stretch ten miles and will eventually reach fifteen. Mountain Laurel Trails encompass varying levels of difficulty for beginners as well as seasoned bikers to enjoy.
Williamsburg — Freedom Park - This 600-acre forested retreat also features approximately two miles of multi-use trails, including a one mile ADA accessible paved trail, and more than 20 miles of mountain bike trails winding through historical sites, forests and along creeks, open meadows, and parking.
State Parks
From easy family friendly trails in scenic Virginia countryside to challenging single tracks in mountainous terrain. Virginia State Parks can satisfy your mountain biking adventure hunger. Be sure to visit a Virginia State Parks for great trails, events and lodging opportunities. Our state parks were named "Best in the Nation!".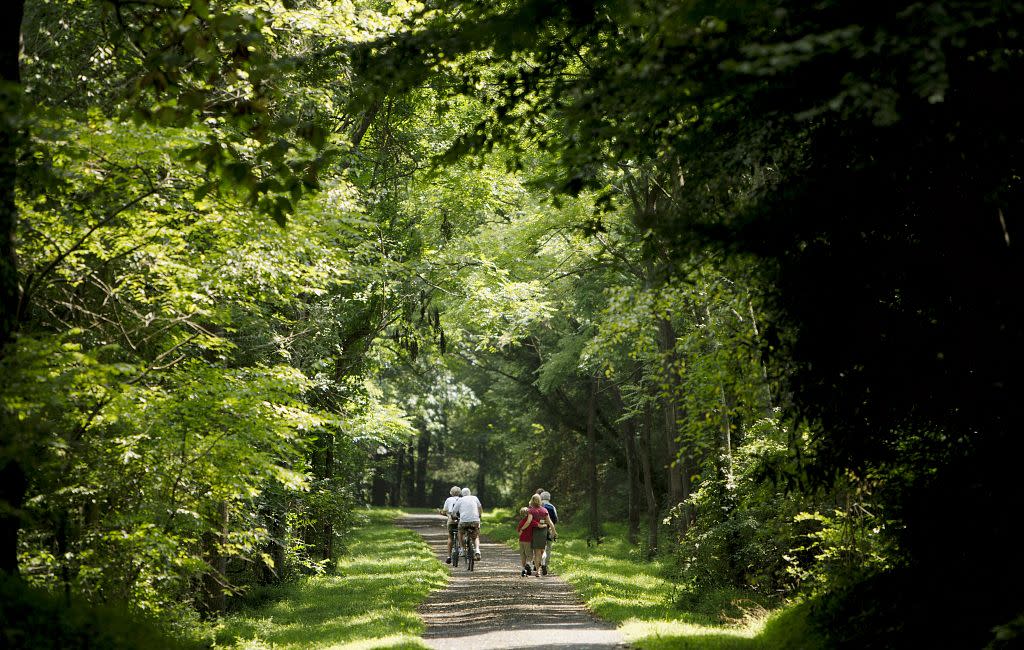 Biking New River Trail State Park
Virginia bike trails offer something for every skill level and age; families with young children or…
Many of Virginia's old railroad grades have been converted into multi-use recreation trails…