One Of A Kind
Virginia is full of weird and wacky facts and places that make for nostalgic and memorable experiences for the whole family. From roadside attractions to funky museums across the state, read on to find your next unique photo op and hidden gem attraction.
Dinosaur Land — White Post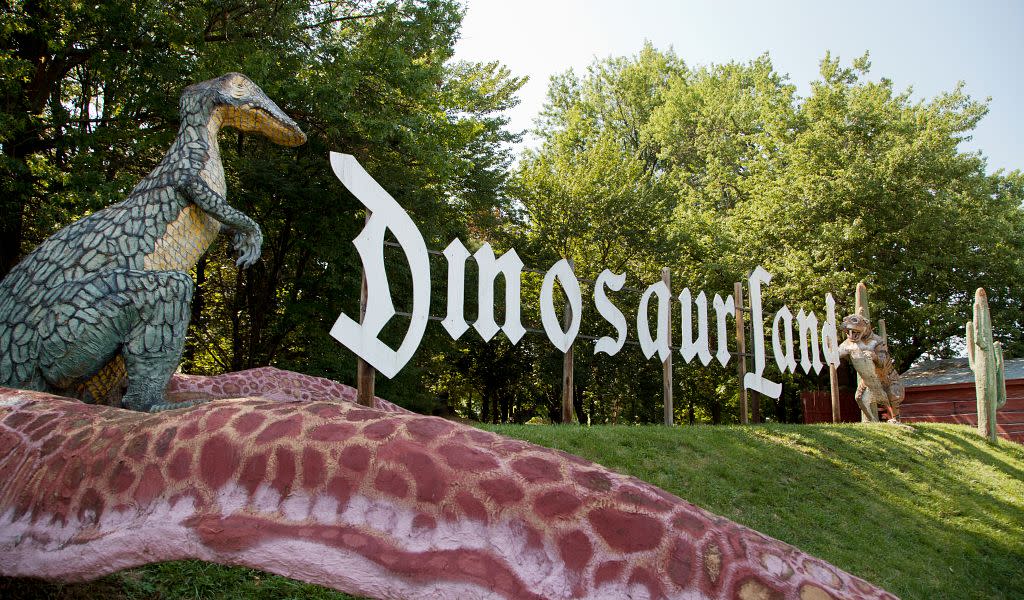 Virginia's Dinosaur Land is home to about 37 fiberglass prehistoric creatures ranging in height from 3 to 30-feet tall and as long as 90 feet.
Dinosaur Kingdom II — Lexington
From the creators of Foamhenge & Lexington's Ghost Tour, Mark Cline's Dinosaur Kingdom II is a 10-acre wooded, walking adventure of the wildest, weirdest, craziest kind! Pass through a time tunnel to visit a mining town complete with characters such as Mr. Slime and BigFoot. Then, move into the dense woods for interactive encounters with life-size dinosaurs and characters of historic relevance...the dinosaurs are hungry!
Luray Caverns — Luray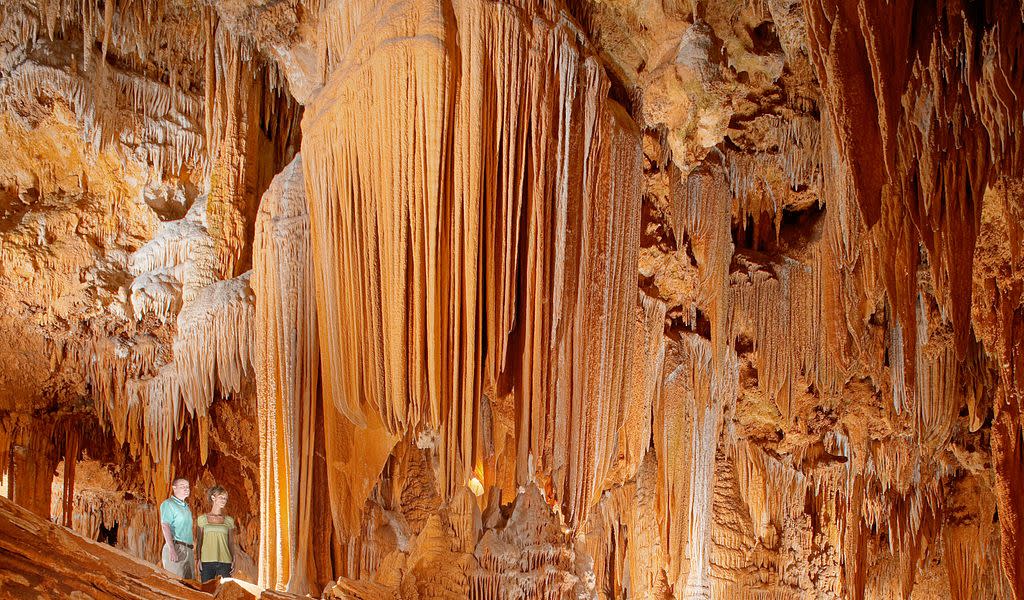 Luray Caverns is home to the World's Largest Musical Instrument, a stalacpipe organ that plays Oh, Shenandoah. Mr. Leland Sprinkle explored the vast chambers in the caverns searching for the perfect music tones on the stalactites in 1954. He then wired the stalactites with rubber-tipped mallets and connected the individual wires to an organ. Something very special awaits visitors when they hear the cavernous tune.
American Celebration on Parade — Quicksburg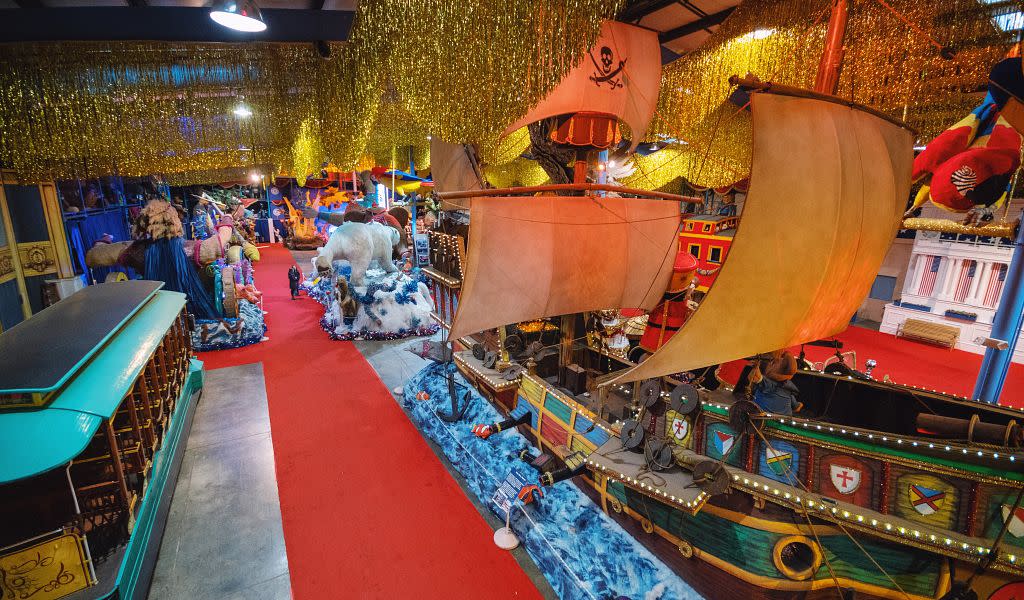 Where in the world can tourists go to see over 20 retired parade floats as well as many characters and collectables from TV shows and movies, national celebrations, parades and presidential inaugurals? Go to Shenandoah Caverns where you can get your picture taken on a Macy's Thanksgiving Day Parade float at American Celebration on Parade! Entry to American Celebration on Parade, included in a Caverns tour ticket.
Glen's Fair Price — Harrisonburg
Known as "Harrisonburg's Most Unusual Store" and "The Halloween Store," is an eclectic family-owned store with collectibles and souvenirs, costumes for all occasions, nostalgic candy, themed decorations, and so much more. Visitors love the wall of (costume) heads!
Harper's Statuary and Water Garden — Harrisonburg
A family owned business since 1962, Harper's Statuary and Water Garden offers an eclectic collection of almost 900 different statuary, from zen frogs and gargoyles, to a particularly large collection of life size animals and gnomes.
Cooter's Dukes of Hazzard Museum — Luray
Cooter's Place in Luray features Daisy's Diner, Dukes of Hazzard Museum and Replica Cooter's Garage with General Lee, Cooter's Tow Truck, Boss Hogg Caddy, "Cooter's Garage Band" and appearances from the man himself, Ol' Cooter and much, much more!
Flying Circus Airshows — Bealeton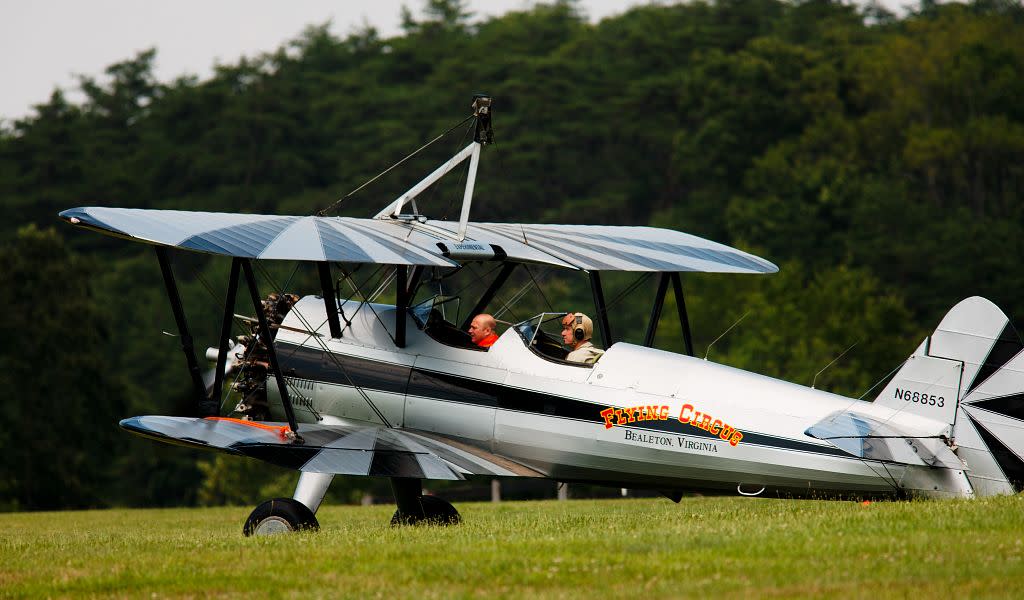 See the Flying Circus Airshows in Fauquier County every Sunday from May - October. Just like the old Barnstormer shows, you'll thrill to the whirling daredevil stunt pilots, crazy wing-walkers like in the 1920s and skydivers and hot-air balloons falling out of the sky! You can even pay to ride in a biplane after the show.
Meadowlark Botanical Gardens' Korean Bell Garden — Vienna
Snap some gorgeous and unique photos at Meadowlark Botanical Gardens' Korean Bell Garden – the only one of its kind in the Western Hemisphere. The traditional pavilion is intricately pieced together – no nails or screws were used to build it and the custom bell was handcrafted by a Korean artisan, featuring meaningful carvings tied to both Virginia and Korean heritage.
Workhouse Arts Center — Lorton
The Workhouse Arts Center, a former prison turned arts haven. The sign itself is located in the main quad, and was recently transformed by local artist Marlon McFly, who found inspiration in the word "LOVE" and created a collage of facial expressions communicating this term of affection. He rooted the artwork by acknowledging the sign's location through the incorporation of brick and archway visual elements, each representative of the Workhouse's storied history.
IX Art Park — Charlottesville
located two blocks south of Charlottesville's historic pedestrian Downtown Mall is a perfect spot for some incredibly unique photo opportunities. This outdoor art park is quirky, fun and whimsical and invites everyone to explore the possibilities that can come to life by embracing your creative side. The IX Art Park is also home to The Looking Glass, Virginia's first and only immersive art exhibit. Whimiscal is the name of the game as you enter and explore an enchanted garden, interact with technological displays that allow you to become part of the art, and so much more.
The Walton Family — Schuyler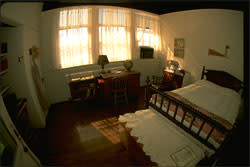 Visit the set of The Waltons on Walton's Mountain in the childhood town where the author of the series, Earl Hamner Jr., grew up. See where John Boy escaped from the rest of the family and wrote all his stories, see the parlor and the kitchen where everyone congregated, and visit Godsey's General Store, too.
Morefield Gem Mine — Amelia
Find those gems and take home a 5-gallon bucket full of them for just the price of admission to the Morefield Gem Mine! The turquoise-colored amazonite is plentiful here. Other gems include garnet, topaz, feldspar, pyrite, quartz and a huge mound of polished marble, like stepping stones for your garden. Closed from mid-July to late September.
Keystone Truck & Tractor Museum — Colonial Heights
Hundreds of antique/vintage farm tractors, trucks, cars, plus toys, country store & gas station memorabilia & much more. LOVE Works out front made of truck & tractor parts.
Poe Museum — Richmond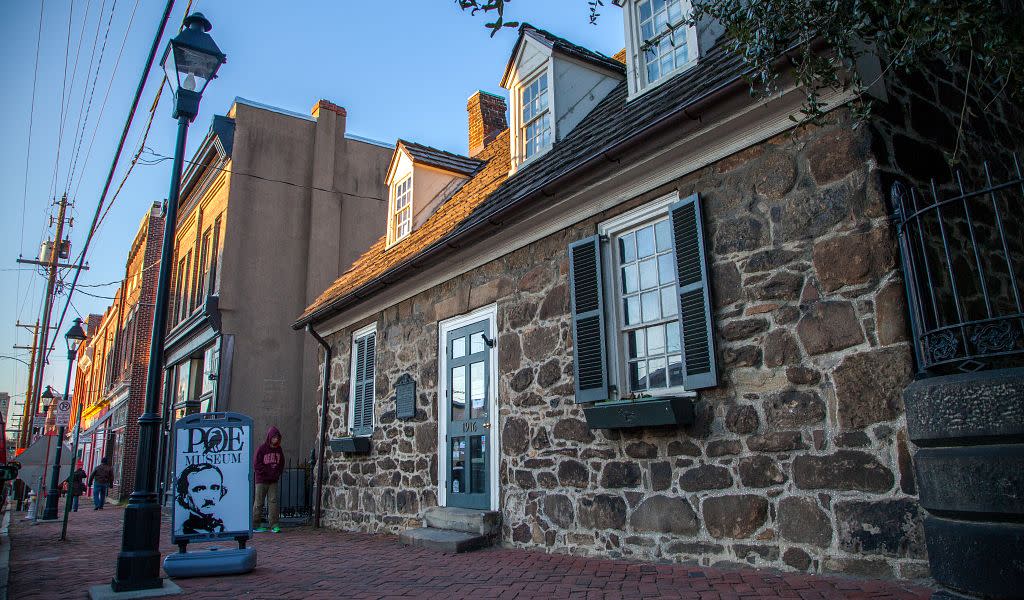 Virginia's only literary museum honors the great American Writer, Edgar Allan Poe, with the world's largest collection of Poe artifacts. The Poe Museum was opened in 1922 in the Old Stone House, Richmond's oldest standing structure, only blocks away from the sites of Poe's first Richmond home.
Silverback Distillery — Afton
At Afton's Silverback Distillery, stop for a craft cocktail and a photo op with a giant chainsaw wood sculpture of a Silverback gorilla, affectionately named Titus. He was carved from five logs from local farms.
Quarry Gardens — Schuyler
The Quarry Gardens in Schuyler grow at the site of an old soapstone quarry. The site features native plants in its 40-acre garden and an impressive vertical rock wall. A tree at the garden called Devil's Walking Stick has had a sardine can stuck in it for nearly a century. Apparently, a soapstone worker accidentally left it behind after a lunch break in the mid-20th century. The can wasn't discovered again until after Hurricane Camille, when the deluge from that storm washed away the topsoil around the tree. Come for the sardine can, stay for the gardens and the Nelson and Albemarle Railroad model display.
Smithfield Ham — Smithfield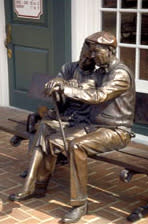 Guinness World Records officially named Smithfield's 250th Anniversary Ham Biscuit as the World's Largest! See the interactive-screen exhibit of this 2,200-pound delight at the Isle of Wight Museum, where you can also see the World's Oldest Smithfield Ham — 105 years old — protected in a glass case in one of the museum's ham galleries. Be sure to ask which ham gallery.
First Peanut Museum in the U.S. — Sussex
See a peanut-sized museum devoted to the Virginia peanut at The First Peanut Museum. See peanut artifacts, such as peanut critters, antique peanut tools and peanutty displays of local products for sale down the road at peanut shops. Waverly is where the very first commercial peanut crop was grown in 1842. Did you know that the peanut is not really a nut? It's a legume, like a pea!
Jerrassic Park — Virginia Beach
Free to the public! See our unique collection of dinosaur sculptures at the entrance to the Virginia Beach Airport and museum property. It's a great place to bring your kids or grandchildren if they like dinosaurs! Bring your camera!
Mount Trashmore — Virginia Beach
Mount Trashmore Park evolved from a landfill. Three flagpoles serve as vents for methane gas... but it's really quite pretty and a nice place for a picnic.
Pony Swim — Chincoteague Island
Ever hear of saltwater cowboys? Instead of rounding up herds on the western plains, Virginia's cowboys round up about 150 wild ponies from Chincoteague National Wildlife Refuge and swim them across a 100-yard channel at the Annual Pony Swim & Auction. This incredible feat is something that you don't want to miss. The first foal to reach the shore is named King or Queen Neptune.
Air Power Park — Hampton
Take a selfie next to vintage aircraft and experimental space launch vehicles from the 1950s and 1960s, including jets, missiles and rockets. https://hampton.gov/Facilities/Facility/Details/Air-Power-Park-23
Bluebird Gap Farm — Hampton
Peacocks roam freely around Bluebird Gap Farm, a 60-acre farm with 150 domestic and wild animals.
"Ghost Ships" at Kiptopeke State Park — Cape Charles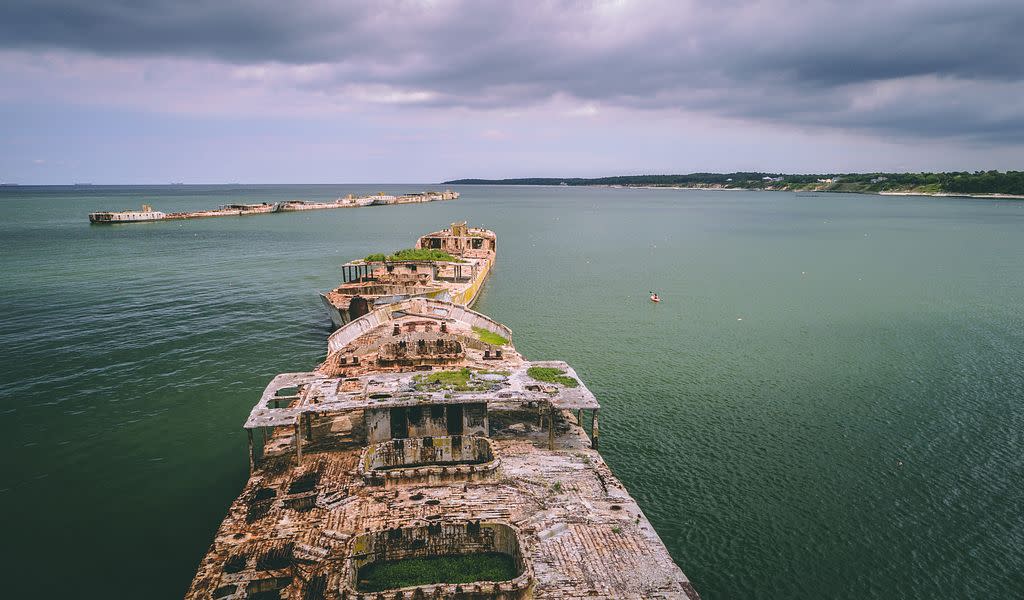 Explore the nine sunken concrete ships right off the beach, at Kiptopeke State Park.
Eastern Shore Railway Museum — Parksley
Feel like you're traveling by train back in 1906 as you tour seven rail cars. Truly a unique experience!
The Battleship Wisconsin — Norfolk
One of the U.S. Navy's oldest and largest battleships sits in the middle of downtown Norfolk just off Waterside Drive at the downtown Norfolk waterfront. If you approach the ship from Plume Street, it will look as if the ship is riding up the road to you. There is currently free 2 hour parking on Waterside Drive, and visitors can hop out and walk the Elizabeth River Trail that runs in front and alongside the battleship. Visitors can also purchase a ticket to tour the ship from the Nauticus National Maritime Museum.
Lost World Ranch — Tazewell
The largest herds of brown and white Bactrian (two humped) camels and appaloosa colored llamas in North America. Lost World Ranch offers ranch tours, Amish meals along with tours, and camel rides.
Roanoke Pinball Museum — Roanoke
The Roanoke Pinball Museum is an interactive museum dedicated to the science & history of pinball. The museum has over 50 machines with production dates ranging from 1932 to 2016.
Woodbooger Sanctuary — Norton
Visitors to the Flag Rock Overlook in Flag Rock Recreation Area, can't miss the giant statue of the "Woodbooger," a Bigfoot-like creature popular in the area.
Mountain Lake Lodge — Pembroke
Have the time of your life at the Virginia mountain resort where the iconic 80's film Dirty Dancing was filmed.
Floyd Country Store — Floyd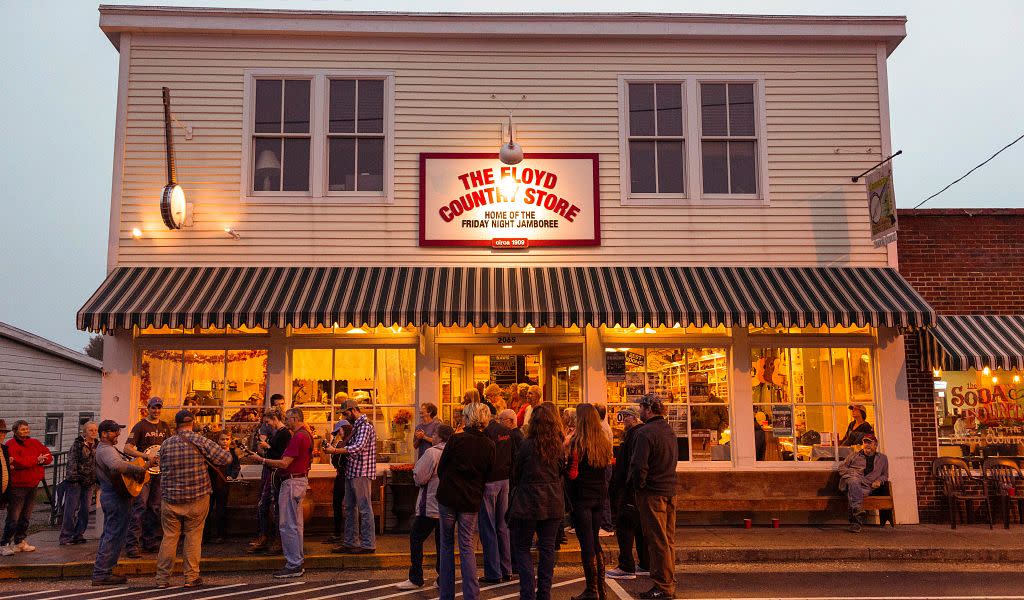 The Floyd Country Store is renowned as a place to experience authentic Appalachian music, and is home to a group of musicians, flatfoot dancers, and cloggers who are carrying on the tradition of their families who'd pass the time playing music and dancing together. The Floyd Country Store is a real country store that is more than 100 years old with old-fashioned candy, hand-dipped ice cream and a great collection of hard-to-find old-time and bluegrass CDs and music accessories.
State Street — Bristol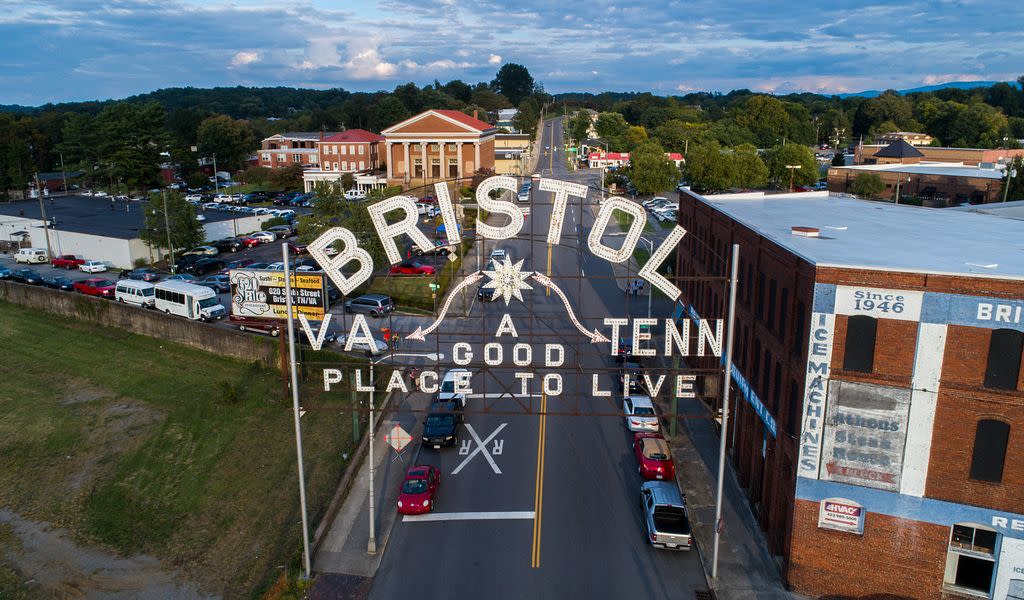 Depending upon what side of the street you're standing on, you could be in Bristol, Tennessee or Bristol, Virginia. The town is run by two separate governments! Bristol is the place where country music was born, and both southern states can take credit.
Big Ol' Bikes — Roanoke
Drive up Mill Mountain in Roanoke for a photo-op with two larger-than-life bicycles. The "Big Ol' Bikes aka B.O.B.s" statues tower at twice the height of an average person, one bike is geared towards trail enthusiasts and the other is styled for road bikers who frequent the nearby Blue Ridge Parkway. These giant bikes are appropriately homed in America's East Coast Mountain Biking Capital.
Virginia Museum of Transportation — Roanoke
The Jupiter Missile is a 67-ft. long rocket on permanent display outside of the Virginia Museum of Transportation (VMT) in downtown Roanoke. It can be viewed both from the ground along the museum's railwalk, or while walking/driving on the Gainsboro bridge. The VMT has plenty to see inside, too, including over 50 pieces of rolling stock (locomotives and other rail cars).