Virginia Resorts, Inns and Lodges that Focus on Sustainability
Luxury resorts, quaint inns, and lodges across Virginia offer memorable vacation options that you can feel good about. From resort-wide sustainability programs to organic farms and partnerships with nature-focused organizations, these eco-friendly lodging options go above and beyond to be environmental stewards.
Airlie's environmentally-conscious practices run deep. Aside from being the place where Earth Day originated, Airlie is also rooted in a long farming heritage - the property's 20-acre Berkshire Farm produces 20,000 pounds of certified organic produce each year and resident bee colonies pollinate farm crops and make local honey. Airlie's chefs use these hyperlocal ingredients in the restaurants to craft organic cuisine and cocktails. They also recycle everything possible, compost kitchen scraps and practice responsible water and energy usage. And to top it off, Airlie is a National Wildlife Federation "Certified Wildlife Habitat," with buffer zones around lakes and ponds to help native species thrive.
Nearly half of Kingsmill Resort is dedicated to environmentally-friendly initiatives in order to preserve the natural beauty of the property. The resort's sustainability practices include water conservation, minimizing the use of fertilizers with pesticides and resort-wide recycling. Visitors can enjoy a nature-rich golfing and birding experience. Kingsmill's three pristine golf courses are "Certified Audubon Cooperative Sanctuaries," which are protected natural habitats for bald eagles, hawks, and other endangered birds.
Wintergreen Resort spans 11,000 acres in Virginia's Blue Ridge Mountains, offering a pristine mountain playground for outdoor lovers. A responsible steward of their land, they partner with The Wintergreen Nature Foundation to support and promote wildlife habitat preservation and environmental education. The resort's detailed sustainability program fosters green business practices including recycling, efficient lighting, and using energy efficient snowmaking equipment.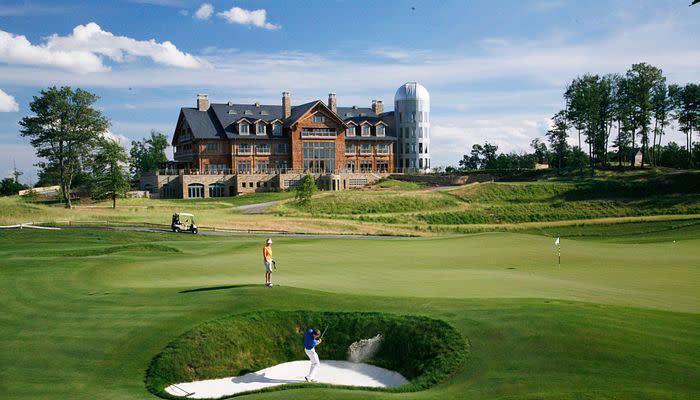 Primland Resort—Meadows of Dan
The Lodge at Primland Resort earned a Leadership on Energy and Environmental Design (LEED) certification in 2012 and has been laser focused on sustainability ever since. The resort recycles and uses eco-friendly materials whenever possible, from the ink in their printer to the takeaway coffee cups in rooms. The resort's five-acre certified organic garden supplies fresh produce for resort restaurants and native plants provide a natural habitat for wildlife. Primland's golf course is maintained with sustainable water sources and as few chemicals as possible.
The Tides Inn recognizes that oysters are a valuable part of the ecosystem, with dedicated conservation efforts including their Carter's Creek oyster sanctuaries to ensure that local oyster populations will thrive and keep the water clean for years to come. The resort also hosts interactive activities to educate guests about the preservation of the oyster reefs, including Oyster Academy sessions which teach guests about the life of the oyster and their important role in creating a sustainably clean bay.
Salamander Resort & Spa is a luxury resort that emphasizes sustainable practices. Committed to nature, organic farming, and conservation, Salamander Resort is in the process of gaining a LEED certification.
The Manor House at Beliveau Farm is a romantic bed and breakfast committed to the health and sustainability of Mother Earth. Aside from prudent recycling efforts, the B&B owners also use natural cleaners and donate soap and shampoo to local and world organizations. Food is sourced as locally as possible, with maple syrup being produced from the farm's many maple trees and lavender grown on-site and used in culinary items. They grow the majority of their grapes at Beliveau Estate Winery and all wine is then produced on-site helping to reduce the carbon footprint of the property. In 2019, an extensive solar field was installed which now produces all the electricity for the B&B and is expected to soon fulfill all electricity needs for the farm.
Montfair Resort Farm exudes a passion for environmental responsibility and they take pride in preserving the resort's natural landscape. They offer lodging in 1960's cedar cottages that have been renovated with green building materials and supplies, all cleaning supplies are green and they offer recycled toilet paper and eco-friendly toiletries. They also have a Nature Trail System and Native Plant Pollinator Garden that guests can explore to see their land preservation efforts first-hand.
Peaks of Otter Lodge is committed to stewardship to protect and conserve resources. Tesla and universal electric car charging stations, recycled office paper, delicious sustainable cuisine, and an easy-to-follow linen reuse program are just a few of the practices the Lodge has in place.
Looking for more eco-friendly lodging options? Check out these Virginia hotels that excel at being green and find additional resorts, lodges, and retreats below.