Performing Arts and Live Theater in Virginia
Live theater and performances in Virginia offer a wide variety of experiences for performing arts enthusiasts. From small theaters offering intimate shows to renovated historic theaters that take visitors back in time and large venues for major acts and performances, Virginia's venues are just as impressive as the talented performers that grace our stages. Learn more about our performance venues below and come see the talent of Virginia's actors, playwrights, opera singers, dancers, and other performers for yourself!
Southwest Virginia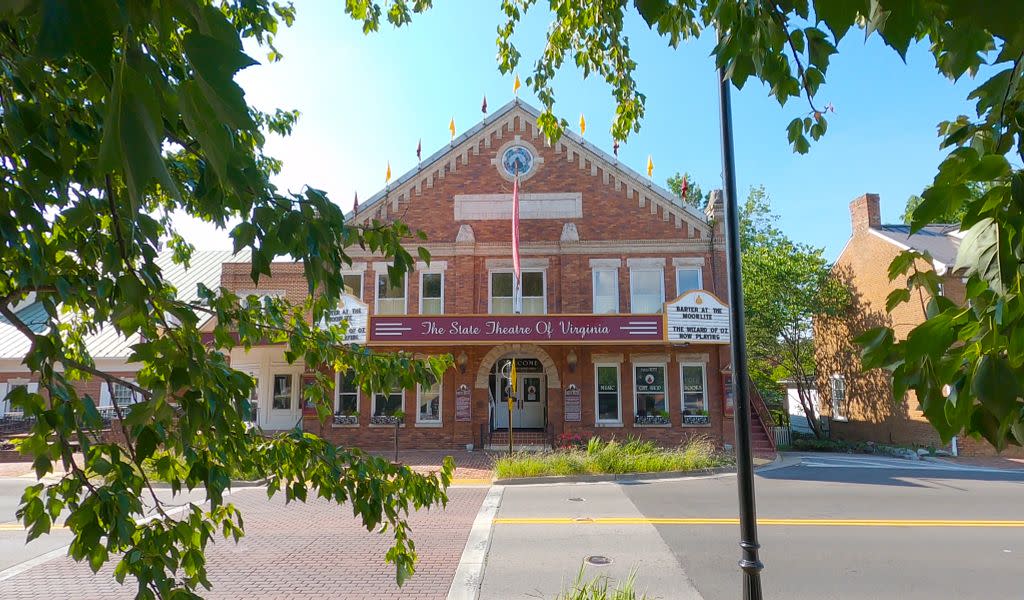 Abingdon – When young Robert Porterfield opened the Barter Theatre in 1933 his ticket prices were as cheap as beans. Literally. Porterfield allowed local farmers to barter produce from their land and gardens for admission to see a play. At the end of the first season, the Barter Company cleared $4.35 in cash, two barrels of jelly and a collective food gain of over 300 pounds.
Nearly 90 years later, the Barter Theatre has upgraded the lighting system and improved the acoustics, but sadly, no longer accepts ripe tomatoes. However, what hasn't changed is the passion that the company pours into each and every production they undertake. Whether taking in an Off-Broadway production of "Singing in the Rain" in the large Barter I Theatre or enjoying an independent play on the more intimate Barter II stage, visitors can enjoy the theatrical thrill of a young man's dreams come true. 
Marion – The Lincoln Theatre is one of three Art Deco Mayan Revival-style theatres in America! The theatre boasts a state-of-the-art sound and lighting system today as well as meticulously restored murals.
Stuart – The Star Theatre first opened in 1947 and has been newly renovated 45 years later. Today patrons can enjoy dinner theater productions as well as music and films.
Shenandoah Valley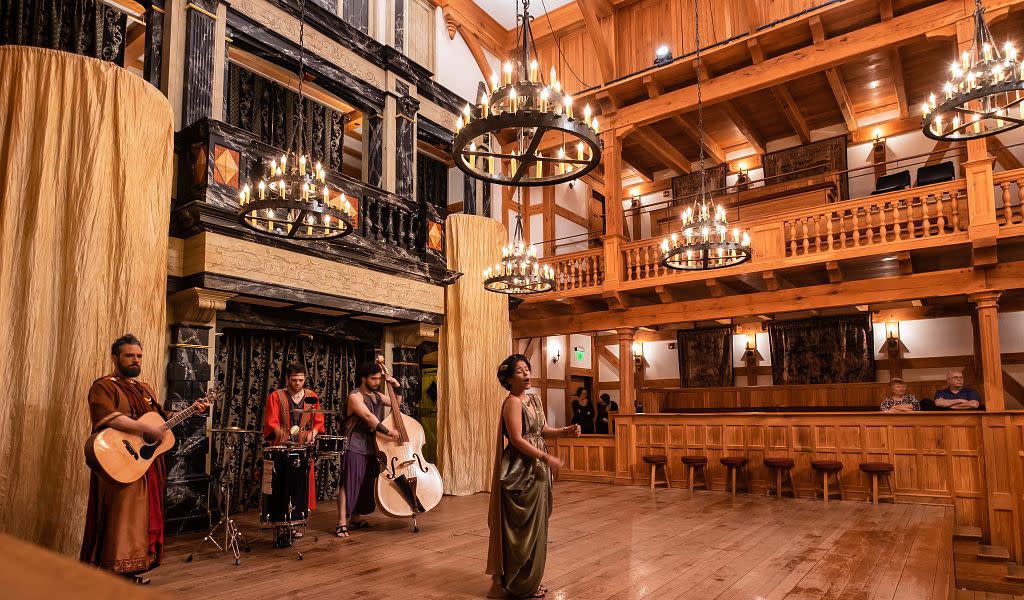 Staunton – Located in the heart of historic Staunton, the American Shakespeare Center Blackfriars Playhouse is the world's only re-creation of Shakespeare's original indoor theatre. This one-of-a-kind facility plays home to the nationally recognized Shenandoah Shakespeare acting troupe.
What makes Blackfriars so spectacular is the attention to detail and the intricacies that truly makes visitors feel as if they have stepped back in time. The entire theatre is constructed out of beautiful white oak and adorned with handcrafted chandeliers. The troupe also reflects the practices of Shakespeare's time in their use of universal lighting, set design and actors who double as many different characters in a single show. These efforts allow the group to be true to Shakespeare's texts while relating their poignant messages to a modern audience.
Harrisonburg – Court Square Theater is home to a resident theater company and a resident dance company.
Winchester – The Winchester Little Theatre is a volunteer live community theater organization specializing in four productions a year. The theater is located in the old Pennsylvania Railroad freight station, circa 1895.
Central Virginia
Ashland – Ashland Theatre first opened its doors in 1948, serving as a center of entertainment for the charming town of Ashland until 1998. The historic building was renovated beginning in 2014, and after four years of careful restorations, the theatre reopened in December 2018. A 300-person theatre on Route 54, the Art Moderne venue will host current and classic movies, live music, and theater performances. This historic theatre also has a Virginia ABC permit, allowing you to enjoy an adult beverage with your entertainment. 
Richmond – What do you get when you combine Patricia Cornwell, downtown Richmond and a need for contemporary American theatre? Well in this case you get theatre action so hot that it can only take place in an abandoned firehouse.
The Firehouse Theatre aims to provide proactive, adult oriented theatre for the metropolitan Richmond area. The theatre opened in 1994 thanks to the ingenuity of local actors and Richmonders who wanted a greater artistic presence in the city. From Broadway favorites to original scripts to slam poetry competitions, the Firehouse theatre serves the community with an eclectic array of performances that reflect the city it serves.
Richmond – The Virginia Repertory Theatre is a professional theatre company and the result of the 2012 merger of Barksdale Theatre and Theatre IV. With four distinct venues, an educational touring arm, and an annual audience over 550,000, Virginia Rep is the largest professional theatre and one of the largest performing arts organizations in Central Virginia.
Hanover – Hanover Tavern was an ordinary at Hanover Courthouse in 1733, where Patrick Henry, George Washington and Thomas Jefferson frequented. The Barksdale Theatre performs here, too.
Chesterfield – Swift Creek Mill Playhouse is housed in a 350-year-old grist mill believed to be the nation's oldest. The Playhouse is open year-around and offers dinner theatre, theatre only as well as children's theatre.
Richmond – Richmond's Altria Theater was built in 1926 and used to be known as "The Mosque" as it was built as a shrine by the Shriners. The Altria seats 3,565. It features a variety of performances every season.
Northern Virginia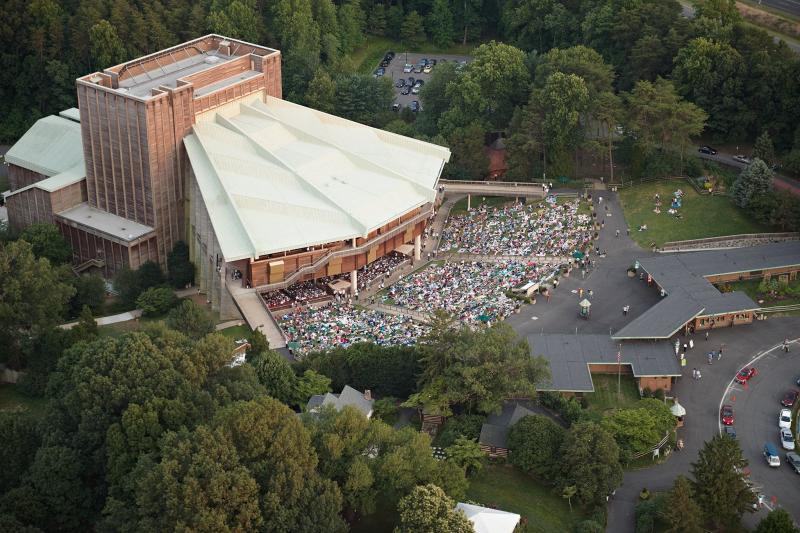 Vienna – From as early as 1632 records indicate that wolves caused tremendous amounts of damage and mayhem in the area on which Wolf Trap National Park for the Performing Arts now rests. While the furry beasts may be gone, the action that occurs on stage is just as fierce as the creatures that once inhabited the region. A Wolf Trap season is usually filled with a diverse array of theatre, opera and music concerts. In addition to year-round performances, Wolf Trap offers a variety of education programs both locally and nationwide.
Fredericksburg – The Riverside Center Theater seats 400 patrons and offers live Broadway musicals, as well as weekly three-course dinner theater performances.
Alexandria – Port City Playhouse is an all-volunteer community theatre producing those plays with "thematic urgency," hoping to provoke thought and stimulating conversation among the theatre-goers.
Arlington – Signature Theatre is a non-profit professional theatre that produces contemporary plays and musicals in an intimate playing space.
Falls Church – The State Theatre was built in 1936. It closed in the 1980s but was renovated in the late 1990s and is now Washington Metro area's favorite new venue for live performances.
Coastal Virginia
Newport News – When the Yoder Barn was built in 1935 it was a home for hay and dairy cows that would bray long into the night. While things haven't gotten much quieter around the farm, the quality of the noise has improved dramatically as the Yoder Barn has been transformed into the premiere performance space in the Hampton Roads area.
The Yoder Barn combines the rustic charm of country living with technologically advanced lighting and sound systems to achieve an aura unique to the area it represents. The theatre serves the community by hosting numerous plays, folk operas, musicals, choral groups, hymn sings and more. So visit the farm, let yourself be entertained and revel in this hayloft turned symphony hall.
Hampton – The American Theatre is a landmark building, newly renovated to include state of the art acoustics and sight lines. It seats 400 comfortably on two levels in plush, artistically restored original seats -- each with a perfect view and the furthest being a mere 75 feet from the stage.
Norfolk – Chrysler Hall is a 2,503-seat luxury theater adjacent to the Scope arena and offers Broadway shows and other performances.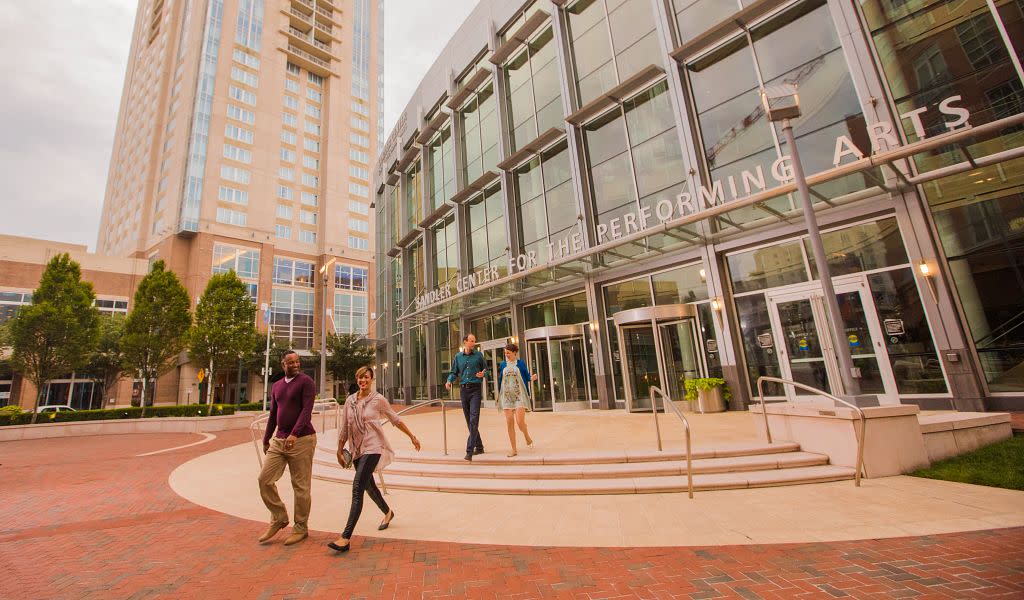 Virginia Beach – The Sandler Center for the Performing Arts hosts various performances throughout the year in the regal theater and outdoor performance area.
Virginia Beach – Virginia Musical Theatre is dedicated to the preservation of musical theatre as a uniquely American art form and offers full-scale productions with the best regional talent and guest stars.
Newport News – Ferguson Center for the Arts at Christopher Newport University presents world-class performers in music, theatre and dance.
Norfolk – The Generic Theater is Off-Broadway theater and offers new plays and new interpretations of the classics.
Newport News – Peninsula Fine Arts Theatre is located in historic Hilton Village and presents full-scale musicals, drams and children's theatre throughout the year.
Norfolk – The Attucks Theatre is the nation's oldest theatre designed, developed, financed and operated entirely by African Americans. Once known as the "Apollo of the South," it has been restored to its original glory as a performing arts theatre.
Cape Charles – Arts Enter Cape Charles at the Historic Palace Theatre, a 1940s Art Deco theatre, that features various performances, classes and social gatherings.
Virginia Mountains
Buchanan – The Buchanan Theatre is on the National Register of Historic Places and is Botetourt County's oldest standing theatre. The Art Deco concrete details, neon sign and freestanding ticket booth add to the charm. It reopened in 2002 and is open on weekends for films and performances.
Roanoke – Shaftman Performance Hall at Jefferson Center is a 1,000-seat theater for an eclectic array of classical and contemporary performances.
Clifton Forge – The Historic Masonic Theatre, circa 1905, was originally an opera house. It is home to the VA Opry as well as the Stonewall Players.
Southern Virginia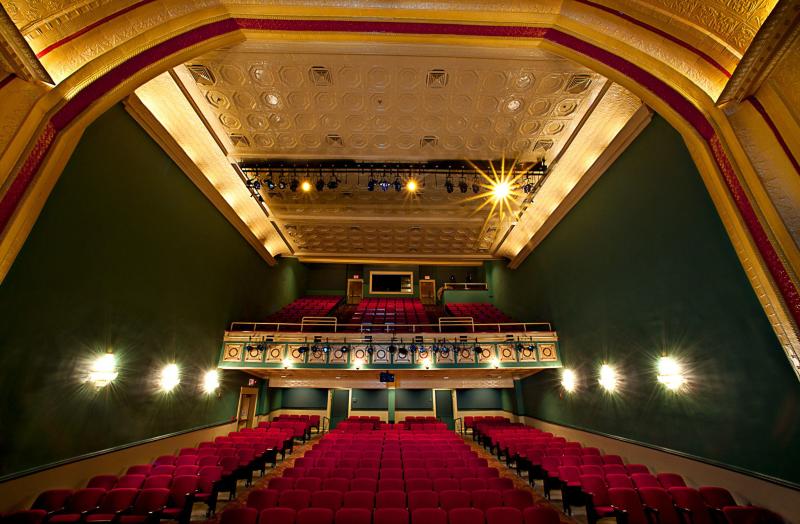 South Hill – The Colonial Center for the Performing Arts is one of the few remaining vaudeville theatres of its era in Virginia. Originally built in 1925, it housed many big names. Now listed in the Virginia Landmarks Register and the National Register of Historic Places, The Colonial Center is three stories tall and houses a 400-seat auditorium with a balcony to stage a variety of entertainment.