Accessible Virginia Travel
More and more lodging accommodations, attractions and events in Virginia now think ADA-compliant.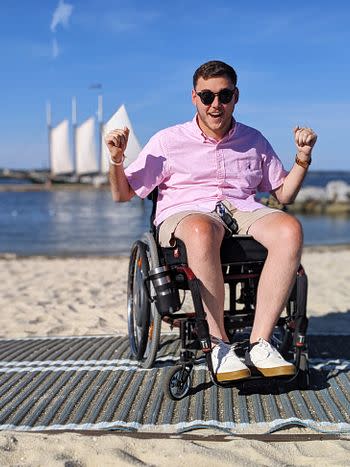 This means that they want to comply with the guidelines set forth by the Americans with Disabilities Act, which prohibits discrimination and ensures equal access to state and local government services, public accommodations, commercial facilities and transportation.
Virginia.org encourages our statewide lodging, dining, retail, events and attractions to share their levels of accessibility via our Things To Do, Events and Places To Stay website listings.
Travel Tips for Persons with Disabilities
Following are some of the questions to ask when planning a trip. You can read more on ADA requirements at the US Department of Justice ADA website.
How far from the entrance is the handicapped parking?
Is there access to a lowered telephone, drinking fountain, light switches, thermostat and peep holes?
Are the pool and other recreational facilities accessible? If so, how are they accessible?
Is there enough room for the wheelchair or walker in the bathroom?
Is there an interpreter to sign the performance or tour for my traveling family and friends?
What about flashing-light smoke alarms, TTY, phone flasher, knock lights, closed-captioned TV?
What about Braille models of dioramas?
What about audio descriptions of the displays?
Looking for more accessibility information?
The Virginia Travel Guide for Persons with Disabilities describes the accessibility features of travel attractions, accommodations, activities and dining establishments statewide. The guide is designed to meet the needs of mobility-impaired as well as visually and hearing-impaired travelers. Facility descriptions range from specific measurements of door widths to availability of Braille menus and signing interpreters.
Those are just some of the questions that need to be answered before you venture out. And, like the Duke's travel guide states, "Travel Doesn't Have to be an Adventure!"