Fall Foliage Report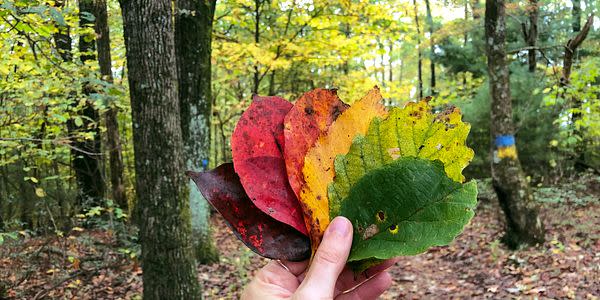 Fall in Virginia is one of the most beautiful times of year, and traveling throughout the Commonwealth during this season can reveal an abundance of color. Virginia's expansive woodlands, famously blue-tinged mountains, and rambling scenic byways are the place to be when fall foliage is at its fiery peak.
While is it difficult to predict exactly when we will see peak fall foliage in Virginia, the SmokyMountains.com Fall Foliage Prediction Map below combines an advanced weather algorithm that factors in thousands of data points and scientific factors to come up with the most accurate forecast possible. The forecast is also consistent with the Farmers Almanac, which is projecting peak fall color for Virginia, October 12-28.
FALL FOLIAGE REPORT FOR THE WEEKEND OF NOVEMBER 13
VIRGINIA DEPARTMENT OF FORESTRY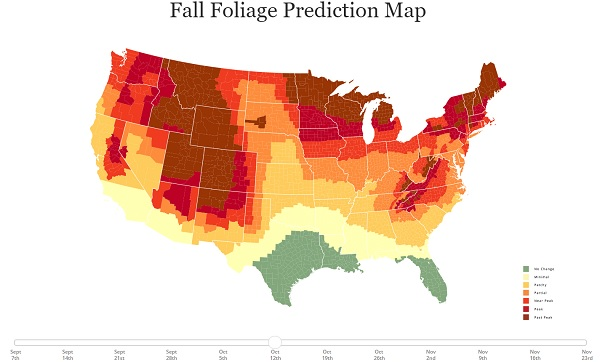 Now is the time for Coastal Plain landscapes to shine, with red maples, oaks, sweetgums, and hickories providing a crazy quilt of color interspersed with pine green.
In the highest mountains, the fall foliage show has almost concluded for the season, and we can begin to appreciate the stark beauty of the winter woods, gray and brown against the dark green of conifers.
Along the Blue Ridge, remaining leaves are variations of gold and rust, and many have fallen in the recent rains. Piedmont landscapes still have spots of gold and bright red amid the deep copper shades of oaks.
SHENANDOAH NATIONAL PARK
October 22, 2020 Fall Foliage Update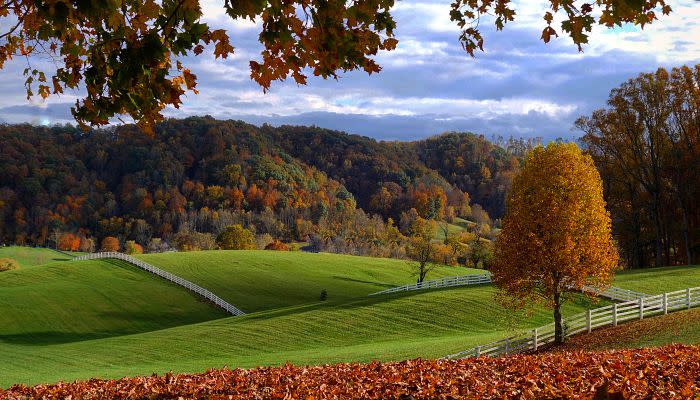 Visit Shenandoah National Park's social media accounts for more information:
Check out the Discover Front Royal Leaf Cam!
VIRGINIA STATE PARKS
The western parks are at peak or just slightly past peak this week. There are still plenty of colors to see, but leaves are coming down so you will want to get out to the parks very soon for the best views. The parks always have stunning views, but the colors are making their way to the ground or already there.
Most trees are well into their color change while oaks are just getting started in Virginia's central region parks. With lots of rain and wind scheduled for the weekend, now may be one of the best times this year to witness fall colors in the central region.
Cooler, wetter air has moved into the coastal area and has consistently covered much of the region in fog. The views of the park are still lovely, with fall color popping through the early morning mist. Much of the area's trees have held onto their green, but some larger hardwoods recently began their transformation--smaller species and bushy undergrowth continues to change golden yellows and warmer reds. Read more.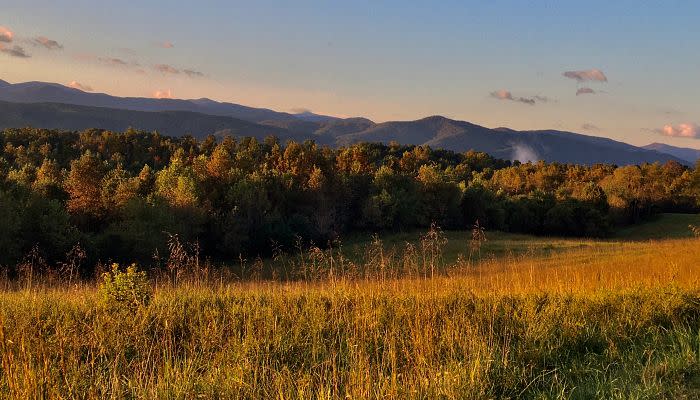 Natural Bridge State Park - Photo Credit: Jessie Carter, Office Manager at Natural Bridge State Park
VIRGINIA'S BLUE RIDGE
Plan your trip to see the vibrant fall colors and foliage of Virginia's Blue Ridge Mountains! Seeing the autumn leaves around the Roanoke Valley and along the Blue Ridge Parkway is a favorite annual tradition for locals and visitors to Virginia's Blue Ridge.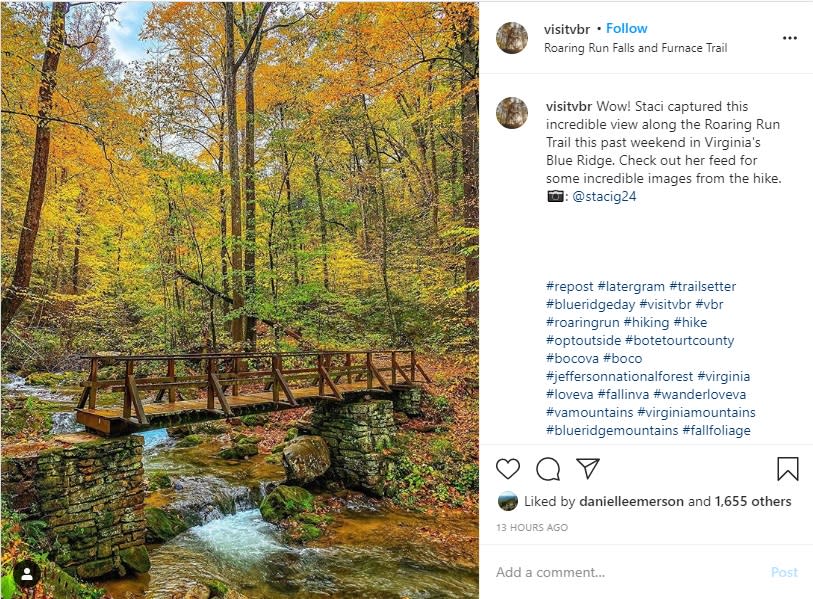 Credit: @visitvbr
Call our foliage hotline - (800) 424-5683
Take the road less traveled. Enjoy photogenic foliage opportunities, great eats, and other hidden…
Virginia offers travelers and families a number of ghostly events and packages to celebrate the…