Horseback Riding
Saddle up for great mountain trail rides, pristine waterside strolls, and rolling pasture gallops when you experience horseback riding in Virginia. We have many outfitters, ranches, and parks offering miles of scenic trails and horseback riding lessons for all skill levels.
Northern Virginia
Ashburn – Washington & Old Dominion Railroad Regional Park – The W&OD Trail includes 33 miles of bridle path for horseback riding. It runs from Fairfax County to Purcellville.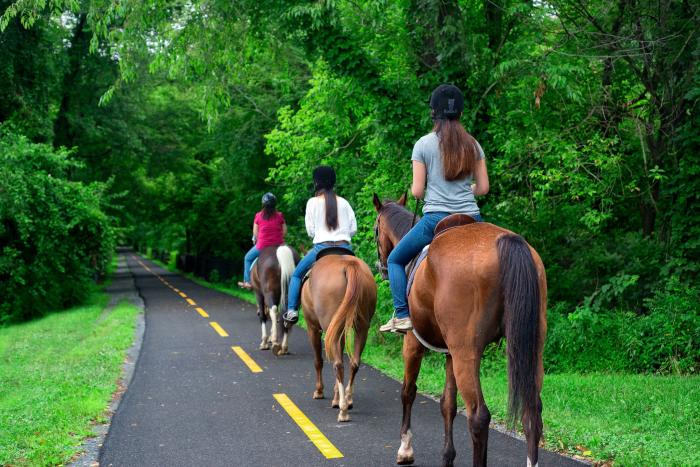 Delaplane – Sky Meadows State Park offers a bridle trail for riders.
Hume – Marriott Ranch offers guided trial rides overlooking the Marriott's 4,200-acre Texas longhorn cattle ranch. Feel like a real cowboy or cowgirl at this place!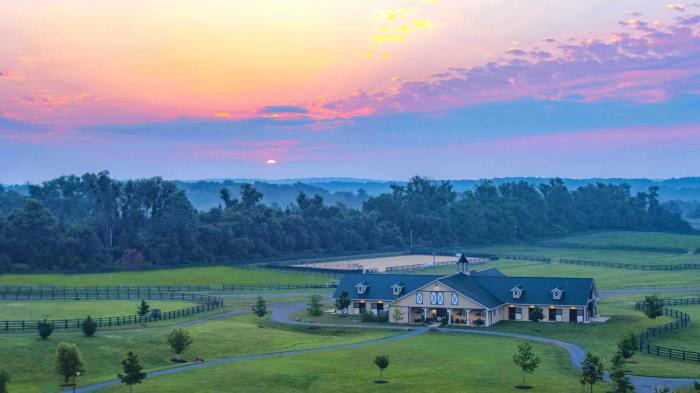 The Equestrian Center at Salamander Resort & Spa
Middleburg – The Equestrian Center at Salamander Resort & Spa offers guided trail rides through the beautiful hunt country of Virginia, riding lessons for all skill levels, carriage rides, equine communication, and essential horsemanship. Paint-a-Pony class is also offered where you learn
Learn To Ride:
Shenandoah Valley
Bentonville – Shenandoah River State Park has bridle paths.
Elkton – Mountaintop Ranch Wilderness Horseback Trail Rides offer one and two hour themed guided rides through the Blue Ridge Mountains. The ranch is surrounded on three sides by the Shenandoah National Park and has beautiful views and vistas of the Blue Ridge Mountains.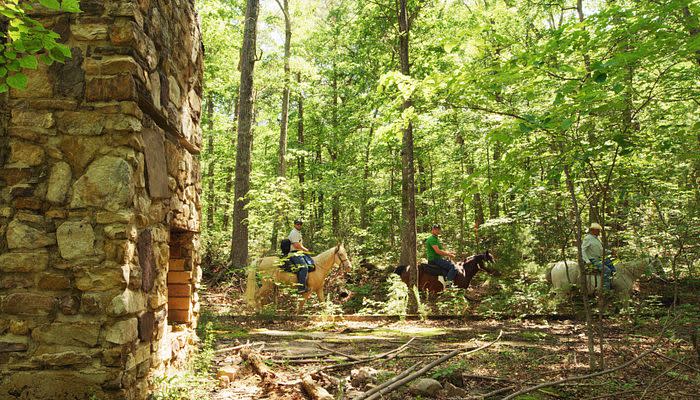 Fort Valley Ranch
Fort Valley – Ride one of Fort Valley Ranch's gentle horses over scenic, wooded, mountain trails from 1 hour to full day rides or bring your own horse for a weekend or longer to explore more than 100 miles of trails in the George Washington National Forest.
Front Royal – Royal Horseshoe Farm is a commercial riding stable on 50 acres of pasture and 90 acres of forest and meadow trails. Offering boarding, instruction, trail rides, and summer camps.
Luray – Skyland Stables in the beautiful Shenandoah National Park offers 1 and 2 1/2-hour tours.
Cross Junction – Trail Rides at Bailey's Walking After Midnight Farm are tailored to your level of comfort and riding experience. Beginners and Advanced Riders will have an exceptional ride through our Historic and Scenic trails. Ride where George Washington rode!
Swoope – Experience the West and enjoy the ultimate horse trail riding adventure through North Mountain Outfitter Inc. Adventures include half-day, full day or overnight stays, where you will sleep under the stars in tents at the base camp, just like cowpokes!
Winchester – Ride the trails at The Wagon Wheel Ranch – everything from your basic campfire to a full cowboy chow evening ride! Your horse is already saddled at The Wagon Wheel Ranch.
Learn To Ride:
Central Virginia
Madison – Fieldstone Trails offers guided horseback rides at Blue Quartz Winery. The hour-long ride will take you through the vineyards overlooking Old Rag Mountain. Enjoy a wine or beer tasting after your ride!
Petersburg – Idle Moment Farm offers trail rides along old wooded farm roads for people with their own horses.
Wingina – Robbin's Nest Farm: A Private Retreat & Horse Farm offers trail riding, as well as horse trailer sites with water and electricity, if you need a place to pull in for the night.
Gordonsville – Oakland Heights Farm has riding on trails that Thomas Jefferson and James Madison themselves used centuries ago.
Learn To Ride:
Southwest Virginia
Max Meadows – The New River Trail State Park offers horse rentals and plenty of bridle trails.
Troutdale – Appalachian Horseback Riding, located in western Grayson County, offers guided horseback riding trips in Mt. Rogers, Virginia's highest peak, as well as Pine Mountain.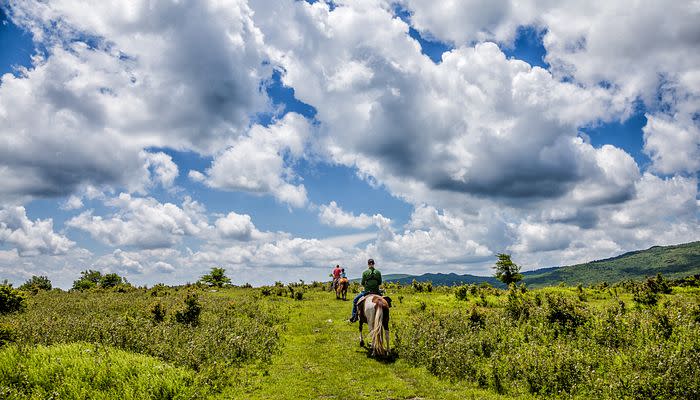 Virginia Highlands Horse Trail
Marion – Located in the Mount Rogers National Recreation Area, the Virginia Highlands Horse Trail is a 68-mile trail between Elk Garden and VA Rt. 94. It features mountainous terrain, valley views and valley crossings. See more trails at Mount Rogers.
Learn To Ride:
Virginia Mountains
Bedford – Reba Farm Inn/Saddle Soar Equitainment located in Bedford County, 15 minutes from the Blue Ridge Parkway offers real horseback riding for the very experienced or the tenderfoot. Ride throughout the mountains and countryside atop a 1000 lbs animal for the experience of a lifetime.
Learn To Ride:
Coastal Virginia
Toano – Stonehouse Stables offers year round hunt seat lessons and horse boarding. Lakewood Trails provides one hour guided trail lessons for beginner or experienced riders.
Yorktown – Yorktown Stables offer a complete range of equestrian activities and services, including lessons, boarding, guided trail rides, equine sales and pony rides.
Southern Virginia
South Boston – Shangrila Retreat, an all-inclusive guest ranch featuring horseback riding, is truly southern hospitality at its finest. Offering all-inclusive horseback riding packages and day trail rides by appointment.