Add These Hikes To Your Bucket List
There are plenty of great hiking trails in Virginia, and there are a special few that you'll want add to your bucket list. In order from Northern Virginia down to the Southwest corner of the state, these are the top pay-off hikes in Virginia determined by those wearing down their soles, from breathtaking scenic overlooks to staggering waterfalls.
Please leave no trace by disposing of waste properly to keep Virginia's trails as beautiful you found them.
GREAT FALLS LOOP
Length: 4.6 miles
Difficulty: Moderate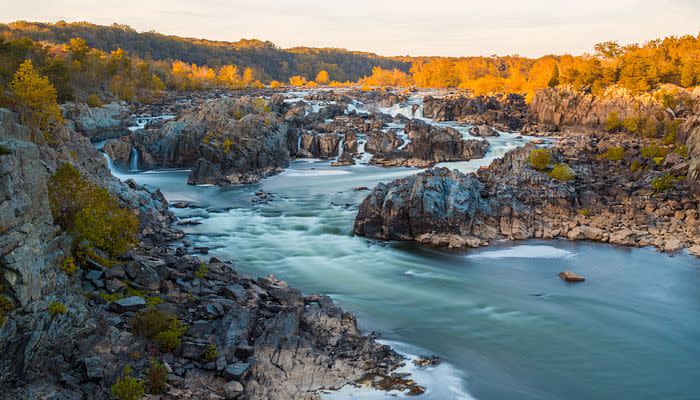 At Great Falls Park, jagged rocks jut up from the Potomac River in the narrow Mather Gorge creating an amazing series of falls. Maintained by the National Park Service, the park has 15 miles of trails - five are multi-use and allow bikes and horses. Great Falls Loop is a 4.6 mile, moderate hike connecting Patowmack Canal, River, Ridge, and Swamp trails. Note: There is a $20 fee per car to enter the park. Download the Trail Map.
COMPTON PEAK
Length: 2.4 miles
Difficulty: Moderate
Compton Peak is accessed from Skyline Drive at Compton Gap. You'll find the trailhead across the road from the parking area at mile 10.3. The hike is easy and the elevation change is only 835 feet for the out-and-back of 2.4 miles. Download the Trail Map.
STRICKLER KNOB
Length: 5.5 miles
Difficulty: Hard
This 5.5-mile moderate hike into George Washington National Forest is not maintained and not suitable for dogs or young children. It does, however, reward with challenging rock scrambling and stunning 360-degree views of New Market Gap and the Luray Valley, as well as a geocache. Access via Crisman Hollow Road/forest development road 274 off route 211 near Luray. This area is known as Scothorn Gap.
MARY'S ROCK
Length: 2.9 - 3.7 miles
Difficulty: Moderate
Mary's Rock Summit sits at 3,514 feet and is accessed a few different ways. Even from Skyline Drive in Shenandoah National Park there are two ways: from Panorama it's 3.7 miles out and back, and from Meadow Spring it's 2.9 miles out and back. Both offer outstanding views and both are considered moderately difficult. From Panorama the climb is steady. Download the Trail Map.
STONY MAN TRAIL
Length: 1.6 miles
Difficulty: Easy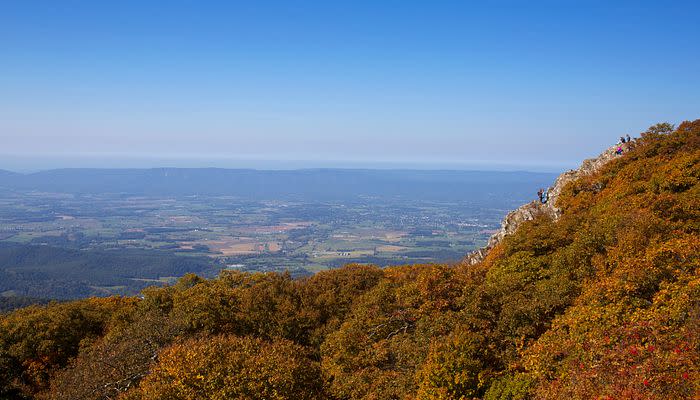 Shenandoah National Park has wicked views and Stony Man boasts one of the best. The hike is 1.6 mile circuit from milepost 41.7 on Skyline Drive near Luray. It's a fairly easy hike featuring wildflowers in the spring and summer. No pets allowed. Download the Trail Map.
OLD RAG MOUNTAIN
Length: 9.2 miles
Difficulty: Hard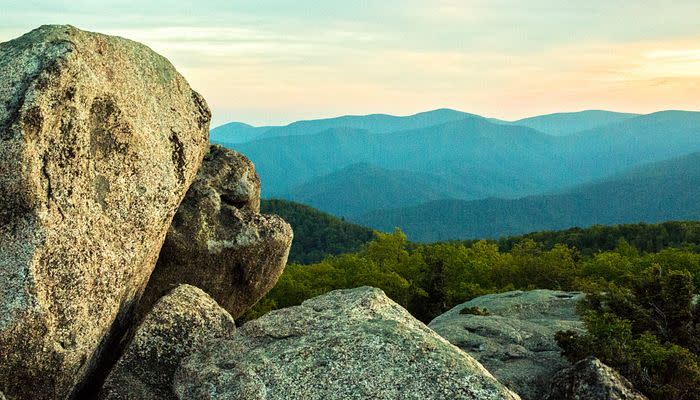 Perhaps one of Shenandoah National Park's most popular hikes, the 8.8-mile climb and rock scramble to Old Rag is strenuous. Warm up with a near-mile walk to the trailhead from the parking area near Nethers on route 600. Plenty of water, layers of clothing, and hiking partners are strongly suggested. Pets are not allowed on Ridge Trail leading to Old Rag. Download the Trail Map.
WHITEOAK CANYON FALLS
Length: 2 - 7.3 miles
Difficulty: Easy - Hard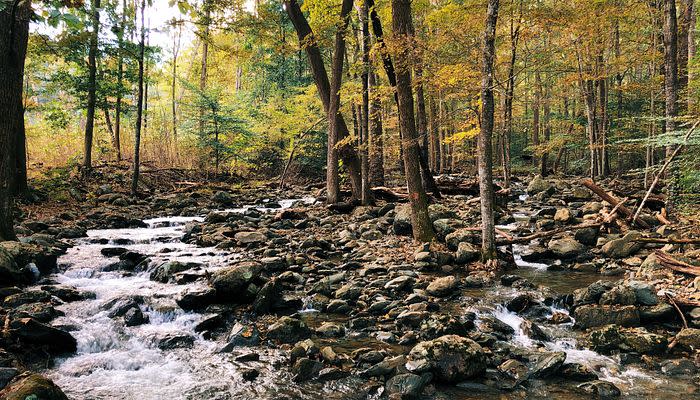 Another wildly popular Shenandoah National Park trail is Whiteoak Canyon. Why so popular? Six waterfalls reward your effort! The falls range from 35 to 86 feet and feature swimming holes at the bottom of each. Awesome place to propose? Yes. Awesome place to skinny dip? Not so much. Hike to the Lower Falls from Boundary (2 miles - Easy), hike to the Upper Falls from Skyline Drive (4.6 miles - Moderate), or hike the full Whiteoak-Cedar Run Circuit (7.3 miles - Difficult). Park off route 600 at the Boundary Trailhead. Download the Trail Map.
HAWKSBILL MOUNTAIN
Length: 4.6 miles
Difficulty: Moderate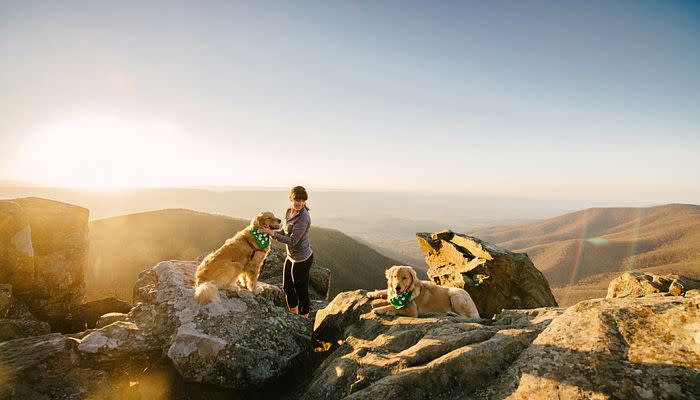 Hawksbill Mountain is the highest peak in Shenandoah National Park at 4,050 feet. Access the summit from parking areas at milepost 45.6 and 46.7. The trails vary from a steep 1.7 miles round trip to a 2.9 miles moderate circuit. Download the Trail Map
DARK HOLLOW FALLS
Length: 1.4 miles
Difficulty: Moderate
Besides Crabtree Falls, these Dark Hollow Falls are one of the most accessible falls off the highway. Just off Skyline Drive at milepost 50.7, the falls cascade 70 feet over greenstone. A 1.4-mile out-and-back hike, follow the trail .75 miles down to the falls - it is steep in some sections. Download the Trail Map.
NORTH RIVER GORGE TRAIL
Length: 4.6 miles
Difficulty: Moderate
This is a hike for low-water conditions as the serene stream-side trail fords the North River nine times over the course of its 4.2-mile out-and-back meandering. This is a great, easy day hike. Access from the North River Campground if you're camping, or from Mount Solon, take route 747 west to a right on route 730, followed by a left on route 763 which turns into route 718. Take a left on fire road 95 and find parking a mile west of the Wild Oak Trail area.
HUMPBACK ROCKS
Length: 1 mile
Difficulty: Moderate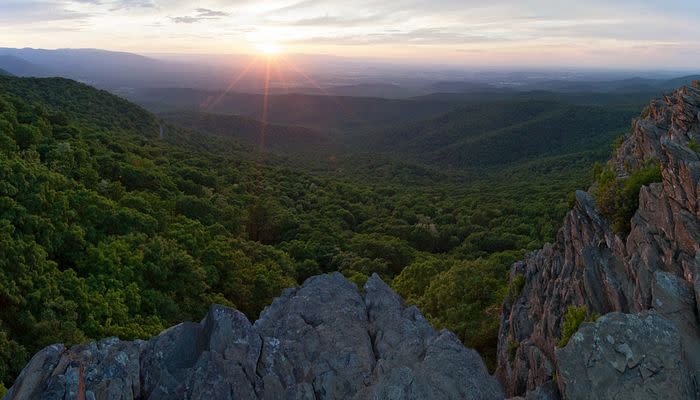 Humpback Rocks is a favorite hike in Nelson County. At Milepost 5.8 on the Blue Ridge Parkway you'll find the Mountain Farm Trail with quite a bit of activity at the 19th century interpretive farm. Hike out to the rock outcrop itself for an amazing view over the Shenandoah Valley. It's a mile out-and-back. Download the Trail Map
CRABTREE FALLS
Length: 2.5
Difficulty: Moderate-Hard
If you're seeking more waterfalls, Crabtree Falls is a great choice. The lower falls are just a few hundred feet from the parking lot! Continue on three miles for four more overlooks. The trail is moderate and rewards with five major cascades and several smaller ones totaling 1,200 feet worth of falls - the highest vertical-drop cascade east of the Mississippi River. Access the trail from the fee-based parking lot at 11581 Crabtree Falls Highway in Montebello. Download the Trail Map.
SPY ROCK
Length: 5.7 miles
Difficulty: Moderate
Spy Rock From the Montebello Fish Hatchery the two-mile climb to the AT and then on to Spy Rock is a moderately strenuous one. The payoff is tremendous with 360-degree panoramic views from the rock outcrop. Download the Trail Map.
BLUE SUCK FALLS TRAIL
Length: 5.8 miles
Difficulty: Hard
This trail at Douthat State Park is a three-mile difficult multi-use trail that serves up a waterfall. As a side note, the term 'suck' is an Appalachian term for a whirlpool at the base of the falls. Continuing on, the ridge top and overlooks are what this trail is all about. Download the Trail Map.
Connect Blue Suck Falls with Stony Run to enjoy the Tuscarora Overlook Trail, which includes a cabin and immense views of Beard's Mountain and the Alleghenies.
SHARP TOP MOUNTAIN
Length: 1.5 miles
Difficulty: Hard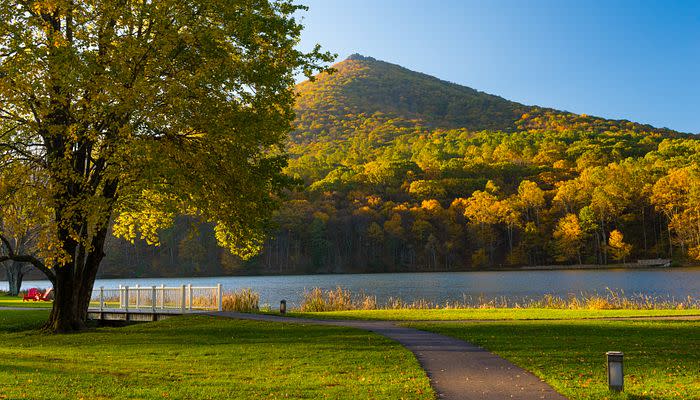 The Peaks of Otter include Sharp Top, Flat Top, and Harkening Hill, each with its own amazing view. Sharp Top is not the highest of the peaks at 3,875 feet, but it offers the best views - 360 degrees, in fact. It's a strenuous 1.5 miles from the camp store to the summit with an ascent of 1,340 feet. Download the Trail Map.
HIGH BRIDGE TRAIL
Length: 31 miles
Difficulty: Easy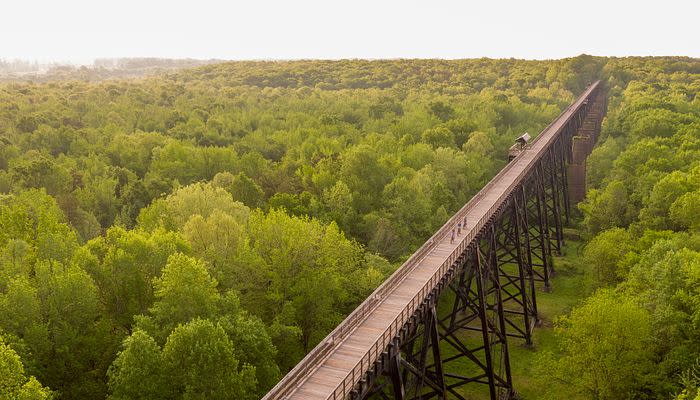 The newly reopened "high bridge" at High Bridge Trail State Park is the place to be. Soaring 160 feet above the Appomattox River and spanning 2,400 feet, the bridge boasts quite the view of the treetops and is a great place to hike and bike. The trail is 31 miles total and mostly flat, making it an easy trail for families. Access the trail is several locations including Farmville. Download the Trail Map.
MCAFEE KNOB
Length: 8.2 miles
Difficulty: Moderate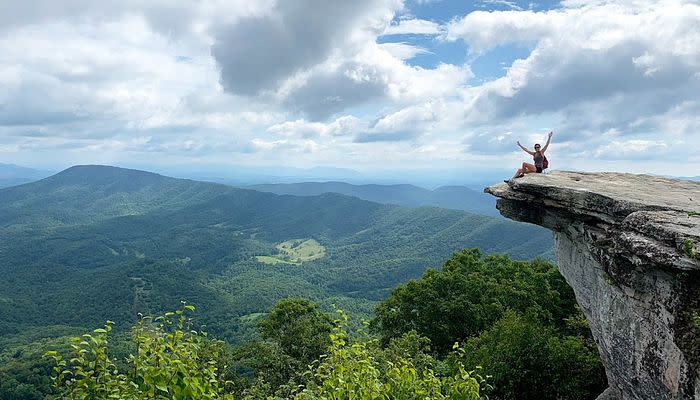 McAfee Knob is the most photographed site along the Appalachian Trail. McAfee Knob is the jutting end of a crazily tilted rocky mountain, sticking out into thin air like a diving platform. The view from the Knob sweeps around 270 degrees (everything except through the forest behind), surveying the Catawba Valley and North Mountain to the west, Tinker Cliffs to the north, and the Roanoke Valley to the east. It is a strenuous hike, filled with stone steps and lovely scenery. Many rewarding spots with lots to be discovered. Download the Trail Map.
DRAGON'S TOOTH
Length: 4.1 miles
Difficulty: Hard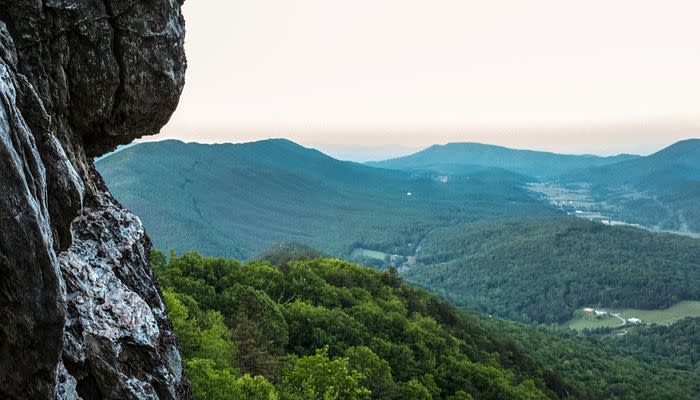 This spur off the AT overlooking the Roanoke Valley is a 4.6-mile out-and-back. At 3,000 feet, the views from this aptly named location are great. You'll know you've hit Dragon's Tooth when you see the jagged rock rising ahead of you. Access the trail via route 311 towards Catawba, past the McAfee trailhead. A parking lot is available. Download the Trail Map.
CASCADE FALLS NATIONAL RECREATION TRAIL
Length: 3.8
Difficulty: Moderate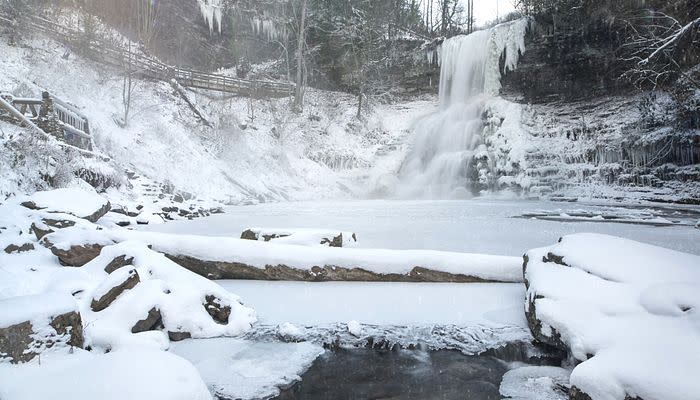 Cascades Trail is a highly scenic, 4-mile round-trip trail meandering along a shaded mountain creek to a 66-foot waterfall within Jefferson National Forest. Hike is low to moderate difficulty. Download the Trail Map.
DOGWOOD GLEN TRAIL
Length: 9 miles
Difficulty: Moderate-Hard
Philpott Lake is a 3,000 acre beauty with 100 miles of shoreline. It's no surprise that there are seven trails offering varying experiences. Dogwood Glen Trail is a nine-mile out-and-back multi-use trail that has flavors of moderate to strenuous and occasionally runs alongside the lake. Access this trail from Salthouse Branch Park ($4 fee) or Philpott Dam.
FAIRYSTONE STATE PARK
Length: .74 - 3.3 miles
Difficulty: Moderate
Exploring Fairystone State Park might just yield a special treasure! Fairy stones are rare rock crystals sometimes in the shape of a cross, so keep your eye peeled as you hike the 13-mile multi-use Little Mountain Trail System or the five-mile hiker-only Stuarts Knob Trail System. The trails vary from easy to difficult and from .74 mile out-and-back to a 3.3-mile loop.
ROCK CASTLE GORGE
Length: 10.4 miles
Difficulty: Hard
Rock Castle Gorge in Floyd is accessed from milepost 167 on the Blue Ridge Parkway at the entrance of the Rocky Knob Campground. Descend three miles to the bottom of the gorge in this National Recreation Area. The climb back up is 7.3 miles, and the elevation over the course of the entire hike ranges from 1,700 to 3,572 feet.
BUFFALO MOUNTAIN NATURAL AREA PRESERVE
Length: 2.2 mile
Difficulty: Moderate
Overlooking Floyd County and then some is Buffalo Mountain Natural Area Preserve at a high-point of 3,971 feet. From the parking area, climb the steep one-mile trail to the summit for a wide open view of the the Blue Ridge Highlands. Download the Trail Map.
NEW RIVER TRAIL STATE PARK
Length: 57 miles
Difficulty: Easy
Another rails-to-trails project, New River Trail State Park crosses four counties for a total of 57 scenic miles right along the New River. The trail is wide and multi-use, so expect to see bikes and horses along the way. Access points include Fries and Cliffview near Galax.
MOUNT ROGERS
Length: 12.4 miles
Difficulty: Hard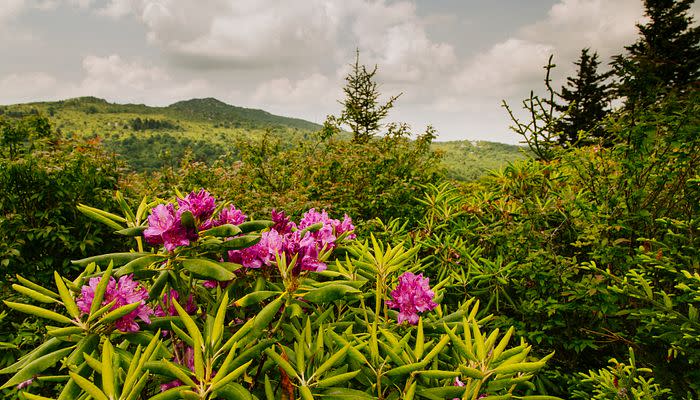 Mount Rogers is the highest point in Virginia at 5,729 feet! Try and find the plaque signifying this for a great photo-op. This nine-mile out-and-back hike begins at Elk Garden Gap. Take the white blazed AT trail north. An opening awaits you at about mile three and again at about mile four. The summit will take your breath away. Download the Trail Map.
MOLLY'S KNOB
Length: 3.4 miles
Difficulty: Moderate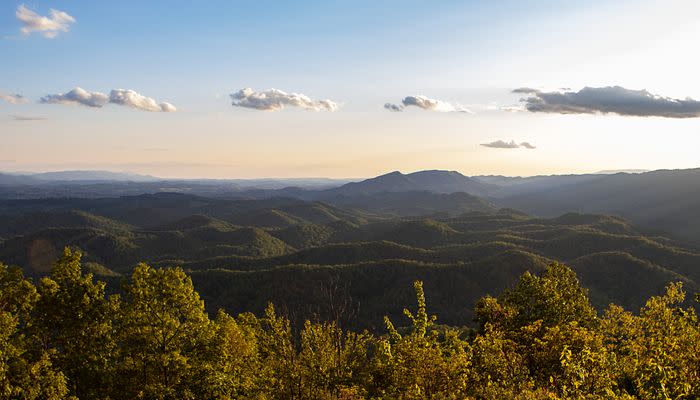 Hungry Mother State Park includes a 108-acre lake with 12 refreshing miles of trails around it. While one trail leads to another here, it's the Molly's Knob Trail that serious hikers adore. It's only 1.6 miles, but it's narrow, steep, and downright difficult at times before it reveals its treasure - the summit and highest point of the park at 3,270 feet - Molly's Knob. Download the Trail Map.
VIRGINIA CREEPER TRAIL
Length: 34.3 miles
Difficulty: Moderate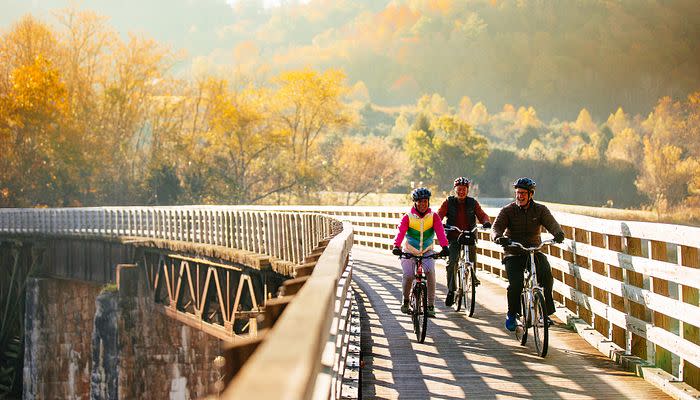 The Virginia Creeper Trail is a 34.3-mile rails-to-trails treasure for hikers, bikers, and horseback riders with several access points. Mile 0 is in Abingdon, Mile 8.5 is Alvarado, Mile 15.5 is Damascus, Mile 25 is Creek Junction, and Mile 32.3 is Whitetop Station on Whitetop Mountain - Virginia's second highest peak. Download the Trail Map.
THE CHANNELS NATURAL AREA PRESERVE TRAIL
Length: 5.5 miles
Difficulty: Moderate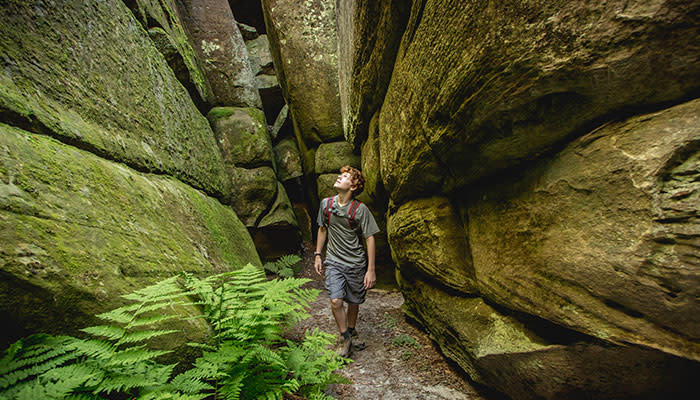 The Channels Natural Area Preserve in Saltville is home to the Great Channels of Virginia. This 5.5 mile trek will take you to impressive formations of sandstone outcroppings. Download the Trail Map.
BREAKS INTERSTATE PARK
Length: 0.5 miles
Difficulty: Moderate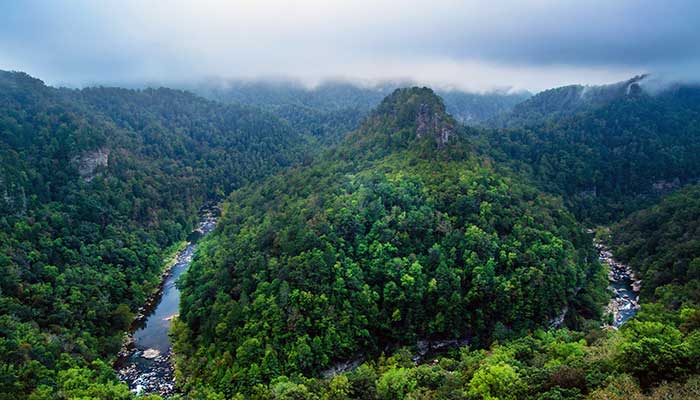 Photo Credit: Joshua T. Moore
Right on the Virginia/Kentucky border, Breaks Interstae Park is a 4,500-acre park with 25 miles of trails ranging in degrees of difficulty. Most are less than a mile long, but with trails intersecting and running end-to-end, you can make your hike anything you want it to be. The Overlook Trail is a half-mile hike that frequently changes grades along cliff edges, providing a continuous view of the canyon. You'll want to be careful on trails like this one. Download the Trail Map.
Virginia is home to 544 miles of the Appalachian Trial. That's more miles than any other state!…