Lexington
Lexington is located in the center of Rockbridge County in the Shenandoah Valley region of Virginia. It is home to Virginia Military Institute and Washington and Lee University, which contribute a high level of cultural activity in the community.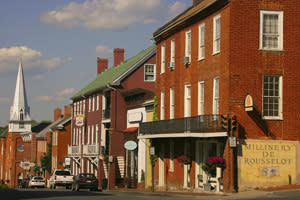 The Rockbridge Historical Society and the Rockbridge chapter of the Virginia Museum of Fine Arts also provide cultural activities. The summer months bring the popular Lime Kiln Theatre productions.
History buffs can enjoy the Stonewall Jackson House, the George C. Marshall Museum at VMI, and Lee Chapel at Washington and Lee.
The Virginia Horse Center provides year-around activities, such as major horse sales, competitions, equine events and instruction. Other recreational activities can be enjoyed off the Blue Ridge Parkway and at nearby George Washington and Jefferson National Forests. Be sure to check out the geocaching trail on your next trip to Lexington.
Boutique shopping and farm-to-table dining are readily at-hand for those strolling the downtown area. You never know what you might find!
Contact:
Lexington and Rockbridge Area Tourism Development
106 East Washington Street
Lexington, VA 24450